Breakfast Casserole made with eggs, bacon, shredded potatoes, and cheese is the PERFECT make-ahead breakfast for busy mornings or holidays!
During the holidays we love going overboard for breakfast with delicious Breakfast Casserole Recipes and sweet treats like Easy Cinnamon Rolls (in 1 Hour!).

Breakfast Casserole is a go-to on the holidays because it's really EASY and stress free to throw together for breakfast or brunch. You can prepare it ahead of time and just pull it out of the refrigerator when you're ready to bake. We use bacon in this casserole recipe, but you can use any of the usual breakfast meat options like sausage or ham if that's what you have.
This is typically a breakfast recipe (or brunch), but we're not above serving this for dinner on a semi-regular basis. It's crowd-pleasing and easy to make during busy weeknights. We prefer the texture of the shredded hash browns, but Diced Hash Browns will work, too.
You can customize your breakfast casserole with any of your family's favorite omelette fillings. This is also a great way to use up odds and ends of leftover vegetables or meats. Just make sure any fillings are already cooked and drained well before dicing them up and stirring into the egg mixture.
If you're serving this casserole for a crowd, serve it with a batch of Buttermilk Biscuits on the side. Eggs and biscuits make the perfect breakfast combo, and it also gives people more variety to choose from at the table.
HOW TO MAKE BREAKFAST CASSEROLE
Preheat oven to 375 and prepare a baking dish with vegetable oil spray.
Add bacon, onion, and bell pepper to a large skillet on medium high heat and cook until just shy of being done, then drain fat.
Add the bacon mixture to a large bowl with hash browns, butter, eggs, cheddar and cottage cheese.
Mix ingredients well and bake, uncovered, for 60-70 minutes until set.
More Delicious Breakfast Casseroles
Frequently Asked Questions
How to you know when Breakfast Casserole is done?
This breakfast recipe is done when the top is golden brown and firm to the touch. If you used frozen hash browns without defrosting, it may take a few more minutes to cook through. Take this out of the oven just as it sets, it will keep cooking as it cools down. You don't have to worry about the bacon or sausage because you browned it ahead of time.

Just make sure the middle of the pan has set. You may feel like it is done if you're testing the edges of the pan but you need to test the middle of the pan before you pull it out of the oven for good.
Should I bake a Breakfast Casserole covered or uncovered?
You don't have to cover an egg breakfast casserole while it's baking. If you start to notice it browning too quickly around the edges, you can cover with tinfoil to prevent burning and check the oven temperature. Then remove the foil for the last 10-15 minutes to get the golden brown color on the top.
How do I reheat a Breakfast Casserole?
If you've frozen the casserole, defrost in the refrigerator overnight. Then bake at 350 degrees F for 20-25 minutes, or until casserole is heated through. If you reheat a piece in the microwave, the eggs may become overcooked.
Is Breakfast Casserole Gluten Free?
This dish is naturally gluten free, but check any packaged things for added ingredients that vary by brand.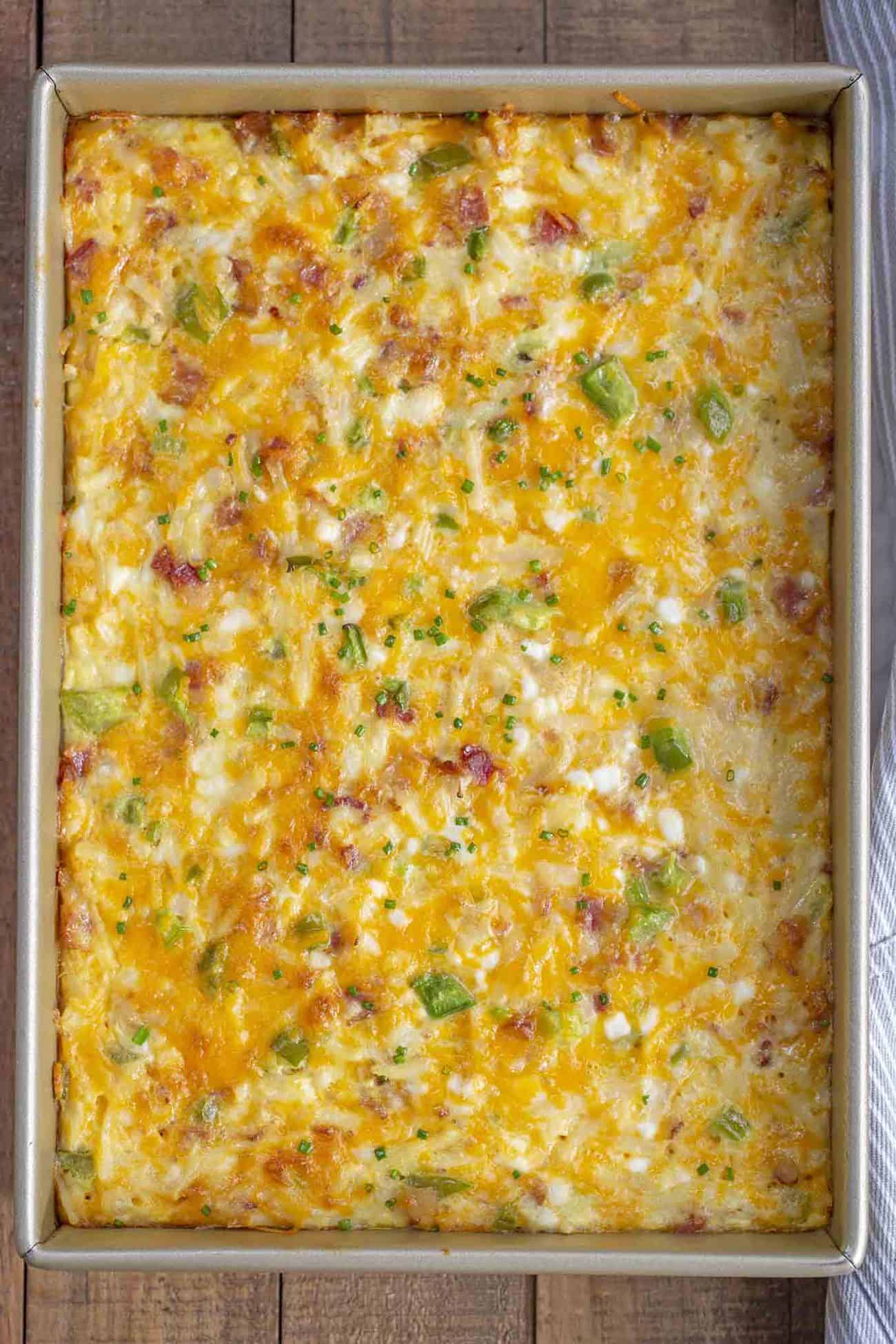 Create a free account to

Save Recipes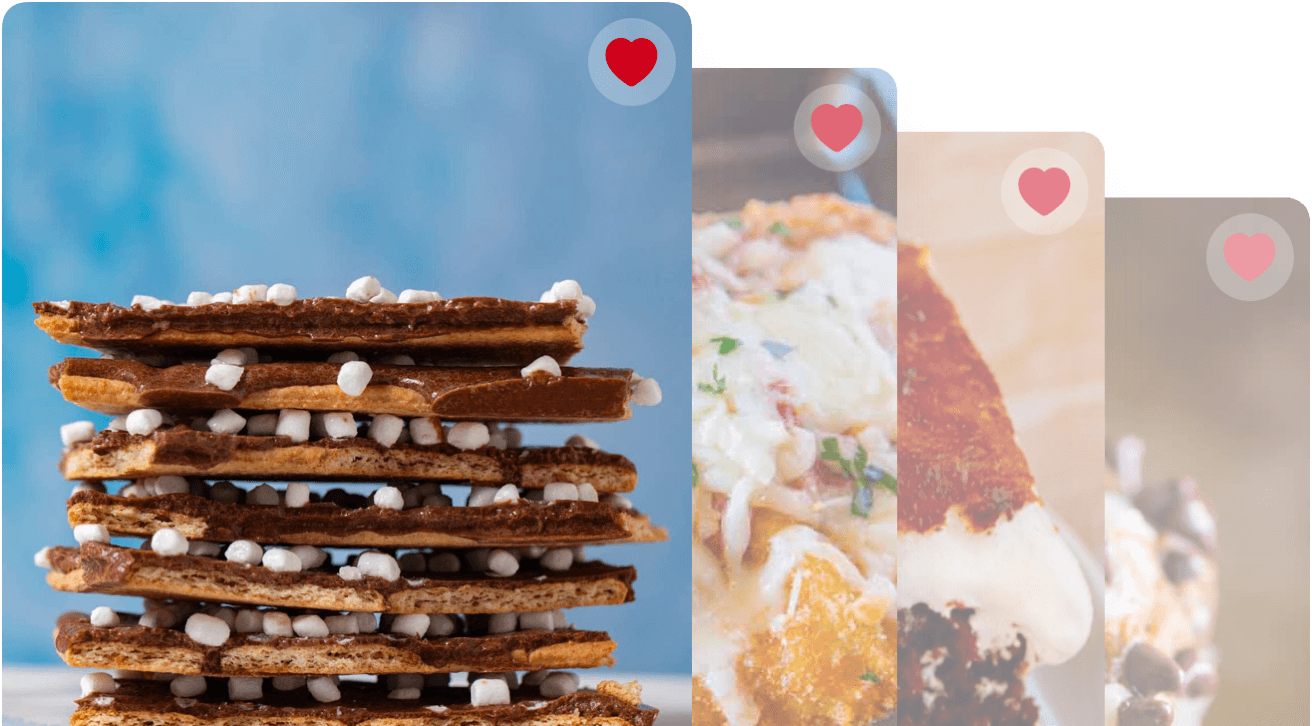 Key Ingredients in Breakfast Casserole
Eggs: You will use 10 large eggs for this recipe. It's a good idea to crack the eggs one by one in a small bowl before adding to a larger bowl to beat. This way if there is a spoiled egg, or if a lot of shell gets into one, you can remedy it quickly without ruining the entire batch.
Bacon: Use any favorite variety of bacon, thick or thin sliced. Dice the bacon while it's cold so that it's easier to handle, and the pieces will separate and crisp up nicely when browned.
Hash Browns: Frozen shredded hash browns make this Breakfast Casserole quick and easy to prepare. Just make sure you defrost them well and pat any excess moisture with paper towels to help prevent the casserole from becoming watery.
Veggies: Minced yellow onion and diced green bell pepper add an aromatic flavor that complements the salty bacon and cheese. They add a nice bright color and crunch along with extra flavor to make your Breakfast Casserole taste almost like a fancy omelette.
Cheese: It's best to buy a block of cheddar cheese and shred it yourself with a cheese grater. This lets the cheese melt into the casserole without adding any grittiness from the anti-caking agents that are often added to pre-shredded cheese. You can use mild, medium, or sharp cheddar depending on your preference.
Slow Cooker Breakfast Casserole
This is a great recipe for making breakfast in the slow cooker, but only use the low setting to avoid overcooking the eggs. Make an overnight breakfast casserole by setting the slow cooker before you go to sleep and waking up to breakfast!
Coat the slow cooker bowl lightly with cooking spray or butter (or use a crock pot liner).
Sauté bacon (or sausage), onion, and bell peppers until bacon is cooked through. Drain grease and add to slow cooker.
Add all other ingredients and stir everything together, with salt and black pepper to taste.
Bake for a total time of 7-8 hours on low, until eggs are cooked through.
More Breakfast Casserole Recipes
Variations on Breakfast Casserole
Add ins: Add your favorite omelette fillings such as cooked sausage or ham, spinach, kale, mushrooms, tomatoes (fresh or sundried), green onions, or broccoli.
Cheese: Instead of cheddar cheese, try mixing in Swiss cheese, goat cheese crumbles, shredded Pepper Jack, gouda, American cheese, or Italian cheeses like Parmesan, mozzarella, or fontina.
Tex Mex Breakfast Bake: Make this a breakfast Tex-Mex casserole by whisking in spices to the egg mixture and adding diced jalapeno or poblano peppers, spicy sausage, and topping with salsa and avocado before serving!
Meats: If you're making a sausage breakfast casserole, breakfast sausage, sweet Italian sausage, or spicy Italian sausage all work well in this recipe. Depending on the fat, you should still drain any grease from the browned sausage before adding to the casserole. If you use leftover cooked ham from dinner the night before, you can skip the browning step entirely and make this a one-dish recipe!
Potatoes: Make tater tot breakfast casserole by swapping the hash browns for a layer of tater tots.
Toppings: Serve your Breakfast Casserole with a variety of condiments and toppings. You can put out sour cream, hot sauce, avocado slices, extra shredded cheese, or ketchup.
Mini Egg Casseroles: Instead of one large casserole, you can stir up the egg mixture in a bowl and spoon it into a greased muffin tin or mini loaf pans for individual servings. Decrease baking time to about 20-25 minutes.
How to Store Breakfast Casserole
Serve: Do not leave your Breakfast Casserole at room temperature longer than 2 hours.
Store: A fully cooked breakfast casserole will last in the fridge for 3-4 days. If it makes it that long without being eaten. If you prepped this casserole ahead of time without baking, cover and refrigerate it for up to 1 day or overnight, then bake your overnight breakfast casserole the next morning.
Freeze: You can freeze this fully cooked easy breakfast casserole for 2-3 months. I recommend using a disposable catering dish if you're going to do this so you don't have to use a casserole dish. Make sure you wrap it tightly to prevent freezer burn. You can also portion into serving sizes and wrap each one individually for breakfast or brunch on-the-go throughout the week. Do not freeze this dish if you used an egg substitute as it will not freeze well.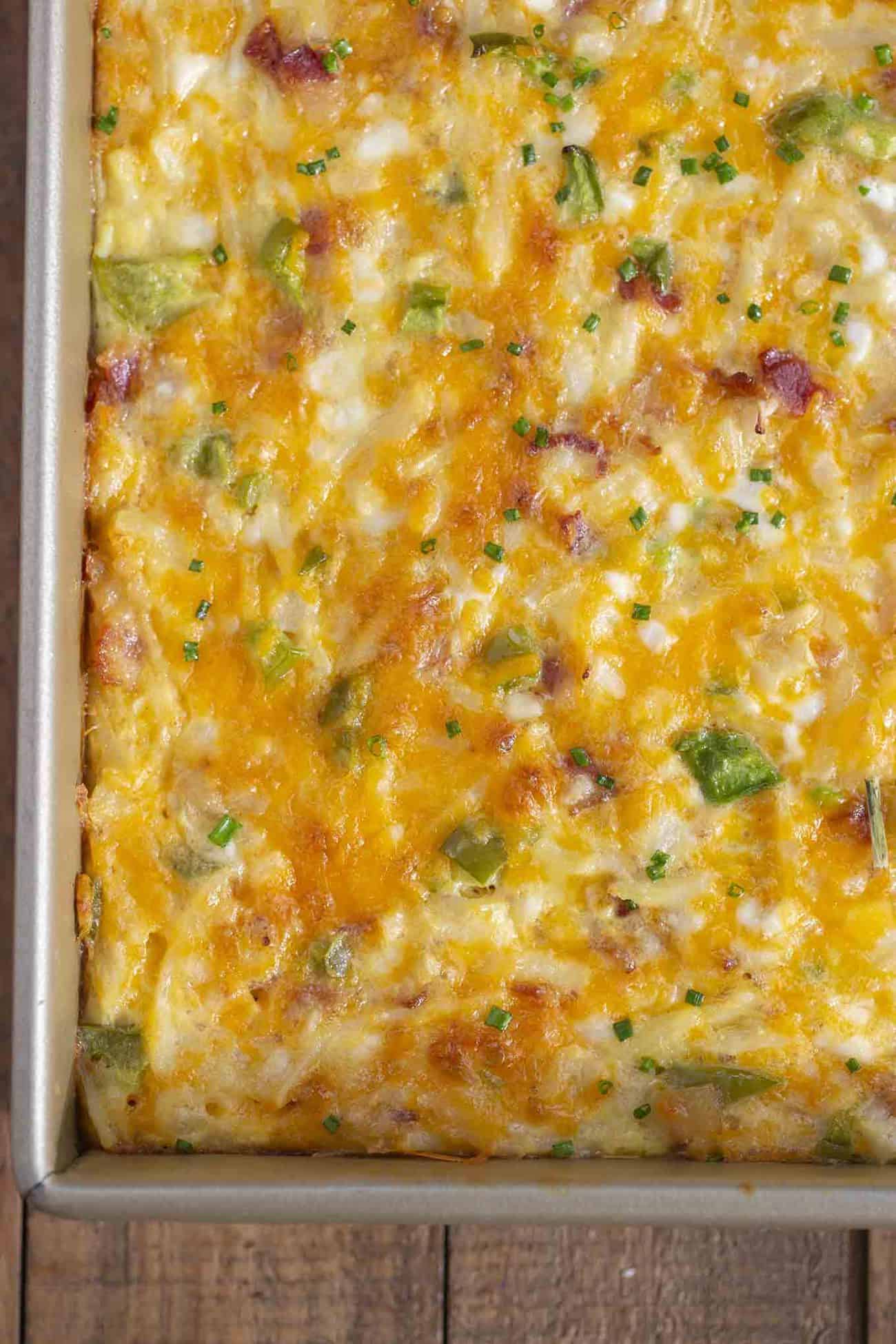 Ingredients
1

pound

bacon

, diced

1/2

yellow onion

, minced

1

green bell pepper

, diced

4

cups

frozen shredded potatoes

6

tablespoons

unsalted butter

, melted

10

large

eggs

3

cups

cheddar cheese

, shredded

16

ounces

small curd cottage cheese
Instructions
Preheat the oven to 375 degrees and spray a 9×13 baking dish with vegetable oil spray.

Add the bacon, onion and bell pepper to a large skillet on medium high heat until cooked just shy of being done.

Drain the fat and add the mixture to a large bowl with the hash browns, butter, eggs, cheddar cheese and cottage cheese.

Mix the ingredients until they're well coated.

Put into a 9×13 baking dish and bake, uncovered, for

60-70 minutes

.
Notes
Note: click on times in the instructions to start a kitchen timer while cooking.
Nutrition
Calories:
566
kcal
|
Carbohydrates:
18
g
|
Protein:
26
g
|
Fat:
42
g
|
Saturated Fat:
19
g
|
Cholesterol:
254
mg
|
Sodium:
758
mg
|
Potassium:
499
mg
|
Fiber:
1
g
|
Sugar:
2
g
|
Vitamin A:
910
IU
|
Vitamin C:
16.8
mg
|
Calcium:
322
mg
|
Iron:
2.1
mg