Ham and Cheese Croissant Breakfast Casserole will be your new go-to breakfast bake perfect for holidays, brunch, or even dinner. Ready in about an hour!
What would you get if our Breakfast Casserole met our Chocolate Chip Croissant Bake? This delicious, hearty Breakfast Recipe that can feed a crowd in no time.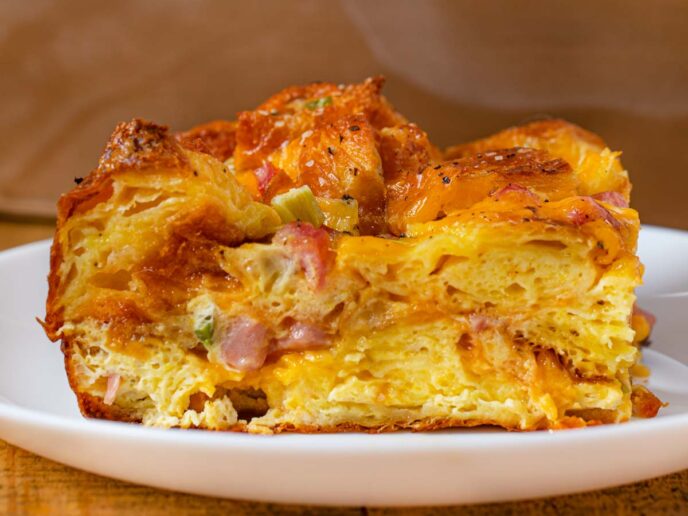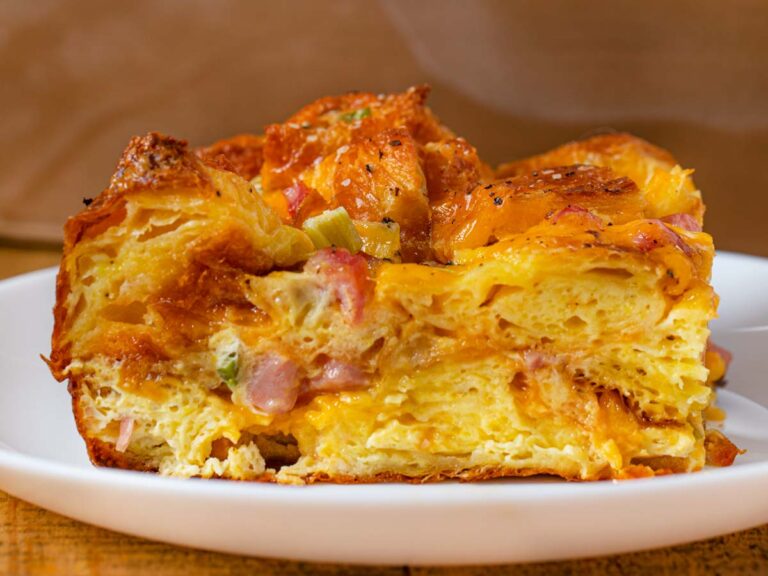 HAM AND CHEESE CROISSANT BREAKFAST CASSEROLE
This breakfast croissant casserole is a rich, savory bake that is inspired by a coffee shop staple, the Ham and Cheese Croissant. These buttery, delicious sandwiches get turned into a dish loaded with cheesy, crispy eggy goodness in every bite.
To make this egg bake, we used day old croissants that were from the bakery. You want to make sure you get the large ones, the kind they make sandwiches with. If you use smaller ones, use more and keep the pieces chunkier. While we definitely love them for so many other recipes – do not use crescent rolls for this dish!
This is one of those great recipes using what I have on hand. I love creating a delicious meal that is low stress using leftovers because we get to enjoy every bite of whatever delicious recipe I made the day or two before. This dish is a perfect way to keep enjoying your Baked Ham on Christmas Morning or for Easter Brunch.
If you want to make this dish a brunch centerpiece, pair it with a side dish like crispy Hash Browns and garnish with scallions and crème fraîche (or sour cream). While this dish really doesn't need a sauce, it's so rich, you can always serve it with Honey Mustard or a cheese sauce.
Ham and Cheese Croissant Breakfast Casserole doesn't just have to be for breakfast though. You can make this dish for a lunch or dinner. We love to serve a big slice of the bake with with a fresh salad and soup, like Tomato Bisque. It's like bringing a cafe right into your dining room.
Can this be made ahead of time?
Like a French Toast Bake, Ham and Cheese Croissant Breakfast Casserole can easily be made ahead of time. Just refrigerate overnight in the casserole dish and bake the next morning. You may need to add about 5 minutes to the cook time since it will be going into the oven cold.
MORE BREAKFAST RECIPES FOR A CROWD
HOW TO MAKE HAM AND CHEESE CROISSANT BREAKFAST CASSEROLE
Make The Custard: Add in all the custard ingredients and whisk well.
Croissants: Make sure you're using old croissants.
Ham: Dice your ham into bite-sized pieces.
Mix well: Mix them all together well.
Bake: Add to the baking dish, bake covered and uncovered until custard is set and croissant topping is crispy.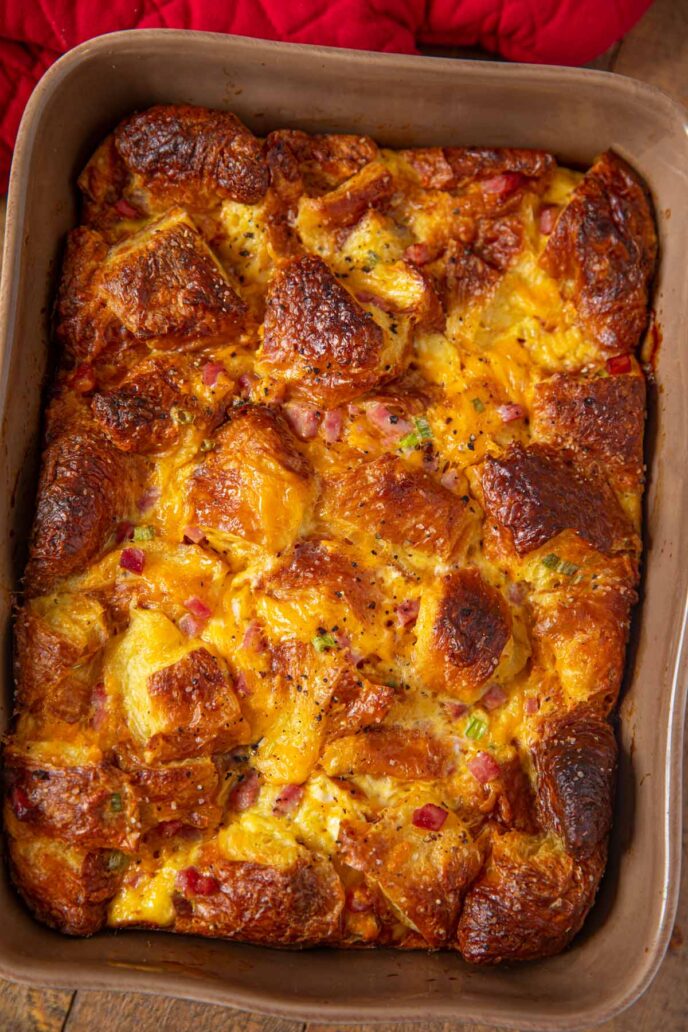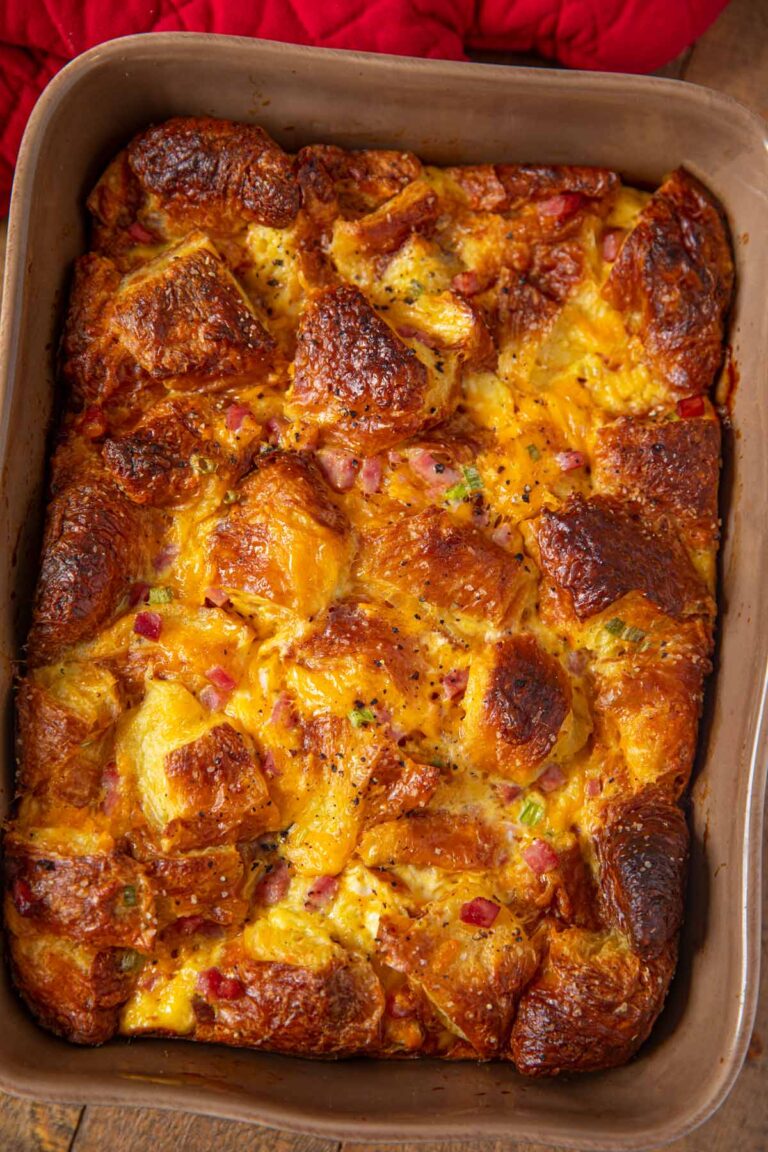 Create a free account to

Save Recipes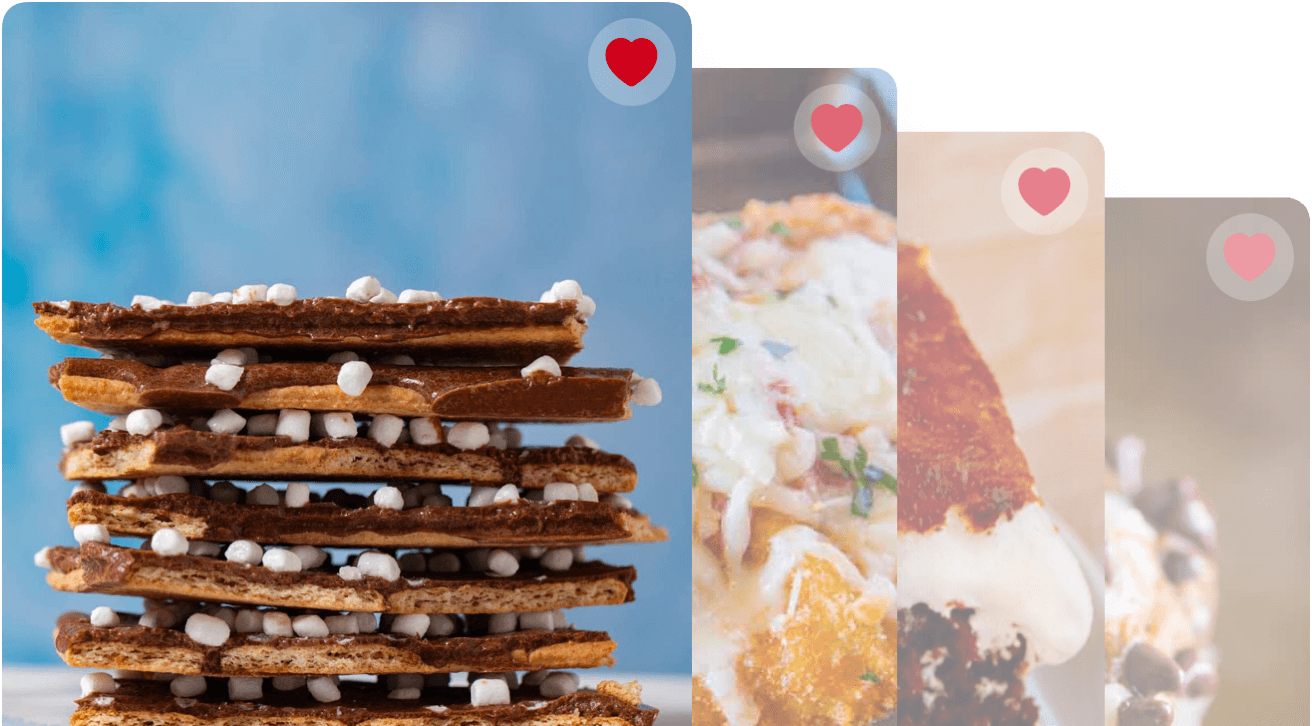 VARIATIONS ON HAM AND CHEESE CROISSANT BREAKFAST CASSEROLE
Meat: Use ham steak, deli ham, or leftover Baked Ham for the best hammy flavor. If you are craving even more pork, add some crispy, thick bacon that has been diced into big chunks.
Cheese: Pile on more cheese or swap out the cheddar for your favorites. We like to use Swiss, mozzarella, or gruyere (or a combination of cheeses) depending on what we have on hand.
Vegetarian: Leave out the meat and substitute some roasted veggies like bell peppers and zucchini to make this vegetarian. If you want to add veggies plus the ham, mushrooms and Swiss would taste delicious together!
Bread: If you don't have croissants on hand, you can substitute a loaf of brioche bread or french bread. The important thing is to make sure it's been dried out for a day (or try our oven hack) so that it stays firm baking in the custard.
Spicy: Mix your favorite hot sauce or some cayenne pepper into your egg mixture to give this dish some heat. You can also add a can of diced jalapeños or green chiles. Make sure to drain the peppers before adding.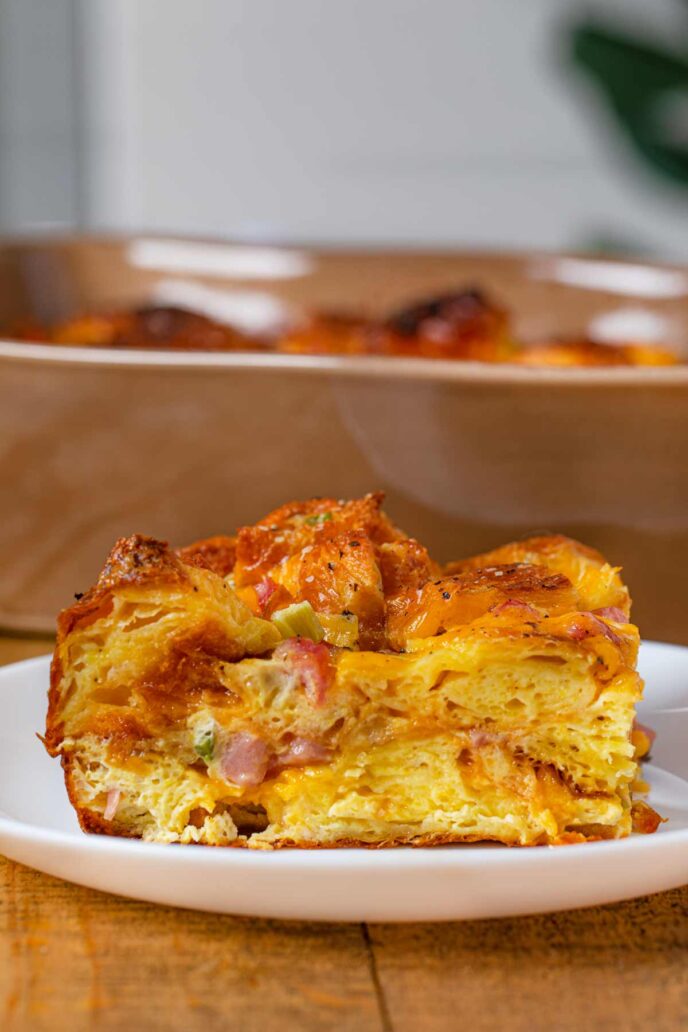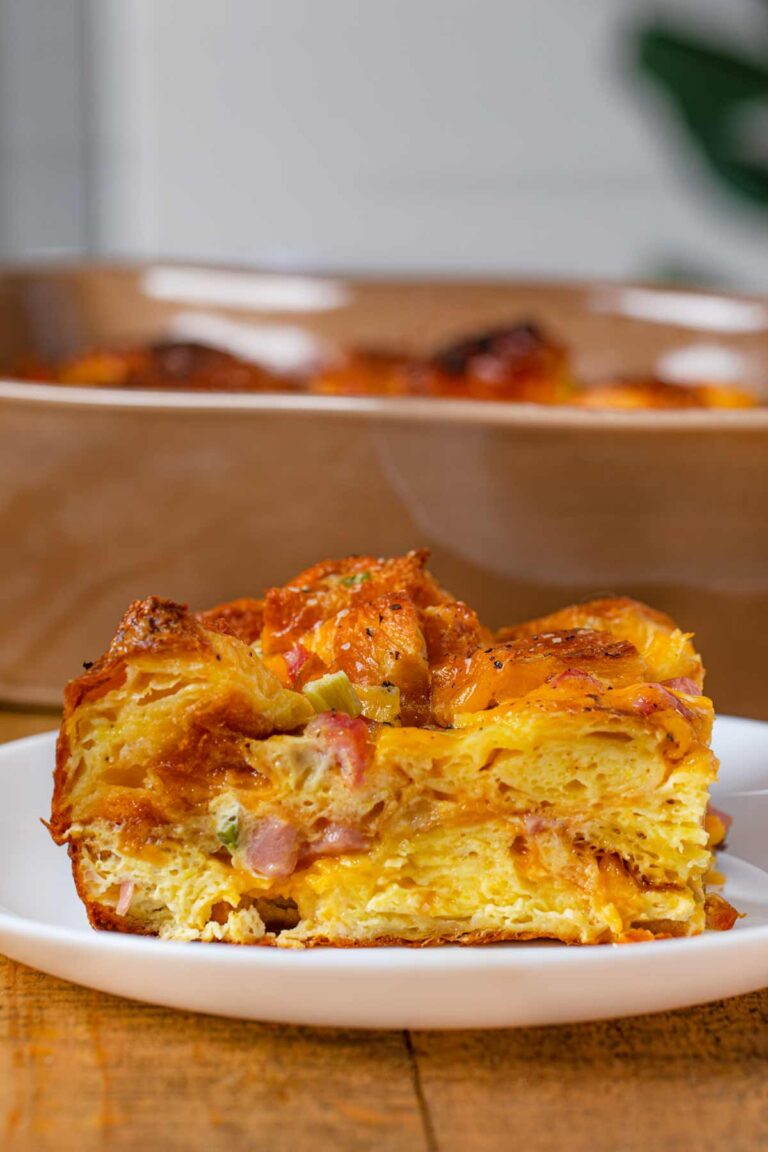 HACK TO DRY OUT BREAD FOR STUFFING OR BAKES
If you don't have day old bread for stuffing or breakfast bakes like this Ham and Cheese Croissant Casserole, don't worry! Simply chop up your bread pieces and add them to a 250 degree oven for 15-20 minutes until they're dried out. Voila!
HOW TO MAKE IN A SLOW COOKER
Make this even easier by tossing it in your crockpot. It will have a bit more of a bread pudding texture, but still absolutely delicious! Grease your slow cooker and prepare the egg mixture as usual, adding ham and cheese but not bread. Place your croissant pieces evenly on the bottom of the slow cooker. Pour egg mixture over all the bread pieces. Cook on high for 2 ½ to 3 ½ hours, or on low for 4 to 5 hours.
MORE DELICIOUS BREAKFAST RECIPES
HOW TO STORE HAM AND CHEESE CROISSANT BREAKFAST CASSEROLE
Serve: This casserole is okay for up to 2 hours at room temperature and then should be stored.
Store: Tightly cover your casserole and keep in the fridge for up to 1 week.
Freeze: This dish will freeze well for up to 3 months. Cool completely before storing in an airtight container.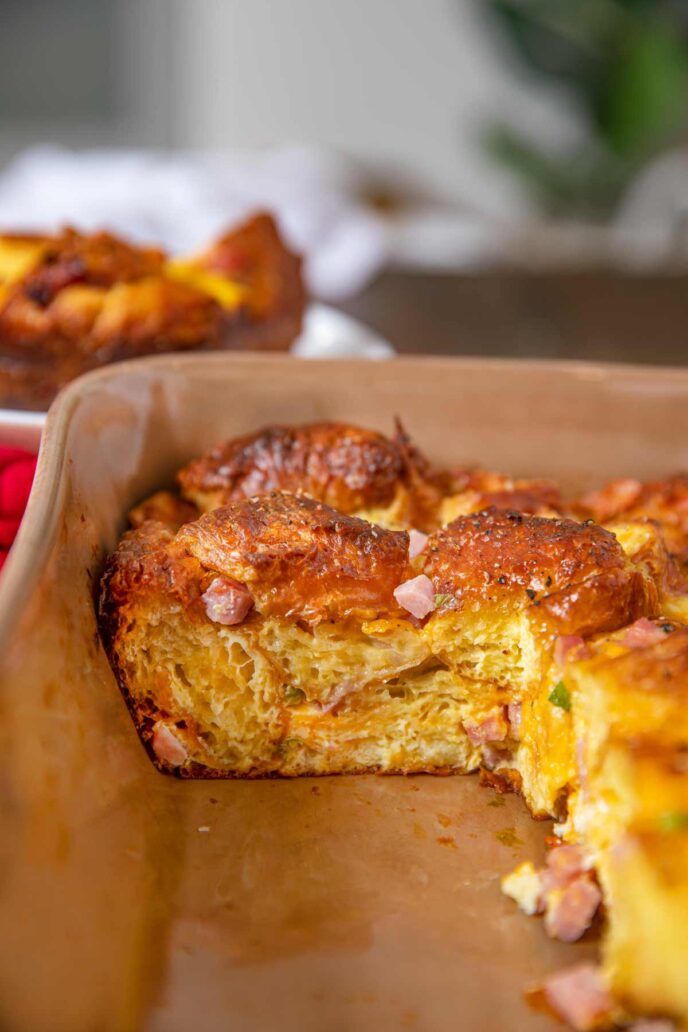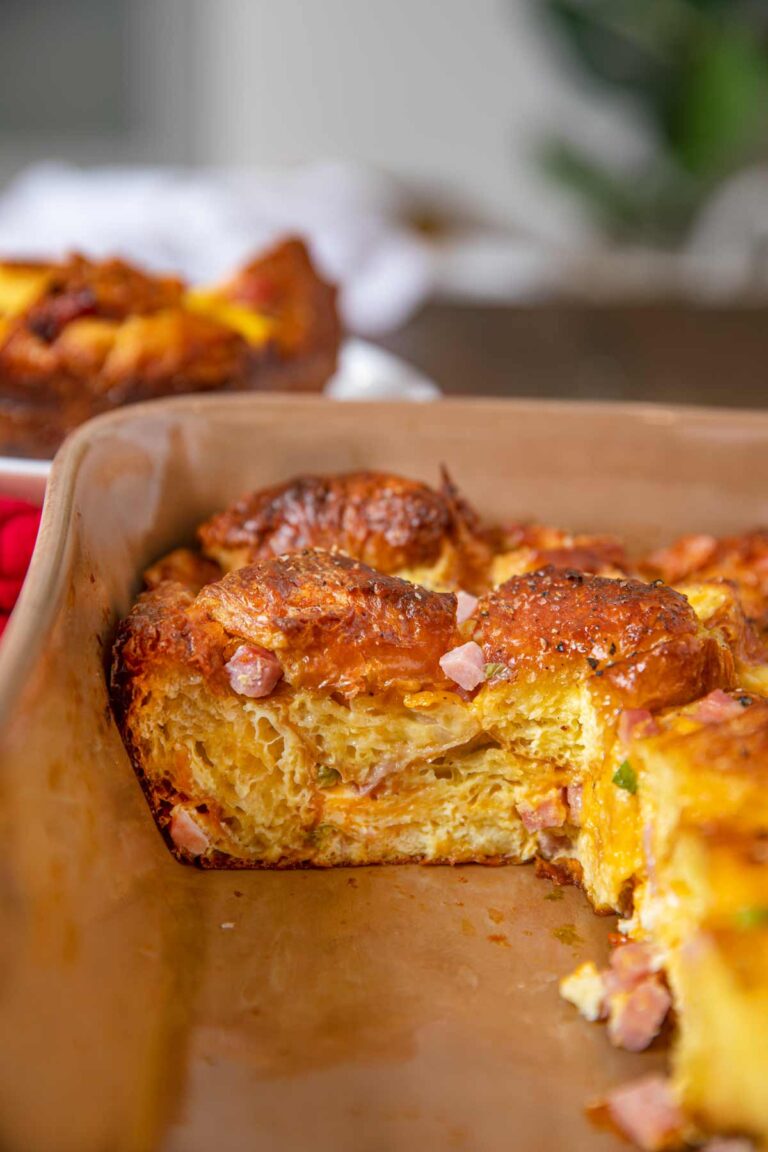 Ingredients
8

large

eggs

1 1/2

cups

whole milk

2

teaspoons

ground mustard

2

tablespoons

brown sugar

, packed

1

teaspoon

Kosher salt

1/2

teaspoon

coarse ground black pepper

1/4

teaspoon

ground nutmeg

2

cups

cheddar cheese

, shredded

2

stalks

green onions

sliced

6

large

croissants

, cut into 1" cubes

2

cups

cooked ham

, diced
Instructions
Preheat oven to 350 degrees and spray a 9x13 baking dish with vegetable oil spray.

Whisk together the eggs, whole milk, mustard, brown sugar, Kosher salt, pepper, nutmeg, cheese and green onions in a large bowl.

Add in the croissant pieces and toss gently but until the mixture is well combined.

Add half the mixture to your baking dish then sprinkle in half the ham pieces.

Add the rest of the croissant mixture and top with the remaining ham.

Cover with foil and bake for

30 minutes

.

Remove foil and bake

20 minutes

to brown the croissants and finish cooking the custard filling.
Nutrition
Calories:
323
kcal
|
Carbohydrates:
20
g
|
Protein:
17
g
|
Fat:
19
g
|
Saturated Fat:
10
g
|
Cholesterol:
200
mg
|
Sodium:
752
mg
|
Potassium:
209
mg
|
Fiber:
1
g
|
Sugar:
8
g
|
Vitamin A:
711
IU
|
Vitamin C:
5
mg
|
Calcium:
209
mg
|
Iron:
2
mg