Grilled Cheese Breakfast Casserole is the ultimate indulgent breakfast for a crowd. Buttery grilled cheese sandwich filled with scrambled eggs and sausage.
Christmas Mornings usually mean Sausage Breakfast Casserole but this new breakfast casserole is a fun twist on an old tradition and a welcome addition to our assortment of Breakfast Recipes. Who doesn't want a delicious crispy breakfast grilled cheese in the morning with melted cheese pouring out the sides?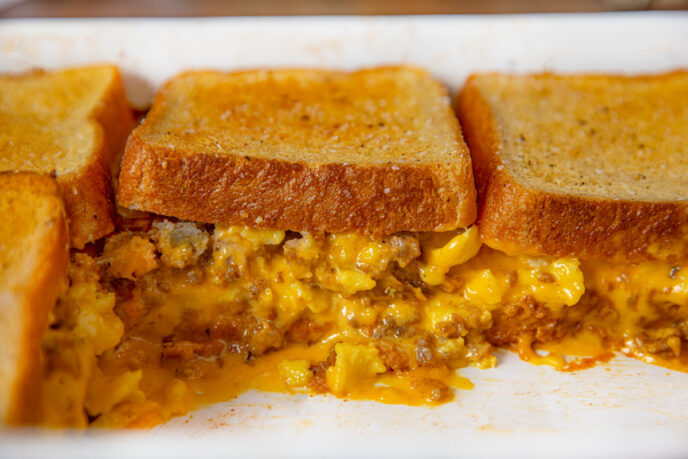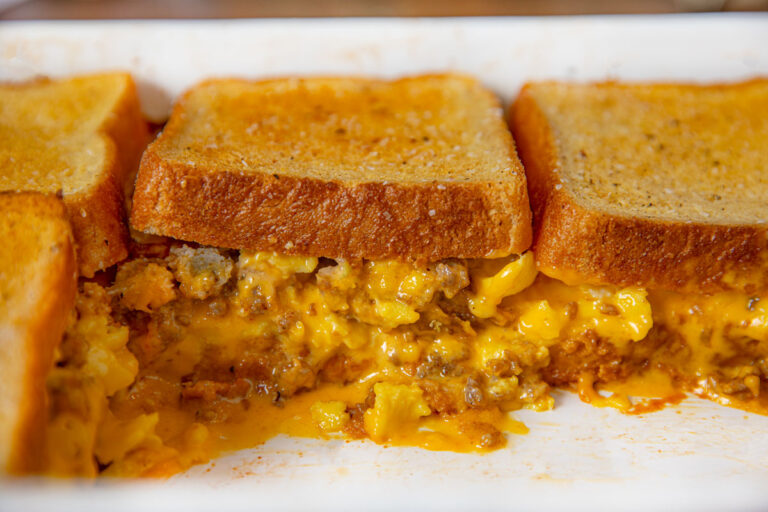 Grilled Cheese Sausage & Egg Breakfast Casserole
Comfort food at it's finest for the day after New Years Eve celebrations or anytime you need an easy yet flavorful one dish breakfast for family and friends. We love breakfast at our house so this recipe will be an option for lunch or dinner as well as breakfast.
The casserole has a fairly standard base custard except we also add scrambled eggs to the mix so it bakes together and has additional egg pieces baked in. Plus the top bread isn't soaked through so it stays crispy and buttery, the perfect combination of textures.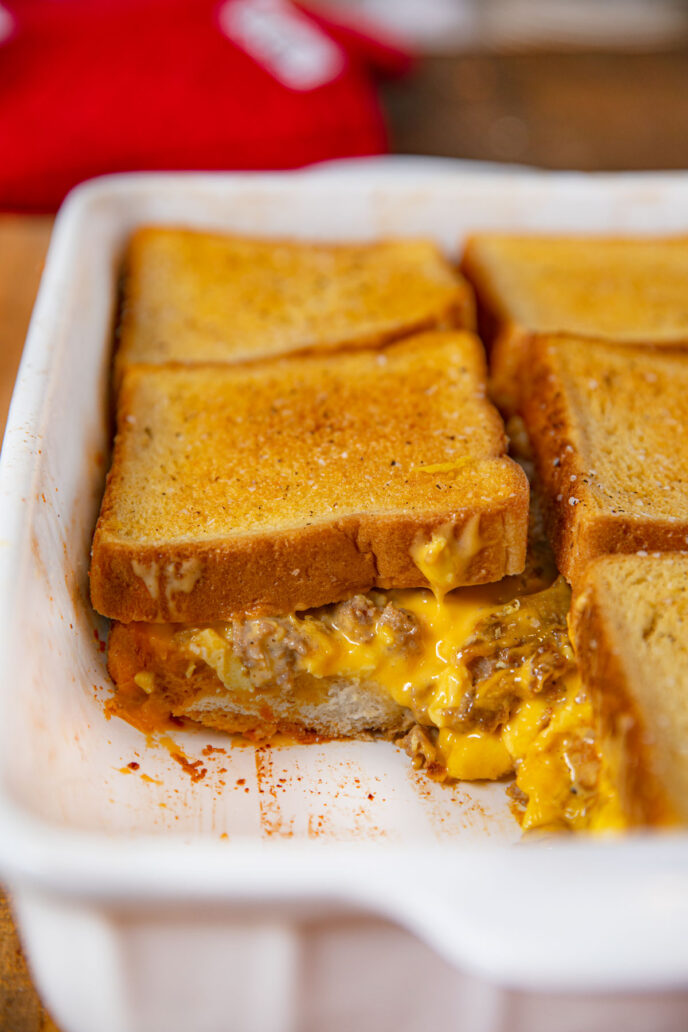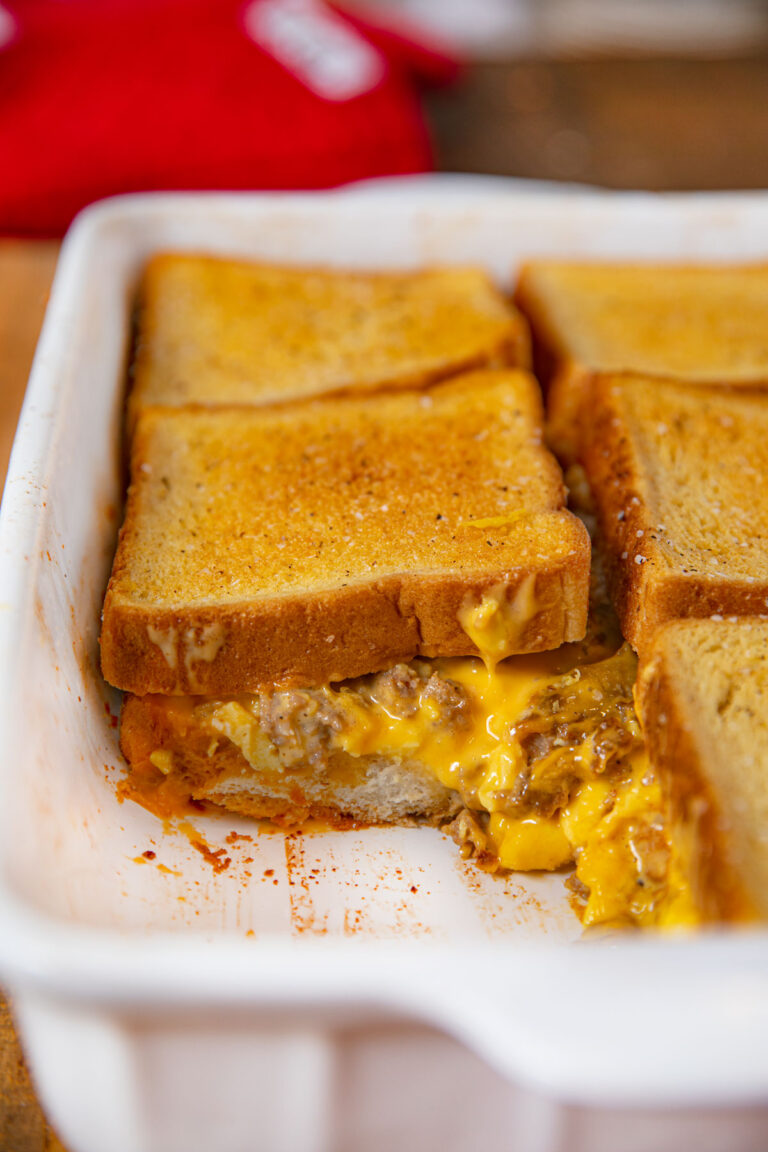 One of the best things about breakfast casseroles is a clean kitchen the day you serve it because you made it ahead of time. You're going to thank me for this when you're tired after a fun evening out or working late and everyone is hungry.
All you need to do in the morning is take your Grilled Cheese Breakfast Casserole out of the refrigerator, bake and serve it. And, of course, have your second cup of coffee.
Re-Heating
Once you've served the dish you can wrap leftovers in single serving sizes for later in small foil pouches. To re-heat add the whole pouch, cut a slit to vent and toast for 5-7 minutes before opening (carefully) and serving.
MORE BREAKFAST RECIPES FOR A CROWD
HOW TO MAKE GRILLED CHEESE BREAKFAST CASSEROLE
Pick a nice thick slice of bread.
Make your custard
Pre-cook your sausage.
Scramble your eggs gently.
Assemble the casserole: bread, cheese, eggs, meat, cheese, custard, bread and brushed with butter.
Bake until the custard is set and the top is golden brown.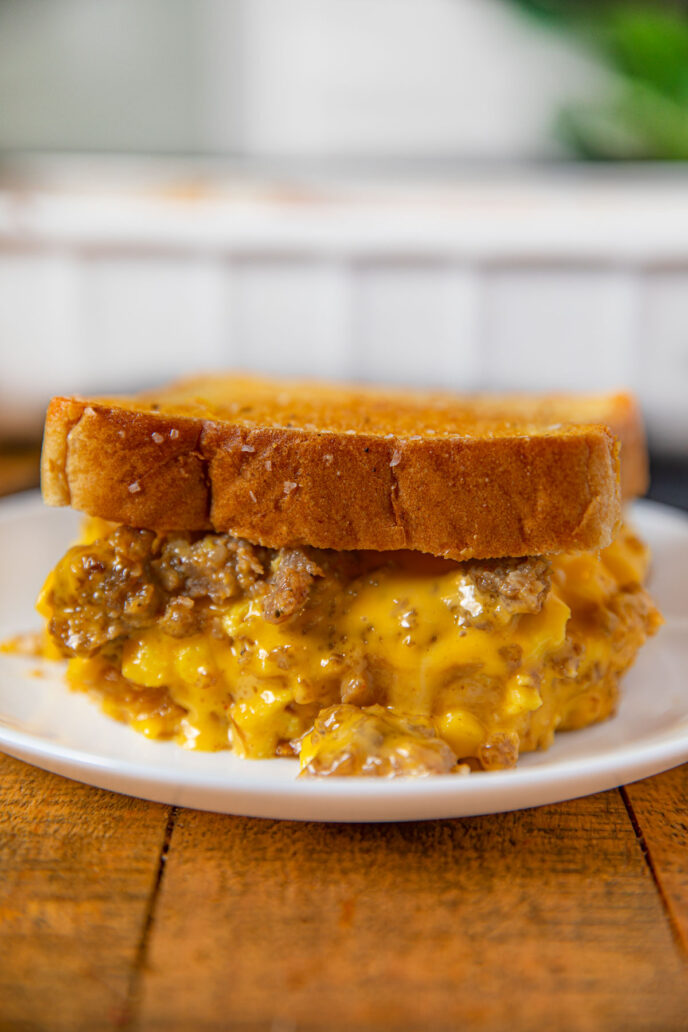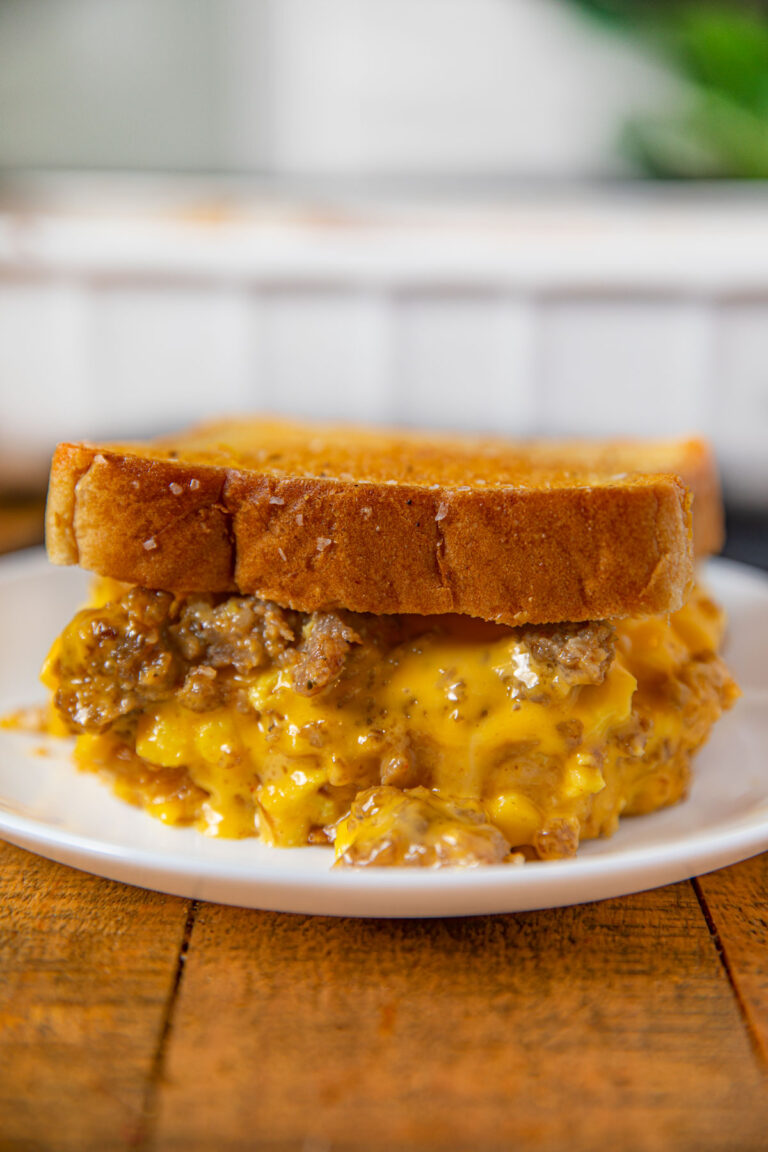 Create a free account to

Save Recipes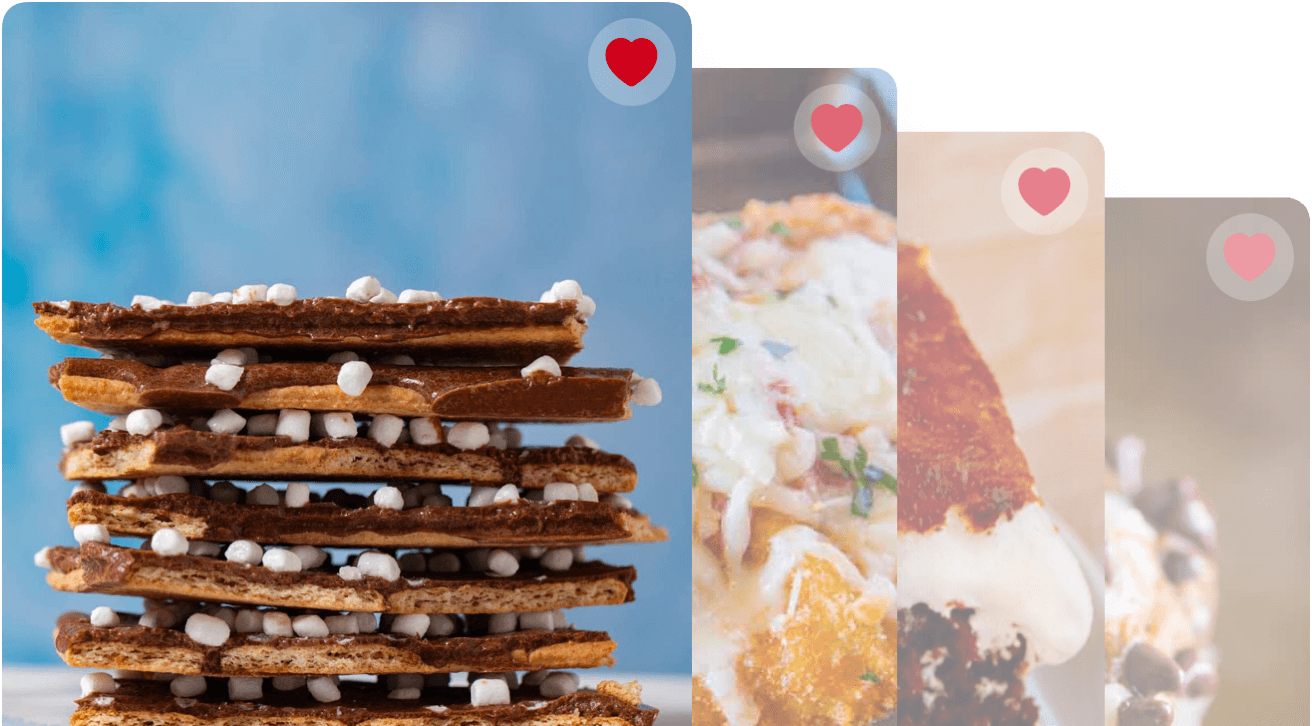 Flavor Variations
Sausage: Any variety of bacon, sausage, seasoned burger or chicken will work well with this casserole.
Cheese: Select cheeses that melt well, like mozzarella, cheddar, gruyere, provolone.
Vegetables: Tip: Dice small and scramble with your eggs. spinach, mushrooms, peppers (green, red, yellow, orange, jalapeno), minced onions and garlic.
Breads: Choose bread that is thick and has substance and won't turn to mush. Consider slicing the bread yourself. sourdough, light rye (use pastrami and provolone), whole grains (flavorful with veggies). You can also use croissants in this, just be sure to leave enough of the top croissant out of the custard so it can crisp up, and to leave it cut side up so you can brush with butter.
MORE BREAKFAST BREAD RECIPES
HOW LONG WILL GRILLED CHEESE BREAKFAST CASSEROLE BE GOOD?
Serve: Allow the casserole to set up for 10 minutes or so before serving. The casserole will continue to cook when removed from the oven so allow it to set up so servings are not runny. Just make sure that the middle of the casserole is cooked and piping hot like the edges. Insert a knife in the middle of your casserole to test. No need to worry about the meat as it is pre-cooked.
Store: When making the casserole ahead to be served within 2 – 3 days or less, wrap tightly with Saran wrap and then cover with tin foil. Don't forget to remove Saran wrap prior to baking! To create individual portions, wrap in Saran wrap or zip lock baggie. IF, and I mean if, you have leftovers, you may use baggies or Saran wrap to store in the refrigerator for up to 1 week.
Freeze: You may freeze your casserole up to 1 month ahead of time. Consider using a disposable tin foil container. Wrap as tightly as possible with saran wrap and then cover with tin foil lid or well crimped edges to dish to prevent freezer burn.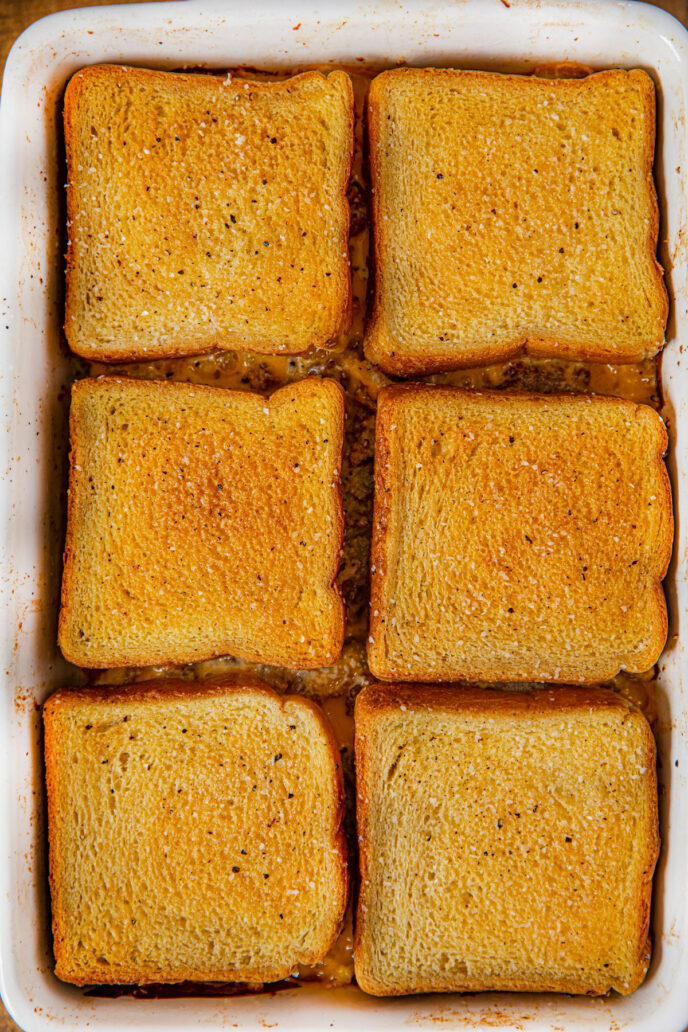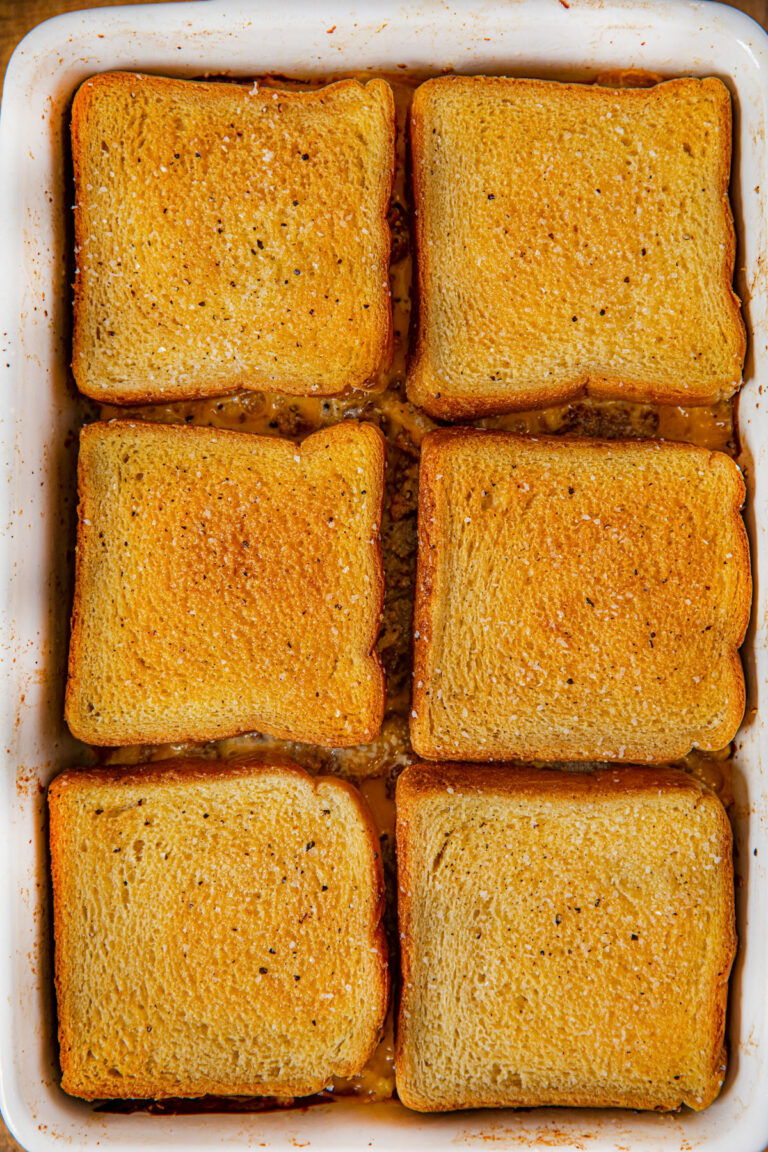 Ingredients
1

pound

pork breakfast sausage

18

large

eggs

, divided

4

tablespoons

butter

, divided

1

cup

whole milk

, divided

1/4

teaspoon

kosher salt

1/2

teaspoon

coarse ground black pepper

1/2

teaspoon

ground mustard

12

slices

Texas toast

12

slices

American cheese
Instructions
Preheat oven to 375 degrees.

Cook the breakfast sausage in a large pan on medium high heat for

4-5 minutes

or until browned well, breaking it apart as you cook it.

Remove the pork and drain the fat.

Add one tablespoon of butter to the pan on medium heat.

Whisk 10 eggs with ¼ cup of milk, salt and pepper then add it to your pan.

Scamble the eggs until just set.

In a 9x13 pan line the first 6 slices onto the pan and top each piece of bread with a slice of cheese.

Add in the sausage, then the cooked eggs and top with a piece of cheese.

Mix the remaining 8 eggs, ¾ cups milk and ground mustard in a medium bowl then pour it over the pan gently.

Top with the remaining slices of bread.

Melt the remaining 3 tablespoons of butter and brush it onto the tops of the bread.

Bake for

20 minutes

, covered with foil.

Remove the foil and bake an additional

20 minutes

.
Nutrition
Calories:
445
kcal
|
Carbohydrates:
20
g
|
Protein:
25
g
|
Fat:
29
g
|
Saturated Fat:
12
g
|
Cholesterol:
378
mg
|
Sodium:
996
mg
|
Potassium:
271
mg
|
Fiber:
1
g
|
Sugar:
4
g
|
Vitamin A:
836
IU
|
Vitamin C:
1
mg
|
Calcium:
298
mg
|
Iron:
8
mg