Chocolate Chip Croissant Casserole is an easy recipe to make with leftover croissants with a sweetened cream cheese custard filling and lots of chocolate chips.
The most popular of all of our Breakfast Recipes on the site is our French Toast Bake which is a crispy crumble topped French Toast casserole that doesn't need to sit overnight. This takes that quick casserole up a notch with cream cheese, chocolate chips and delicious, buttery CROISSANTS!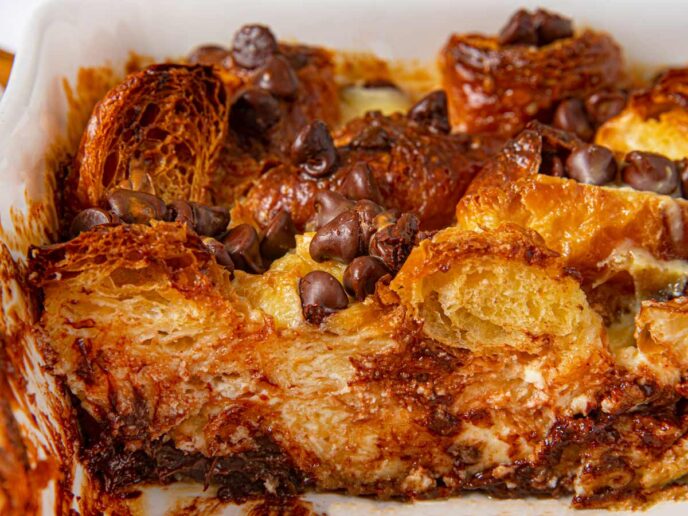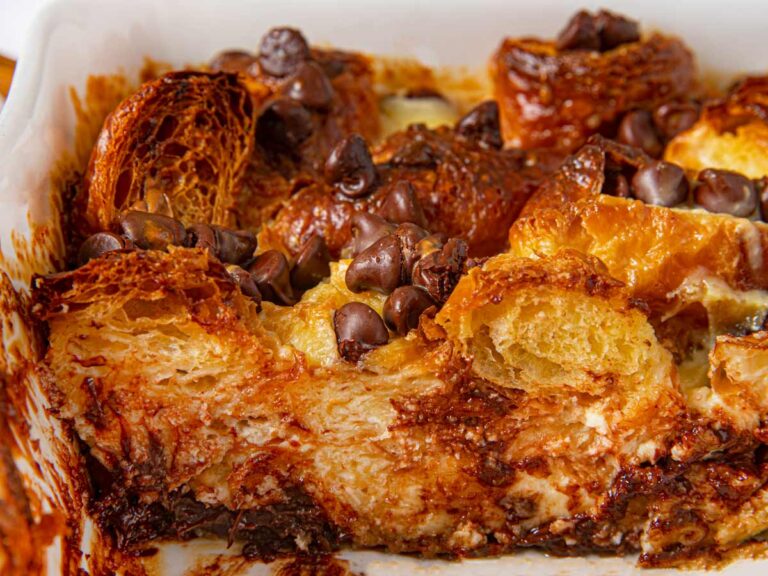 Chocolate Chip Croissant Casserole
Most Casseroles, even breakfast ones, have an egg custard that they soak in (usually overnight). This recipe has a sweetened cream cheese custard that creates a Croissant Cheesecake Bake texture to this recipe.
You won't find a more delicious croissant bake recipe than this one. It's sweet, yet tangy, full of a creamy cream cheese filling and studded with lots of chocolate chips.
The inspiration for this recipe came from an old Michael Chiarello Ice Cream Croissant Casserole recipe where he baked croissants with a creme anglaise custard then topped it with a melted vanilla ice cream sauce. That recipe, if you can believe it, is even more over the top than this recipe! I love the ease of this recipe and it's just as delicious (with significantly less calories).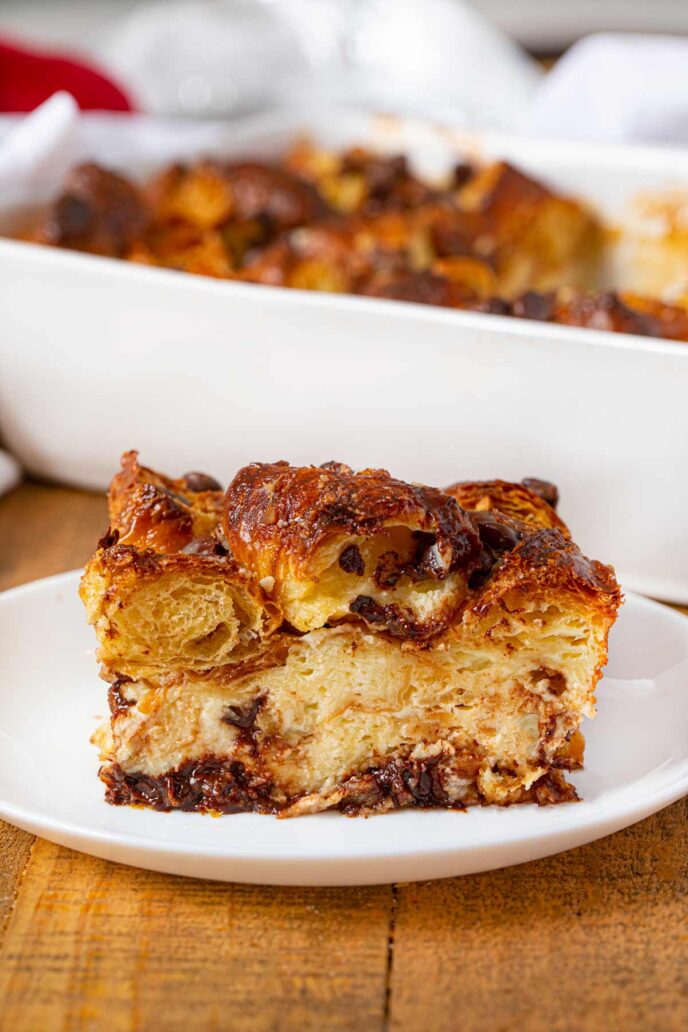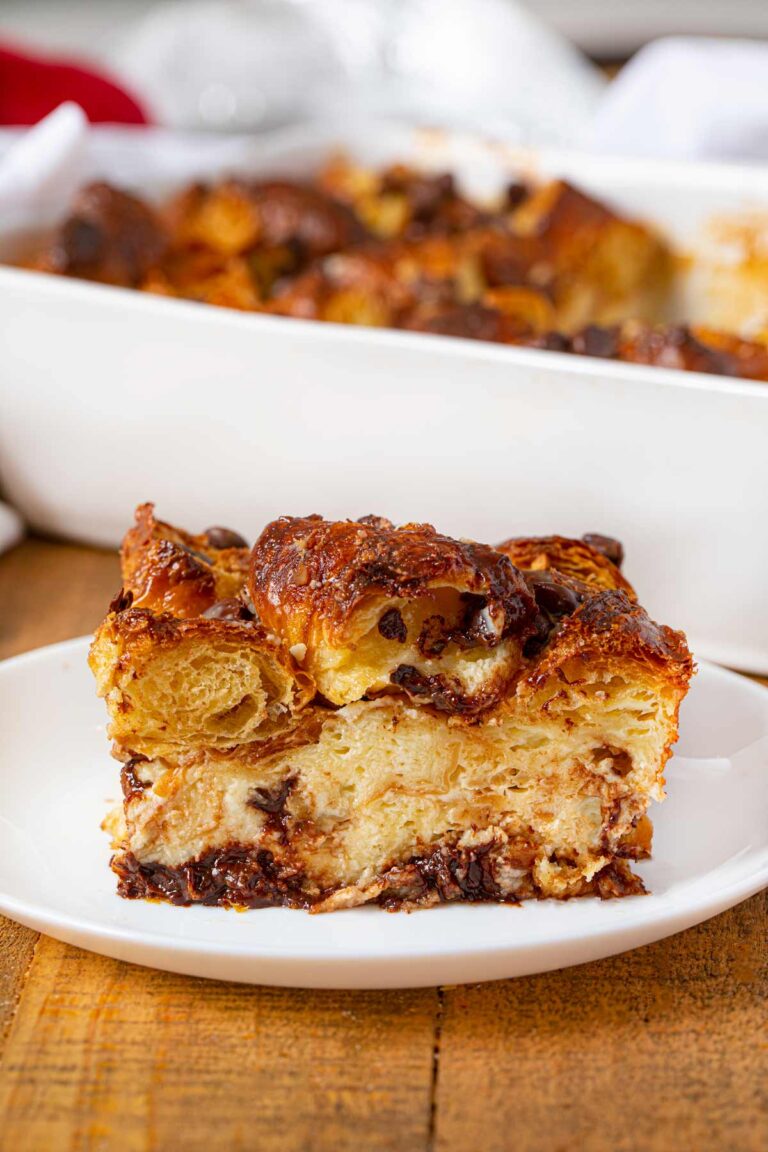 Casseroles with Croissants:
The best way to make this recipe is to use old croissants. They'll be better in soaking up the custard and holding their texture. If you told have old croissants, buy them the day before, chop them up and leave them out overnight.
If you don't have that much time, chop them up and add them to a 250 degree oven for 15-20 minutes until they're dried out.
Substitute for Croissants?
Brioche Bread: Either loaves of brioche, or brioche buns that are dried out would be a great substitute as well. Use a 16 ounce loaf.
Texas Toast: Dried out Texas Toast (12 slices) would be a great substitute.
French Bread: French Bread has a wonderful crusty texture already built in, it would be a delicious substitute. Use a 16 ounce loaf.
MORE BREAKFAST RECIPES FOR A CROWD
HOW TO MAKE CHOCOLATE CHIP CROISSANT CASSEROLE:
Make The Custard: Make sure you have well softened cream cheese or it won't mix well. Add in all the custard ingredients and whisk well.
Croissants: Make sure you're using old croissants.
Chocolate Chips: You can use chips or chocolate disks too.
Mix well: Mix them all together well and let it sit for 5 minutes to let the croissants soak up some of the custard.
Bake: Add to the baking dish, bake covered and uncovered until cream cheese custard is set and croissant topping is crispy.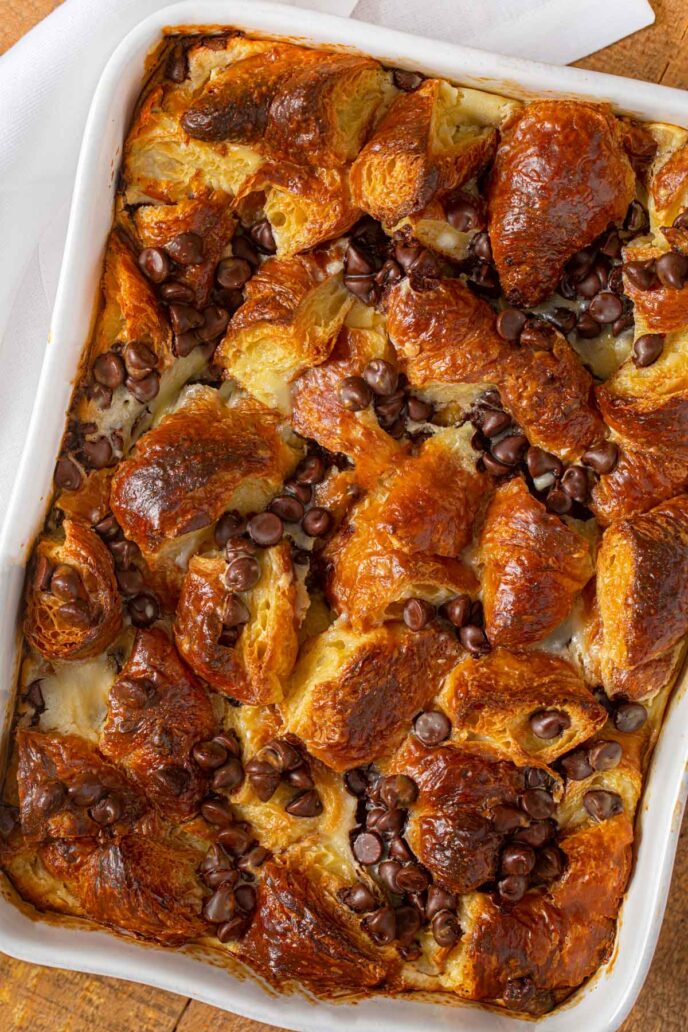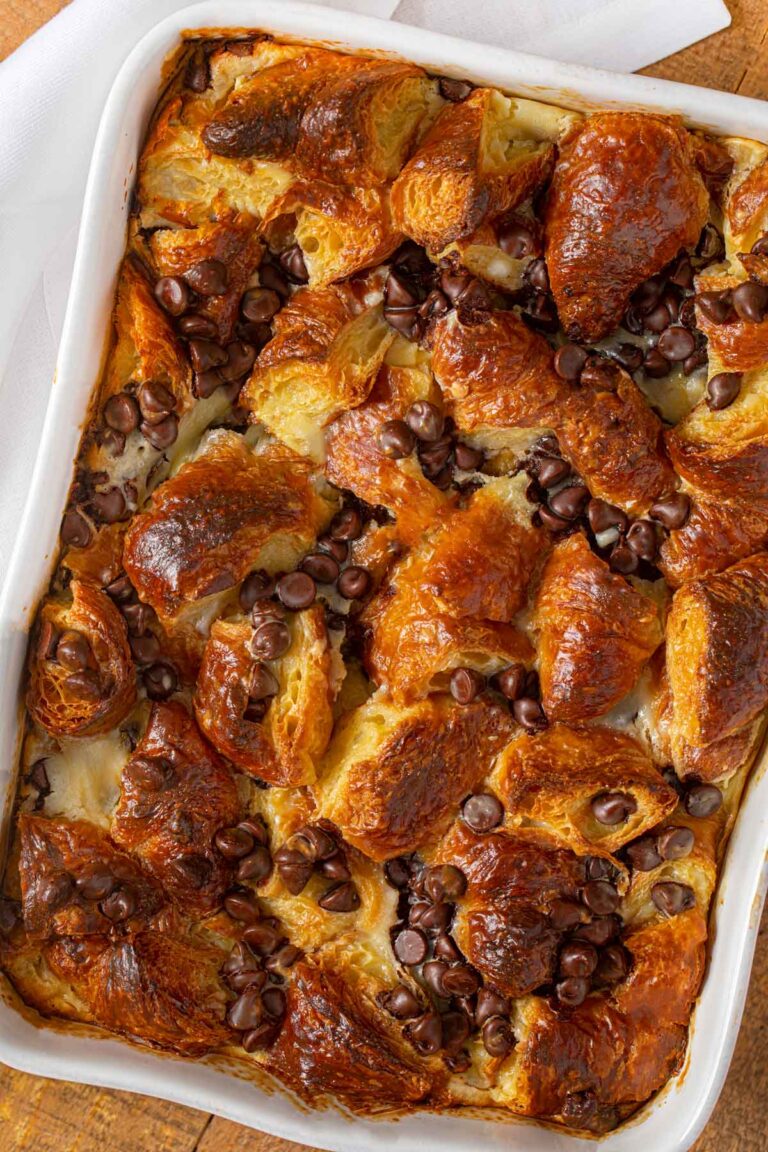 Create a free account to

Save Recipes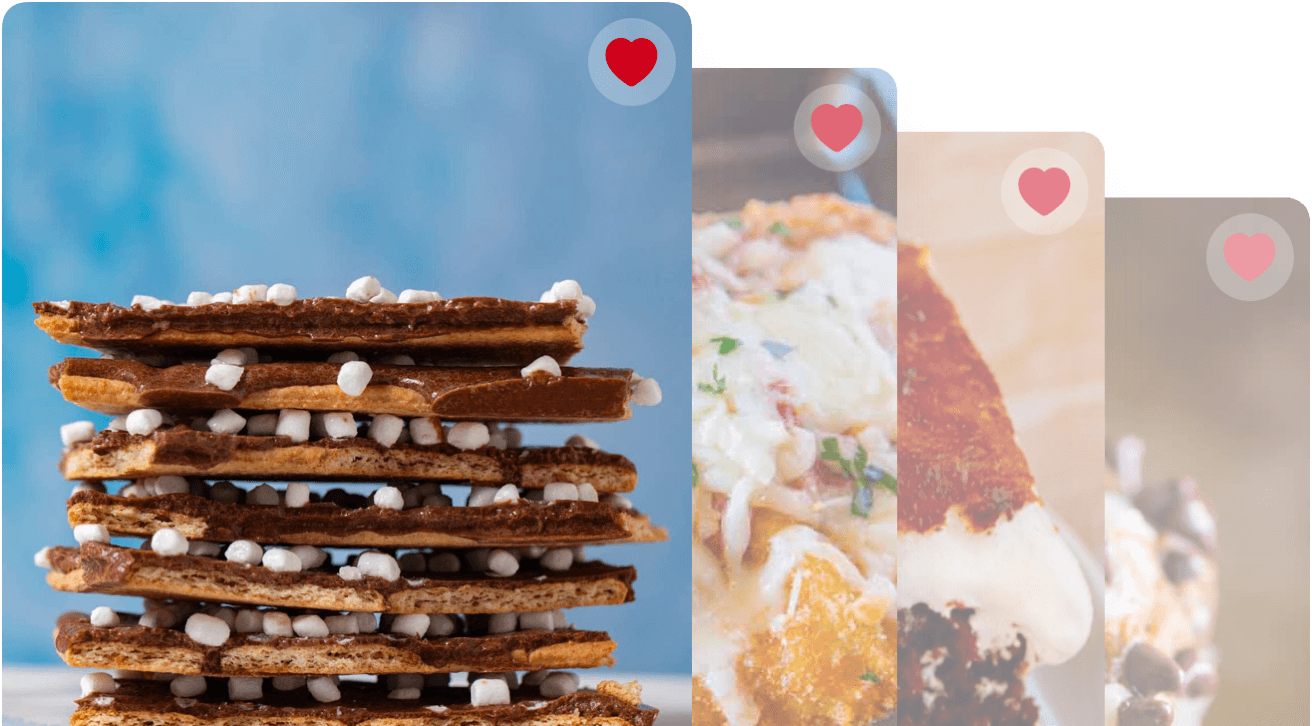 ADD INS AND FLAVOR VARIATIONS:
Nutella: If you want to make the custard more chocolate-y, add in ½ cup Nutella to the mixture and mix well. Or you can add dollops to the mixture and just mix slightly so you end up with pockets of Nutella.
Cinnamon: Top with cinnamon sugar for a sweet crispy crust.
Berries or Bananas: Add your favorite berries to the mixture. 1 ½ cups of sliced strawberries, sliced bananas, raspberries or blueberries would all be delicious additions.
Nuts: You can add your favorite chopped nuts to this recipe including pecans, walnuts, hazelnuts, peanuts or almonds. Top with a handful too so they toast alongside the croissants.
Espresso: Coffee tastes amazing with chocolate. Add 1-2 tablespoons of instant espresso to the cream cheese custard mixture.
EASY HOLIDAY BREAKFASTS TO TRY:
Make Ahead Croissant Bake
Make this recipe up to 1 day ahead of time by making the custard and assembling it into the pan as directed. Do not bake it ahead of time. Leave it in your refrigerator covered tightly with foil and bake it the next morning. The custard will be more absorbed than if you were to bake immediately but it will still be delicious. You'll also need 5 additional minutes of baking time to account for the temperature of the casserole being in the refrigerator.
Serve and Store:
Serve: Your croissant bake is okay uncovered for up to 2 hours at room temperature. Do not let this sit out on your counter all day, it has cream cheese in the custard.
Store: You can store this recipe in the refrigerator for up to 1 week, tightly covered.
Freeze This casserole freeze well up to 3 months. Thaw overnight in the refrigerator and heat up in the oven for best results.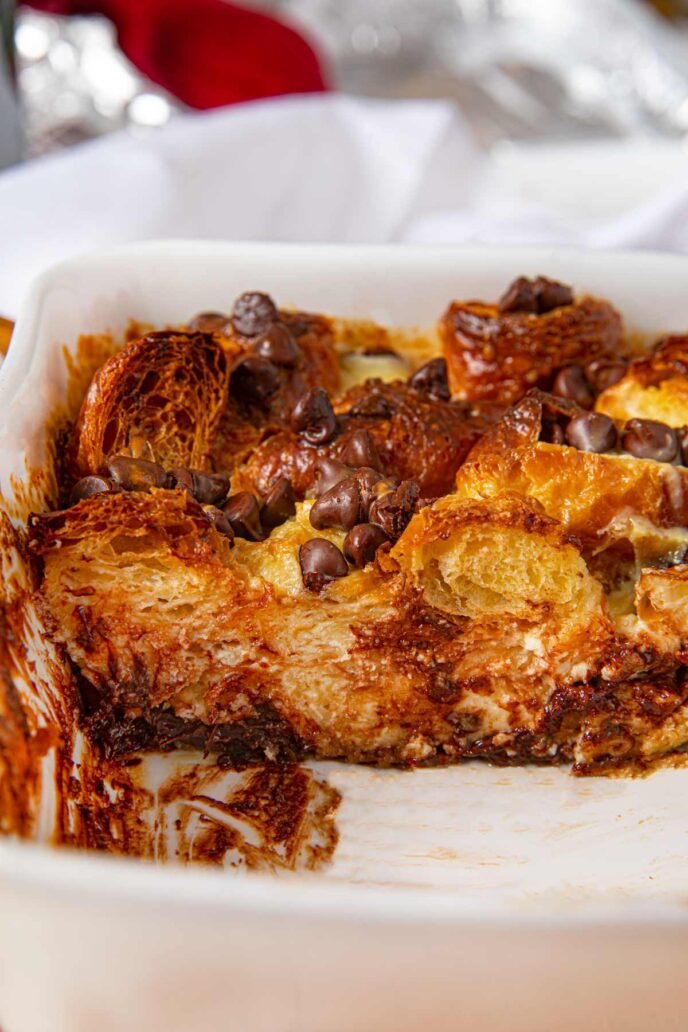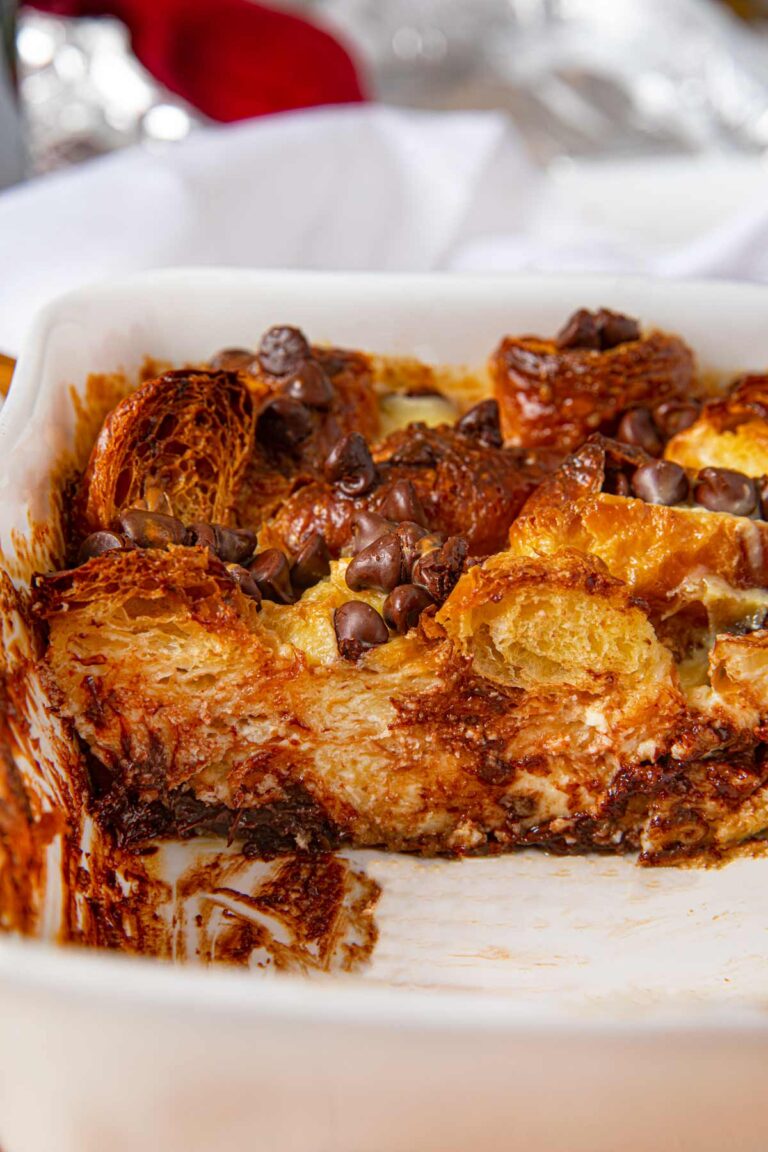 Instructions
Pre-heat oven to 350 degrees.

In a large bowl, whisk together the cream cheese, sugar, eggs, milk and vanilla.

Add in the croissants and chocolate chips and toss well to combine.

Pour into greased 9x13 baking dish.

Bake, covered for

30 minutes

.

Remove foil, bake an additional

20 minutes

.
Nutrition
Calories:
538
kcal
|
Carbohydrates:
49
g
|
Protein:
10
g
|
Fat:
34
g
|
Saturated Fat:
19
g
|
Cholesterol:
137
mg
|
Sodium:
302
mg
|
Potassium:
336
mg
|
Fiber:
3
g
|
Sugar:
34
g
|
Vitamin A:
903
IU
|
Calcium:
123
mg
|
Iron:
3
mg