Blueberry Sausage Biscuit Casserole is the perfect combination of savory and sweet. With brown sugar, sausage, fresh blueberries, and crunchy pecans.
This breakfast casserole is the perfect holiday Breakfast Recipe to serve to a crowd. For other easy breakfast casseroles try our recipes for Breakfast Casserole and Chocolate Chip Croissant Casserole.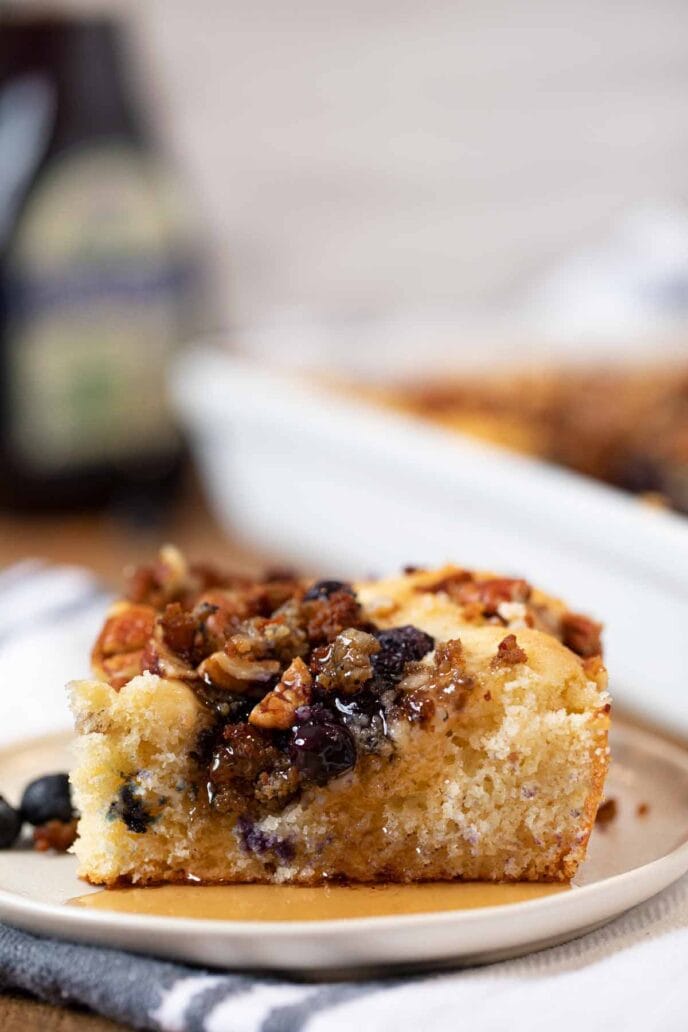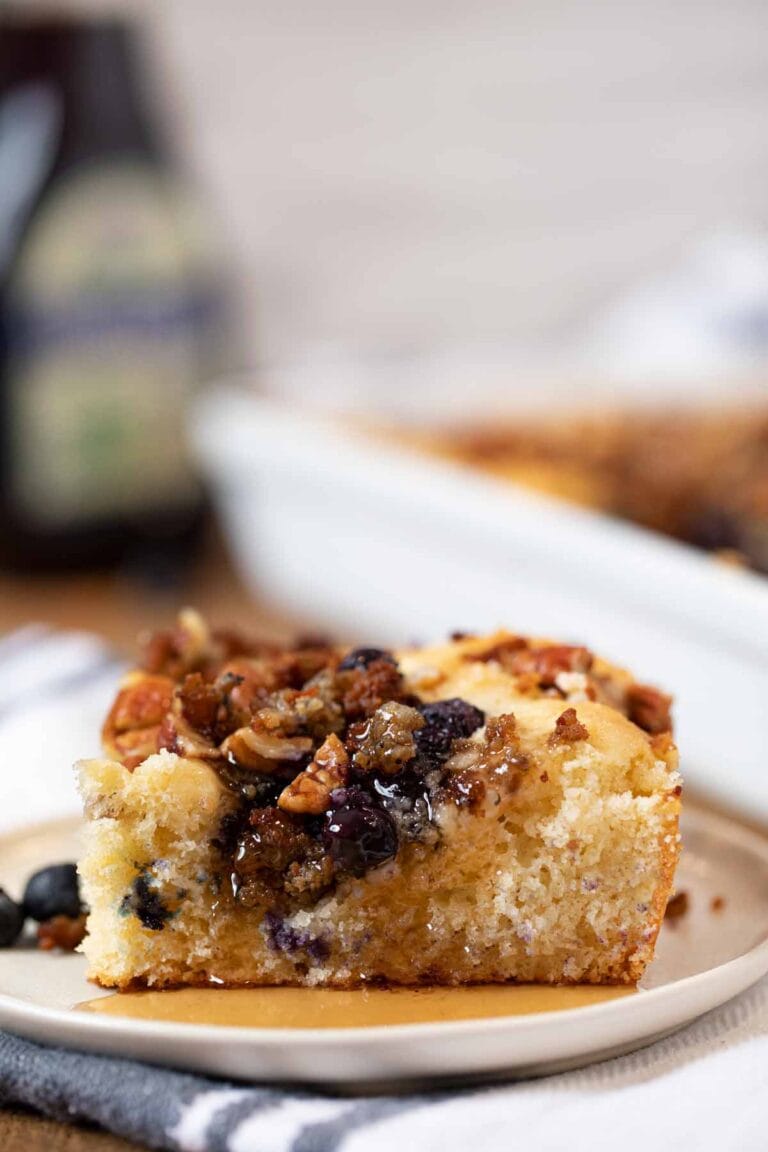 BLUEBERRY SAUSAGE BISCUIT CASSEROLE
This Blueberry Sausage Biscuit Casserole brings together two breakfast favorites, sausage and blueberry, into one dish. You'd usually have blueberries in a sweet recipe, like Blueberry Crumb Muffins, however this recipe takes those sweet ingredients you love and adds savory sausage to them. Top it with maple syrup for a perfectly sweet and savory breakfast delight!
The crumbly cake in the casserole also strikes the perfect balance between sweet and savory. It's slightly less sweet than a cake and more sweet than a biscuit. The texture is also somewhere between a cake and a biscuit. While the tender breading absorbs sweet juice from the blueberries it also pairs perfectly with the sausage. Think of this recipe like a Blueberry Coffee Cake combined with sausage and biscuits.
Or better yet think of the base of this like a hybrid biscuit-cake-pancake with sweet and savory flavors and of course that crunch from the pecans which get all toasty in the oven.
If you top this with some maple syrup or pancake syrup and serve some eggs or fruit on the side you will have the happiest brunch gathering, ever.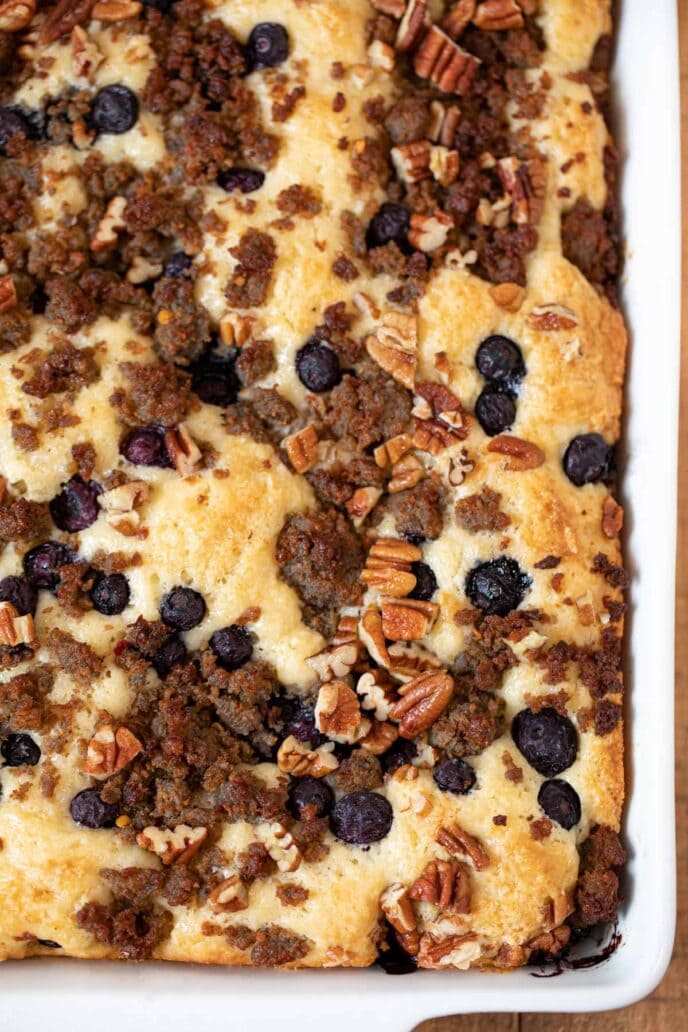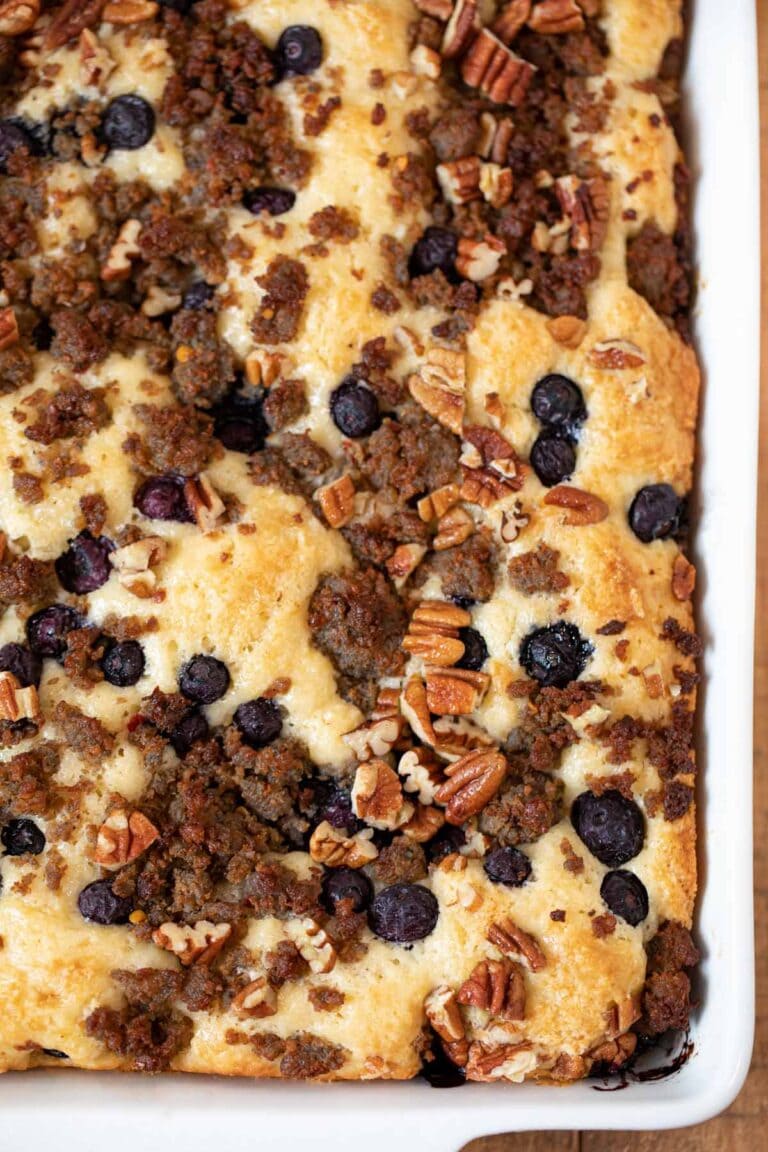 Whether you're planning for a family reunion, holiday breakfast, or brunch breakfast casseroles are an easy way to serve lots of people with minimal effort and cleanup. Instead of standing over a griddle to make pancakes and eggs, you can bake the entire meal in one baking dish. It's easy for everyone to serve themselves, and filling enough you won't have to stress about lots of sides.
This is the one dish breakfast that everyone in the family will love. You'll appreciate how easy it is to make, and how simple it is for kids to serve up themselves. Plus, the rich and sweet flavors are something kids and adults will both appreciate. It's also an easy recipe to make ahead and keep in the freezer for a last minute meal.
MORE BREAKFAST CASSEROLE RECIPES
TIPS FOR MAKING BLUEBERRY SAUSAGE BISCUIT CASSEROLE
This delicious breakfast casserole is so easy to make! You'll have the perfect breakfast in just 45 minutes, and most of that is just cooking time. Here are some easy tips to make sure your casserole comes out perfect every time.
Make sure to prep your baking dish with cooking spray, otherwise the biscuit will stick to the sides of the dish.
When you add the flour, baking powder, baking soda, and salt together make sure to sift them together, rather than just dumping them all in at once.
Once you've combined the dry ingredients, add them to your prepared butter and egg mixture. Keep the stand mixer on its lowest setting, and be careful not to overmix.
Mix in the sour cream, then add the batter to the baking dish. Spread the batter out evenly so that it's fairly smooth. Add half the blueberries over the top and press them gently into the batter.
Toss the rest of the blueberries over the top without pressing them into the batter. Sprinkle the sausage and the pecans on top.
You'll know the casserole is done baking when the top begins to turn a beautiful golden brown. Take it out of the oven, let it cool a bit, and serve warm with maple syrup.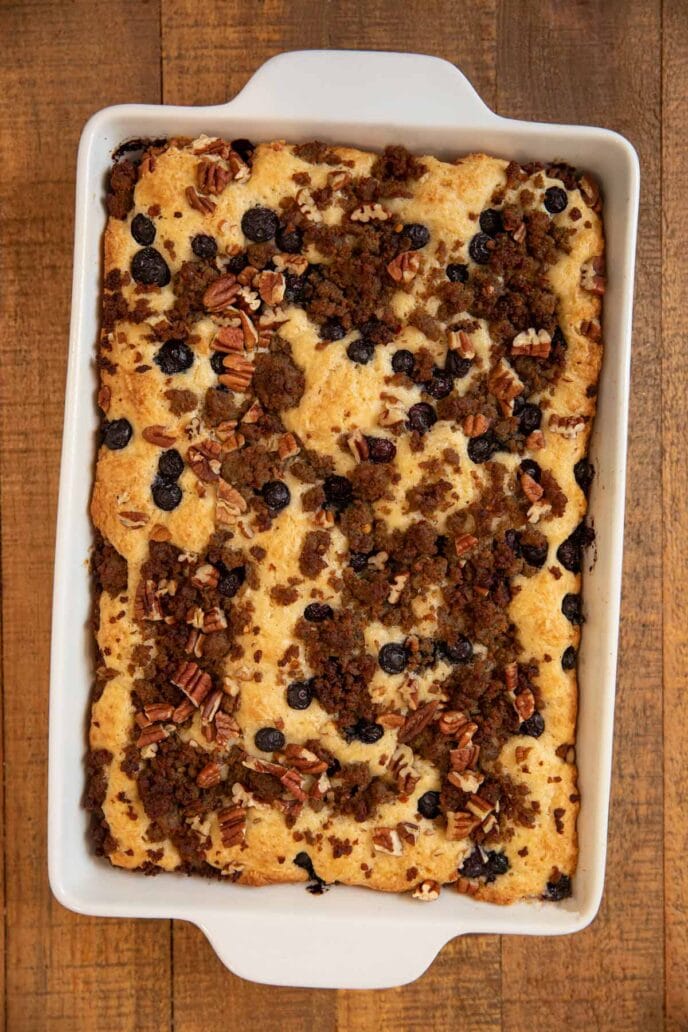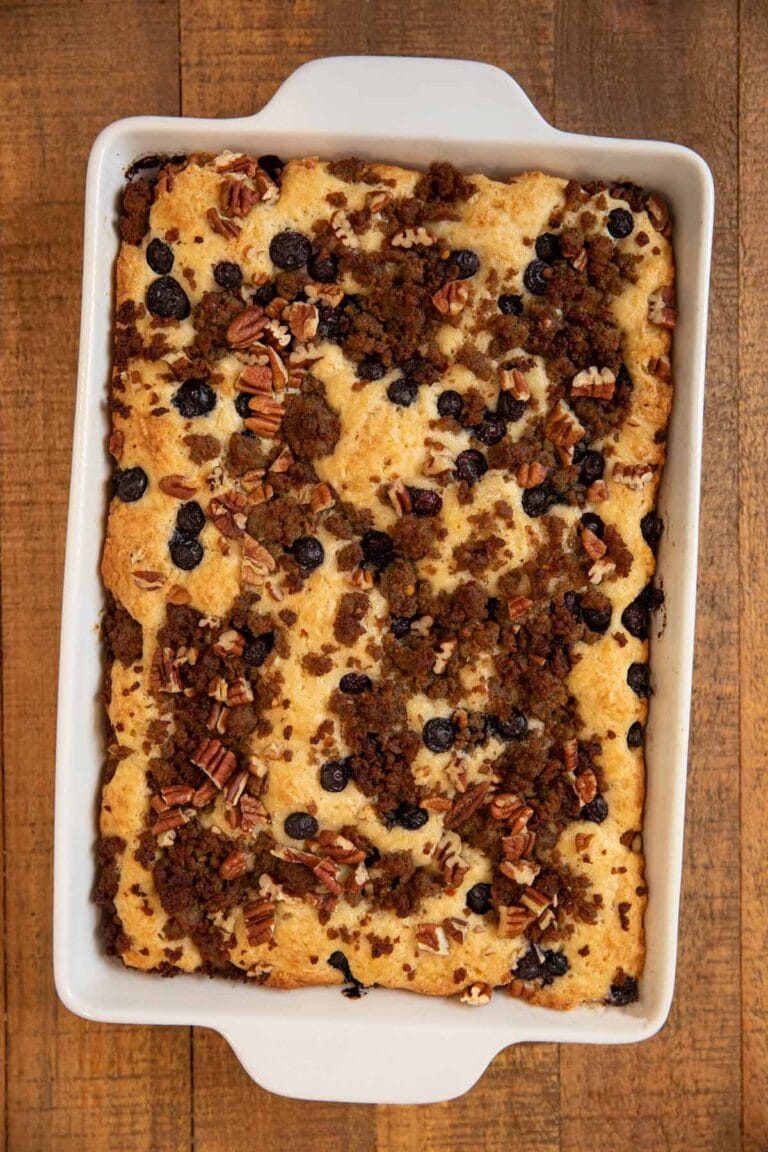 VARIATIONS ON BLUEBERRY SAUSAGE BISCUIT CASSEROLE
Meat:If you prefer, replace the sausage in your casserole with ham, bacon, or turkey bacon. You could also try using a combination like sausage with some some bacon over the top.
Other fruits: You can also exchange the blueberries for other fresh fruits. Try using some sliced strawberries, raspberries, blackberries, or mixed berries.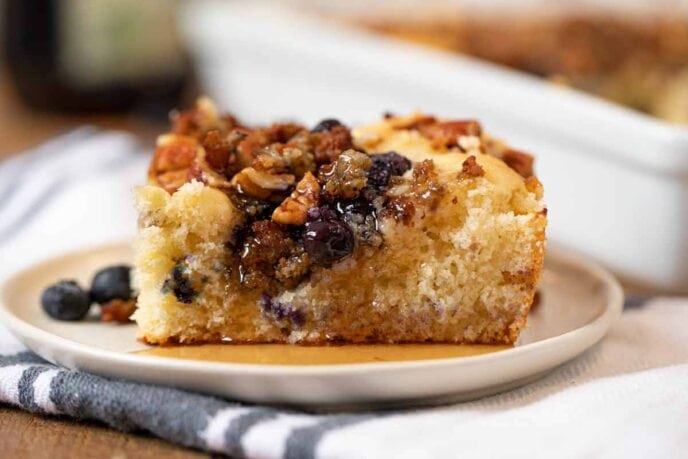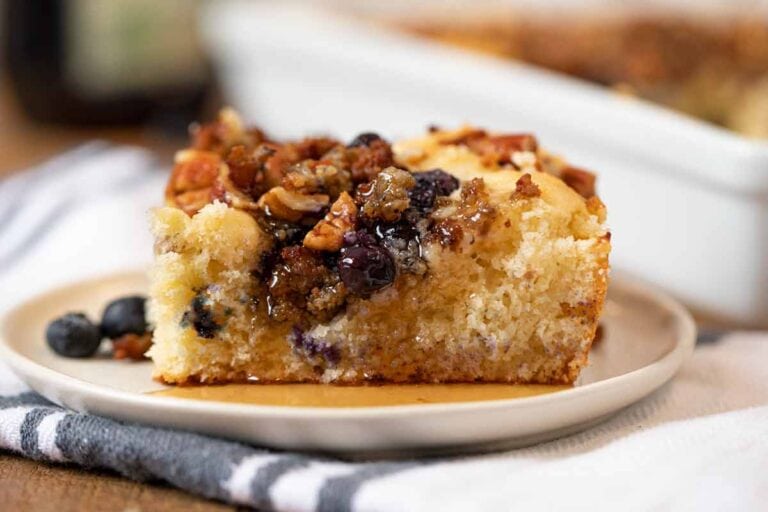 Streusel Topping: Try making a crumbly streusel topping for your delicious breakfast casserole. To make a classic streusel topping combine ½ cup brown sugar, ½ cup granulated sugar, ½ cup all-purpose flour, 1 ½ tsp ground cinnamon, ⅛ tsp salt, and ¼ cup unsalted butter (cold and cut into small pieces). Mix them together until it looks like small crumbly pebbles. Put the streusel topping on right before the pecans. The streusel topping will make this casserole similar to a classic blueberry muffin.
Blueberry Sauce: Instead of topping your casserole with maple syrup, you can make a sweet, homemade blueberry sauce. To make this combine ½ cup sugar, 2 tablespoons cornstarch, ½ cup water, and 2 cups blueberries in a medium sauce pan. Cook until bubbly and baked down to a sauce.
MORE BLUEBERRY RECIPES

HOW TO STORE BLUEBERRY SAUSAGE BISCUIT CASSEROLE
Serve: Once you've baked this casserole, don't leave it at room temperature for more than 2 hours.
Store: You can keep Blueberry Biscuit Casserole in the fridge for a week. Make sure to let the casserole cool to room temperature before you store it. Cover the dish in plastic wrap, tin foil, or put it in an airtight container.
Freeze: Stored properly you can keep Blueberry Sausage Biscuit Casserole in the freezer for up to 3 months. To freeze individual servings cut the casserole into squares. Layer the squares in a freezer bag separated by parchment paper so they don't stick together. Let the casserole defrost in the fridge before reheating it.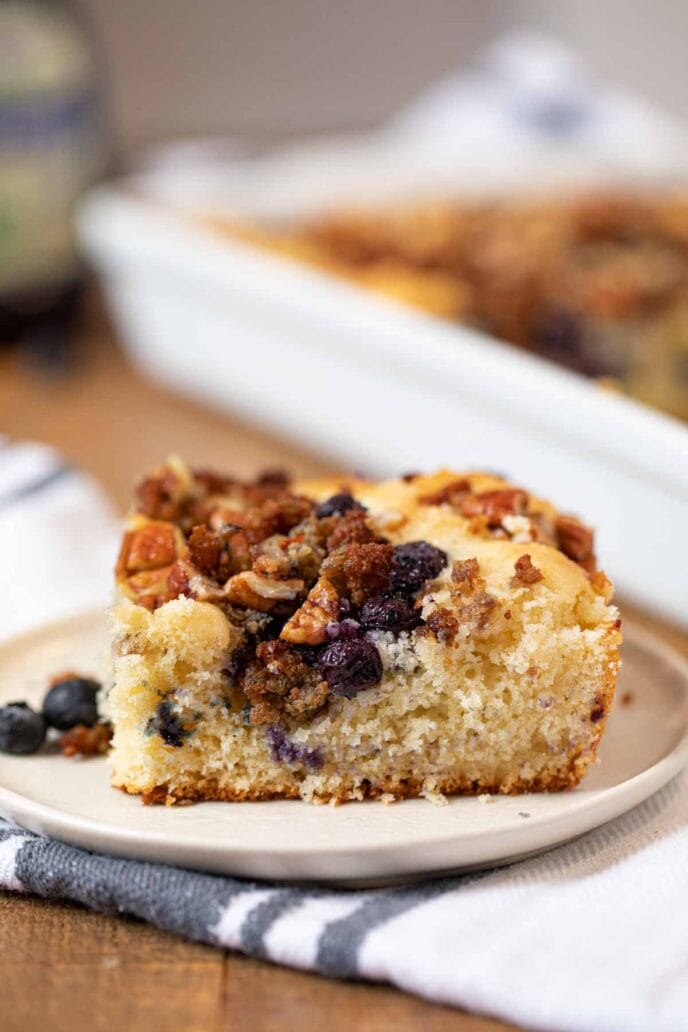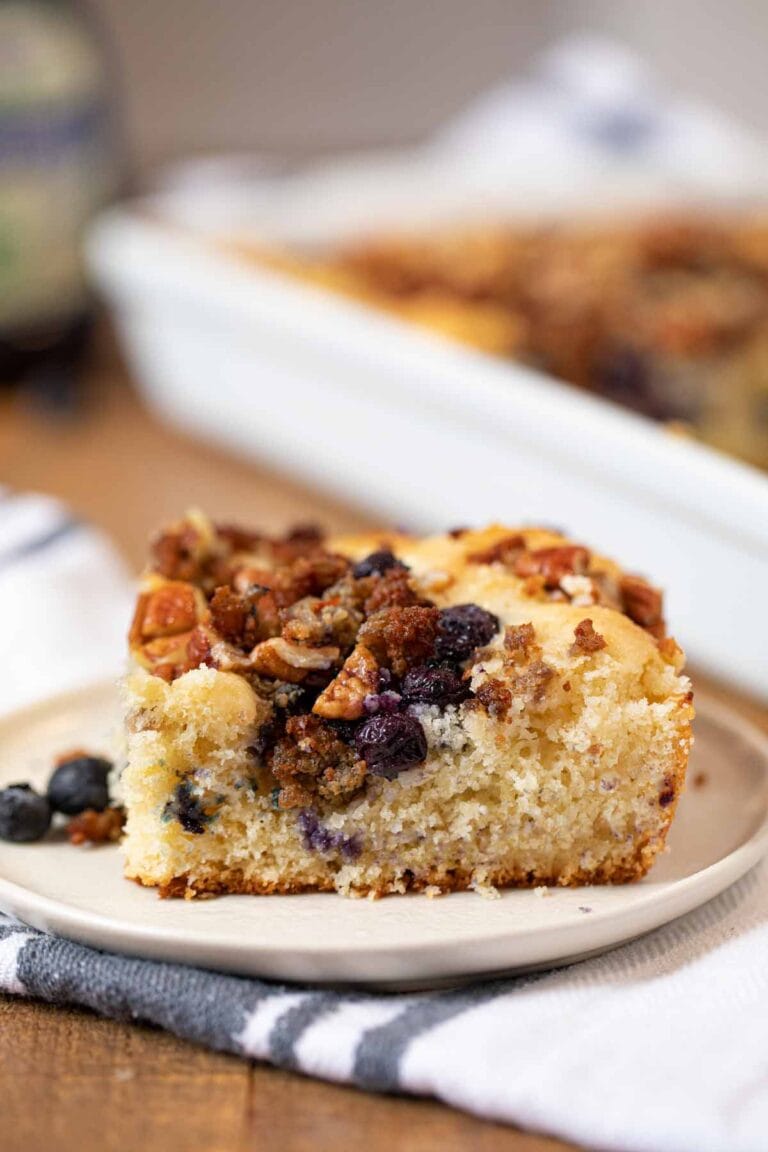 Recipe
Save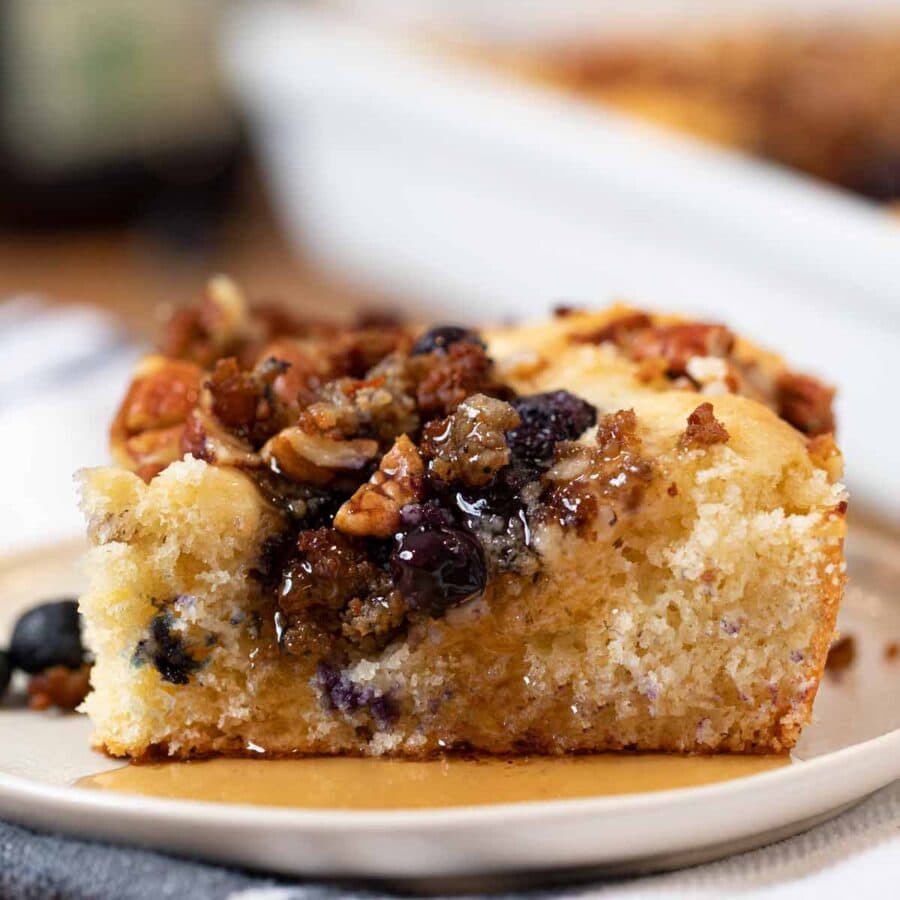 Blueberry Sausage Biscuit Casserole
Yield:

16

Servings

Prep Time:

15

minutes

Cook Time:

30

minutes

Total Time:

45

minutes

Course: Breakfast
Cuisine: American
Author: Sabrina Snyder
Blueberry Sausage Biscuit Casserole is the perfect combination of savory and sweet. With brown sugar, sausage, fresh blueberries, and crunchy pecans.
Ingredients
1/2

cup

unsalted butter

, softened

2/3

cup

sugar

1/4

cup

brown sugar

, packed

2

large

eggs

2

cups

flour

1

teaspoon

baking powder

1/2

teaspoon

baking soda

1

cup

sour cream

1 1/2

pounds

pork sausage

, cooked

1 1/2

cups

fresh blueberries

1/3

cup

pecans

, chopped
Instructions
Note: click on times in the instructions to start a kitchen timer while cooking.
Preheat oven to 350 degrees and spray a 9x13 baking pan with baking spray.

In your stand mixer cream the butter, sugar and brown sugar together until light and fluffy.

Add in the eggs until smooth.

Sift together the flour, baking powder, baking soda and salt then add it to the stand mixer on the lowest speed setting until just combined.

Add in sour cream until just combined.

Spread batter into baking pan and top with half the blueberries.

Press them gently into the batter.

Sprinkle the rest of the blueberries, the sausage and the pecans over the top.

Bake for 30-35 minutes or until the top is golden brown.

Best served warm with or without maple syrup.
Nutrition Information
Yield: 16 Servings, Amount per serving: 341 calories, Calories: 341g, Carbohydrates: 27g, Protein: 9g, Fat: 22g, Saturated Fat: 9g, Cholesterol: 77mg, Sodium: 328mg, Potassium: 200mg, Fiber: 1g, Sugar: 14g, Vitamin A: 340g, Vitamin C: 2g, Calcium: 43g, Iron: 1g
All images and text © for Dinner, then Dessert.
Keyword:
Blueberry Sausage Biscuit Casserole
Save