Bakery-Style Blueberry Coffee Cake full of plump fresh blueberries, cinnamon and brown sugar with a crumbly top and a soft tender cake.
The next time you sit down to enjoy a nice hot cup of coffee, you should also have a Coffee Cake to go with it. Try making Honey Bun Cake, New York Crumb Cake , or Vanilla Pound Cake. Coffee Cake is sweet, tasty, and perfectly compliments the bitter deliciousness of your cup of Joe.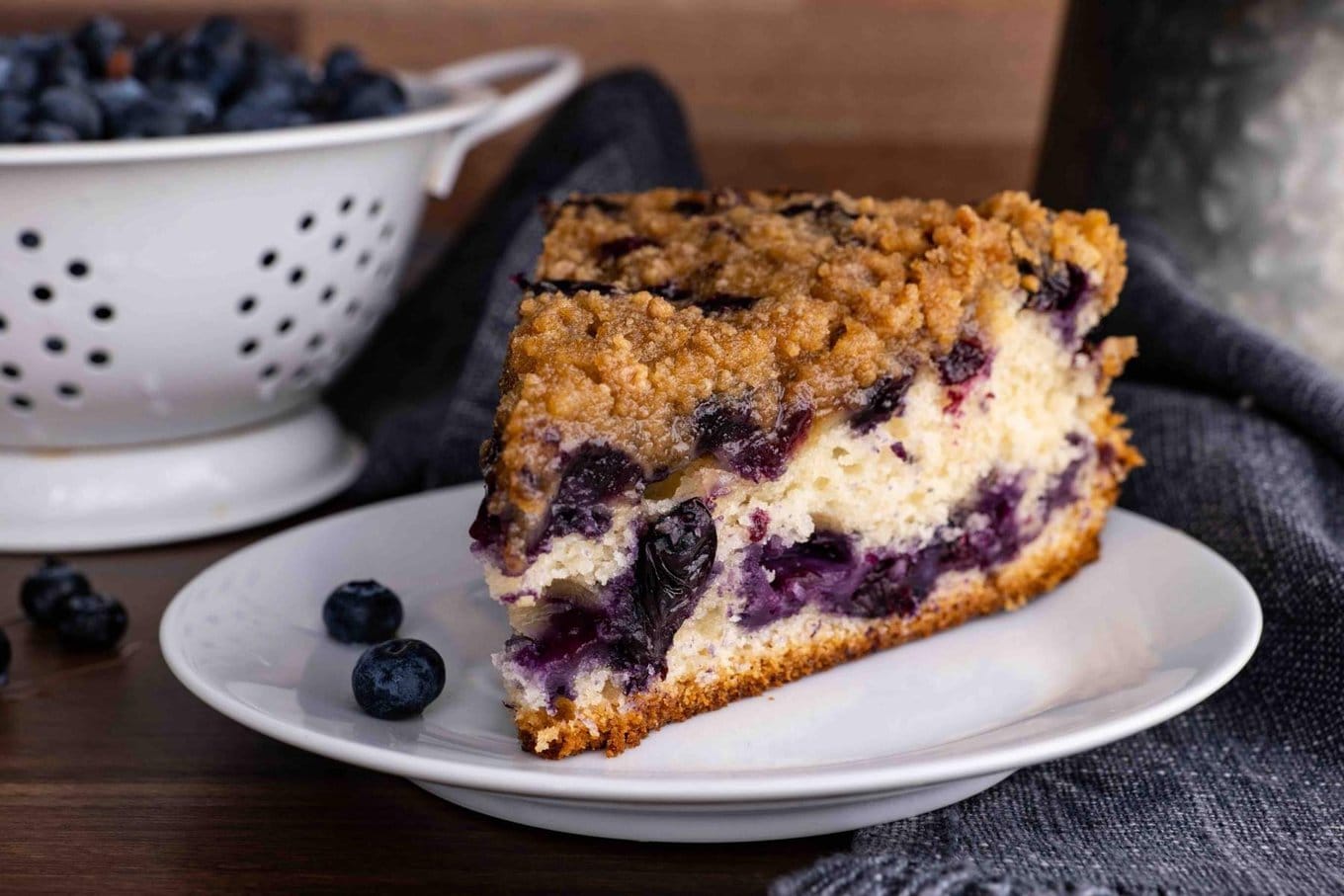 Skip the coffee shop and make your own bakery-style Blueberry Coffee Cake! This recipe has been time-tested over a dozen years with clients and friends who will tell you this is their favorite breakfast recipe or dessert recipe they've tried. It is that good.
It's an easy recipe that has a fairly short baking time and doesn't use frozen blueberries. If you have a 9 inch springform pan, we recommend using it for this Blueberry Coffee Cake recipe, since it will make getting the cake out much easier and the presentation is beautiful.
Don't have fresh blueberries? Try using halved fresh cranberries, raspberries or strawberries. Add in a secondary texture with some white chocolate chips or chopped pecans. This recipe is delicious as is and as playful as you want to make it with new add-ins.
Serve this coffee cake with a scoop of Homemade Vanilla Ice Cream or with a scoop of Whipped Cream. If you're preparing a brunch spread for guests, whip up a breakfast casserole that's perfect for a crowd with bacon or sausage and hash browns. Or you can make my Overnight French Toast or Classic French Toast!
How to Make Blueberry Coffee Cake
Making Blueberry Coffee Cake is so easy for a special occasion! Follow the steps outlined below and you'll soon have a treat that is perfect to serve as a brunch time snack with coffee! Who said you can't have cake for breakfast? Check it out! 
Pick your pan: We use a 9 inch springform pan with a glass bottom for a beautiful presentation, but this cake is equally delicious in an 8×8 or 9×9 baking pan.
Streusel: Make your streusel early in a separate bowl so you can refrigerate it. This will help keep it in its crumb shape when baking.
Cream Ingredients Well: Use an electric mixer or hand mixer to cream the butter and sugar well, this will help keep the cake fluffier.
Sift: Sift your ingredients, this also helps to ensure a tender (and not dense!) cake.
Coat Blueberries: Don't let the blueberries sink to the bottom, coating them with cornstarch in a medium bowl and folding them in gently will make a huge difference.
Don't Over-bake: Bake just long enough for a toothpick to come out clean, this will help keep the crumble and cake moist and tender.
More Yummy Brunch Recipes
Frequently Asked Questions
What add-ins and toppings work well with Coffee Cake?
You can add in some lemon zest, chopped nuts, or even chocolate chips. You can also sprinkle some brown sugar over the top to get a crunchy, delicious texture.
How do I make Blueberry Coffee Cake Muffins?
Pour the Blueberry Coffee Cake batter into the cups of a muffin tin, and adjust the cook time slightly to avoid burning them. You'll end up with fluffy, shareable blueberry muffins that you can serve for a fancy brunch.
How do I make Gluten Free Blueberry Coffee Cake?
To make Blueberry Coffee Cake friendlier for people with a gluten intolerance, replace the all purpose flour with buckwheat or almond flour. Besides the all purpose flour, the other dry ingredients in this recipe are already gluten free.
Why is it called coffee cake if there's no coffee in it?
Good question! Coffee cakes are so named not because of the ingredient of coffee being included in the recipe, but because they pair really nicely with a cup of coffee. They are often served as a light brunch or snack along with coffee, the bitter and sweet balancing each other out. 

Create a free account to Save Recipes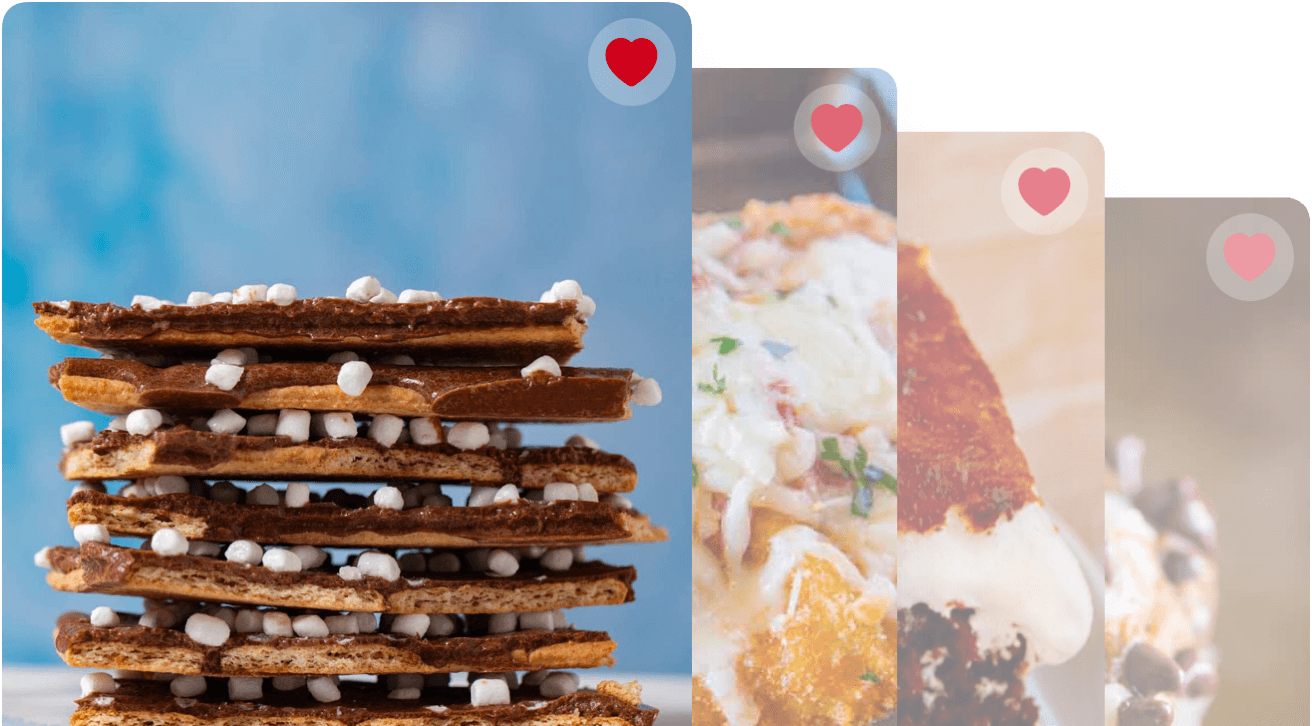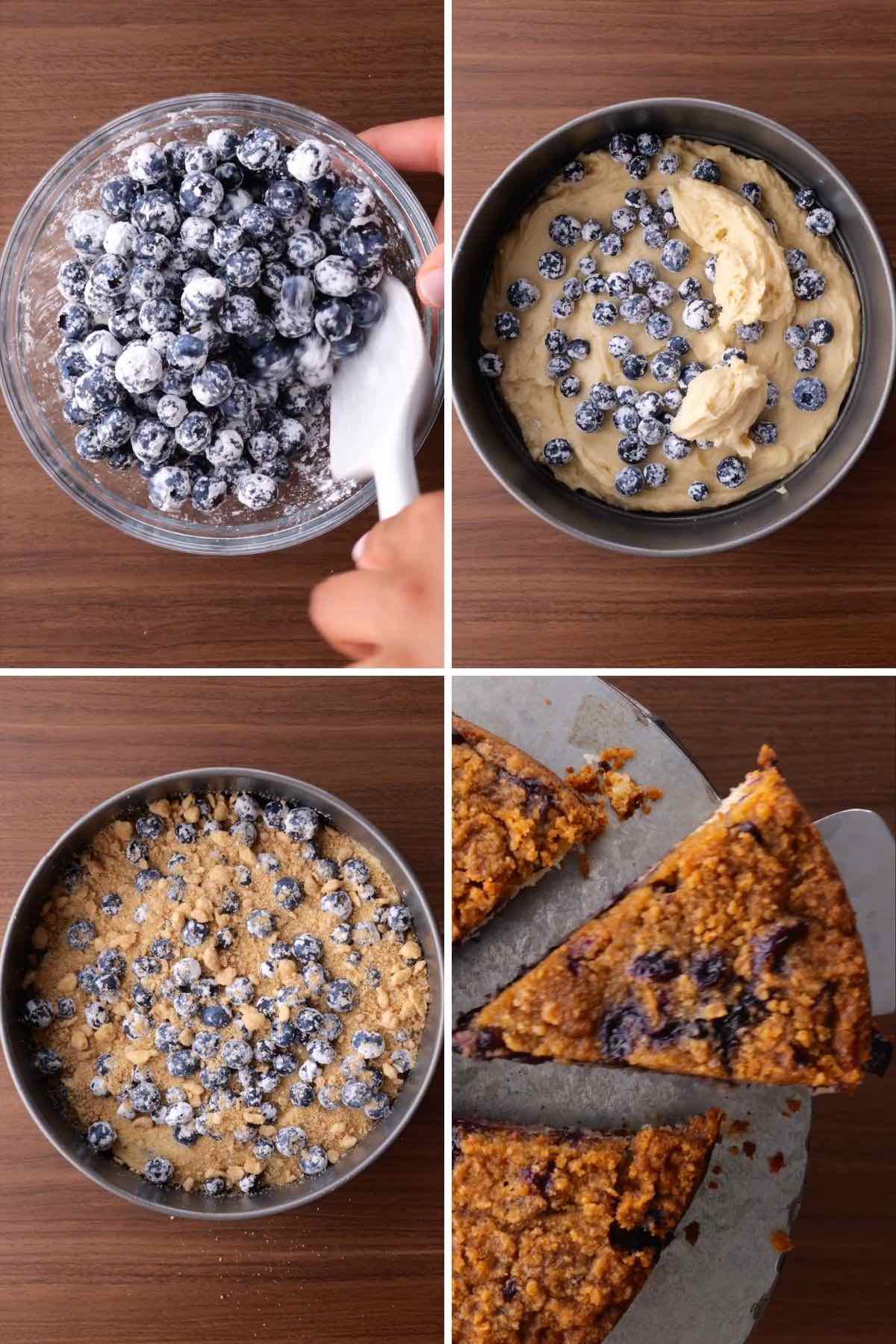 Key Ingredients in Blueberry Coffee Cake
If you're used to baking, all these ingredients should be easily found in your pantry cupboard. You'll need at least two mixing bowls. The blueberries can be found at your local farmer's market or grocery store. 
Blueberries: We are using 2 cups fresh blueberries, not frozen blueberries. Find the biggest juicy berries as you can! 
Flour: Your flour mixture can be any kind of flour. All purpose flour and cake flour work great with this recipe. 
Sugar: Granulated sugar or regular white sugar is just fine for the sugar. The crumble topping needs to be brown sugar. 
Vanilla: Use actual vanilla extract, not imitation vanilla if you can. You'll be able to taste the difference. 
Milk: Whole milk gives an extra flavor from its higher fat content. 
Cinnamon: Any regular cinnamon works good for this recipe. 
Ice Cream: No, it's not actually an ingredient to make this dish, but we think a scoop of ice cream would be the perfect pairing side, especially if it's your own Homemade Vanilla Ice Cream!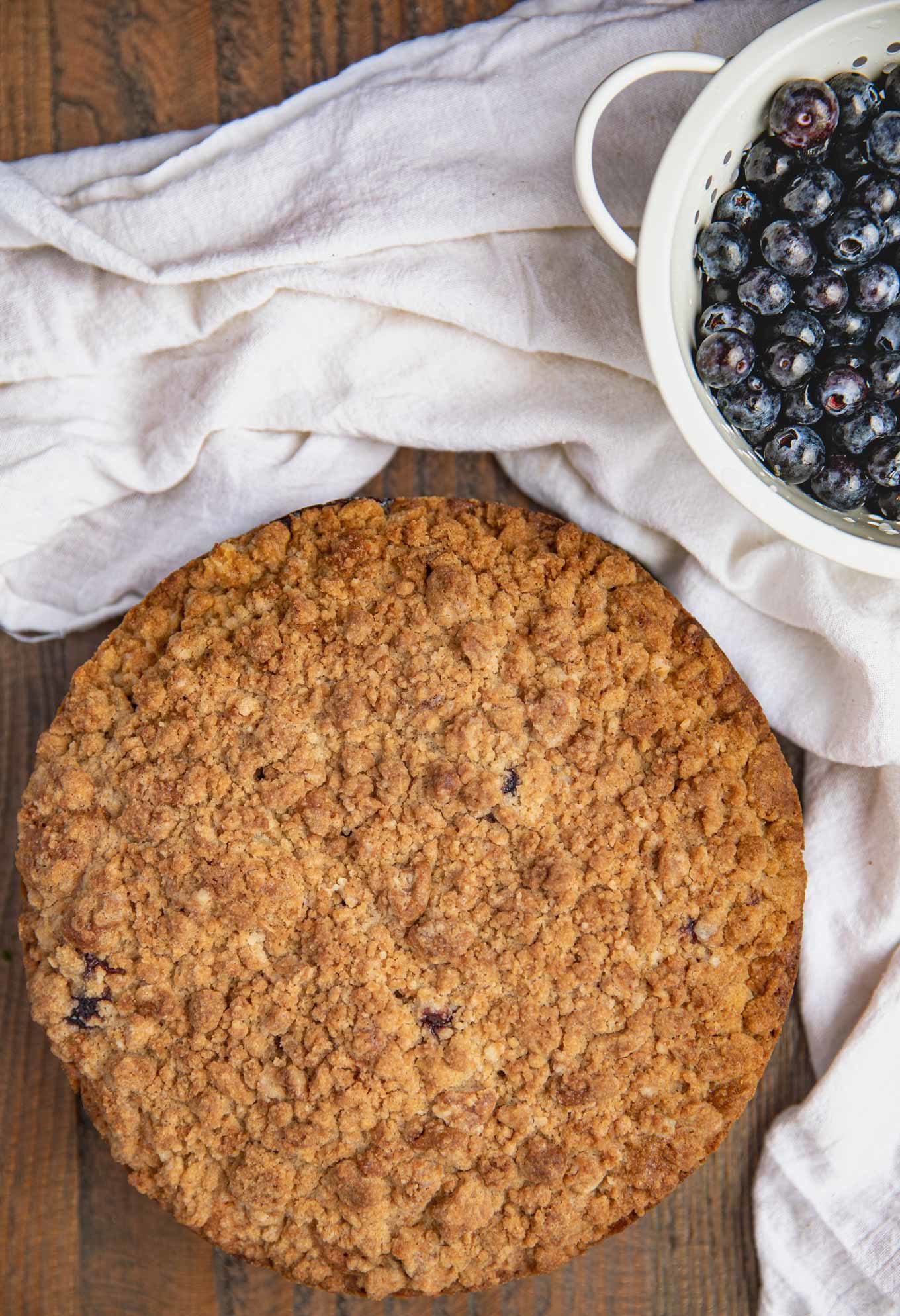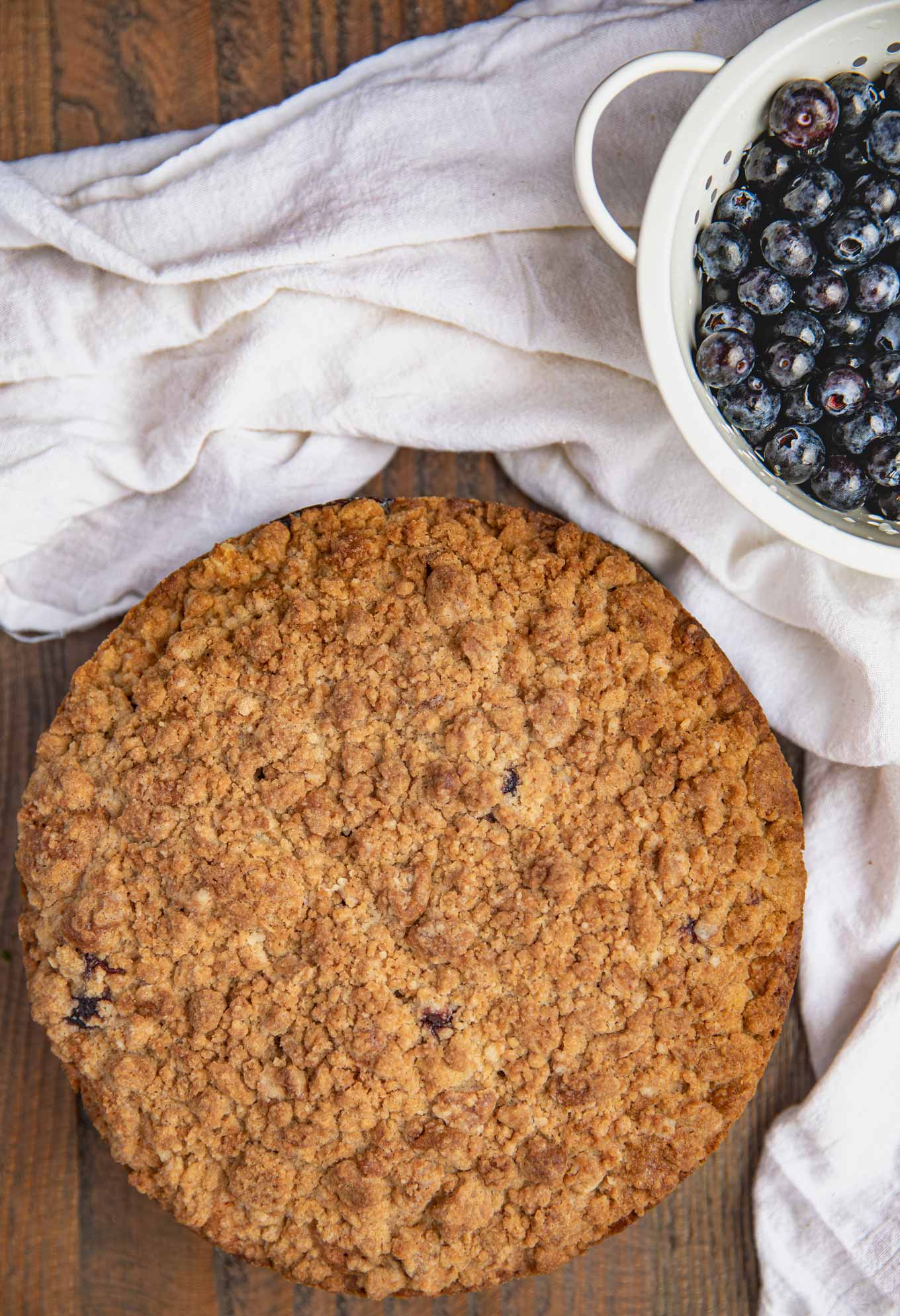 How to Store Blueberry Coffee Cake
Serve: You can keep your Blueberry Coffee Cake at room temperature for up to 2 days before it turns stale. I would recommend not waiting longer than the next day to eat your Blueberry Coffee Cake for best results.
Store: You can keep Blueberry Coffee Cake in the fridge for up to a week if you keep it in plastic wrap or an airtight container. You should always let Blueberry Coffee Cake cool down to room temperature completely before you put it in plastic wrap and put it away, otherwise you could end up giving yourself a fairly serious stomach ache.
Freeze: You can keep Blueberry Coffee Cake in the freezer for up to 3 months if it's in an airtight container. If you're freezing individual slices, I recommend layering them with parchment paper to keep them from sticking together.


Ingredients
Brown Sugar Crumble Topping
1

cup

brown sugar

, packed

⅔

cup

flour

½

teaspoon

cinnamon

½

cup

unsalted butter

, cold and cut into cubes
Coffee Cake
½

cup

unsalted butter

1

cup

sugar

1

large

egg

2

teaspoons

vanilla extract

2

cups

flour

2

teaspoons

baking powder

½

teaspoon

salt

¾

cup

whole milk

2

cups

blueberries

1

tablespoon

cornstarch
Instructions
Preheat oven to 350 degrees and coat 9 inch springform pan with baking spray.

Make the streusel topping with the brown sugar, flour and cinnamon.

Cut in the butter until it looks like crumbles then refrigerate while you make the batter.

To your stand mixer add the butter and sugar until light and fluffy then add in the egg and vanilla.

Sift dry ingredients into a bowl.

Add in dry ingredients and milk in batches, alternating them until just combined.

Add the half the batter to the 9 inch springform pan.

Coat your blueberries in 1 tablespoon cornstarch.

Add half the blueberries to the batter, sprinkling them over the batter.

Add the rest of the batter then top with the rest of the blueberries.

Add the brown sugar crumble and bake for 45-50 minutes until the cake is set.
Nutrition
Calories:
308
kcal
|
Carbohydrates:
47
g
|
Protein:
3
g
|
Fat:
12
g
|
Saturated Fat:
8
g
|
Cholesterol:
45
mg
|
Sodium:
89
mg
|
Potassium:
122
mg
|
Fiber:
1
g
|
Sugar:
30
g
|
Vitamin A:
400
IU
|
Vitamin C:
1
mg
|
Calcium:
57
mg
|
Iron:
1
mg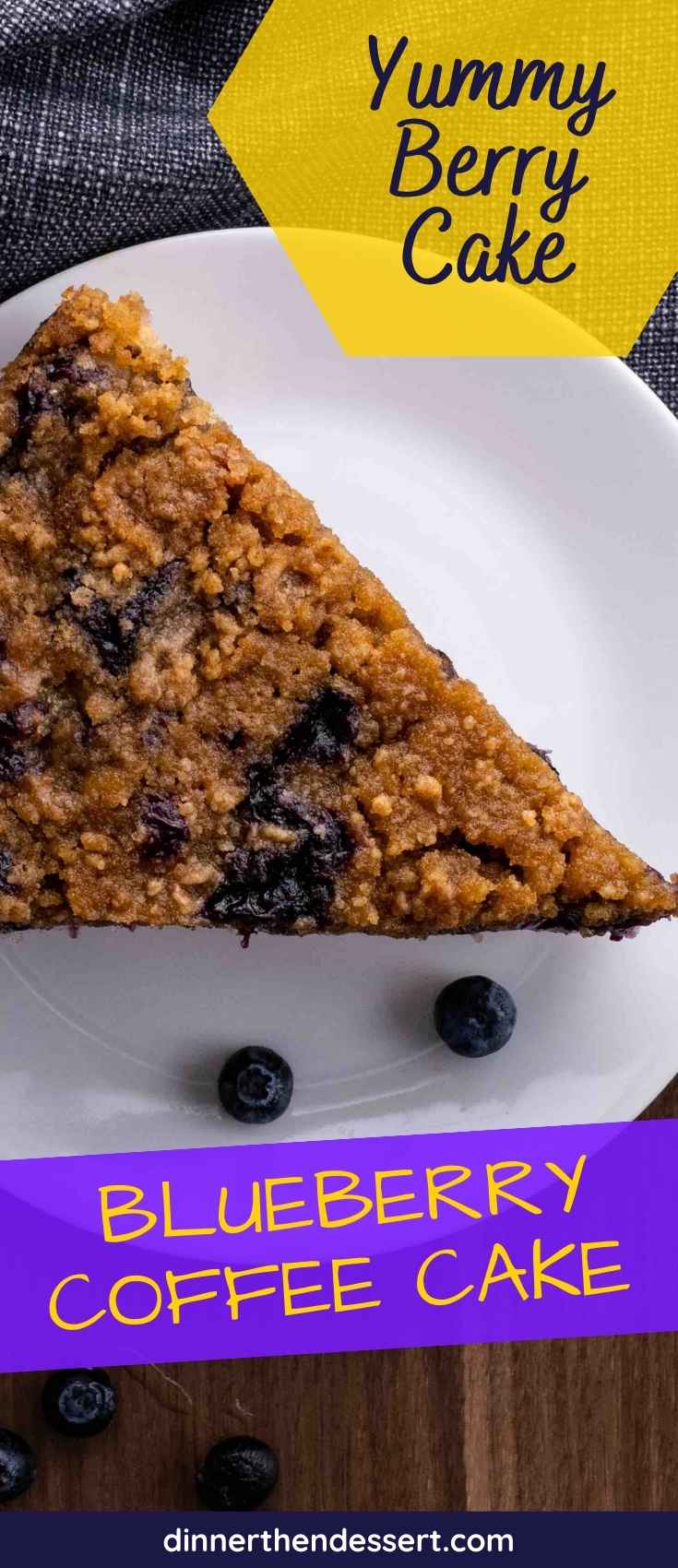 Photos used in a previous version of this post.