Classic French Toast made easy and in just 20 minutes with a slightly sweetened vanilla custard with cinnamon and nutmeg.
We love great Breakfast Recipes that can serve a crowd as we head into the holidays including Easy Cinnamon Rolls (in 1 Hour!) and Easy French Toast Bake.

French Toast Recipe
As we head into the holiday season I'm already getting a lot of breakfast requests. This French toast is actually one of the first recipes I ever made as a kid with my grandmother, so the memories go way back.
Milk and Eggs
There's two schools of thought when it comes to French Toast recipes. The first is how much milk you use (I use a full cup when many people use half that amount) and the second is how many eggs you're using.
Some people use up to an egg per slice of bread. The egg is meant to be a part of the mixture that just aids the setting of the custard, it isn't meant to take the place of most of the mixture as the custard becomes too thick.
The custard in the recipe is the most essential part. For us it's a very slightly sweetened mixture of milk, cinnamon, nutmeg and lots of vanilla. If there's a specific emotion we want to bring out with French Toast it's vanilla and cinnamon.
MORE BREAKFAST RECIPES
French Toast Tips and Tricks:
Use bread that's thicker than most sliced bread.
Use a slightly sweeter bread like challah, brioche, cinnamon raisin bread or Texas toast instead of more savory breads like wheat bread.
In place of whole milk you can also use half and half or heavy cream. If you use fat free milk or 1% milk the custard will not be as flavorful and the egg will be a much more pronounced flavor.
When dunking the bread make sure to not let the bread soak indefinitely in the milk. If you were going to soak it all the way through it should be baked as part of a French toast casserole instead of on the griddle.
How to Make French Toast:
We make the custard the night before since it's the only part of the recipe that requires preparation.
Once the custard is well mixed add the bread slices to the mixture and allow the milk to soak in before adding it to a buttered skillet or griddle.
Add the bread to the skillet and let it cook until the custard has completely set and the bread is crisp before flipping.
Quick and easy garnish people love, use a bit of powdered sugar sifted over the slices of bread and add a couple of pats of butter to the top of the slices before serving.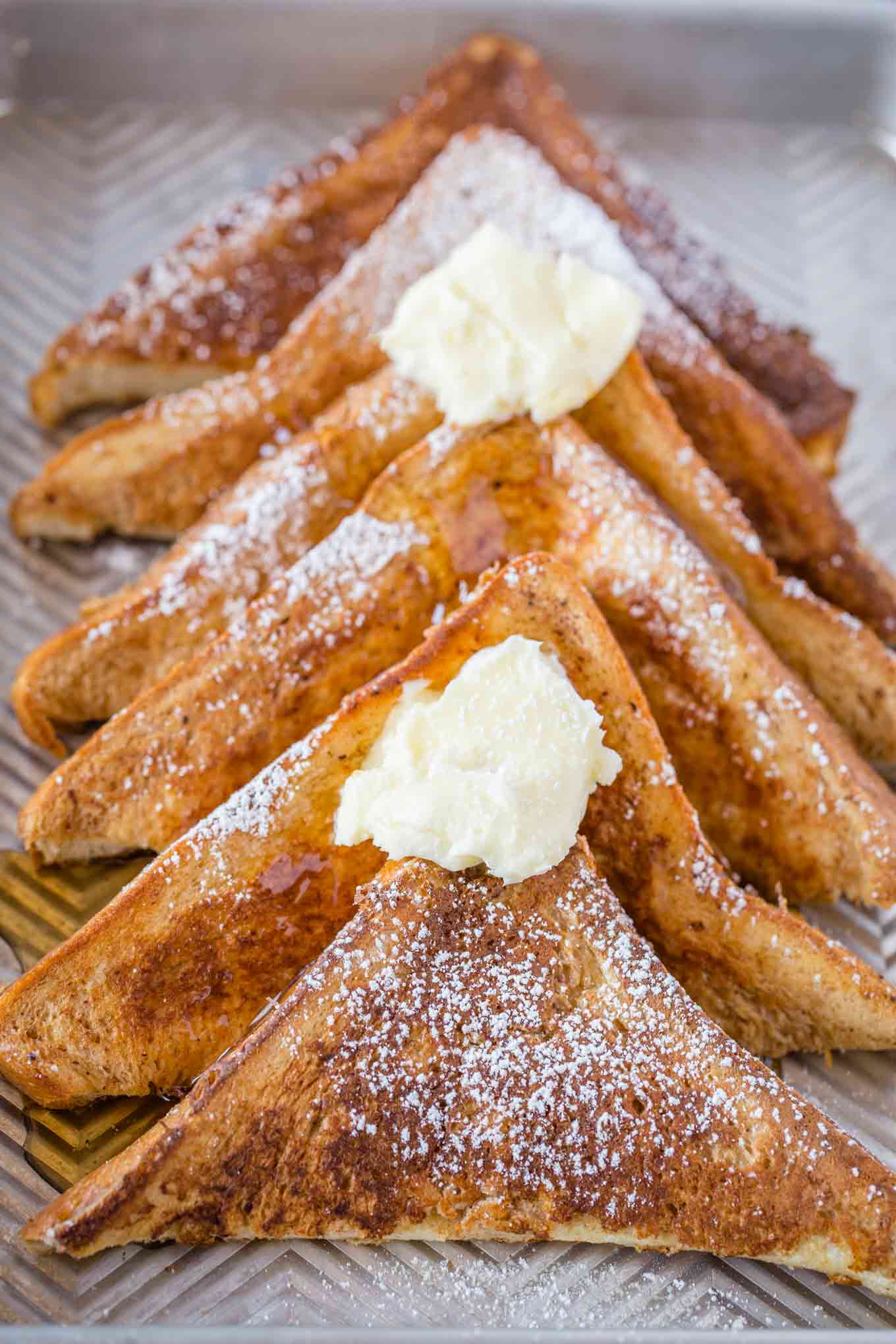 French Toast Sticks:
To make French Toast sticks slice the bread into 1 1/2 inch thick batons. With the extra surface area of the bread make about 1 1/2 times the milk mixture. Dip and cook the pieces of bread as you would the slices but use extra butter as you'll want the batons to be a bit sturdier for dunking.
How to make crispy French Toast:
Use much more butter in the pan and soak the bread about half as long as normal so the milk doesn't soak all the way through the bread.
Cook the bread on medium heat allowing the butter to fry the exterior of the bread making it extra crispy.
The butter will soak into the bread edges more creating a firmer piece of french toast that will have a crispy texture instead of a softer texture.
MORE BREAKFAST BAKES
Troubleshooting French Toast:
Soggy French Toast: If you've let the bread soak in milk for too long and there is too much custard in the bread it will have a hard time setting up. The bread will be too soft even when cooked through.
Egg Showing on Bread: Whisk the custard fully until it is one mixture without streaks of egg throughout. If you don't the streaks will cook as any regular eggs would.
Center is still liquid-y/Outside Overcooked: The heat is on too high so the bread isn't able to cook all the way through before the exterior is browned and crispy. If your pan is cooking them too fast remove it from the heat, wipe out the butter and let it cool. Re-heat the pan on medium heat instead of medium-high heat and add more butter to the pan before cooking the next piece of bread.
Dry French Toast: The egg and milk mixture just wasn't enough. You need more and you need the milk to soak almost all the way through the bread (don't soak it all the way through). A good rule of thumb for me is I like to dip on one side and soak for 2-3 seconds then flip and soak for 1-2 more seconds. Let the milk drip off before adding to the pan.
How To Serve and Store French Toast:
Serve: Don't leave at room temperature for more than 2 hours.
Store: Store in an airtight container to keep in the fridge for up to 1 week.
Freeze: You can also freeze for up to 3 months. Re-heat in toaster oven or in a skillet with a bit of butter.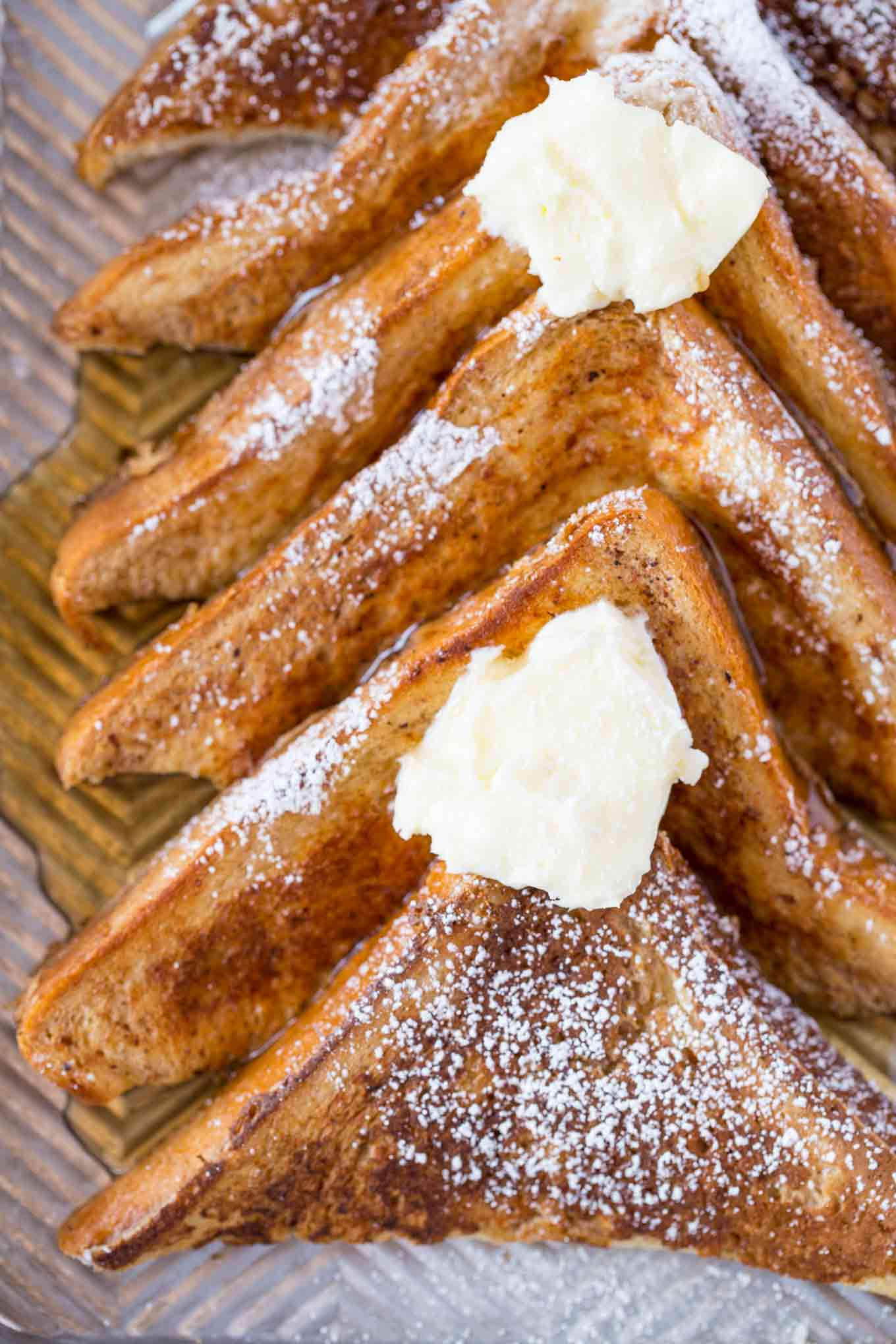 Recipe
Save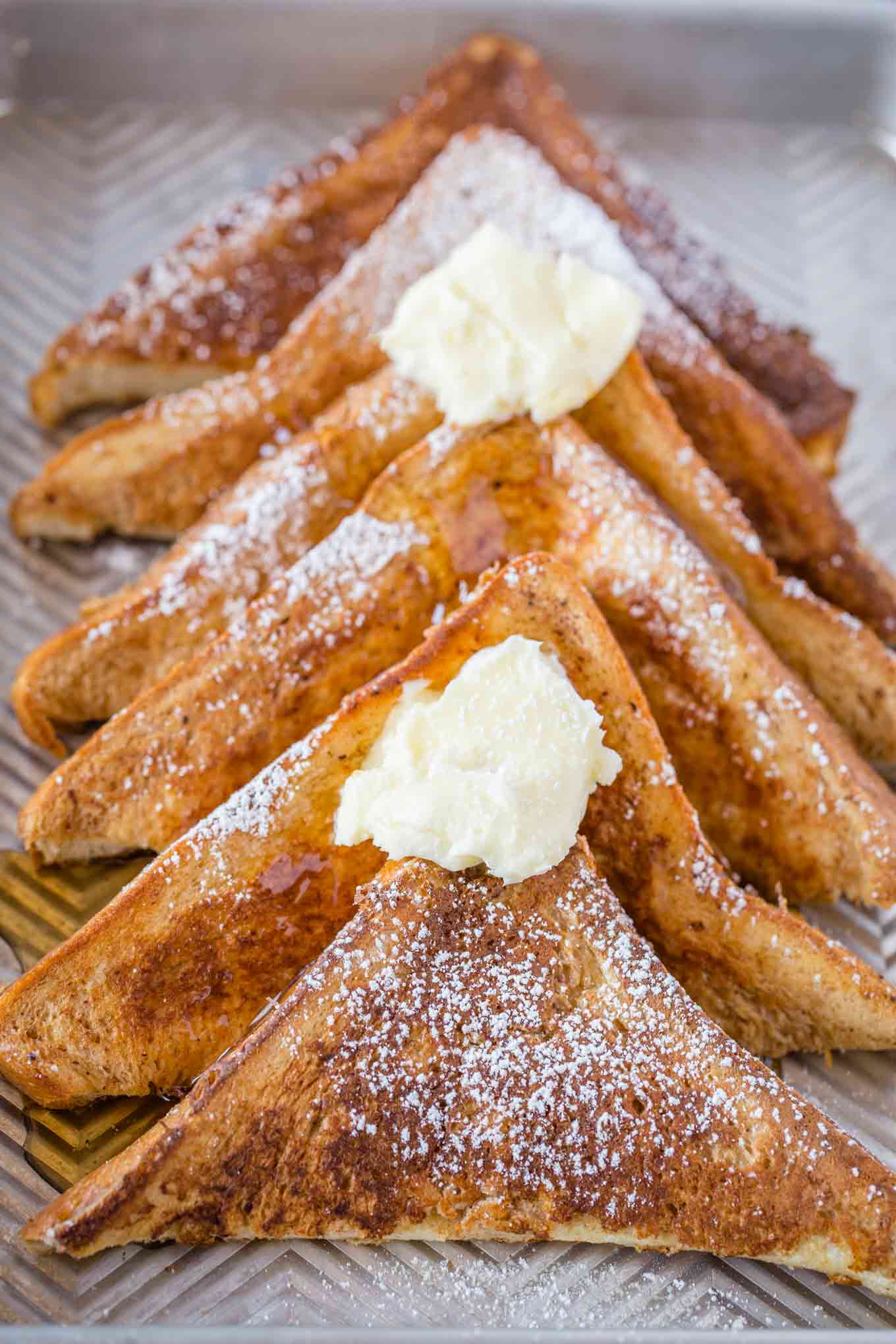 Classic French Toast
Yield:

4

servings

Prep Time:

5

minutes

Cook Time:

10

minutes

Total Time:

15

minutes

Course: Breakfast
Cuisine: American
Author: Sabrina Snyder
Classic French Toast made easy and in just 20 minutes with a slightly sweetened vanilla custard with cinnamon and nutmeg.
Ingredients
2

large

eggs

1

cup

whole milk

1/2

teaspoon

cinnamon

1/8

teaspoon

nutmeg

2

teaspoons

vanilla extract

1

tablespoon

sugar

8

slices

bread

, thick sliced bread, texas toast bread or french bread

2

tablespoons

unsalted butter
Instructions
Note: click on times in the instructions to start a kitchen timer while cooking.
Whisk together the egg, milk, cinnamon, nutmeg, vanilla and sugar in a large bowl.

Dip the bread in, both sides and let milk soak for 15 seconds then remove and let drip for 5 seconds before adding to pan.

Add the butter to a heavy bottomed skillet over medium-high heat before adding the bread in and cooking until browned on both sides, about 2-4 minutes per side..
Nutrition Information
Yield: 4 servings, Amount per serving: 292 calories, Calories: 292g, Carbohydrates: 34g, Protein: 10g, Fat: 11g, Saturated Fat: 5g, Cholesterol: 114mg, Sodium: 353mg, Potassium: 216mg, Fiber: 2g, Sugar: 9g, Vitamin A: 410g, Calcium: 160g, Iron: 2.4g
All images and text © for Dinner, then Dessert.
Save