French Toast Muffins are easy to toss together with ingredients you already have in your kitchen and they're a perfect brunch dish for a crowd and fun to pull apart.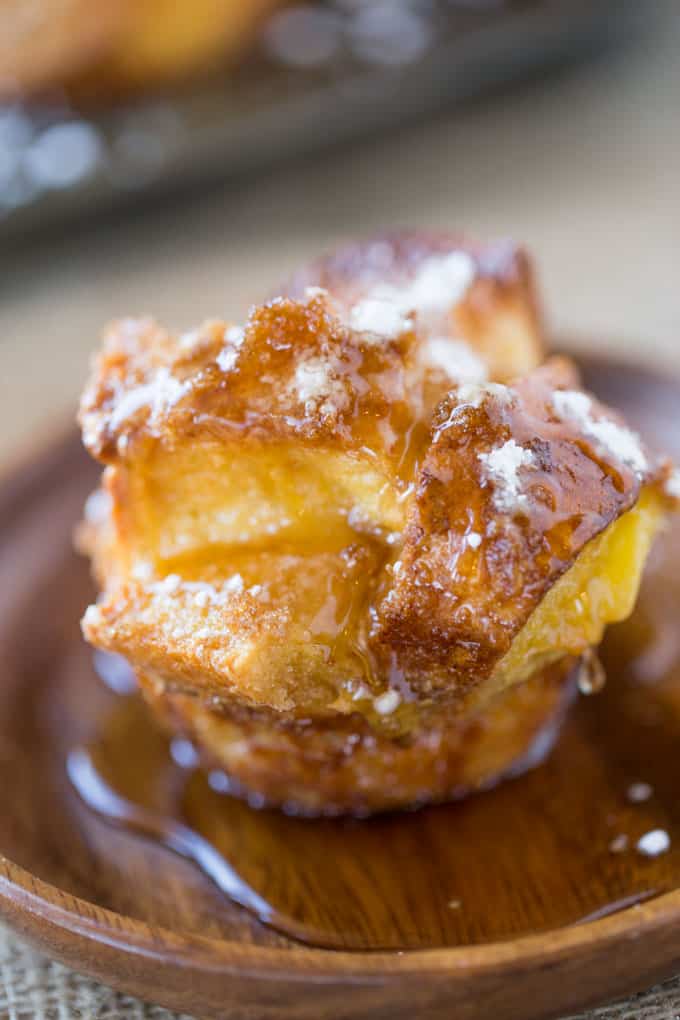 French Toast Muffins are less muffin and more french toast since you make them with cut up (stale works best!) bread and a standard custard mixture but when they come out of the muffin tins you'll be thrilled with how perfectly portable, adorable and delicious they are. Served with warm maple syrup or your favorite glaze.
Regarding the kind of bread you use, the most important part is that the bread is slightly stale. Using a fresh, soft bread will absorb all the liquid of the custard and turn into a mush as it doesn't have the structure to hold up to the added liquid.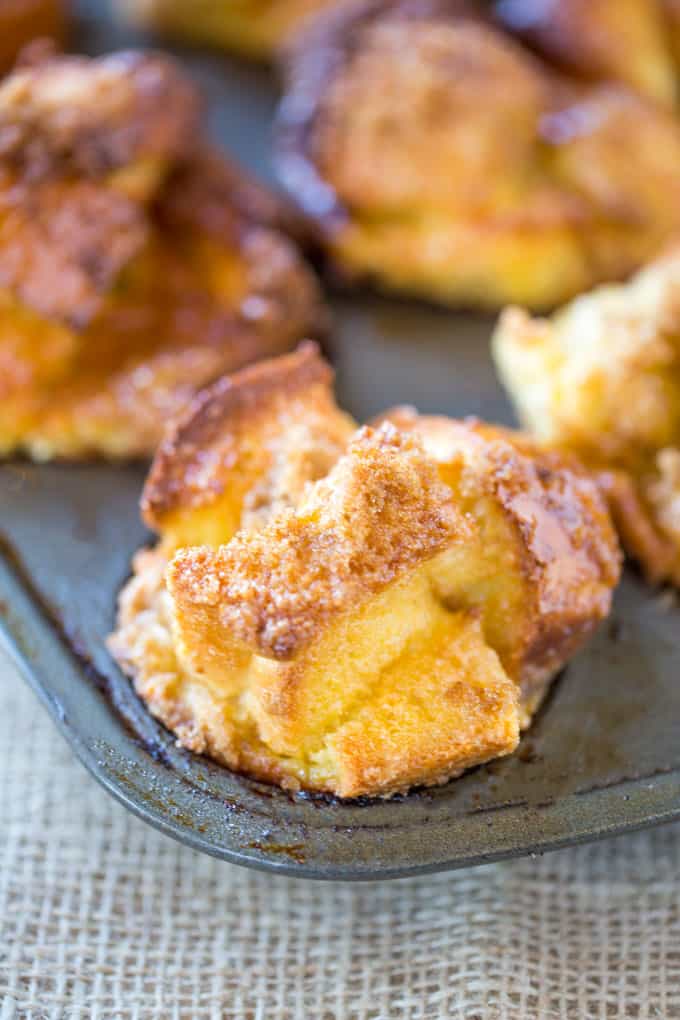 I personally use French Bread to make these French Toast Muffins. I cut up the French Bread the night before and leave it on a cookie sheet or in a bowl overnight. If you don't have time to do that (or you decide to make these on a whim), you can bake them in a low oven (300 degrees) for 15-20 minutes to dry them out.
While French Bread is definitely my favorite bread to use, I've also made these with a Texas toast with great results. I tend to shy away from using a normal sliced white bread because even if it is stale, the crumb is usually so light that it won't give you the best results. 
French Toast Muffins are a version of my Easy French Toast Bake but made in a muffin tin for a fun brunch treat or wedding/baby shower menu. They take almost no time at all to make, use pantry ingredients you probably already have on hand, are easy to eat and impressive to serve!
I only recently posted my favorite Easy French Toast Bake but the reaction to the recipe has been so fantastic I decided to post these muffins earlier than expected. They're soft in the middle, crunchy on top and perfect for serving to a large crowd because everyone gets the crispy edge pieces of their own and if you have any left over they freeze great!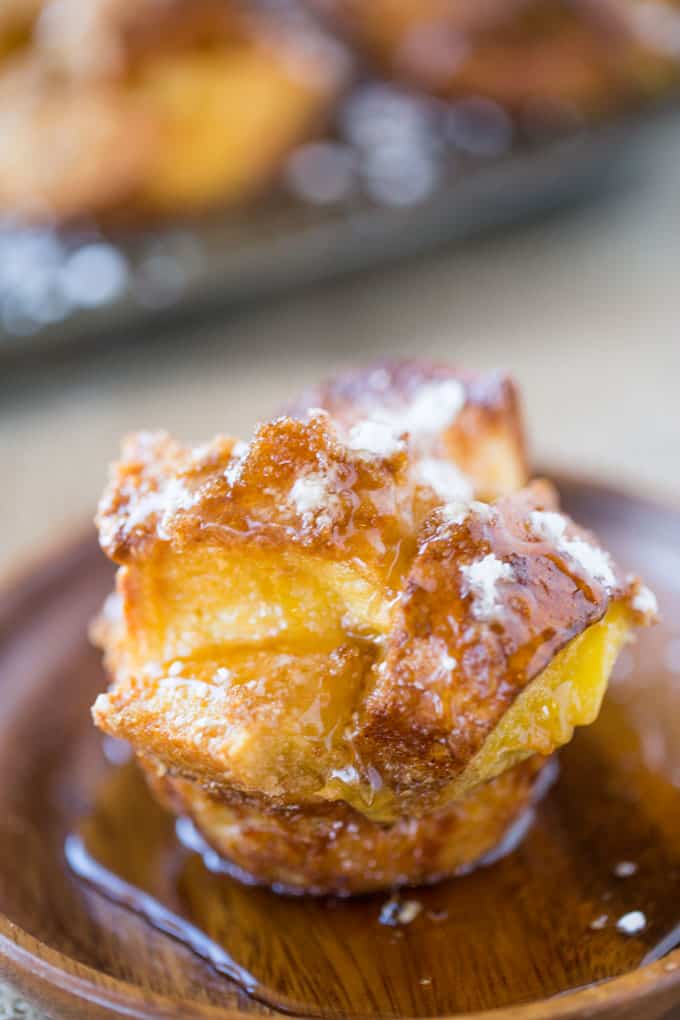 If you make the recipe and freeze portions of it it defrosts great, can be quickly microwaved or put in a toaster oven for a quick breakfast.
You can eat these Pull Apart French Toast Muffins with a fork or your fingers which also makes them a huge hit with kids who like to pull them apart and dunk them in maple syrup.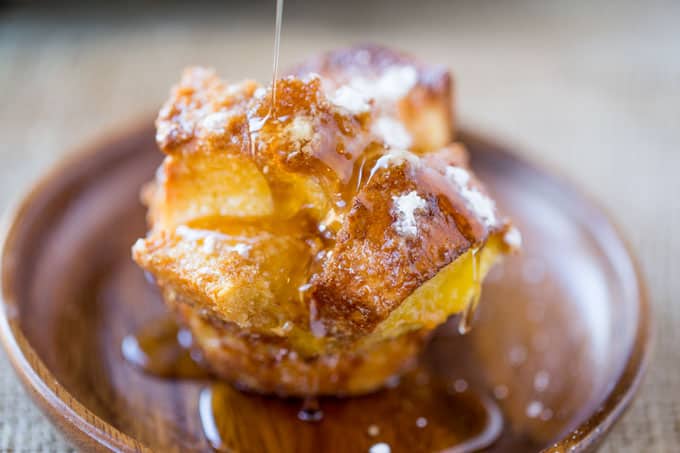 Tools Used in the Making of this Easy French Toast Bake:
Muffin Pan: I tend to stick to classic muffin tins, but I do have friends who swear by silicone muffin tins. The only thing I can tell you is that I stay away from silicone muffin cups because they tend to bulge, cook unevenly and overflow.
Maple Syrup: Love serving this with real maple syrup. I keep this brand and Trader Joe's brand (buy that in store, it is ⅓ the price) on hand at all times if I can.
Nutmeg: The only way I use Nutmeg is with whole nuts. The flavor is completely different than the pre-ground variety and adds another dimension to baked goods. You can also buy these in bulk from your local grocer (I like Sprouts whole Nutmeg) or from Penzey's online.


Ingredients
1

loaf French bread

I also routinely use a loaf of Texas Toast

8

eggs

2

cups

milk

1/2

cup

heavy cream

half and half would work too

1/4

cup

sugar

1

cup

brown sugar

divided, half for custard and half for topping

1

tablespoon

vanilla extract

2

teaspoons

cinnamon

1/4

teaspoon

nutmeg

1/2

cup

flour

1/2

cup

brown sugar

1

teaspoon

cinnamon

1/4

teaspoon

salt

1/2

cup

unsalted butter cold and cut into small squares
Instructions
Spray a two muffin tins with cooking spray or grease with butter and preheat your oven to 375 degrees.

In a large bowl, add the eggs, milk, heavy cream, sugar, vanilla, cinnamon and nutmeg.

Chop the bread into ¾ - 1 inch cubes and put it in the bowl with the egg mixture and toss well until all the liquid is absorbed.

In a small bowl or a food processor add the flour, brown sugar, cinnamon, and salt and mix.

Cut in the butter with a fork or pulse in the food processor for

5-10 seconds

or until the butter and brown sugar mixture is crumbly.

Mound the bread into the muffin tin until it resembles a muffin with a high rounded top.

Pour any leftover liquids over the top of the bread mixture.

Sprinkle the brown sugar mixture (that has the flour, brown sugar, cinnamon, salt and the butter) on top of the muffins

Bake for

20-25 minutes

or until the tops are crispy and browned and the inside is set.
Nutrition
Calories:
170
kcal
|
Carbohydrates:
28
g
|
Protein:
4
g
|
Fat:
4
g
|
Saturated Fat:
2
g
|
Cholesterol:
63
mg
|
Sodium:
145
mg
|
Potassium:
93
mg
|
Sugar:
17
g
|
Vitamin A:
185
IU
|
Calcium:
56
mg
|
Iron:
1.1
mg