Apple Crisp French Toast Bake is a breakfast classic baked as a casserole with a buttery apple crisp topping and perfect to serve a crowd.
This French Toast Casserole is made with baked apples and seasonal flavors making it the perfect Breakfast Recipe to enjoy throughout the fall. For more flavor alternatives try Cinnamon Raisin French Toast Bake or Blueberry Cream Cheese French Toast Bake.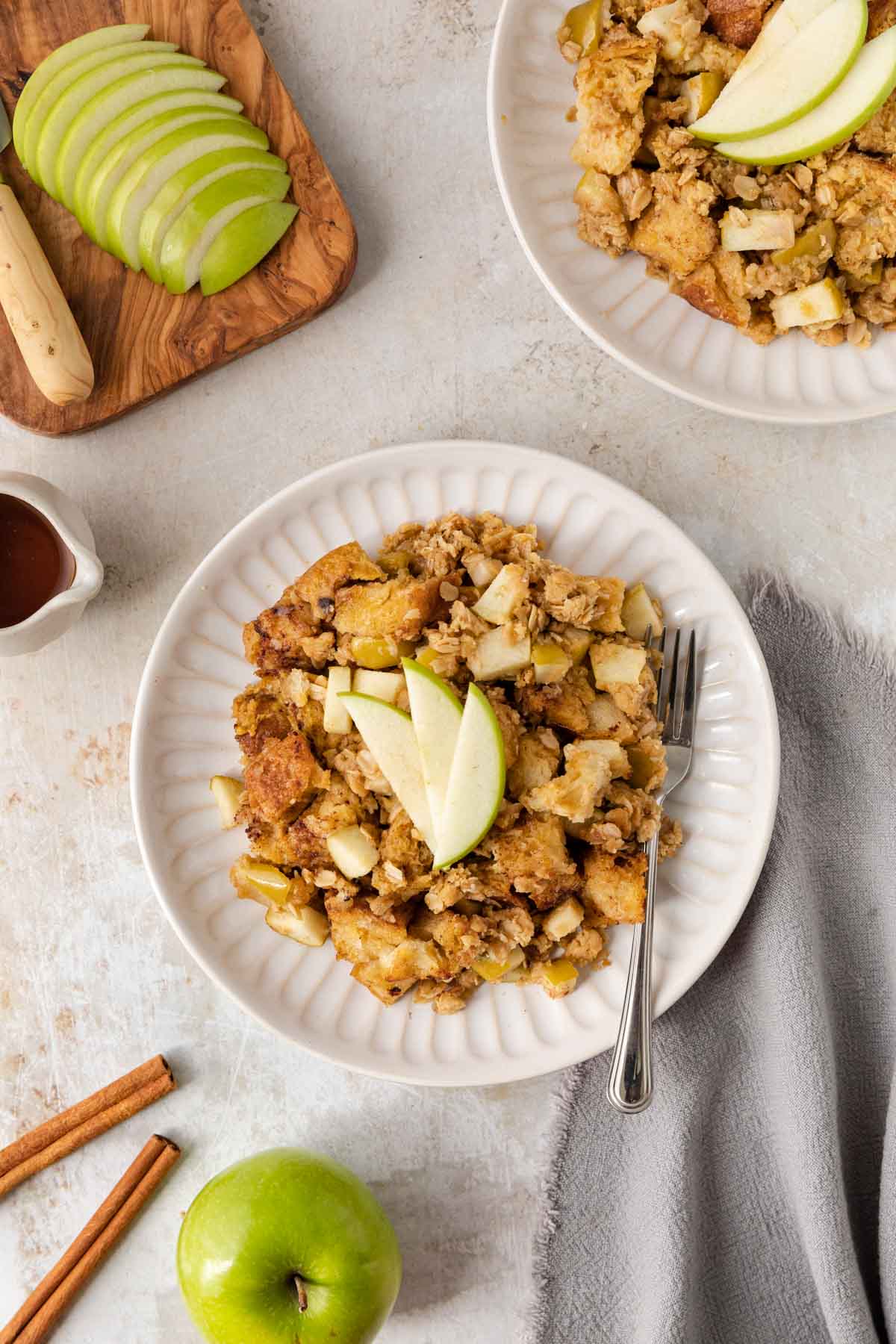 This amazing French Toast Bake takes its flavor inspiration from homemade Apple Crisp. It has the same comforting baked apples and sweet oatmeal crisp topping, but all baked over delicious French toast. It's basically dessert that you can actually enjoy for breakfast.
The Apple Crisp French Toast is great for the holidays when you have a lot of family to serve. Instead of making individual slices of French toast on the stovetop, you can get enough done for everybody in one baking time. Plus, the apple, cinnamon, and brown sugar flavors are wonderfully festive.
Once it's done, serve your French Toast Bake with any of your favorite toppings. It tastes amazing with simple maple syrup. But, you could also enjoy it with a sprinkling of powdered sugar, Caramel Sauce, or a dollop of Whipped Cream.
Serve this easy French Toast Casserole with your other favorite brunch recipes like Easy Spinach Quiche, Oven Bacon Cheddar Scrambled Eggs, or Breakfast Pork Sausage for a complete meal that feeds a crowd.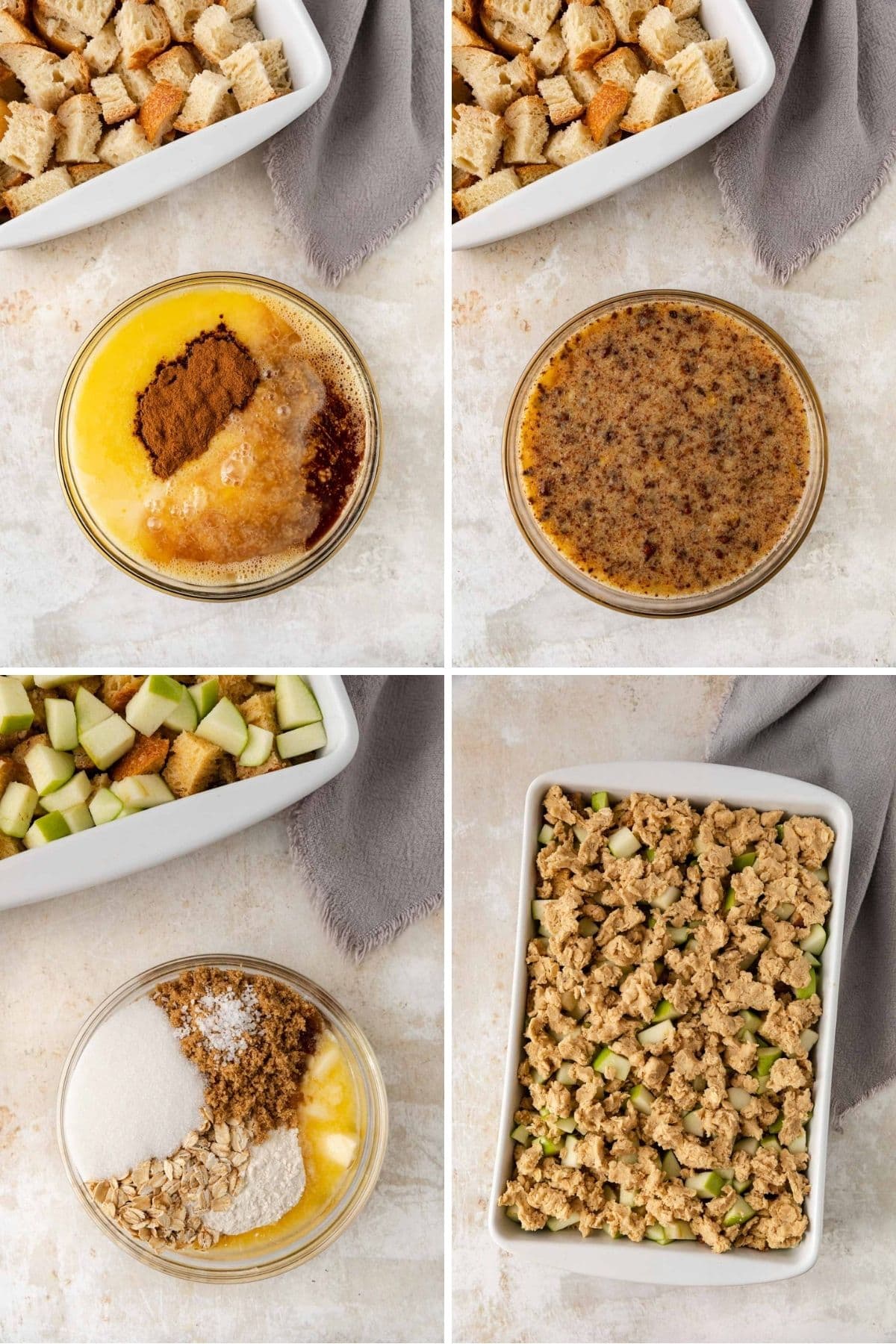 How to Make Apple Crisp French Toast Bake
Prep Time: Preheat the oven to 350 degrees, and get your baking dish out.
Custard: Add the melted butter, ½ cup brown sugar, 8 beaten eggs, 1 cup milk, vanilla, cinnamon, and salt to a large mixing bowl. Whisk the egg mixture together until it's all combined into a smooth custard.
Bread Layer: Slice a loaf of French bread, and lay the bread slices in a single layer over your casserole dish. Pour the custard over the top. Make sure you distribute the custard across the dish so that it soaks into the bread evenly.
Streusel Topping: Add the flour, ¾ cup granulated sugar, ¾ cup brown sugar, salt, rolled oats, and cold cubed butter to a medium bowl. Use a pastry cutter to combine the oat mixture into coarse crumbs. Lay the apple slices over the bread. Sprinkle the oat topping over the apple mixture.
Baking Time: Put the dish in the oven for a 40-45 minute baking time. Take it out when the top is golden brown. Let the Apple Crisp French Toast Bake cool slightly before cutting it into squares and serving.
More French Toast Recipes
Frequently Asked Questions
What kind of apples should I use for Apple Crisp French Toast Bake?
Granny Smith apples work perfectly to give this breakfast dish an apple pie flavor. They are tart and crisp, so they hold up well to baking without becoming mushy. The tart flavor also complements the sweetness of the brown sugar and cinnamon. If you don't have Granny Smith apples, use another tart and firm variety such as Braeburn or Honeycrisp.
How do I know when French Toast Bake is done?
Your Apple Crisp French Toast Bake will be done when a paring knife easily pierces the apples, and there is no liquid remaining in the dish. Make sure it is completely set and the crisp top is a nice golden brown.
Can I use different fruit for this French Toast Bake?
Absolutely! Try using sliced fresh sliced pears, peaches, or a mixture of blueberries, strawberries, and raspberries. Use seasonal fruit for the most delicious French Toast Bake. You can also used canned peaches or frozen fruit, just let them thaw and drain before mixing into the crumble topping.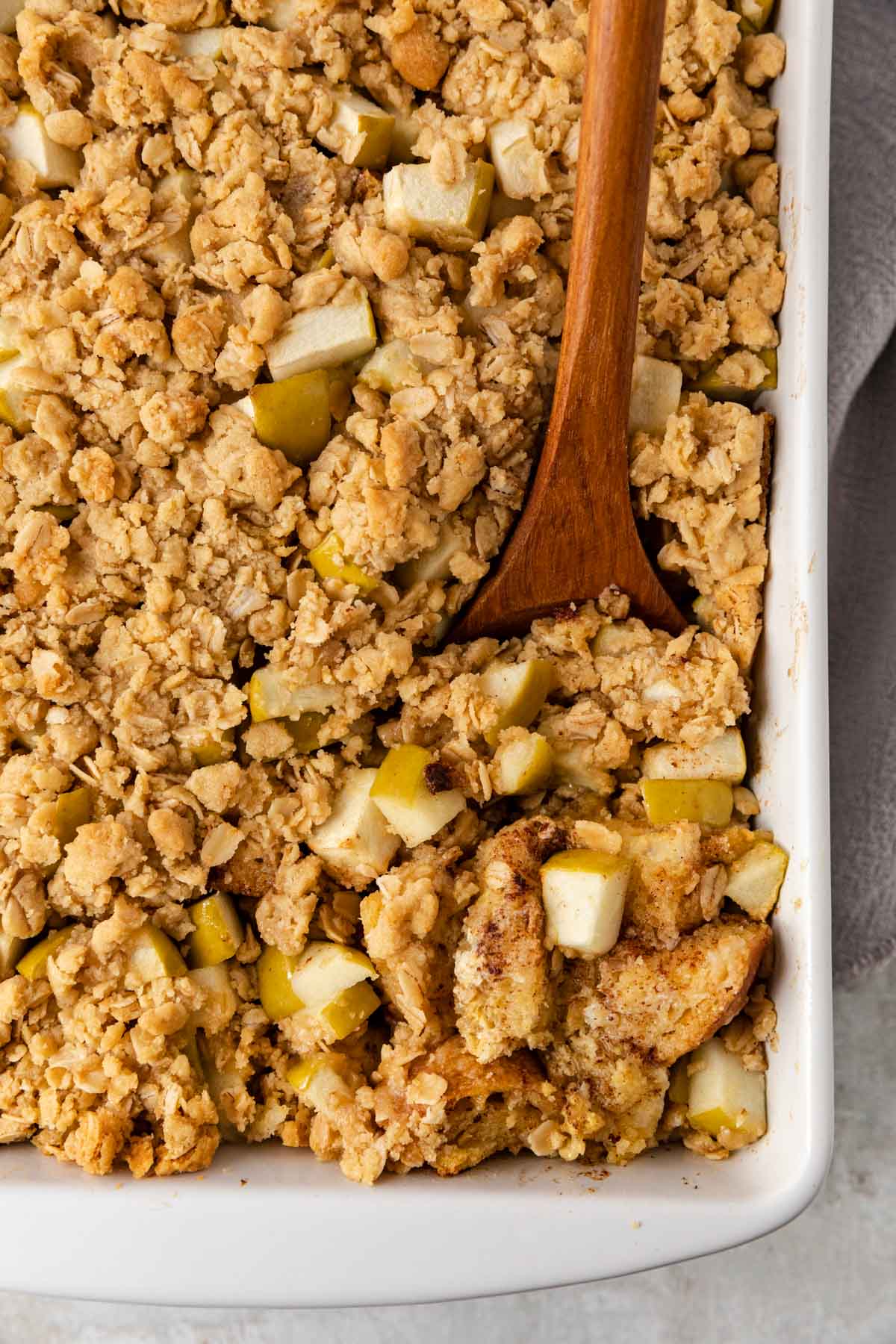 Create a free account to

Save Recipes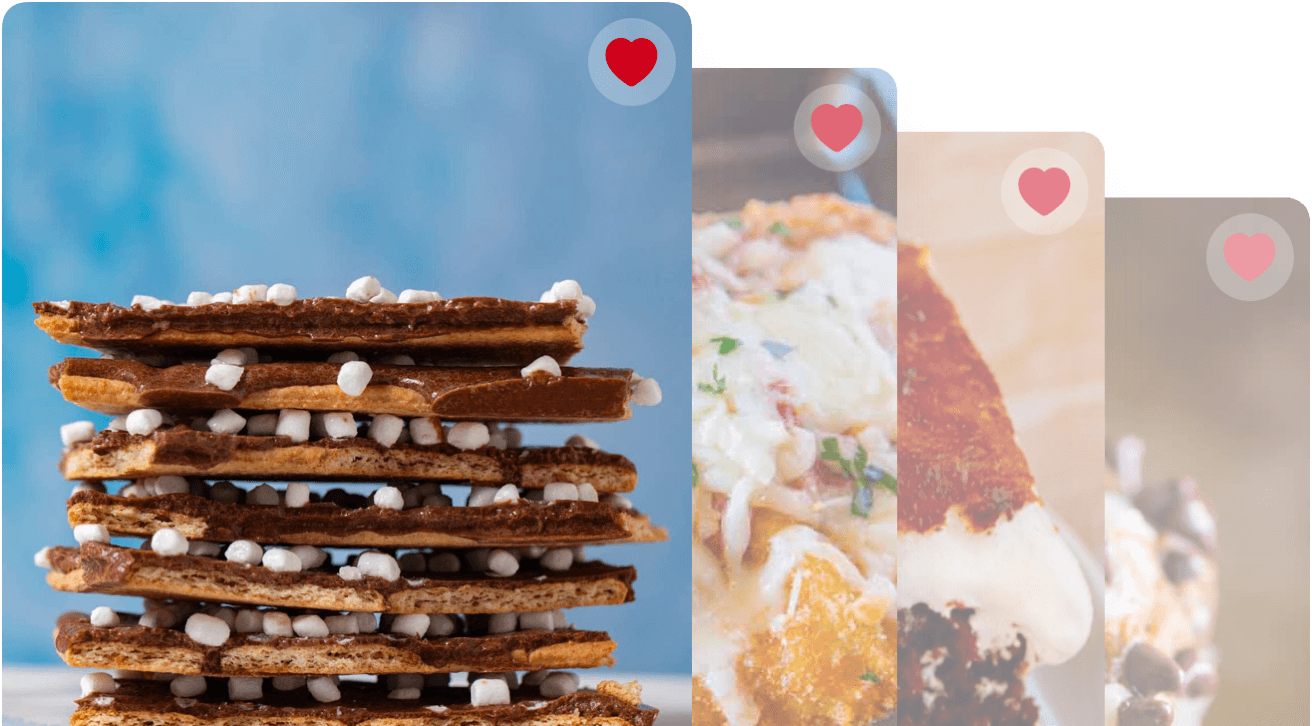 Key Ingredients in Apple Crisp French Toast Bake
French Bread: To prep the bread for the French Toast Bake, you can either use slightly stale bread, or leave the loaf out overnight. Allowing the bread to dry slightly actually makes the final recipe more tender and flavorful because it does a better job absorbing the custard.
Custard Mixture: The egg custard is made with the same basic ingredients that you can find in most French toast recipes. Butter, sugar, eggs, milk, vanilla and cinnamon are all beaten together into one smooth, creamy filling that the bread soaks up while it bakes.
Apple: The amazing apple flavor makes this recipe wonderfully Autumnal and comforting. For the best results, use a tart, firm apple like Granny Smith apples. There are a few other apple varieties like Jonagold, Honeycrisp, and Winesap that also hold up well in the oven.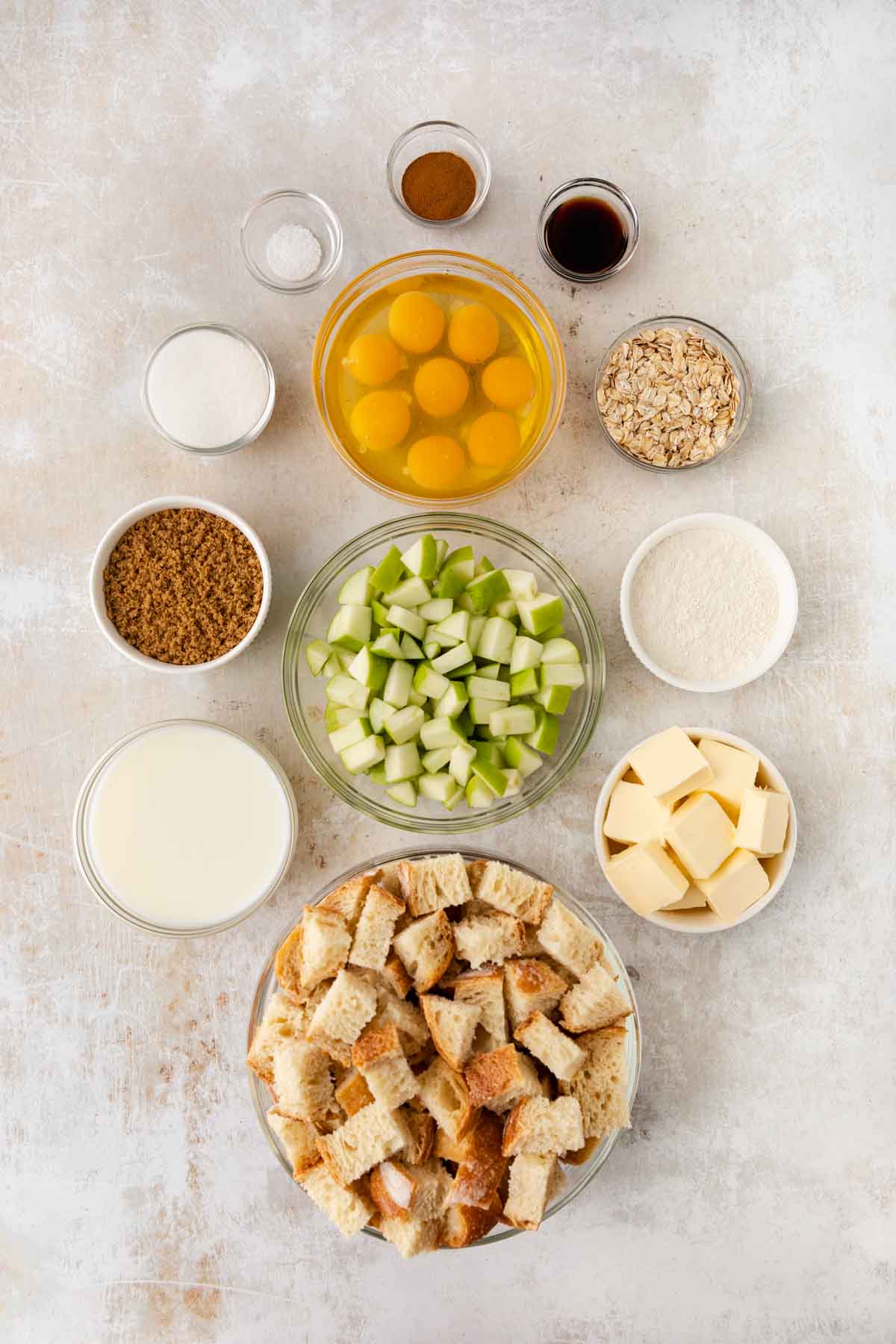 Can Apple Crisp French Toast Bake be Made Ahead?
To make your morning even smoother, prep this Apple Crisp French Toast Bake the day before and let it sit in the refrigerator, covered tightly, overnight. Then just bake as usual and serve. Just make sure you've dried out your bread well before combining, since the bread will have a long time to absorb the liquid. This will leave you with a custardy, almost bread pudding texture for your bake. If you'd like to keep the apples from browning, you can leave that step for the very end and cut them fresh before baking.
Serving Ideas for Apple Crisp French Toast Bake
Mini Apple Crisp French Toast: Cube the bread and portion into greased muffin tins. Divide the custard mix and apple topping among the muffing tins for a mini bread pudding version of this French Toast Bake.
Meal Prep: Portion your Apple Crisp French Toast Bake into microwavable containers to heat and eat throughout the week. Enjoy with a cup of coffee or alongside scrambled eggs and fresh fruit for a quick, filling breakfast.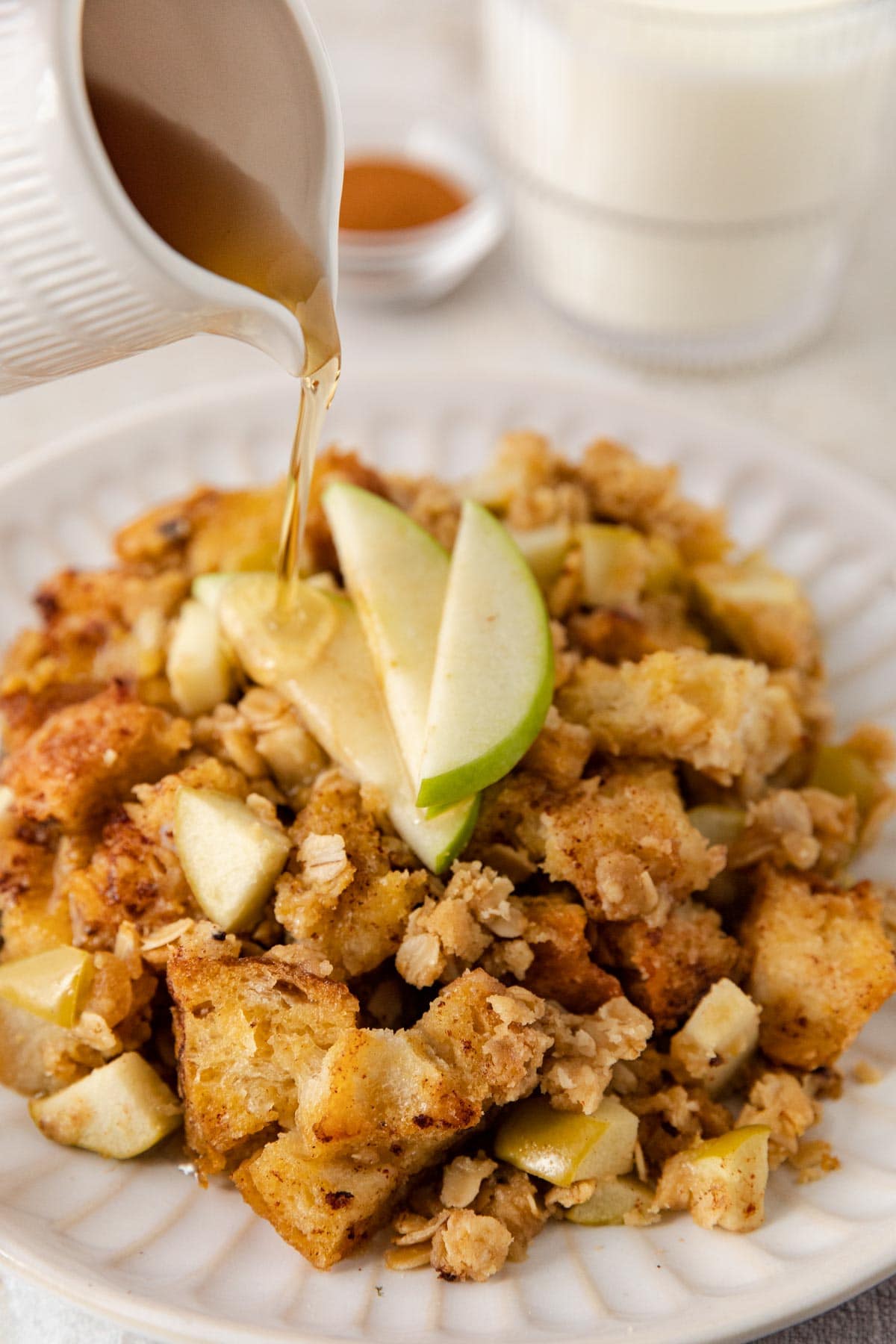 Variations on Apple Crisp French Toast Bake
Bread: Plenty of different kinds of bread work for French toast. You can use brioche, challah bread, or broken croissant pieces to replace French bread slices of bread.
Bread Pudding French Toast Bake: If you want to make this Apple Crisp French Toast Bake more like a bread pudding, you can exchange the bread slices for chunks of bread. Break the slightly stale bread into bread cubes, and lay them in the casserole dish. Then pour the custard over the French bread cubes and bake as usual.
Brown Sugar Syrup: You can make homemade brown sugar syrup as a delicious topping for your French Toast Bake. To make the syrup add 2 cups brown sugar and 1 cup water to a saucepan. Then bring it to a boil, and stir until the sugar dissolves. Once it's dissolved, lower the heat to medium heat. Let it continue to boil for 4 minutes. Then add ½ cup butter, and stir until it's dissolved. For extra flavor, you can add ¼ teaspoon vanilla or ¼ teaspoon cinnamon to the mix. Then let the sweet, buttery syrup cool for 5 minutes before pouring it over the baked French toast.
Nuts: For a little extra crunch, mix chopped pecans, walnuts, or almonds in with the oat topping.
Vegan: To make this Apple Crisp French Toast Bake vegan, all you have to do is replace the whole milk with almond milk, coconut milk, or another replacement, and replace the eggs with flax eggs.
Gluten Free: Substitute your favorite gluten free bread for a gluten free version of Apple Crisp French Toast Bake.
Toppings: Top your Apple Crisp French Toast Bake with a scoop of Vanilla Ice Cream, a drizzle of caramel sauce, chopped nuts, mini chocolate chips, powdered sugar, Cream Cheese Glaze, or fresh berries.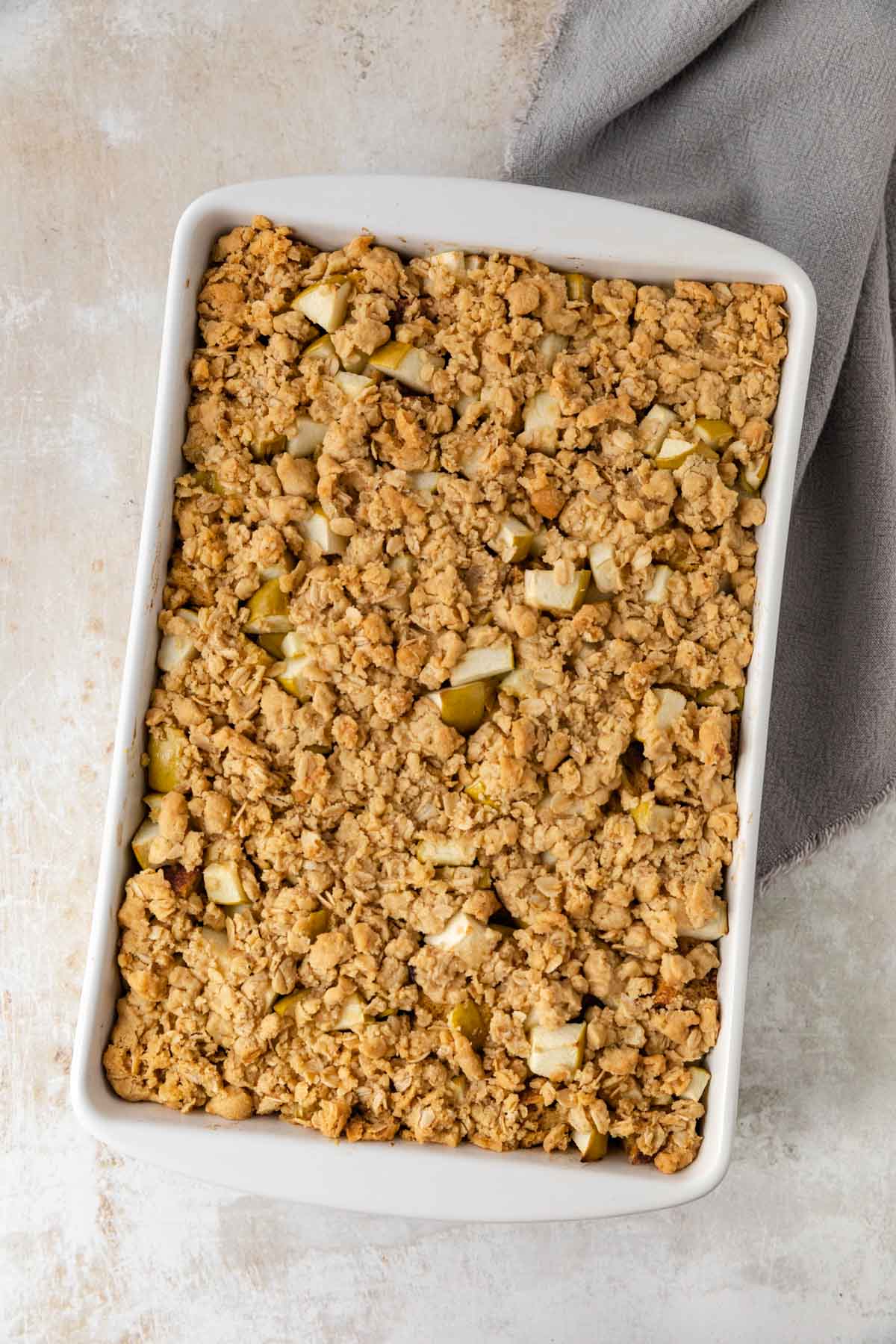 Breakfast Recipes for a Crowd
How to Store Apple Crisp French Toast Bake
Serve: After baking, you don't want to leave this French toast casserole at room temperature for more than 2 hours.
Store: Once the dish has cooled, you can cover it in tin foil or plastic wrap, or transfer leftovers to an airtight container. It can stay good in the fridge for up to 1 week.
Freeze: This Apple Crisp French Toast Bake can also be carefully sealed and stored in the freezer for up to 3 months. Let it thaw in the fridge, and reheat the French Toast Bake in the oven before serving.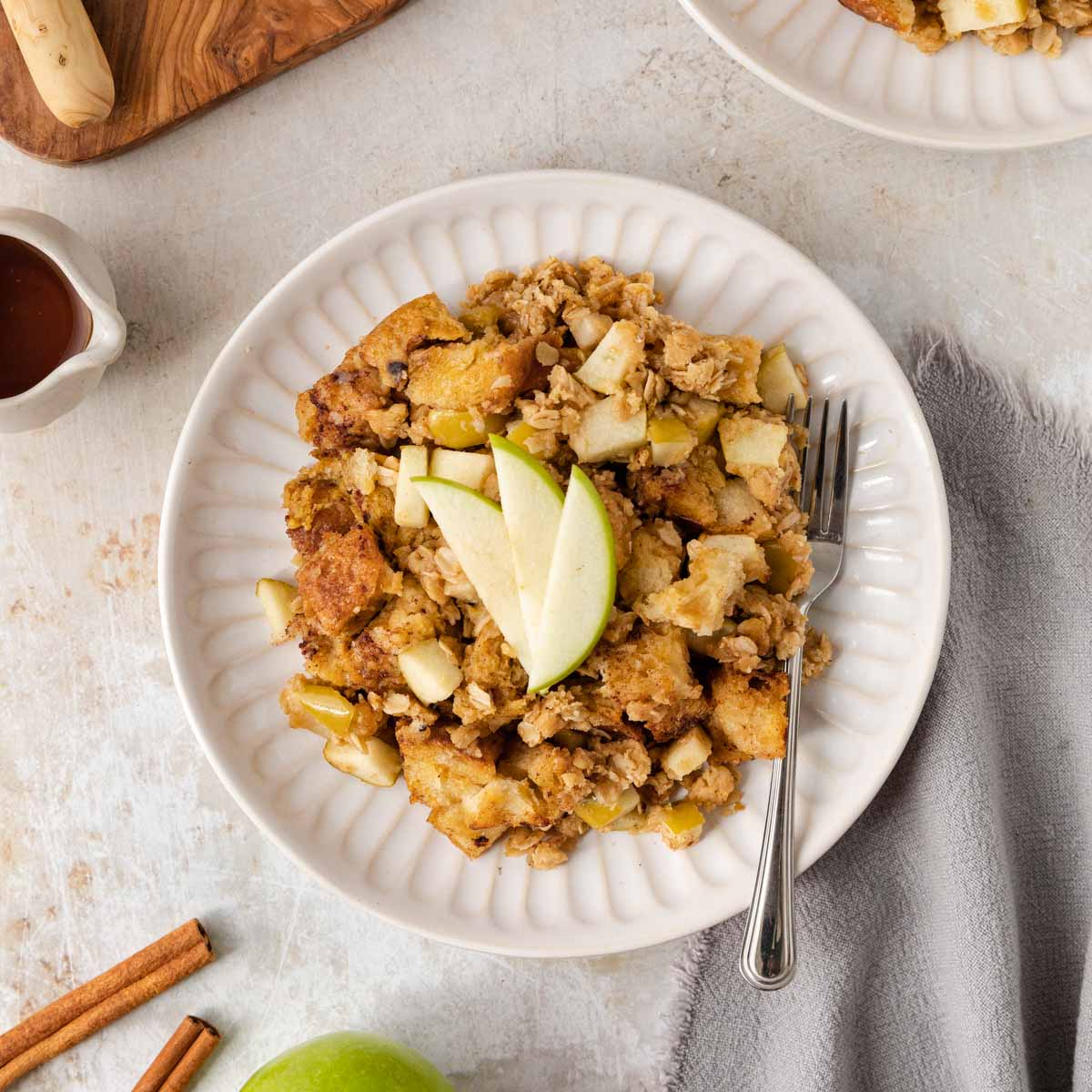 Ingredients
4

tablespoons

unsalted butter melted

1/2

cup

brown sugar

, packed

8

large

eggs

, beaten

1

cup

whole milk

1

tablespoon

vanilla extract

2

teaspoons

cinnamon

1/4

teaspoon

salt

1

loaf

French bread

, cut into thick slices
Apple Crisp Topping:
1/2

cups

flour

1/4

cup

granulated sugar

1/4

cup

light brown sugar

, packed

1/8

teaspoon

kosher salt

1/3

cup

rolled oats

2/3

cup

unsalted butter

2

Granny Smith apples

, diced
Instructions
Preheat the oven to 350 degrees before baking and remove the pan from the refrigerator.

Whisk the butter, ½ cup brown sugar, eggs, whole milk, vanilla, cinnamon, and salt in a large bowl.

Arrange the bread in the pan and pour the custard over the bread.

To make the crisp topping, mash together the flour, ¾ cup sugar, ¾ cup brown sugar, salt, oats and butter.

Sprinkle over the apples and bake for

40-45 minutes

.
Nutrition
Calories:
396
kcal
|
Carbohydrates:
48
g
|
Protein:
10
g
|
Fat:
19
g
|
Saturated Fat:
11
g
|
Polyunsaturated Fat:
2
g
|
Monounsaturated Fat:
5
g
|
Trans Fat:
1
g
|
Cholesterol:
163
mg
|
Sodium:
306
mg
|
Potassium:
187
mg
|
Fiber:
2
g
|
Sugar:
23
g
|
Vitamin A:
662
IU
|
Vitamin C:
1
mg
|
Calcium:
79
mg
|
Iron:
2
mg