Blueberry Bread Pudding mixes sweet and tender, buttery bread with fresh, juicy blueberries topped off with a tart lemon and vanilla glaze.
Just like the classic Bread Pudding, this Blueberry version is perfect for a simple Dessert, or to satisfy your sweet tooth at Breakfast. Because one recipe makes several servings it's great to serve for the holiday or anytime you have a big group to feed.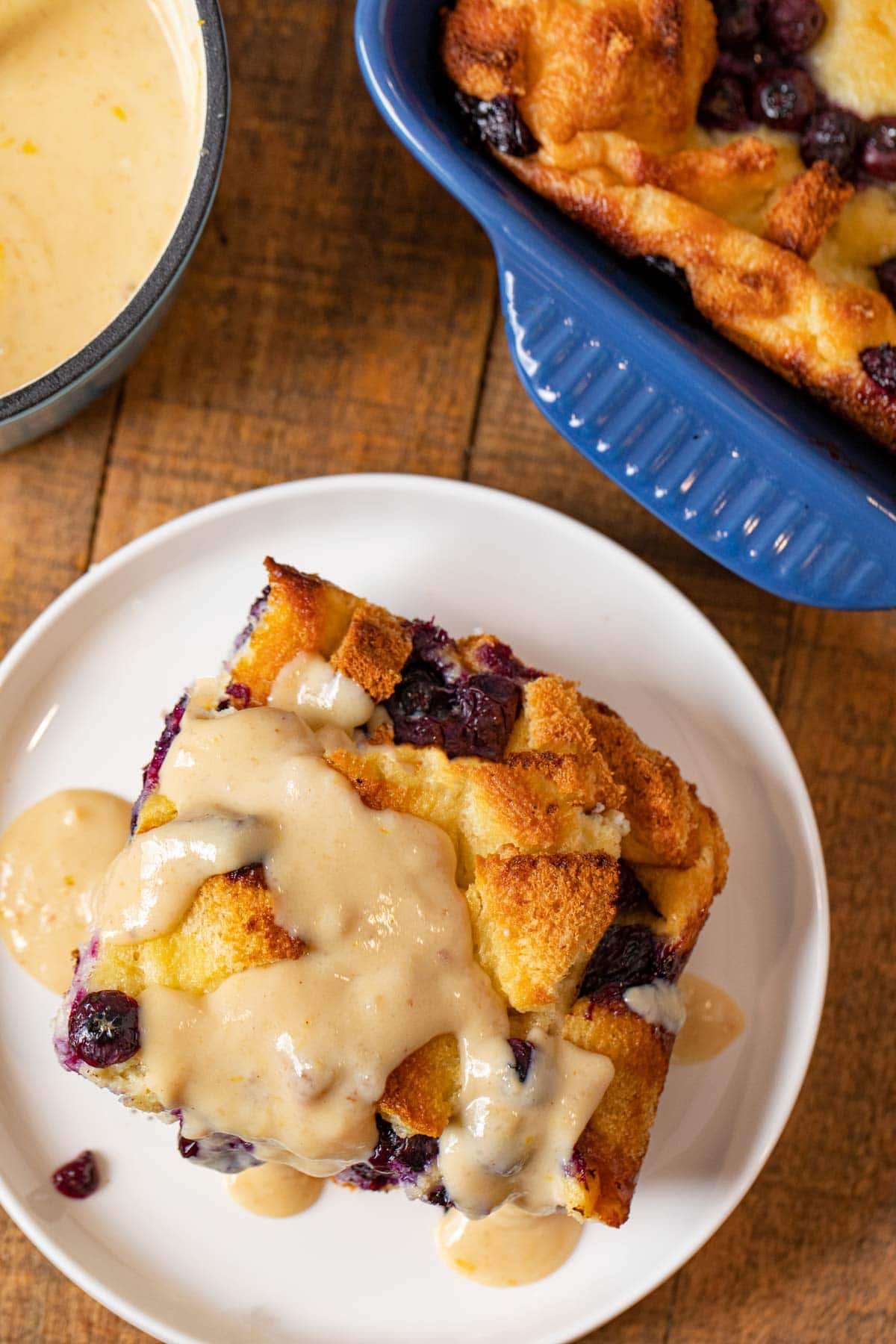 BLUEBERRY BREAD PUDDING
This Blueberry Bread Pudding recipe is the perfect comfort food to bring to a brunch. The white bread pieces are covered in a sweet custard so they bake buttery and tender. The sweet and tart fruit is baked into the warm bread. Then it's all topped off with a rich, golden sauce made with pure vanilla extract and lemon. The delicious taste and tender texture make it a wonderful crowd-pleasing recipe.
Blueberries are such a wonderful fruit to work into Breakfast Baked Goods. Between Blueberry Muffins, Blueberry Jam, and Blueberry Lemon Bread, there are just so many ways to use them. This recipe is another delicious one to add to the list! The tart blueberries add a nice contrast to the other sweet ingredients.
It's a lovely recipe that's sure to be a favorite with the whole family. If you're serving a smaller group and won't finish the entire dish rich Bread Pudding keeps well in the fridge and freezer. So, you can enjoy it again throughout the week.
HOW TO PREPARE YOUR BREAD FOR BREAD PUDDING
Bread Puddings and French Toast are best made using stale bread. This is because the slightly old bread will do a better job soaking up the rich custard. However, if you have fresh bread, you can still make it work. If you have time, leave the bread out overnight to dry it out. If you just got the bread the morning of, place the bread cubes on a baking sheet and toast them in a 350-degree oven for 10-15 minutes.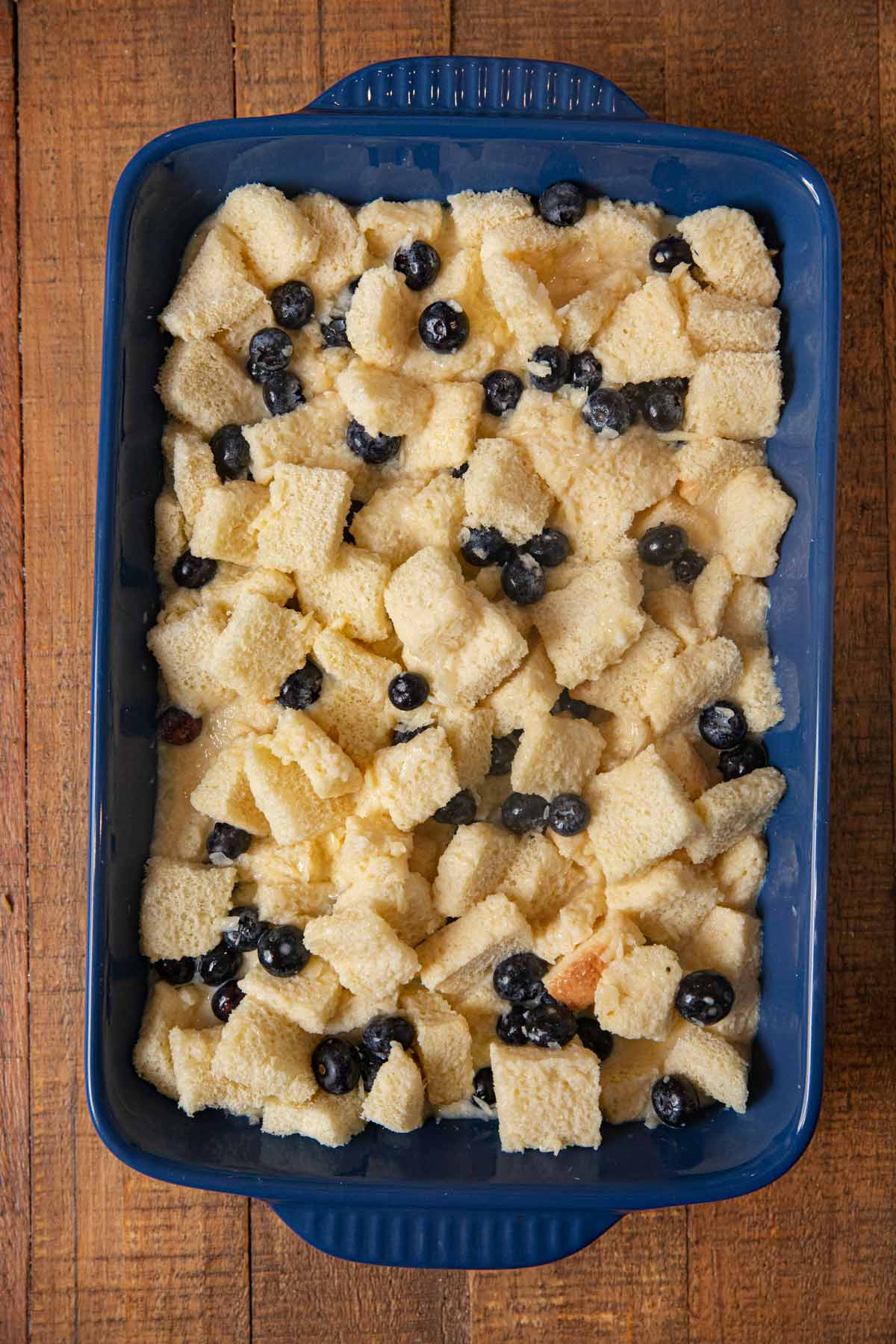 BLUEBERRY BREAD PUDDING TOPPINGS
You can serve Blueberry Bread Pudding with plenty of different toppings besides the Lemon and Vanilla Sauce. Here are some perfect dessert toppings to try:
Whipped Cream: Make an easy whipped cream using heavy whipping cream, powdered sugar, and vanilla.
Caramel Sauce: For an extra sweet take use some salted caramel sauce.
Sugar: For a simple topping just sprinkle brown sugar or powdered sugar on top.
Streusel: To make an easy brown sugar streusel topping combine ½ cup brown sugar, ½ cup white sugar, ½ cup flour, ¼ cup butter, and 1 ½ teaspoons ground cinnamon. Combine the streusel in a bowl with a fork or pastry cutter. Then sprinkle the brown sugar cinnamon streusel over the Blueberry Pudding.
Ice Cream: For a delectable dessert recipe serve Bread Pudding with creamy Vanilla Ice Cream on top.
Fresh Blueberry Sauce: You could also double up on the blueberry flavor with a fresh blueberry sauce. To make an easy blueberry sauce combine 3 cups blueberries, 1 cup water, ½ cup sugar, and ½ teaspoon vanilla in a saucepan. Once the mixture comes to a boil add in 1 ½ tablespoons cornstarch to thicken.
MORE BREAKFAST RECIPES
TIPS FOR MAKING BLUEBERRY BREAD PUDDING
Prep: Start off by prepping your baking dish with cooking spray. Then preheat the oven and break the bread into inch cubes.
Layers: Put a layer of cubed bread, then blueberries, then bread cubes, then blueberries.
Custard mixture: Whisk together the 4 tablespoons butter, eggs, 4 cups milk, ¾ cups granulated sugar, and 1 teaspoon vanilla. Pour milk mixture over the bread and blueberry mixture. Let the Blueberry Bread Pudding sit for 15 minutes until you have soaked bread throughout.
Cook time: Bake the Blueberry Bread Pudding for 60-70 minutes. Keep an eye on the pudding towards the end of the baking process and take it out when the top is golden brown. The total time will be about an hour and a half, but most of that is baking.
Dessert Sauce: In a small saucepan whisk together all the ingredients but the vanilla and lemon together. Continue whisking constantly for 10 minutes. Take the sauce from the heat and mix in the vanilla and lemon before serving it over the warm Bread Pudding.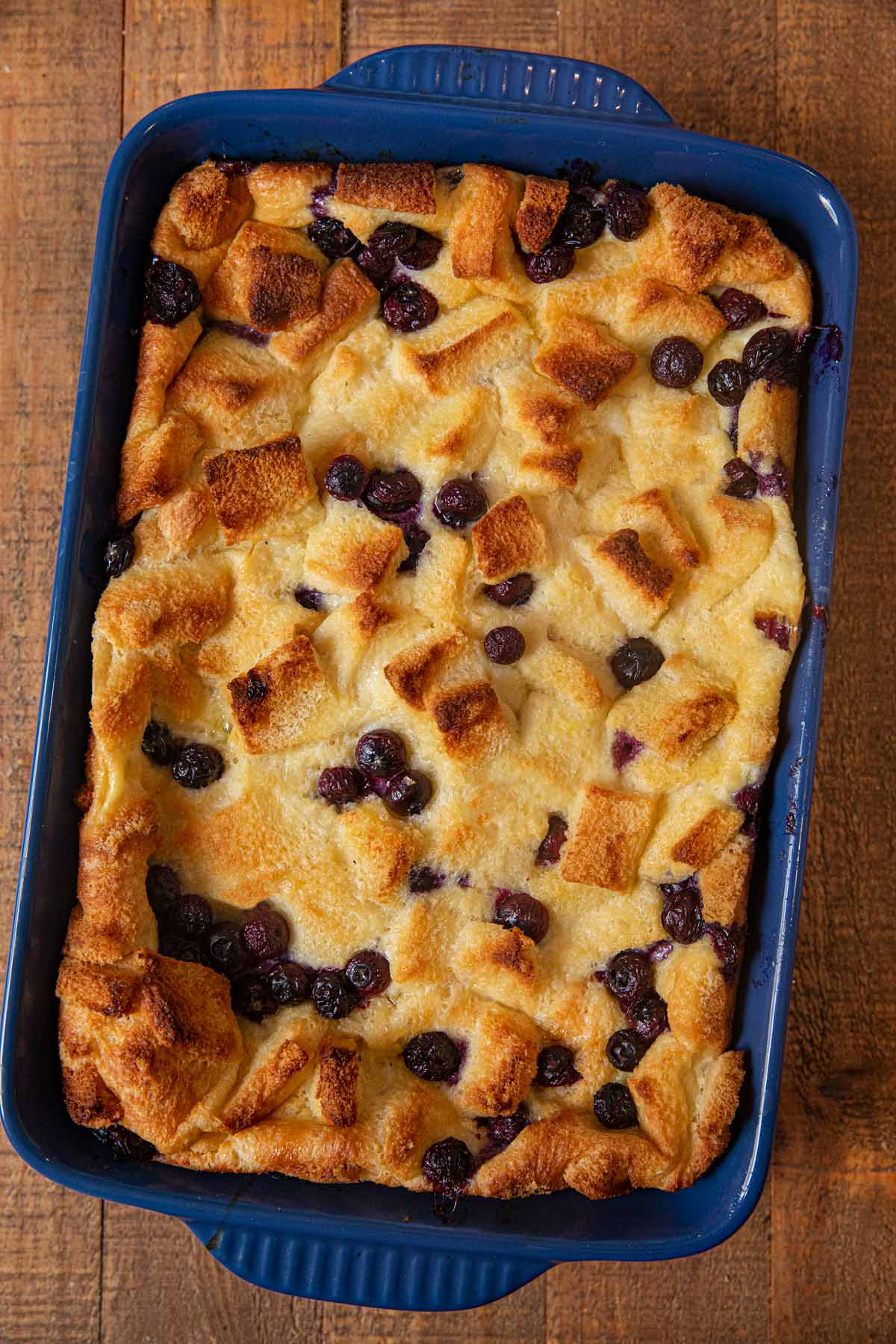 Create a free account to

Save Recipes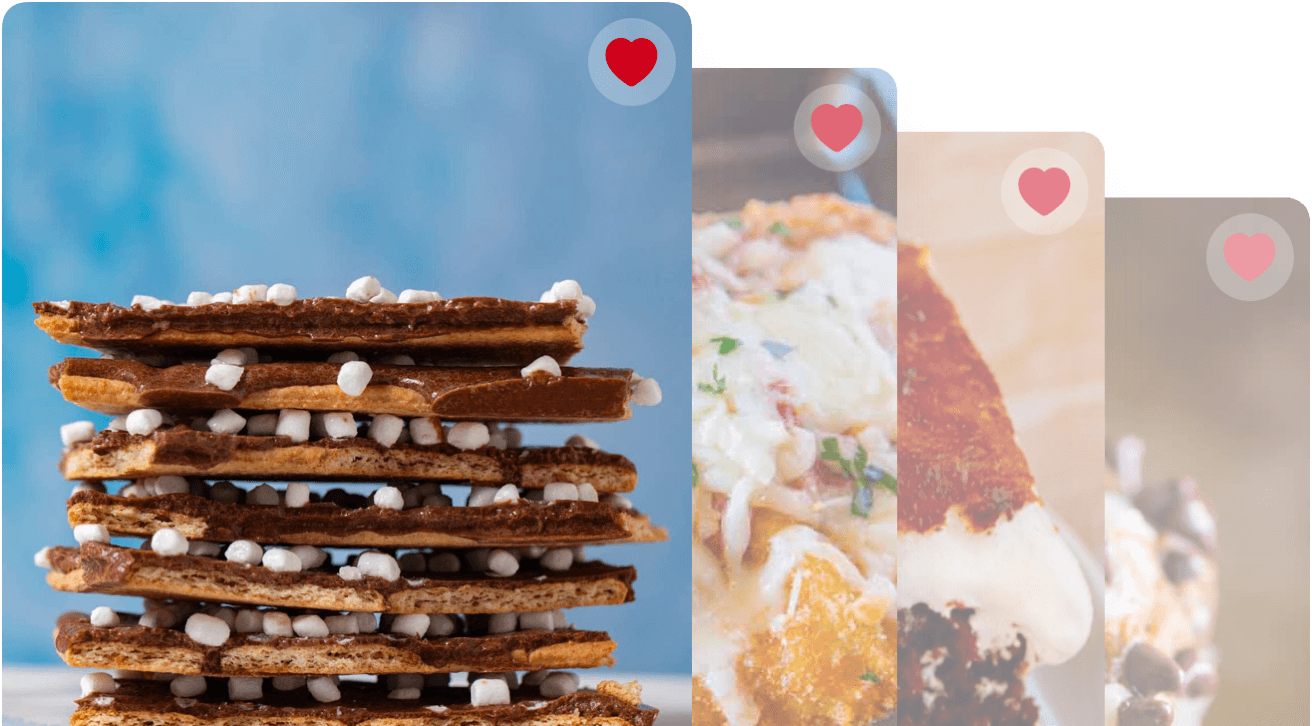 VARIATIONS ON BLUEBERRY BREAD PUDDING
Bread: The recipe works with most white bread. You can try any of your favorite breads like French bread, sourdough, challah, or brioche.
Add-ins: For Blueberry Bread Pudding with some more flavor try adding an extra teaspoon cinnamon, vanilla, or almond extract. You could also mix in some white chocolate with white baking chips.
Fruit: Although the recipe calls for fresh blueberries, you could use fresh or frozen berries. If you make Blueberry Bread Pudding with frozen blueberries, let them thaw ahead of time. To make it more like a dessert you could also top off the pudding with blueberry preserves or blueberry pie filling. You can also try out different kinds of fruit. Diced apples, fresh cranberries, strawberries, or raspberries would make great additions.
Sweet Potato Bread Pudding: To make Sweet Potato Bread Pudding use 2 medium sweet potatoes instead of blueberries in the recipe. Then sprinkle brown sugar and cinnamon streusel for sweet taste.
MORE BREAKFAST BAKES
HOW TO STORE BLUEBERRY BREAD PUDDING
Serve: Don't leave Blueberry Bread Pudding at room temperature for more than 2 hours.
Store: Cover the Bread Pudding in plastic wrap or put it in an airtight container to keep in the fridge for up to 1 week.
Freeze: You can also freeze the Pudding for up to 3 months. Put the pudding in the fridge to thaw overnight before reheating it.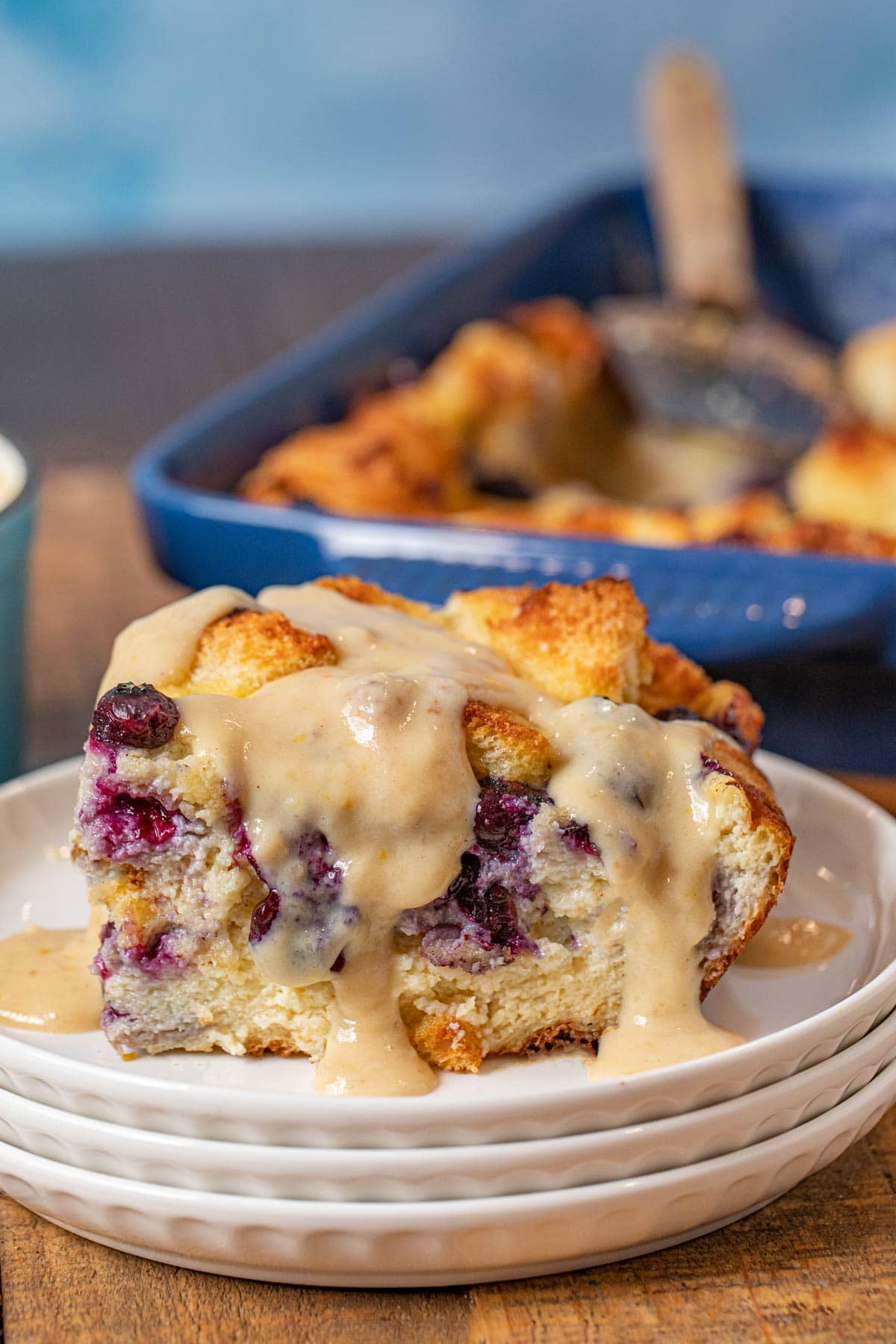 Ingredients
Blueberry Bread Pudding:
16

ounces

sandwich bread

, crusts removed and day old-cubed

2

cups

fresh blueberries

1/4

cup

unsalted butter

, melted

8

large

eggs

4

cups

whole milk

3/4

cup

sugar

1

teaspoon

vanilla extract
Vanilla Lemon Sauce:
1/2

cup

light brown sugar

1

tablespoon

flour

1

pinch

ground cinnamon

1

large

egg

2

tablespoons

unsalted butter

, melted

1 1/4

cups

whole milk

1

pinch

salt

1

tablespoon

lemon juice

1

tablespoon

vanilla extract

1

tablespoon

lemon zest
Instructions
Blueberry Bread Pudding:
Preheat oven to 375 degrees and spray a 9x13 baking dish with baking spray.

Layer in the bread and sliced blueberries evenly (½ bread, ½ blueberries, rest of bread, rest of blueberries).

In a large bowl whisk together melted butter, eggs, milk, sugar, and vanilla extract.

Pour over bread mixture.

Bake for

60-70 minutes

until custard is gone and the top is slightly browned
Vanilla Lemon Sauce:
Whisk everything but the vanilla in a saucepan over medium heat constantly for

10 minutes

until thickened enough to coat the back of a spoon.

Remove from heat and add in the lemon juice, vanilla, and lemon zest. Serve over the pudding.
Nutrition
Calories:
374
kcal
|
Carbohydrates:
50
g
|
Protein:
12
g
|
Fat:
14
g
|
Saturated Fat:
7
g
|
Cholesterol:
165
mg
|
Sodium:
292
mg
|
Potassium:
267
mg
|
Fiber:
2
g
|
Sugar:
32
g
|
Vitamin A:
565
IU
|
Vitamin C:
4
mg
|
Calcium:
250
mg
|
Iron:
2
mg