Sweet Bread Pudding is the PERFECT dessert for the holidays made with day old bread, half and half, and vanilla, and only 45 minutes to bake!
We know how important finding the perfect Dessert Recipe is once the holidays come around, and you can be prepared this year with Ultimate Apple Crisp, Award Winning Gingerbread Cookies, and Classic Gingerbread Cake!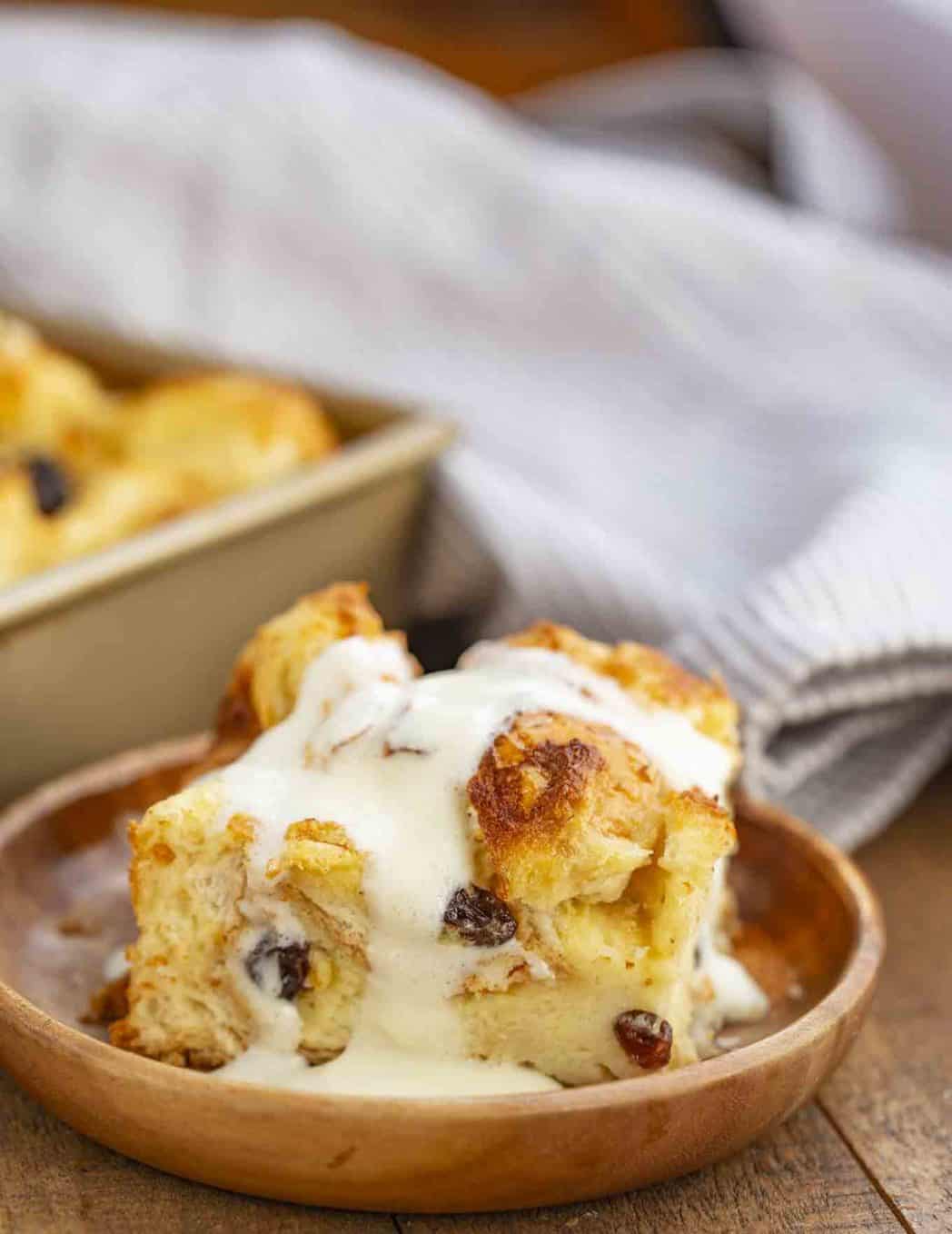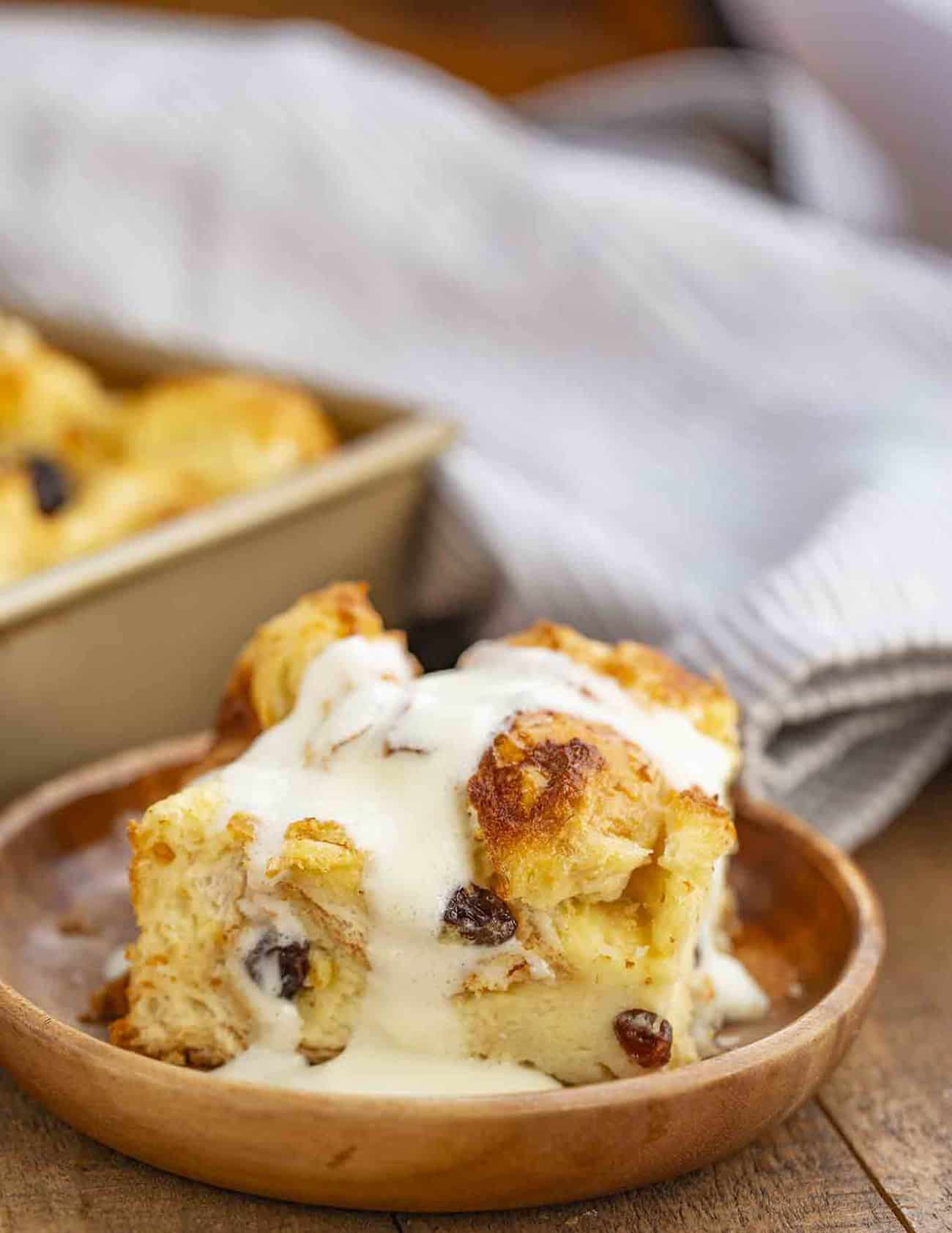 Bread Pudding is an old fashioned dessert that always makes its way to our table on the holidays. It's made out of cubed bread with a sweet vanilla half and half and egg custard. You can serve bread pudding topped with a sauce, like vanilla sauce (recipe below) or praline sauce (pictured).
One of the things that's' great about this dish is that you can make it all in one bowl, then pour into a baking dish and bake. It's REALLY simple to make, and tastes like heaven in a bowl. It's the perfect treat to serve on a cold winter's night in your log cabin in the mountains!
You can add more flavor to your pudding with things like chocolate chips, a drizzle of caramel sauce, or a teaspoon of cinnamon and a dash of nutmeg. This bread pudding recipe is more traditional with raisins.
Try serving this for dessert at a Christmas or Easter party and it will be gone within minutes! Plus it's the perfect way to use up leftover bread from the night before. A scoop of Homemade Vanilla Ice Cream on the side will make this a complete treat!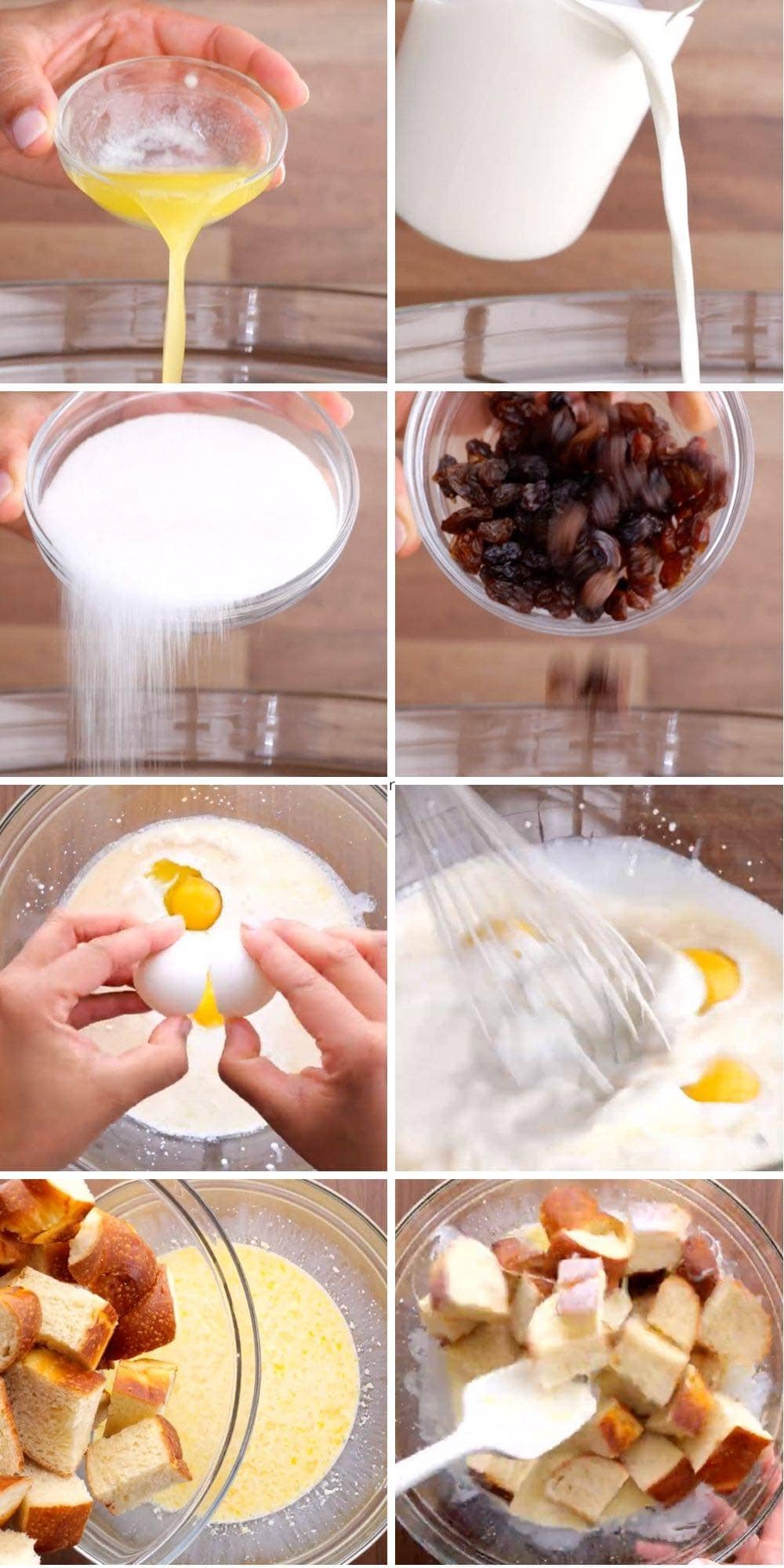 How to Make Bread Pudding
Making your own bread pudding is incredibly easy as it is made with simple ingredients. This particular recipe is especially useful if you have stale bread that you don't want to waste.
Step One: Preheat oven and gather your prepared baking dish with nonstick cooking spray or butter.
Step Two: In a mixing bowl, combine all the ingredients, except for the bread which goes into the egg mixture only after it has been mixed together well.
Step Three: Let the mixture sit for an hour to become the perfect consistency for baking.
Step Four: Bake until ready!
More Yummy Bread Pudding Recipes
Frequently Asked Questions
What is the best bread for Bread Pudding?
This bread pudding recipe works really well using challah bread or old hamburger buns. You can also use french bread or brioche. What you're looking for is a bread that will hold up to the custard mixture without dissolving, similar to when you add broth to stuffing. If you have white bread or stale bread, that works great too! 
Can I use Skim Milk for Bread Pudding?
We don't recommend using skim milk for this recipe because the natural fat from the cream is really important for getting a good set with the custard. In a last minute pinch, you can add an extra tablespoon or two of unsalted butter to help with the creaminess. 
How do you dry bread for Bread Pudding?
The easiest way is to leave the bread out the night before and let it get a little bit stale. If you're more pressed for time, cut the bread into cubes and lay them out on a baking sheet. Preheat oven to 350 degrees, then toast the bread in the oven for 10-15 minutes. Let it cool before adding it to the bread mixture.
Can I make Bread Pudding ahead of time?
You can make this old fashioned bread pudding ahead to save you time later. Just bake the pudding, then let it cool completely before wrapping it tightly and refrigerating. Then when you're ready, uncover and move the baking dish back to the oven for 15-20 minutes at 350 degrees.

You can also prep bread pudding the day before and refrigerate before baking, then cook it when you're ready. This actually helps the recipe, because it gives the bread cubes a chance to absorb the moisture and flavor, a key step to real old fashioned bread pudding.
Should Bread Pudding be covered while baking?
You don't have to cover this bread pudding recipe while baking, but if you start to see the top burning too quickly you can cover with tinfoil for the remainder of the time. If this happens, check your oven temperature with an oven thermometer to make sure it's not cooking too hot.
How do I know when Bread Pudding is done?
Bread pudding is a lot like other baked goods. If you put a toothpick in, it should come out clean. It should also look more set and less raw, and golden brown on top.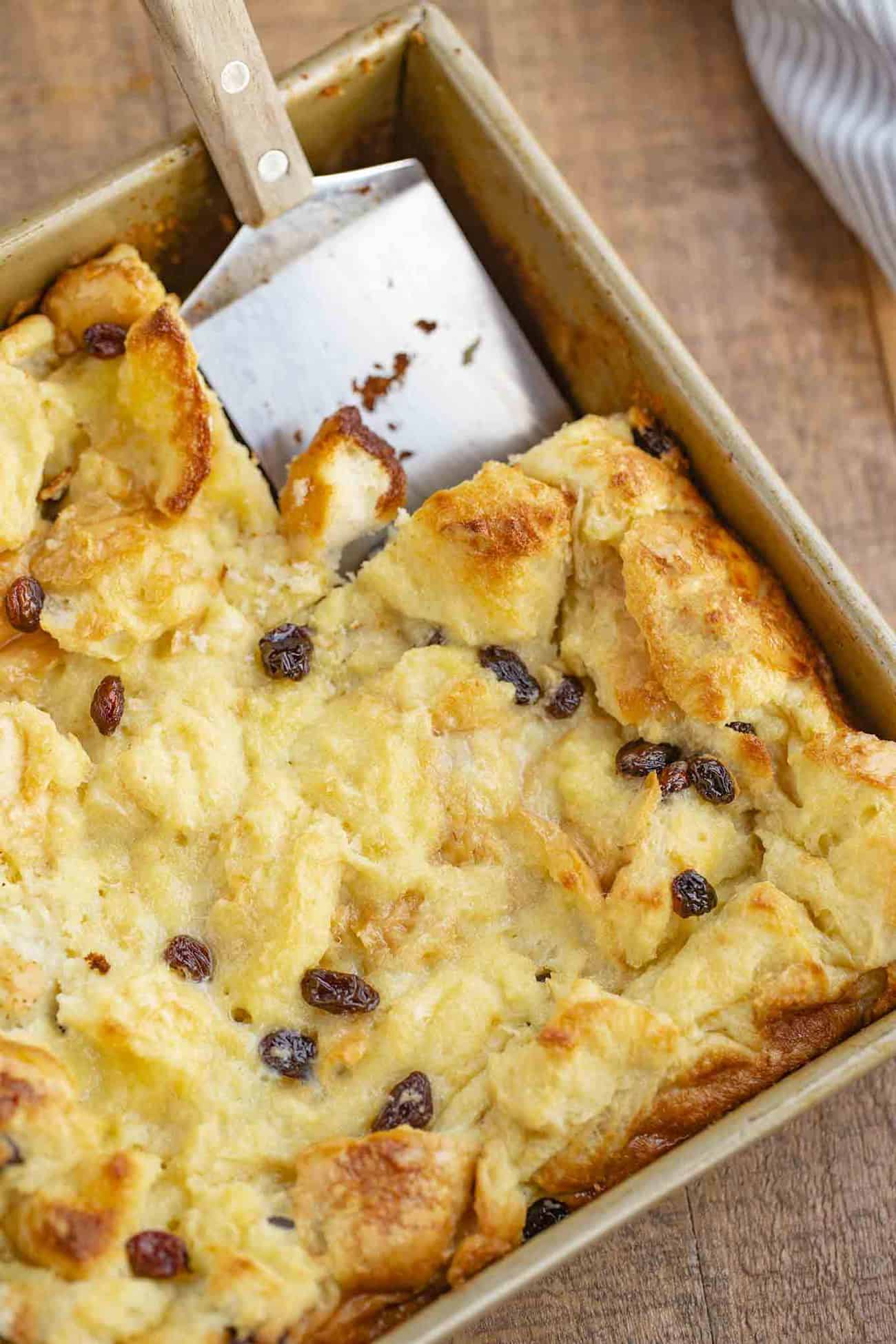 Create a free account to

Save Recipes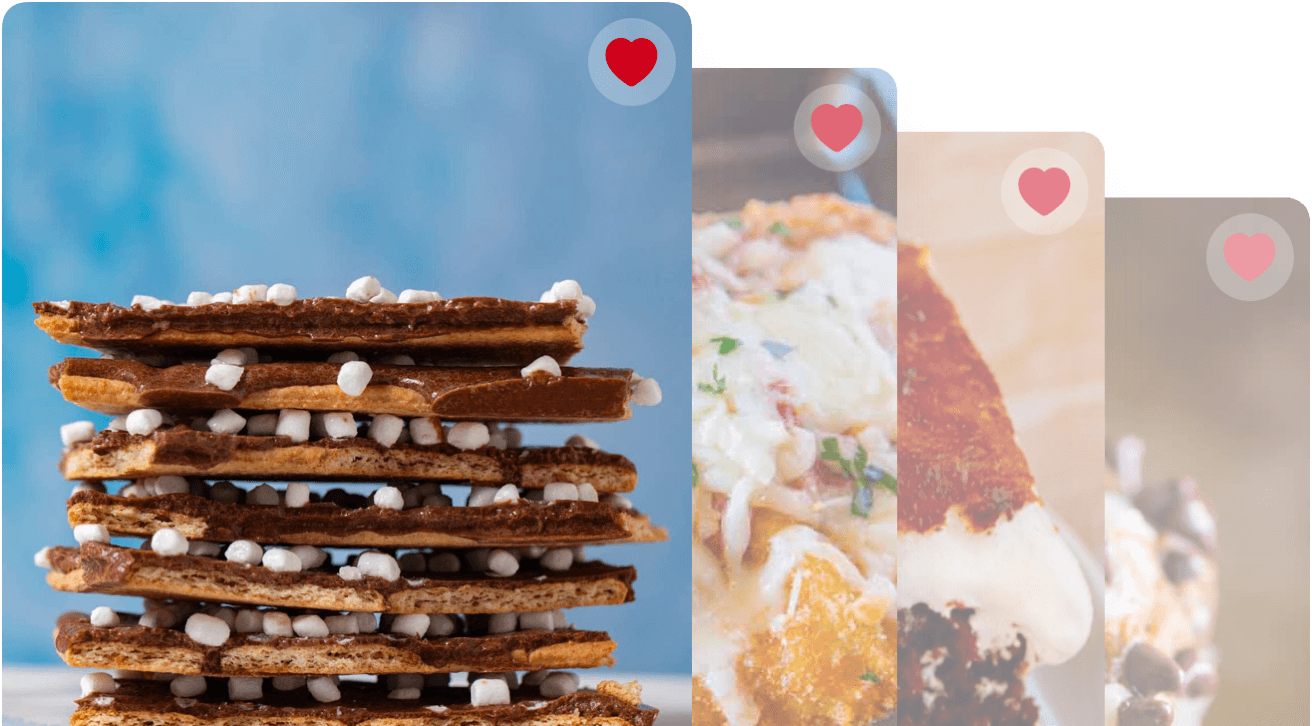 Key Ingredients in Bread Pudding
Pretty much everything here you should have at home already. If not, you can easily get it from the super market.
Bread: Crusty bread works the best for this recipe, but isn't required. You can use anything on hand, especially if it is day old bread or even stale!
Cream: We use half and half in this recipe for the creamy flavor since we keep some at home for coffee anyways, but you can use cups of milk instead, but only in a pinch. The ratio of two cups milk instead of two cups half and half will work fine.
Raisins: This is optional, but recommended. You can use the regular dark colored raisins, or try golden raisins for a fun pop of flavor. Add a teaspoon cinnamon to the dish if you add the raisins for an amazing version of Bread Pudding.
Sugar: You can use regular sugar or granulated sugar for this recipe.
Baking Dish: This recipe fits into an 8×8 baking dish or casserole dish and is baked at 350º for 45 minutes.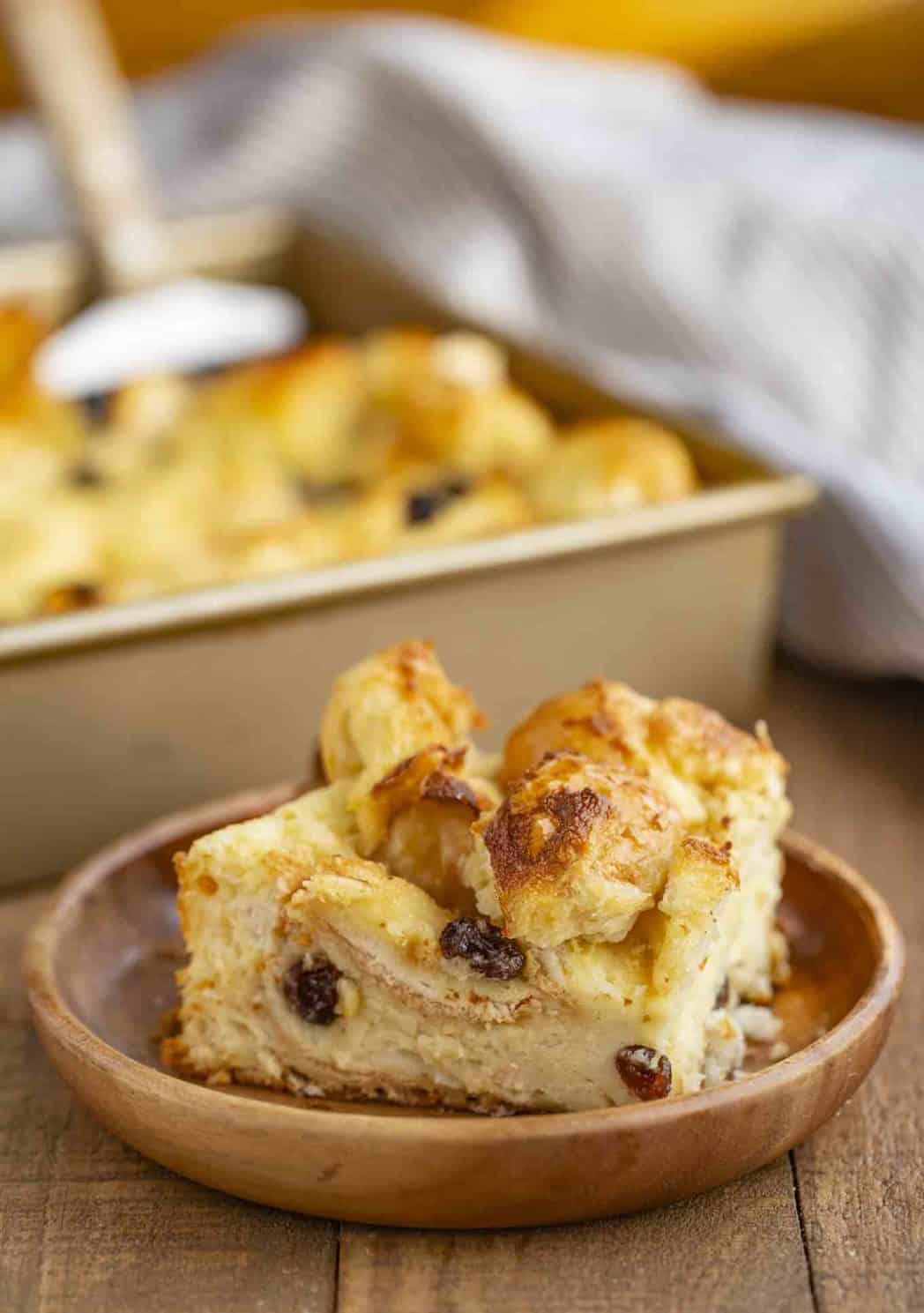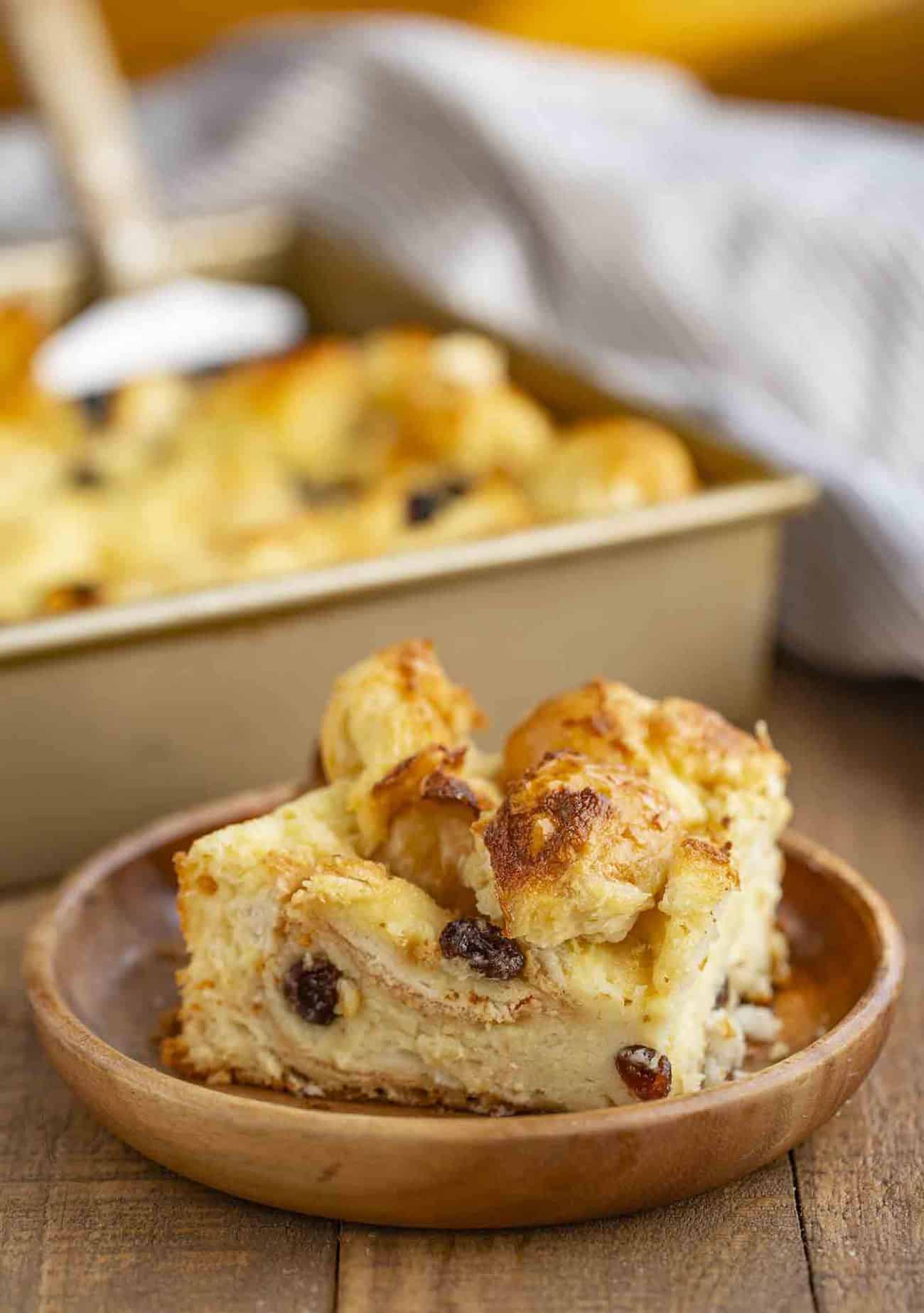 Vanilla Sauce for Bread Pudding
This easy sauce is the perfect topping to drizzle on your Bread Pudding, or use for dipping.
½ cup light brown sugar
1 tablespoon all-purpose flour
1 pinch ground cinnamon
1 egg
2 tablespoons butter, melted
1 ¼ cups whole milk
1 pinch salt
1 tablespoon vanilla extract
Step One: Whisk everything but the vanilla in a saucepan over medium heat constantly for 10 minutes until thickened enough to coat the back of a spoon.
Step Two: Remove from heat and add in the vanilla. Serve over the pudding.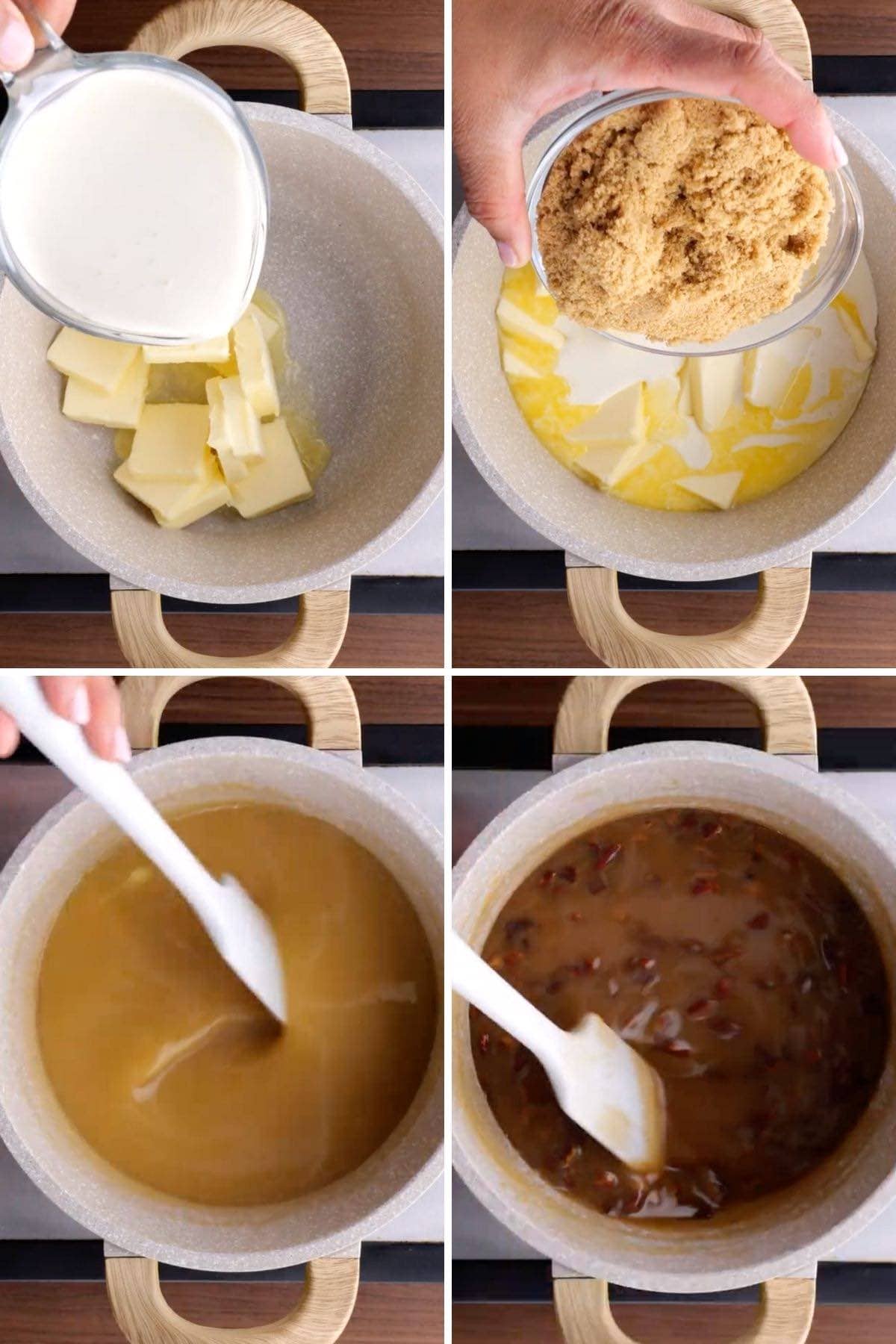 Praline Sauce for Bread Pudding
The toasty earthy flavors of this sauce are mouthwatering and delicious. You can even use it as a topping on homemade French Toast!
½ pound unsalted butter
1 cup heavy cream
1 cup brown sugar
½ cup chopped toasted pecans
One Step: Add the butter, heavy cream and brown sugar to the sauce pan and bring to a boil then reduce to low heat, add in the pecans and cook until the mixture thickens, about 5-7 minutes.
Variations on Bread Pudding
Spice it up: Add a splash of bourbon to your pecans for added flavor in the praline sauce. You can also add a dash of cinnamon or nutmeg to either sauce.
Savory set up: Make a savory bread pudding by cutting out the sugar and adding cheese, herbs, or garlic instead.
For grown ups: Make whiskey sauce by adding ¼ cup whiskey to the praline sauce recipe, and reducing down for a few extra minutes before serving.
More Easy Dessert Recipes
How to Store Bread Pudding
Serve: Bread Pudding and its sauces can be left at room temperature for up to two hours. Keep it covered to protect it from dust and other things.
Store: Bread Pudding will keep refrigerated for 3-4 days when tightly sealed. It has a lot of moisture, so it's not recommended to store it on the counter.
Freeze: Freeze Bread Pudding, wrapped tightly and without any sauce, for 2-3 months. You can cut it into squares and wrap them individually to thaw one serving at a time. Thaw in the refrigerator and reheat in a 350 degree oven for 15 minutes.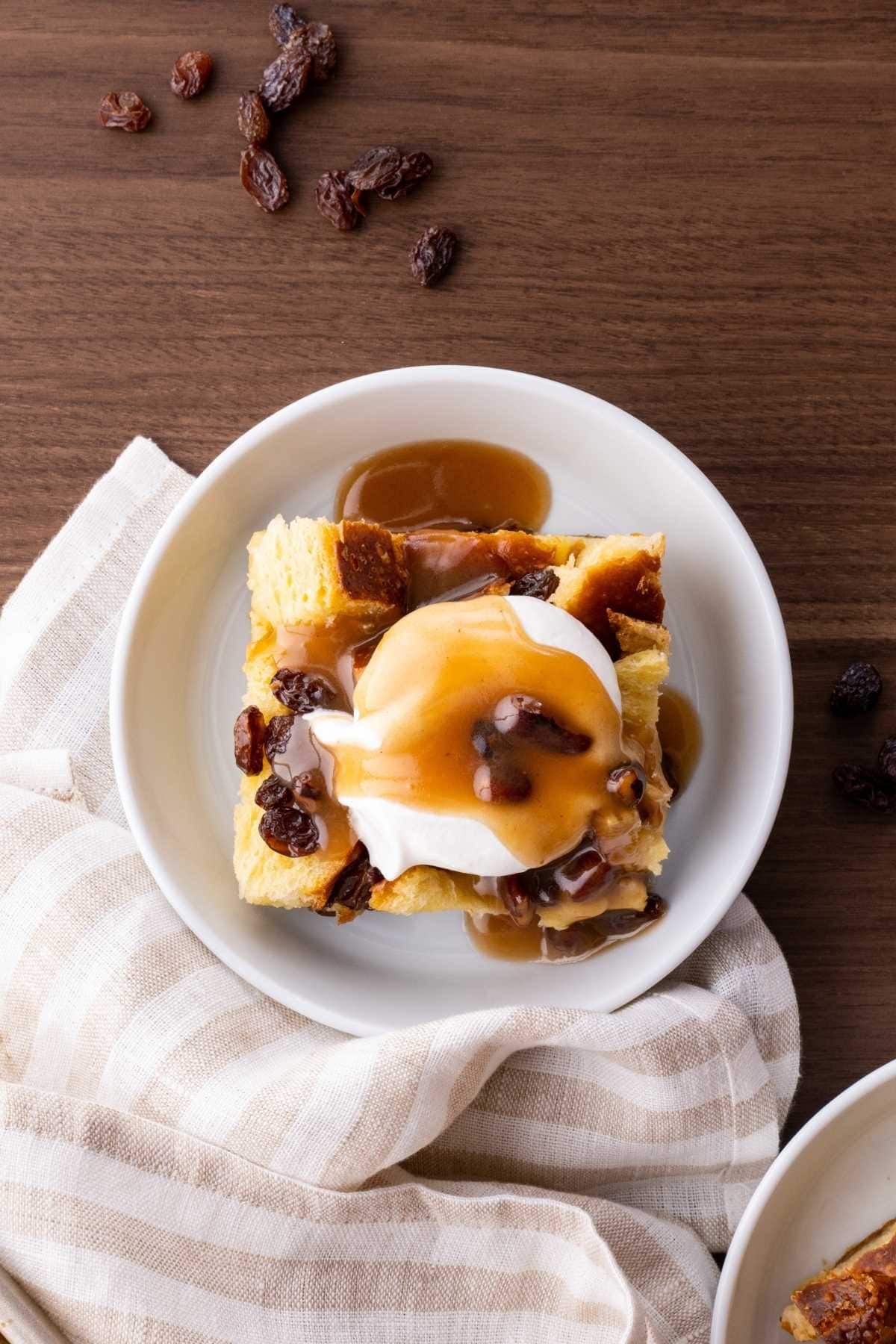 Ingredients
2

tablespoons

unsalted butter

, more for greasing pan

2

cups

half and half

1

teaspoon

vanilla extract

1/2

cup

sugar

1

pinch

salt

1/2

cup

raisins

, optional

4

large

eggs

, beaten

6

cups

day old bread

, cut into 2 inch cubes
Instructions
Preheat oven to 350 degrees and grease an 8×8 baking pan.

In a large bowl whisk melted butter, half and half, vanilla, sugar, salt, raisins (optional) and eggs together. 

Add in the bread until well combined then put into the 8×8 pan, then let sit for at least

60 minutes

.

Bake for

40-45 minutes

before serving warm or at room temperature.
Notes
Note: click on times in the instructions to start a kitchen timer while cooking.
Nutrition
Calories:
260
kcal
|
Carbohydrates:
34
g
|
Protein:
7
g
|
Fat:
10
g
|
Saturated Fat:
5
g
|
Cholesterol:
89
mg
|
Sodium:
225
mg
|
Potassium:
208
mg
|
Fiber:
1
g
|
Sugar:
12
g
|
Vitamin A:
335
IU
|
Vitamin C:
0.8
mg
|
Calcium:
109
mg
|
Iron:
1.7
mg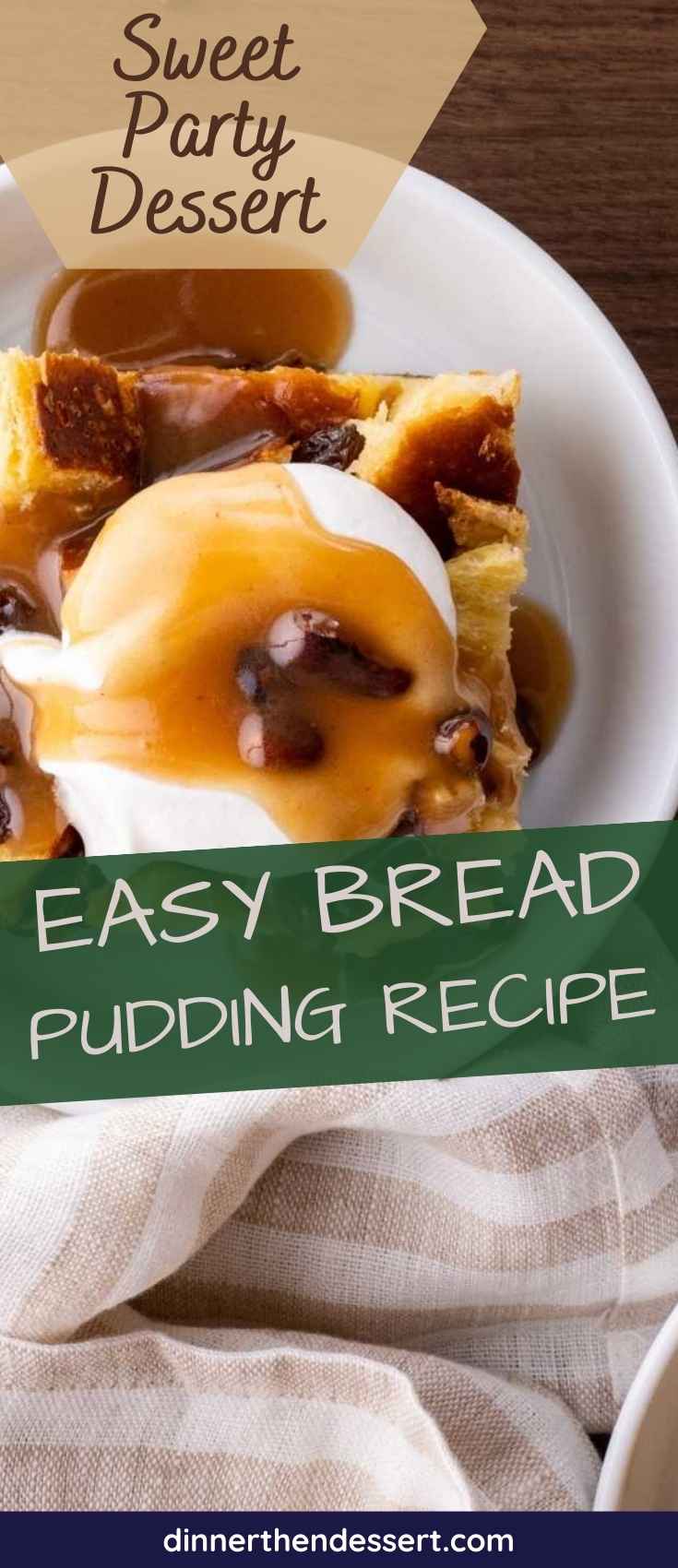 Photos used in a previous version of this post.