Easy Blueberry Jam uses fresh blueberries brightened up with a squeeze of lemon, and is ready in just 30 minutes with only 4 ingredients!
You'll be amazed how easy it is to create your own versions of store bought items, without the additives! From A1 Steak Sauce to Strawberry Topping, you'll love how easy it is to make delicious Kitchen Pantry staples.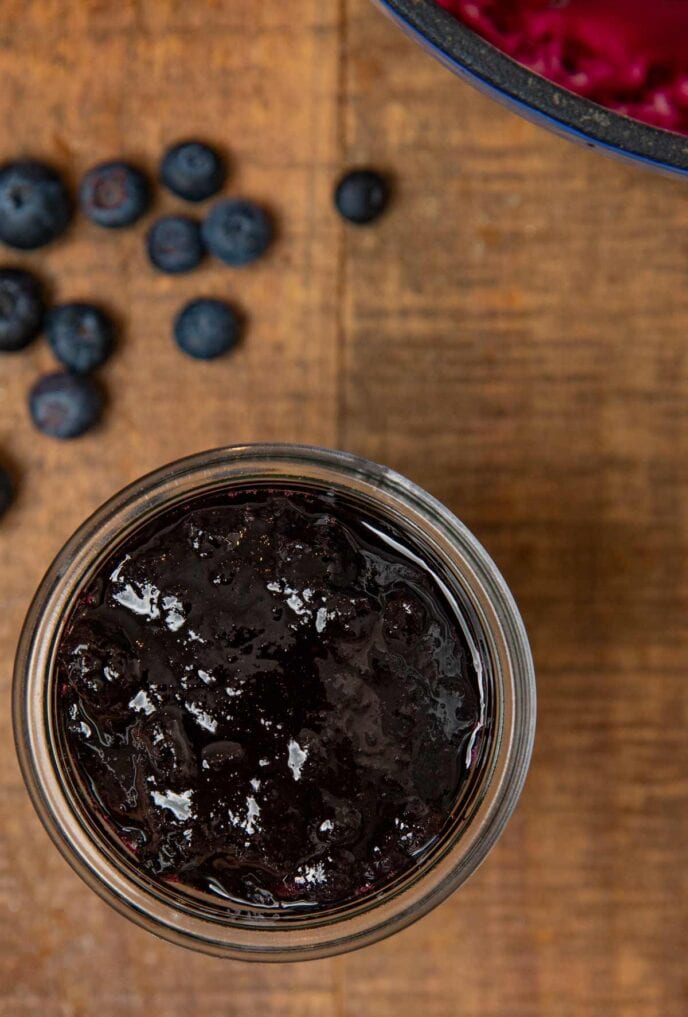 EASY BLUEBERRY JAM
The beauty of homemade jam is in its simplicity. Using only a few ingredients highlights the natural juicy flavor of fresh blueberries in a way that store bought jam can't compare.
Easy Blueberry Jam is a great way to preserve an abundance of fresh berries when they are in season, and enjoy them in many dishes for weeks to come. This easy recipe comes together in only 30 minutes, and once cooled is ready to stir into your morning oatmeal, top Angel Food Cake Loaf, or swirl into your favorite Baked Goods!
This jam is thickened with sugar rather than pectin, which makes it a quicker and easier method. Since it produces about a pint of fresh jam, there is no need for pectin to preserve it for months or worry about canning. However, if you want to double or triple this recipe, there are canning instructions below. You can also use an Instant Pot to prepare large batches easily!
Sugar is one of the important components that thickens the Easy Blueberry Jam, so it is important to use the amount of sugar the recipe calls for. It is also important to include the lemon juice, because natural pectin in the lemons will also help to thicken it. Make sure to use fresh lemon juice, not the kind from a bottle. Add some lemon zest too for a tart flavor boost.
The final important piece of making the perfect homemade Blueberry Jam is the cooking time. The blueberry mixture needs to reach a temperature of 220 degrees or it will not set. Use a candy thermometer to measure the temperature.
If you've followed all the tips above and you are still worried about a runny jam, fear not! To correct runny jam, refrigerate it overnight and then bring it back to a boil the next day. Add a bit more sugar, up to 3 tablespoons, if it is really runny.
If you like a smoother jam, macerate the blueberries with a potato masher or pulse them in a food processor before boiling them.
This Blueberry Jam tastes amazing on just about everything! Use fruit jam as a topping for Vanilla Ice Cream or instead of syrup on Classic Pantry Pancakes. Make incredible peanut butter and jelly sandwiches with peanut butter, Homemade Bread, and this Blueberry Jam.
MORE EASY FRESH FRUIT RECIPES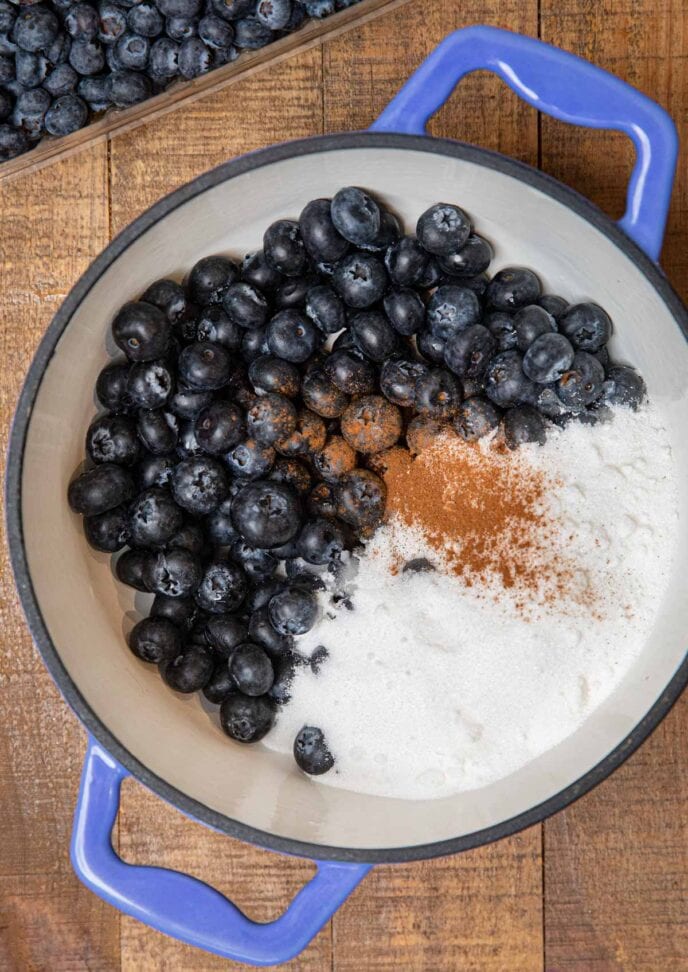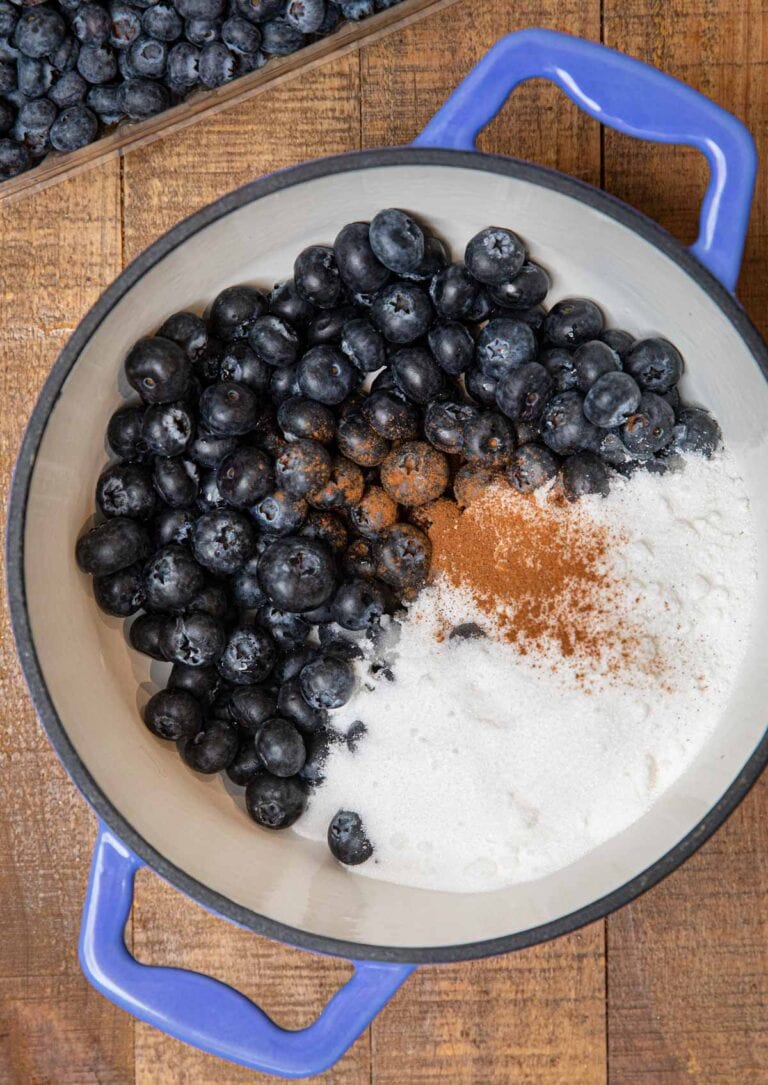 Create a free account to Save Recipes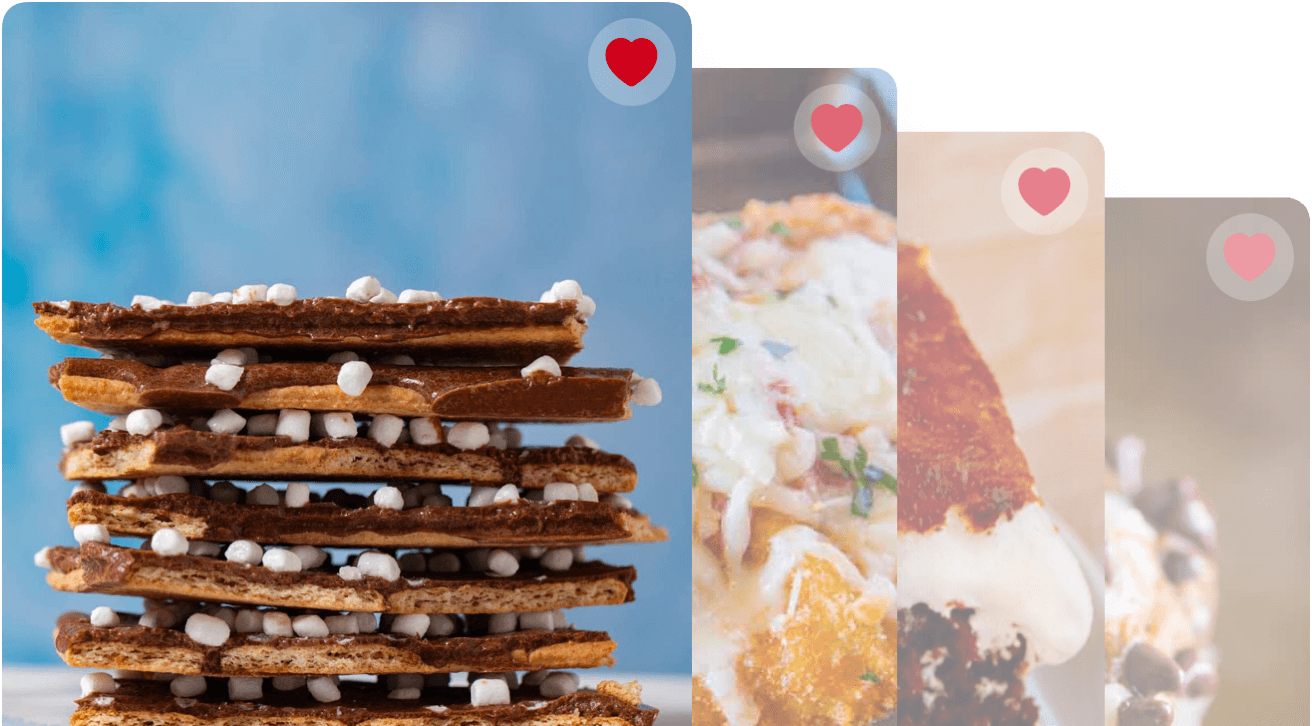 VARIATIONS ON EASY BLUEBERRY JAM
Orange Blueberry Jam: Substitute the lemon juice in this recipe with fresh orange juice and orange zest to add a sweeter citrus flavor.
Frozen Blueberries: You can use frozen blueberries in this recipe without thawing them. The cooking time will increase about 10 minutes.
Instant Pot Blueberry Jam
The instant pot method can be helpful if you are making a bigger batch of jam.
Place the blueberries, lemon juice, and sugar in the Instant Pot and stir. Let sit for 10 minutes to bring out the blueberry juice.
Secure the lid and seal the pressure valve. Set to Manual High Pressure for 1 minute.
After the timer goes off, allow pressure to naturally release for 15 minutes.
Meanwhile, combine 3 tablespoons cornstarch and 3 tablespoons water to form a smooth slurry.
Remove lid and add cornstarch slurry to blueberry mixture.
Set Instant Pot to Sauté and bring to a boil. Stirring frequently, cook for 3-5 minutes or until mixture has thickened.
Ladle hot jam into jars and cool to room temperature before storing.
Canning Blueberry Jam
Sterilize half-pint or pint sized jars, their lids, and the rings. Keep in hot water while you prepare the homemade jam.
Ladle hot jam into hot jars, using a spatula (or special canning tool) to remove air bubbles.
Wipe down the rims of the jars and secure the lids with fingertip tightness.
Bring water (enough to cover jars) to a boil in the canner and then place jars in the boiling water.
Process in boiling water for 5 minutes, then turn off heat. Leave jars in hot water for 5 minutes.
Remove jars from water bath and cool for 12-24 hours. Test lids by pressing down on them, they should not give.
Store canned jam in a cool, dry place for up to 2 years (1 year for best quality).
MORE PANTRY STAPLE RECIPES
HOW TO STORE BLUEBERRY JAM
Serve: Chill this Blueberry Jam before serving so it is fully set. Do not keep at room temperature for more than 2 hours.
Store: Transfer Blueberry Jam to a glass jar with a lid and keep in the refrigerator for up to 2 weeks.
Freeze: Cool the hot jam in the refrigerator before freezing to avoid moisture collection. Freeze in a sealed container or glass jar, with room between the lid so it can expand, for up to 12 months.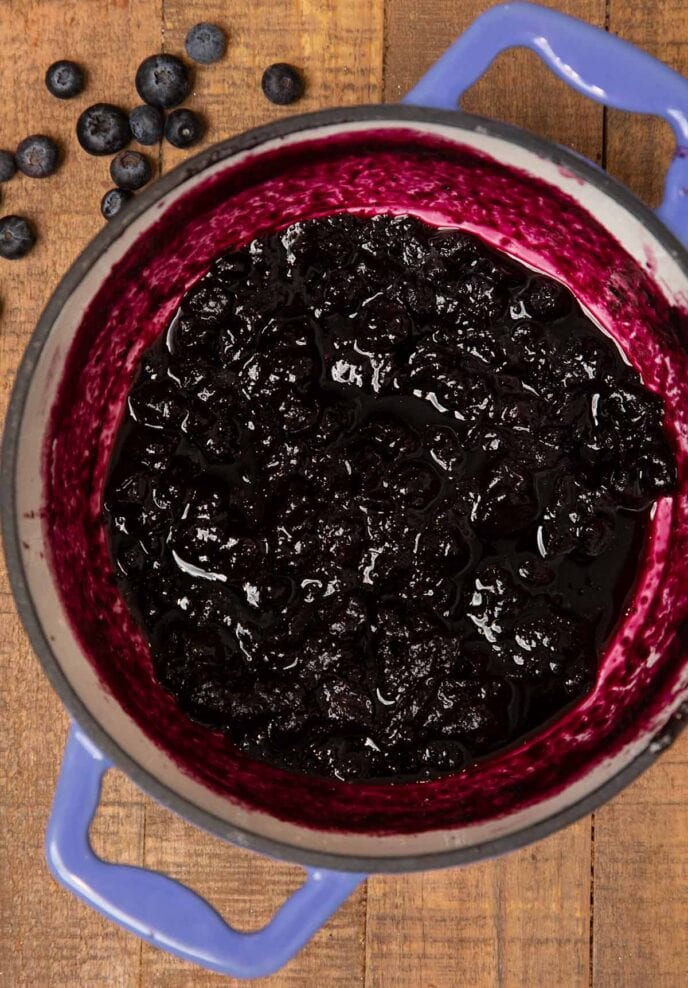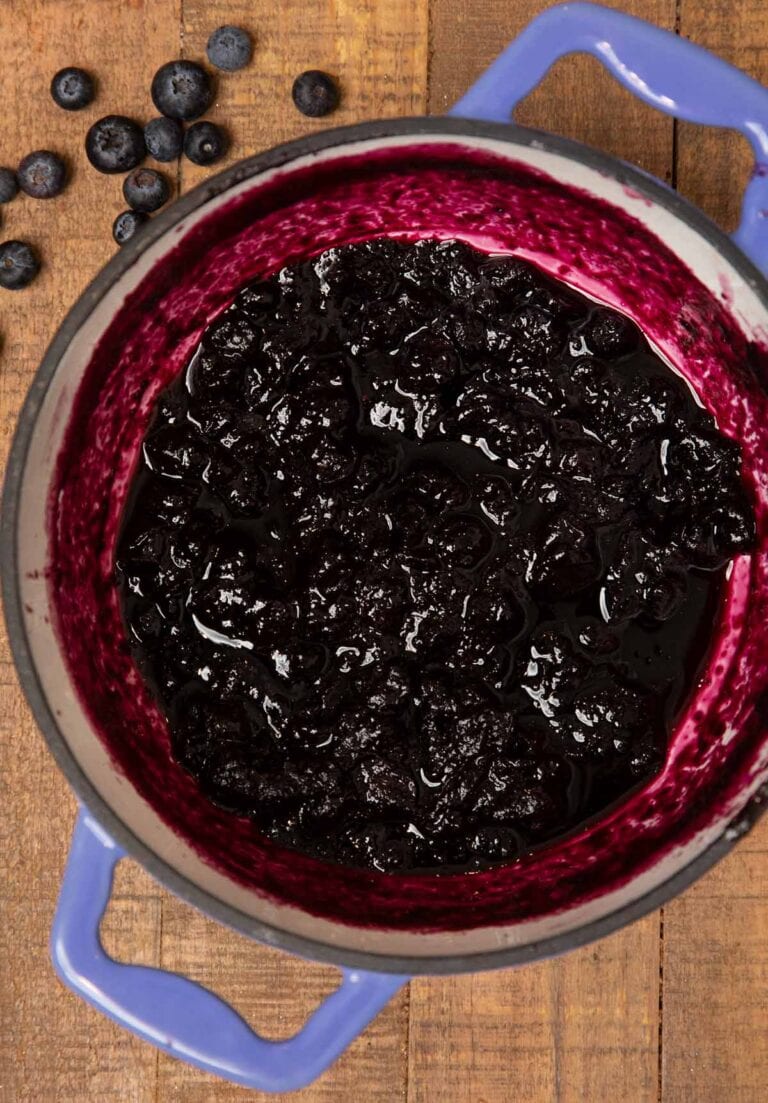 Ingredients
4

cups

fresh blueberries

1

cup

sugar

1

tbsp

lemon juice

1

pinch

ground cinnamon
Instructions
Add blueberries, sugar, lemon juice, and cinnamon to a pot on medium heat, stirring frequently for 30 minutes.

Turn off the heat and let cool before refrigerating in a covered container.
Nutrition
Calories:
46
kcal
|
Carbohydrates:
12
g
|
Protein:
1
g
|
Fat:
1
g
|
Saturated Fat:
1
g
|
Sodium:
1
mg
|
Potassium:
19
mg
|
Fiber:
1
g
|
Sugar:
11
g
|
Vitamin A:
13
IU
|
Vitamin C:
3
mg
|
Calcium:
1
mg
|
Iron:
1
mg