Easy Strawberry Shortcakes with freshly made sweetened biscuits, homemade whipped cream and lightly sweet strawberries in less than an hour.
You can also make this Dessert recipe with Vanilla Poundcake or Yellow Cake and top it with Fresh Whipped Cream.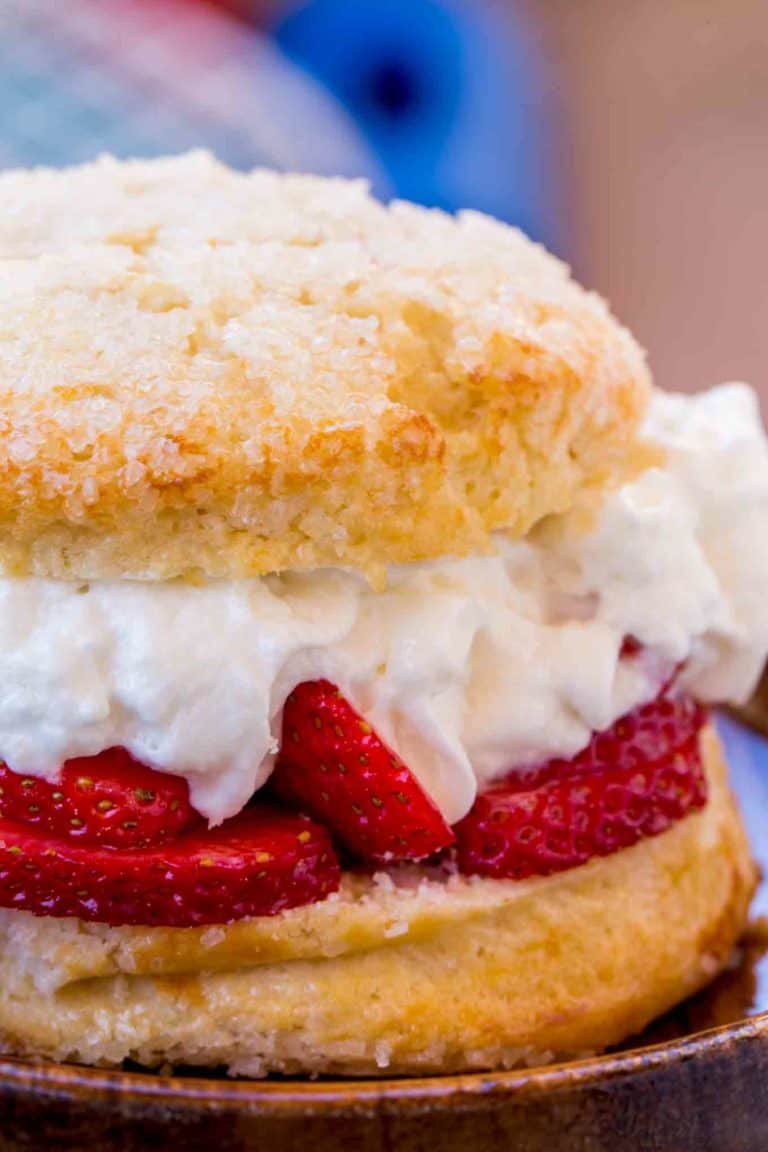 Easy Strawberry Shortcakes are the most exciting part of strawberry season. Yes, there's always the Strawberry Pie but strawberry shortcake is a very special dessert with the sweetened strawberries, fresh whipped cream and warm from the oven biscuits.
The only other strawberry dessert that hold a candle to this recipe is this New York Cheesecake topped with Easy Strawberry Topping.
This recipe for a sweetened biscuit topped with sugar crystals is the perfect flaky, shortbread style moistened cookie flavored mate to the juicy strawberries that are punched up with just a bit of lemon juice and the fresh whipped cream that makes the shortcake really creamy.
How to Make the PERFECT Strawberry Shortcake:
Dough: The dough is made in the food processor so it isn't tough, with just enough sugar to make it sweet. It is combined until just crumbly so the all-purpose flour is mixed just enough to be combined and not enough for the dry ingredients to be overworked.
The Top: The top is sprinkled with sugar crystals instead of granulated sugar which totally make this dish. They're crunchy and sweet and when added to the super tender biscuit, they add the PERFECT texture.
The Filling: The filling is simple, a slightly sweetened pile of strawberries topped with a classic whipped cream. The magic is all in the biscuit recipe. You're going to love how easy these strawberry shortcakes are to make!
The Strawberries are not macerated in this recipe, they're simply tossed with granulated sugar and allowed to sit so they can naturally release liquids. You can macerate them if you'd like but the presentation of the dessert will suffer.
The Whipped Cream is made using ice cold heavy whipping cream in a stand mixer or large bowl that is ice cold. The colder both of these are, the better your whipped cream will be. Adding a bit of vanilla or almond extract to your vanilla will also add a great dimension of flavor.
Sometimes whipping cream is sold as heavy cream or whipping cream in the store, you are just looking for cream that is 40% milk fat for the perfect whipped cream consistency.
Looking for more strawberry desserts? Fresh Strawberry Crumb Bars and 3 Ingredient Fresh Strawberry Sorbet are also delicious!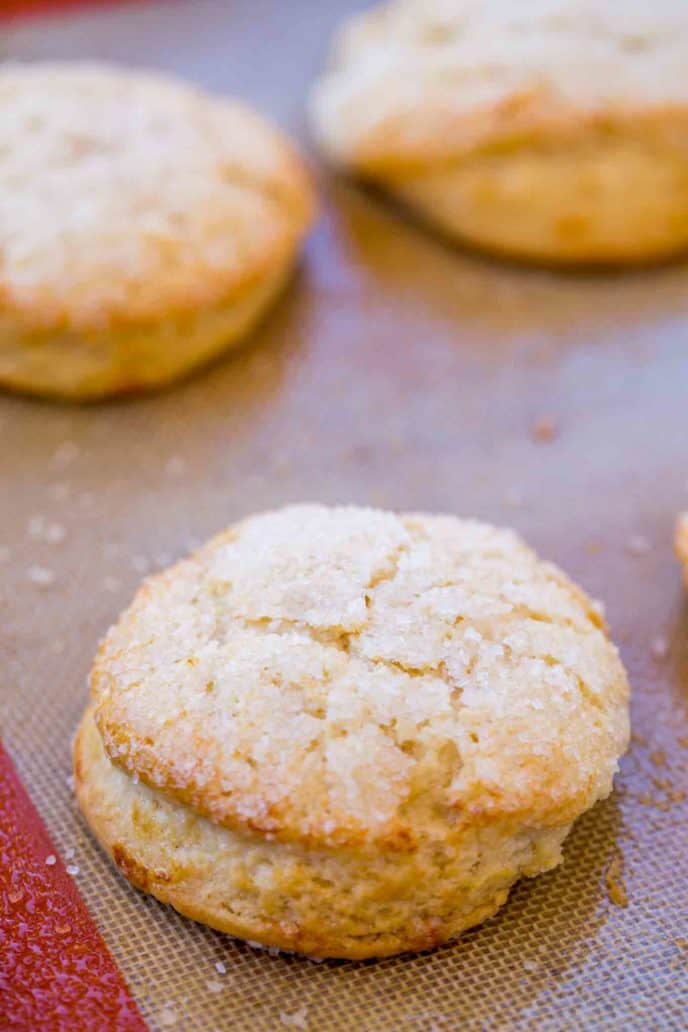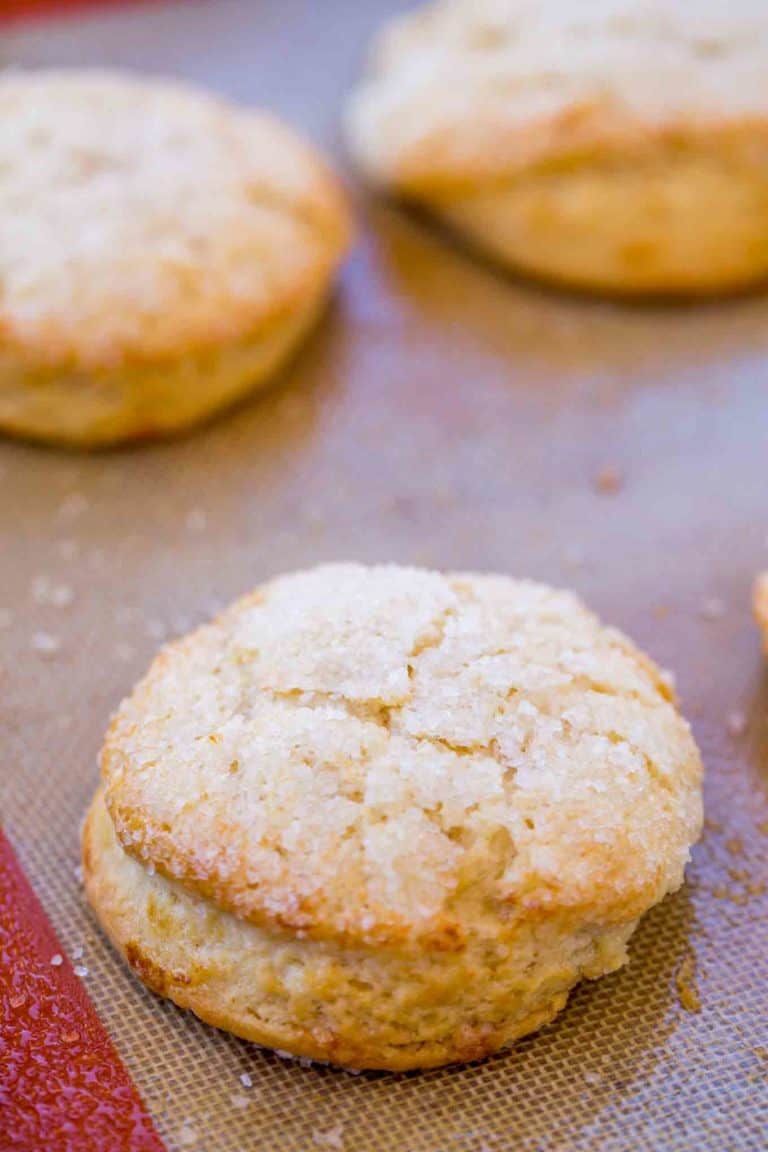 Create a free account to Save Recipes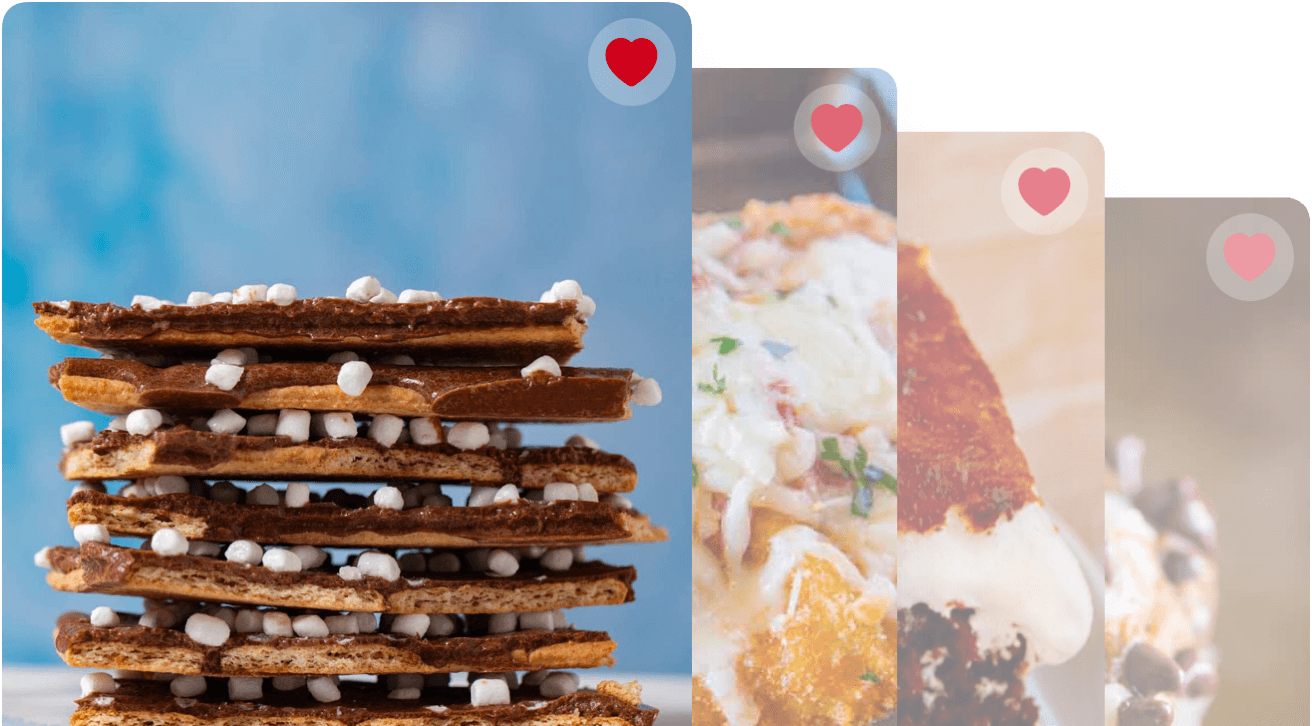 Frequently Asked Questions
How do you shape drop biscuits?
These biscuits were shaped by actually using a Mmedium Cookie Scoop. When using a spoon there will be smaller spikes and unevenness in the shape of the biscuits, while the ice cream scoop allows for a smooth texture. Simply sprinkle on the sugar crystals before baking. If you want a more perfectly shaped biscuit you can also use a biscuit cutter, but we like the old-fashioned look when making homemade strawberry shortcake. To ensure even baking you can bake the biscuits on a silicone mat or on a parchment-lined heavy baking sheet.
How do you pick good strawberries?
Buy local/organic berries or better yet, get them from a farmers market since they would've been the freshest. Avoid white/green coloring, those are unripe and picked too early. The deeper the red more flavor. Larger strawberries don't necessarily mean they are better. How firm are they? Fresh strawberries are firm and look juicy. If they look wrinkly or slightly soft, they're old.

Check the boxes if it looks like maybe a strawberry or two was removed from the package it is likely old. Produce employees routinely pick off moldy strawberries and leave the rest of the package (Check the weight to see if this happened if you are suspicious).
What toppings can I put on Strawberry Shortcake?
Use Homemade Cool Whip instead of whipped cream.
Use Vanilla Ice Cream in addition to the whipped cream.
If you are looking to mix up the flavors make this a berry shortcake by adding in raspberries and blueberries.
If you are craving Strawberry Shortcake but your strawberries are not in season make my easy strawberry topping in place of fresh fruit.
Add Easy Chocolate Fudge Topping or shaved chocolate on top.
Sliced bananas, chocolate fudge topping and vanilla ice cream turns this dessert into a banana split shortcake.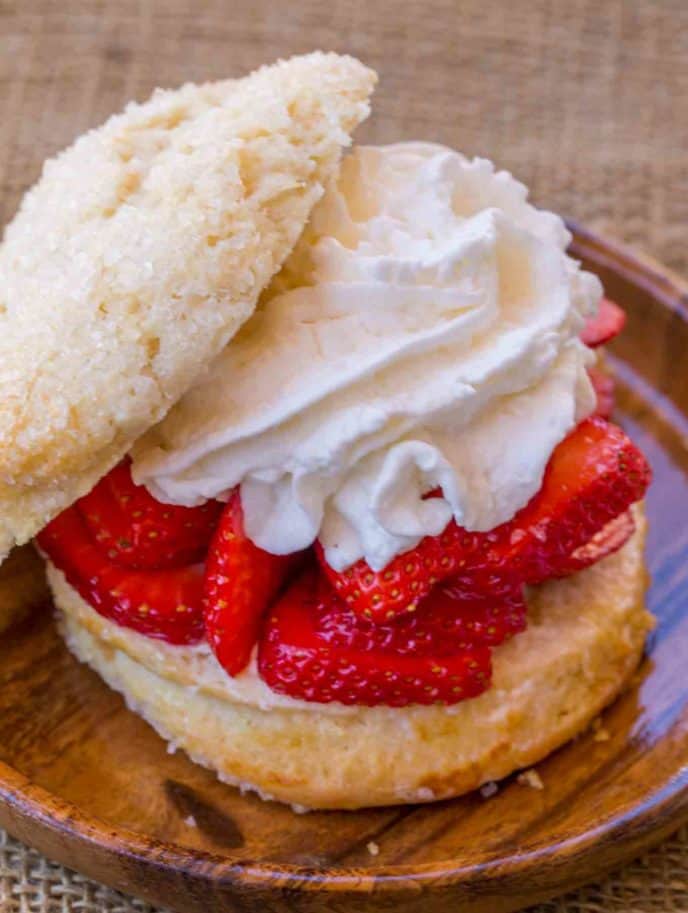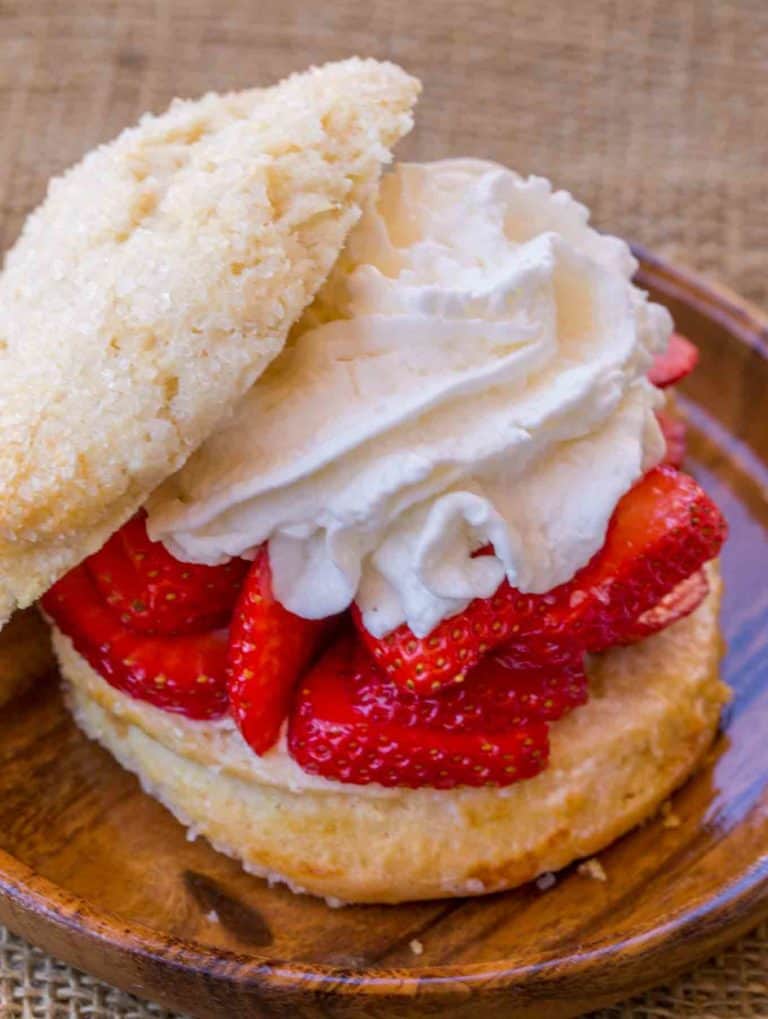 Tools Used in the making of these Easy Strawberry Shortcakes:
Sheet Pan: High quality, low in price and won't warp at the higher temperatures.
Silicone Baking Mat: Protects the bottoms of the biscuits from sticking or burning.
Sugar Crystals: The crispy topping is made with this and it takes the dish over the top!
How to Store Strawberry Shortcake
Serve: Do not leave this Strawberry Shortcake with fresh whipped cream at room temperature longer then two hours.
Store: You can store the components of the recipe separately and assemble when ready to serve. Keep biscuits in an airtight container at room temperature for 2-3 days, and whipped cream covered tightly in the refrigerator for 2-3 days. Slice and sweeten strawberries before serving.
Freeze: Freeze biscuits and whipped cream, tightly wrapped separately, for 2-3 months. Defrost in the refrigerator and prepare fresh sweetened strawberries to serve.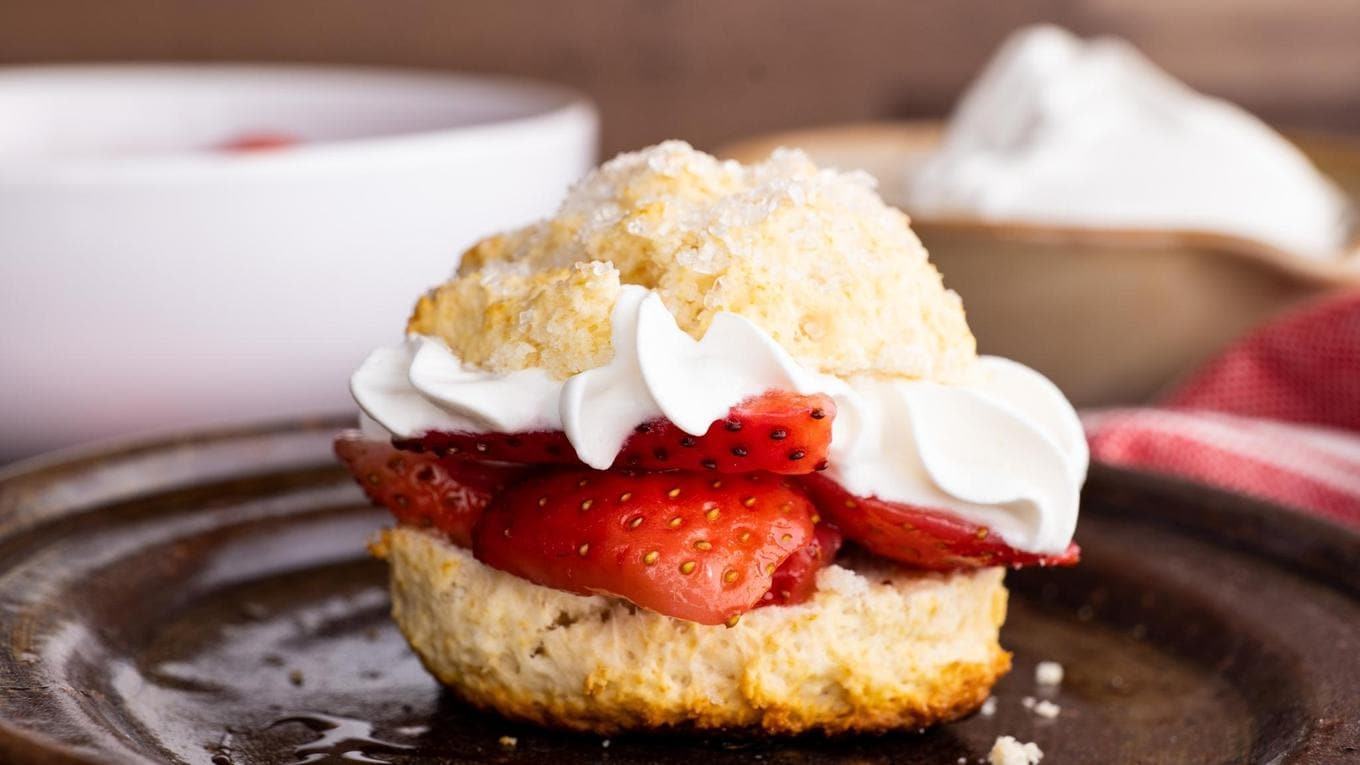 Ingredients
2

cups

flour

1/4

cup

sugar

, divided

1

tablespoon

baking powder

1/2

teaspoon

salt

1/4

cup

butter

, cold, cut into small cubes

1

cup

whole milk

1/4

cup

coarse sanding sugar

2

pints

strawberries

, hulled and sliced

2

cups

heavy whipping cream

2

teaspoons

vanilla extract

2

tablespoons

powdered sugar
Instructions
Preheat the oven to 425 degrees.

Add the flour, 2 tablespoons sugar baking powder, salt and butter into a food processor and pulse until the butter is in pea sized crumbles.

Add in the milk, pulsing until the dough comes together.

Using a cookie scoop, add the shortcake dough onto a silicon baking mat on a sheet pan and sprinkle each dough mound with ½ tablespoon of coarse sanding sugar.

While the biscuits are baking, add the remaining two tablespoons of sugar to the bowl with the strawberries and stir together.

In a medium sized bowl add the heavy cream and beat with a hand mixer or in your stand mixer until soft peaks form.

Add in the vanilla extract and powdered sugar and whip for an additional

15-20 seconds

until stiff peaks form.

Once the biscuits are cooled, split them in half, top with strawberries and whipped cream (Using a spoon or a pastry bag with a #1 tip), then top with the biscuit top.
Nutrition
Calories:
486
kcal
|
Carbohydrates:
51
g
|
Protein:
6
g
|
Fat:
29
g
|
Saturated Fat:
17
g
|
Cholesterol:
99
mg
|
Sodium:
235
mg
|
Potassium:
450
mg
|
Fiber:
3
g
|
Sugar:
22
g
|
Vitamin A:
1115
IU
|
Vitamin C:
69.9
mg
|
Calcium:
163
mg
|
Iron:
2.1
mg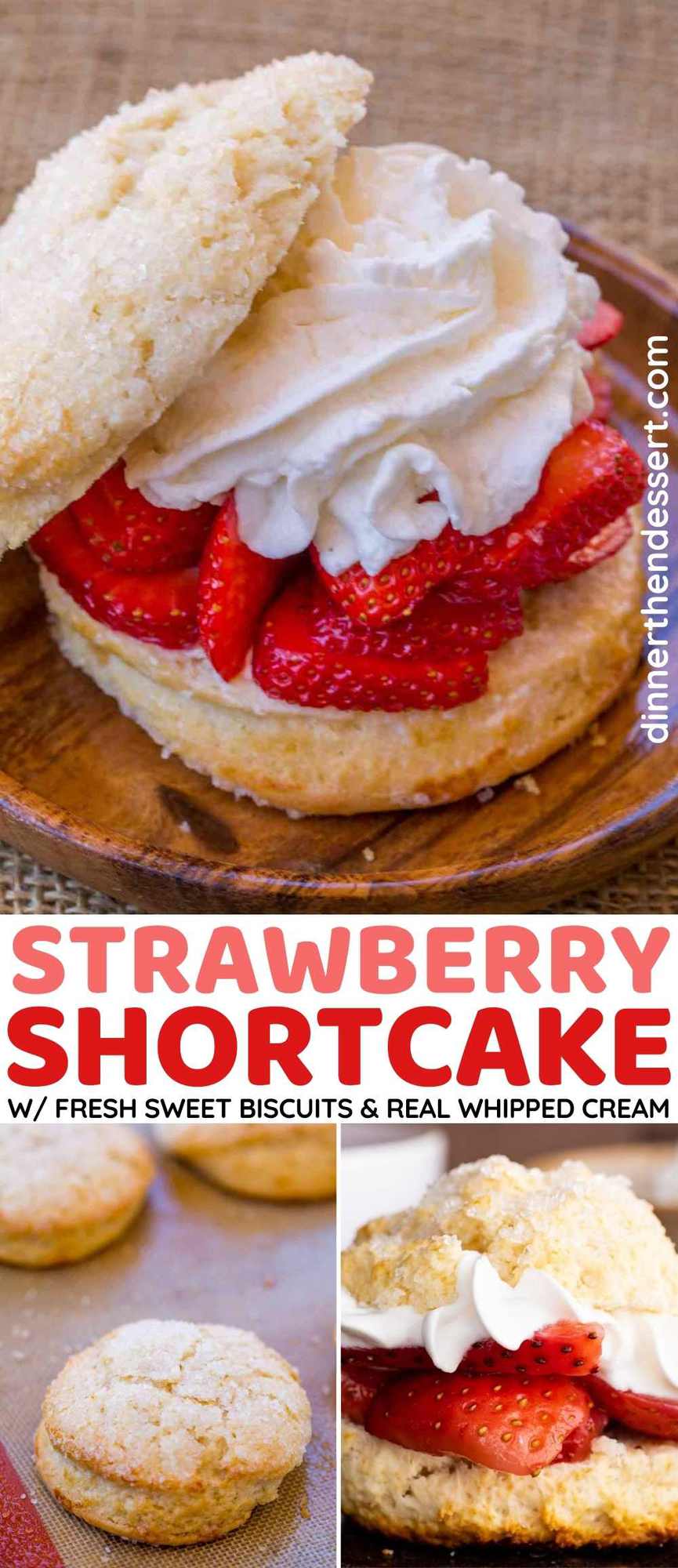 Photo used in a previous version of this post.