Quick and Easy Marinara Sauce, perfect for your favorite Italian meal. This homemade marinara sauce is done in as little as 15 minutes but perfect in 40. Five different add-in options for more flavors!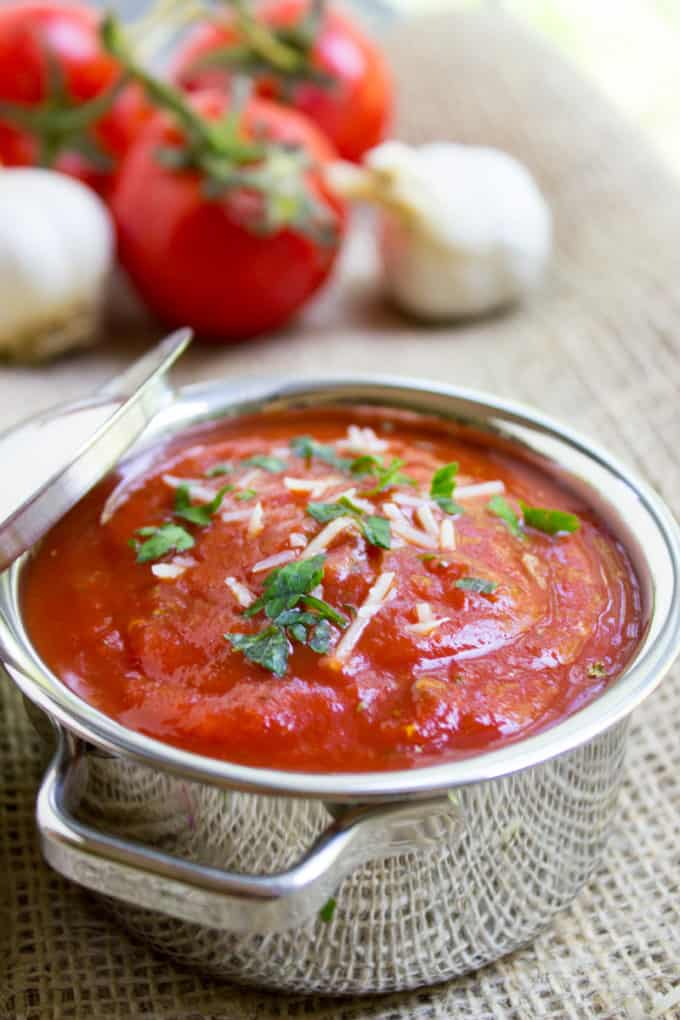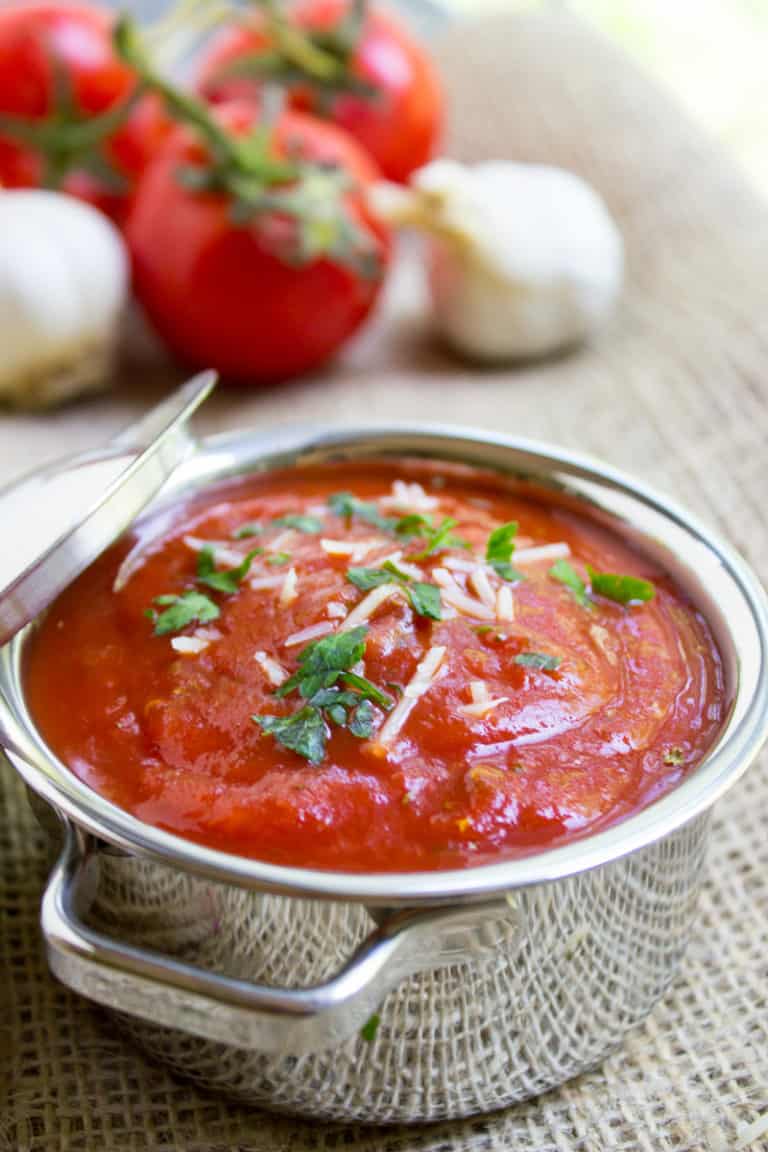 Marinara Sauce: A Kitchen Staple
Quick and Easy Marinara Sauce is a staple recipe of mine, like my Enchilada Sauce. I usually make batches of it and keep it in the freezer for quick pasta meals. The best thing about this homemade marinara sauce, aside from being a base recipe, is that it is such an easy recipe to make. You can also adapt it easily for any other needs.
Just want to quickly add, (totally unrelated) but it's worth mentioning because I am a proud Angeleno tonight: Kobe Bryant brought me to tears in his final game, with the love of his fans and with the amazing goodbye performance he gave us. Thank you Kobe for 20 amazing years. 🙂 … Ok back to Quick and Easy Marinara Sauce.
Homemade Marinara Sauce Saves Money!
For many years, I used to spend hours making marinara sauce or I would end up using a jar (shocking I know) but it wasn't until I started toying with quicker recipes that I realized I was wasting time and lots of money (good jarred marinara is not cheap!). Even using high-quality ingredients in this easy marinara sauce makes a delicious homemade marinara that costs just a few dollars.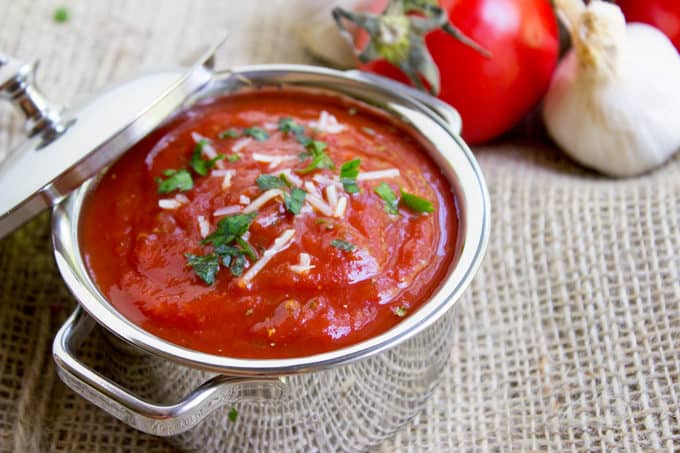 The Best Ingredients for Marinara Sauce
The key to the recipe is to use the best ingredients you can in your recipe. I list out some of my favorites below if you aren't sure.
Crushed tomatoes – I usually use San Marzano, but Cento and Muir Glen are also great options if they're more readily available for you. If you're using a brand that may be more inexpensive, taste the crushed tomatoes first, you may need a hint of sugar to tame the acidity or maybe a small addition of white wine vinegar if the taste is bland.
For the tomato paste, I use Cento but really I wouldn't stress the tomato paste. I even sometimes use giant glass jars of tomato paste from Armenian grocery stores with no ill effects.
Always use fresh garlic for this marinara sauce. If using fresh herbs, add them in at the very end.
When buying chicken stock, I am still a huge fan of Better than Bouillon. I get the organic one from Costco and the cost per cup is just a fraction of even the boxed store brand broth you'd buy. I highly recommend it. Quick cost comparison? On Amazon, it's about ten bucks, give or take, but it makes almost 10 quarts. Imagine buying 10 boxed of Organic Chicken broth in the store… would it cost you a dollar a box? No. For the purposes of this recipe, I call it "stock" because I make it double the strength of chicken broth.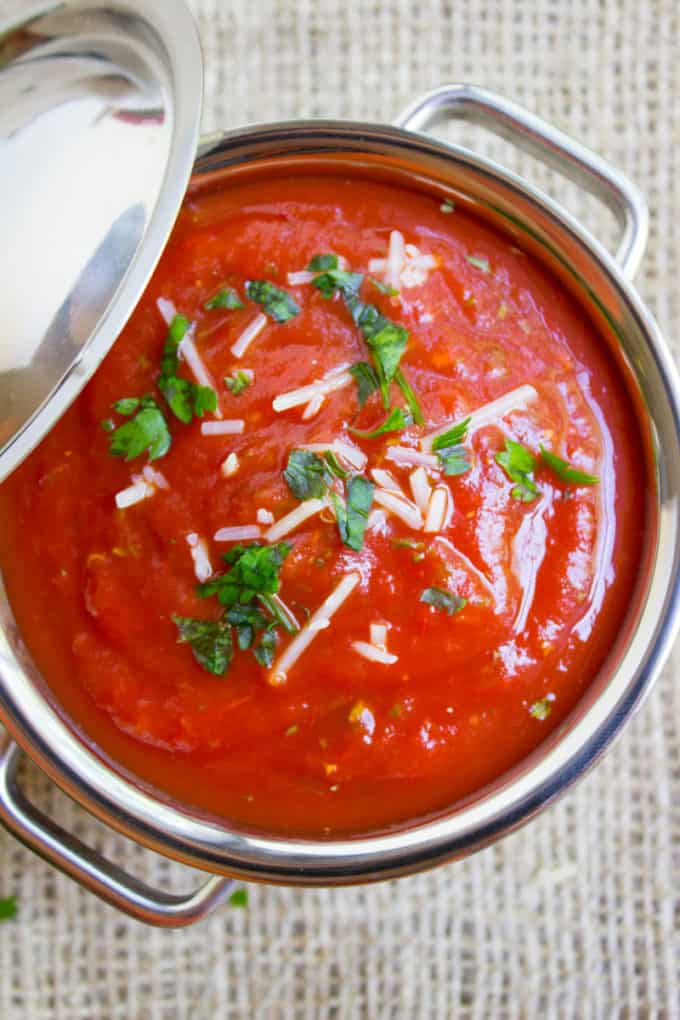 Six Options to Adjust this Easy Marinara Sauce
There are multiples ways you can play with this base marinara sauce to fit your recipes and tastes. That's what's great about this easy marinara sauce. It's lovely on its own but a versatile base for different flavor profiles.
Delicious meat sauce: swap chicken stock for beef stock. Brown your beef well, remove, brown your onions and garlic in a mix of the beef fat and olive oil. For a "sausage" flavor using straight ground beef, add some fennel seeds to the pot too.
Angry red marinara sauce: pump up the chili factor and add a much larger amount of garlic, I use up to 1/4 cup of minced garlic.
 Creamier marinara sauce: simmer the sauce down to a thicker consistency, uncovered instead of covered, then thin with some cream. I also sometimes add a pinch of nutmeg since the cream adds a hint of sweetness to the marinara sauce anyway.
For fresher flavor: use fresh tomatoes – go for a really juicy tomato, as ripe as you can find. Hard, Roma type tomatoes won't make for amazing flavors.
Simpler, fresher flavors: sometimes I'll use half the crushed tomatoes and add in fresh roasted garlic tomatoes. I usually do a couple of pints of grape tomatoes and skip the garlic in the base recipe since the garlic roasts on the grape tomatoes.
An easy tomato soup: add chicken stock and some salt, pepper, fresh oregano and basil.
Recipe
Save

Recipe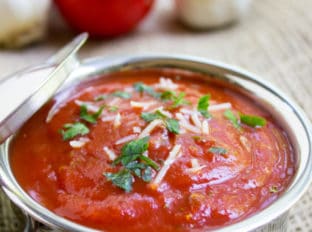 Quick and Easy Marinara Sauce
Yield:

6

servings

Prep Time:

5

minutes

Cook Time:

35

minutes

Total Time:

40

minutes

Course: Sauce
Cuisine: Italian
Quick and Easy Marinara Sauce, perfect for your favorite Italian meal. Done in as little as 15 minutes but perfect in 40. Five different add in options for more flavors!
Ingredients
1/4

cup

olive oil

1/2

cup

diced onion

3

cloves

garlic

, minced

28

ounces

crushed tomatoes

6

ounces

tomato paste

4

tablespoons

chopped fresh parsley

2

teaspoons

dried oregano

(I sometimes use fresh)

2

teaspoons

dried basil

1

teaspoon

Kosher salt

1

teaspoon

sugar

1/4

teaspoon

crushed red pepper

1/2

cup

chicken stock

(chicken broth,water or white wine are ok too)
Instructions
Note: click on times in the instructions to start a kitchen timer while cooking.
Add the olive oil and onion to the pan and sauté on medium low until very lightly browned.

Add the garlic and let cook for 15 seconds or so until you can smell the garlic.

Add in the rest of the ingredients and simmer, covered, on low for 30 minutes.
Recipe Notes
This post contains affiliate links.
Nutrition Information
Yield: 6 servings, Amount per serving: calories
All images and text © for Dinner, then Dessert, Inc.
Save

Recipe