Baked Cheesy Italian Chicken is an easy delicious chicken dinner recipe for chicken thighs smothered with cheesy goodness and marinara sauce.
This easy Chicken Dinner is the perfect main course for a comforting, family-friendly weeknight meal. It's a lighter, baked version of Chicken Parmesan, that is easier to make with no breadcrumb coating or deep frying.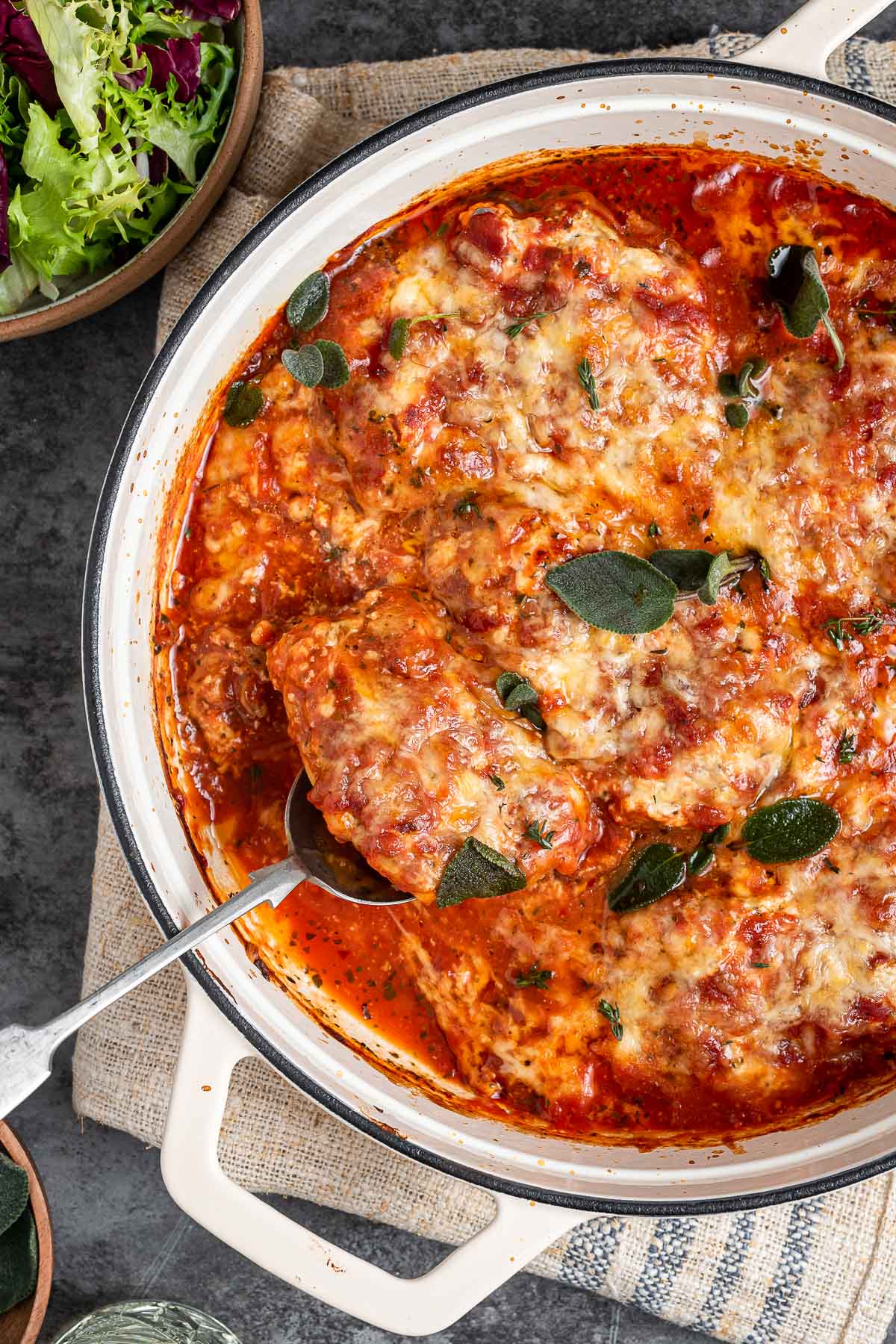 Baked Cheesy Italian Chicken is an incredibly easy recipe of baked chicken, Italian seasoning, marinara sauce, and three Italian cheeses – Parmesan cheese, ricotta cheese, and mozzarella cheese. It's the ultimate comforting chicken dinner full of Italian flavor and sure to be a hit with the entire family! Serve it with your pasta of choice or with a big salad for a low carb, lighter meal.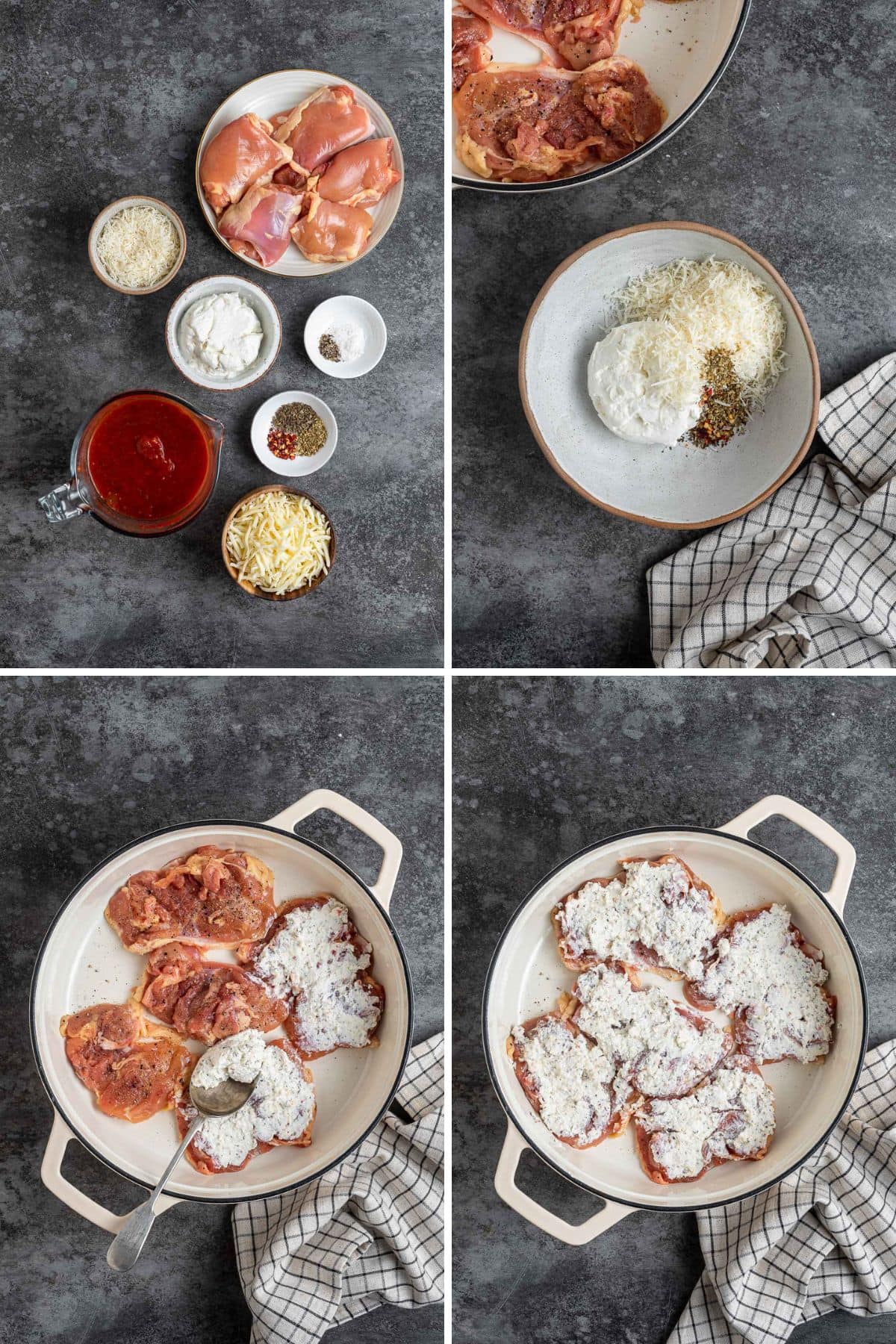 It could not be any easier to make this Cheesy Baked Italian Chicken! It starts with some boneless chicken thighs that get a bit of salt and pepper. You mix some ricotta cheese with Italian herbs and spices and spread it over the chicken. Next the cheesy chicken is covered in your favorite marinara sauce and baked until almost cooked. Finally it gets smothered with lots of mozzarella and finishes cooking until the cheese is all melty and gooey. That is all it takes to get a juicy, cheesy chicken dish full of Italian flavors!
Easy, cheesy Italian Chicken Bake is a versatile main dish that can be the start of all kinds of amazing weeknight meals. If you want a full Italian restaurant experience at home, serve the cheesy chicken bake with Spaghetti, a fresh garden salad with Italian Dressing and some buttery Garlic Bread. You don't have to limit yourself to just pasta though, this delicious chicken dinner would taste great with Roasted Red Potatoes or gnocchi and vegetable side dishes like Roasted Broccoli or Parmesan Brussels Sprouts.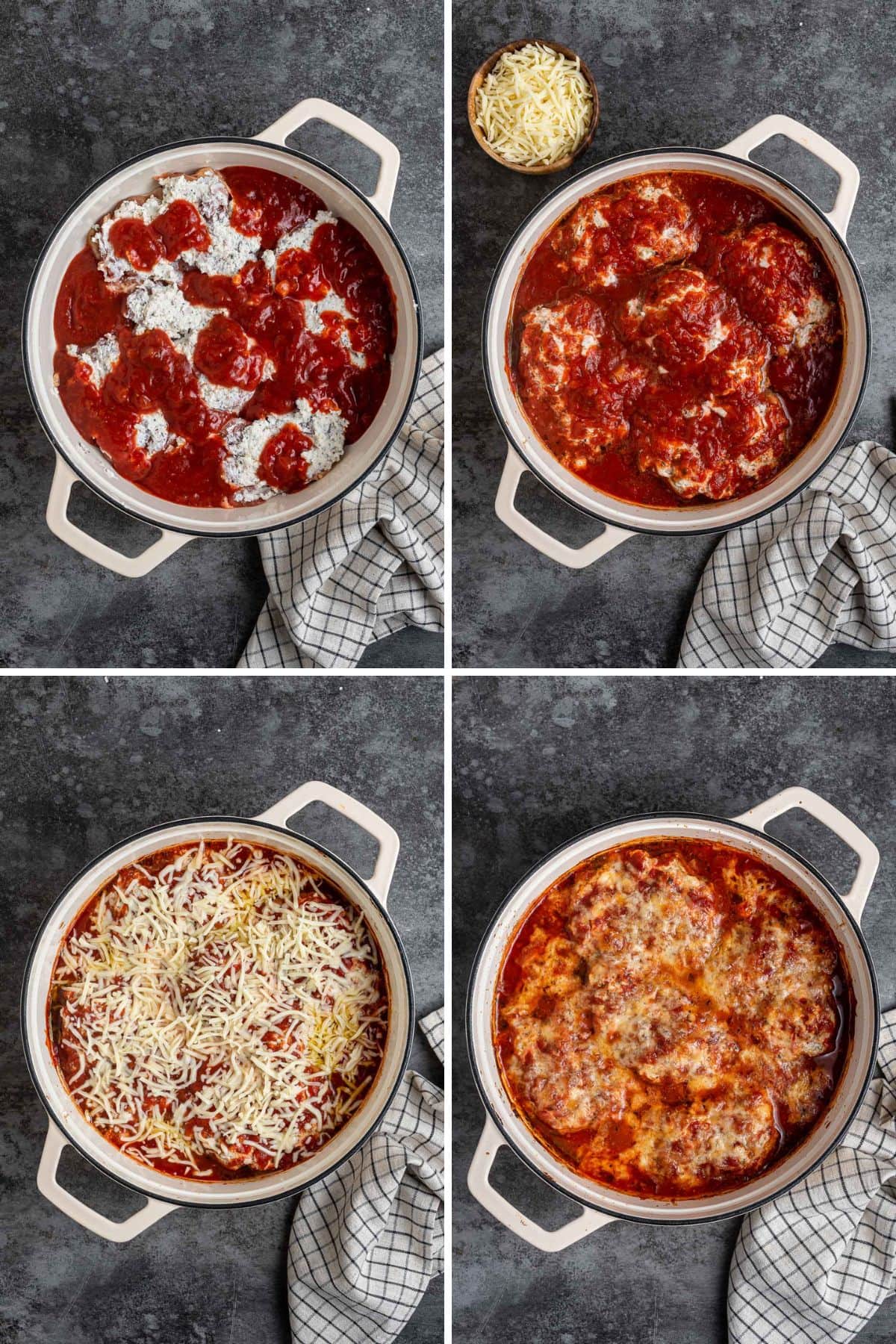 How to Make Baked Cheesy Italian Chicken
Prep: Preheat your oven. Season each of the chicken thighs with salt and pepper, and place them in a baking dish with the smooth side down.
Toppings: Mix together ricotta cheese, Parmesan, oregano, basil, and red pepper flakes in a small bowl. Spoon the cheese mixture over chicken. Pour the marinara sauce over chicken, letting it fall around the chicken as well.
Bake: Cover the baking dish with foil or lid if it has one. Cook chicken in the preheated oven for 30 minutes. Remove the foil and sprinkle some mozzarella cheese over the top of each chicken piece.
Finish: Bake for another 15 minutes until the cheese is bubbly and browned and the chicken is cooked through. Serve with pasta and garlic bread.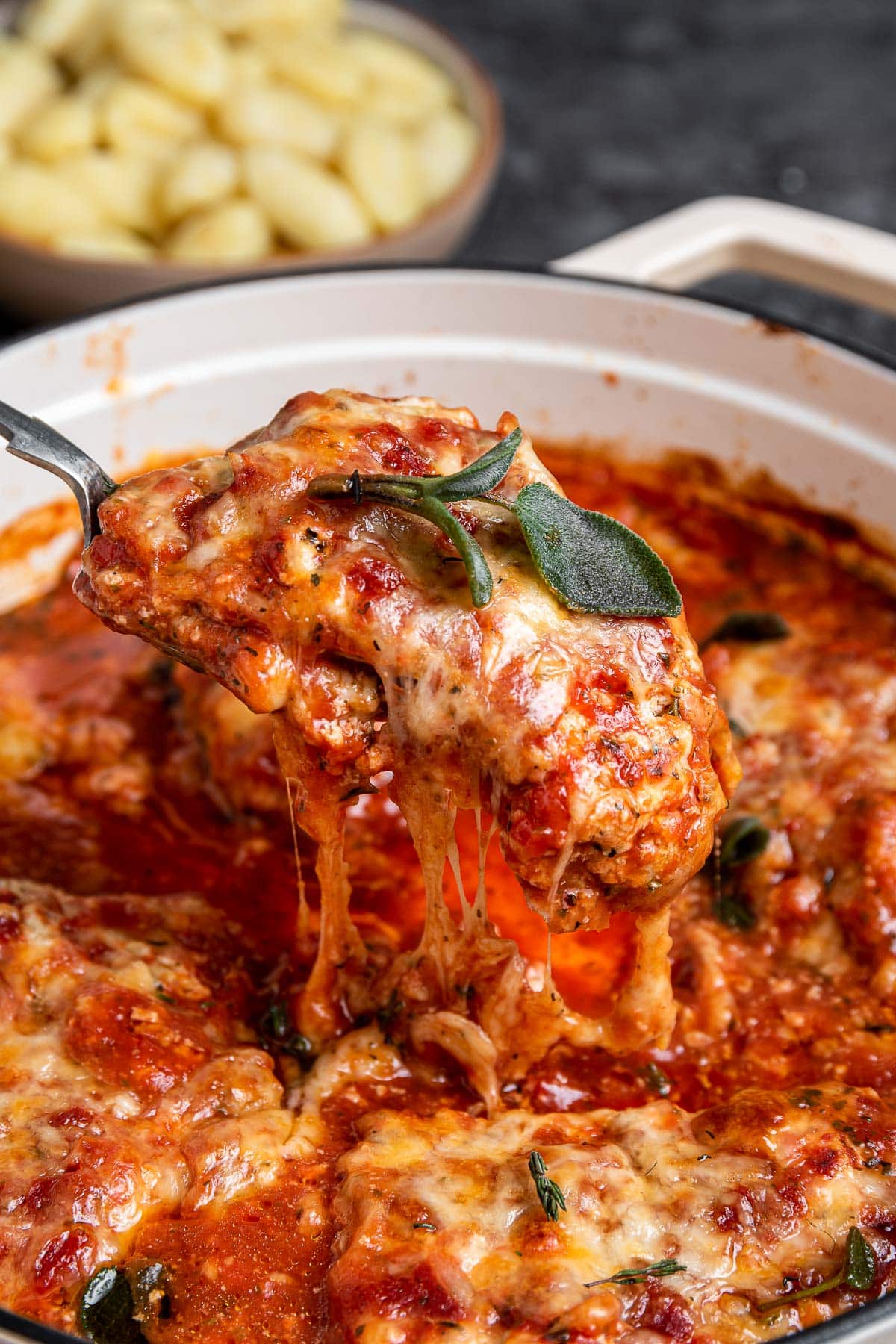 Delicious Easy Italian Sides
FAQs for Baked Cheesy Italian Chicken
When is chicken fully cooked?
It is important to make sure that it's cooked completely and since it's covered with sauce, you should use an instant-read thermometer to read the temperature since you can't visually tell. Measure in the thickest piece of meat and as long as it's at least 165 degrees, the chicken is fully cooked and safe to eat.
What do you serve with Baked Cheesy Italian Chicken?
Baked Cheesy Italian Chicken would be amazing over a bed of cooked penne, spaghetti or linguine. Add some extra marinara sauce and a sprinkle of Parmesan to finish the dish. Try using whole wheat pasta and add steamed veggies for a lighter, well balanced meal. The saucy, cheesy chicken and Italian flavors would also go great with buttered gnocchi, roasted potatoes, sauteed veggies, or creamy polenta.
Do you bake chicken covered or uncovered?
You want to bake this chicken dish mostly with the cover on to keep the boneless, skinless chicken thighs from drying out. It does get cooked uncovered at the end so that the cheese can brown and melt properly. 
How to make chicken juicy inside?
For boneless chicken, a thick coating like the sauce and cheese in this recipe, or some kind of breading, is key to locking in the natural juices for tender, juicy chicken. Cooking the meat slowly in a covered dish also helps make your chicken extra juicy inside.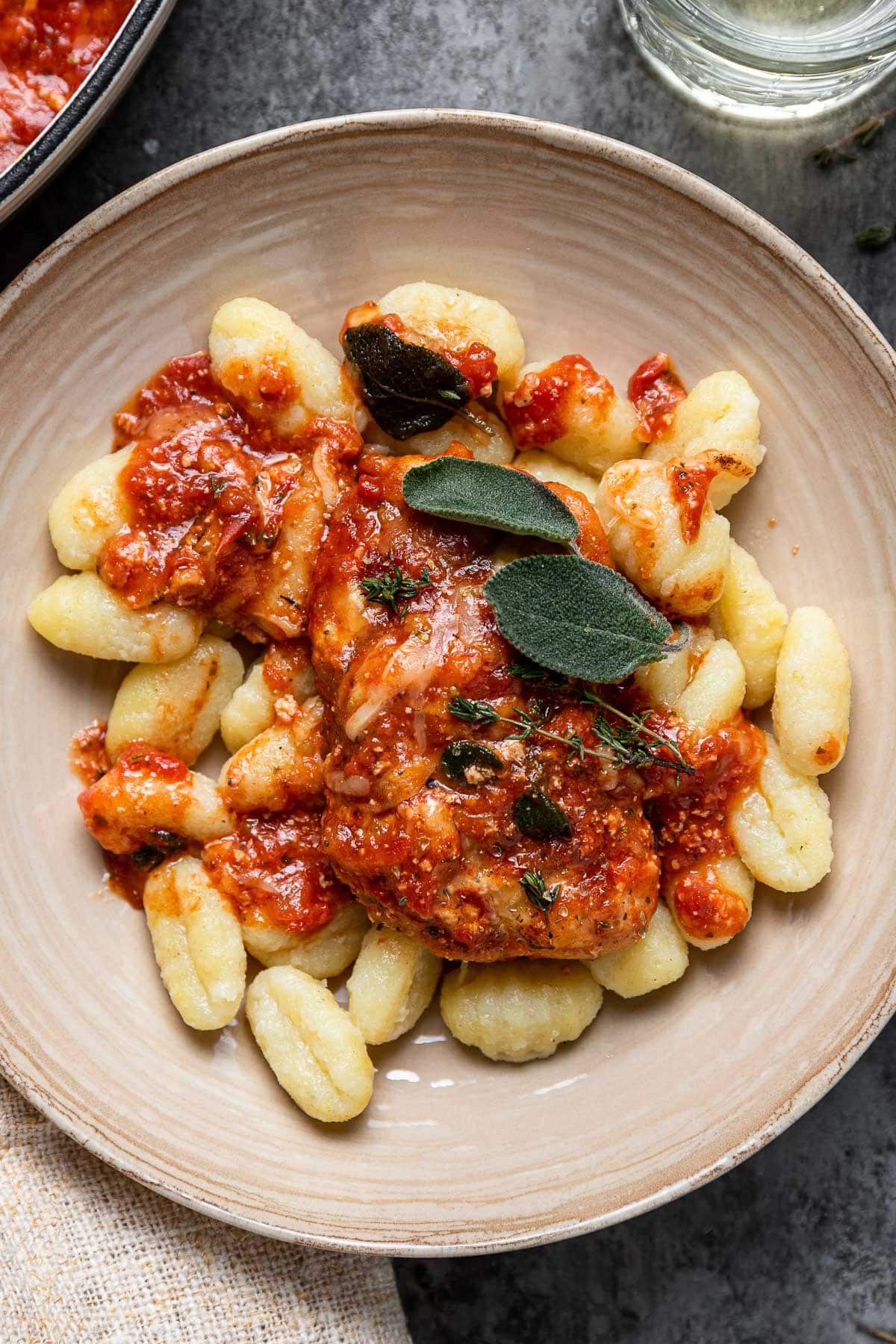 Create a free account to

Save Recipes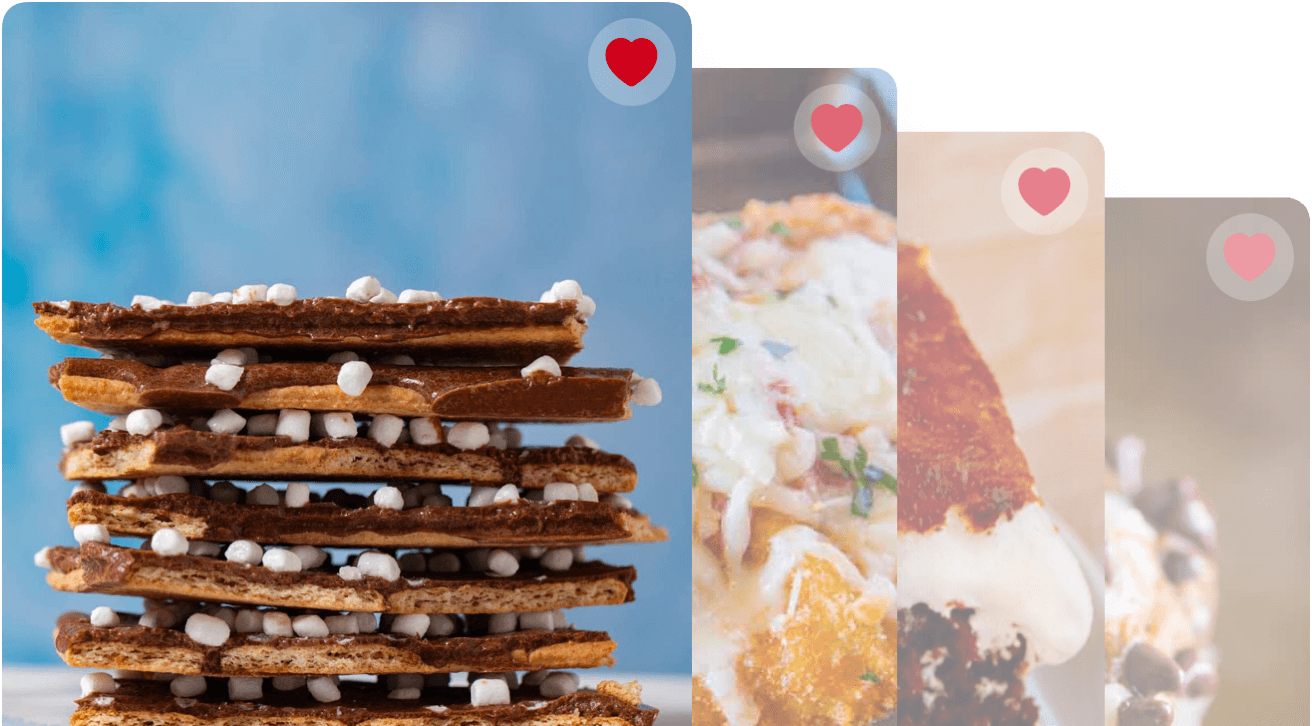 Key Ingredients
Chicken Thighs: Flavorful chicken thighs are a great source of lean protein, and they're easy to prep for this simple recipe. The boneless chicken thighs are easier to serve and cook quicker than a full chicken breast. If you use bone-in thighs, remove the skin because it won't crisp up under the sauce and cheese.
Seasoning: To flavor the chicken, you only need a handful of dried herbs and spices. Dried basil, oregano, and crushed red pepper flakes are all common ingredients in Italian seasoning that taste amazing in this recipe.
Marinara Sauce: The chicken thighs are covered in tomato pasta sauce to help lock in the juices. The marinara sauce is a staple in Italian cooking and the best part is you can use extra sauce for a pasta side or dipping warm bread! You can make your own Marinara Sauce, or get a jar from the grocery store.
Cheese: Baked Cheesy Italian Chicken uses a blend of three kinds of cheese. Ricotta and Parmesan are both sprinkled over the chicken before baking. Then you just add some mozzarella before the last few minutes of the cooking time. It's important to wait to add the mozzarella so it melts and gets gooey without burning.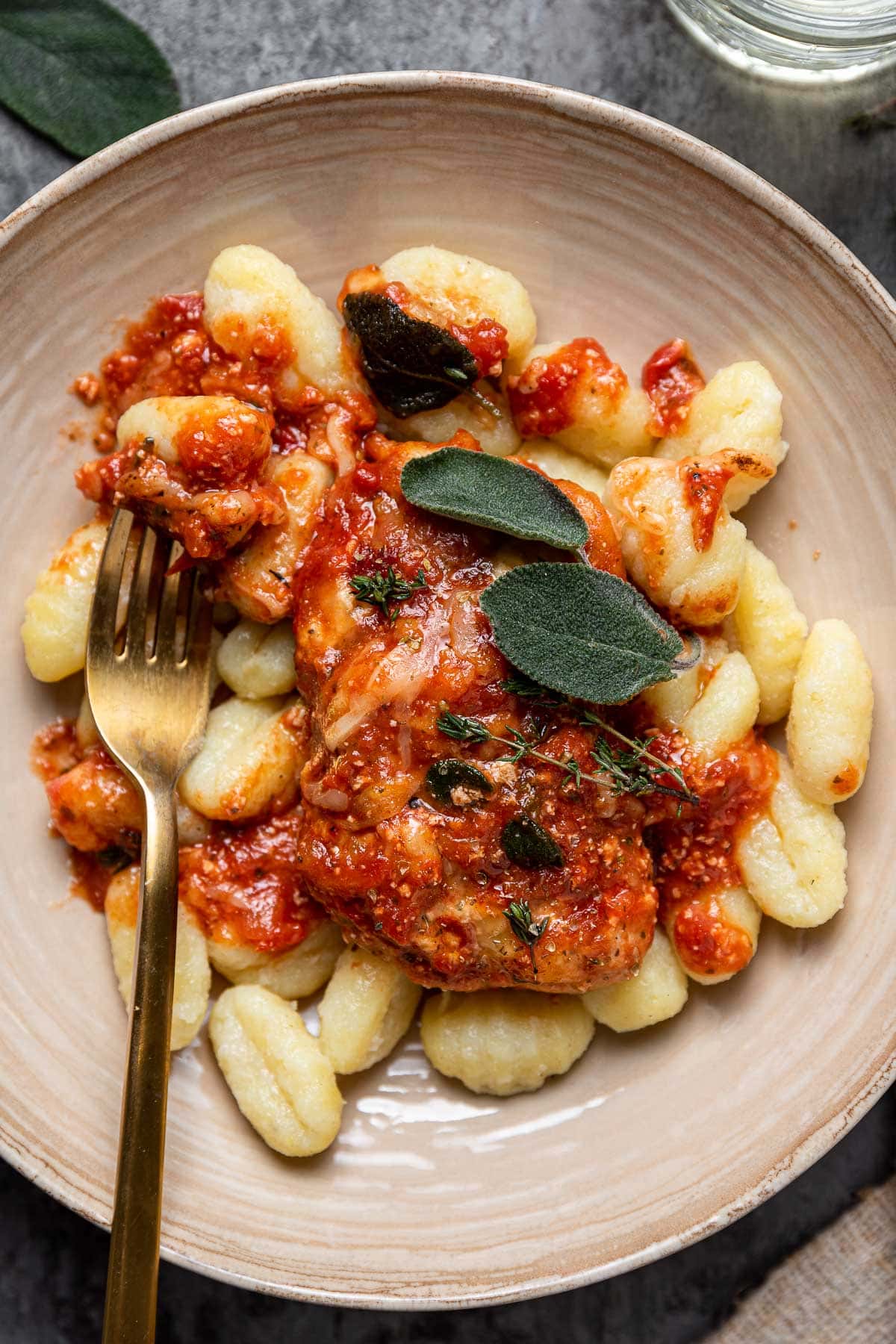 Can you make Baked Cheesy Italian Chicken ahead of time?
You can definitely prep this Baked Cheesy Italian Chicken ahead of time for a weeknight meal ready to go. Assemble the chicken, ricotta, and sauce in the baking dish and refrigerator up to a day in advance. Bake straight from the fridge, adding 5-10 minutes extra cooking time as needed. Prep it in a freezer safe baking dish and freeze it for up to 3 months, baking from frozen with about 15 minutes more cooking time. Once the chicken is cooked, add the cheese and finish baking as usual.
Variations
Chicken Breasts: If you don't have chicken thighs, you can still make this recipe with boneless chicken breasts. So the chicken cooks evenly and quickly, butterfly your chicken breasts or slice them into tenderloins or cutlets. Pound them to an even thickness and make sure to monitor the internal temperature as breasts and thighs can have different cooking times.
Seasonings: There are plenty of other spices and herbs that you can season Baked Cheesy Italian Chicken. Try adding some parsley, rosemary, onion powder, garlic powder, or minced garlic to the ricotta cheese mixture. You can also swap in fresh herbs for the dried ones for a brighter flavor.
Sauce: Instead of the marinara sauce, swap in another favorite pasta sauce like Alfredo Sauce or Pesto Sauce. If using the Alfredo sauce, you might want to cut back a bit on the cheese by skipping the mozzarella cheese topping or go full on cheesy goodness. Even a mixture of sauces, like marinating the chicken in pesto sauce first, would taste amazing!
Veggies: You can make this more of a one-pan meal by adding some small chopped veggies to your pan. Sliced mushrooms, broccoli florets, or chopped red bell peppers and onions can be sprinkled around the chicken in the pan before adding the sauce. Some thawed frozen spinach mixed with the ricotta cheese is an easy and tasty way to sneak in veggies!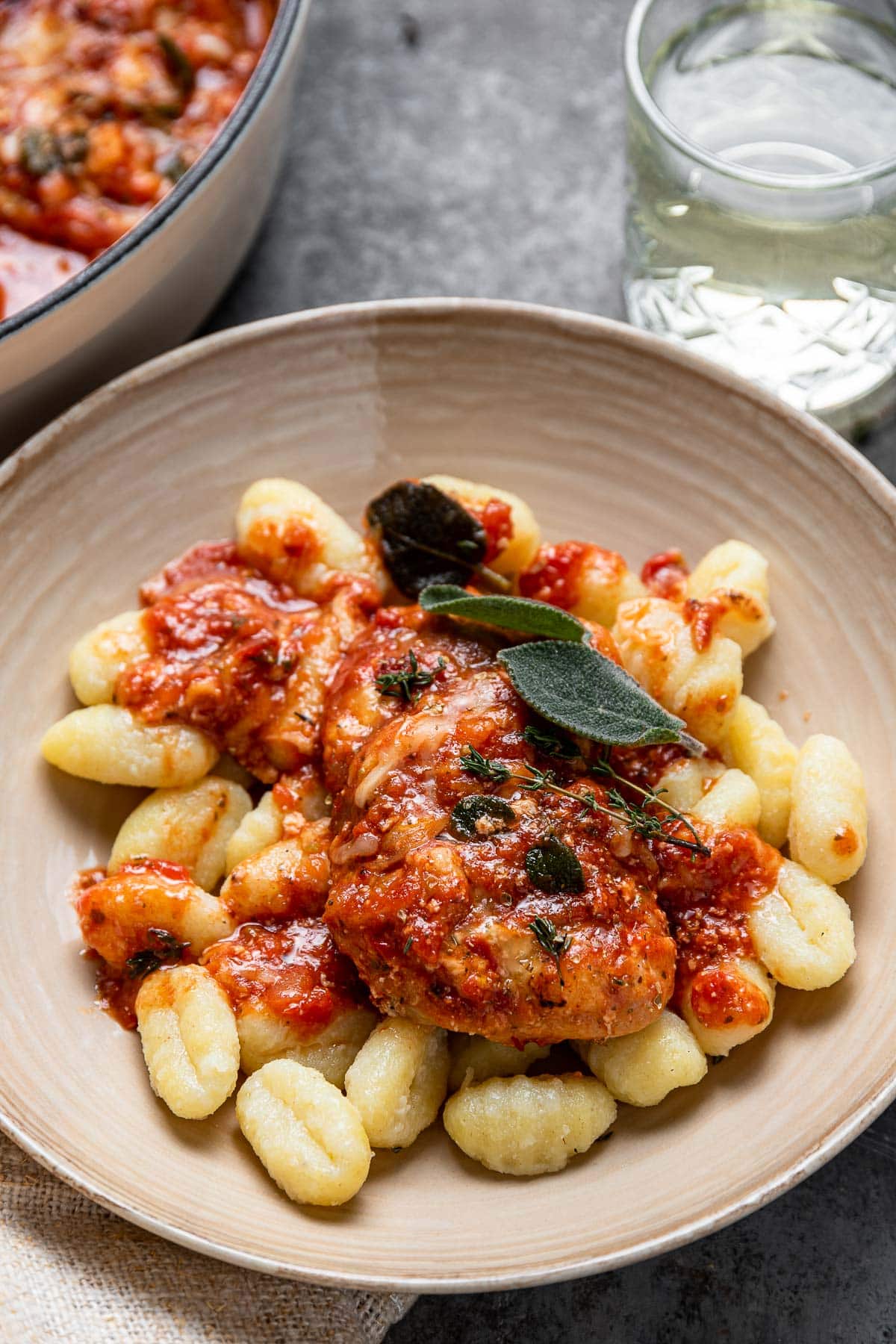 More Amazing Italian Chicken Dishes
How to Store
Store: Don't leave your cooked chicken at room temperature for more than 2 hours. Cool the leftover Baked Cheesy Italian Chicken to room temperature, and seal it in an airtight container to store for 3-4 days in the fridge.
Reheat: It's best to reheat the chicken with the sauce in the oven at 325 degrees in a covered baking dish. This lets the chicken heat up slowly so it doesn't dry out.
Freeze: Once the chicken is cooled completely, transfer the leftovers including the sauce to a freezer safe container. Freeze for up to 3 months. To serve, thaw overnight in the fridge then reheat in the oven.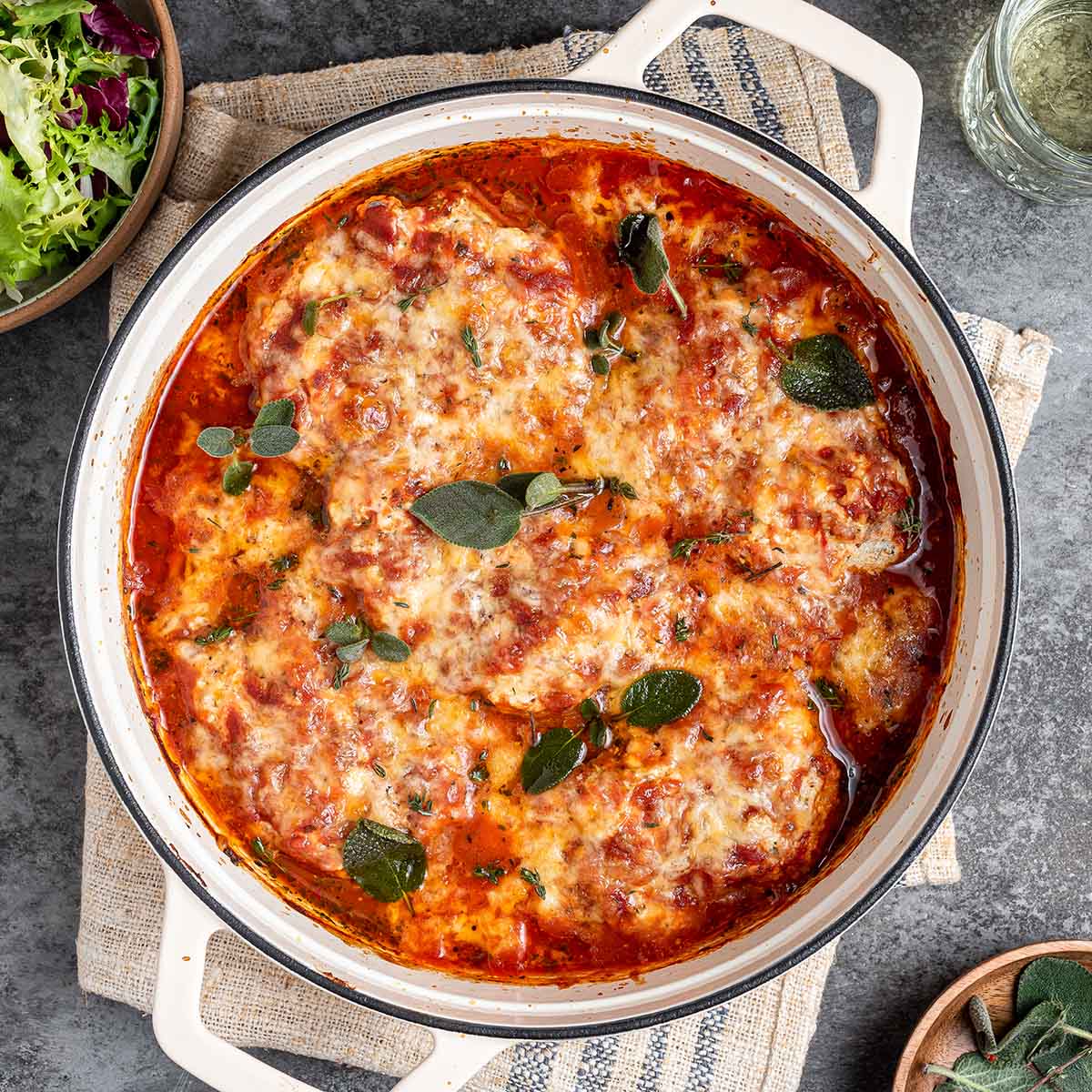 Ingredients
5

chicken thighs

, boneless skinless

1/2

teaspoon

kosher salt

1/4

teaspoon

coarse ground black pepper

1/2

cup

ricotta cheese

1/2

cup

Parmesan cheese

, grated

1/2

teaspoon

dried oregano

1/2

teaspoon

dried basil

1/8

teaspoon

crushed red pepper flakes

2

cups

marinara sauce

1

cup

mozzarella cheese

, shredded
Instructions
Preheat oven to 375 degrees.

Season chicken thighs with salt and pepper and place in pan smooth side down.

Mix ricotta cheeese, parmesan cheese, dried oregano, dried basil and red pepper flakes in a small bowl and spoon over each piece of chicken.

Pour marinara sauce over the chicken and around it.

Bake, covered for

30 minutes

.

Uncover, top with mozzarella cheese and bake an additional

15 minutes

until cheese is bubbly and browned before serving.
Nutrition
Calories:
422
kcal
|
Carbohydrates:
7
g
|
Protein:
31
g
|
Fat:
30
g
|
Saturated Fat:
12
g
|
Polyunsaturated Fat:
4
g
|
Monounsaturated Fat:
11
g
|
Trans Fat:
0.1
g
|
Cholesterol:
148
mg
|
Sodium:
1107
mg
|
Potassium:
582
mg
|
Fiber:
2
g
|
Sugar:
4
g
|
Vitamin A:
872
IU
|
Vitamin C:
7
mg
|
Calcium:
312
mg
|
Iron:
2
mg