Chicken Marsala is an easy dinner recipe with pan seared chicken, marsala wine, butter and mushrooms in just 20 minutes that tastes like your favorite Italian restaurant!
Looking for more Classic Italian recipes? Look no further than Ultimate Lasagna, Baked Spaghetti or Chicken Parmesan, they're all winners.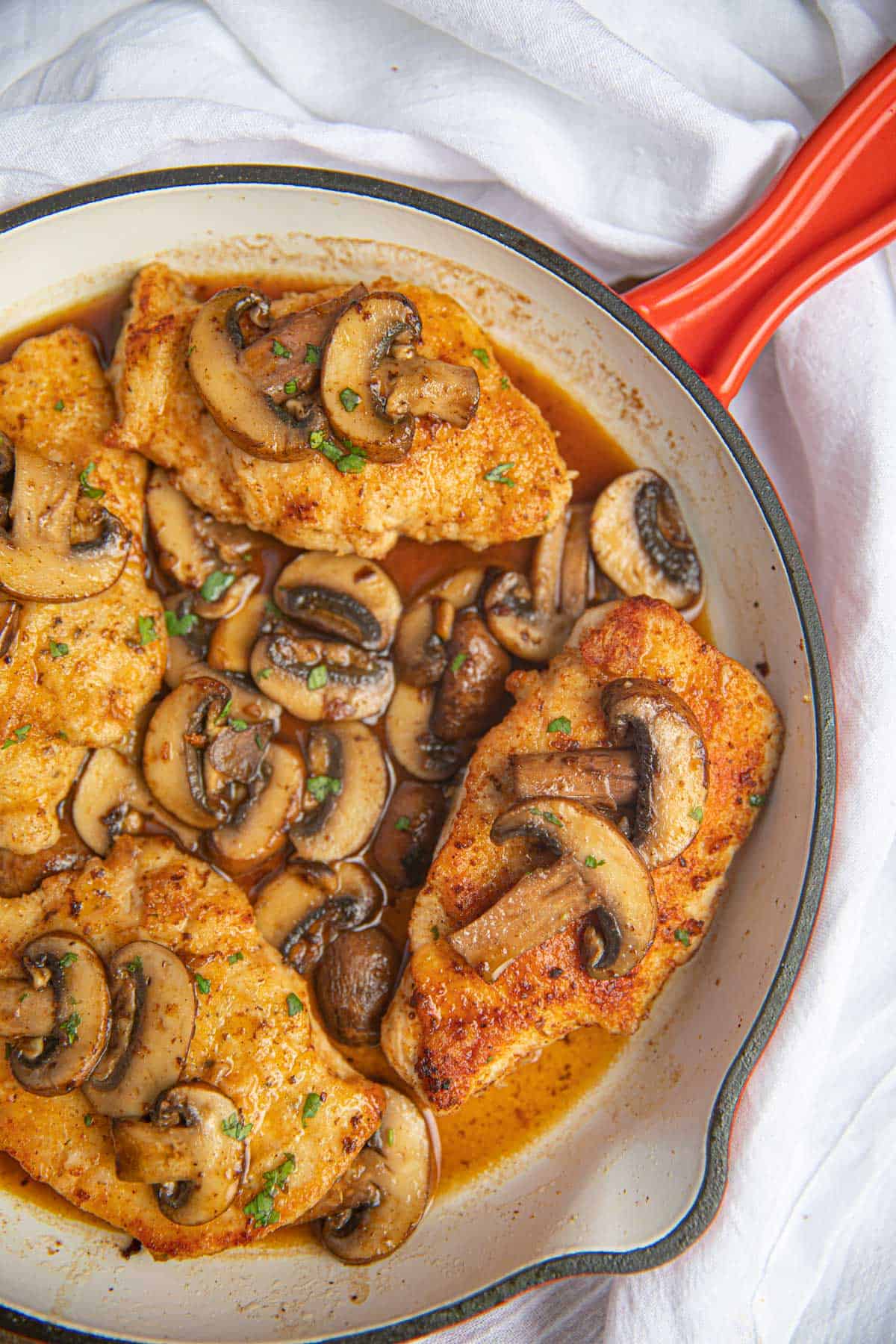 CHICKEN MARSALA
This is an easy recipe for a favorite Italian chicken dish that has been adopted by many an American chef. If this is your first time making a wine sauce, this is a great recipe to follow: you'll turn out restaurant quality chicken marsala every time.
I've cooked a lot of Italian chicken recipes (like my favorite Chicken Piccata) and they have all been delicious, savory dishes. It seemed like it was overdue to make an all-time favorite, chicken marsala.
Marsala sauce brings out the delicious flavor of the chicken, sherry wine, butter and button mushrooms to add  some texture and savory umami flavors.
If you like this recipe and want another Italian dish for next time, you should try my Easy Calzones, Caprese Tortellini Pasta Salad or Chicken Parmesan Pasta.
HOW DO YOU MAKE CHICKEN MARSALA?
Mix your all purpose flour, salt, pepper and oregano in a shallow bowl.
Dredge the chicken cutlets in the mixture until they are thoroughly coated.
Melt the butter in olive oil in a large skillet over medium heat.
Cook the chicken pieces until one side is lightly brown, then turn them over and add the button mushrooms.
Pour in the wine and cooking sherry, then cover the skillet and let simmer for about 10 minutes.
VARIATIONS
Heavy Cream: Make this a creamy Chicken Marsala by adding in ½ cup of heavy cream when you add in the chicken stock and marsala wine. This adds a richness to the dish so you can cut back by 2 tablespoons on the butter you are using.
Chicken thighs: whether you use the boneless skinless variety or not, chicken thighs have more dark meat and so have a very different flavor.
Chopped parsley: garnish the top of your cooked chicken marsala with a handful of finely chopped parsley. It makes the dish look elegant and tastes good too.
Garlic: either finely chop up a clove or sprinkle some garlic powder over the chicken when you add it to the pan for a kick of flavor.
Fresh thyme: if you want it to taste more earthy, cook the chicken with a sprig of fresh thyme, and then remove it before serving.
Lemon juice: squeeze just a little lemon juice over the top of the chicken marsala to bring out the flavor. A little goes a long way, and you don't want to overpower the marsala sauce, so don't do more than a sprinkle.
Chicken tenderizer: you can also pound skinless chicken breasts flat with a meat mallet to make it cook more evenly. This won't effect the taste, but it will cook faster so you'll need to keep an eye on it.
What to serve with Chicken Marsala:
Green Beans Almondine: a light blend of green beans and chopped nuts that compliments the rich flavor of chicken marsala and is great with so many other dishes. You can also whip it up in minutes and keep the leftovers for days.
Bacon Parmesan Brussels Sprouts: Brussels sprouts and marsala wine go famously well together, and my marsala sauce is no exception. This Brussels sprout recipe is packed with both flavor and bacon, what's not to love?
Creamy Garlic Mashed Potatoes: this is a recipe fit for a potato lover. They are the perfect creamy consistency with enough garlic to give you a rich hearty flavor without burning your mouth. Great for cozy nights in.


Create a free account to

Save Recipes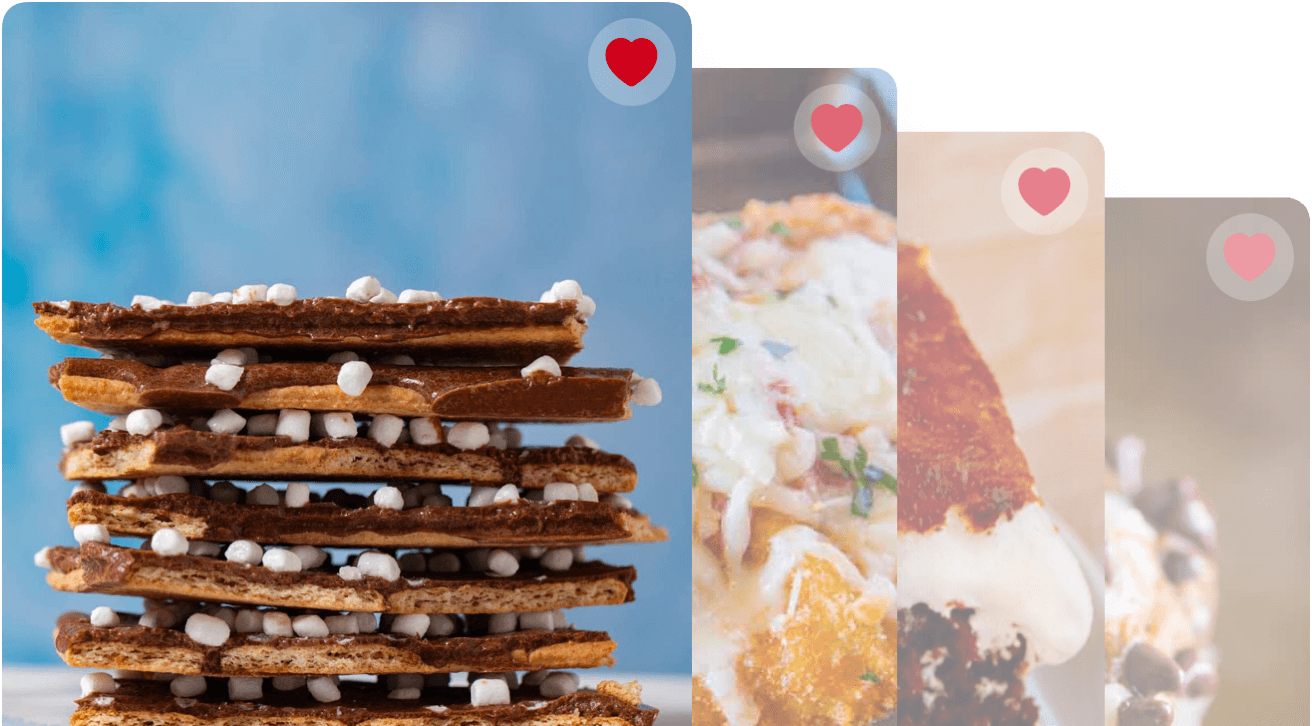 WHAT IS MARSALA WINE?
Originally from Sicily, marsala wine caught on like wild fire and is now a favorite aperitif between courses. You can drink it with dinner or use it as a cooking wine to make dinner.
Marsala wine has been described as having a blend of vanilla, brown sugar, tamarind and apricot flavors, with the occasional note of tobacco. Dry marsala is usually drunk with and used to flavor savory dishes, like chicken and beef, while sweet marsala understandably is used for desserts and as an after-dinner wine. For my chicken marsala recipe, you should find a good dry marsala wine.
While I don't believe that you have to go with a wine imported from Sicily, Sicilian marsala wine is absolutely delicious. You probably won't be able to find an import at your local grocery store, but wine and liquor stores usually have a decent selection.
How long is Marsala Wine good?
Once you open it, marsala wine is usually good for about 4 months, depending on how hot and humid it is where you live. Wine can start to loose its flavor and turn to vinegar once it's opened, so I would drink it sooner rather than later.
Safe Cooking Temperature for Chicken:
According to the USDA's website, chicken is considered cooked-though and safe to eat when the internal temperature reaches 165 degrees F ( 73.8 degrees C).
HOW LONG DOES CHICKEN MARSALA KEEP?
Serve: don't leave your chicken marsala out at room temperature for longer than 2 hours, or things will start to grow on it.
Store: leftover chicken is good in the fridge for up to 3 days, so you can reheat your left overs from last night for a quick, tasty dinner.
Freeze: you can freeze cooked chicken for up to 4 months in an airtight container.
This is the best Chicken Marsala recipe you'll find that you can make at home with just a few ingredients. You don't have to spend all day over the stove to make a main course worthy of your favorite Italian restaurant!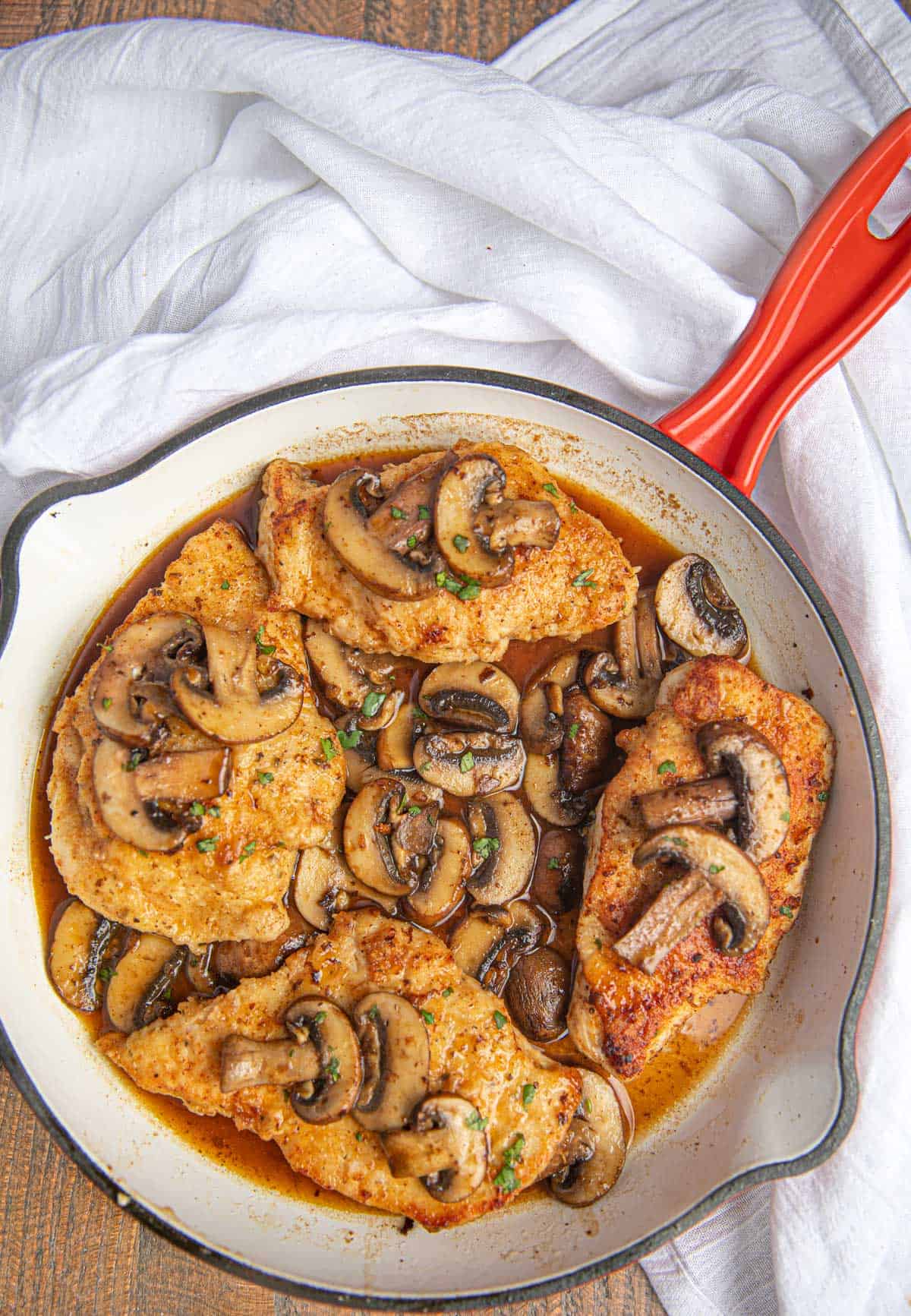 Ingredients
2

chicken breasts

, boneless and skinless

1/3

cup

flour for coating

1/2

teaspoon

kosher salt

1/4

teaspoon

coarse ground black pepper

1/3

cup

unsalted butter

4

tablespoons

olive oil

8

ounces

sliced mushrooms

1/2

cup

chicken stock

, (or chicken broth)

1/2

cup

Marsala wine
Instructions
Cut the chicken breasts in half, butterflied to make four thinner chicken breast pieces.

Mix together the flour, salt and pepper then coat the chicken pieces in it.

Add the butter and olive oil to a large skillet on medium high heat and cook the chicken in it 4-5 minutes on each side until golden brown.

Remove the chicken from the pan, add in the mushrooms and cook for 3-4 minutes until browned.

Add the chicken back in, pour in the chicken stock and wine and let simmer for 10 minutes before serving.
Nutrition
Calories:
460
kcal
|
Carbohydrates:
7
g
|
Protein:
27
g
|
Fat:
33
g
|
Saturated Fat:
12
g
|
Cholesterol:
114
mg
|
Sodium:
473
mg
|
Potassium:
658
mg
|
Fiber:
1
g
|
Sugar:
4
g
|
Vitamin A:
505
IU
|
Vitamin C:
2.6
mg
|
Calcium:
10
mg
|
Iron:
0.9
mg