jump to recipe
Bacon Parmesan Brussels Sprouts
This post may contain affiliate links. Read my disclosure policy here.
Roasted Brussels Sprouts in a cast iron skillet and topped with Parmesan cheese and crumbled bacon are the perfect holiday side dish you can make in one pan in 30 minutes.
Brussels Sprouts are a favorite spring time side dish of ours, we love them Oven Roasted on a sheet pan or in my favorite copycat form of the famous Tin Roof Bistro Brussels Sprouts.
 Bacon Parmesan Roasted Brussels Sprouts
Roasted Brussels Sprouts have had a resurgence of popularity over the last ten years in restaurants. A vegetable most people used to use as the butt of a joke is now trendy enough to make appetizer lists in popular restaurants.
The flavors of brussels sprouts people are craving are the crispy leaves and added toppings  like bacon, cheese or butter sauces. They often come fried with lemon butter sauces and by roasting our brussels sprouts we're going to get to keep a lot of the flavor without a lot of the fat.
How do you prep brussels sprouts:
Cut the rough edges of the root off the brussels sprouts and remove any yellowing outer leaves. You can roast whole or even cut in half.
How to pick Brussels Sprouts:
Look for tightly packed brussels sprouts with no loose leaves. Avoid yellowing leaves and if possible choose smaller brussels sprouts over larger ones as they tend to have a sweeter, better flavor and make roasting easier. Look carefully for black dots on brussels sprouts which are signs of mold and should be completely avoided.
MY OTHER RECIPES
What to serve with Brussels Sprouts:
These brussels sprouts would be great with HoneyBaked Ham, Ultimate Slow Cooker Mashed Potatoes and Boston Market Mac and Cheese for the perfect Easter meal!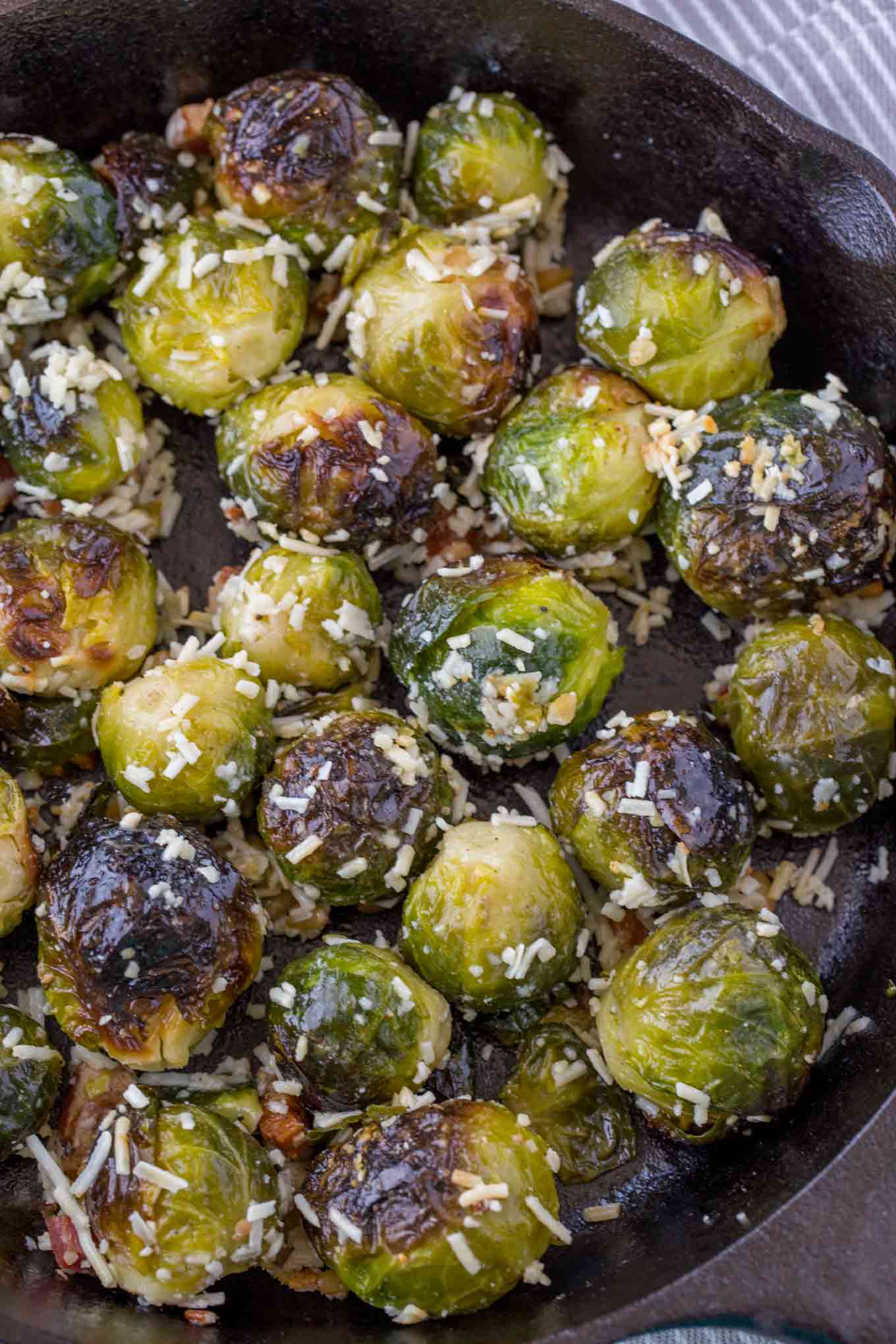 Can you make these brussels sprouts in a sheet pan? Yes, absolutely, the reason for using the cast iron skillet is because we used the skillet to brown the bacon. Since the brussels sprouts are being tossed in the bacon grease before roasting it was easiest to add them into the pan. Plus serving food in a cast iron skillet allows them to stay warm longer as cast iron skillets are great for retaining heat.
Tools Used in the making of this Bacon Parmesan Brussels Sprouts:
Cast Iron Skillet: This is my most used pan in my kitchen, heavy, keeps heat well and it is great for cooking the bacon and roasting in the oven.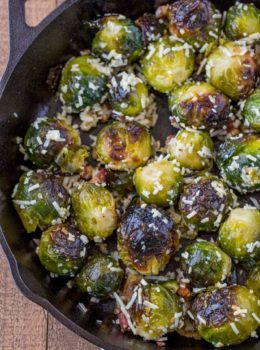 Parmesan Bacon Brussels Sprouts
Roasted Brussels Sprouts in a cast iron skillet and topped with Parmesan cheese and crumbled bacon are the perfect holiday side dish you can make in one pan in 30 minutes.
Ingredients:
2 tablespoon butter
1/2 pound bacon, cut into small strips
2 pounds brussels sprouts, trimmed
1/2 teaspoon kosher salt
1/4 teaspoon coarse ground black pepper
1 cup shredded Parmesan cheese
Directions:
Preheat the oven to 400 degrees.
Cook the bacon in a large skillet on medium high heat until crisp.
Remove the bacon and add in the butter to melt.
Add the brussels sprouts and toss in the butter mixture and season with salt and pepper.
Bake the brussels sprouts for 25-30 minutes.
Toss well before serving and top with Parmesan cheese and bacon.
Nutrition Information
Yield: 4 servings, Serving Size: 1/4th recipe
Amount Per Serving:
Calories: 253 Calories
All images and text ©
Made this recipe?
Show me what you made on Instagram or Facebook and tag me at @DinnerthenDessert or hashtag it at #dinnerthendessert.
Dinner, then Dessert, Inc. owns the copyright on all images and text and does not allow for its original recipes and pictures to be reproduced anywhere other than at this site unless authorization is given. If you enjoyed the recipe and would like to publish it on your own site, please re-write it in your own words, and link back to my site and recipe page. Read my disclosure and copyright policy. This post may contain affiliate links.