Tin Roof Bistro Brussels Sprouts are caramelized and tossed in a lemony caper butter sauce. The most popular item on the menu will make anyone a fan!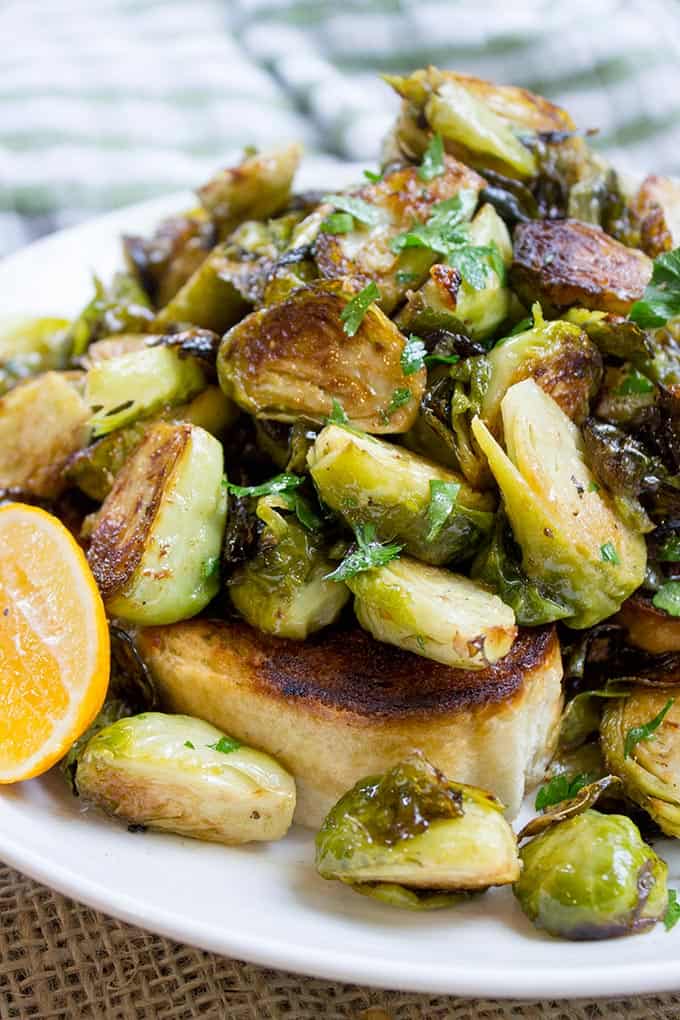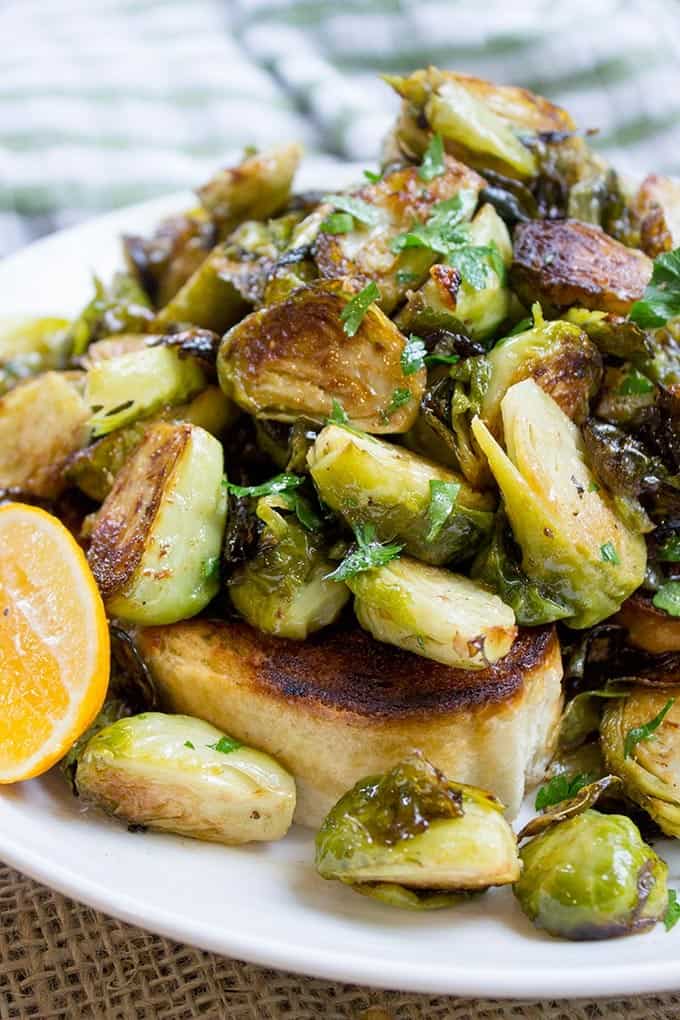 Tin Roof Bistro Brussels Sprouts have arrived! I've been obsessed with these Brussels Sprouts for years. I mean literally since the day we first stepped into the Tin Roof Bistro and the waiter recommended them. We loved them so much we went back for dinner the next day and ordered two more plates. They are just that good.
Plus come back tomorrow for an amazing Curemaster Reserve Ham I served with these awesome Brussels Sprouts!
There's really only one solitary difference in the version I've made versus the restaurant version and you are welcome to add it back into the directions. Tin Roof Bistro Brussels Sprouts are deep fried before getting tossed in the delicious buttery lemon, caper and anchovy sauce. Purely for scientific reasons I tried the recipe both ways, the current caramelized in the oven option you see here and the deep fried version. Everyone preferred this one, the buttery sauce is completely capable of making this dish rich and full of savory flavors you're going to be immediately obsessed with. The added bonus is if you do it the way I wrote, you can make it in your trusty cast iron skillet.
Now that we live in Sacramento I only get to enjoy these Tin Roof Bistro Brussels Sprouts a few times a year. That is because every single time we go home this is one of just a few places we have to eat. Also, if you are a local and you want to check out the restaurant I highly suggest the following options: Tin Roof Bistro Brussels Sprouts and the Figgy Piggy Pizza to start,  the Short Ribs over Polenta and the Skirt Steak with Bleu Cheese as mains. To be honest I never make it to dessert there, but I can only imagine if the meal is that good the desserts must be amazing.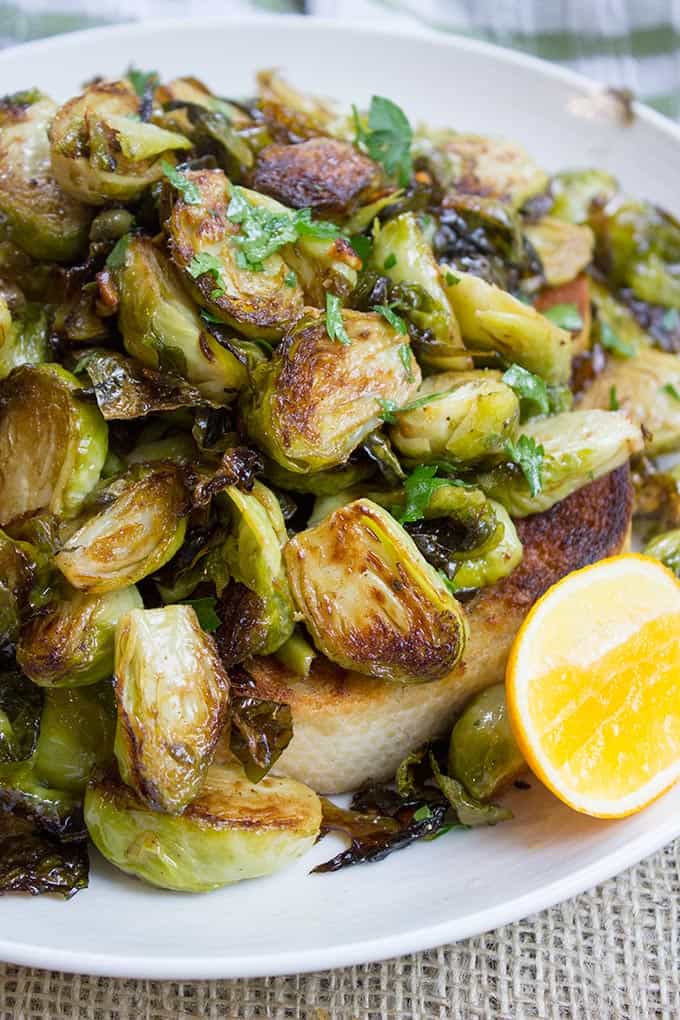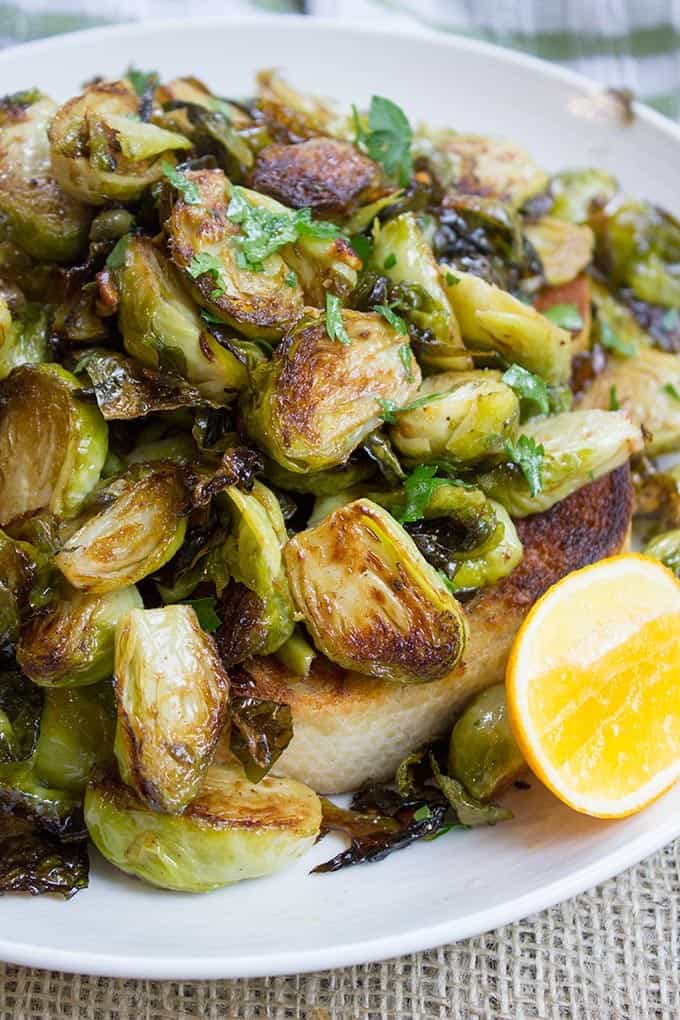 Recipe
Save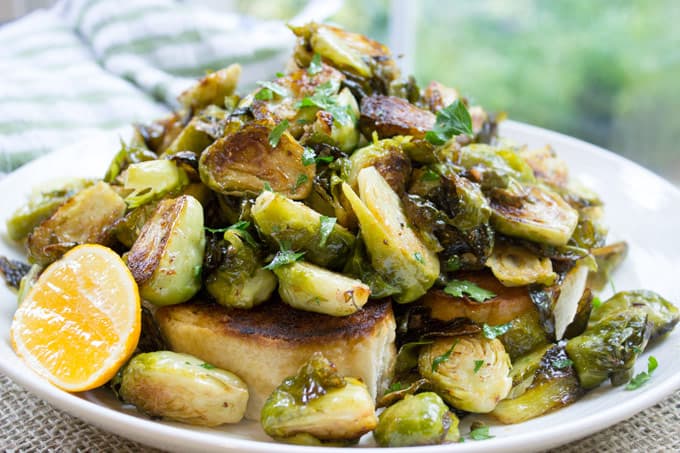 Tin Roof Bistro Brussels Sprouts
Yield:

4

Prep Time:

15

minutes

Cook Time:

25

minutes

Total Time:

40

minutes

Course: Side Dish
Cuisine: American
Author: Sabrina Snyder
Tin Roof Bistro Brussels Sprouts are caramelized and tossed in a lemony caper butter sauce. The most popular item on the menu will make anyone a fan!
Ingredients
1

pound

Brussels sprouts

, trimmed of rough outer leaves and cut in half

3

tablespoons

butter

3

tablespoons

extra virgin olive oil

1

teaspoon

minced garlic

1

teaspoon

minced anchovy

2

teaspoons

whole capers

1

tablespoon

lemon juice

Kosher salt and fresh cracked black pepper

, to taste (I used 1/2 teaspoon of Kosher salt and 1/4 teaspoon black pepper)

chopped parsley

, for garnish (optional)

2

thick slices of ciabatta bread

, 2 inches thick
Instructions
Note: click on times in the instructions to start a kitchen timer while cooking.
Preheat the oven to 400 degrees.

Toss the Brussels Sprouts in 2 tablespoons of olive oil, kosher salt and pepper and add to a cast iron skillet or other oven safe skillet.

Roast for 15-18 minutes, or until caramelized.

Take skillet out with oven mitts and put it onto your stove top.

Brush the remaining 1 tablespoon of olive oil onto the ciabatta bread and toast on a piece of foil or a pan for 3-5 minutes while you finish off the Brussels Sprouts on the stovetop.

On a medium-high heat, add 3 tablespoons of the butter, garlic and anchovy.

Stir the ingredients together gently.

Cook for about 45 seconds (not long enough to brown the garlic), then add the lemon juice and capers.

Stir to combine, then garnish with parsley if desired.

Serve immediately by plating bread onto the plate, then spoon over the Brussels sprouts and add a couple of wedges of lemon if you'd like.
Nutrition Information
Yield: 4 , Amount per serving: 735 calories, Calories: 735g, Carbohydrates: 116g, Protein: 23g, Fat: 21g, Saturated Fat: 8g, Cholesterol: 23mg, Sodium: 1234mg, Potassium: 441mg, Fiber: 7g, Sugar: 3g, Vitamin A: 1115g, Vitamin C: 98.1g, Calcium: 50g, Iron: 1.6g
All images and text © for Dinner, then Dessert.
Keywords:
Brussels srouts recipe, roasted Brussels sprouts, Tin Roof Bistro Brussels Sprouts (Copycat)
Save