Brussels Sprouts with Bacon is a perfectly easy holiday recipe. Delicious garlic sprouts are topped off with crispy bacon for a savory, salty delight.
Need one more Side Dish to finish off your holiday table? Then, this is the recipe for you! Just like Oven Roasted Brussels Sprouts, they're easy enough for a weeknight dinner and don't take a lot of time. Plus, the added crispy bacon gives them extra flavor that everyone in your family is sure to love.
This Brussels Sprouts recipe is perfect to add to your Christmas or Thanksgiving menu. After cooking, the Brussels Sprouts are both tender, crispy, and packed with flavor from the garlic. The bacon pieces also do a great job enticing picky eaters to give the dish a try. Once they do, they won't be able to get enough. So, it's a great way to get everyone eating second helpings of greens over the holiday.
Some sort of Brussels Sprouts dish is a must for many people during the holidays. Whether that means Brussels Sprouts Gratin or this Bacon Brussels Sprouts recipe. Prepping the sprouts couldn't be easier, and they always turn out wonderfully savory after cooking in a skillet. Delicious Brussels Sprouts also make a great base for toppings like Parmesan cheese or this bacon recipe.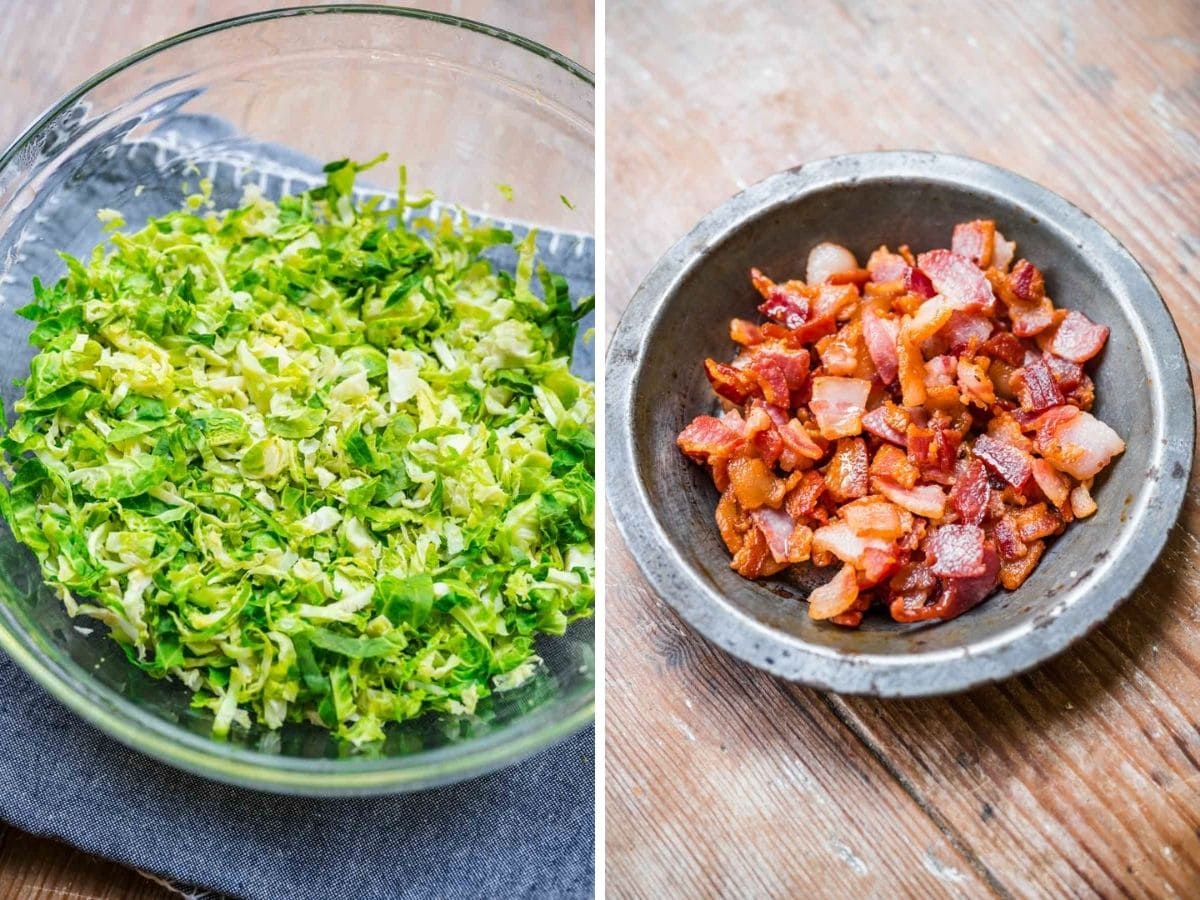 However, you definitely don't need to save this dish for a special occasion. The prep time and cook time together only take about 20 minutes to make, so it easily pairs with any Weeknight Meal. The delicious greens and bacon make a great addition to pretty much any dinner, and it's too good to only have a couple of times a year. 
More Holiday Side Dishes
Frequently Asked Questions About Brussels Sprouts with Bacon
Why are they called Brussels Sprouts?
These delicious veggies are thought to have originated in Brussels, Belgium and were named so by the French.
How should I clean my Brussels Sprouts?
Brussels Sprouts just need to be rinsed in order to clean them before you cook them.
Why do I need to peel off the outer layers of Brussels Sprouts?
Similar to a head of lettuce, the outer layers of Brussels Sprouts can get a little bruised and wilted over time. Peel them off the same way you would your lettuce.
How to Make Brussels Sprouts with Bacon
How to Shave Brussels Sprouts: Start by cutting the root end off of each sprout, and remove the wilted outer leaves. Hold the sprouts from the root end and use a sharp knife to shred them thinly. Rinse your Sprouts clean.
Continue Prepping Sprouts: Finish getting the sprouts ready for the recipe by adding them to a large microwave-safe bowl with a wet paper towel to absorb the moisture. Microwave for 4-5 minutes. The sprouts should be crisp and tender. 
Cook Bacon: Add the bacon slices in a single layer to a skillet. Let them cook until crispy. Most likely it'll be about a 5-minute cooking time. 
Cook Brussels Sprouts: Drain everything but 1 tablespoon of the bacon grease. Leave that in the pan, and add the vegetable oil, garlic, and sprouts over top. Stir together. Season with salt and pepper to taste, and continue cooking until Brussels Sprouts are browned on the outside and crispy.
Serve: Crumble bacon over the top and serve while still warm.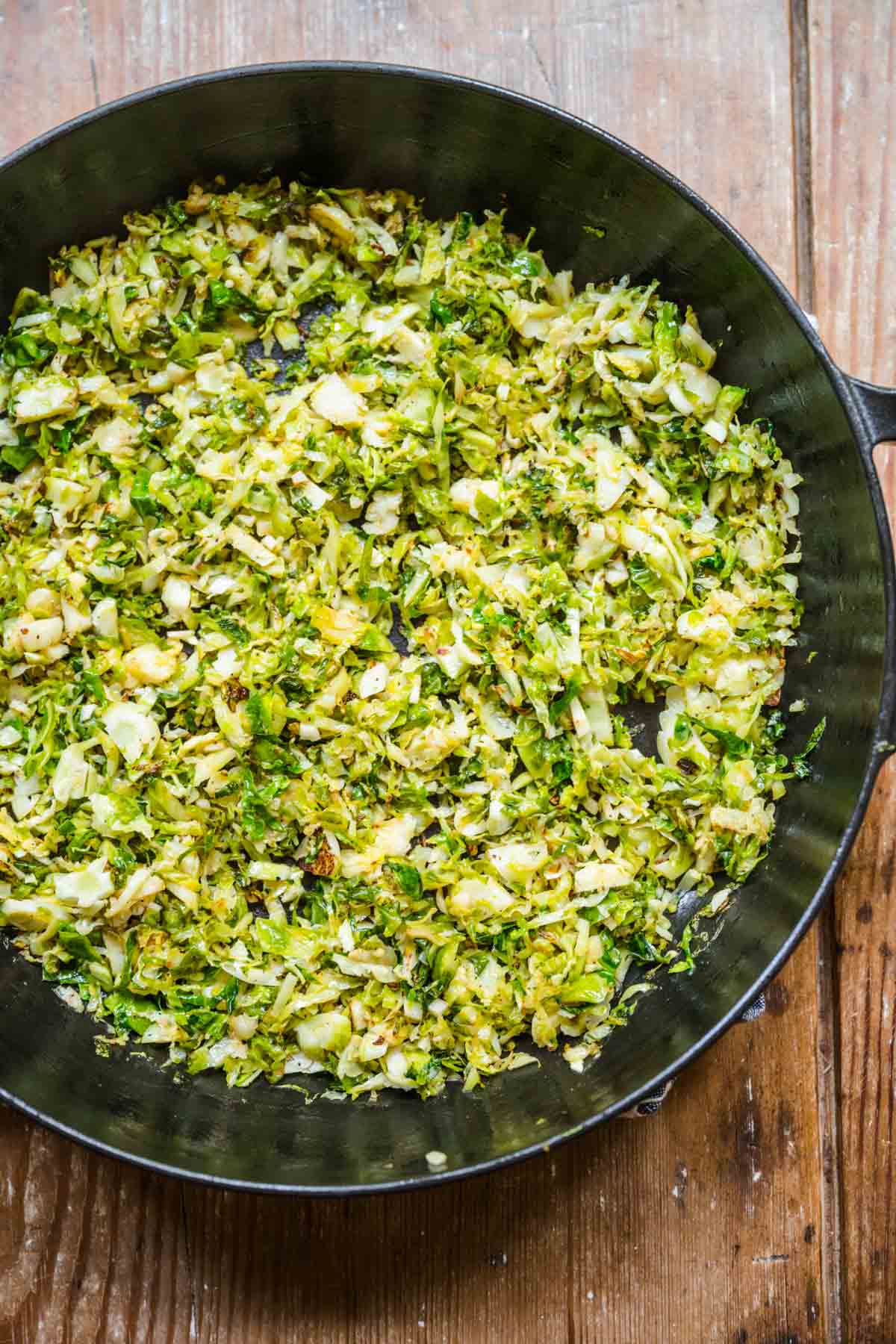 Create a free account to

Save Recipes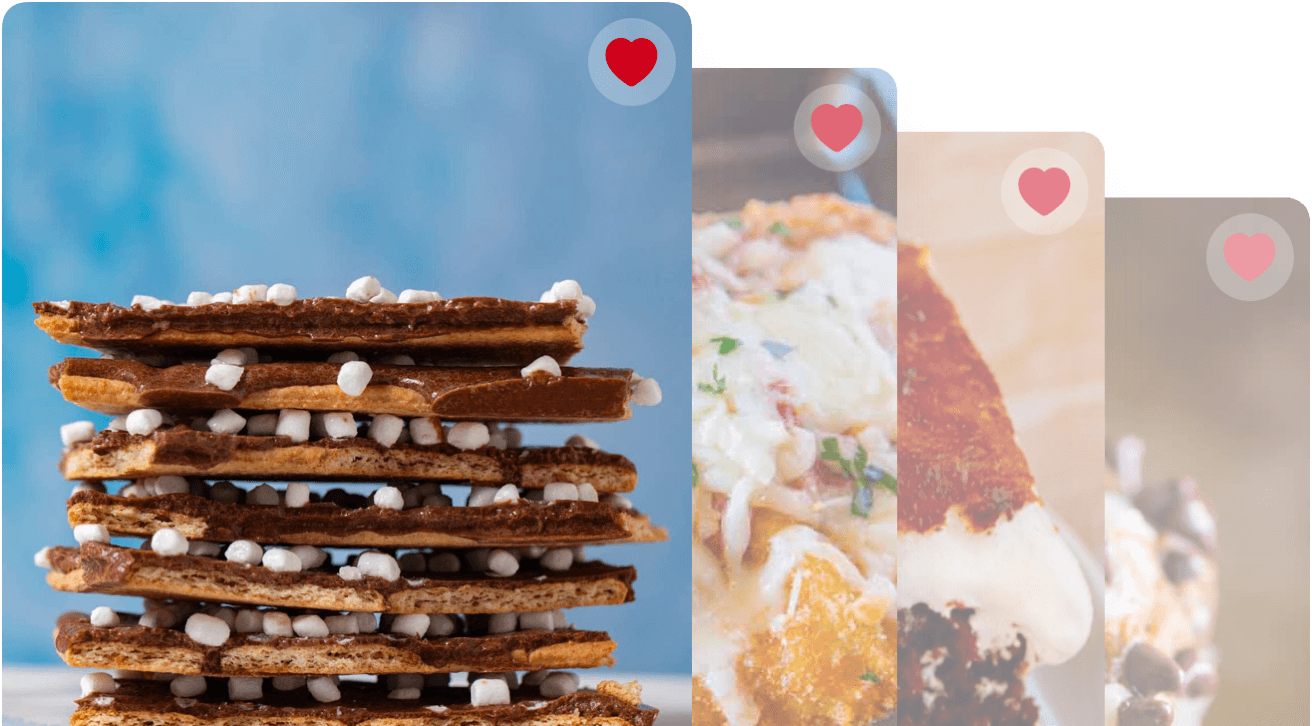 Can Brussels Sprouts with Bacon be Made Ahead?
You can make your Brussels Sprouts ahead of time and store them in the fridge. Warm them up when you're ready to serve. You can use the microwave or heat them up in a pan to crisp the bacon again.
Variations on Brussels Sprouts with Bacon
Sweet Brussels Sprouts: Try adding some sweetness to the recipe by drizzling honey or maple syrup over the Brussels sprouts. You can heat up the honey slightly before adding it on top so that it's more runny and easy to toss the sprouts with. Another sweet option is using candied bacon.
Oil: If you want to replace the vegetable oil in the recipe, you can use olive oil, avocado oil, or coconut oil.
Roasted Brussels Sprouts: Try roasting the sprouts on a baking sheet instead of in a skillet. Toss the Brussels sprouts in garlic, oil, salt, and pepper. Spray the sheet pan with cooking spray, then add the shaved Brussels sprouts to the prepared pan. Roast at 400 degrees for 15 minutes. Take the rimmed baking sheet from the oven and sprinkle the cooked bacon over the Roasted Brussels sprouts.
Seasonings: For some extra flavor add seasonings like paprika, garlic powder, red pepper flakes, oregano, or rosemary.
Add-Ins: For some delicious mix-ins toss in shallots, or red onions when you're cooking the Brussels sprouts. You could also mix nuts into the recipe with the bacon. Pine nuts or walnuts would work nicely. Lastly, try sprinkling some parmesan cheese over the top to melt with the bacon. You could also use a mix of cheddar, parmesan, Swiss, or any other cheese you'd like.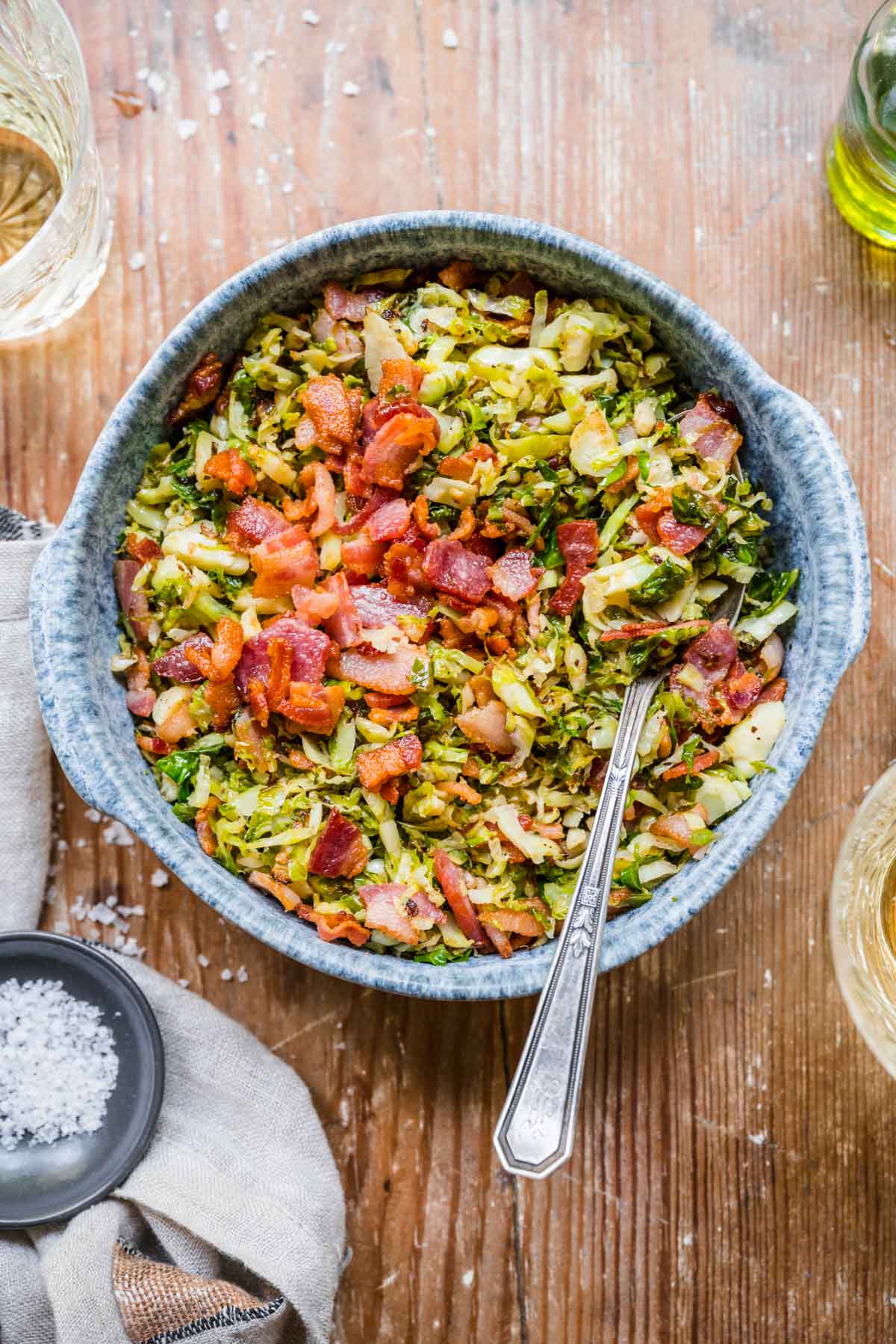 Holiday Main Dishes
Serving Ideas
Brussels Sprouts with Bacon should be served hot. It makes a great dish to serve alongside chicken recipes as the flavor of the bacon goes well with chicken. Brussels Sprouts will also taste great with your holiday Turkey, Ham, or Prime Rib. A big batch of Brussels Sprouts would be a great dish to bring to your next potluck. Bacon is always a crowd pleaser!
How to Store Brussels Sprouts with Bacon
Serve: Don't leave this recipe out at room temperature for more than 2 hours.
Store: Once the Brussels Sprouts and Bacon have cooled, you can cover them in plastic wrap or transfer them to another airtight container. They'll stay good in the fridge for about 1 week.
Freeze: You can also freeze Bacon Brussels Sprouts for up to 6 months. Just make sure to seal them tightly in an airtight container.


Ingredients
6

slices

bacon

, diced

1

tablespoon

vegetable oil

1

pound

Brussels sprouts

, shaved

3

cloves

garlic

, minced

1/2

teaspoon

kosher salt

1/4

teaspoon

coarse ground black pepper
Instructions
Rinse Brussels Sprouts, add them to a large microwave-safe bowl, and cover with a wet paper towel.

Microwave for

4-5 minutes

or until crisp and tender.

Add the bacon to a large skillet on medium-high and cook until crisp.

Drain all but 1 tablespoon of grease and add in the vegetable oil.

Add the Brussels sprouts and garlic and stir well.

Season with salt and pepper and cook for

5-6 minutes

until Brussels Sprouts are browned and crispy.

Top with cooked bacon, stir and serve.
Nutrition
Calories:
81
kcal
|
Carbohydrates:
6
g
|
Protein:
5
g
|
Fat:
5
g
|
Saturated Fat:
1
g
|
Polyunsaturated Fat:
2
g
|
Monounsaturated Fat:
2
g
|
Trans Fat:
1
g
|
Cholesterol:
10
mg
|
Sodium:
400
mg
|
Potassium:
267
mg
|
Fiber:
2
g
|
Sugar:
1
g
|
Vitamin A:
428
IU
|
Vitamin C:
49
mg
|
Calcium:
27
mg
|
Iron:
1
mg