Roast Turkey From Frozen is perfect if you forgot to thaw! It takes more time, but you can roast frozen turkey to crispy and tender.
This turkey recipe comes out just as tender and flavorful as a classic Roast Turkey. So don't worry! If it's the morning of Thanksgiving and you still have a frozen turkey, you can still make the Ultimate Holiday Dinner.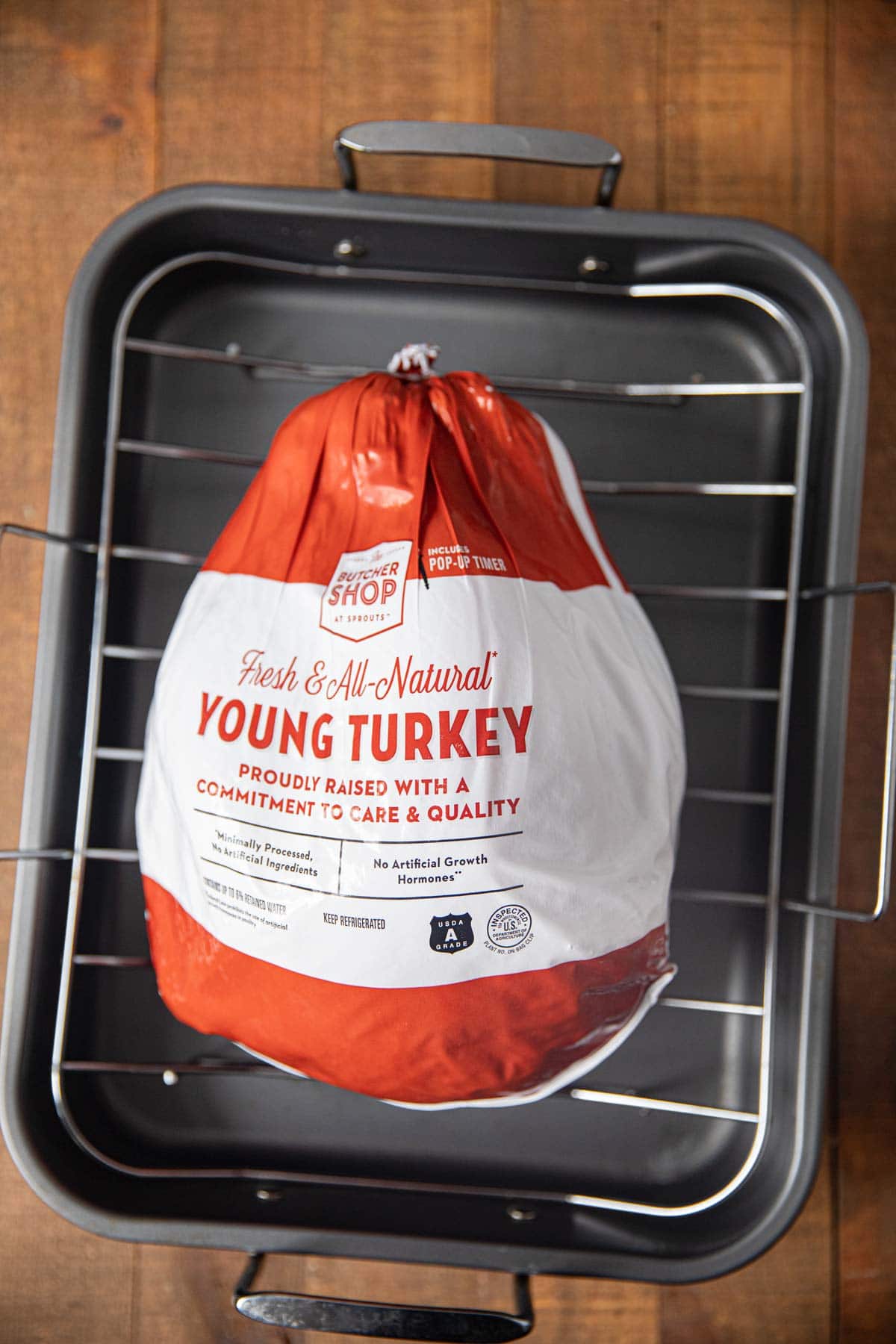 ROAST TURKEY FROM FROZEN
Lot's of folks prep Thanksgiving Dinner well in advance. Whether you're picking out the recipes, brining the turkey, or pre-baking Holiday Dessert Recipes, it's always nice to be on top of things. But sometimes the time just gets away from you. So, if you find yourself up against Thanksgiving and your turkey is still frozen solid, then this recipe is the solution. Even if you've just bought a frozen turkey the morning of, there's no need to panic!
That's right, you can make a delicious roast turkey without defrosting the bird ahead of time. Just pop the turkey in the oven for 2 hours while it's still frozen and the oven will speed up the thaw time. Once it's been defrosted you can clean out the giblets and season the turkey, then just roast it as usual.
You'll be amazed just how great it turns out. The skin is golden brown and crisp and the inside is tender and juicy. It's the perfect main dish for any holiday! Serve it up with your favorite Thanksgiving sides like Cranberry Sauce, Mashed Potatoes, and Green Bean Casserole.
MORE TURKEY RECIPES
HOW TO ROAST TURKEY FROM FROZEN
Prep: Preheat your oven to 325 degrees. Unwrap the turkey and put it on a roasting rack while it's still frozen solid.
Roast: Pop the frozen turkey in the oven while still frozen and roast it for 2 hours.
Season: After roasting the turkey it will be thawed so you can remove the giblets. Then season the turkey with salt and pepper, and rub it down with unsalted butter.
Roast: Put the turkey back into the oven and roast it for 2 to 2:30 hours. Keep an eye on the turkey. If it starts to brown too quickly, then tent it with foil while it is cooking. To make sure the turkey is cooked properly put a thermometer in the thick part of the thigh and make sure the internal temperature is at least 165 degrees.
Serve: Remove the turkey from the oven, and tent it with foil while it rests for 20 minutes. Carve and serve.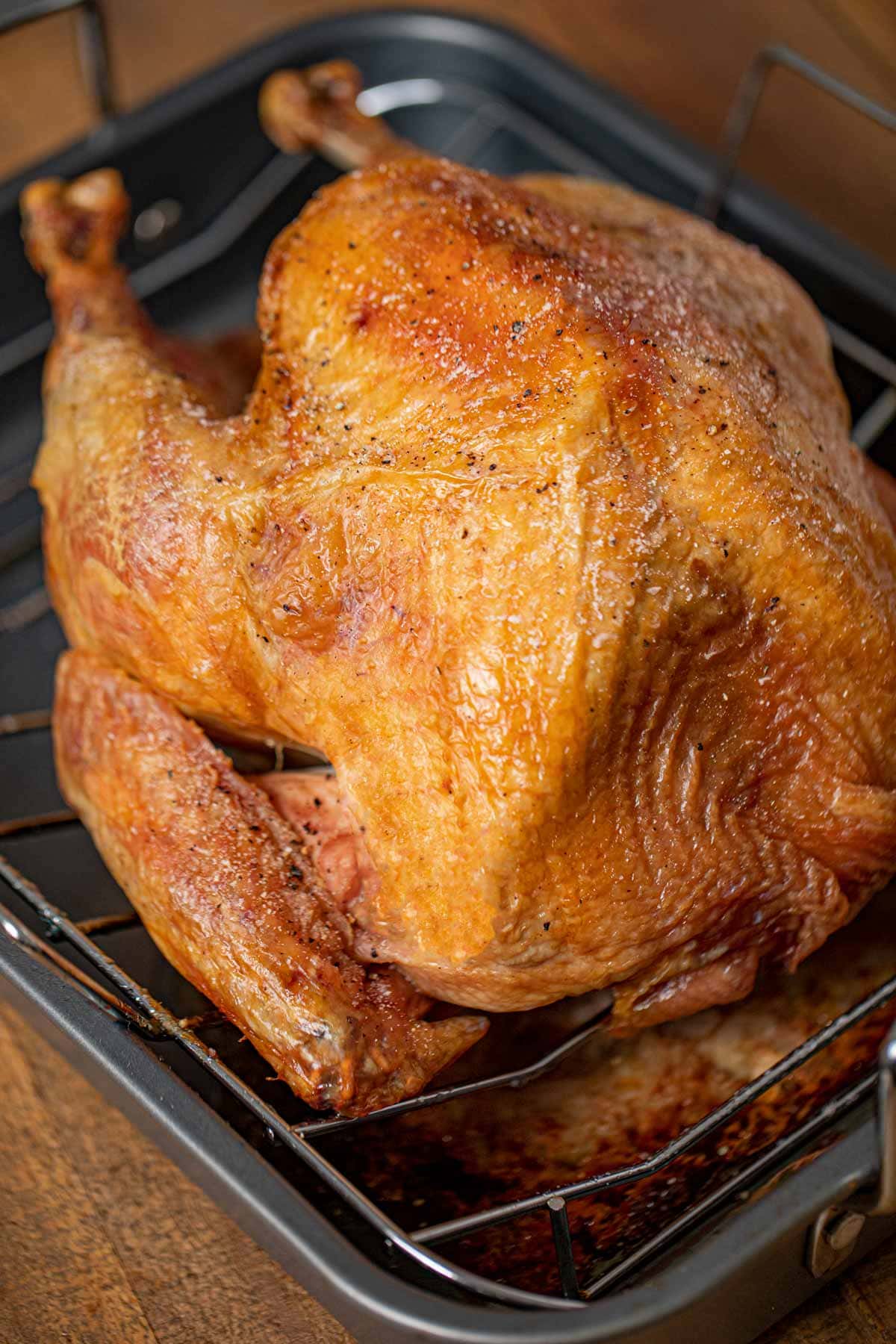 Create a free account to Save Recipes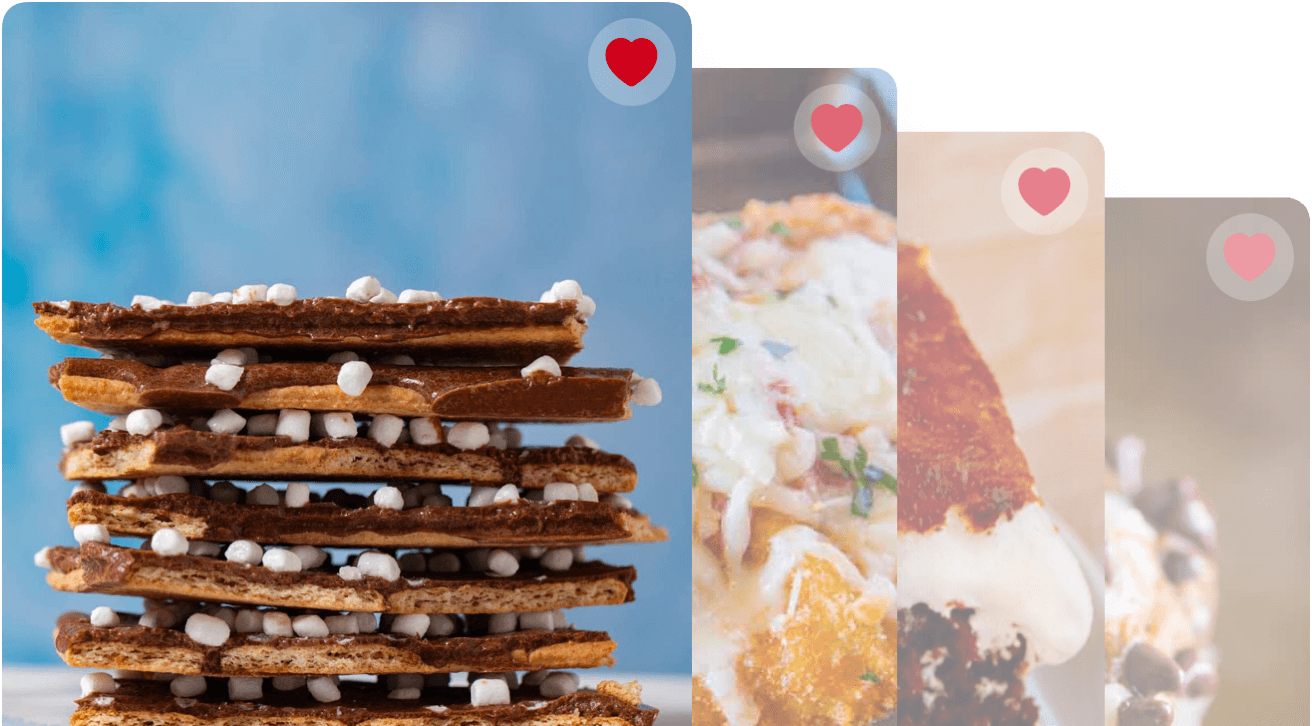 FREQUENTLY ASKED QUESTIONS
What herbs and seasonings can be used for Roast Turkey?
For some delicious flavorings try adding some seasonings and herbs at the same time you rub the butter over the turkey. Flat-leaf parsley, sage, rosemary, thyme, marjoram, or cajun seasoning will all taste great.
Can you use a brown sugar rub on turkey?
For some sweet taste in your holiday main dish try adding some brown sugar at the same time you put butter over the turkey as a dry rub. You can mix it with salt, pepper, and other seasonings.
What should I put inside the turkey cavity when roasting?
Try putting some different ingredients in the turkey cavity. Celery, onions, carrots, sliced oranges, apples, or cinnamon sticks will add some nice flavor to the turkey.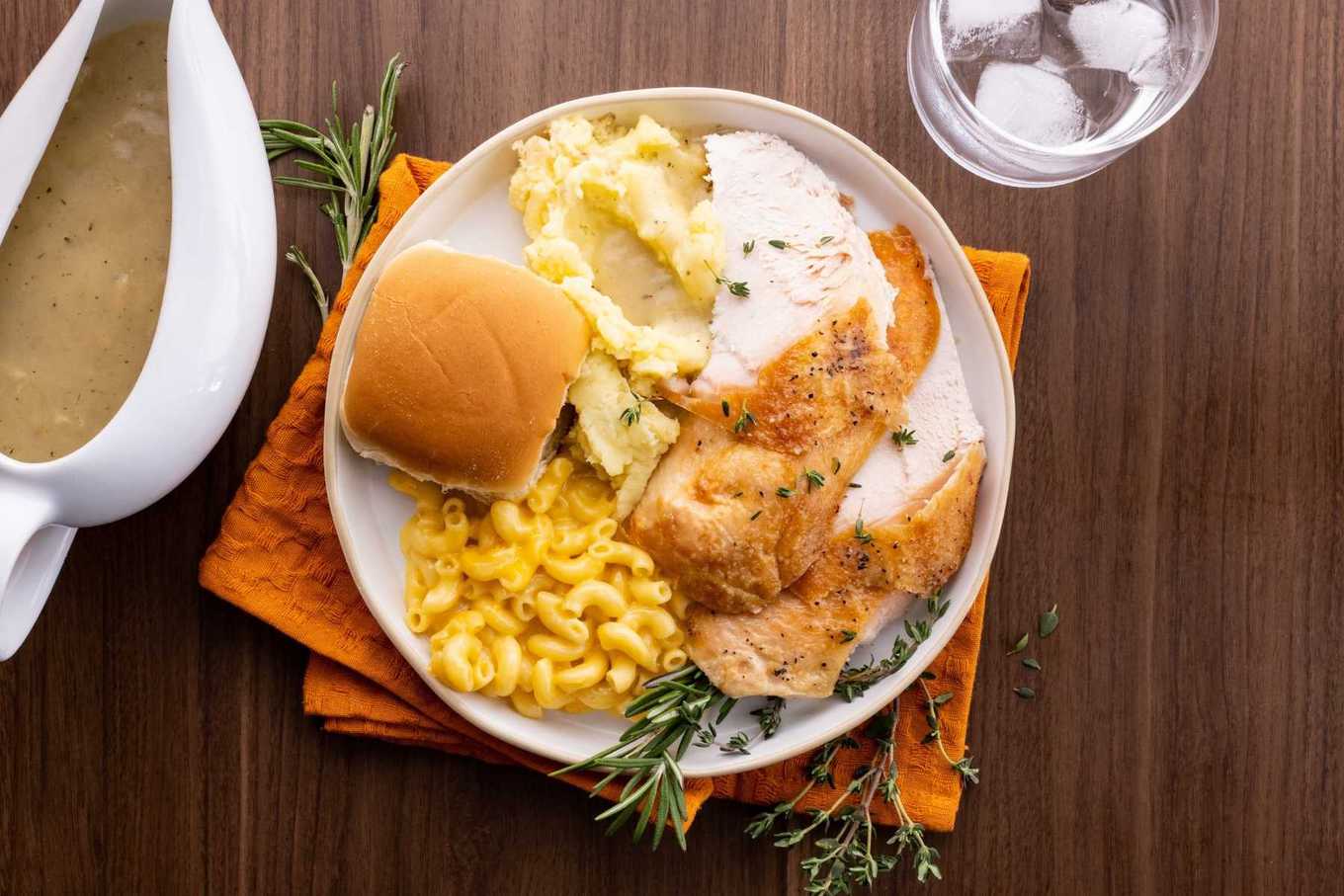 MORE HOLIDAY RECIPES
HOW TO STORE ROAST TURKEY RECIPE
Serve: After taking the Roast Turkey out of the oven and serving, don't leave it at room temperature for more than 2 hours.
Store: Carve up any leftover turkey and store the pieces in a ziplock bag or other airtight container. It will stay good for 3-4 days in the fridge.
Freeze: You can also refreeze the turkey. Seal it in an airtight container and it will keep well for 2-3 months. To reheat the frozen turkey let it thaw in the fridge, then pop it in the microwave or reheat it in the oven.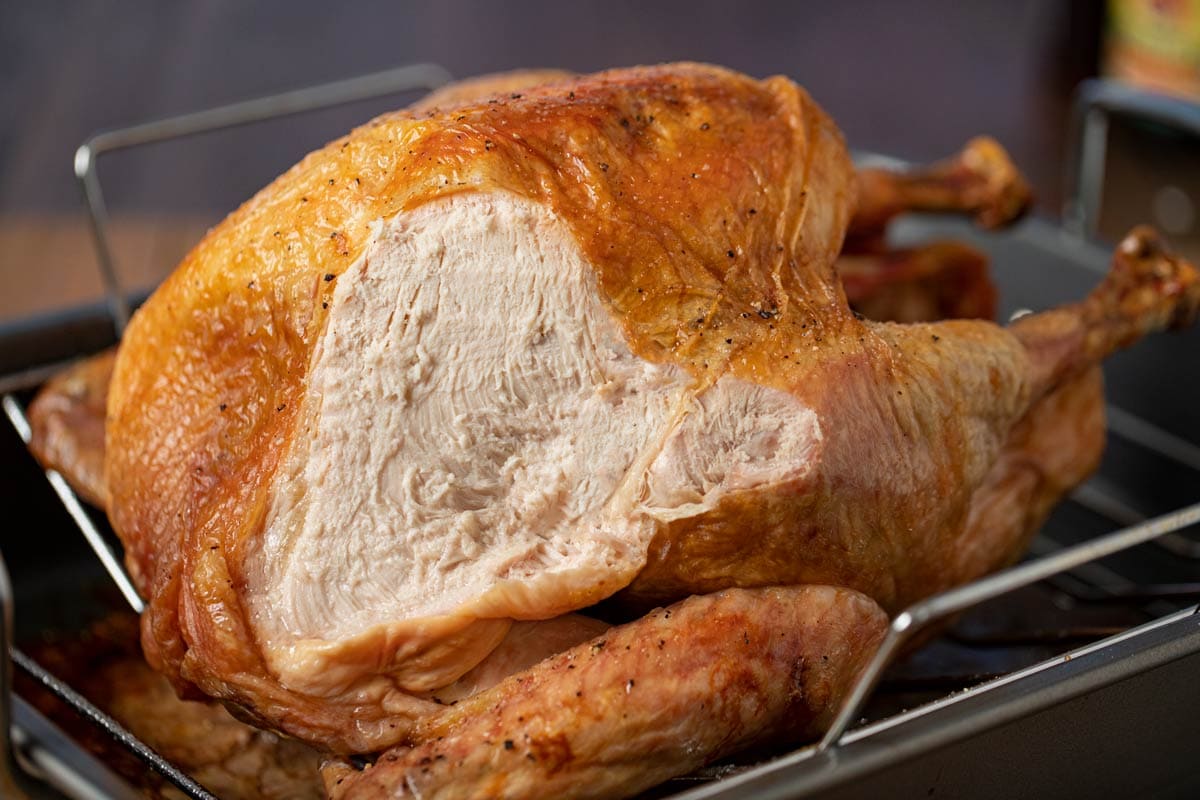 Ingredients
12-14

pound

turkey

6

tablespoons

unsalted butter

2

teaspoons

kosher salt

1/2

teaspoon

coarse ground black pepper
Instructions
Pre-heat oven to 325 degrees.

Remove turkey wrapping and place the solid frozen turkey on a roasting rack.

Remove the giblets and season with salt and pepper.

Rub with unsalted butter.

Put back in the oven and roast for

2 to 2:30

hours until the thickest part of the thigh reads at 165 degrees.

If the turkey browns too quickly, tent with foil while it continues to cook.

Remove from oven, tent with foil, and let rest for

20 minutes

before serving.
Nutrition
Calories:
378
kcal
|
Carbohydrates:
1
g
|
Protein:
52
g
|
Fat:
18
g
|
Saturated Fat:
6
g
|
Cholesterol:
185
mg
|
Sodium:
562
mg
|
Potassium:
541
mg
|
Fiber:
1
g
|
Sugar:
1
g
|
Vitamin A:
266
IU
|
Calcium:
28
mg
|
Iron:
2
mg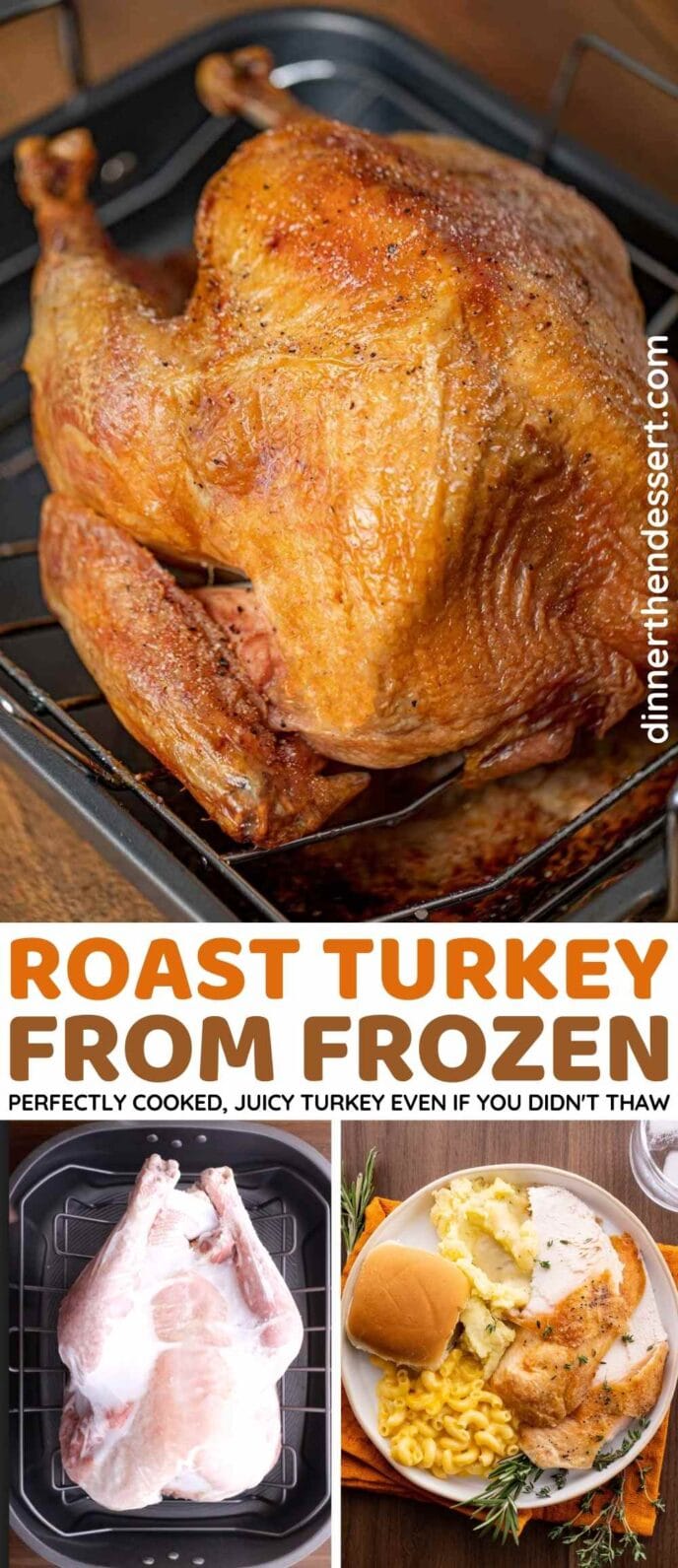 Photos used in a previous version of this post.