HoneyBaked Ham (Copycat)
This post may contain affiliate links. Read my disclosure policy here.
HoneyBaked Ham (Copycat) made with honey, sugar and delicious spices is crispy, sweet, smoky and delicious like your favorite ham without the price tag!
The PERFECT HoneyBaked Ham Copycat
HoneyBaked Ham was one of the most classic holiday memories I had as a kid (other than the day after Thanksgiving tree buying). We would call in the order for the ham and I couldn't wait to go to the store with my mom to get that beautiful wrapped ham. No matter what else was on the tables of food, everyone would go straight to the ham.
I still love Honeybaked Hams and they even have a HoneyBaked turkey breast too. The thing I'm not a huge fan of now? The price and the lines. As a kid I never worried about the cost, and apparently I loved the lines.
This ham was just over 9 pounds which would've cost me almost $80 had I ordered it. I paid $15 for mine including all the ingredients to prepare it and it only took about 10 minutes of active work.
As a food blogger we celebrate holiday foods earlier than most people so we had people over for Christmas dinner two weeks ago to enjoy this meal and they all requested we make it again for our holiday parties (that happen on the actual holidays, haha).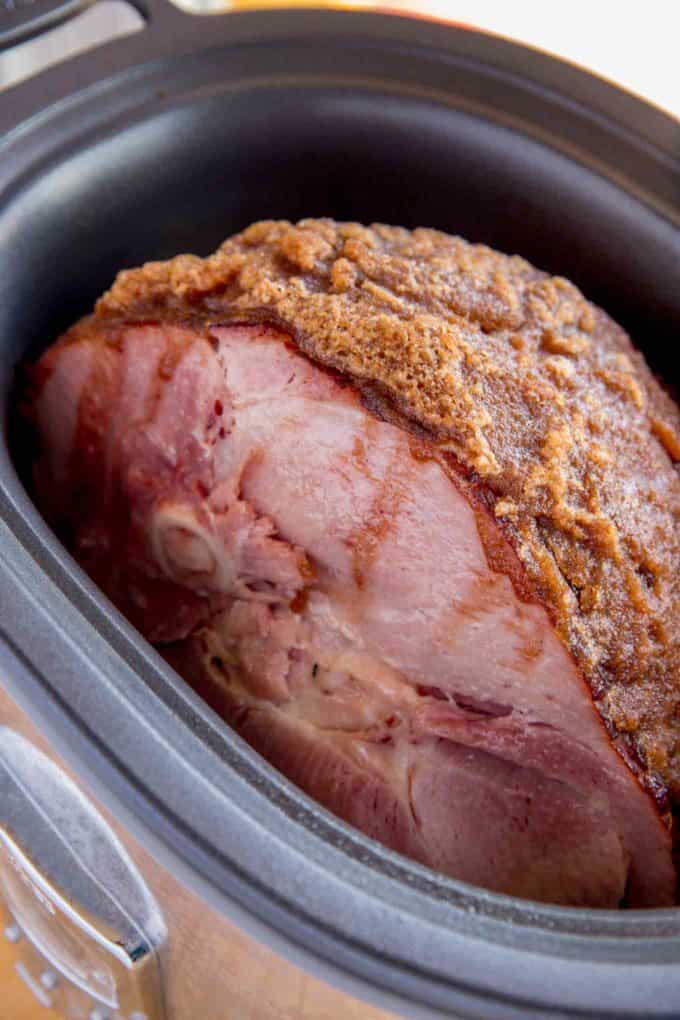 Tips for making this HoneyBaked Ham Copycat:
Carefully place the ham into your slow cooker. If it is too big for your slow cooker trim the bottom of the ham as needed.
Dry the top of the ham well with a paper towel so the honey you add to the top adheres best.
Fan out the slices a bit when adding the honey so it gets between the slices, then you can press it back together before cooking.
Don't let the topping boil longer than written, the less liquid the harder it will be to pour evenly over the ham and the drier the topping will be when cooked.
If you want each slice to have topping fan out the slices a bit as soon as it comes out of the oven (with a fork! Don't burn your fingers on the sugar).
Don't forget you will probably have a lot left over. May I humbly recommend my Slow Cooker Ham and Potato Soup or a Slow Cooker Ham and Bean Soup for any leftovers you may have? Make the slow cooker do all the heavy lifting!
MY OTHER RECIPES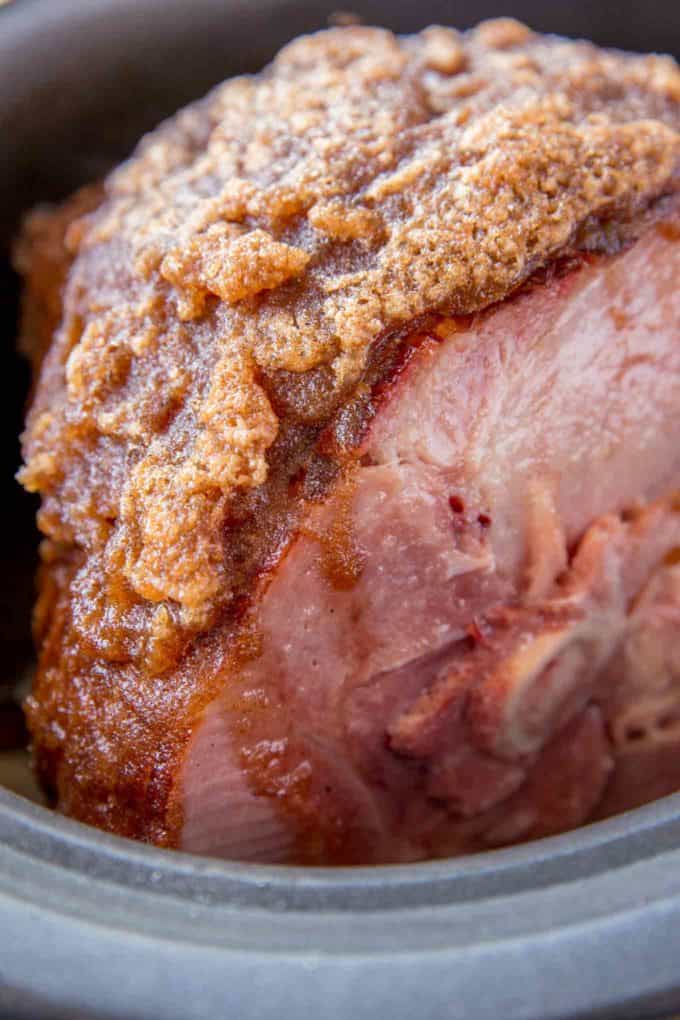 Does HoneyBaked Ham use honey in the ham? Yes, but they use a powdered honey (which I have and tried) but for the purposes of a side by side taste comparison you can make this dish taste EXACTLY the same without the powdered honey.
How do you prepare honey baked ham? In the slow cooker you cook on low for 3 hours before glazing and broiling.
How do you cook a Honey Baked Ham in a oven? Put in a large covered dutch oven at 225 degrees for 3 hours before glazing and broiling.
How do you glaze a precooked ham? Warm the ham in the oven or slow cooker for 3 hours before adding on the glaze and broiling.
But what about the blowtorches? Yes, to be authentic, you'd add the glaze then torch it onto the ham. I own several torches for kitchen use, I tested it with the torch and what I can tell you is the added risk does not outweigh the added flavor. The broiler is your friend here, avoid the torch. If you do use the torch I would caution against using it outdoors. Wind, when working with a torch, can create an unsafe situation. I feel like I should just mention this again, I highly recommend the broiler method.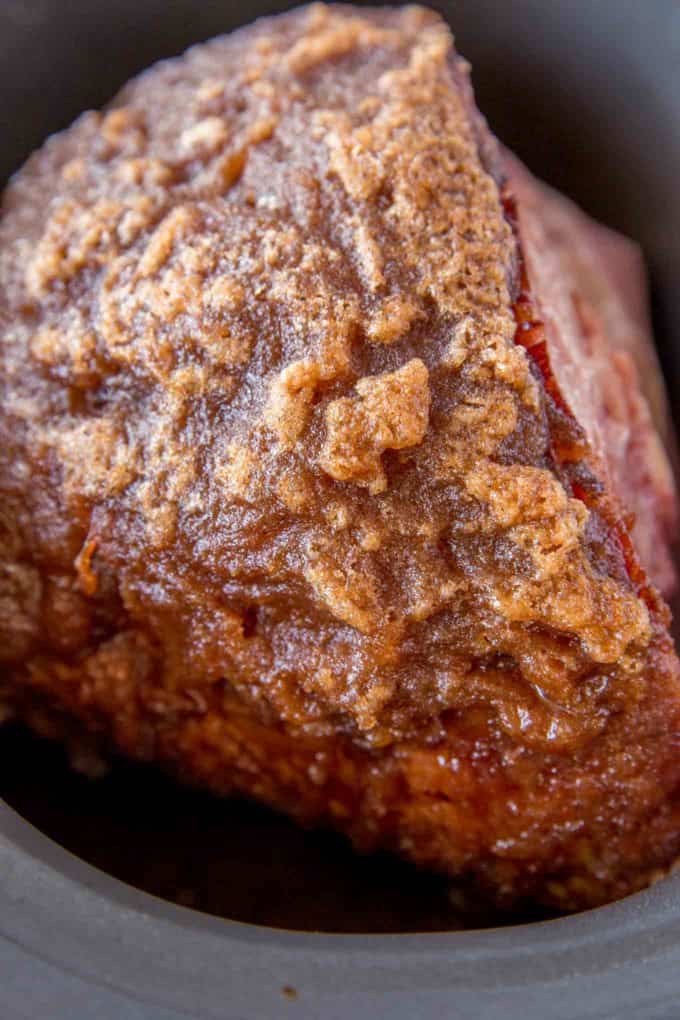 Looking for more side dishes?
Tools used in the making of this HoneyBaked Ham Copycat:
Aluminum Insert Slow Cooker: This recipe was made in this slow cooker. This allows for the ham to be caramelized in the same slow cooker it cooked in.
AllSpice Spice Rack: I use this spice rack and fill up the bottles with freshly purchased spices.
Honey: The best deal on honey you're going to find online that you know for sure is real honey, only $4 a pound. Or buy it in the store for even less!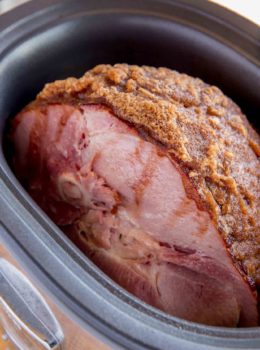 HoneyBaked Ham (Copycat)
HoneyBaked Ham (Copycat) made with honey, sugar and delicious spices is crispy, sweet, smoky and delicious like your favorite ham without the price tag!
Ingredients:
8-9 pound pre-cooked ham, bone-in and spiral sliced
2 tablespoons honey
2 cups white granulated sugar
1 teaspoon onion powder
1 teaspoon cinnamon
1 teaspoon nutmeg
1/2 teaspoon ground ginger
1/2 teaspoon ground clove
1/2 teaspoon paprika
Directions:
Put the ham in the slow cooker (with aluminum insert) and drizzle with honey.
Cook on low for 3 hours.
Preheat the oven to broil.
In a saucepan add the sugar, onion powder, cinnamon, nutmeg, ginger, clove, paprika and 6 tablespoons of liquid from the bottom of the slow cooker.
Heat on high heat, to a rolling boil and boil for 1 minute.
Pour half the topping onto the skin side of the ham.
Put the aluminum insert (if you don't have one with an aluminum insert, remove the ham to a cookie sheet and use that in the oven) in the oven.
With the door open watch for bubbling and when it starts to inflate a little and get bubbly (20-30 seconds), pull it out of the oven.
Pour over the remaining glaze and cook for another 20-30 seconds.
If you want the slices to be glazed individually Pull them apart before the sugar sets into a crust.
You can serve warm, room temperature or cold.
Nutrition Information
Yield: 16 servings, Serving Size: 2 ounces
Amount Per Serving:
Calories: 120 Calories
All images and text ©
Made this recipe?
Show me what you made on Instagram or Facebook and tag me at @DinnerthenDessert or hashtag it at #dinnerthendessert.
Dinner, then Dessert, Inc. owns the copyright on all images and text and does not allow for its original recipes and pictures to be reproduced anywhere other than at this site unless authorization is given. If you enjoyed the recipe and would like to publish it on your own site, please re-write it in your own words, and link back to my site and recipe page. Read my disclosure and copyright policy. This post may contain affiliate links.