HoneyBaked Ham (Copycat) made with honey, sugar, and delicious spices is crispy, sweet, smoky, and delicious without the price tag!
This recipe falls under the beloved Holiday Dinner Recipes category. Nothing complements a special occasion better than a juicy, perfectly glazed ham. Similar star dishes that shine at your holiday dinner could be the classic German Sauerbraten, the delicious Stuffed Leg of Lamb, and the Ultimate Beef Wellington.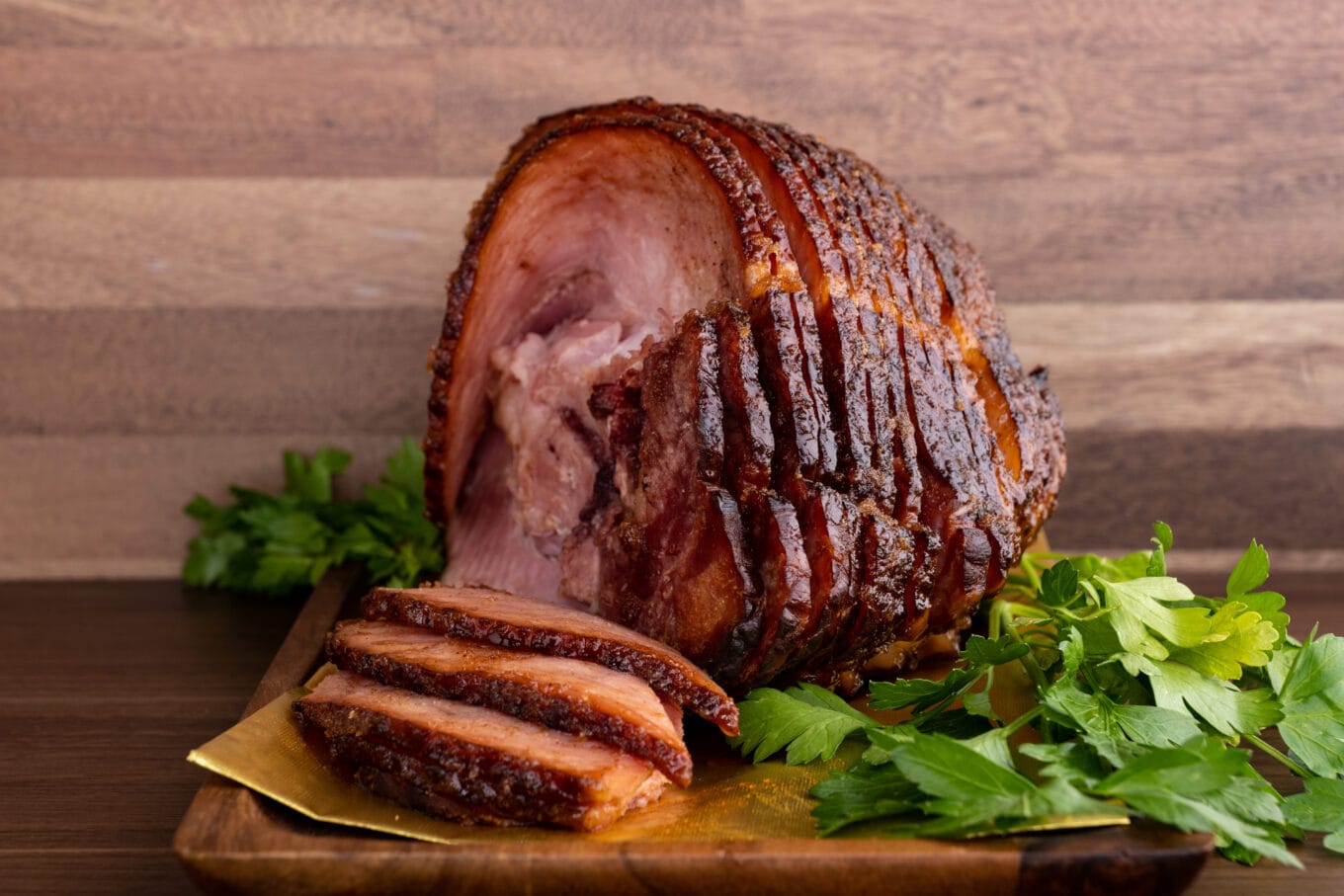 The Honey Baked Ham recipe we're showcasing will surely tantalize your taste buds. This dish is not only incredibly delicious, with its savory ham melting under a sweet, slightly spiced glaze, but it's also surprisingly easy to prepare. The success of this dish relies on the unique blend of spices including cinnamon, nutmeg, ginger, and clove, creating a symphony of sweet and smoky flavors that elevates the humble ham to a gourmet delight with perfect balance.
There's a charming nostalgia attached to this Honey Baked Ham, a dish often associated with holiday gatherings, festive moods, and heart-warming family meals. Moreover, the main ingredient—a pre-cooked, bone-in, spiral-sliced ham—makes it remarkably easy to prepare. So, even if you're not an experienced cook, you can present this fantastic centerpiece at your next holiday meal.
A unique aspect of this recipe is the combination of spices and honey glaze. This blend introduces a sweet, warm, and slightly spicy flavor profile that perfectly complements the savory ham. The method of broiling the glaze onto the ham ensures a crispy, caramelized exterior that contrasts beautifully with the juicy interior.
A big plus is that this dish can be served warm, at room temperature, or even cold, making it very versatile. Additionally, it pairs well with a range of side dishes. If you're looking for a perfect side to accompany this Honey Baked Ham, consider trying our Cheesy Garlic Scalloped Potatoes. Whether it's a holiday feast or a special Sunday dinner, honey-glazed hams will make any meal a memorable one. Enjoy this sweet and savory delight!
How to Make HoneyBaked Ham
Preparing a homemade Honey Baked Ham at home might sound daunting, but with this straightforward recipe, you can recreate the magic in your kitchen. By following these steps and tips, you'll be sure to serve a Honey Baked Ham that's as delicious as it is impressive. See the recipe card for more details. Check it out!
Step One: Begin by placing your pre-cooked ham in the slow cooker or crock pot and drizzling it with honey. Dry the top of the ham well with a paper towel so the honey you add to the top adheres best. Fan out the slices a bit when adding the honey so it gets between the slices, then you can press it back together before cooking.
Step Two: Allow the ham to cook on low for 2-3 hours. A good rule of thumb is bake for about 15 minutes per pound,
Step Three: While the ham is cooking, preheat your oven to broil and prepare the glaze.
Step Four: The glaze is made by combining sugar, onion powder, cinnamon, nutmeg, ginger, clove, paprika, and some liquid from the slow cooker.
Step Five: This mixture is then brought to a gentle simmer and poured over the cooked ham. Don't let the topping boil longer than written, the less liquid the harder it will be to pour evenly over the ham and the drier the topping will be when cooked.
Step Six: The ham is finally placed under the broiler to allow the glaze to caramelize and bubble, creating that irresistible HoneyBaked crust.
Frequently Asked Questions
Can I use a different type of ham for this recipe?
Yes, although a bone-in, spiral-sliced ham is recommended for the best flavor and ease of serving, you can also use a boneless ham.
Can I use brown sugar instead of white sugar for the glaze?
Yes, brown sugar will give a slightly more molasses-like flavor to your glaze.
Can I use fresh spices instead of ground?
Ground spices are preferred for this particular glaze as they combine more smoothly, but fresh spices can be used as well
Does the original HoneyBaked Ham use real honey in the ham?
Yes, but they use a powdered honey mixture. For the purposes of a side-by-side taste comparison, you can make this dish taste EXACTLY the same without powdered honey.
How do you cook a Honey Baked Ham in an oven?
Put in a large covered Dutch oven at 225 degrees for 3 hours before glazing and broiling.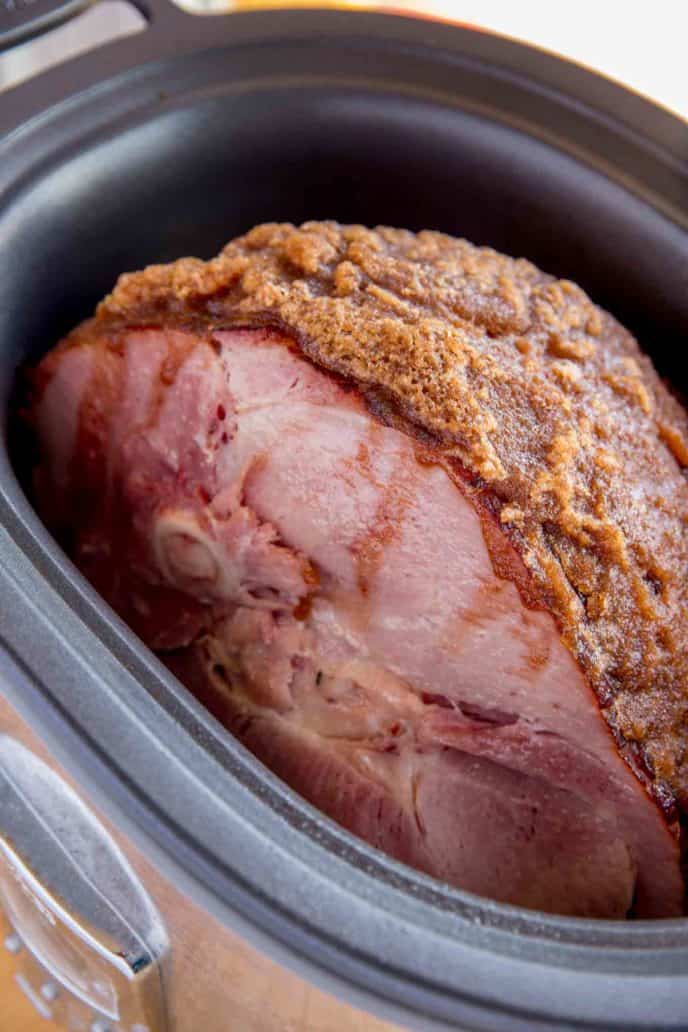 Create a free account to

Save Recipes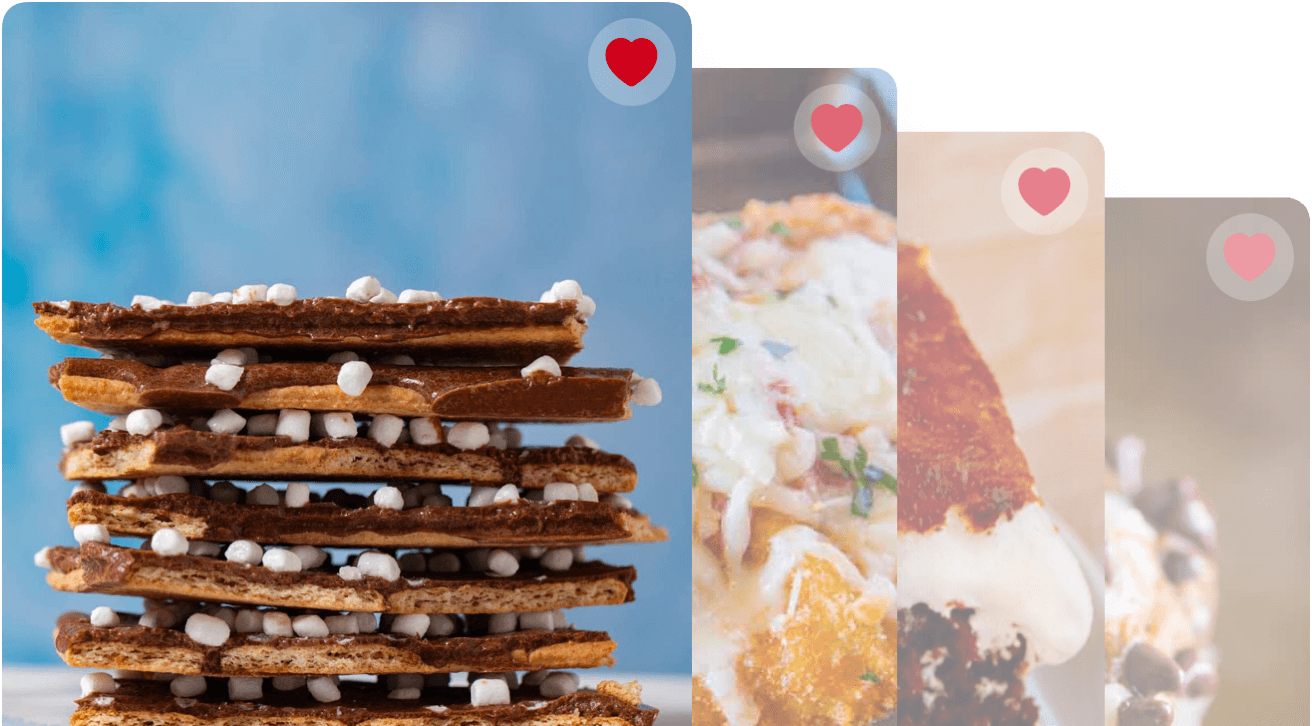 Key Ingredients in HoneyBaked Ham
This delightful HoneyBaked Ham recipe is easy to make, thanks to its minimal and easily accessible ingredients. The unique blend of spices and honey gives the ham a savory-sweet profile, making it a crowd-pleaser.
Ham: A pre-cooked, bone-in, spiral-sliced ham is the star of this dish. The bone imparts additional flavor to the ham during the cooking process, while the spiral slicing makes serving a breeze. We're using an 8-10 pound ham. You can use two 4-5 pound hams as well. If it's 10-17 pounds, you might want to be sure to cook it up to an hour longer. Carefully place the ham into your slow cooker. If it is too big for your slow cooker trim the bottom of the ham as needed.
Honey: The honey adds a touch of sweetness and helps the sugar-based glaze adhere to the ham, resulting in a beautifully caramelized crust. You can use the normal honey that you have at home. 
Sugar: White granulated sugar forms the base of the glaze. It caramelizes under the broiler, creating a wonderfully crisp and sweet exterior to the ham.
Spices: The blend of onion powder, cinnamon, nutmeg, ginger, clove, and paprika gives the glaze a complex flavor that sets this HoneyBaked Ham apart.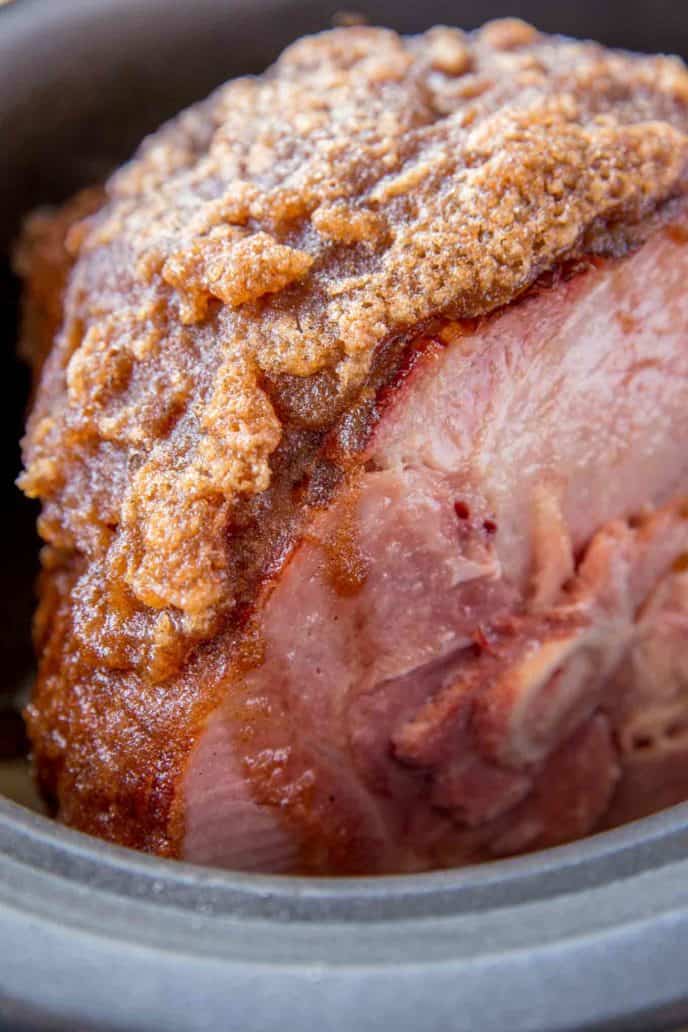 Can HoneyBaked Ham Be Made Ahead of Time?
Absolutely! This is one of the reasons why it's such a favorite for holiday meals. You can cook and glaze the ham a day before serving. Just ensure it is properly wrapped and refrigerated. When ready to serve, if you prefer it warm, gently reheat it in the oven at a low temperature for 15- 20 minutes – about 5 minutes of baking per pound to not dry it out. Adjust as needed. 
Substitutions in HoneyBaked Ham
Ham: While a bone-in, spiral-sliced ham is ideal, a boneless ham or even a picnic shoulder can be used if necessary. 
Honey: If honey is not available, you can substitute it with maple syrup or agave nectar. You can also use a full cup honey if you prefer not to use white sugar and would like extra glaze. The crust consistency might be a bit different if you only use honey.
Spices: If you're missing any of the spices, don't fret. The glaze is flexible and can be made with just a few of the listed spices. Also, allspice can be a suitable replacement for cloves.
Variations on HoneyBaked Ham
HoneyBaked Ham is a classic recipe, but there's always room for a bit of creativity. Depending on your personal preferences, there are several variations you can try.
With Pineapple: Add a tropical touch by adding pineapple rings to the ham before glazing. The sweetness of the pineapple pairs well with the savory ham.
With Brown Sugar Glaze: Substitute the white sugar with brown sugar for a deeper, molasses-like flavor in the glaze.
With Mustard Glaze: Add a tablespoon of Dijon mustard to the glaze for an extra tangy kick.
How to Store HoneyBaked Ham
Serve: HoneyBaked Ham can safely be left at room temperature for up to two hours during serving. Beyond this, it should be refrigerated to prevent bacterial growth.
Store: Leftovers should be tightly wrapped and refrigerated in an airtight container within two hours of cooking. They can be kept in the refrigerator for 3-5 days. Reheat in a preheated oven at 325°F (165°C) until warm, or in slices on the stovetop. 
Freeze: If you have a significant amount of leftovers, consider freezing them. Tightly wrapped in freezer-safe material, cooked ham can be frozen for up to two months. Thaw in the refrigerator and reheat as suggested for stored leftovers.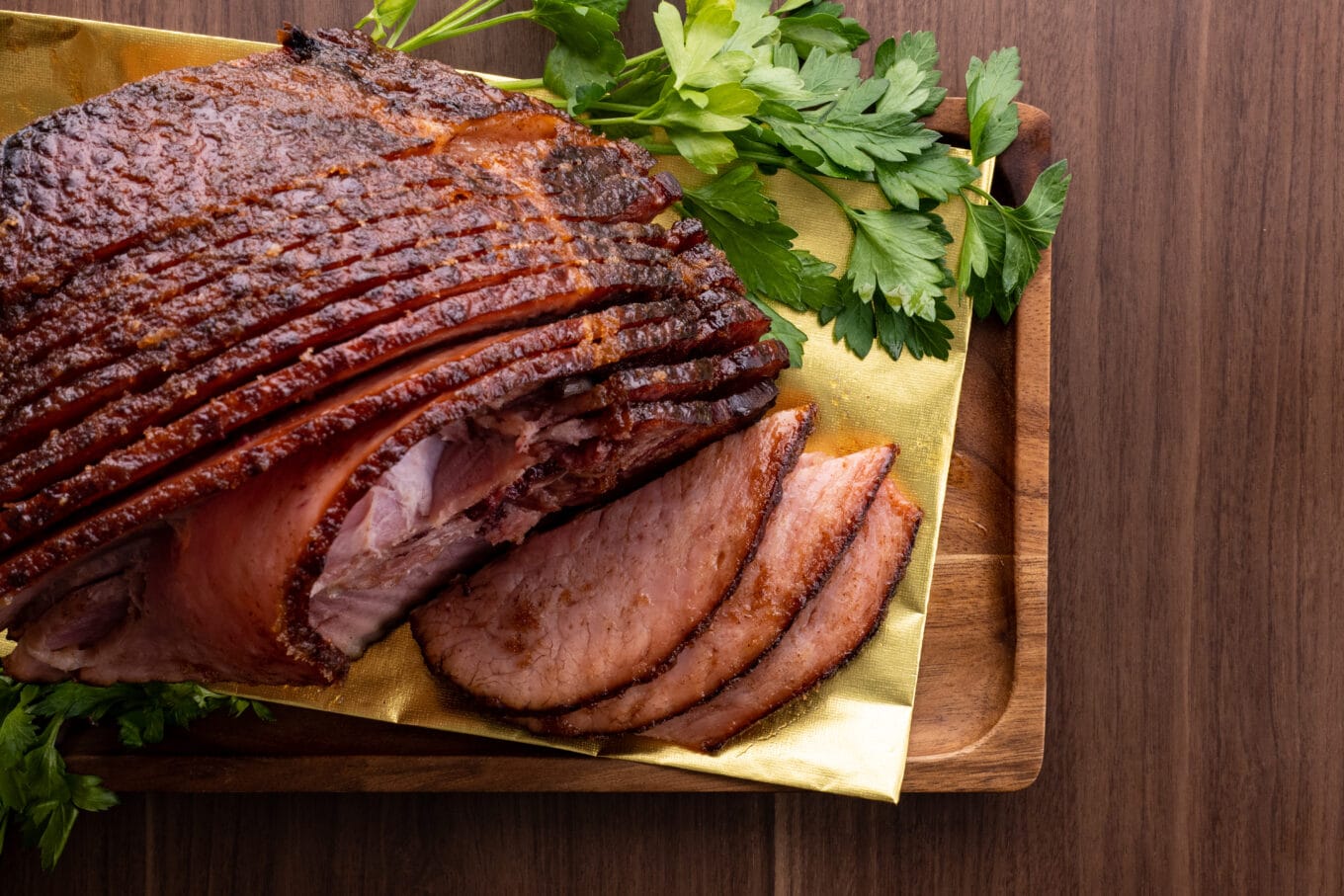 Ingredients
1

pre-cooked ham

8-9 pounds, bone-in and spiral sliced

2

tablespoons

honey

2

cups

sugar

, white granulated

1

teaspoon

onion powder

1

teaspoon

cinnamon

1

teaspoon

nutmeg

1/2

teaspoon

ground ginger

1/2

teaspoon

ground clove

1/2

teaspoon

paprika
Instructions
Put the ham in the slow cooker (with aluminum insert) and drizzle with honey.

Preheat the oven to broil.

In a saucepan add the sugar, onion powder, cinnamon, nutmeg, ginger, clove, paprika and 6 tablespoons of liquid from the bottom of the slow cooker.

Heat on high heat, to a rolling boil and boil for

1 minute

.

Pour half the topping onto the skin side of the ham.

Put the aluminum insert (if you don't have one with an aluminum insert, remove the ham to a cookie sheet and use that in the oven) in the oven.

With the door open watch for bubbling and when it starts to inflate a little and get bubbly (

20-30 seconds

), pull it out of the oven.

Pour over the remaining glaze and cook for another

20-30 seconds

.

If you want the slices to be glazed individually, pull them apart before the sugar sets into a crust.

You can serve warm, room temperature or cold.
Nutrition
Serving:
2
g
|
Calories:
439
kcal
|
Carbohydrates:
18
g
|
Protein:
33
g
|
Fat:
25
g
|
Saturated Fat:
9
g
|
Cholesterol:
94
mg
|
Sodium:
1795
mg
|
Potassium:
432
mg
|
Fiber:
1
g
|
Sugar:
18
g
|
Vitamin A:
21
IU
|
Calcium:
11
mg
|
Iron:
1
mg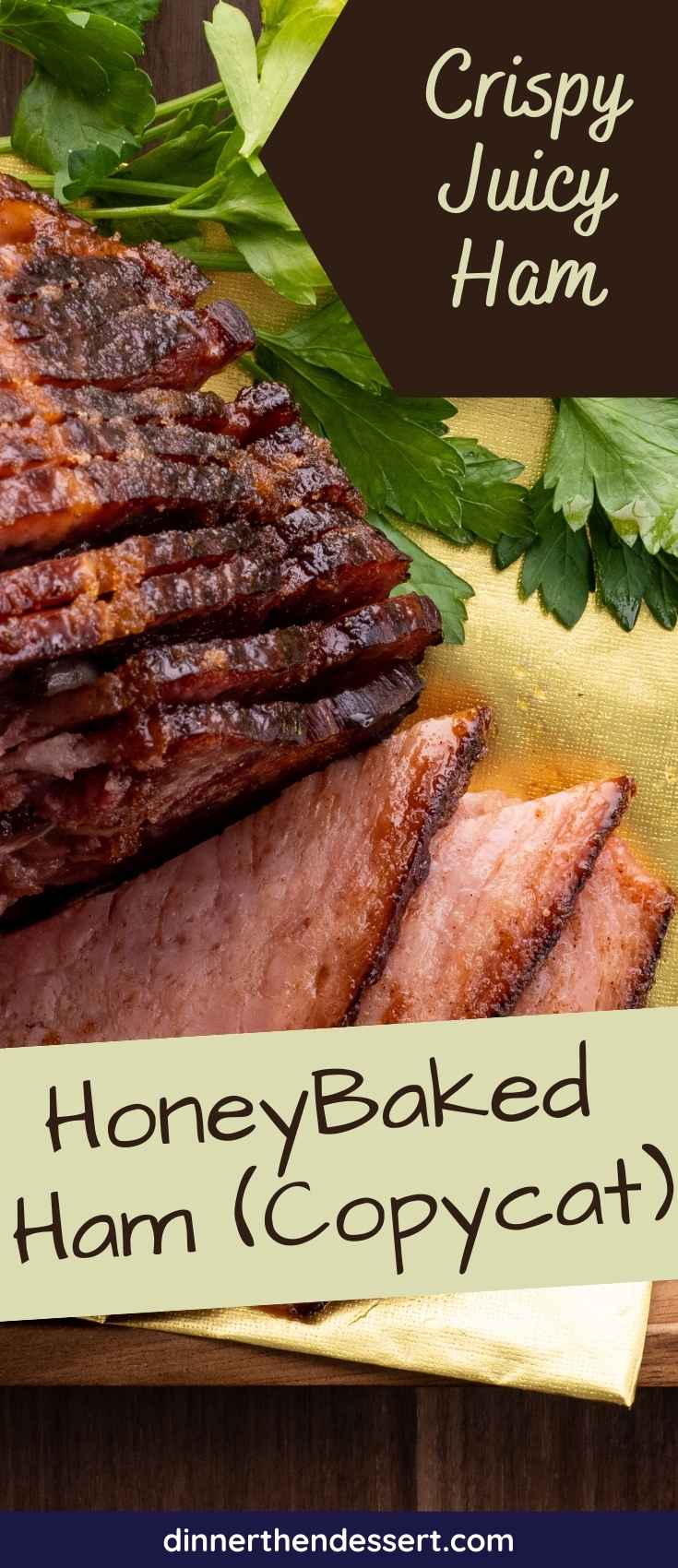 Photos used in a previous version of this post.