Ham and Bean Soup is a fast and easy recipe for leftover ham using ingredients you have on hand, ready in one hour! Slow Cooker and Instant Pot methods too.
Slow Cooker Ham and Potato Soup is one the most loved Soup Recipes. This easy version with beans is another tasty, cozy comfort food for cold winter nights. To diversify your options, you can also try the hearty Chicken Pot Pie Soup and the Creamy Parmesan Garlic Mushroom Chicken!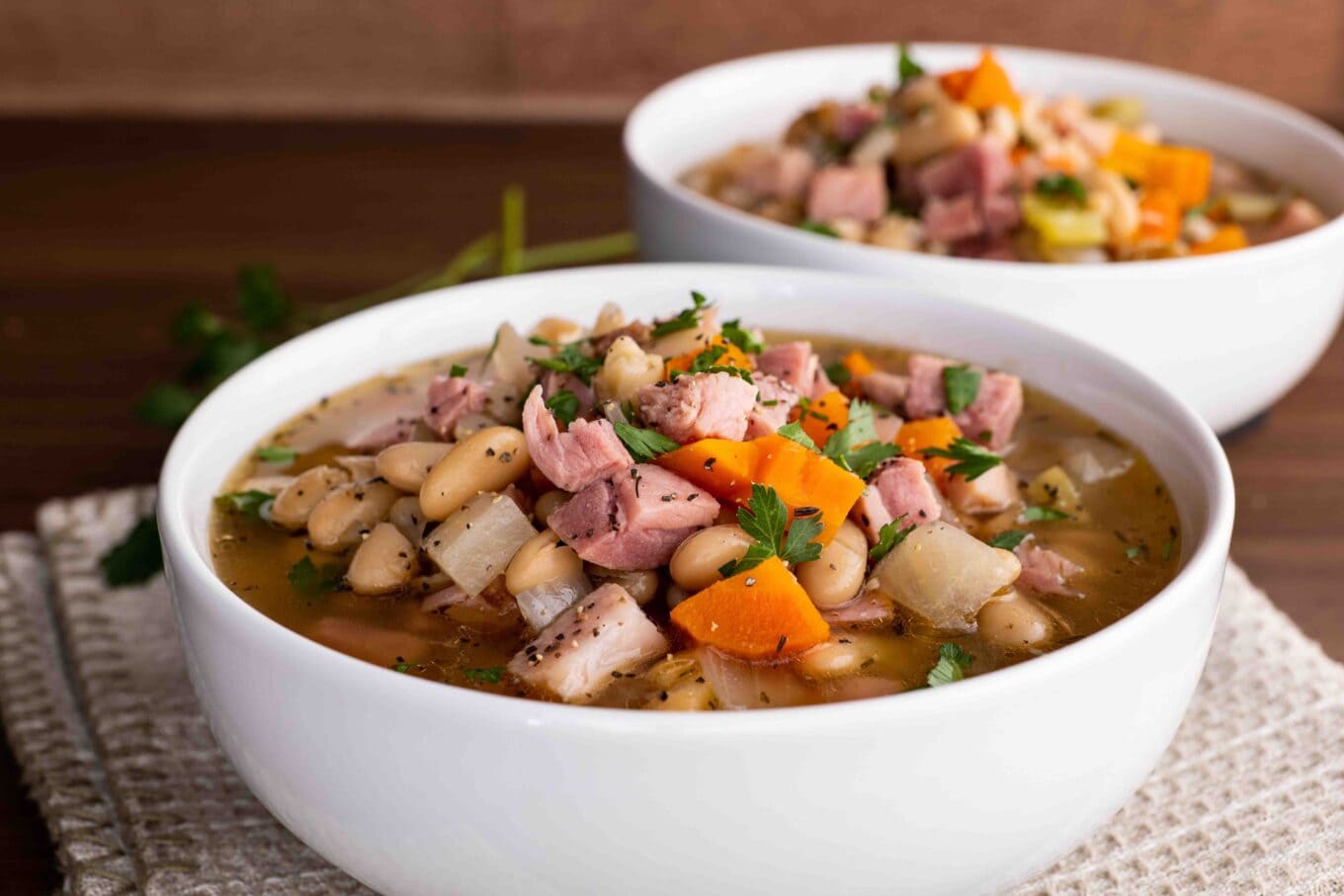 This tasty soup is like our original Slow Cooker Ham and Bean Soup with some slight adjustments and made much faster. Less than an hour total time to make fast! This soup recipe is just as warm and delicious, and it's a great way to use leftover Baked Ham during the holidays.
Ham and Bean Soup is a go-to comfort food all year long, but especially when the nights are cold. It's such an easy recipe with canned beans, cooked ham, sautéed veggies, herbs, and broth. No soaking beans overnight or simmering for hours. If you like the low and slow methods, there are instructions in this post for slow cooking, plus Instant Pot and dried bean variations.
Quick and easy Ham and Bean Soup can be made with leftover bone-in ham or cooked ham from the deli or butcher. Use a thick-cut ham steak or you can get the precut cubed ham. You don't want to use deli slices because they won't give much flavor or texture.
Ham and Bean Soup is a hearty one-pot meal for dinner in less than an hour. It's a great recipe for busy weeknights or when you are exhausted from all your holiday cooking. Bread is all you need to complete your meal so serve Ham and Bean Soup with Dinner Rolls, Cornbread, or Beer Bread.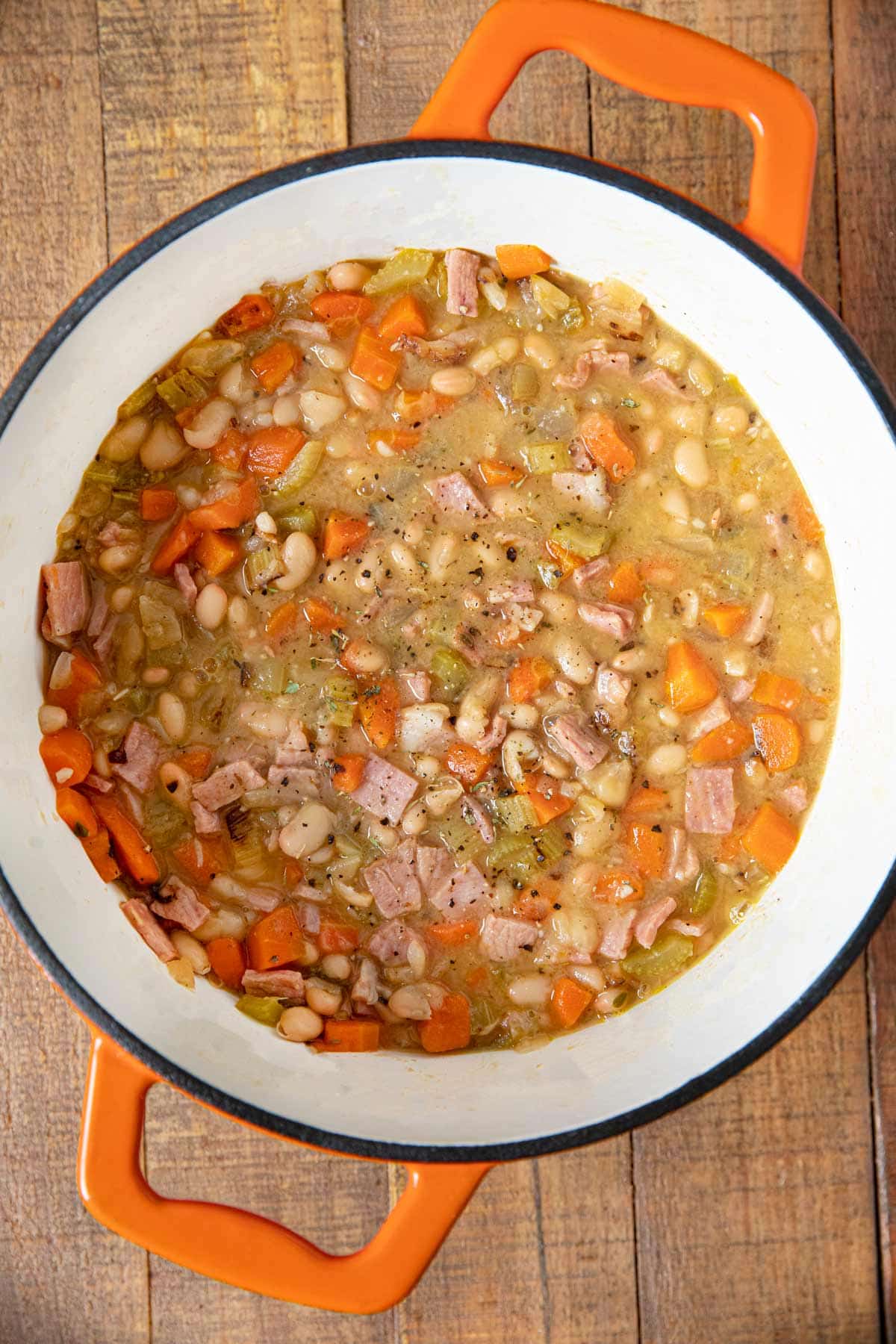 How to Make Ham and Bean Soup
This hearty soup recipe is perfect for home cooks as it requires minimal effort. It's so easy and delicious your family will want you to make it every week! Check it out!
Sauté Vegetables: In a large Dutch oven, melt butter over medium heat. Add diced onion, carrots, and celery. Season with salt and pepper, and cook for 6-8 minutes, stirring occasionally, until onions are translucent. Stir in minced garlic and cook for 1 more minute. Note: Cut your carrots, onions, and celery all about the same size. This makes sautéing and cooking them evenly easier.
Combine Ingredients: Add diced ham, drained and rinsed Cannellini beans, fresh thyme, dried rosemary, bay leaves, and chicken broth. Stir well.
Cook: Increase heat to medium-high and bring the soup to a boil. Then, reduce heat to medium-low and let the soup simmer for 30 minutes.
Serve: Remove the bay leaves and thyme sprig, then serve the soup hot with crusty bread or your preferred side.
Frequently Asked Questions
What type of ham should I use?
Any cooked ham, such as leftover holiday ham or store-bought diced ham, works well in this recipe. Avoid deli slices because they lack the flavor and texture needed for this recipe.
Can I use a different type of bean?
Yes, you can substitute Great Northern beans, pinto beans, or navy beans for Cannellini beans if desired. White beans go great with ham. But if all you have is black beans, you can use them too! 
How can I make this soup vegetarian?
Replace the ham with a vegetarian protein like tofu or tempeh, and use vegetable broth instead of chicken broth. You can also use olive oil instead of unsalted butter. 
How can I thicken the soup?
This Ham and Bean Soup recipe has a thinner broth. For a thicker consistency, remove 1 cup of beans before cooking, mash them, and stir them back into the soup during the simmering process.
Is Ham and Bean Soup salty?
Yes. Ham is naturally salty so wait to season your soup. Once the soup has finished cooking, taste it before adding salt as needed.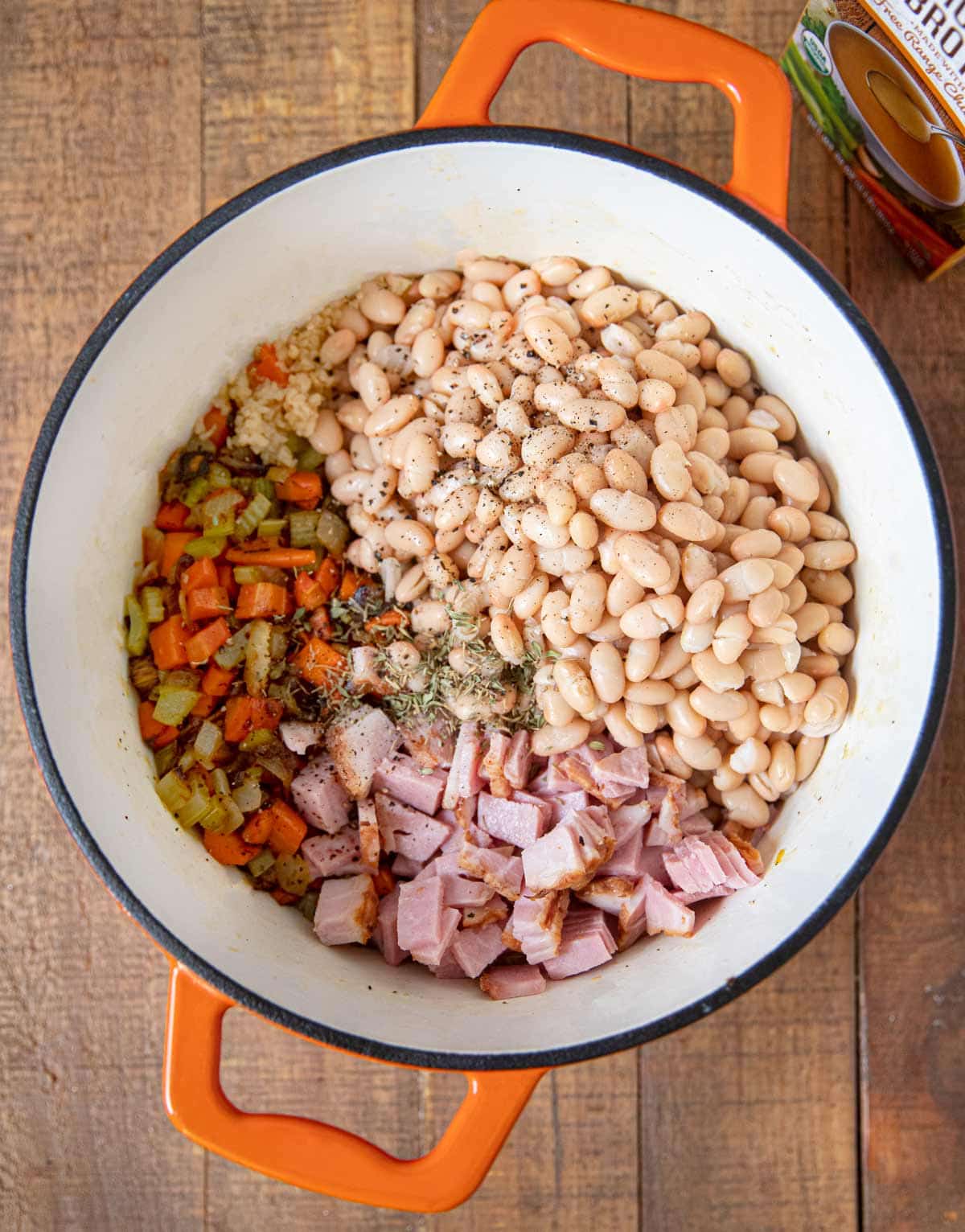 Create a free account to

Save Recipes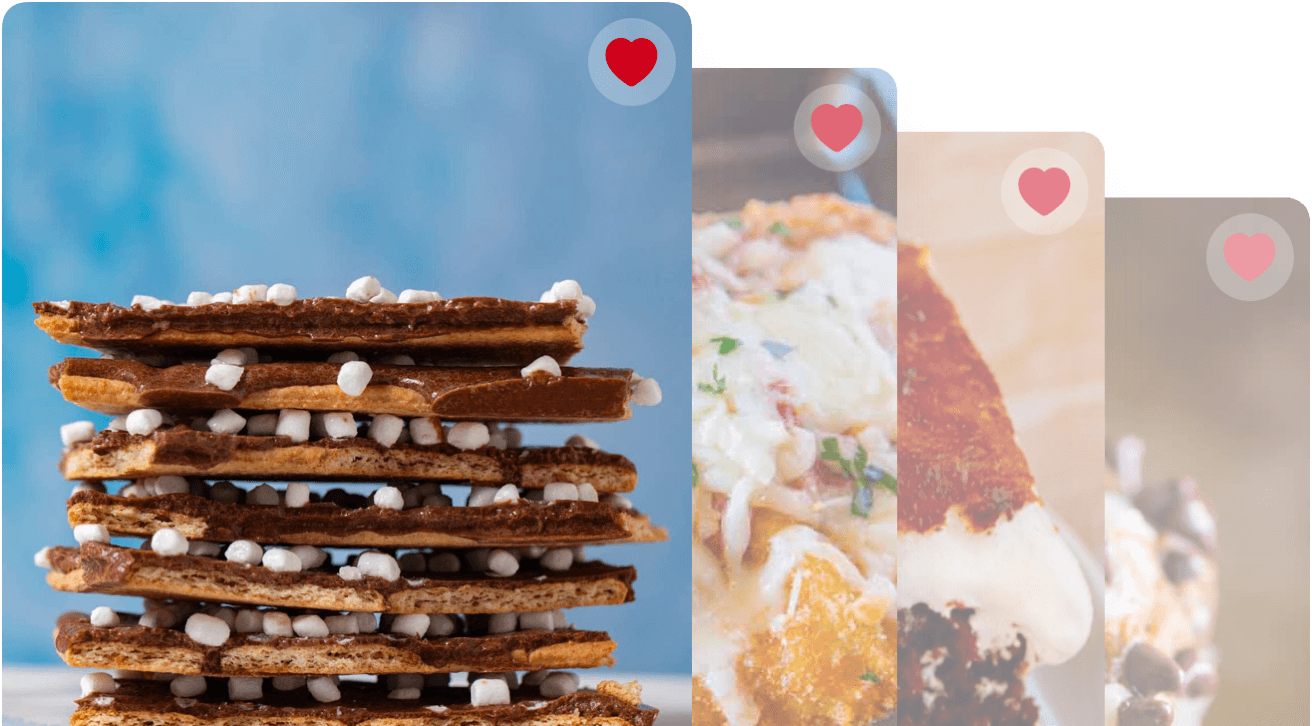 Key Ingredients in Ham and White Bean Soup
This flavorful soup is easy to make, thanks to its simple ingredients which can easily be found at your local grocery store. Check it out!
Unsalted Butter: This is used to sauté the vegetables, providing a rich base for the soup. Ham is salty so be sure that the butter is unsalted. You can always add more salt later.
Vegetables: The classic combination of aromatic vegetables like yellow onion, carrots, and celery enhances the soup's flavor and brings a lot of nutrition.
Ham: Adding diced, cooked ham gives the soup a delicious and savory taste.
Cannellini Beans: These beans provide a creamy texture and are a good source of protein
Herbs: Fresh thyme and dried rosemary contribute to the soup's unique and aromatic flavor profile. And along with bay leaves (also known as laurel leaves), a classic soup ingredient, add incredible depth to the broth.
Chicken Broth: As this is the foundation of the soup, chicken broth provides a rich and savory base. You can also use four cups water if preferred.
Can Ham and White Bean Soup be made ahead of time?
Absolutely! This soup is perfect for meal prepping and can be made ahead of time. To do so, follow the recipe instructions and let the soup cool completely before transferring it to an airtight container. Store the soup in the refrigerator for up to 3 days or freeze it for up to 3 months. When you're ready to enjoy the soup, reheat it on the stovetop over low heat until warmed through. If the soup has thickened while being stored, you can add a little more chicken or vegetable broth to achieve the desired consistency. Serve the reheated soup with a side of crusty bread or your preferred accompaniment for a satisfying meal!
Variations on Ham and Bean Soup
Veggies: Other veggies like spinach, kale, green beans, peas, and zucchini would tasted delicious in this ham soup. You can also add potatoes, sweet potatoes, or squash and cook for about 10-15 minutes longer.
Ham Bone: If you have a leftover ham bone, brown it in a skillet for 3-4 minutes on each side before adding it to bring out the flavor.
Ham Hocks: Ham hocks or ham shanks will add a smoky flavor to your soup! Add a smoked ham hock to the soup with the chopped ham and simmer for an hour or until the meat is falling off the bone.
Ham Broth: For the ultimate hammy Ham and Bean Soup recipe, make ham broth with your ham bone ahead of time. Bring 8 cups of water and a ham bone to boil and then simmer covered for 1-3 hours.
White Beans: White beans like cannellini, navy beans and great northern beans taste the best with ham, but you can use what you have one hand. You can also use dried lentils or canned black-eyed peas without adjusting cook time.
Dry Beans: If you want to use dried beans, soak them overnight covered in water. Drain the water and increase the broth to 8-10 cups. Bring the soup to a boil and simmer for 2-3 hours, or until beans are tender.
Slow Cooker Ham and Bean Soup
In a skillet, melt butter and add onion, carrots, and celery. Sauté until onions are soft, 3-4 minutes.
Add minced garlic and cook until fragrant, about 30 seconds.
Pour onion mixture in a slow cooker.
If using a hambone, brown on both sides 3-4 minutes. Add to crock pot.
Add remaining ingredients to the crock pot, except canned beans*.
Cover with lid and cook on low for 6-8 hours, or on high 3-4 hours.
Add canned beans to the slow cooker and cook on high additional 30 minutes.
*You can add dried beans in the beginning and they will cook with soup. Soak beans overnight before using.
Instant Pot Ham and Bean Soup
Set Instant Pot on Sauté function and cook onion, celery, and carrots in butter 3-4 minutes. If using hambone, cook with onion mixture.
Once onions are soft, add minced garlic and cook until fragrant, about 30 seconds.
Turn Instant Pot off while you add the remaining ingredients.
Secure the lid and seal the valve. Set Instant Pot to Soup function for 20 minutes*.
Naturally release pressure for 10 minutes, then quick release. Stir and serve.
If using dried beans, soak overnight and increase cook time to 30 minutes.
How to Store Ham and Bean Soup
Serve: Ham and Bean Soup can be at room temperature for up to 2 hours. To keep out longer, serve in a crock pot on warm for up to 4 hours, stirring occasionally.
Store: Cool Ham and Bean Soup before placing it in an airtight container and refrigerating for up to 3 days. Reheat on the stovetop over medium heat.
Freeze: Once the soup has cooled completely, freeze it in sealed containers for up to 3 months. Thaw in the refrigerator overnight before reheating on the stovetop.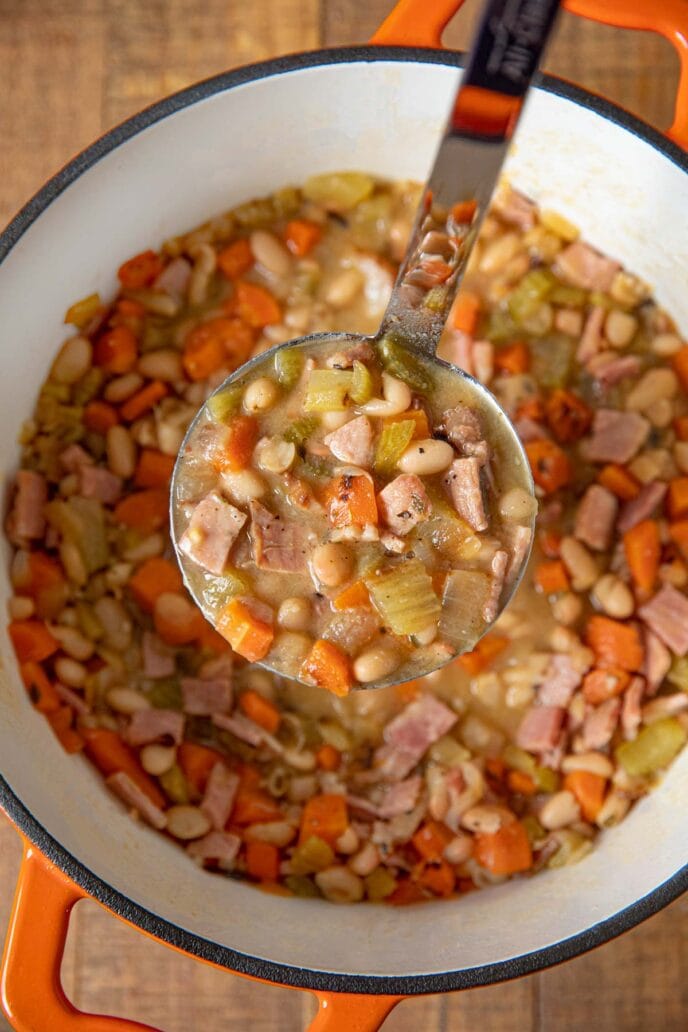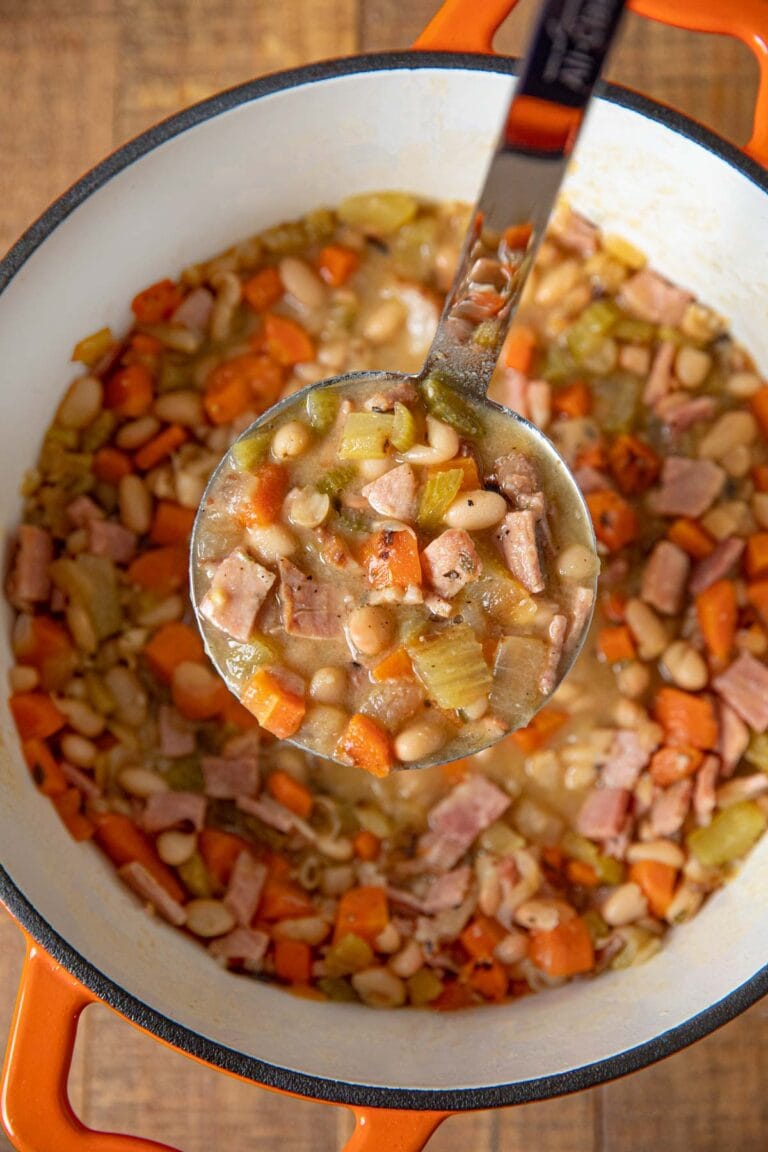 Ingredients
2

tablespoons

unsalted butter

1

yellow onion

, diced

2

carrots

, diced

2

stalks celery

, diced

1

teaspoon

kosher salt

1/2

teaspoon

coarse ground black pepper

3

cloves

garlic

, minced

3

cups

ham

, diced

45

ounces

white Cannellini beans

, drained and rinsed

1

sprig

fresh thyme

1/2

teaspoon

dried rosemary

2

bay leaves

4

cups

chicken broth
Instructions
Add the butter to a large Dutch oven over medium heat with your onion, carrots, celery, salt and pepper.

Cook for

6-8 minutes

, stirring occasionally, until onions are translucent.

Add in the garlic and stir well, cooking for

1 minute

.

Add in the ham, cannelini beans, thyme, rosemary, bay leaves and chicken broth and stir well.

On medium-high heat, bring to a boil, then reduce heat to medium-low and simmer for

30 minutes

.
Nutrition
Calories:
389
kcal
|
Carbohydrates:
50
g
|
Protein:
27
g
|
Fat:
9
g
|
Saturated Fat:
4
g
|
Cholesterol:
51
mg
|
Sodium:
1650
mg
|
Potassium:
1382
mg
|
Fiber:
11
g
|
Sugar:
3
g
|
Vitamin A:
3573
IU
|
Vitamin C:
28
mg
|
Calcium:
187
mg
|
Iron:
7
mg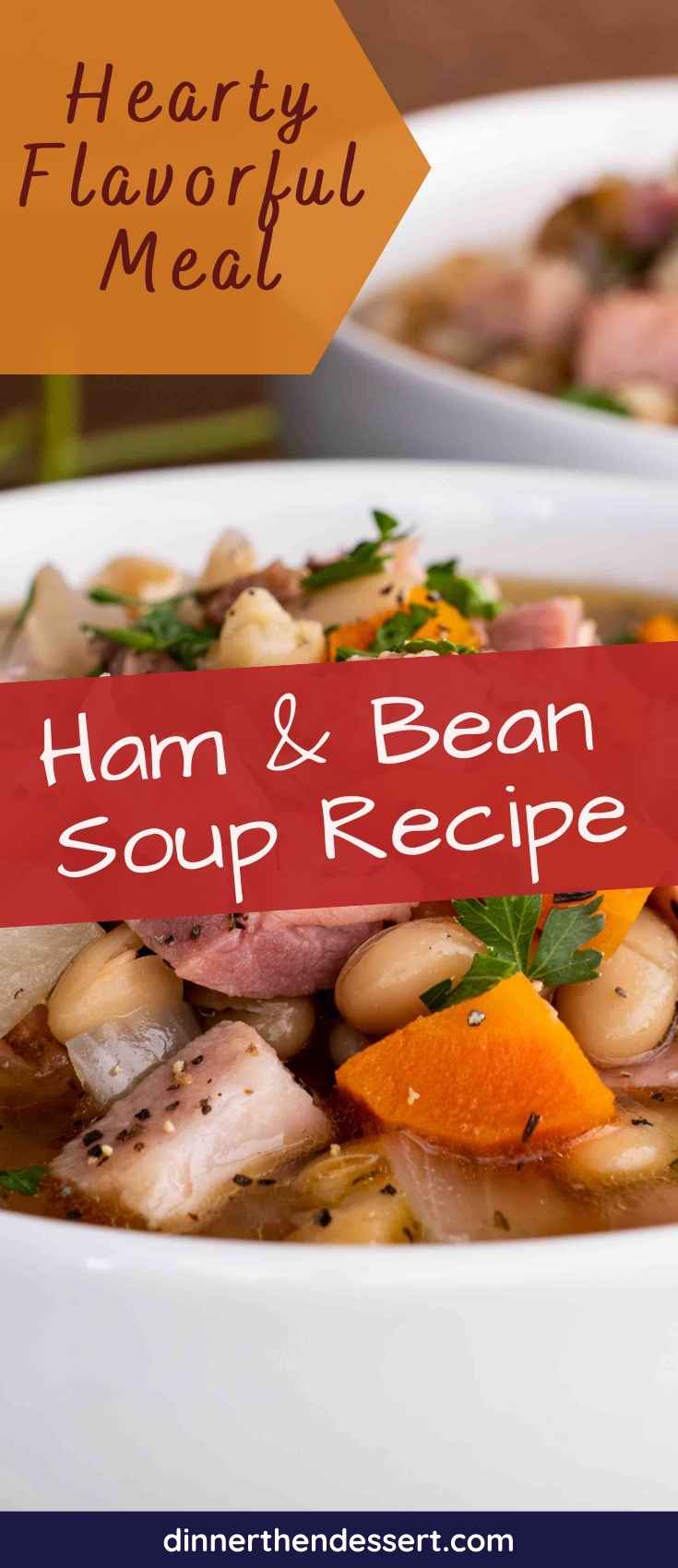 Photos used in a previous version of this post.