Slow Cooker Ham and Bean Soup
This post may contain affiliate links. Read my disclosure policy here.
Slow Cooker Ham and Bean Soup is the perfect recipe after your holiday ham when you want a cozy warm soup to help you recover from holiday cooking!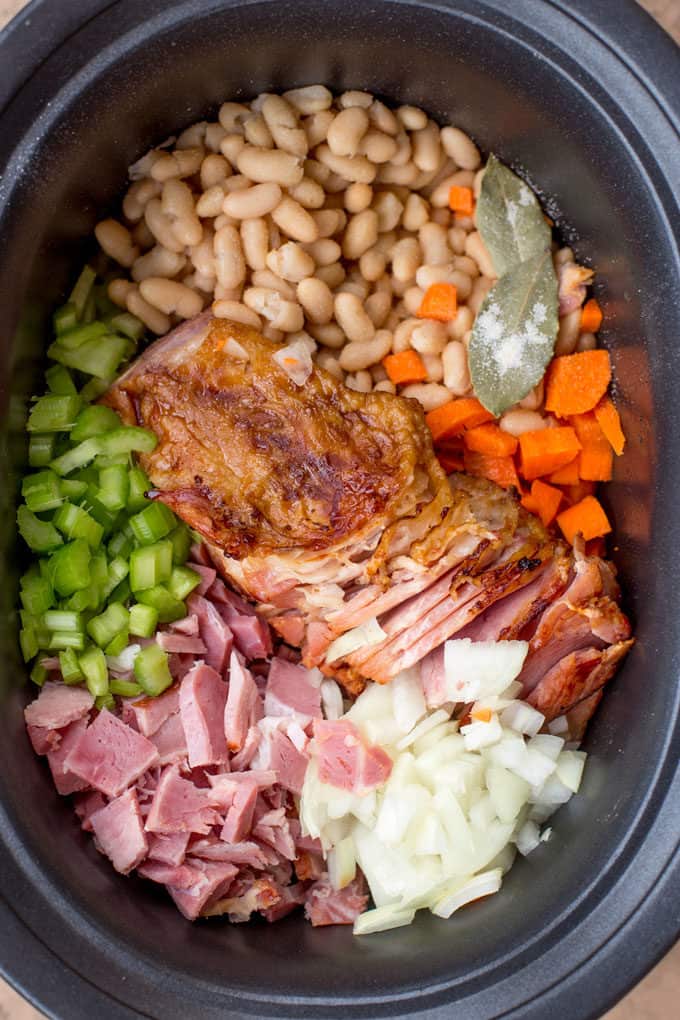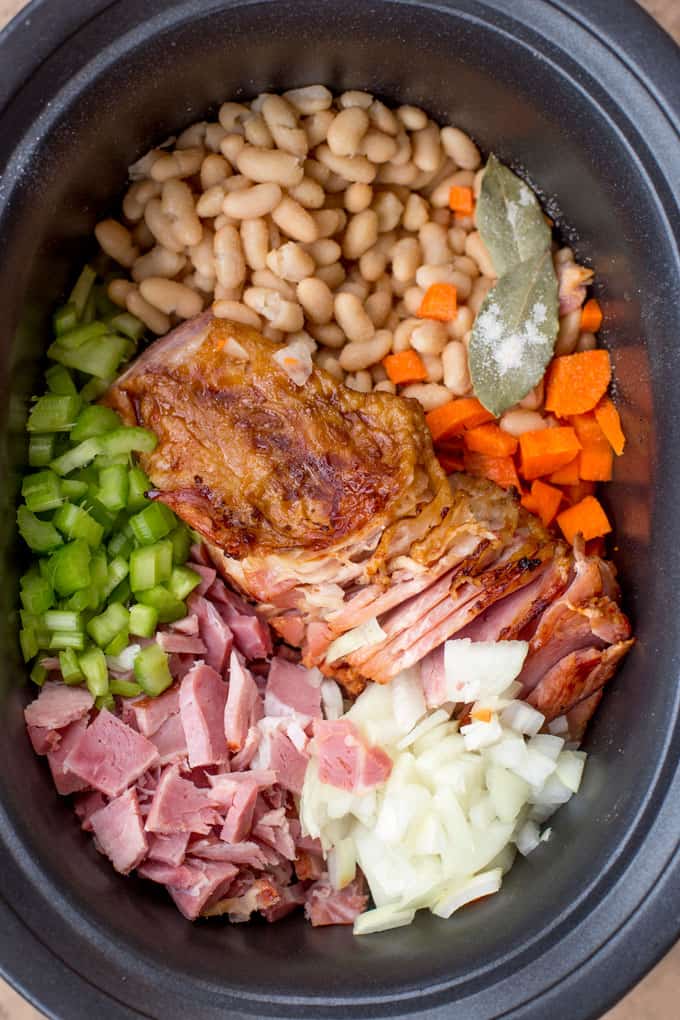 Slow Cooker Ham and Bean Soup is the second Slow Cooker Ham soup on the blog because A: we love slow cookers and B: the kids think of ham as bacon steaks so with that description how could you not be obsessed with it?
This post is the second slow cooker ham soup recipe on the blog. The most popular one (by far) is the Slow Cooker Ham and Potato Soup which has almost 500,000 re-pins on Pinterest!  This one uses the leftover ham bone from our Smithfield Spiral Ham (who also generously sponsored this post).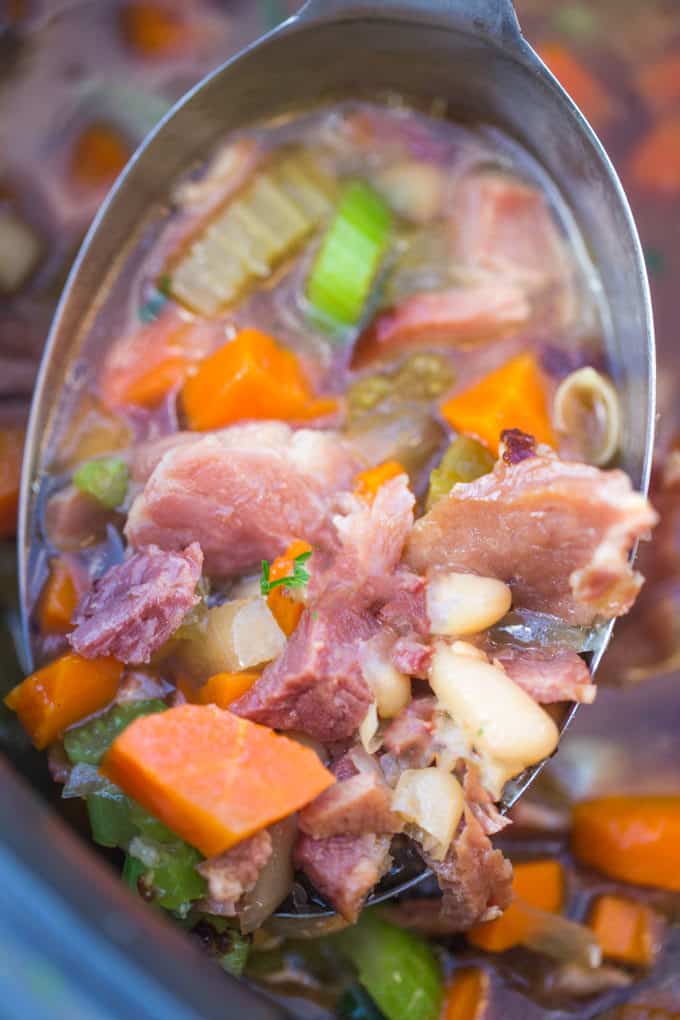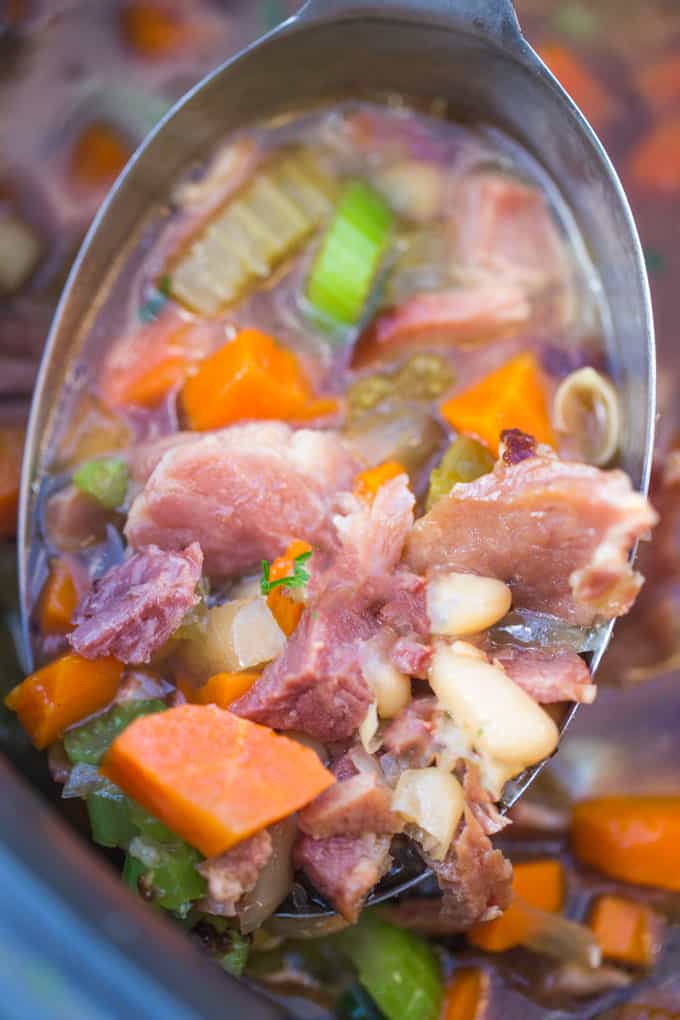 For Thanksgiving each year we make a classic turkey and a spiral sliced ham to serve the large crowd of people. I can't help it, when I see the holiday table it needs to be overflowing with food and with multiple proteins we are already off to a great start.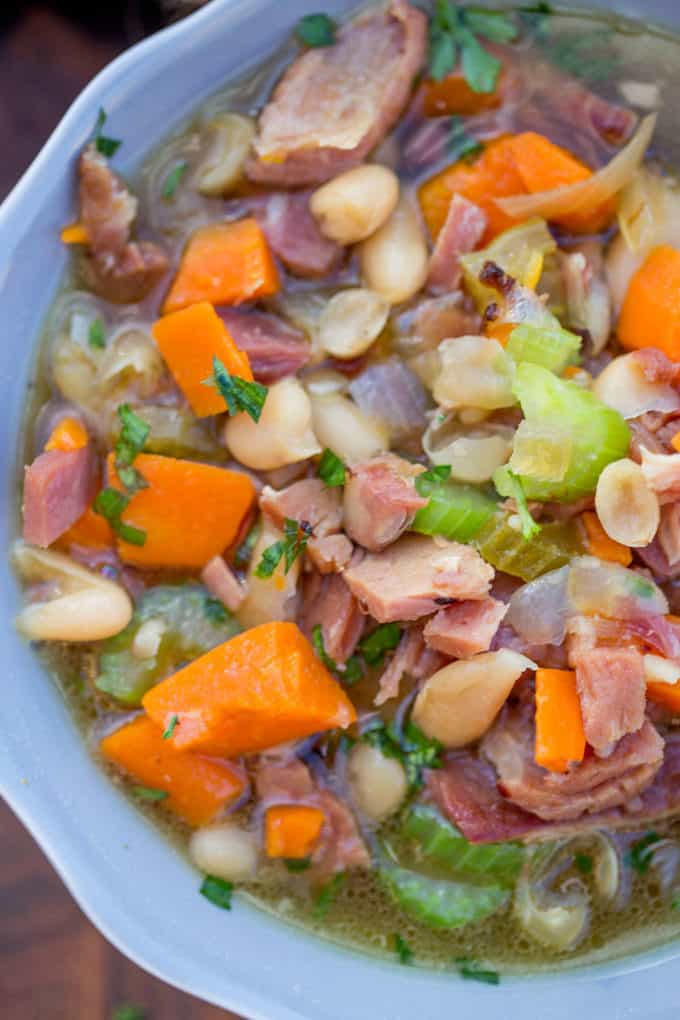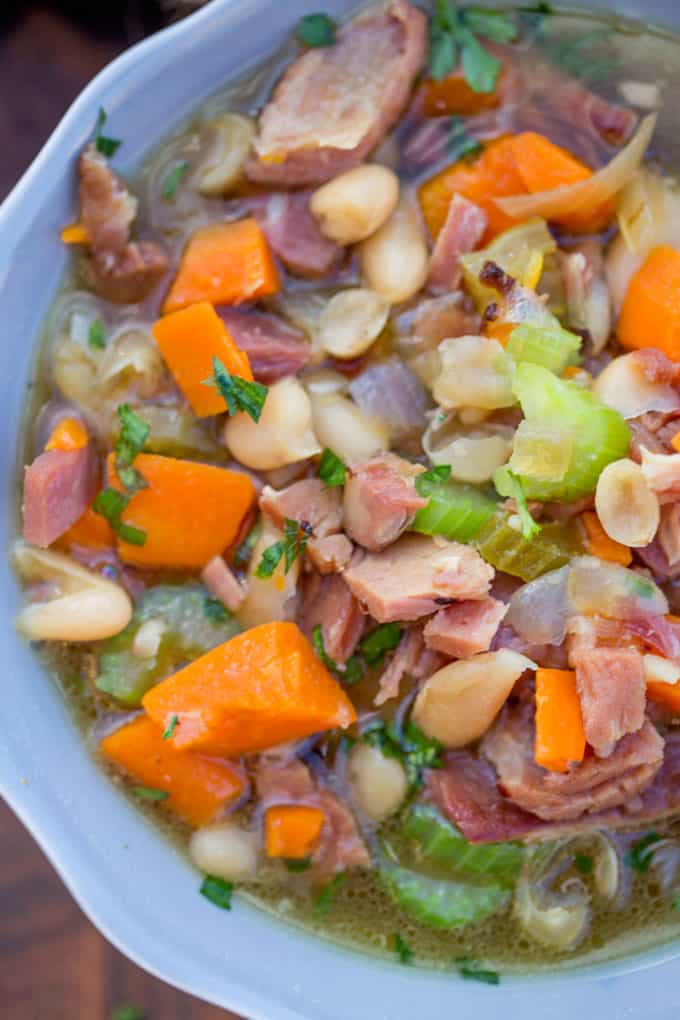 I do take the extra step of browning my ham bone for this Slow Cooker Ham and White Bean Soup (you can see the browning in the first picture). That extra step adds a ton of flavor and amplifies that vegetable stock to make a totally flavorful broth.
You technically don't have to take that step, but with slow cookers any time you can brown the meat before hand, the more depth of flavor you'll have in your final dish.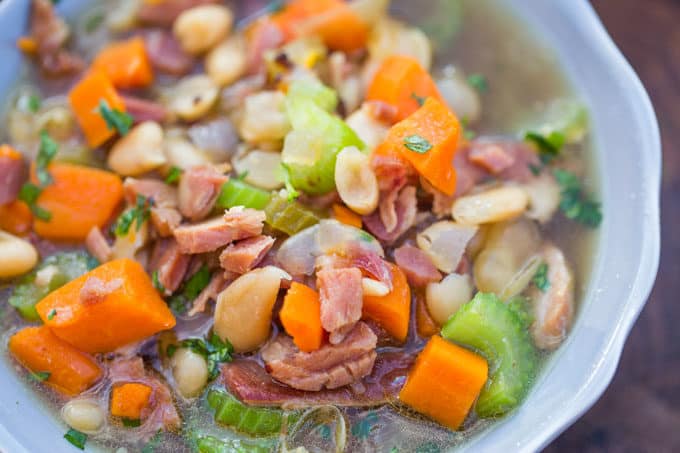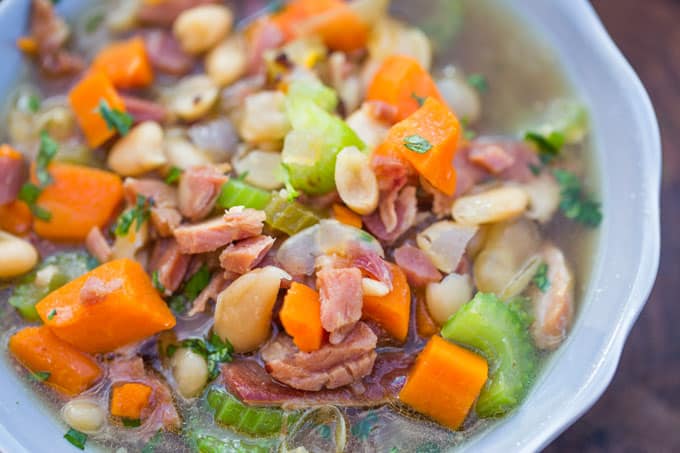 Looking for more slow cooker soups?
Tools Used in the making of this Slow Cooker Ham and Potato Soup:
Slow Cooker: Love this slow cooker and how programmable it is, it has been a workhorse for me… until…
My New Slow Cooker: This recipe was made in this slow cooker. For larger roasts I also brown the meat in the insert and not lose a bunch of the flavor by transferring the meat and leaving the browned bits behind. If you're thinking of a new slow cooker, consider it if your budget is open.
Better Than Bouillon: I almost never buy boxes of broth because I keep the beef, chicken and vegetable version of this Better Than Bouillon.
Spice Rack – I buy spices in bulk and it's less expensive and significantly higher quality than buying the jars individually but I ended up being left with tons of little bags of spices. Enter the spice rack.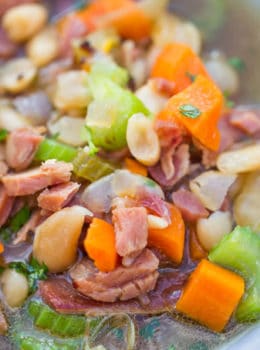 Slow Cooker Ham and Bean Soup (White Beans)
Slow Cooker Ham and Bean Soup is the perfect recipe after your holiday ham when you want a cozy warm soup to help you recover from holiday cooking!
MY OTHER RECIPES
Ingredients:
1 spiral sliced ham, the leftover bone and 3 cups of diced ham
4 cloves garlic, minced
1 yellow onion, diced
1 1/2 cups carrots, diced
1 cup celery, diced
3 cans white cannelini beans, drained and rinsed (15 ounce cans)
1 teaspoon dried thyme
1/2 teaspoon dried rosemary
2 bay leaves
4 cups vegetable stock
1 teaspoon Kosher salt
1/2 teaspoon ground black pepper
chopped parsley, for garnish
Directions:
In a pot or if your slow cooker like mine has an insert you can brown in, brown the ham bone on high until the sides are caramelized (3-4 minutes on each side).
Add the bone, chopped ham, garlic, onion, carrots, celery, cannelini beans, thyme, rosemary, bay leaves, vegetable stock, salt and pepper to the slow cooker.
Cook on low for 6-8 hours or on high for 3-4 hours.
Remove the ham bone and discard.
Serve with parsley, optional as a garnish
Nutrition Information
Yield: 10 servings, Serving Size: 1 1/2 cups
Amount Per Serving:
Calories: 325 Calories
All images and text ©
Made this recipe?
Show me what you made on Instagram or Facebook and tag me at @DinnerthenDessert or hashtag it at #dinnerthendessert.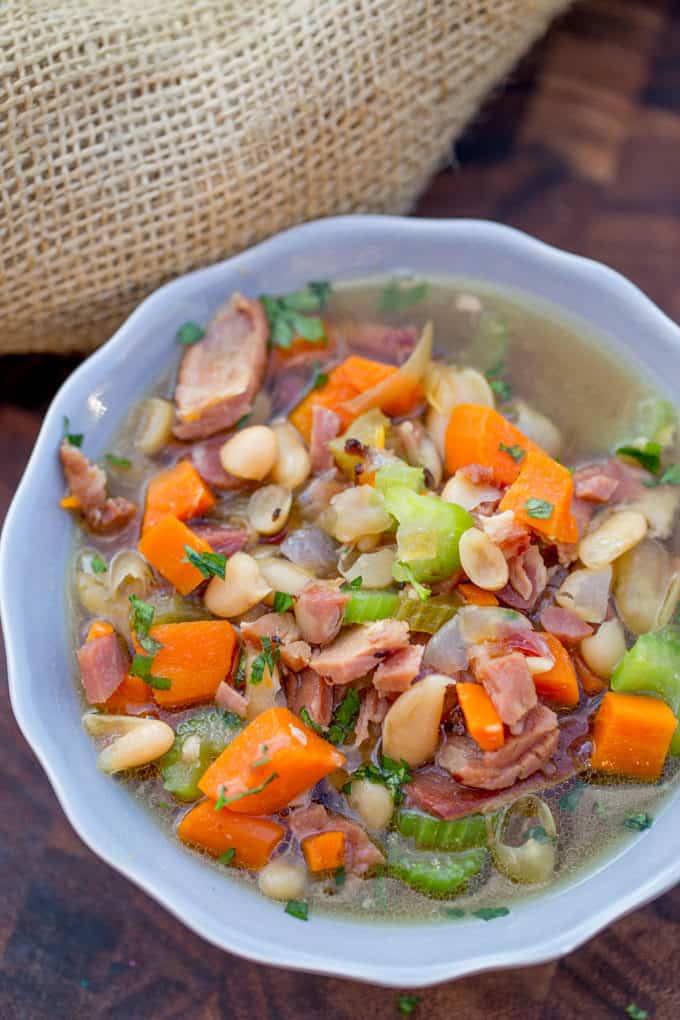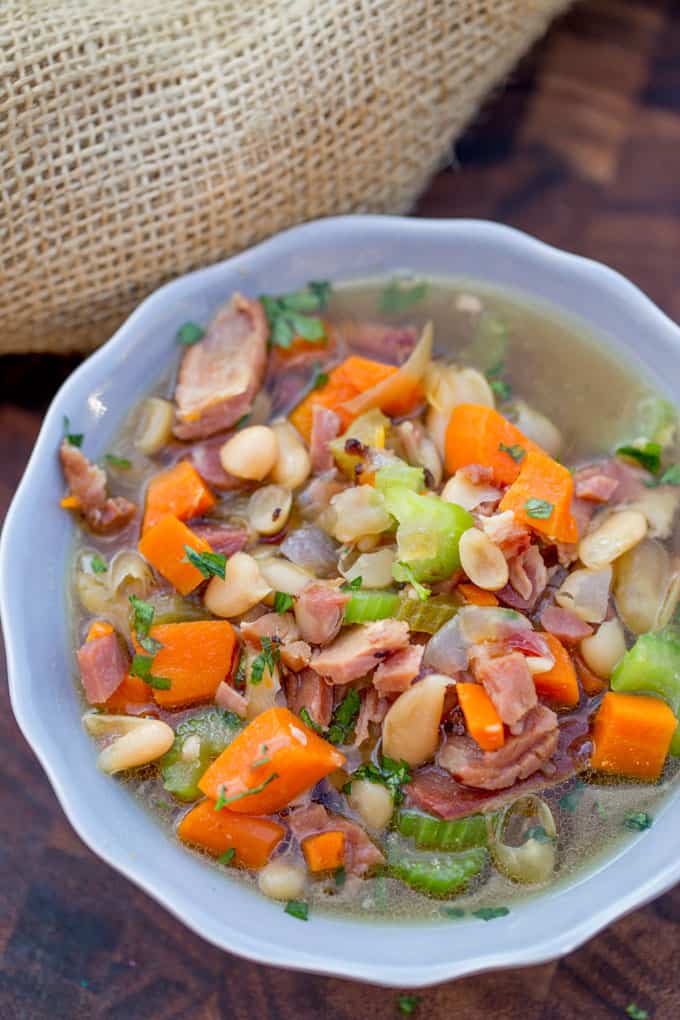 Dinner, then Dessert, Inc. owns the copyright on all images and text and does not allow for its original recipes and pictures to be reproduced anywhere other than at this site unless authorization is given. If you enjoyed the recipe and would like to publish it on your own site, please re-write it in your own words, and link back to my site and recipe page. Read my disclosure and copyright policy. This post may contain affiliate links.