Slow Cooker Creamy Minestrone Soup is the perfect warm-you-up-meal you'll enjoy through the winter months. This Minestrone Soup is healthy and hearty and made with no cream!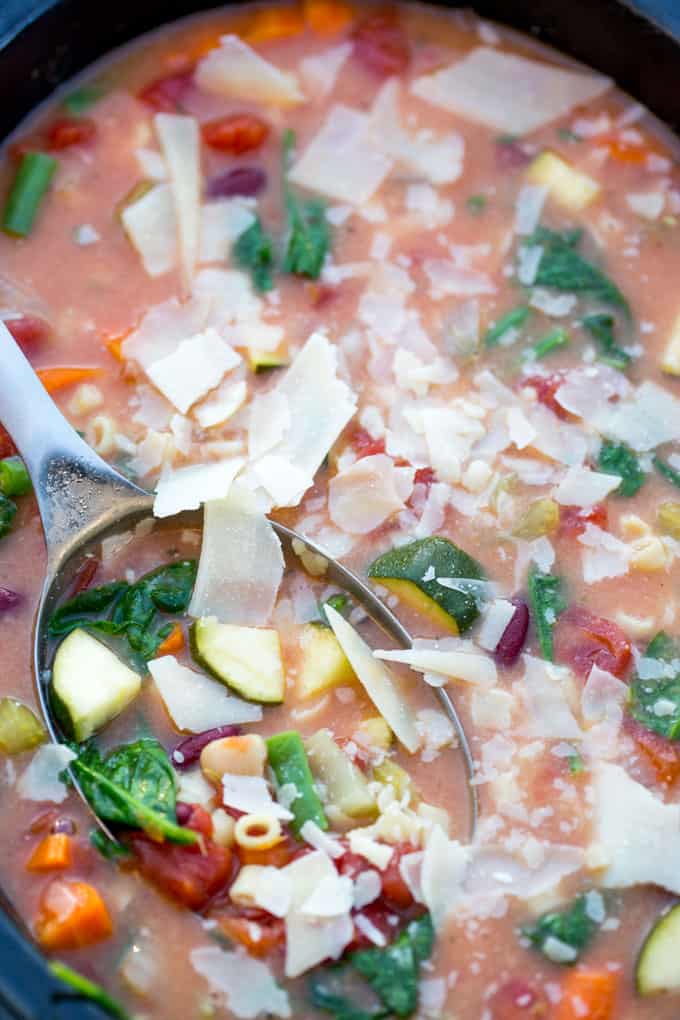 A Perfect Minestrone Soup
Slow Cooker Creamy Minestrone Soup is a meal we make as our backup dinners all winter long because it's hearty, healthy and despite tasting creamy it actually contains no cream at all in it! The secret to this minestrone soup is in the cannelini beans!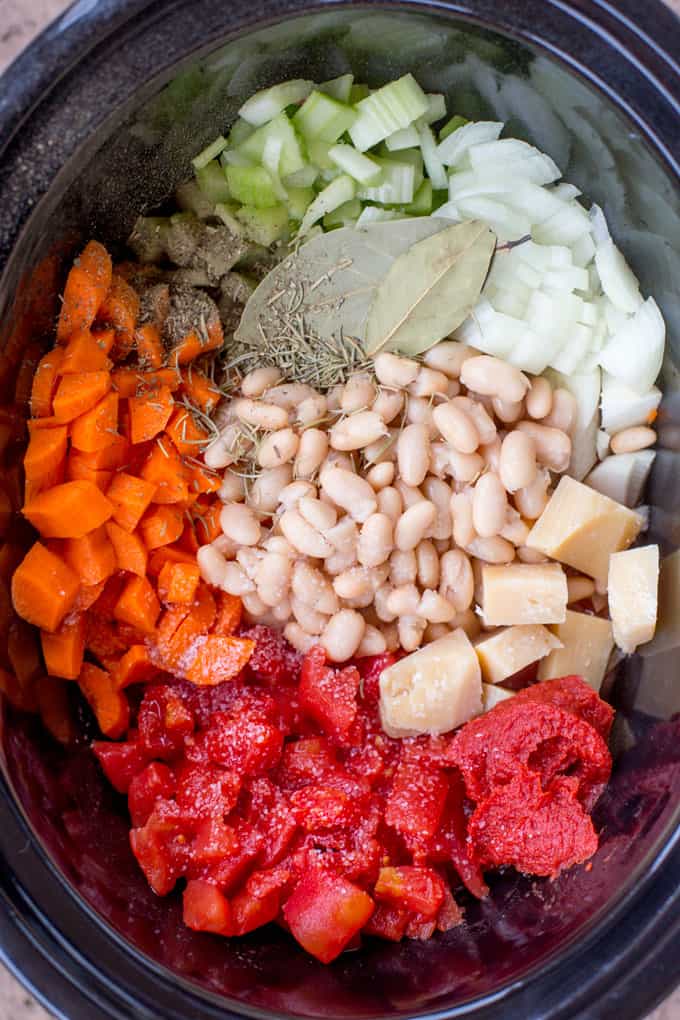 Minestrone Soup to Warm the Soul
Fall cooking to me is all about meals that help warm you up from the inside out. I know, I know, I live in California. That makes me even more sensitive to when the weather cools down since we're used to it staying so warm.
I immediately reach for soups or stews or basically any meal I can put in a bowl, grab a spoon and curl up with a blanket while eating. One of my friends, April from Mama Loves Food, has the most amazing Slow Cooker Baked Potato Soup that I am enjoying as I am typing this. That tells you how much I love slow cooker soups!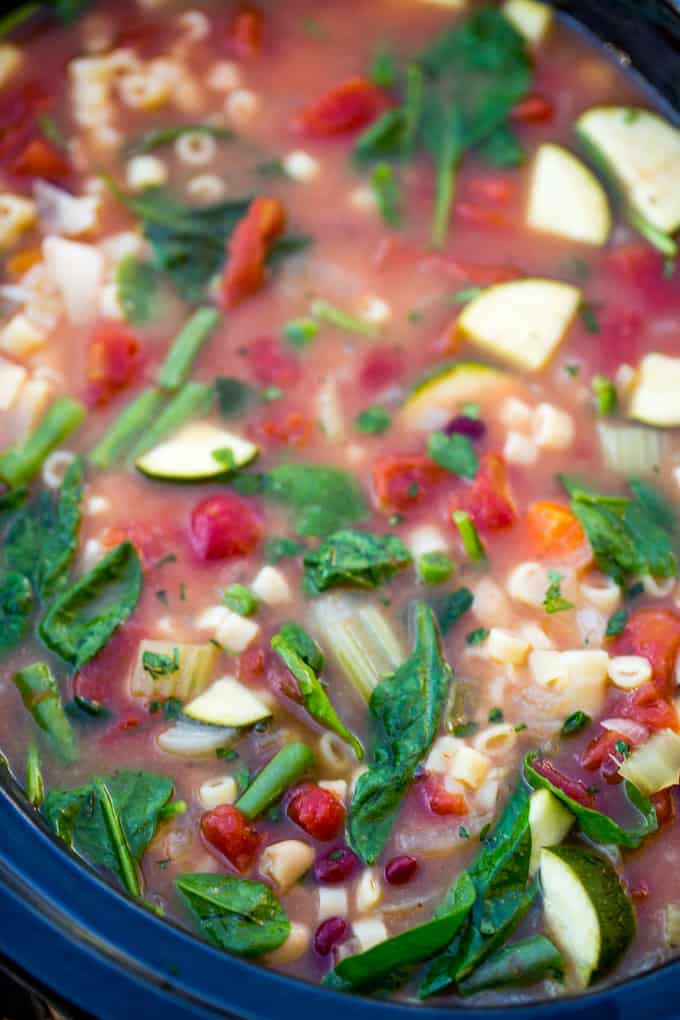 Healthy Creamy Minestrone Soup
This Slow Cooker Creamy Minestrone Soup is the perfect mix of flavors and it actually gives you the feeling you're eating something indulgent while you save those calories for your upcoming holiday parties!
The only indulgent ingredient in the soup is the Parmesan cheese which means you can throw caution to the wind and add that handful of cheese.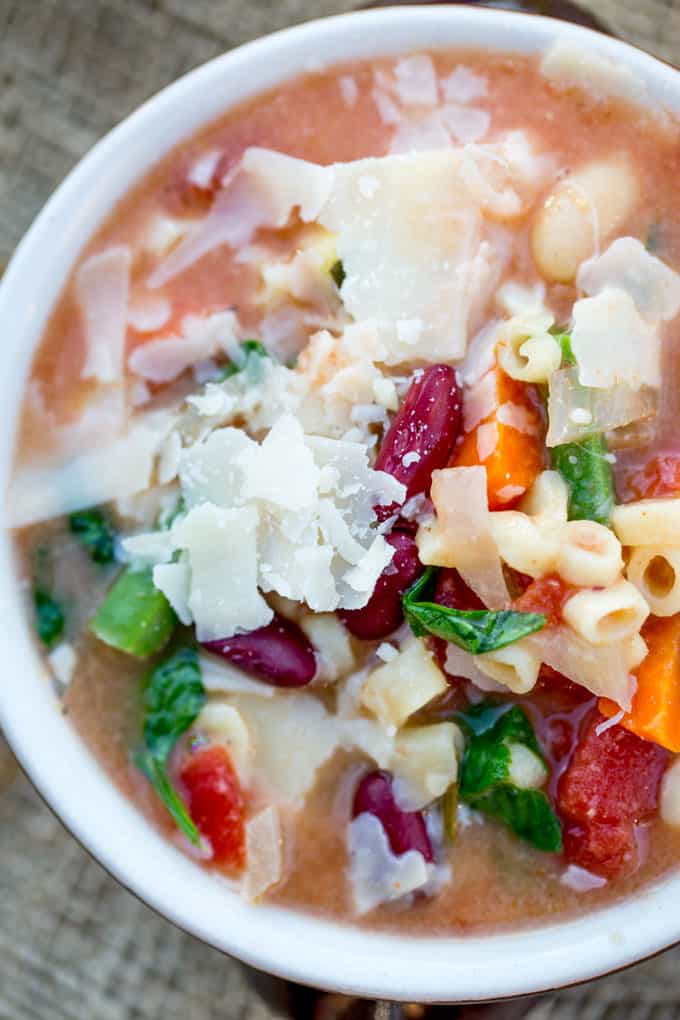 How to Make Minestrone Soup Creamy without Cream
The way we make this minestrone soup creamy is by taking a whole can of white beans and pureeing it in the food processor before adding it to the slow cooker. This faux cream is pumped up by a showering of Parmesan Cheese.
A Note about This Minestrone Soup
You can certainly make this soup for holiday parties or potlucks, the only thing I will caution you to do it make sure you add in the ingredients in the order written below. The pasta, zucchini and spinach need far less cooking time than the rest of the ingredients. If you were to add them all at once you'd have pasta that has melted into a mess and yellowed zucchini and spinach.
Keep the flavors bright by adding them in the right order and you'll absolutely love this light yet hearty minestrone soup!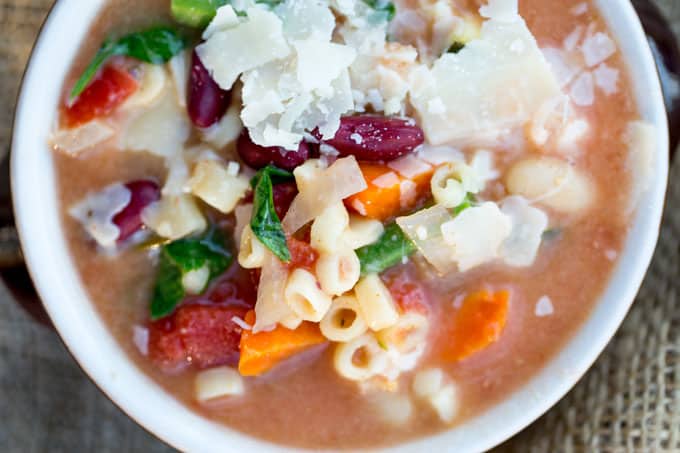 Tools used to make this Slow Cooker Minestrone Soup:
Slow Cooker: I have a collection of slow cookers and 9 times out of 10 I'd recommend my All-Clad one with the aluminum insert. When it comes to soups I actually reach for my porcelain insert slow cooker for gentler cooking.
Food Processor: I love buying kitchen electrics and I have my fair share of expensive ones, but when it comes to food processors I stand firmly in the camp of you ABSOLUTELY do not need to go expensive. I've had my same one, from Hamilton Beach, since 2005 and it has never failed me.
Tomato Paste: I used to buy cans of tomato paste but buying it by the tube creates a lot less food waste and the flavor of this tomato paste is absolutely perfect and strong!


Ingredients
1 28

ounce

can diced tomatoes

1/4

cup

tomato paste

2

ounces

parmesan chunk

, cut into 1" chunks

4

cups

vegetable stock

2

cups

water

3

medium carrots

, diced

3

stalks

celery

, diced

1

medium yellow onion

, diced

4

cloves

garlic

, minced

1

teaspoon

dried oregano

1/2

teaspoon

dried rosemary

2

leaves

bay

1/2

teaspoon

Kosher salt

1/4

teaspoon

freshly cracked black pepper

1

can (15 oz)

can red kidney beans

, drained and rinsed

1

can (15 oz)

can great northern beans

, drained and rinsed

1

can (15 oz)

can cannelini beans

, drained and processed until smooth in your food processor

2

medium zucchini

, diced

6

ounces

ditalini or elbow pasta

1

cup

green beans

cut in half

3

cups

baby spinach

Parmesan Cheese for serving
Instructions
Add the diced tomatoes, tomato paste, parmesan, vegetable stock, water, carrots, celery, onions, garlic, oregano, rosemary, and bay leaves, Kosher salt, black pepper, kidney beans, great northern beans and pureed cannelini beans to a slow cooker.

Cook on low for

6-8 hours

or on high for

3-4 hours

.

minutes before you are ready to serve, turn the slow cooker to high heat if it wasn't already on high heat.

Add in the zucchini and pasta.

In the last five minutes (

20 minutes

after adding the pasta and spinach) add in your green beans and spinach and stir.

Serve with additional Parmesan cheese.
Nutrition
Calories:
138
kcal
|
Carbohydrates:
24
g
|
Protein:
6
g
|
Fat:
2
g
|
Saturated Fat:
1
g
|
Cholesterol:
3
mg
|
Sodium:
789
mg
|
Potassium:
550
mg
|
Fiber:
3
g
|
Sugar:
7
g
|
Vitamin A:
4560
IU
|
Vitamin C:
22.7
mg
|
Calcium:
140
mg
|
Iron:
2.1
mg