Slow Cooker Chicken Tortilla Soup is a flavorful Tex-Mex soup recipe made with chicken breasts, beans and Mexican spices in tomato broth.
Mexican-inspired soups like Easy Taco Soup are easy, family friendly dishes that you can serve for a main course or as a side for all your go-to Mexican Recipes.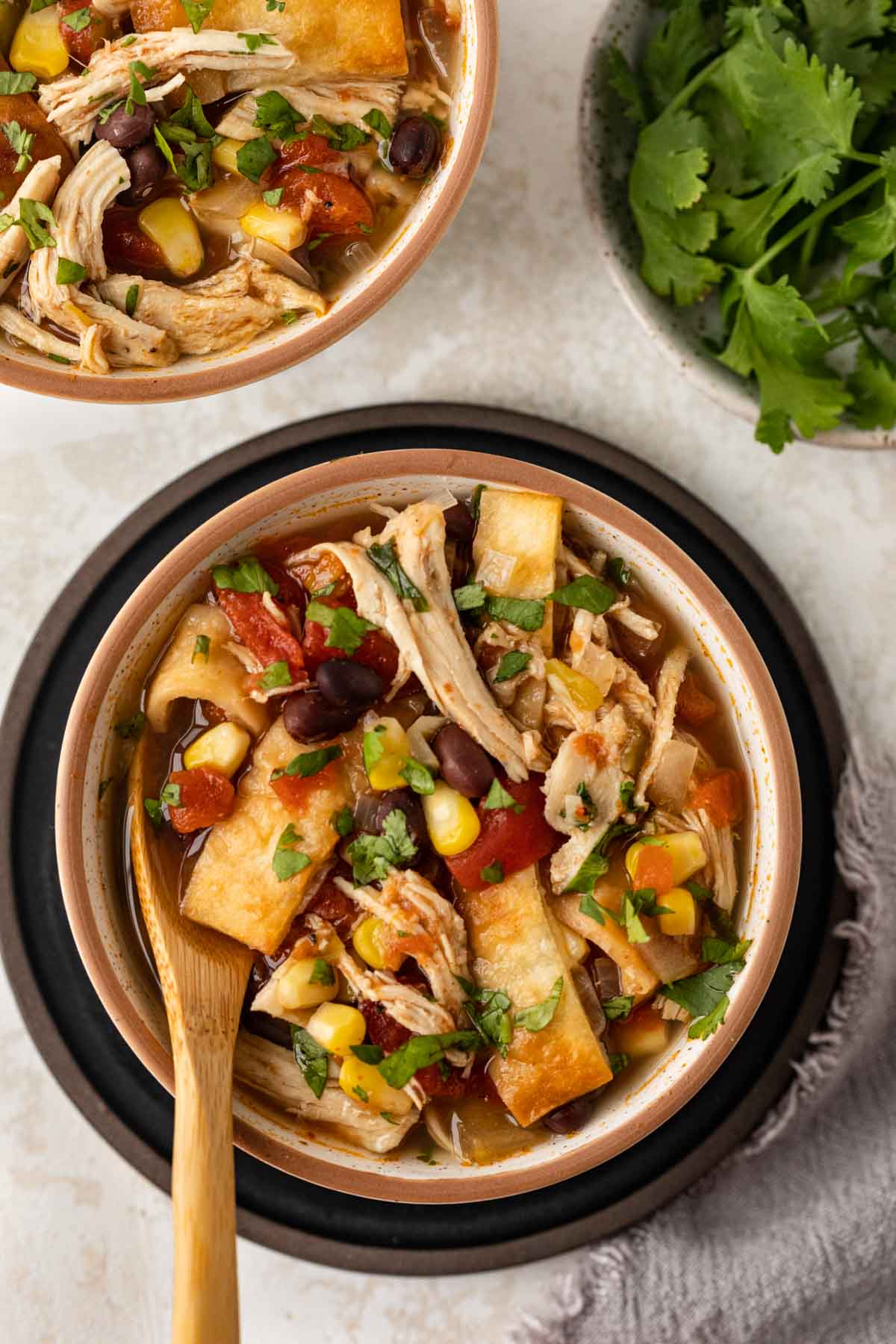 This slow cooker version of stove top Chicken Tortilla Soup has all the flavors of the original recipe with almost no work at all! There's no pre-cooking onions or chicken, just dump all the ingredients in the crock pot at the start of your day, then set and forget it. When dinner time rolls around, this hearty soup will be ready to eat with Mexican main dishes or on its own with more tortillas.
Slow Cooker Chicken Tortilla Soup is an easy, dump-and-go crock pot recipe made with pantry ingredients. Made from scratch with canned tomatoes, beans and fresh chicken breasts, this is a healthy low-fat and low-sodium soup that makes a perfect weeknight dinner recipe. You can substitute a packet of taco seasoning, or 2 tablespoons of Homemade Taco Seasoning, for the spices if you have it on hand.
Tortilla Soup is the perfect recipe for beginning cooks. The ingredients are easy to assemble, and your slow cooker does much of the work. It's also perfect for feeding a crowd because you can keep this hearty soup warm all day in the slow cooker, and let guests serve themselves. Set out a variety of toppings so everyone can customize their own bowl of soup.
You can serve Crock Pot Chicken Tortilla Soup as a side dish to your favorite Mexican dinners like Chicken Enchiladas or Beef Burritos. Serve this Mexican-inspired soup with a side of Mexican Rice and Black Beans as an easy weeknight dinner. However you enjoy it, serve Chicken Tortilla Soup with toppings like shredded cheese, sour cream, diced avocado, a squeeze of lime juice and a side of warm corn tortillas or tortilla chips.
How to Make Slow Cooker Chicken Tortilla Soup
To your slow cooker, add chicken breasts, onion, garlic, diced green chilis, black beans, diced tomatoes, corn, salt, pepper, cumin chili powder, cayenne pepper, dried oregano, chicken broth, and crushed tomatoes.
Cook on high for 3-4 hours, or on low for 7-8 hours.
Remove chicken breast and shred with a fork.
Return chicken to the pot with the toasted tortilla strips and cilantro. Stir well before serving.
What to Serve with Slow Cooker Chicken Tortilla Soup
Frequently Asked Questions
How do I make Vegetarian Tortilla Soup?
Replace the chicken broth with your favorite brand vegetable broth. Instead of chicken, add shredded jackfruit, cubed tofu, any meat substitute you'd like, or increase the veggies for an all vegetable tortilla soup.
What toppings can I serve with Tortilla Soup?
Serve Slow Cooker Chicken Tortilla Soup with an assortment of toppings including grated cheese, sour cream, olives, slices of avocado, a squeeze of fresh lime juice, sliced green onions, or fresh jalapeños.
What kind of tortillas do I use for Chicken Tortilla Soup?
This recipe calls for flour tortillas, but you can certainly use corn or wheat tortillas, too. Make sure to spray them lightly with oil or toss in a tablespoon of oil and toast on a skillet until crispy. Use gluten free tortillas to make this recipe friendly for gluten free diets.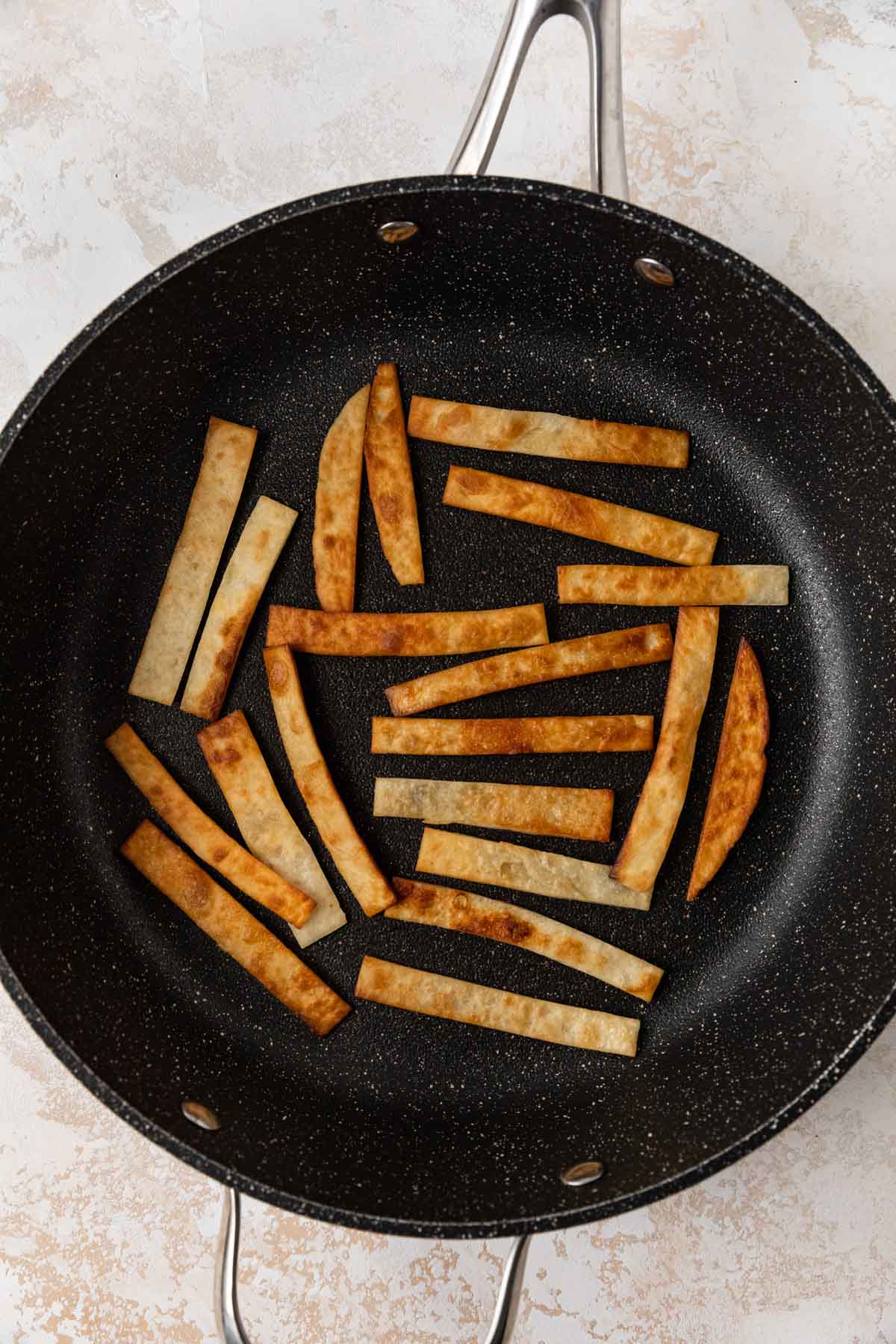 Create a free account to

Save Recipes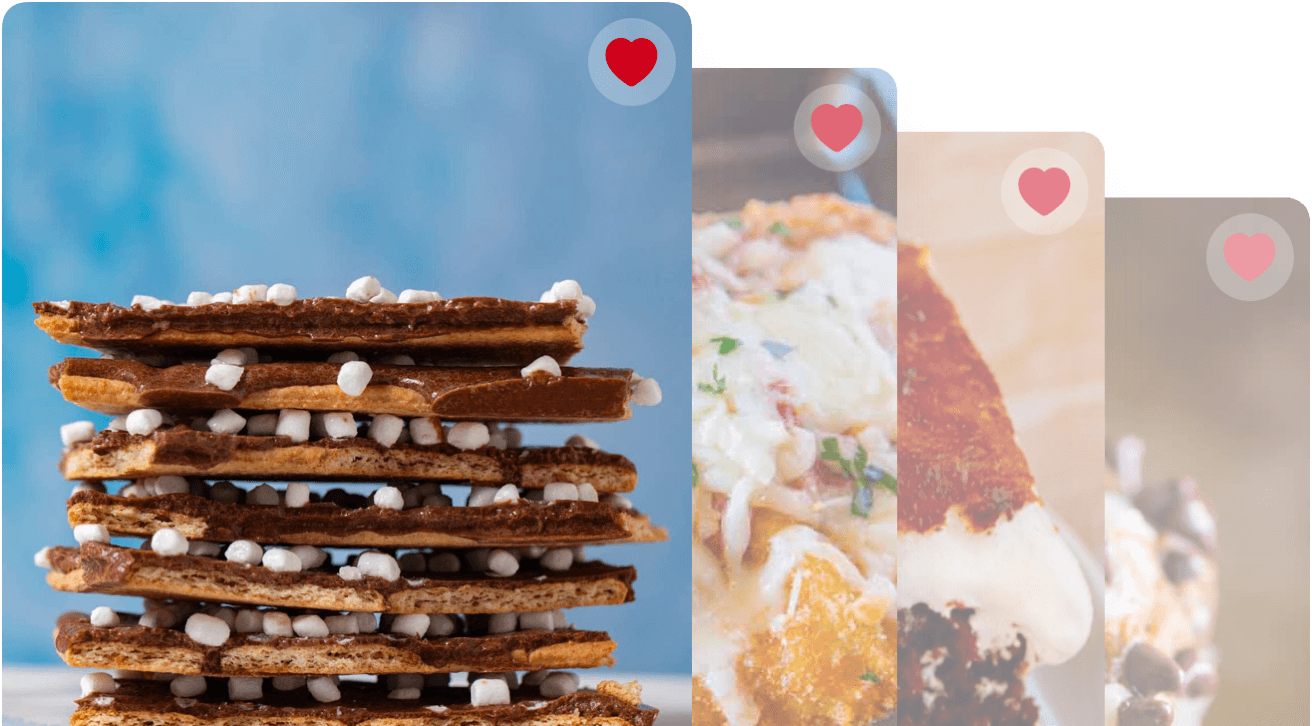 Key Ingredients in Slow Cooker Chicken Tortilla Soup
Chicken: Boneless, skinless chicken breasts will slow cook until they are fork tender and easily shred into the soup. They will absorb all the delicious flavor from the broth, onions and spices as they cook.
Spices: Using a combination of cumin, chili powder, cayenne pepper, and dried oregano along with salt and pepper gives your tortilla soup a delicious blend of spices that is not too hot but still warm and savory.
Broth: Chicken broth adds another layer of flavor as a base for this Chicken Tortilla Soup recipe.
Veggies: Diced and crushed tomatoes, along with onions, garlic, green chilis, black beans, and corn all blend together to flavor the soup while making it hearty and delicious.
Toppings: Crispy flour tortilla strips and fresh chopped cilantro are added at the end of cooking for a bright herby flavor and signature crunch.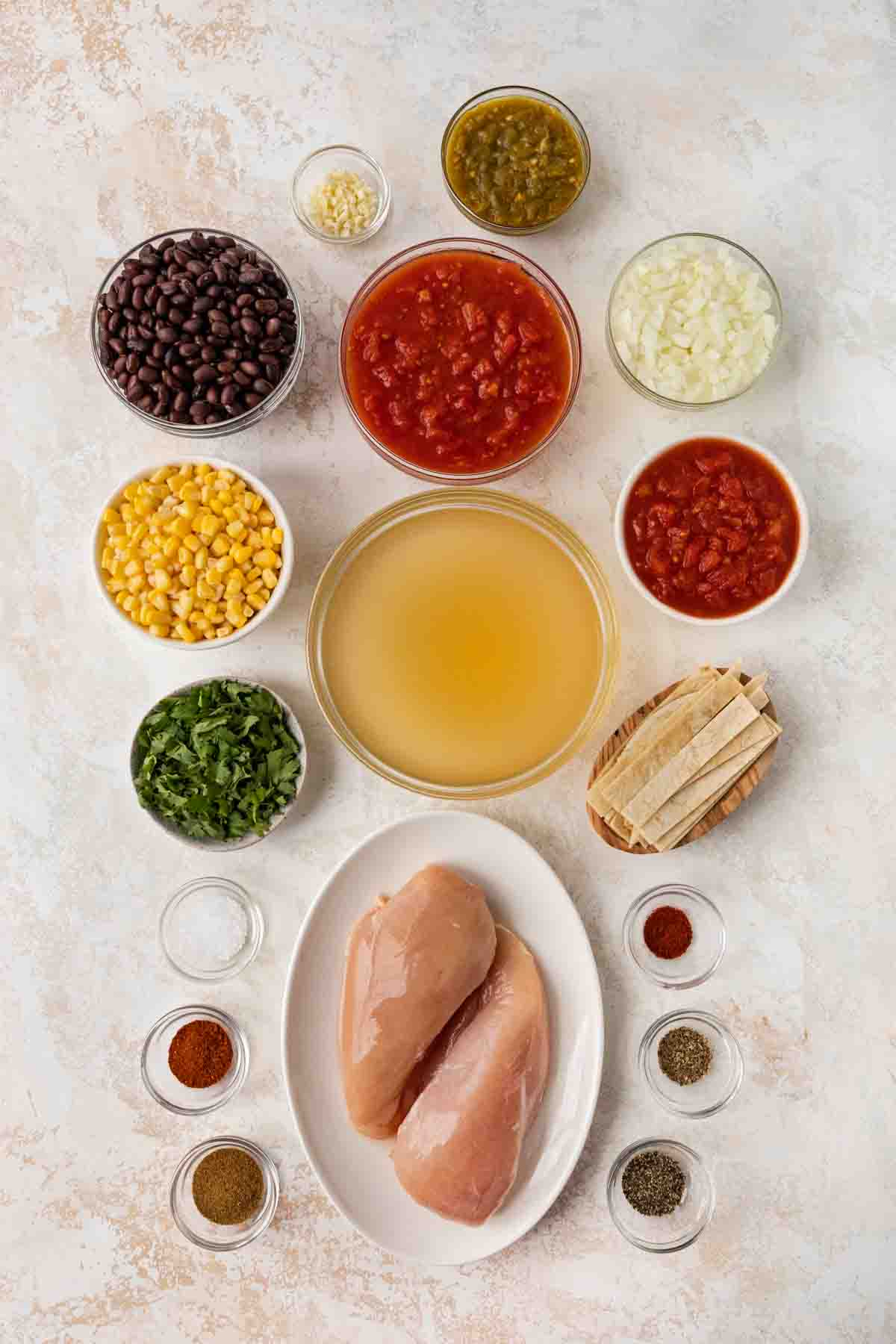 Instant Pot Chicken Tortilla Soup
Turn the Instant Pot to Sauté function and add 2 tablespoons vegetable oil.
Add diced onions and cook 2-3 minutes, until tender.
Stir in garlic and cook until fragrant, about 30 seconds.
Add the remaining ingredients, except tortilla strips and cilantro, to the Instant Pot and stir to combine.
Secure lid and seal pressure valve. Cook on Manual High Pressure for 15 minutes.
Quick release and remove chicken breasts. Shred chicken breasts and return to the Instant Pot.
Stir in the chopped fresh cilantro and tortilla strips. Serve with your go-to garnishes.
Can Slow Cooker Chicken Tortilla Soup be Made Ahead?
Slow Cooker Chicken Tortilla Soup is a freezer-friendly meal that you can prep ahead of time. Add all the ingredients to a freezer safe plastic bag, seal the bag, and put the bag in your slow cooker pot. Freeze bag for 1 hour in the pot before removing and freezing for up to 3 months. When you are ready to cook, just remove from the bag and place frozen in the crock pot first thing in the morning and cook on low, covered, for 7-8 hours.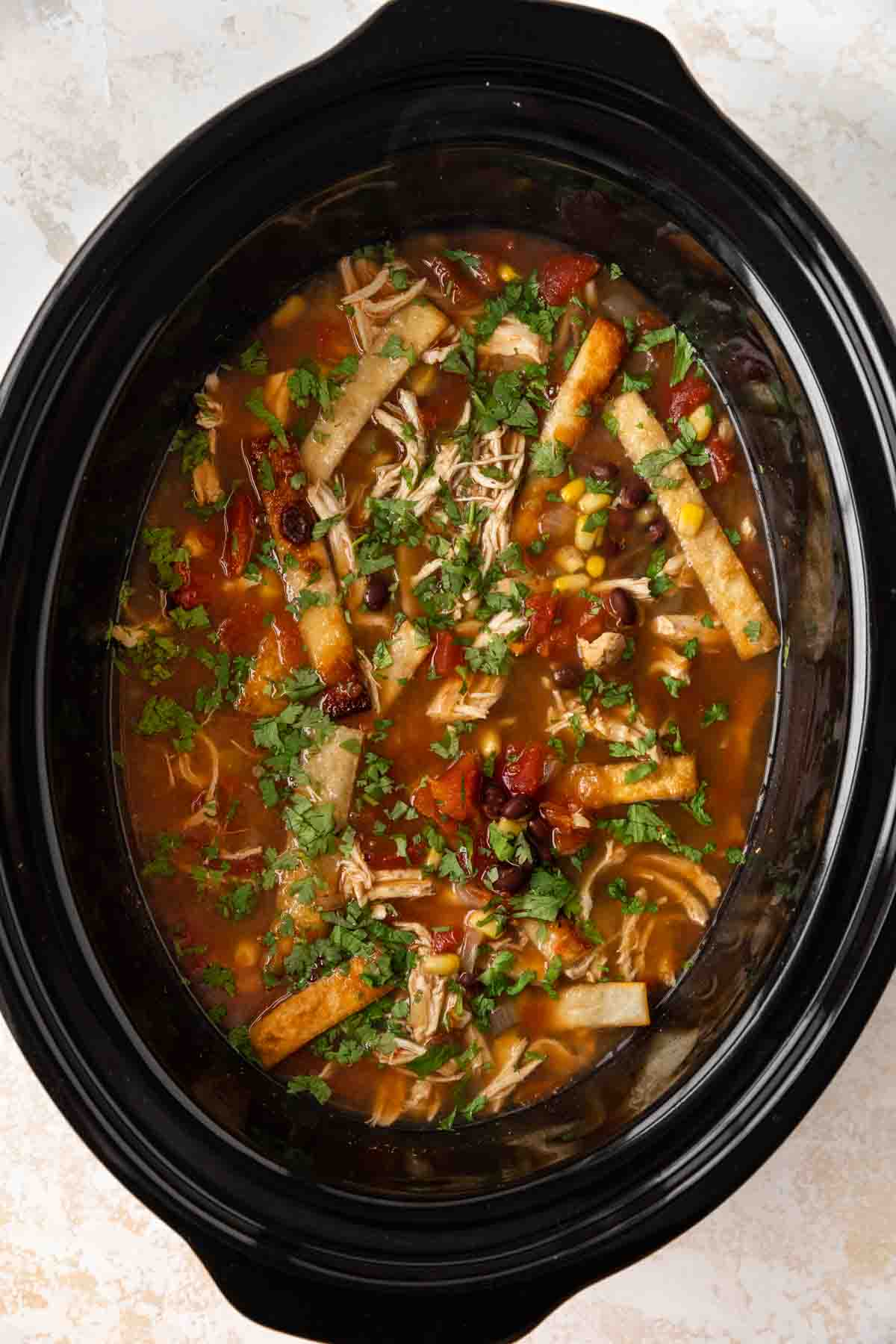 Variations on Slow Cooker Chicken Tortilla Soup
Meat: Use chicken thighs, chuck roast, turkey breast, or boneless pork instead of chicken breasts in Slow Cooker Chicken Tortilla Soup. If you use chuck roast (or beef stew meat), cut into 1 inch cubes and sear before adding to the crock pot.
Rice: Stir in leftover cooked rice during the last 30 minutes of cooking to make your Chicken Tortilla Soup more hearty. You can also add small pasta, like orzo, cooked until just 1 minute shy of al dente.
Beans: Instead of black beans, use kidney beans, pinto beans, or a mix of chili beans to add variety to your tortilla soup.
Veggies: You can add other veggies you have on hand like green beans, bell peppers, or spinach. Use canned mexi-corn (corn with bell peppers and chiles) for some spicy, Tex-Mex flavor instead of frozen corn.
Spicy: Make a spicy Slow Cooker Chicken Tortilla Soup by adding diced canned or fresh jalapeño peppers or increase the amount of cayenne pepper.
Enchilada Sauce: For a thicker, more flavorful tomato broth, add a cup of Enchilada Sauce or use fire-roasted tomatoes instead of regular diced tomatoes.
Toppings: Serve Slow Cooker Chicken Tortilla Soup with your favorite toppings like shredded cheddar cheese, sour cream, olives, hot sauce, avocado slices, or jalapeños.
Creamy Chicken Tortilla Soup: In the last 15 minuted before serving, add 1 cup heavy cream to make a deliciously creamy and smooth version of Chicken Tortilla Soup.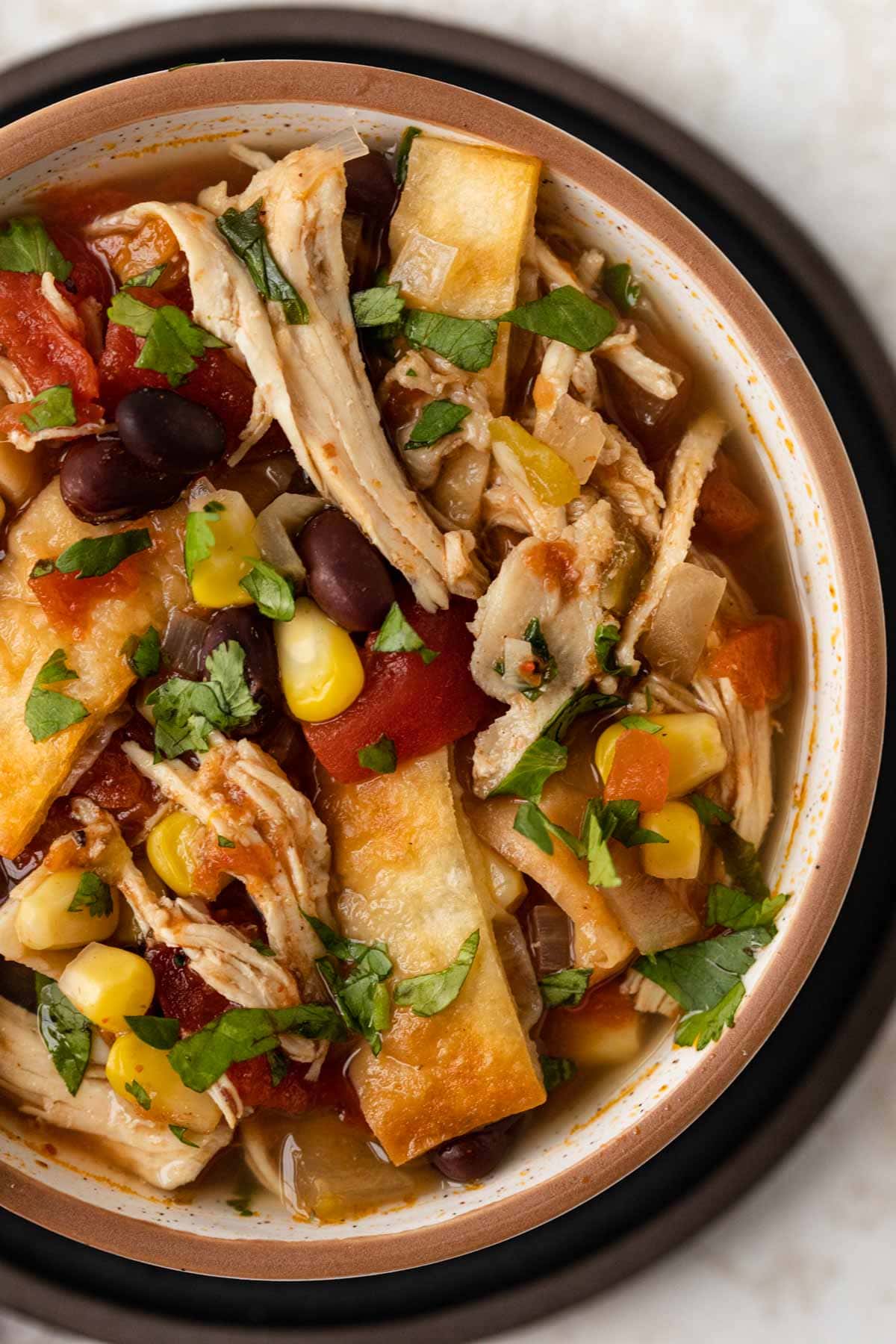 More Mexican Soup Recipes
How to Store Slow Cooker Chicken Tortilla Soup
Serve: You can keep Slow Cooker Chicken Tortilla Soup on warm in the slow cooker for up to 4 hours. Keep at room temperature no more than 2 hours before storing.
Store: Once Chicken Tortilla Soup is cooled down, place in an airtight container and refrigerate up to 4 days. Reheat on the stove top on medium-high heat until hot.
Freeze: Cool crockpot Chicken Tortilla Soup before freezing in a sealed container up to 3 months. Thaw overnight before reheating on stove top. If uncooked, you can heat from frozen in a crockpot.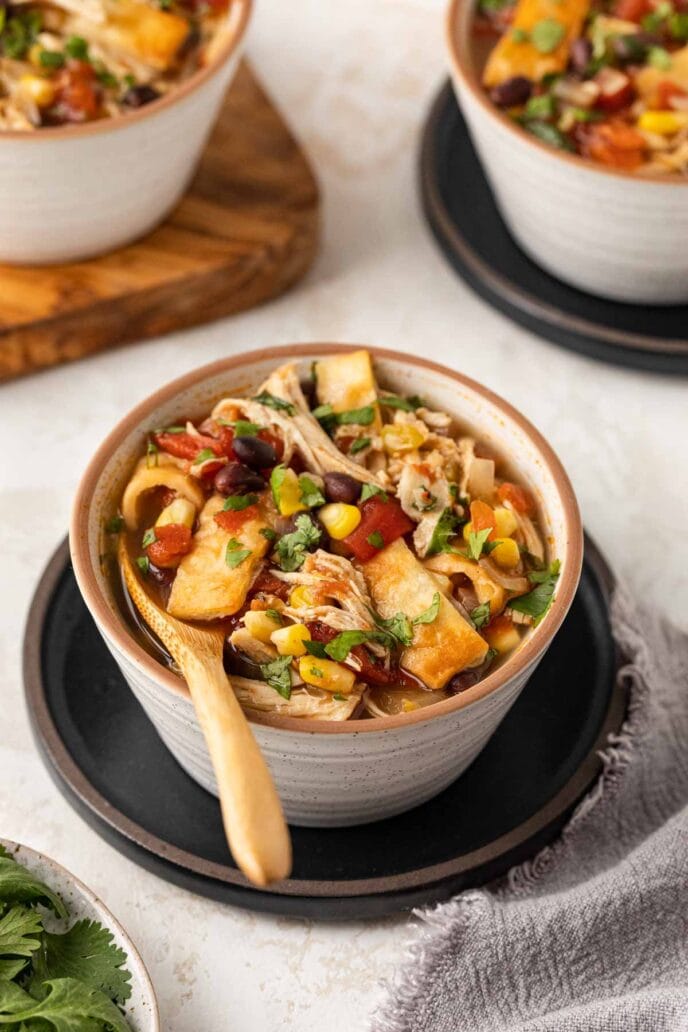 Ingredients
2

chicken breasts

, boneless and skinless

1

yellow onion

, diced

2

cloves

garlic

, minced

4

ounces

diced green chiles

14.5

ounces

canned black beans

, drained and rinsed

14.5

ounces

canned diced tomatoes

2

cups

corn kernels

1

teaspoon

kosher salt

1/2

teaspoon

coarse ground black pepper

2

teaspoons

cumin

1

teaspoon

chili powder

1/4

teaspoons

cayenne pepper

1/2

teaspoon

dried oregano

4

cups

chicken broth

14.5

ounces

crushed tomatoes

2

4-inch flour tortillas

, cut into strips and toasted in a skillet

1/4

cup

cilantro

, chopped
Instructions
Add all ingredients to the slow cooker, except for tortillas and cilantro. Stir to combine.

Cook on high for

3-4 hours

, or on low for

7-8 hours

.

Remove chicken breast and shred with a fork.

Return chicken to the pot with the tortilla strips and cilantro, stirring well before serving
Nutrition
Calories:
210
kcal
|
Carbohydrates:
29
g
|
Protein:
19
g
|
Fat:
3
g
|
Saturated Fat:
1
g
|
Cholesterol:
36
mg
|
Sodium:
1260
mg
|
Potassium:
837
mg
|
Fiber:
7
g
|
Sugar:
6
g
|
Vitamin A:
363
IU
|
Vitamin C:
23
mg
|
Calcium:
86
mg
|
Iron:
4
mg