Spanish Rice, also called Mexican Rice, is perfectly fluffy with tomatoes, garlic and spices just like your favorite restaurant side dish!
Spanish Rice is a classic Mexican side dish sometimes also referred to as red rice (arroz rojo). We love these classic base recipes like Enchilada Sauce and Homemade Taco Seasoning because they make quick dinners a breeze!

Spanish Rice is a staple in any Mexican meal, and this delicious Side Dish is so easy to make at home! With simple ingredients and a special trick every abuelita knows, you'll have savory, garlicky, perfectly spiced fluffy rice on your table in less than 30 minutes.
The secret to making fluffy Spanish Rice that doesn't get mushy or sticky is to sauté the rice in oil before adding the liquid. Then you'll cook it in chicken broth and tomato sauce for even more flavor, adding cumin, chili powder and garlic salt to give it that authentic taste.
This recipe is an easy, basic Mexican Rice recipe. There are also tons of ways you can add flair and different flavors to this recipe and to make it a bit more substantial too. Check out the ideas below for using Spanish Rice in a variety of meals. Next time, try Spanish Rice's cousin, Green Rice (Arroz Verde) for a delicious cilantro flavored rice dish.
Once you see how easy it is to make this homemade Spanish Rice recipe, you'll be piling it onto your plate next to all your favorite Mexican food. Serve this Spanish Rice with Mexican dishes like Beef Enchiladas, Pork Carnitas, or Ground Chicken Tacos. And of course, don't forget the Refried Beans!
How to Cook Perfectly Fluffy Spanish Rice
Toast: First, toast the rice in canola oil until it is translucent. Translucent just means it isn't as white as it started. You won't be able to see through the rice, but it will look kind of like foggy clear plastic.
Boil: Second, bring your rice to a rolling boil after adding in the broth, tomato sauce, chili powder, cumin and garlic salt. Then lower it to a simmer. If you add the liquids and immediately lower the heat you will not have rice that is done in 20 minutes. It will be almost raw.
Cover: Third, make sure you don't open the lid during cooking. When you open the lid of the rice all the steam that is so important to the cooking escapes. This means you will have to cook longer, won't have enough liquid in it and will have unevenly cooked rice.
Rest: Let your Rice REST. Once you turn off the heat after 20 minutes, leave the cover on for an additional five minutes. Then open the lid and fluff rice with a fork before serving.
More Easy Mexican Recipes
Frequently Asked Questions
Why is my Spanish Rice sticky?
If you don't take the time to cook the rice in oil until translucent, the starch that is coating the rice creates a sticky texture instead of a fluffy one.
Why is my Spanish Rice mushy?
In addition to cooking in oil to prevent the starch from creating a sticky texture, make sure not to overcook the rice to prevent it from becoming mushy.
Why is the bottom of the rice burnt?
If you cooked on a temperature that is too high (you should always bring to a boil before reducing to a simmer) then the rice will be burnt on the bottom and raw on top.
What type of rice is best for Spanish Rice?
This recipe uses long grain rice but you can also use basmati rice. Basmati rice won't be quite as fluffy as the grain isn't as wide. You can also swap brown rice as the flavors will help mask the traditional brown rice flavors kids don't like, but remember brown rice takes longer to cook than white rice.


Create a free account to Save Recipes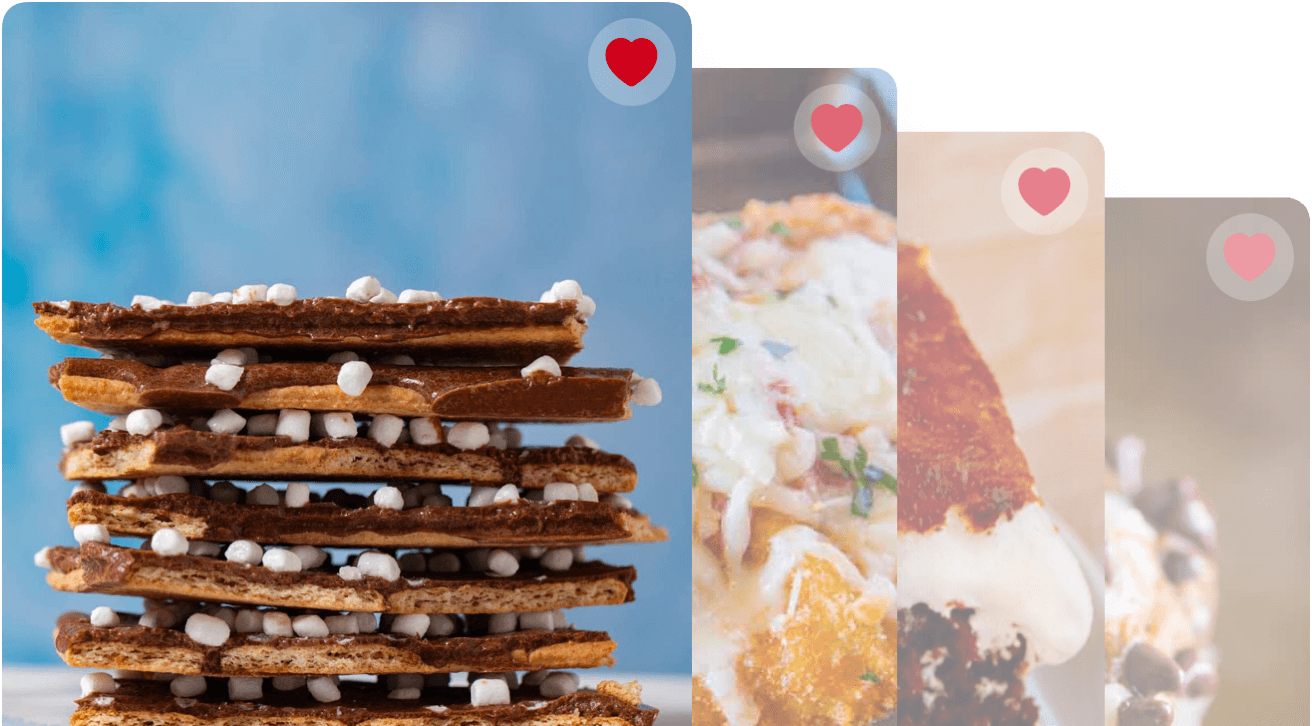 Key Ingredients in Spanish Rice (Mexican Rice)
Rice: Use a long grain rice to achieve the best fluffy texture. Make sure not to buy quick cooking or instant rice, as it will become much too mushy.
Cooking Liquid: The rice will absorb extra flavor from the combination of chicken broth and tomato sauce as it cooks.
Spices: Chili powder is made from crushed dried chilis, and along with cumin and garlic salt, gives Spanish rice a smokey spice flavor that isn't too hot.
Instant Pot Spanish Rice
Set instant pot to sauté mode and heat the canola oil. Toast the rice in the oil until translucent.
Add chicken broth, tomato sauce, chili powder, cumin and garlic salt, stirring to combine.
Seal the lid and set manual pressure on high for 3 minutes.
After cooking, natural release for 10 minutes then manual release.
Fluff rice with fork and serve.
Variations on Spanish Rice
Tomato: Fresh diced tomatoes or even canned diced tomatoes are a great addition to the recipe and add lots of additional flavor.
Salsa: Use salsa to add a ton of flavor and extra seasonings with one easy step. Add a cup of salsa and reduce the chicken broth to just a cup.
Taco Seasoning: Skip the seasonings listed and add 1 ½ tablespoons taco seasoning.
Onion: Cook 1 finely diced medium onion for 5-6 minutes in a bit of canola oil before adding the rice to toast. This will be a great flavor enhancer.
Garlic: Instead of garlic salt, add 2 minced garlic cloves to the rice once it becomes translucent, and saute for 30 seconds before adding the rest of the ingredients.
Peppers: Cook 1 finely diced green or red bell pepper for 5-6 minutes in a bit of canola oil before adding the rice to toast. Or use half onion half bell pepper for even more flavor.
Lime Juice/Lime Zest: Squeeze fresh lime juice and grate the zest at the end for a splash of fresh flavors.
Garnishes: Add chopped fresh cilantro, parsley, or green onions to the top before serving.
Vegetarian: Swap the chicken broth for vegetable broth to make this rice dish vegetarian.
More Delicious Rice Recipes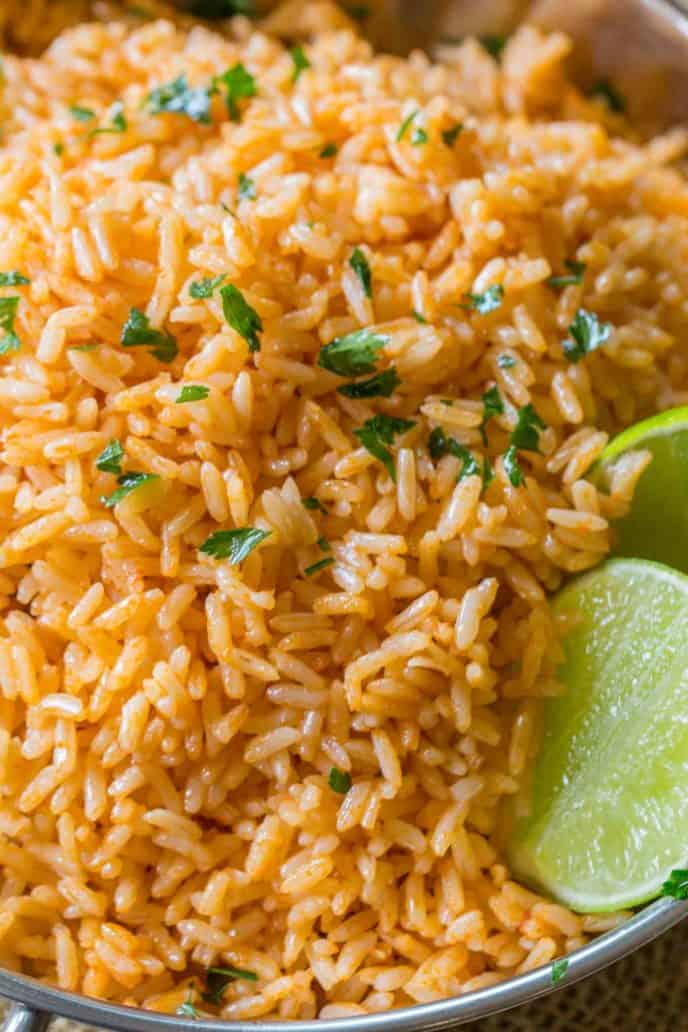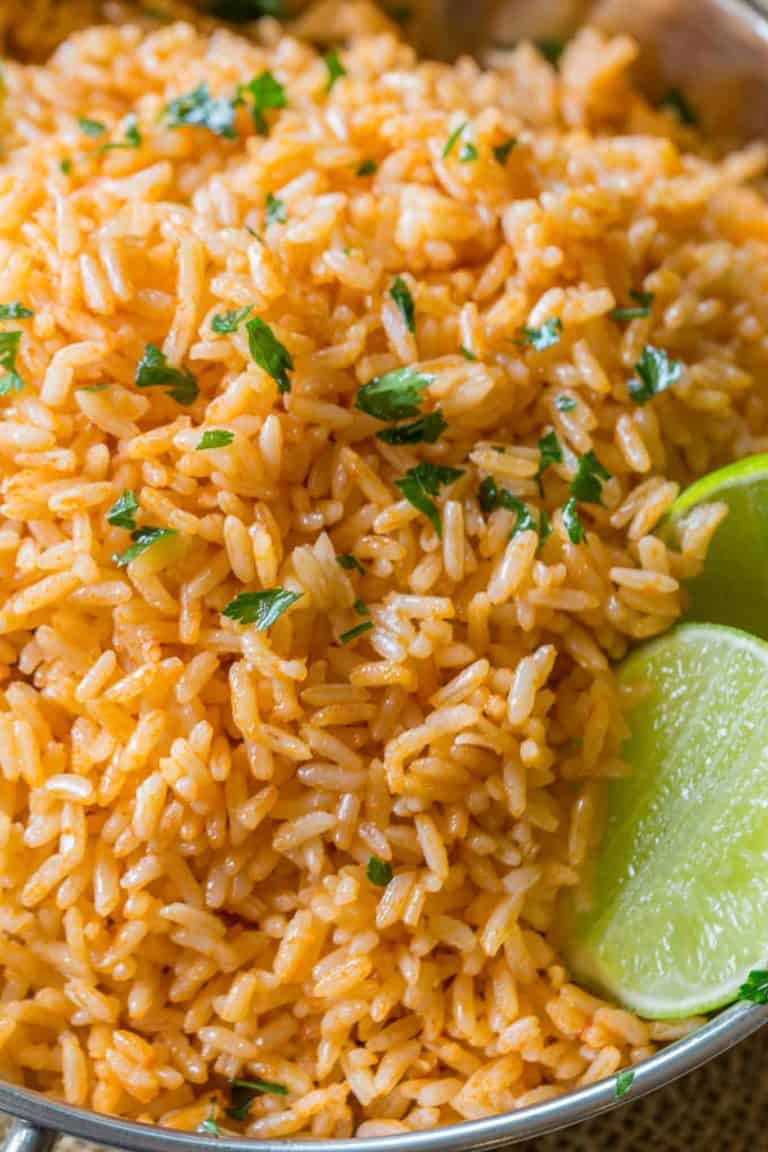 Serving Ideas for Spanish Rice (Mexican Rice)
Arroz con Pollo: Turn your Mexican Rice into a complete meal by mixing in cooked chicken along with some veggies like corn, bell peppers, and onions. Serve with toppings like shredded cheese, salsa, and sour cream.
Taco Soup: Ladle Taco Soup over a scoop of Spanish Rice. The rice will absorb all the delicious flavor of the soup and turn it into a hearty, filling meal.
Breakfast Bowl: Cook up some chorizo and serve it over Mexican rice with a runny egg on top. Garnish with sliced green onions and hot sauce.
Stuffed Bell Peppers: Mix Spanish Rice with ground taco meat, black beans, corn kernels, and tomato sauce. Spoon the mixture into halved bell peppers and top with cheese. Bake at 350 degrees for 30 minutes until the peppers are soft.
Bean & Rice Burritos: Roll up a mixture of Spanish Rice, refried beans, and cheddar or Jack cheese for a simple and kid friendly burrito.
Mexican Fried Rice: Give leftover Spanish Rice a second life as fried rice! Sauté frozen veggie mix with peas, carrots, and corn in a skillet, then add a beaten egg and scramble. Mix in cooked Mexican Rice and heat through. Serve as a side dish or topped with chicken, shrimp, or carne asada for an easy and delicious meal.
How to Store Spanish Rice
Serve: Do not leave Spanish Rice at room temperature longer than 2 hours.
Store: Keep Mexican Rice in an airtight container in the refrigerator for 5-6 days. Reheat gently on the stovetop, adding a little chicken broth if needed to rehydrate.
Freeze: Sealed in an airtight freezer bag, Spanish rice will keep in the freezer up to 4 months. Defrost in the refrigerator before reheating.


Ingredients
2

tablespoons

canola oil

1 1/4

cups

uncooked white rice

1 1/2

cups

chicken stock

15

ounces

tomato sauce

1

teaspoon

chili powder

1/2

teaspoon

cumin

1

teaspoon

garlic salt

cilantro

, optional
Instructions
Add the canola oil and rice in a dutch oven on medium high heat, stirring until translucent (less white, more see-through-ish), about

3-4 minutes

.

Add in the broth, tomato sauce, chili powder, cumin and garlic salt. Bring to a boil, then lower the heat to simmer.

Cover, cooking

20 minutes

then letting rest an additional five minutes before fluffing.
Nutrition
Calories:
166
kcal
|
Carbohydrates:
27
g
|
Protein:
3
g
|
Fat:
4
g
|
Cholesterol:
1
mg
|
Sodium:
639
mg
|
Potassium:
261
mg
|
Fiber:
1
g
|
Sugar:
3
g
|
Vitamin A:
305
IU
|
Vitamin C:
3.7
mg
|
Calcium:
16
mg
|
Iron:
1
mg