Black Beans and Rice is a tasty Cuban recipe, with chicken broth, white rice, garlic, cumin, cayenne pepper and black beans.
If you love this classic Latino Recipe, you're going to really enjoy the incredible flavors of Mexican Rice as well as Classic Chicken Enchiladas and Tacos Al Pastor.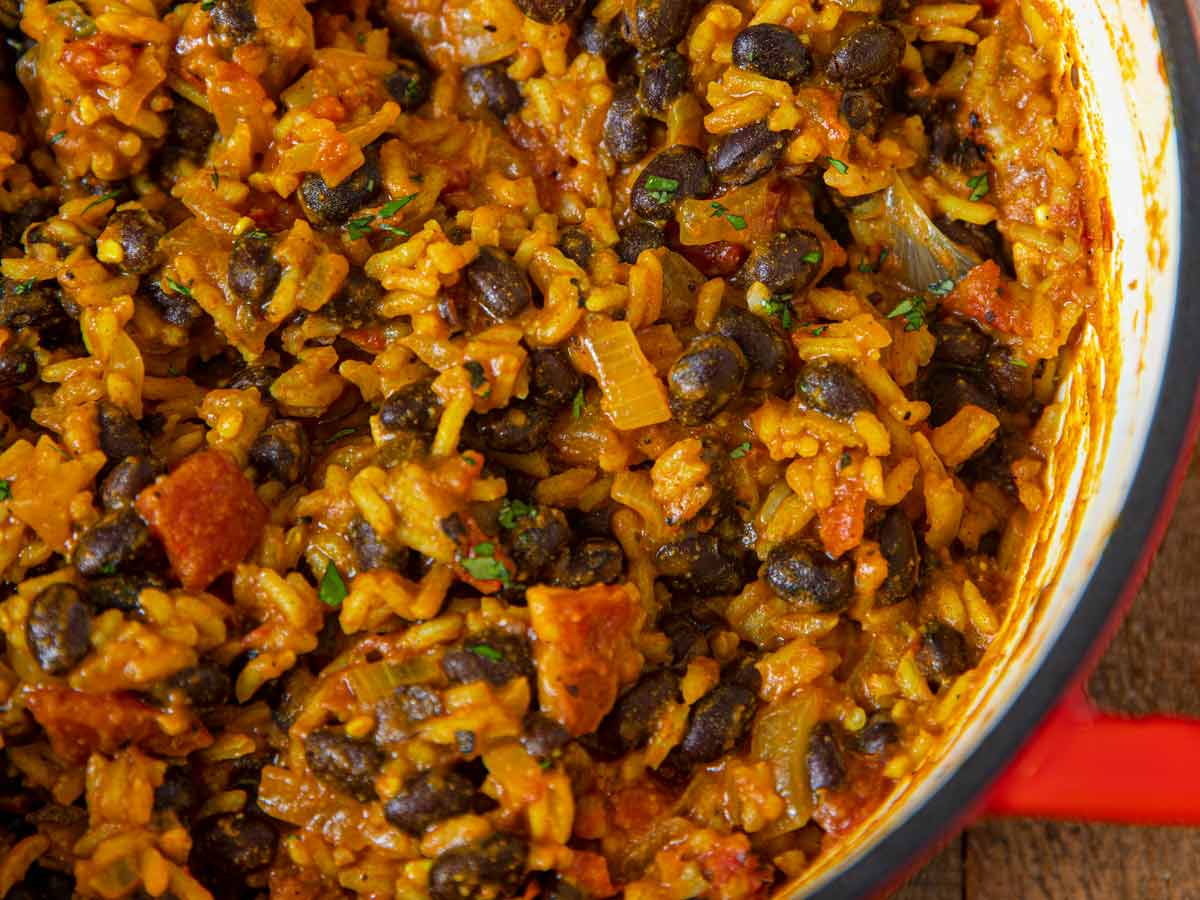 If you're looking for a rice recipe with latin flavors and a quick cook time for a busy weeknight, then this is the recipe for you! Black Beans and Rice is a great side dish, and can be served up with burritos, enchiladas, tacos, and more. If this is your first time making dinner or you're trying to teach the kids a fun way to cook rice, this is an easy recipe to start with. The beans give the rice a delicious, rich flavor and are a great source of protein.
Black Beans and Rice has been around since the two crops were cultivated together. Many people and cultures around the world use beans (legumes) and rice as the base for their daily meals. Before the science was understood, the indigenous peoples felt better when they ate the two together. Today we know that eating legumes and rice together forms a complete protein and is healthy for the body. By adding the spices to this dish, you get an incredible one-pot meal that's ready in under an hour!
The combined flavors in this Black Beans and Rice dish make it a perfect side dish to bring to family dinners and pot lucks. The dish is packed with flavor on its own and is well worth the minimal effort! Plus, with the delicious flavor profile of the Black Beans and Rice, you can pair this with so many flavorful dishes the whole family will love, like Easy Taco Soup!
How to Make Black Beans and Rice
Making this one-pot wonder is pretty easy. Everything is cooked in one pot in specific stages. Check it out! 
Step One: Cook the chopped onion and garlic in a pot for a few minutes. 
Step Two: Rinse the starch off the rice with water until the water isn't murky. Then add it to the onions and garlic and cook a bit. 
Step Three: Add the tomatoes and broth and cook for about 20 minutes, or when all the water is cooked into the rice. 
Step Four: Once the rice is finished cooking, add in the spices and beans, mix, and serve hot!
Frequently Asked Questions
Where is the Black Beans and Rice recipe from?
Black Beans and Rice are a traditional Spanish dish that's a favorite in Cuba. Cuban Black Beans and Rice, also called "Moros y Cristianos," or "Moors and Christians." According to Cuban tradition, Black Beans and Rice represent Spanish history, with the beans representing Muslim Moors and the rice representing Christians. The idea is that separate, both elements are tasty, but together they make a much more delicious dish.
Do I have to rinse the rice and beans first? 
Canned beans will be drained and rinsed in this recipe. It shouldn't be harmful if they aren't rinsed though. If you're using dry beans, they will need rinsed before soaking overnight for this recipe. 

Rice has starch on it that can be rinsed off. Most people do this using water until the water is no longer cloudy. But you won't ruin your meal if you don't rinse it. 
Can I use Brown Rice instead of the White Rice?
You can substitute brown rice for the white rice. Brown rice will take an extra 15 minutes of cooking on the stove, and the ratio of broth should be 3/4ths cup of non-cooked rice and only 1 cup of chicken broth. Too much water while cooking brown rice can make it mushy rather than fluffy. Be sure to follow the instructions on the brown rice package for more details for your specific rice. Soaking is particularly helpful when using brown rice for this recipe.
Should I soak the rice before cooking? 
You don't have to soak your rice. It is good to soak it, however, because it helps it cook faster and aids in digestion of the rice. Soaking is particularly helpful when using brown rice for this recipe. 
Can I use Pinto beans instead of black beans? 
Sure! If that's what you have, go for it! You won't be disappointed.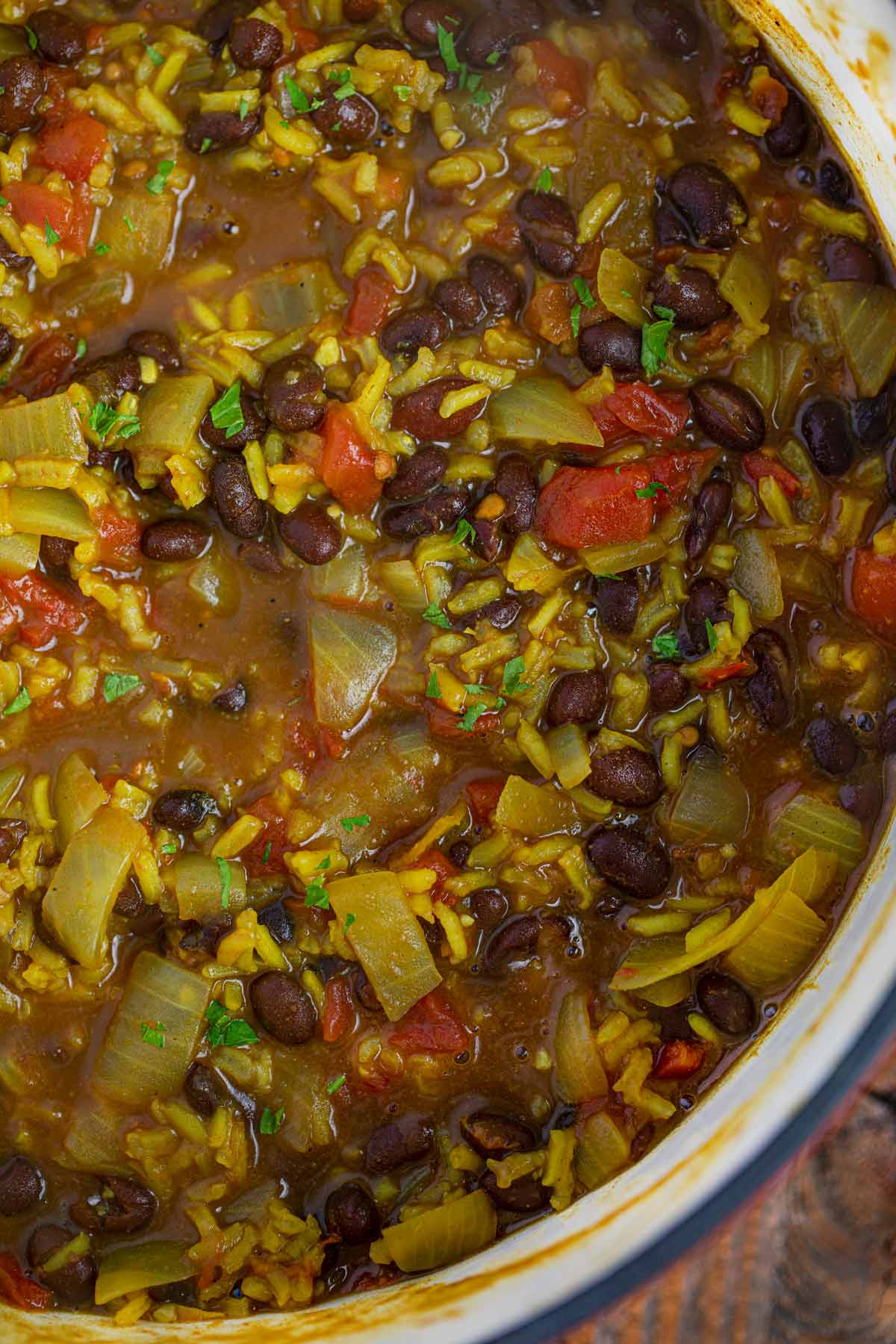 Create a free account to

Save Recipes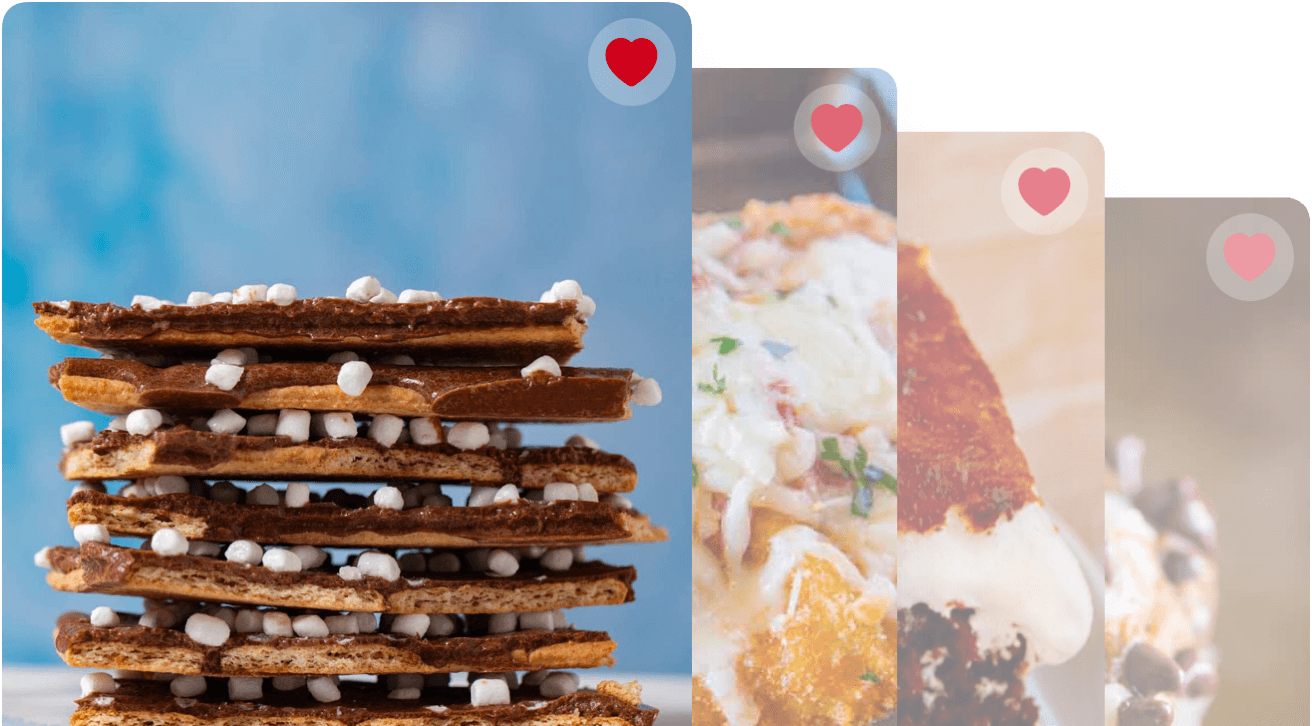 Key Ingredients in Black Beans and Rice
The ingredients used in this recipe are easily found in your local grocery store if you don't already have them stocked up in your pantry. 
Beans: The canned beans used here are the regular 15oz cans for a total of 30 ounces of cooked beans. This is about two cups of beans you soak yourself. You can use one large 32oz can of beans instead of two 15oz cans of beans with no problem. 
Rice: You can use any white rice you have, like Jasmine, Basmati, Calrose, etc. This recipe calls for white long grain rice. 
Tomatoes: The 14oz can of diced tomatoes with chilies has a nice kick to it if you get the spicy kind. There is a mild version available that is better for some people. 
Spices: Cayenne is a bit spicy so half it if it will be too much. Turmeric adds an earthy and flavorful base to the dish and shouldn't be skipped if possible. Adding the spices in at the end give is the extra flavor wanted. 
Vegetable Oil: You can use any vegetable oil, olive oil, or virgin olive oil for this recipe. 
Variations on Black Beans and Rice
There is a lot you can do with this versatile food. Check out some of these yummy options!
Serve with: Try serving up your Black Beans and Rice topped with fresh cilantro, sour cream, or a sprinkle of lime juice.
Meat: Black Beans and Rice with chicken, as well as Black Beans and Rice with sausage, are two delicious variations that are popular in Cuban cuisine.
Veggies: You can try making spicy Black Beans and Rice by adding in or serving with cut serrano chiles or red peppers with a little dash of hot sauce. You can also mix in chopped green bell pepper, jalapeño slices, or fresh avocado. If you add the green pepper, make sure to add it fairly early on to keep it from being tough. 
Vegan: This recipe is already pretty close to being completely vegan, all you have to do is exchange the chicken broth for vegetable broth. Once you make the change, this recipe uses no animal products and is perfectly vegan friendly.
Puerto Rican Black Beans and Rice: This version of Black Beans and Rice is based off of the Cuban variety, but you should also try Caribbean and Puerto Rican Black Beans and Rice. Puerto Rican Black Beans and Rice tends to use vinegar, Sazón Goya, and sofrito, as well as a few other ingredients. 
How to Store Black Beans and Rice
Serve: Black Beans and Rice will keep at room temperature for about 2 hours.
Store: Keep the Black Beans and Rice in an airtight container, like Tupperware or an airtight bag, and the Black Beans and Rice will stay good for up to a week. You should always allow the Black Beans and Rice to fully cool down to room temperature before you seal it up and put it away. 
Freeze: You can freeze Black Beans and Rice for up to 3 weeks as long as you keep it properly sealed.


Ingredients
2

tablespoons

vegetable oil

1

yellow onion

, chopped

2

cloves

garlic

, minced

3/4

cup

uncooked white rice

1 1/2

cups

chicken broth

1

can (14 ounces)

diced tomatoes with chilis

2

teaspoons

ground cumin

2

teaspoons

turmeric

1

teaspoon

kosher salt

1/4

teaspoon

coarse ground black pepper

1/4

teaspoon

cayenne pepper

2

cans

black beans

, drained and rinsed
Instructions
Add the oil to a pot on medium-high heat.

Add the onion and garlic and cook for

4 minutes

.

Add the rice and cook for

2 minutes

.

Add the chicken broth and canned tomatoes and bring to a boil. Lower the heat to a simmer and cover the pot and cook for

20 minutes

.

Add the cumin, turmeric, salt, pepper, cayenne pepper, black beans and mix together.
Nutrition
Calories:
271
kcal
|
Carbohydrates:
45
g
|
Protein:
11
g
|
Fat:
6
g
|
Saturated Fat:
4
g
|
Sodium:
1150
mg
|
Potassium:
565
mg
|
Fiber:
11
g
|
Sugar:
1
g
|
Vitamin A:
43
IU
|
Vitamin C:
10
mg
|
Calcium:
72
mg
|
Iron:
4
mg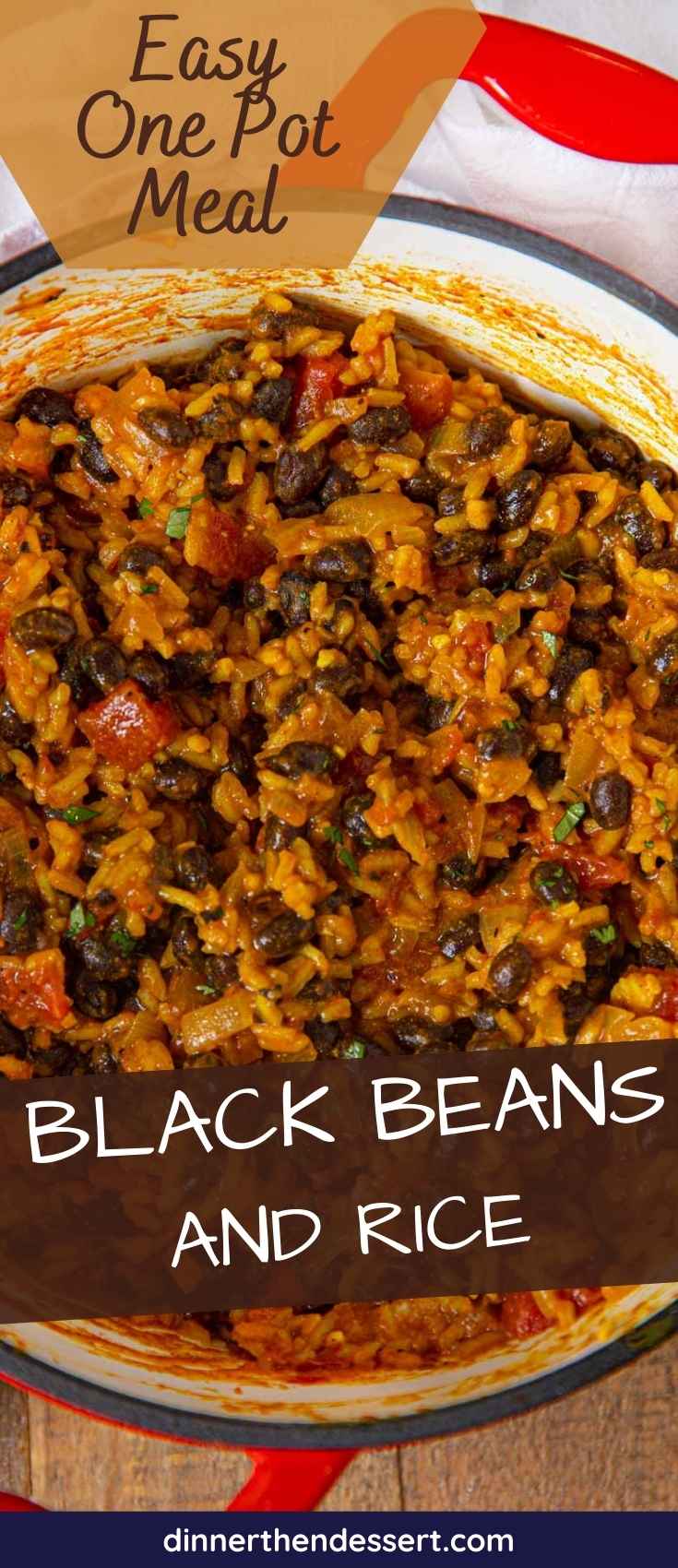 Photos used in a previous version of this post: