Classic Chicken Enchiladas with homemade enchilada sauce, shredded chicken, cheddar cheese and a creamy sour cream sauce makes the perfect weeknight dinner. It's all about chicken enchiladas!!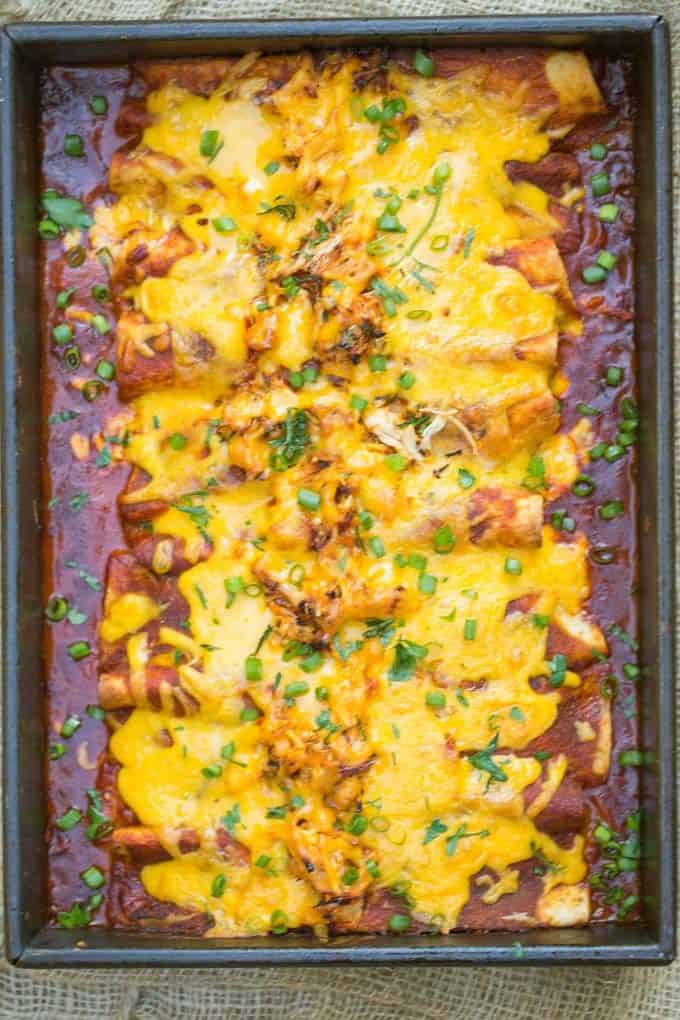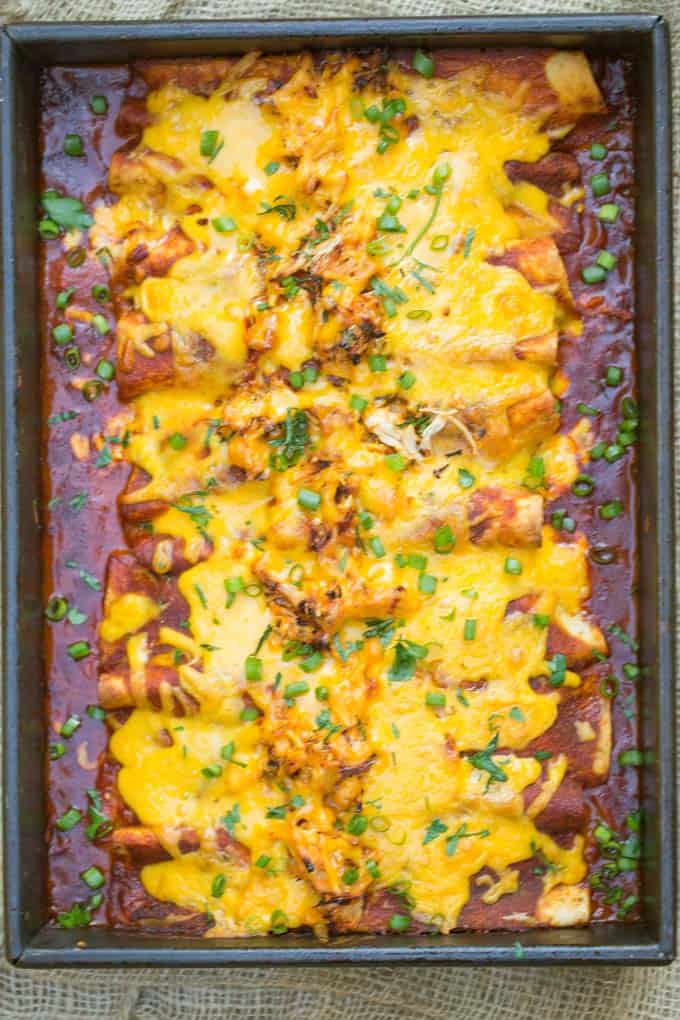 How do I love Chicken Enchiladas? Let me count the ways.
Classic Chicken Enchiladas are a staple in our house. We love chicken enchiladas for so many reasons, not the least of which is that they are delicious, and I'm never NOT in the mood for good chicken enchiladas.
First, let's be honest, cheese!
Second, it is the perfect recipe to make when you have leftover chicken and since we make Crispy Slow Cooker Chicken once a week we are always open to leftover chicken recipes.
Third, the base flavor of these Classic Chicken Enchiladas are pumped up thanks to my Homemade Enchilada Sauce that I always keep on hand in the freezer (I make a quadruple recipe anytime I make a batch for easy meals later). With that sauce and cheese and chicken, the only thing missing is a creamy sour cream filling.
Fourth, the filling! Shredded chicken mixed with sharp cheddar cheese, sour cream, and your favorite chopped vegetables (I aim for chopped onions, and canned green chiles as a general rule) becomes the most amazing melted chicken enchiladas filling when you serve these up with some delicious Spanish Rice or Green Cilantro Rice.
Chicken Enchiladas are Always a Win
A close friend of ours recently had a child and as you would expect, a meal train had been set up. I took over two trays of homemade chicken enchiladas as well as trays of both kinds of rice and got the most amazing thank you note about how they decided to eat the chicken enchiladas for four dinners in a row because they were that good.
I'm telling you, folks, it's all about the chicken enchiladas 😉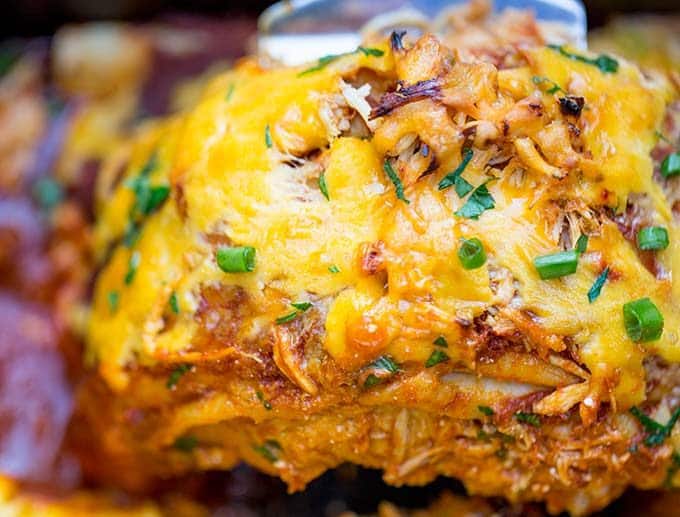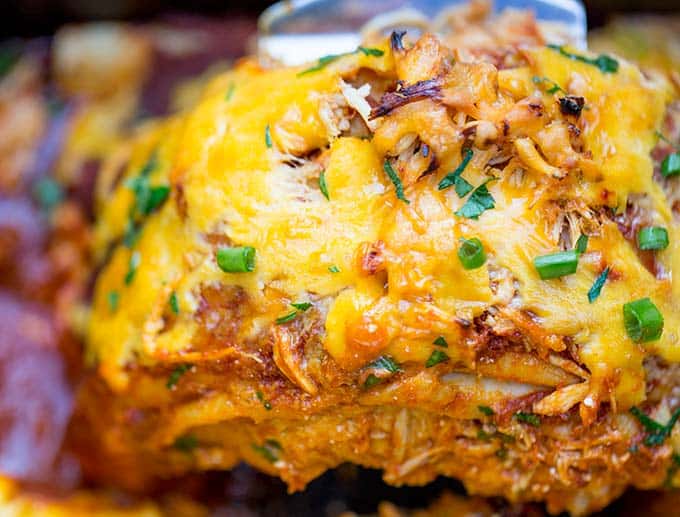 Tools used to MAKE Classic Chicken Enchiladas:
AllSpice Spice Rack: I notoriously don't like to buy jarred spices because they always cost 5-10x more than buying in bulk. The only drawback is you're left with spices in these little baggies that are a mess to store and not easy to look through. I use this spice rack and buy all my spices from Sprouts, Winco and Penzey's then fill up the bottles. PS, we're talking a huge difference, last week I bought nutmeg in bulk (enough to fill the bottle) for under a dollar and the bottled variety in the store was almost seven dollars.
Rectangular Baking Pan: I love this baking pan for its sharp clean edges (perfect for baking too!) and it's ability to distribute heat well. Plus it is a steal and works great going from freezer to oven. I may or may not have 4 of them because I make and freeze meals ahead in them all the time.
Food Processor: Because pre-shredded cheeses contain an additive to avoid clumping they also don't melt as well as you'd hope so I always shred my own, especially for these chicken enchiladas. In addition to costing less to buy I also use a food processor to shred it for me since I like to avoid grating injuries. This one is the older model (the new one is linked right under it too) but I can't tell you how much I love it. For such a low price it is my second favorite kitchen gadget (nothing beats the cast iron skillet!). I've had it for 10 years of heavy use and it has never slowed down.


Ingredients
2

Tablespoons

canola oil

(you can use vegetable oil if you prefer)

1

small white onion

, peeled and diced

2

cups

shredded chicken

, I use Crisp and Juicy Slow Cooker Chicken

1

(4-ounce) can

diced green chiles

3

cups

sharp cheddar cheese

, shredded and divided

1

cup

sour cream

8

large flour tortillas

2

cups

red enchilada sauce

chopped cilantro

, for garnish

chopped green onions

, for garnish
Instructions
Preheat your oven to 350 degrees.

If you're making the enchilada sauce, make it now (don't worry it only takes 10 minutes!)

In a skillet heat up the oil on medium-high and cook the onions until just softened. Add in the chicken and cook until it is just a bit crispy.

In a large bowl mix the onions, chicken, green chiles, 1 ½ cups of cheddar cheese and 1 cup of sour cream together.

In a separate bowl, dip the flour tortillas into the enchilada sauce, then lay them flat in your baking dish, 2-3 at a time.

Spoon on ½ cup of the filling into each tortilla and roll tightly leaving the seam side down.

When all 8 are done, carefully pour on the remaining enchilada sauce and sprinkle on the remaining cheese.

Bake the enchiladas covered for

20-25 minutes

, then uncovered for an additional

5 minutes

.

Top with cilantro and green onions.
Nutrition
Calories:
871
kcal
|
Carbohydrates:
46
g
|
Protein:
47
g
|
Fat:
55
g
|
Saturated Fat:
27
g
|
Cholesterol:
171
mg
|
Sodium:
2079
mg
|
Potassium:
456
mg
|
Fiber:
4
g
|
Sugar:
14
g
|
Vitamin A:
2035
IU
|
Vitamin C:
5
mg
|
Calcium:
753
mg
|
Iron:
4.3
mg