Homemade Rotisserie Chicken is the best recipe for a flavorful, juicy chicken with crispy skin. Easy roasted with an herb marinade!
A Roasted Chicken is one of the most versatile Chicken Recipes, perfect for weeknight meals or a holiday dinner. Use the leftover chicken for lunch or dinner the next day in one of our Chicken Noodle Soup Recipes, a Classic Chicken Salad, or the delicious Chicken Madness Philly Sub Sandwich!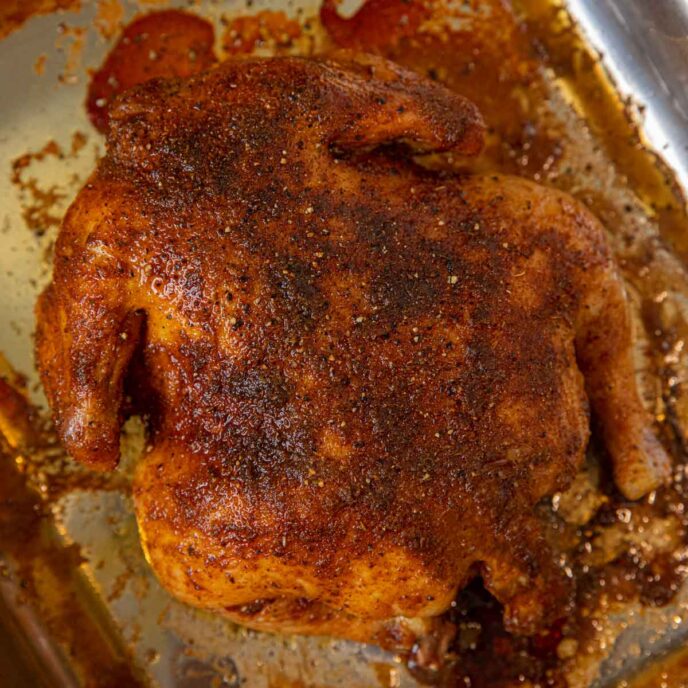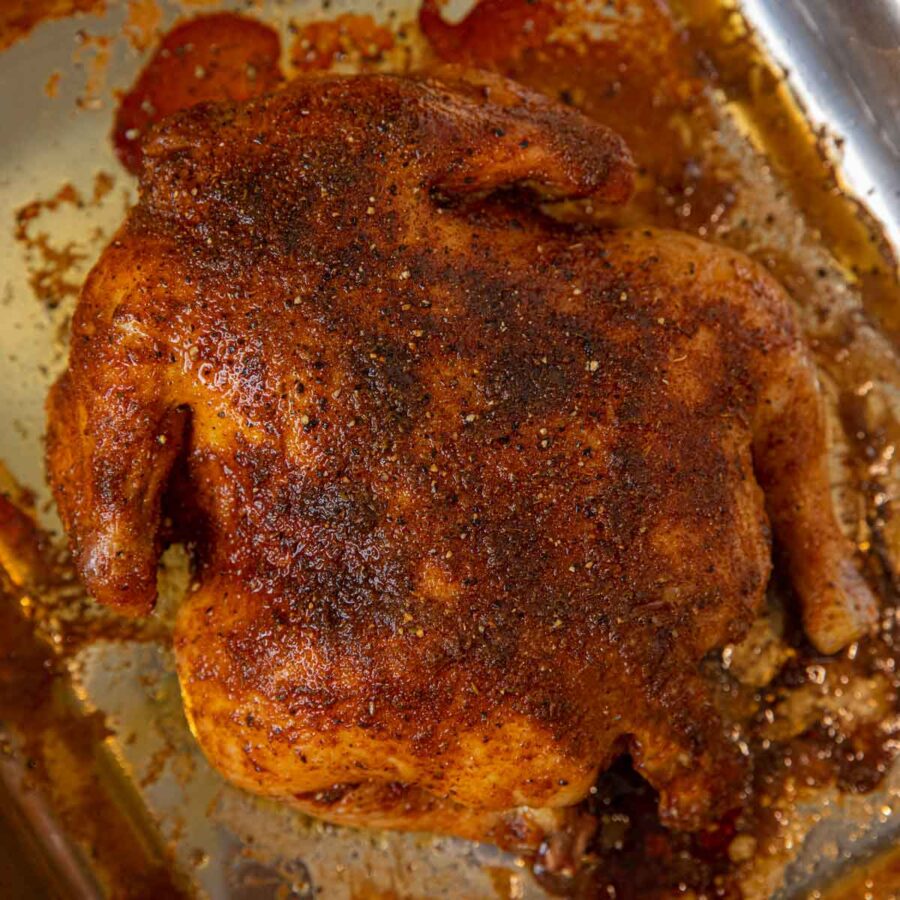 A grocery store rotisserie chicken is no doubt super convenient, especially on busy weeknights, but it can be hit or miss. Get to the store too early and the only chicken available has been sitting out since morning. Go too late, you get the scraps of what's left. Guarantee yourself a juicy, fresh chicken every time by making your own Homemade Rotisserie Chicken.
You don't need a special rotisserie spit for your BBQ grill or a fancy As Seen On TV gadget to get the perfect deli chicken at home. This Homemade Rotisserie Chicken recipe is the juicy chicken with golden brown skin you love from the grocery store or Costco made in your oven. And you don't need one of those expensive rotisserie ovens either. 
This Rotisserie Chicken is one of our favorite recipes because it marinates in a homemade seasoning blend so every bite is as flavorful as it is juicy. The seasoning blend in this recipe is a traditional rotisserie spice mix, but we've included a few other blends to switch up the flavor in the variations section. The simple seasoning on a Rotisserie Chicken goes perfectly with comfort food sides like Mashed Potatoes, Baked Mac and Cheese, and Sautéed Green Beans.
Unlike a store-bought rotisserie chicken, Homemade Rotisserie Chicken does take a bit more time and preparation. The payoff is so worth it! Plan on prepping your chicken early in the morning or you can marinate it overnight in the fridge. If you forgot or want to skip marinating the chicken, check out our Slow Cooker Rotisserie Chicken recipe. This recipe gives you crispy skin and juicy chicken straight from the crock pot, no oven or marinating needed.
How to Make Homemade Rotisserie Chicken
Making this recipe is so easy, and the wait is so worth it! Using just a few spices and your preferred cooking method, this chicken will be cooking away to juicy perfection. Check it out!
Step One: Combine spices.
Step Two: Prepare Chicken.
Step Three: Season chicken and marinate overnight, or for at least 8 hours to let the seasonings really get into the meat.
Step Four: Cook according to your preferred method. See the recipe card at the bottom of the page for more info. Let the chicken rest for a few minutes before carving. 
Easy Side Dish Recipes to Serve with Rotisserie Chicken
Ikea Copycat with gravy recipe
Frequently Asked Questions
What type of chicken should I use for Homemade Rotisserie Chicken?
Choose a whole, fresh, and(if possible) organic chicken, weighing around 4-5 pounds for the best flavor and texture. Ensure that the skin is intact and the chicken is free of any bruises or blemishes.
How do I ensure even cooking for my Homemade Rotisserie Chicken?
For even cooking, truss the chicken by tying the legs together and tucking the wings under the body. This will help the chicken maintain a uniform shape, allowing the heat to distribute evenly during the cooking process.
Can I use different spices or herbs for the seasoning mix?
Absolutely! Feel free to get creative with your spice mix. You can try adding different herbs like rosemary or sage, or experiment with other spices like cumin, coriander, or smoked paprika to give your rotisserie chicken seasoning a unique flavor profile.
What should I do with the giblets?
Giblets can be used to make a delicious chicken stock or gravy. Alternatively, you can cook them separately by sautéing with onions and garlic, or boiling them in water with your favorite herbs and spices.
How do I check the doneness of my chicken without a probe thermometer?
One method is to pierce the thigh with a fork or sharp knife. If the juices run clear and not pink, the chicken is likely done. Additionally, the legs should move easily when wiggled, and the meat should feel firm to the touch. However, using a probe thermometer remains the most accurate method. Make sure the inner temperature reaches 165 degrees F.
What do I do with the leftover bones and scraps?
You can turn the leftover and unedible pieces into a delicious chicken broth. Add all the chicken pieces and fragments to a large pot. Cover the scraps with water. Put a lid on and let it boil for an hour. Turn the heat off and let it soak for an additional hour. Once it's cool, strain the broth into an airtight container or immediately use to make chicken noodle soup.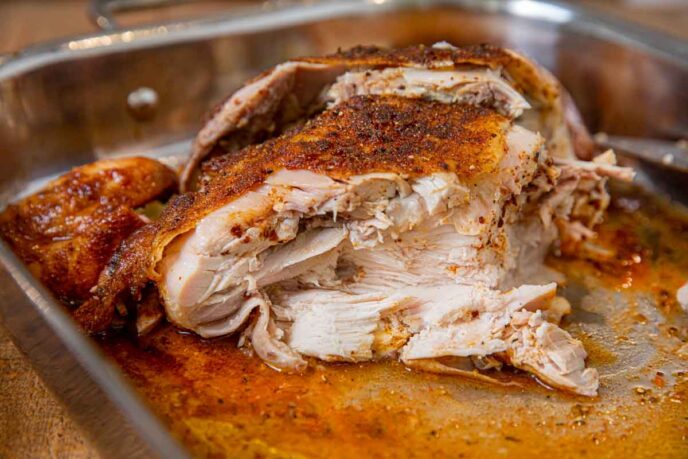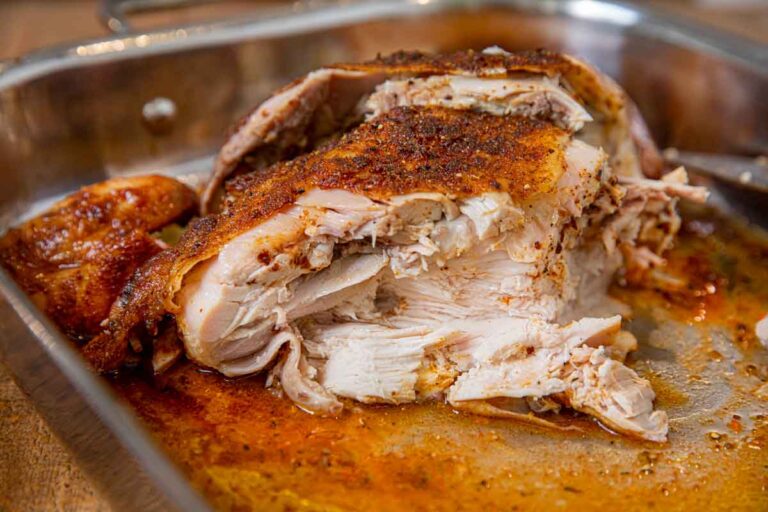 Create a free account to Save Recipes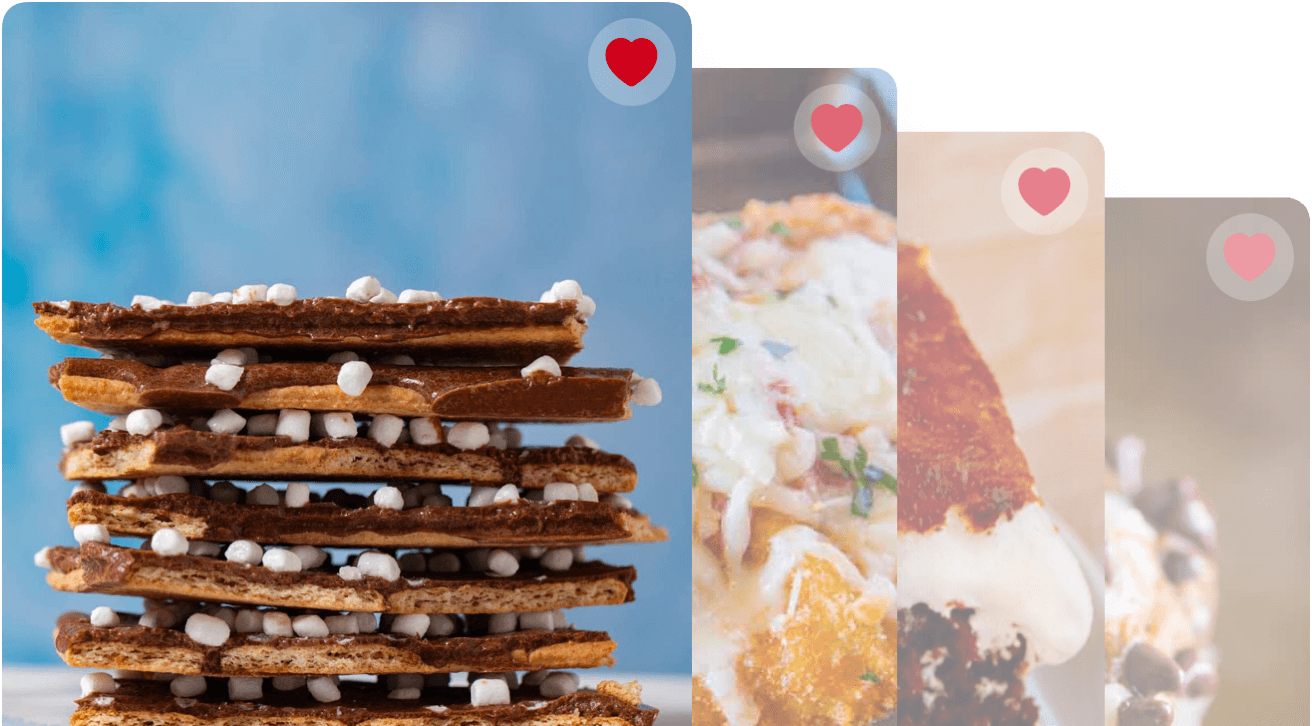 Key Ingredients in Homemade Rotisserie Chicken
This amazing recipe is literally just tender chicken and spices! So easy to make and with endless variations of spice blends. Check it out!
Chicken: We are using a whole chicken that weighs about 5 pounds. The chicken needs to thaw to marinate well. Leave it on a plate in the fridge for two or three days to thaw before adding seasonings and marinating.
Spice Mixture: The savory blend of spices we are using is from our cupboard. You can use a premade blend, or try another spice variation. There are so many ways to do this! Just make sure to use more than a teaspoon salt for best taste.
Can Homemade Rotisserie Chicken Be Made Ahead of Time?
This is a great recipe to prepare the day before since the marinating time and the cooking time are at least 5 hours each. If you want to make it more than a day in advance, you can. Just let the chicken stay cool in the fridge while being covered in an airtight container. Reheat at 350 degrees F for 20-30 minutes in the oven before serving hot! Let it sit for a few minutes before carving.
Keep the chicken breasts aside with some fresh veggies for a quick lunch the next day! Add a little hot sauce to give it a kick and a bit of sour cream, and you'll have the perfect all-Southern comfort food in one delicious meal! 
How to Use Leftover Rotisserie Chicken
There are so many ways to use leftover chicken! Carve the leftover chicken meat into chunks or shred it with a fork for Chicken Tacos, Chicken Pot Pie, and Chicken Enchiladas. Turn it into one of our amazing chicken salad recipes, like the Deli Chicken Salad. Boil the chicken with bones and meat for an easy, flavorful Chicken Soup, and serve with a side of Dinner Rolls.
Variations on Rotisserie Chicken
Lemon Thyme Rotisserie Chicken: For Lemon Thyme Rotisserie Chicken, mix 3 tablespoons lemon pepper seasoning with 1 tablespoon ground thyme for the marinade. Before roasting squeeze a halved lemon over the chicken and place lemon halves in the cavity of the chicken.
BBQ Rotisserie Chicken: Make a BBQ spice rub with ½ cup brown sugar, ½ cup paprika, 1 tablespoon ground black pepper, 1 tablespoon salt, 1 tablespoon chili powder, 1 tablespoon garlic powder, 1 tablespoon onion powder, 1 teaspoon cayenne pepper.
Buffalo Rotisserie Chicken: Use this Buffalo seasoning blend of ¼ cup brown sugar, 2 tablespoons smoked paprika, 1 tablespoon black pepper, 1 tablespoon chili powder, 2 teaspoons cayenne pepper, 1 teaspoon onion powder, 1 teaspoon garlic powder, and 1 teaspoon mustard powder for a spicy roast chicken.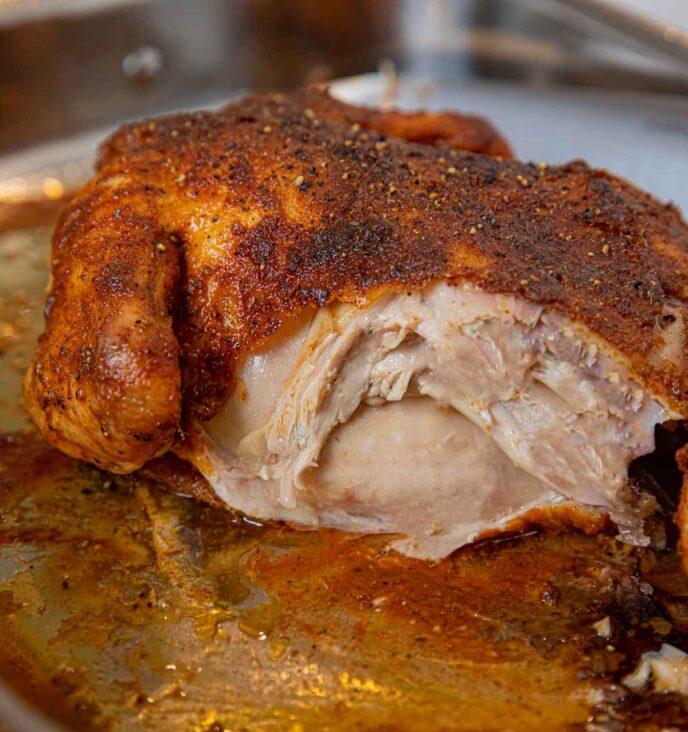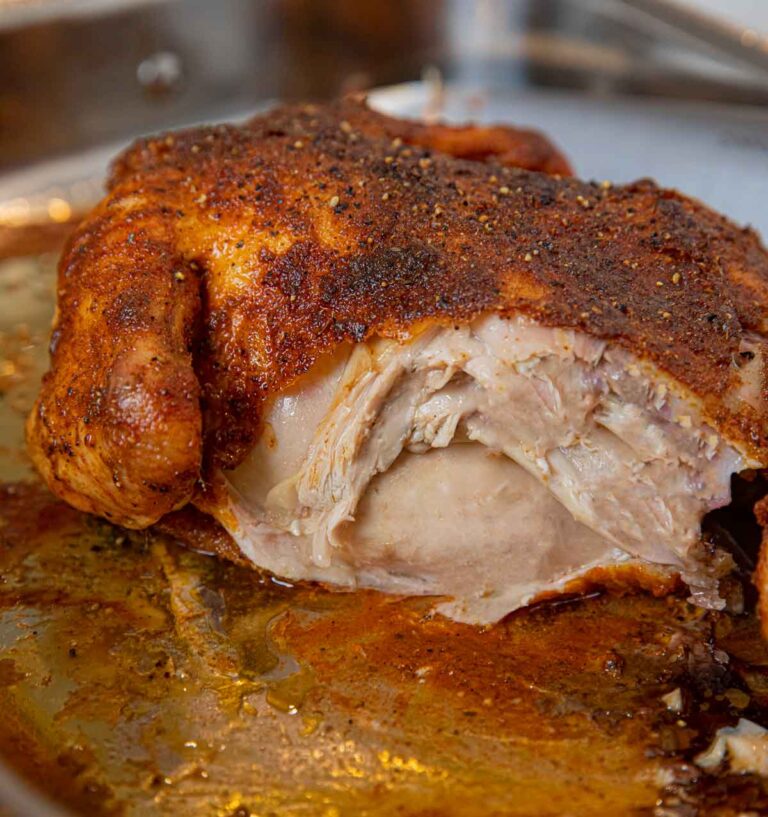 Bundt Pan Rotisserie Chicken
Prepare chicken with seasonings and marinate as usual. Cover the bundt pan opening with aluminum foil. Prop the whole chicken over the center part, with the center inserted into the cavity of the chicken to hold it up. Bake according to either the slow or fast method (see recipe card) until the internal temperature, measured at the thigh, reads 165 degrees.
Brining A Whole Chicken
For an even juicier, plumper chicken, try brining your chicken before rubbing it with the herb seasoning. Add 2/3 cup sugar, ¾ cup salt, ½ cup olive oil, 3-4 smashed garlic cloves, and any savory fresh herbs you like to a gallon of warm water over medium heat. Stir until sugar and salt dissolve and then cool to room temperature. Place your chicken in the mixture and cover. Refrigerate in brine for 4 hours up to overnight. Remove chicken, pat dry, and season with rotisserie seasoning.
How to Know if Chicken is Cooked
According to FDA Guidelines, the safe minimum internal temperature for chicken is 165 degrees. Measure internal temperature by inserting a meat thermometer into the middle of a chicken thigh.
More Classic Comfort Food Recipes
How to Store Homemade Rotisserie Chicken
Serve: You can keep Rotisserie Chicken at room temperature for up to 2 hours before it should be stored.
Store: A Homemade Rotisserie Chicken can be kept in the refrigerator, wrapped in aluminum foil or in an airtight container, for up to 4 days.
Freeze: Cool your chicken completely, remove meat from bones, and place in a freezer bag. Freeze for up to 4 months.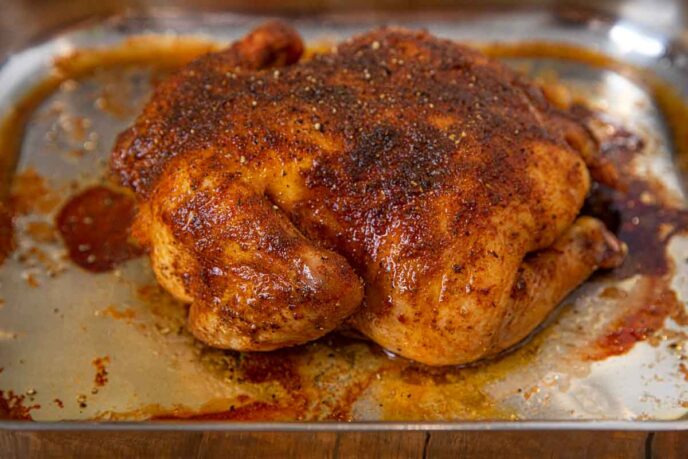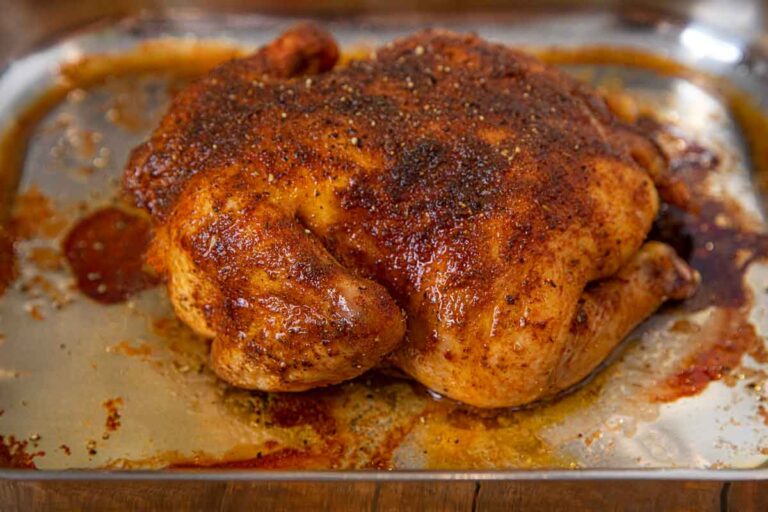 Ingredients
1 1/2

teaspoons

kosher salt

1

teaspoon

paprika

1/2

teaspoon

garlic powder

1/2

teaspoon

black pepper

1/2

teaspoon

onion powder

1/2

teaspoon

ground thyme

, (if using thyme leaves – process them)

1/2

teaspoon

white pepper

1/4

teaspoon

cayenne pepper

5

pound

chicken
Instructions
Mix together the salt, paprika, garlic powder, black pepper, onion powder, ground thyme, white pepper and cayenne pepper.

Remove giblets from chicken and pat dry with paper towel.

Season chicken inside and out with the seasoning mix and let chicken marinate for

8 hours

.
Slow Method (Best Method):
Heat oven to 250 degrees.

Place chicken in a baking dish and cook for

5 hours

or until the middle of the thigh reads 165 degrees on a probe thermometer.
Fast Method:
Heat the oven to 425 degrees.

Lower oven to 375 degrees and cook for

40-45 minutes

or until the middle of the thigh reads 165 degrees on a probe thermometer.
Nutrition
Calories:
394
kcal
|
Carbohydrates:
1
g
|
Protein:
34
g
|
Fat:
27
g
|
Saturated Fat:
8
g
|
Cholesterol:
136
mg
|
Sodium:
709
mg
|
Potassium:
351
mg
|
Fiber:
1
g
|
Sugar:
1
g
|
Vitamin A:
453
IU
|
Vitamin C:
3
mg
|
Calcium:
20
mg
|
Iron:
2
mg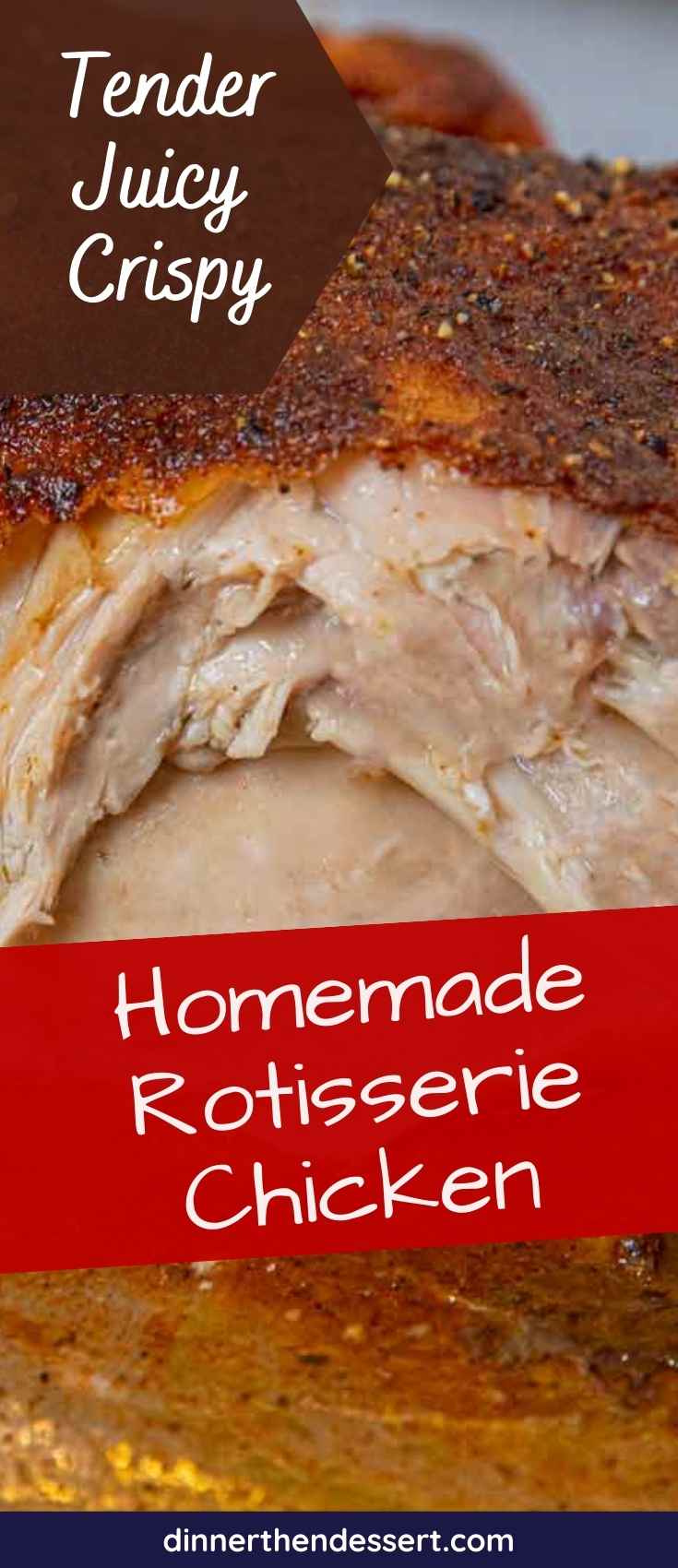 Photos used in a previous version of this post.