Slow Cooker Broccoli Cheese Soup is the perfect soup for this cold wintery weather that even your kids will love and it takes just a few minutes of prep.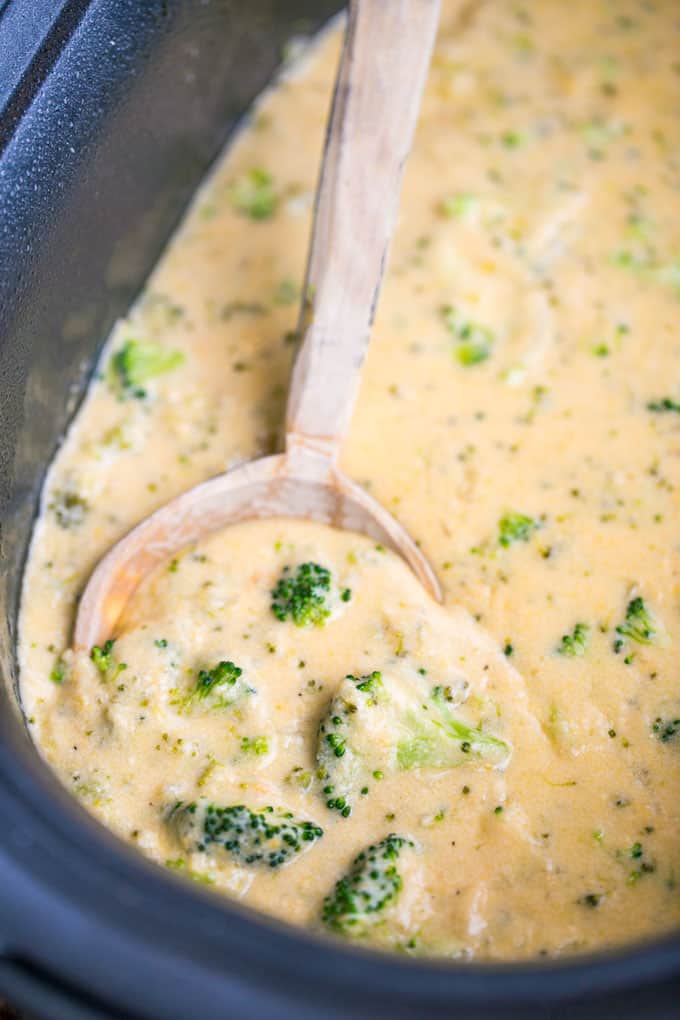 Crockpot Broccoli Cheese Soup
Slow Cooker Broccoli Cheese Soup is one of those soups you know isn't technically super healthy for you (I mean let's be honest 12 ounces of cheese!)  but you can instead focus on the "heeeyyy it has broccoli and it is a soup!" part of it instead.
Slow Cooker Broccoli Cheddar Cheese Soup has been a favorite around our house since the kids were born. Getting them to eat greens was always such a headache so I would cook up a batch of this soup and puree it entirely (I don't add that to the instructions because I figure if you're making it you know it has broccoli, haha).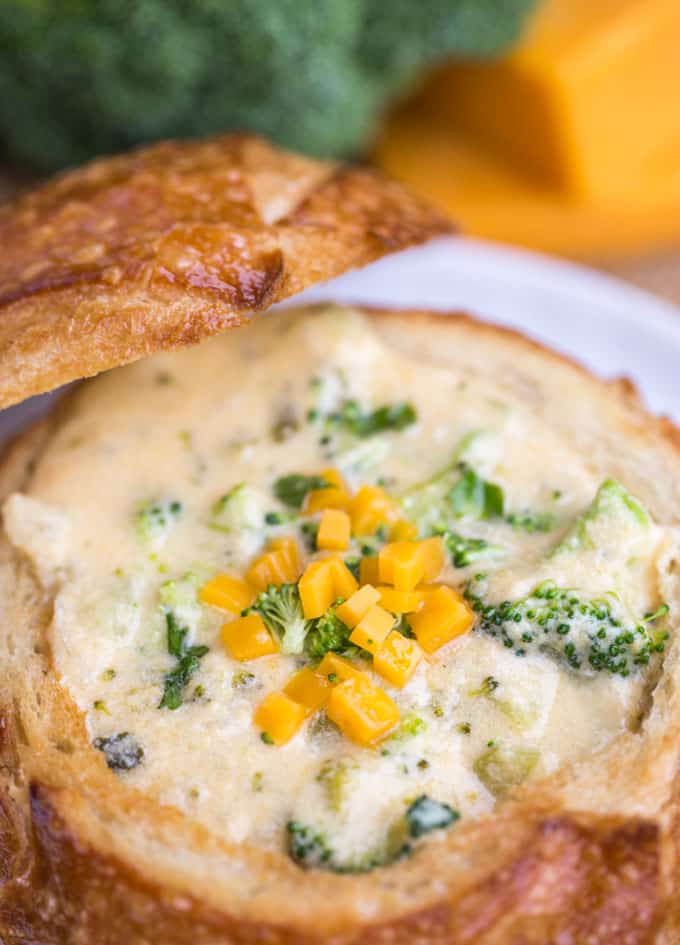 Bread Bowl + broccoli cheese soup = Perfection
The kids taste the cheese and are happy and I'm happy knowing I got them to eat the "little trees" that they say they hate so much. Then I also treat myself to a bowl of it inside a bread bowl.
Let's talk bread bowls for a second here. I'm team sourdough and I also spread just a bit of butter on the inside of the scooped out bowl and toast it at 350 for 10 or so minutes until it is crispy on the outside and soft on the inside.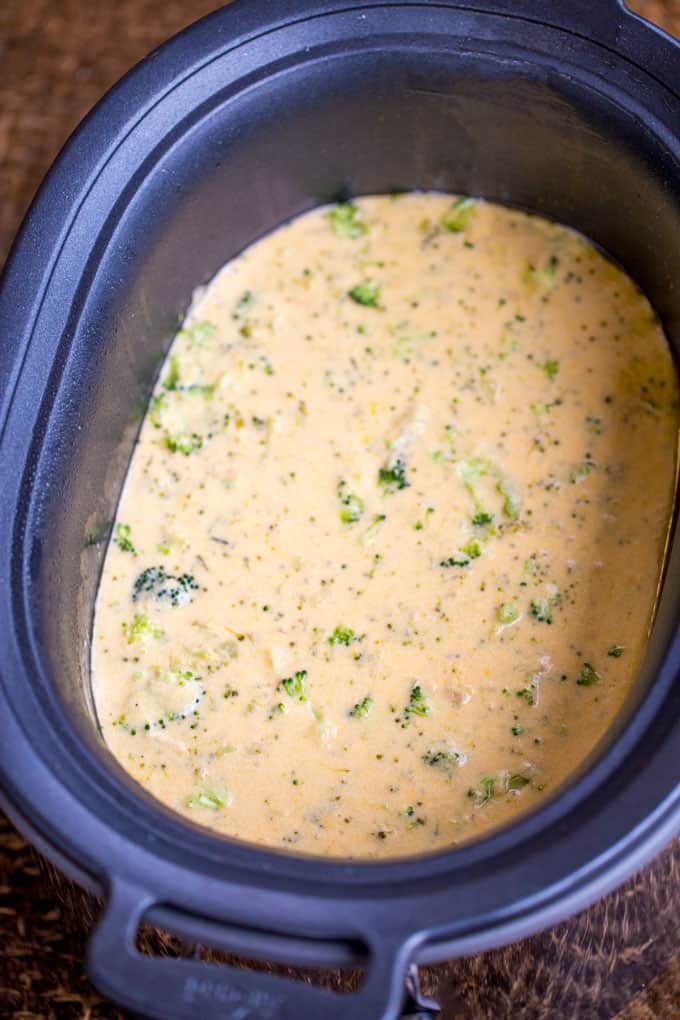 Tips for this Crockpot Broccoli Cheese Soup
There isn't a whole lot to discuss about the making of this soup. It is pretty user-friendly. But here are a few tips
If you do want more green pieces (especially if you're serving it for company you can reserve 1 cup of the broccoli and at the end of the cooking process go ahead and steam that broccoli in the microwave for 2 minutes (glass bowl covered with a damp paper towel).
Add the broccoli to the top of the slow cooker and press down gently to just cover it with the soup. Serve it into the bowls and top with more of that steamed broccoli if you would like and some tiny cubes of cheddar.
Speaking of the cheddar cheese, use a block not the pre-shredded kind. The pre-shredded cheese you buy at the grocery store is packaged with an anti-clumping agent which will prevent it from melting as smoothly as we would like.
Looking for more crispy slow cooker meals?
Or maybe slow cooker soups?

Tools Used In This Slow Cooker Broccoli Cheese Soup:
Slow Cooker: Love this slow cooker and how programmable it is, it has been a workhorse for me… until…
My New Slow Cooker: This recipe was made in this slow cooker. For larger roasts I also brown the meat in the insert and not lose a bunch of the flavor by transferring the meat and leaving the browned bits behind. If you're thinking of a new slow cooker, consider it if your budget is open.
Evaporated Milk: Different than condensed milk, evaporated milk is actually milk with half of the water content removed. This makes for a thicker, creamier milk but without the high fat content of heavy cream. Condensed milk is similar to evaporated milk in that the water is removed from the milk, but the difference is about 40% of the content of that can of condensed milk is sugar. Not the best fit for this recipe.


Ingredients
1

yellow onion

chopped

3

cloves

garlic

minced

1/2

teaspoon

Kosher salt

1/4

teaspoon

black pepper

2

cans evaporated milk

12 ounce cans

6

cups

vegetable stock

chicken stock is fine too

6

cups

broccoli

diced into ½ inch pieces

1/4

cup

butter

1/4

cup

all-purpose flour

4

ounces

cream cheese

half a block

12

ounces

sharp cheddar cheese

cut into cubes

Mini bread bowls for serving

optional
Instructions
Add the onion, garlic, Kosher salt, black pepper, evaporated milk, stock and broccoli to your slow cooker.

Cook on high for 2 hours or low for

4 hours

.

In a small bowl mash the flour and the butter together to make a paste.

To the slow cooker add in the butter/flour paste, cream cheese and half the cheddar.

Cook for an additional

half hour

.

Whisk really thoroughly and add in the remaining cheddar cheese.

Whisk again and serve (preferably in a bread bowl which makes all soups even more awesome.
Nutrition
Calories:
649
kcal
|
Carbohydrates:
25
g
|
Protein:
28
g
|
Fat:
50
g
|
Saturated Fat:
30
g
|
Cholesterol:
151
mg
|
Sodium:
2468
mg
|
Potassium:
602
mg
|
Fiber:
4
g
|
Sugar:
7
g
|
Vitamin A:
3190
IU
|
Vitamin C:
124.5
mg
|
Calcium:
719
mg
|
Iron:
2.1
mg