Easy Creamy Tomato Soup with tomatoes, garlic, onion, vegetable broth, and real cream is a cozy bowl of comfort ready in less than 40 minutes.
As the weather cools down, hot Soup Recipes are a perfect way to stay warm and cozy all season long. With easy recipes like Italian Sausage Tortellini Soup, Classic Chicken Noodle Soup, and Easy Taco Soup, you'll be serving your family a hearty, comforting meal in no time.

Creamy Tomato Soup is a comforting classic that makes the perfect lunch. Whether you serve it simply with a few croutons as we love to, or pair it with a Grilled Cheese Sandwich, this Easy Creamy Tomato Soup Recipe is sure to replace the canned stuff in your pantry. There's almost no effort required in making this perfect soup, it is as easy as letting your dutch oven simmer on the stovetop with a few simple ingredients then puree it using your immersion blender.
Tomato soup fans will LOVE this homemade tomato soup. You can add your favorite seasonings, toppings, or dip crusty bread into this simple and versatile recipe. We've created a classic creamy tomato recipe to follow, which means you can customize it to your liking with favorite add-ins like wilted spinach, grated Parmesan cheese, or fresh basil.
Crunchy croutons with awesome garlic flavor are perfect when you're not in a grilled cheese mood, but you still want some crispy, buttery bread to soak up the savory and sweet soup. I usually add a few extras and dunk about half of them into the bowl to soften them. When you eat them within a couple of minutes the inside of the croutons are still crispy too.
This rich soup recipe isn't full of lots of complicated ingredients, herbs and spices. This is your classic Campbell's Tomato Soup kicked up about 10 notches. The fanciest thing we've added here is heavy cream (and you can even sub half and half or whole milk). Serve this homemade tomato soup alongside a fresh and crispy Winter Pear Salad and fresh baked Dinner Rolls for a complete meal that will warm the heart.
How to Make Creamy Tomato Soup
Add the olive oil and butter to a pan on medium heat. Then add the onion and garlic and cook for 2-3 minutes or until translucent.
Add in the salt and pepper and flour and whisk well until the flour is cooked for roughly 30 seconds and fully incorporated. This creates a roux that will thicken the broth. Pour in the broth slowly while whisking until smooth.
Mix in the tomatoes, tomato paste and sugar. Lower the heat to low and let cook for 20 minutes.
Using an immersion blender, blend until completely smooth.
Add in the cream and let cook for an additional 5 minutes before serving.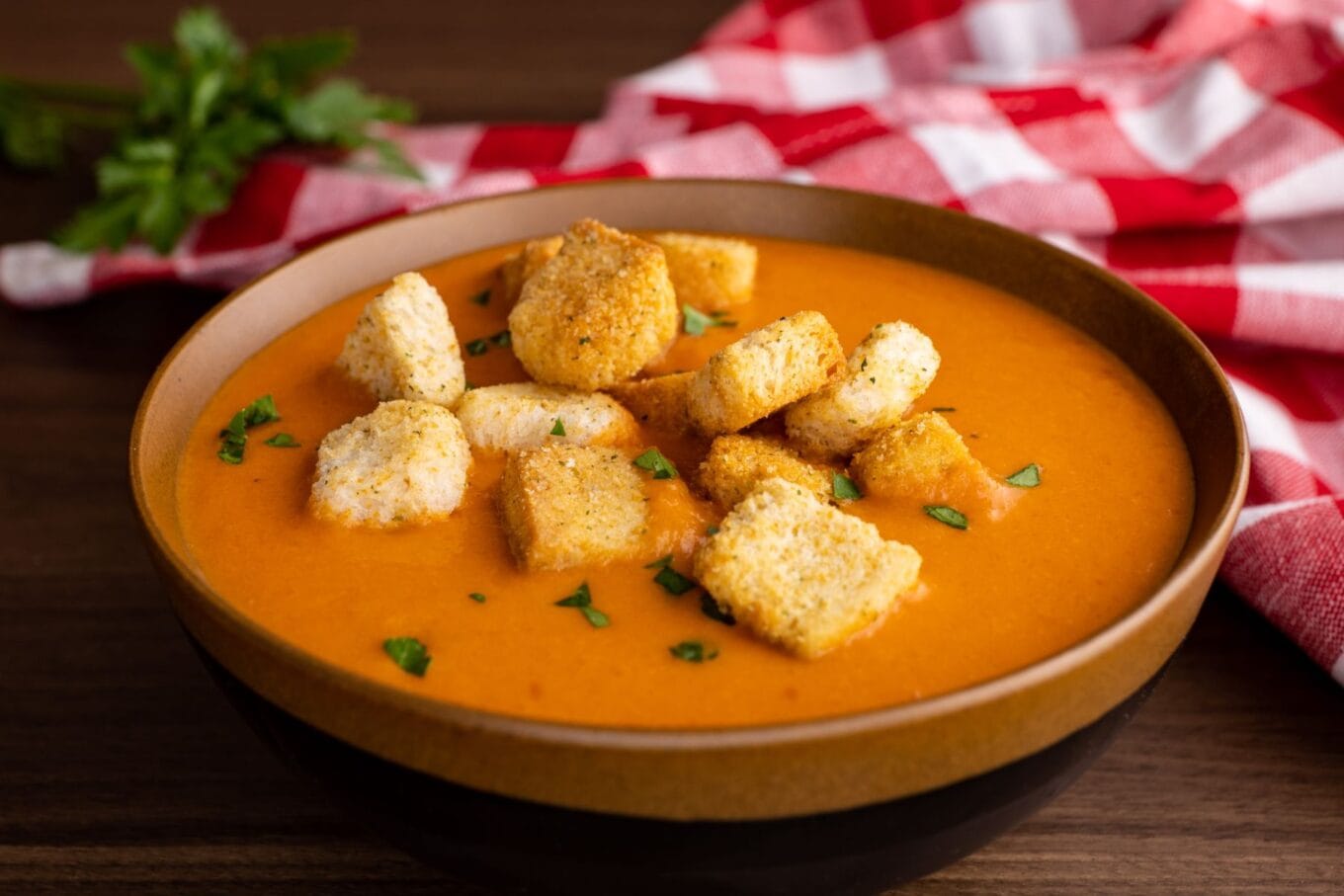 Easy Slow Cooker Soups
Frequently Asked Questions
Can I make Creamy Vegan Tomato Soup?
Yes! Swap out the butter for your favorite margarine substitute, and replace the heavy cream with your favorite diary free alternative for a delicious vegan tomato soup. Full fat canned coconut milk works well as a tasty dairy free substitution.
What kind of pot should I use to make Homemade Tomato Soup?
If you have a Dutch oven, the heavy pot is is great for sauteeing the veggies and maintaining an even temperature for simmering. This Dutch Oven is great for soups or braised meats and the lid is actually a frying pan.
What if I don't have an immersion blender?
If you don't have a stick blender, you can use a regular blender to puree the soup in batches until it's nice and smooth. Allow the soup to cool enough to work with safely. Then work in batches to fill your blender about half way each batch and blend. Be very careful not to burn yourself.
What is a roux?
A roux is a mixture of equal parts flour and fat, which can be butter, oil, or a combination of both. They are cooked together to make a paste that is the base for creamy sauces and soups. By cooking the flour, you remove the raw flavor and create a delicious, rich thickener. Then when liquid is added, it incorporates smoothly without clumps and creates a velvety finish to your creamy and smooth soup.
Why add sugar to Tomato Soup?
A tiny amount of sugar will help to bring out the sweetness of the tomatoes and balance the acidic flavor. Combined with the savory ingredients of the vegetable broth, garlic, onions, and salt, the sugar is not noticeable.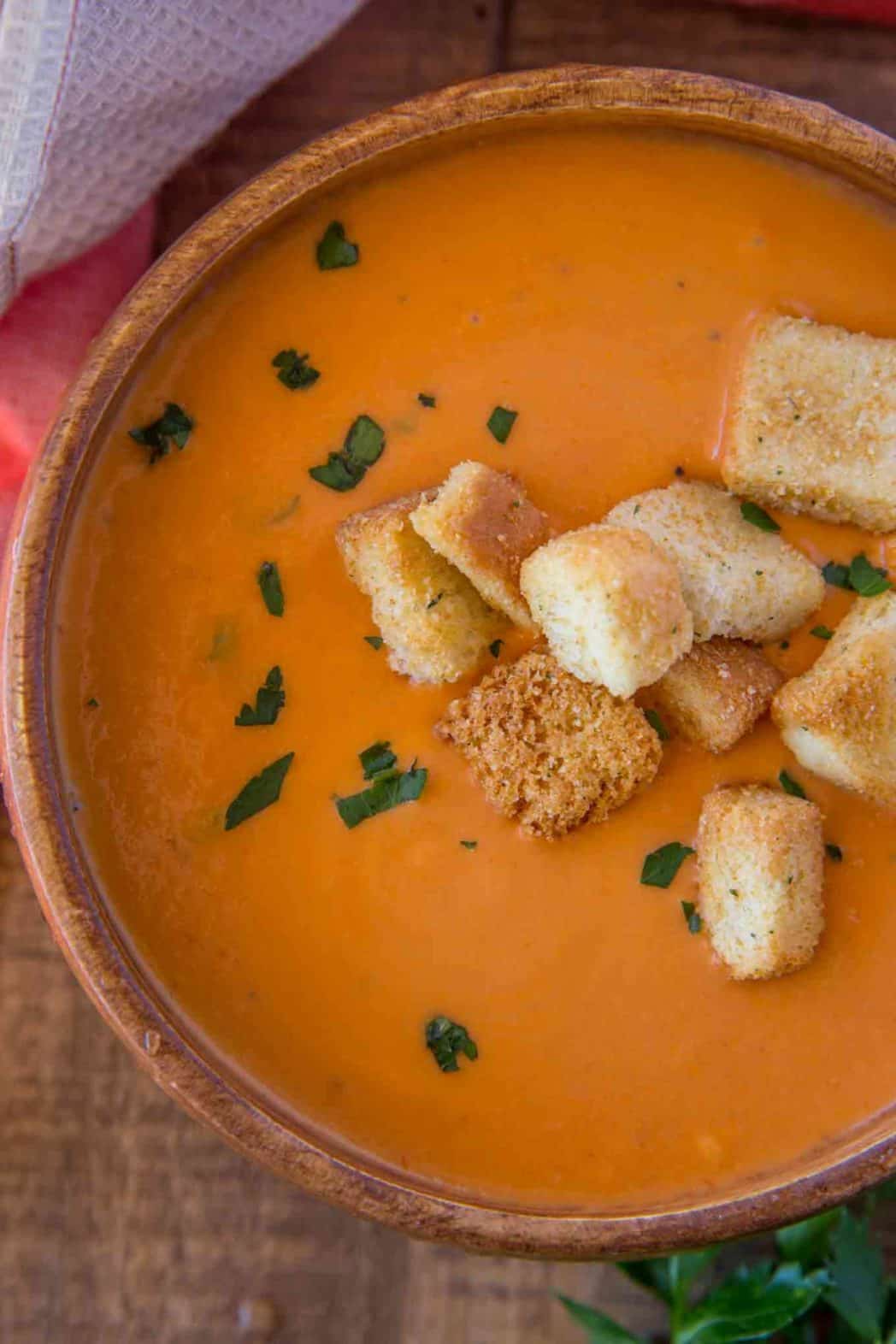 Create a free account to

Save Recipes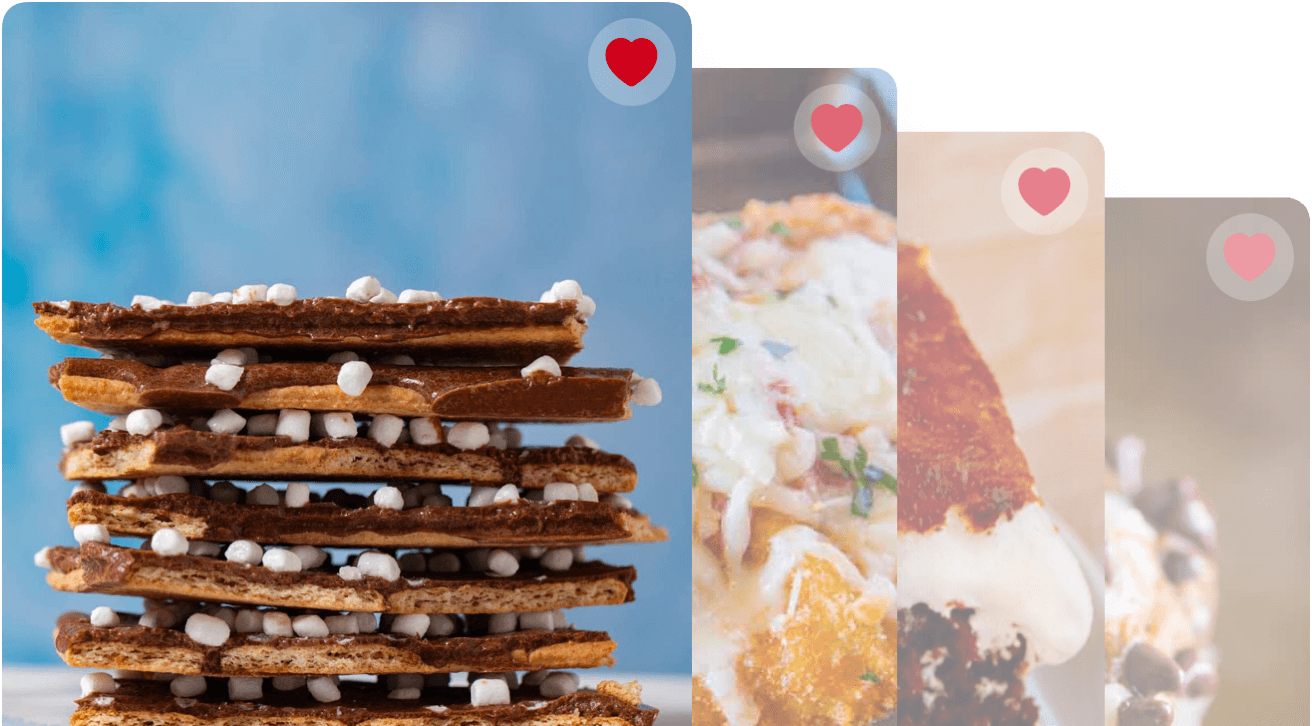 Key Ingredients in Creamy Tomato Soup
Tomatoes: Canned tomatoes are perfect for this tomato soup recipe. Use whole peeled plum tomatoes. If you can find them, San Marzano tomatoes are a type of Italian tomato perfect for cooking because they have fewer seeds and lower acidity than most plum varieties. You'll use all the juices from the can, too, so nothing goes to waste!
Vegetables: Garlic and onion are classic aromatics that add a savory depth of flavor to the soup. Cooking them first in the butter and oil helps to soften them and removes the sharp bitterness from the veggies. The delicious flavors also permeate the butter and oil to enhance the finished soup.
Broth: Use low sodium vegetable broth if you can find it. This way you can adjust the amount and season with salt at the end instead of starting with a higher amount.
Cream: Full fat heavy cream adds a rich, silky texture and hearty flavor to the Easy Creamy Tomato Soup.
How to make Tomato Soup in the oven:
To make this amazing soup completely in the oven, add the tomatoes, garlic. and spices to your dutch oven with the olive oil and roast it at 375 degrees for 20 minutes. Once roasted, you'll puree the ingredients, add in the cream and liquids and let it finish cooking low and slow, covered at 300 degrees for an additional 30 minutes.
Variations on Easy Creamy Tomato Soup
Vegetables: In addition to the fresh garlic and onion used to flavor your tomato soup, you can add your favorite chopped veggies like bell pepper, carrots, fresh tomatoes, broccoli, peas, or mushrooms. Wilt in fresh greens such as spinach, kale, or chard for a nice crunch.
Herbs: Chopped fresh herbs like fresh basil, oregano, thyme, or rosemary add a delicious Italian flavor to your Creamy Tomato Soup
Seasonings: Use garlic powder, chili powder, Italian seasonings, red pepper flakes, cracked black pepper, cayenne pepper, or paprika to kick up the flavor in this amazing tomato soup.
Cheese: Sprinkle grated Parmesan cheese, cheddar, or Pepper Jack on top for a gooey cheesy tomato soup.
Soup Toppers: Top your homemade tomato soup with sour cream, Greek yogurt, or creme fraiche for an extra creamy, tangy flavor. Diced avocado also makes a delicious addition. Or add crunchy toppings like croutons, corn chips, crispy tortilla strips, crushed saltines, or cheesy goldfish crackers.
Dippers: In addition to grilled cheese sandwiches, you can dip delicious side breads like Garlic Bread, Pepperoni Cheesy Bread, or Pesto Cheesy Bread.
Texture: If you prefer a chunky soup, blend soup only halfway with the stick blender. Or transfer the soup in batches to your traditional blender pulse just until it reaches the consistency you like.
What to Serve with Creamy Tomato Soup
How to Store Easy Creamy Tomato Soup
Serve: Do not leave this Creamy Tomato Soup recipe at room temperature longer than 2 hours.
Store: Store leftover soup in the refrigerator up to 4 days in an airtight container.
Freeze: You can freeze creamy tomato soup as long as the milk product used in the soup is heavy cream. If you use half and half or milk in the soup don't add it before freezing. Freeze without, then thaw and add in in while gently reheating the soup.


Ingredients
2

tablespoons

extra virgin olive oil

2

tablespoons

unsalted butter

1

yellow onion

, chopped

2

cloves

garlic

, minced

1

teaspoon

Kosher salt

1/2

teaspoon

white pepper

2

tablespoons

flour

4

cups

vegetable broth

1

can (28 oz)

whole peeled plum tomatoes

, including the liquid

3

ounces

tomato paste

1 

teaspoon

sugar

1

cup

heavy cream
Instructions
Add the olive oil and butter to a pan on medium heat.

Add the onion and garlic and cook for

2-3 minutes

or until translucent.

Add in the salt and pepper and flour and whisk well until the flour is cooked for roughly 30 seconds and fully incorporated.

Add in the broth slowly while whisking.

Add in the tomatoes, tomato paste and sugar.

Lower the heat to low and let cook for

20 minutes

.

Using an immersion blender, blend until completely smooth.

Add in the cream and let cook for an additional

5 minutes

before serving.
Nutrition
Calories:
189
kcal
|
Carbohydrates:
8
g
|
Protein:
2
g
|
Fat:
17
g
|
Saturated Fat:
9
g
|
Cholesterol:
48
mg
|
Sodium:
857
mg
|
Potassium:
150
mg
|
Fiber:
1
g
|
Sugar:
3
g
|
Vitamin A:
935
IU
|
Vitamin C:
3.8
mg
|
Calcium:
28
mg
|
Iron:
0.4
mg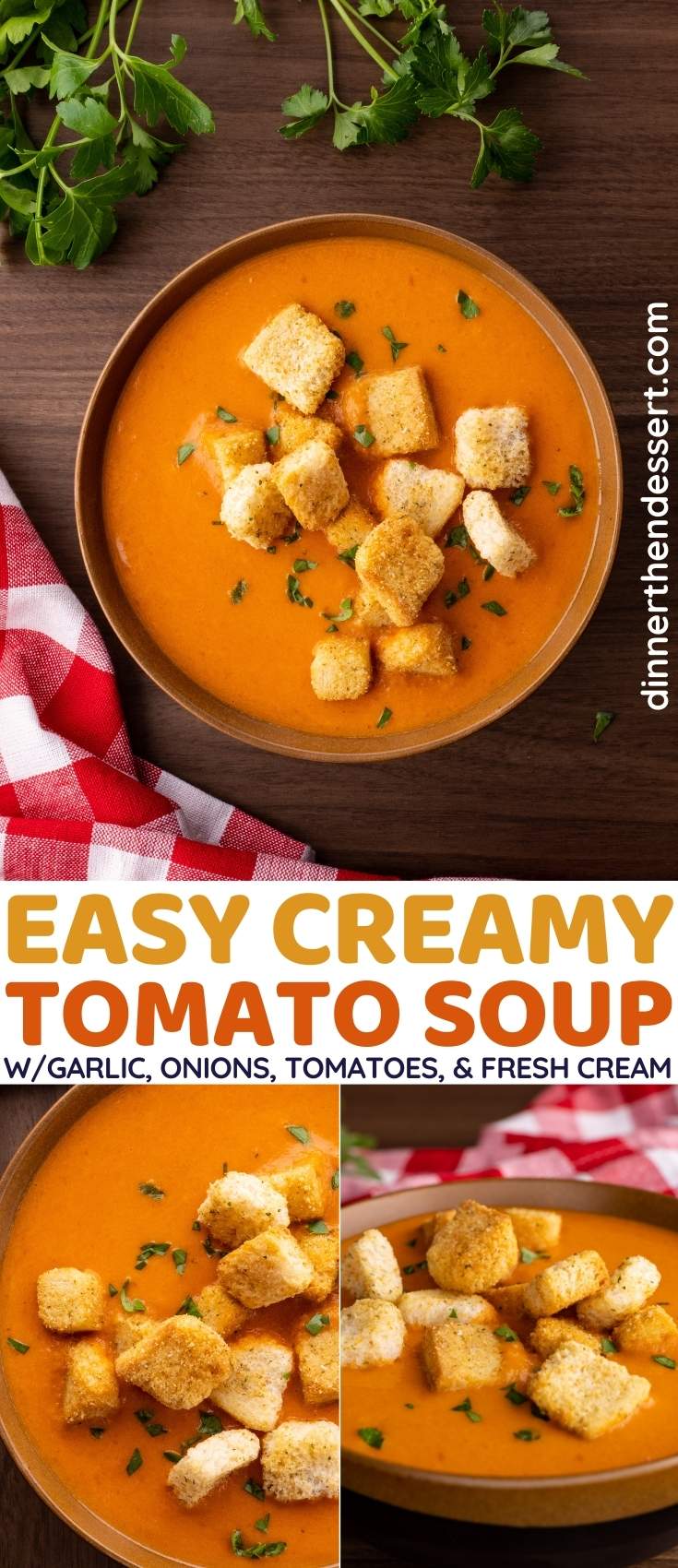 Photos used in a previous version of this post.