A Grilled Cheese Sandwich is the ultimate comfort food with melty, stringy cheddar cheese. Following this recipe will get the perfect sandwich every time!
Fun variations on Grilled Cheese, like Sloppy Joe Grilled Cheese and Philly Cheesesteak Grilled Cheese, are already on the blog, but we've never posted the classic version before. This Sandwich Recipe only needs bread, cheese, and butter. But, no matter how simple it seems, Grilled Cheese is one of the most delicious foods ever.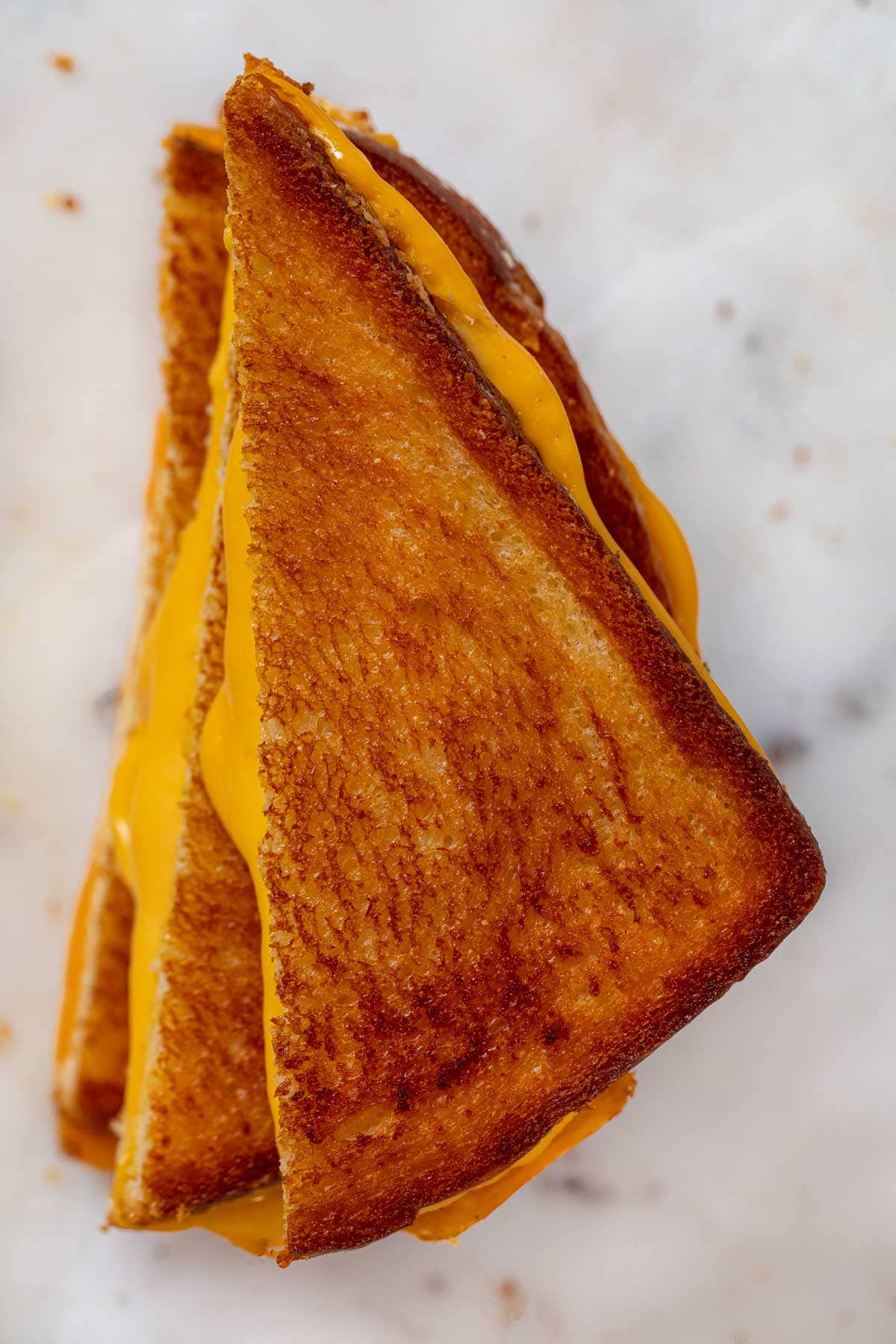 GRILLED CHEESE SANDWICH
A simple Grilled Cheese Sandwich is one of those nostalgic recipes that we all need sometimes. Sure, there are lots of more sophisticated dishes, but sometimes you just want some toasted white bread with a slice of gooey, melty cheese in the middle. It's simple, comforting perfection.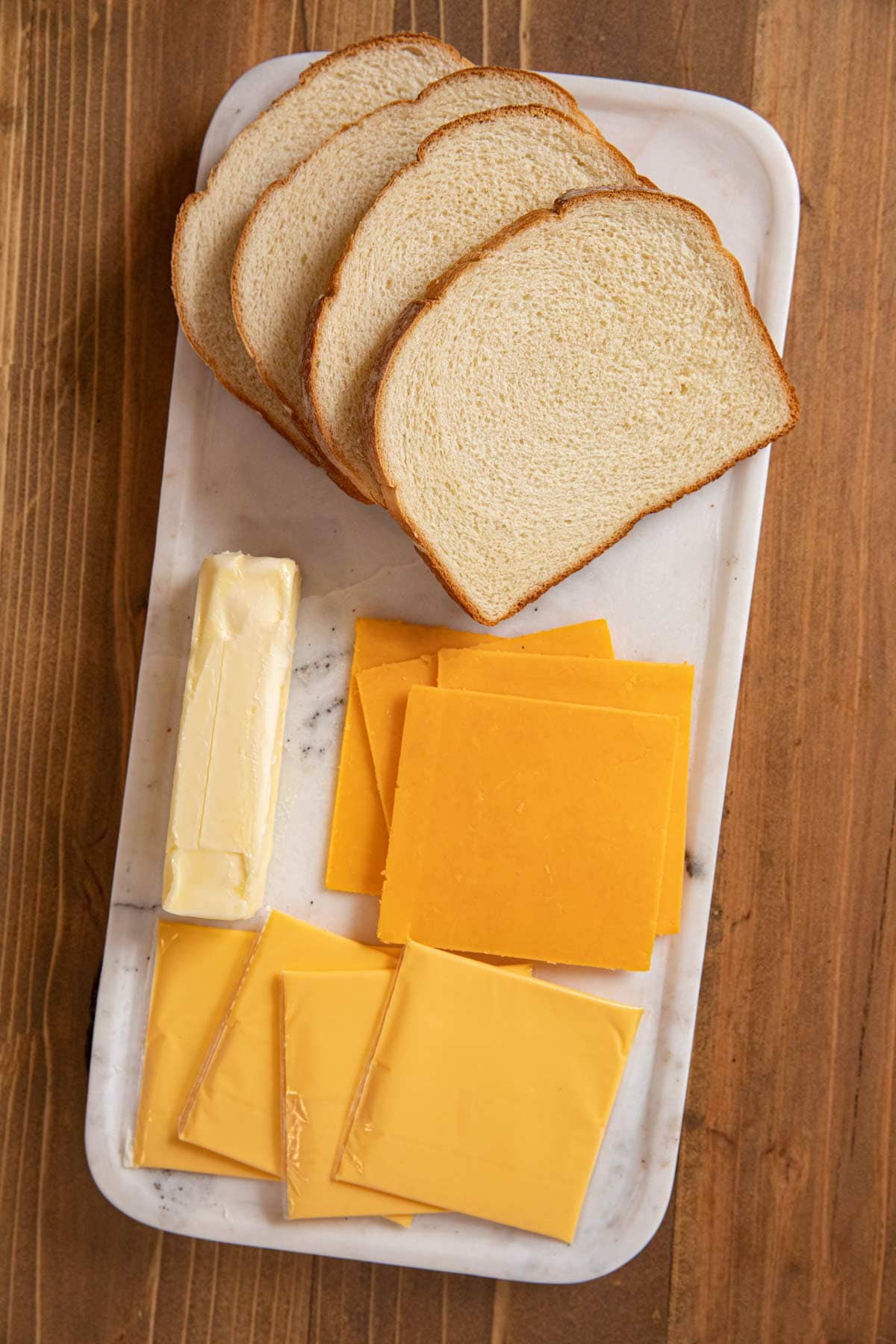 On its own, Grilled Cheese makes a satisfying lunch that you and your family are sure to love. However, if you want another dish to make it a more rounded out dinner, serve your sandwiches with Creamy Tomato Soup. It makes the perfect pairing and nothing tastes better than a Grilled Cheese dipped in tomato soup.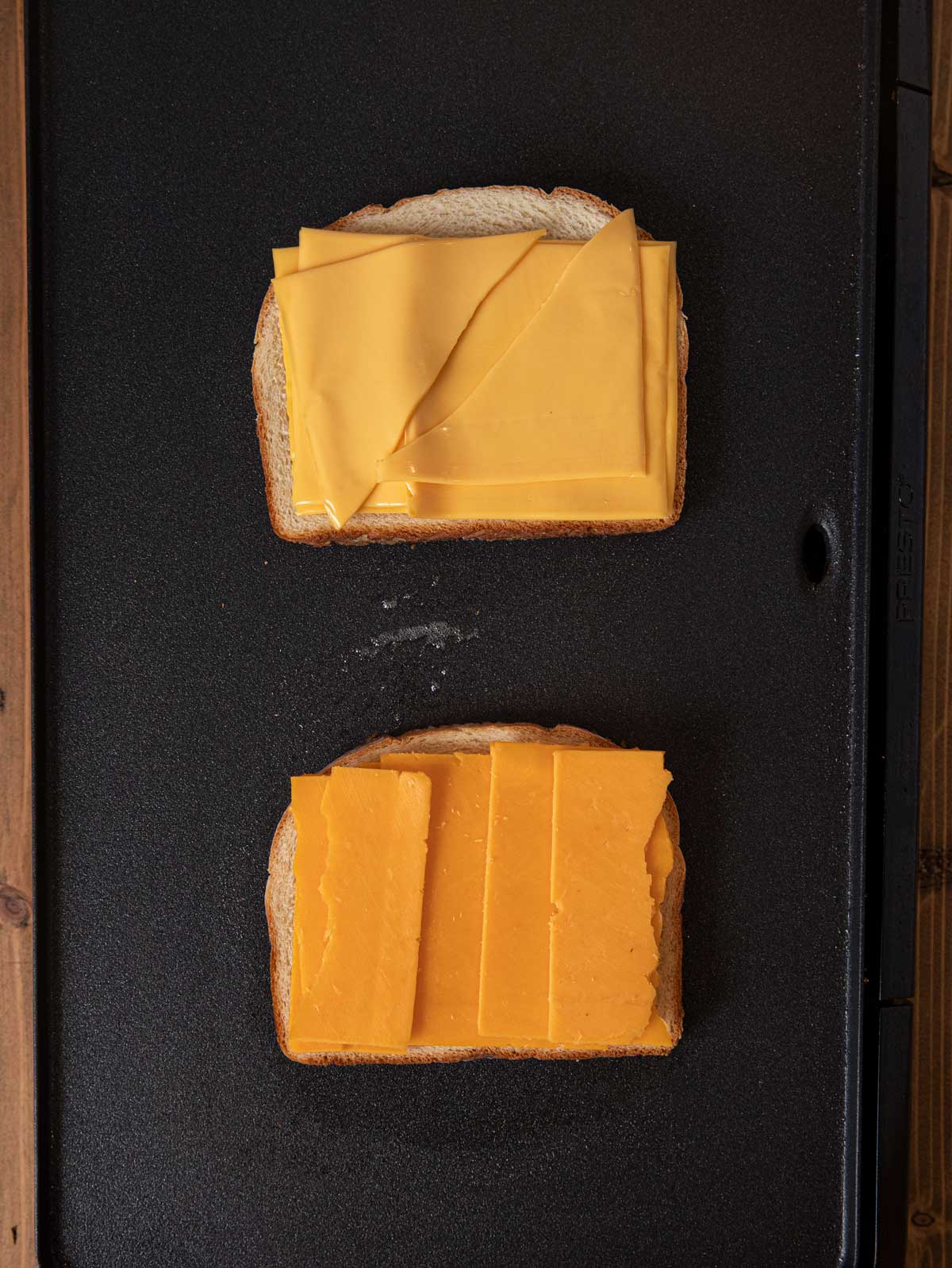 Grilled Cheese Sandwiches are the perfect recipe for busy weeknights. Sometimes there's just no time to cook, or you're out of ingredients and don't have time to run to the store. This simple, satisfying sandwich with just 3 ingredients is the way to go! Dinner will be ready in no time and everyone is sure to love it.
MORE SANDWICH RECIPES
TIPS FOR MAKING THE PERFECT GRILLED CHEESE
Grilled Cheese are easy to make, but harder to get perfect. All too often, they turn out burnt on one side or the cheese isn't melted all the way through. Here are a few easy tips to get perfectly melty, golden brown sandwiches every time.
Lay out 8 slices of bread and put butter on one side of each one. It turns out better buttering the slice of bread instead of the pan.
Instead of assembling the sandwiches right away, just place 4 of the slices butter-side-down on the griddle or skillet. Depending on the size of your skillet, you might have to do this in a couple of batches. Keep the griddle or pan at medium heat. If the heat is too high, the bread will burn on the outside before the inside is heated through.
Lay 2 slices of cheddar (or American) cheese over each piece of bread.
Finish the sandwiches with the top slice of bread. Make sure the butter is facing out.
Cook for another 2 minutes, and then flip each sandwich to cook for another 4 minutes.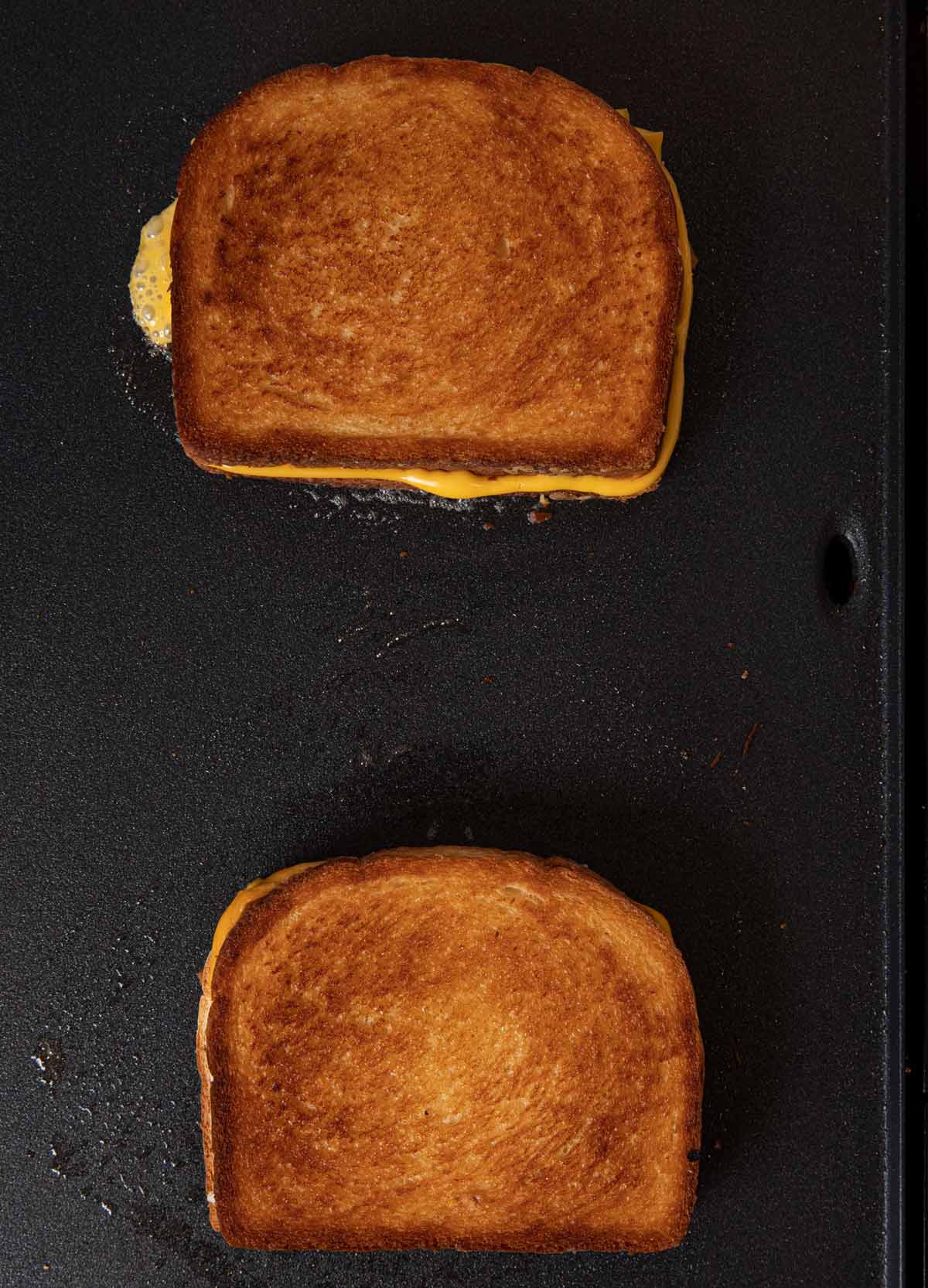 Create a free account to

Save Recipes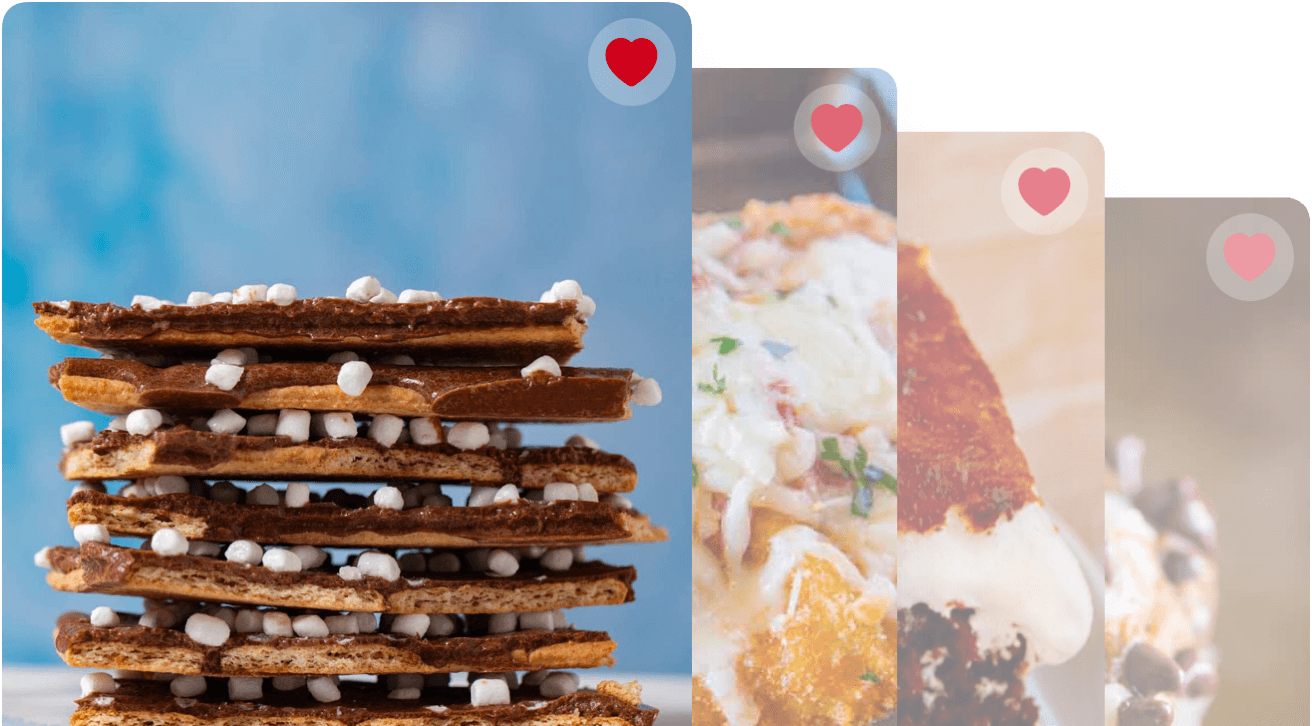 VARIATIONS ON GRILLED CHEESE SANDWICH
Cheese: You can add different kinds of cheese along with the cheddar. Try Swiss, Monterey Jack, Gruyere, Parmesan, Mozzarella, or sharp cheddar. If you don't have sliced cheese, you can always sprinkle grated cheese over the bread.
Bread: Instead of regular slices of white bread, you can use different kinds of crusty bread. French bread, sourdough, or brioche could all work well for a grilled cheese.
Add-ins: For some flavor add-ins try spreading dijon mustard or pesto over one of the bread slices before you grill it. You could also add caramelized onions, tomatoes, zucchini, or spinach.
Meat: You can also add meat to your Grilled Cheese Sandwich. Try cooking up some bacon, ham, pork, or chicken to add on top of the cheese in the sandwich.
MORE CHEESY COMFORT FOODS
HOW TO STORE GRILLED CHEESE SANDWICHES
Serve: Due to the dairy, you can't leave Grilled Cheese out for more than 2 hours.
Store: These Sandwiches are definitely best enjoyed fresh. However, if you have leftovers you can wrap them in plastic wrap and put them in the fridge for the next day. To reheat the sandwich put it on a skillet over medium heat for a few minutes. Heat each side for long enough the cheese starts to get melty again.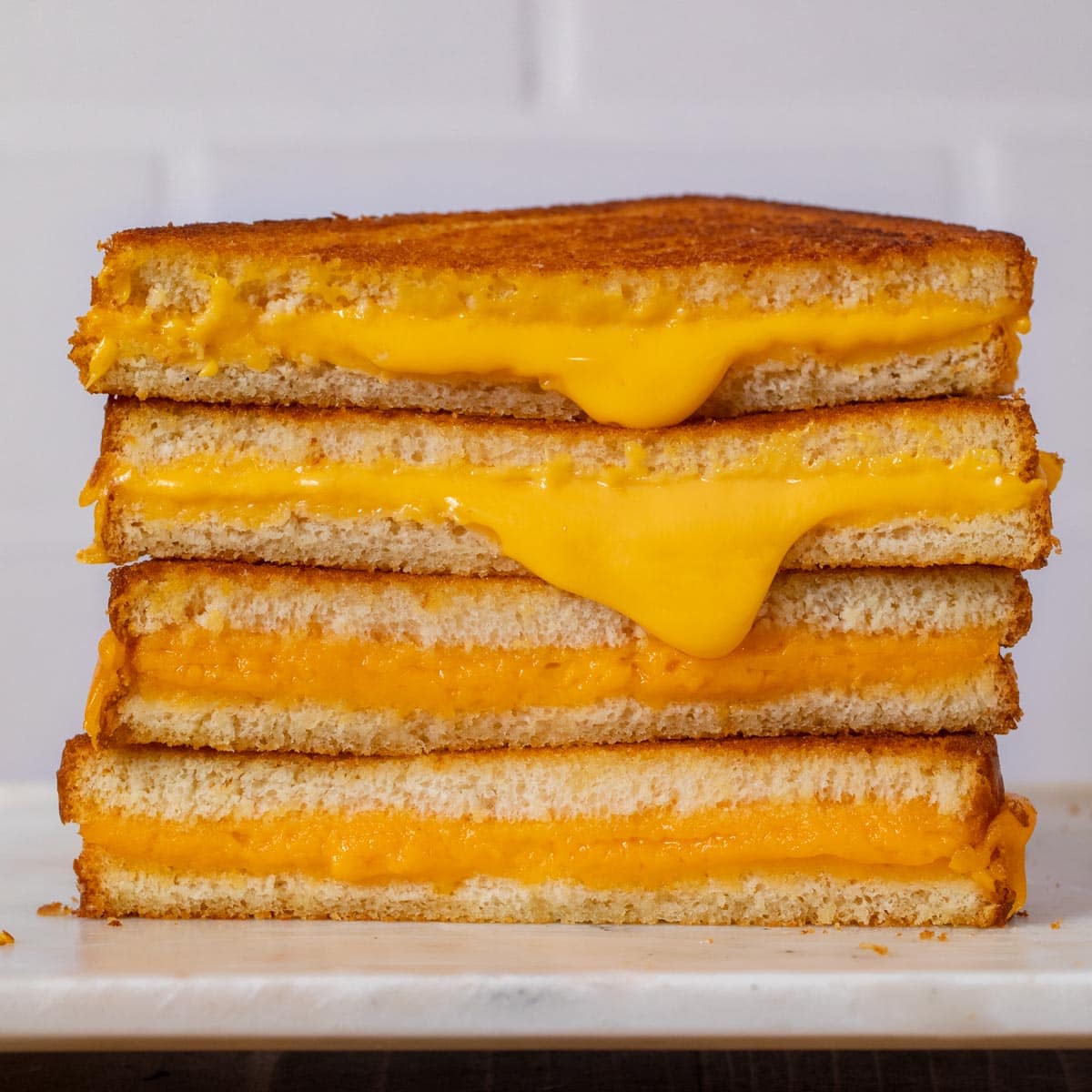 Ingredients
4

tablespoons

unsalted butter

, softened

8

slices

thick sandwich bread

8

slices

cheddar cheese

(can also use American cheese)
Instructions
Spread butter on one side of each slice of bread.

Add 4 slices, butter side down, to a griddle or large skillet on medium heat.

Add 2 slices of cheddar cheese.

Add the remaining bread slices, butter side up (away from the rest of the sandwich).

Cook for

2 additional minutes

, then flip and cook the second side for

4 minutes

, pressing down gently.
Nutrition
Calories:
370
kcal
|
Carbohydrates:
25
g
|
Protein:
13
g
|
Fat:
24
g
|
Saturated Fat:
15
g
|
Cholesterol:
66
mg
|
Sodium:
458
mg
|
Potassium:
91
mg
|
Fiber:
1
g
|
Sugar:
3
g
|
Vitamin A:
691
IU
|
Calcium:
379
mg
|
Iron:
2
mg