These French Dip Sandwiches are a quick, easy French Dip recipe with flavorful beef, melty cheese and Au Jus for dipping. Ready in an hour!
Throwing some chuck roast, beef broth, and seasonings in the crockpot before work means you can enjoy delicious hot Sandwiches like Slow Cooker French Dip Sandwiches and Italian Beef Sandwiches for Dinner as soon as you get home. Now you can still enjoy an amazing sandwich even when you don't have time for the slow cooker version!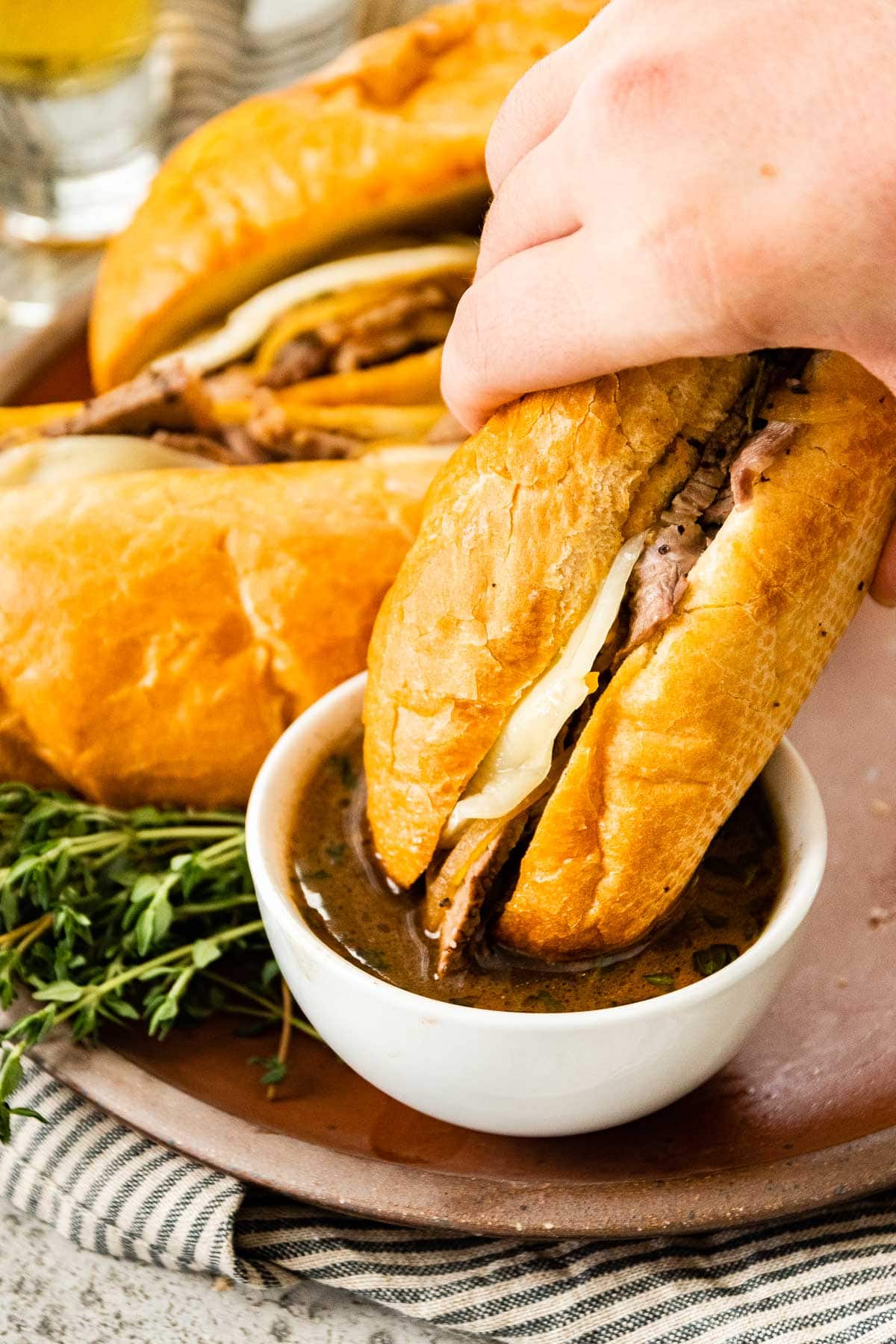 This is the best easy French Dip recipe made with just a few simple ingredients and ready in about an hour, including prep time. This isn't a shortcut recipe using deli roast beef either! These sandwiches are made with freshly cooked beef so you get all those delicious, beefy juices to make the signature dipping sauce.
The secret to making melt-in-your-mouth French Dip Beef Sandwiches quick and easy is to use boneless ribeye steak instead of the normal chuck roast. Ribeye is naturally tender and fatty so it doesn't need a long cooking time to break down and become tender and flavor like a thicker roast cut. Ribeye is a more expensive cut of meat, but you save hours of time for the same mouthwatering and delicious beef sandwiches you know and love! The tender, flavorful steak is thinly sliced and piled on soft hoagie bread, topped with onions and slices of provolone cheese, and dipped in a sauce for a bite so rich and savory you won't believe it hasn't been slow cooking all day.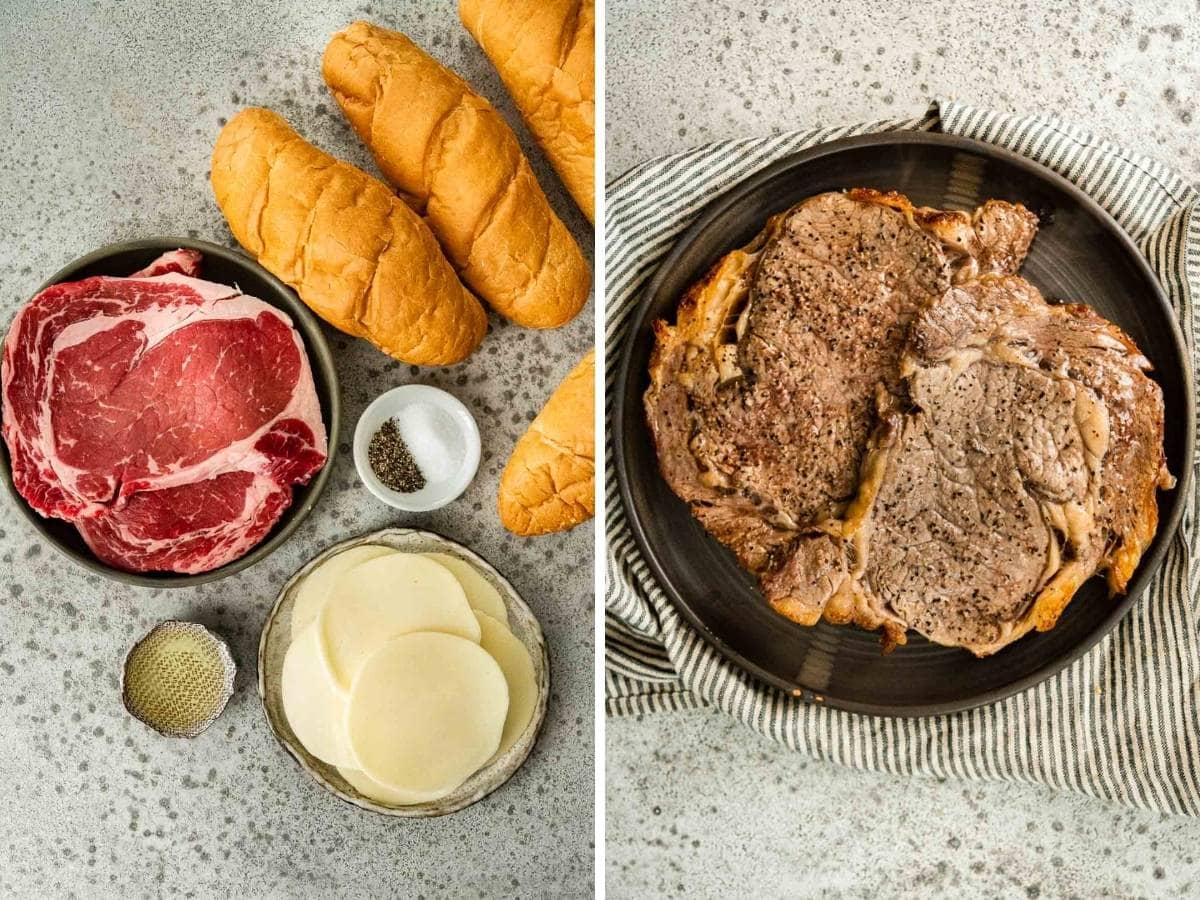 Whether you slow cook them or make them in the oven, French Dip Sandwiches are always served with Au jus for dipping. Au jus is the French term for a light gravy or broth for dipping meat. The sauce has lots of flavor and increases the tenderness of the whole sandwich. The beef dip is flavored with onions, thyme, and garlic with a beef broth and Worcestershire sauce base. It's the perfect pairing for the hot sandwich recipe.
For a simple, lighter dinner, serve French Dip Sandwiches with soups to balance out the hearty, meaty sandwich. These beefy sandwiches would taste especially delicious with beef broth and veggie based soups like French Onion Soup and Vegetable Soup. Make smaller sammies with buns instead of hoagie rolls and serve deli sides like Potato Salad and Coleslaw for an easy summertime lunch menu for a crowd.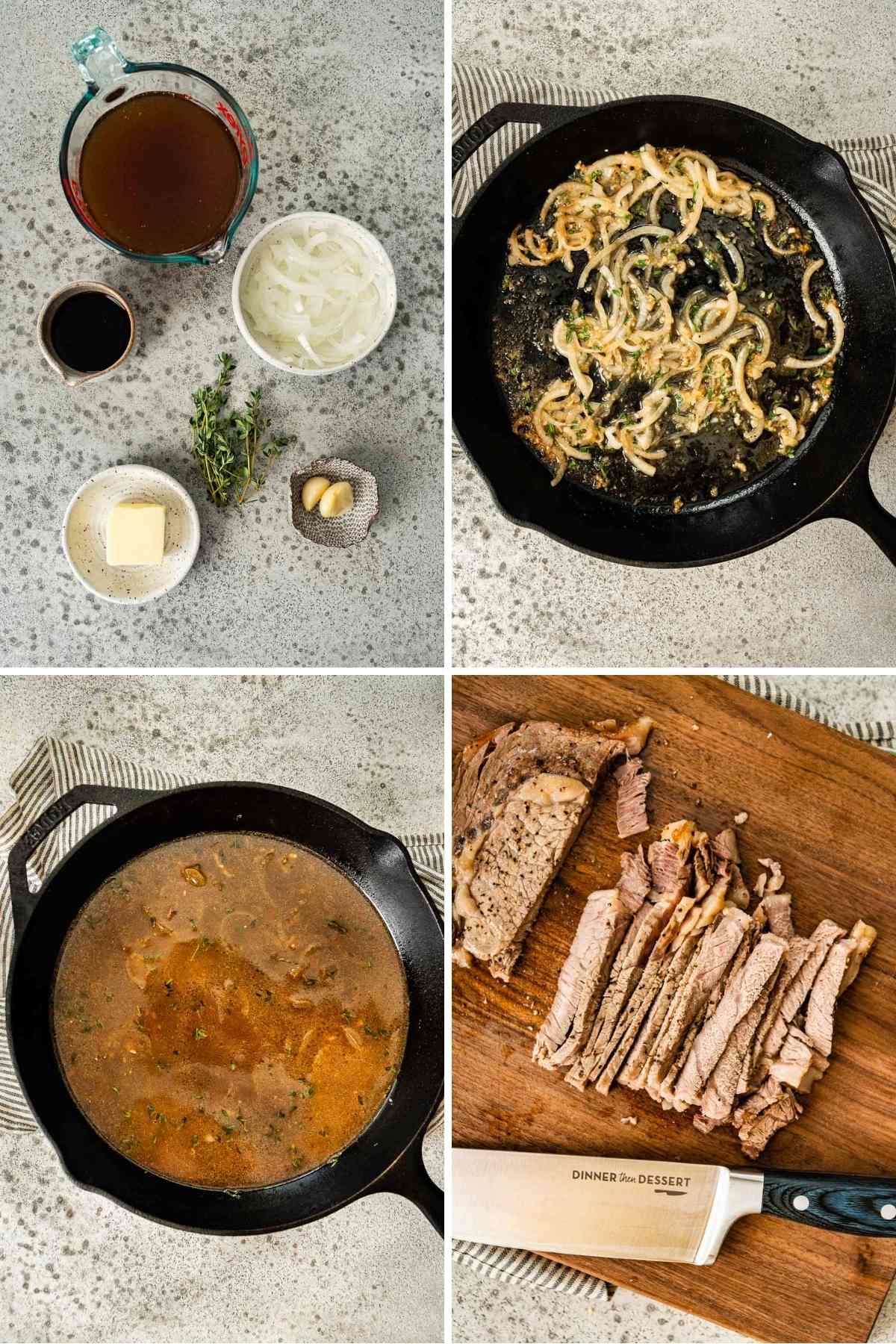 How to Make French Dip Sandwiches
Prep time: To get ready to start the recipe, preheat the oven to 425 degrees. Then add the cast iron skillet to the oven to heat up for 10 minutes. Heating the pan will help it to cook the steak.
Cook meat: Season the ribeye steak with oil, salt, and pepper. Place the steak in the heated pan, and then place it in the oven to cook for 15 minutes. Take the pan from the oven. Tent the meat in foil on a plate and let it rest. This will help maintain the moisture for wonderfully tender meat.
Au jus: Move the pan to the stovetop. There should still be some juice from the steak. Add the butter and onions to the pan. Simmer on medium heat for 6-8 minutes until the onions are translucent. Add the garlic and thyme and cook for an additional 30 seconds. Whisk the beef broth and the Worcestershire sauce. Then pour the Au jus into the dipping bowls.
Assemble: Brush the hoagie rolls with melted butter and toast them until they're lightly browned. Place the steak on a cutting board, and slice beef against the grain. Slicing against the grain will help keep the meat tender. Place the meat in the sandwiches, then top them with provolone cheese, and onions. Serve the completed sandwiches with Au jus.
Tasty Sandwich Shop Sides
FAQs for
French Dip Sandwiches
Who invented the French Dip Sandwich?
Despite the name, French Dip Sandwiches did not originate in France but they were invented by a French sandwich shop owner named Phillippe Mathieu. If you are ever in Los Angeles, try to make it to Phillippe the Original, the place where French Dips were created.
What cut of meat is French Dip?
Typically French Dip Sandwiches are made with roast beef, which is beef that has been roasted in the oven. Usually large thick cuts like whole rump roast. chuck roast, or rib eye roast are roasted slowly for hours. This recipe uses a thinner, prime cut of rib eye roast to quickly roast the meat.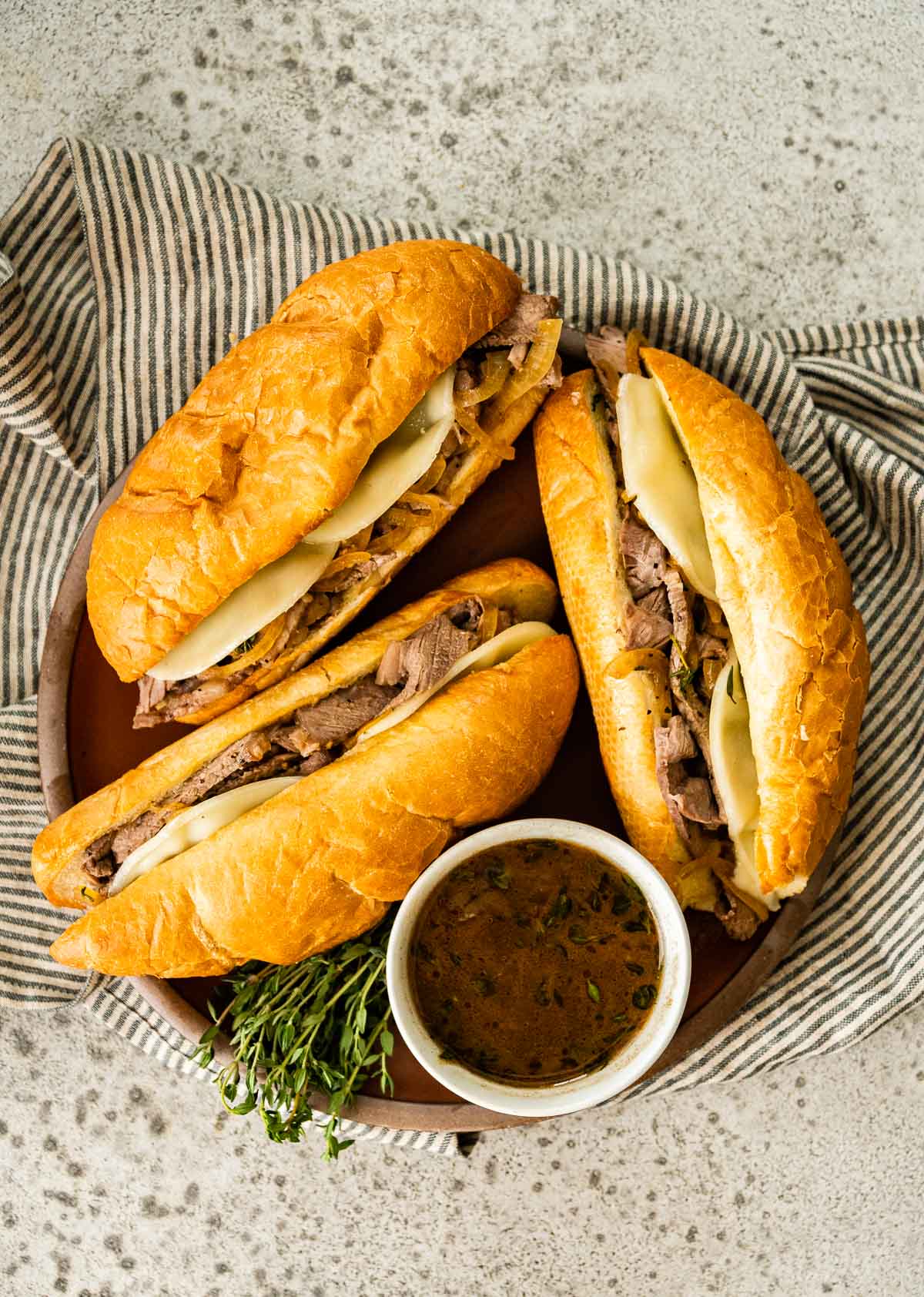 Create a free account to

Save Recipes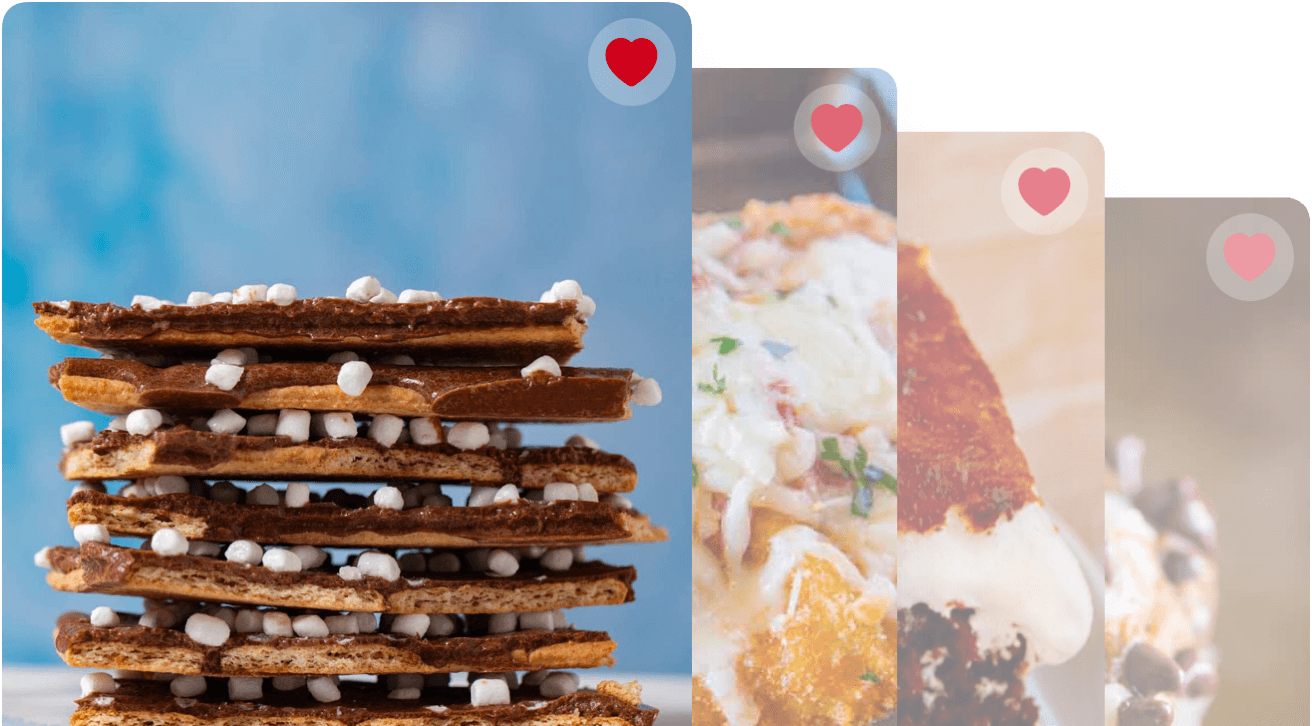 Key Ingredients
Ribeye Steak: A rib eye cut is a boneless cut of meat that comes from the same area as a prime rib roast. It's a super fatty, flavorful cut of beef that stays juicy even when cooked quickly at high heat, like in this sandwich recipe.
Provolone Cheese: While any sliced cheese will work on these tasty sandwiches, there's something about Italian provolone that goes especially well with the beef! It's a milder cheese, similar to mozzarella that gets so gooey and creamy when it melts.
Au Jus: This classic French dipping sauce is made with the pan drippings left from cooking the meat. These juices give it a deep, savory, beefy flavor that simply can't be replicated even with the best beef stock. It is further flavored simply with onions, thyme, garlic and Worcestershire sauce for a complex, rich seasoned sauce that pairs perfectly with the beef.
Hoagie Rolls: These long rolls are slightly crisp on the outside and pillowy soft on the inside. They are perfect for holding the meaty filling and soaking up all the delicious sauce without getting soggy too quickly. The rolls are toasted with melted butter for some more flavor and to make them crispier for extra dunking.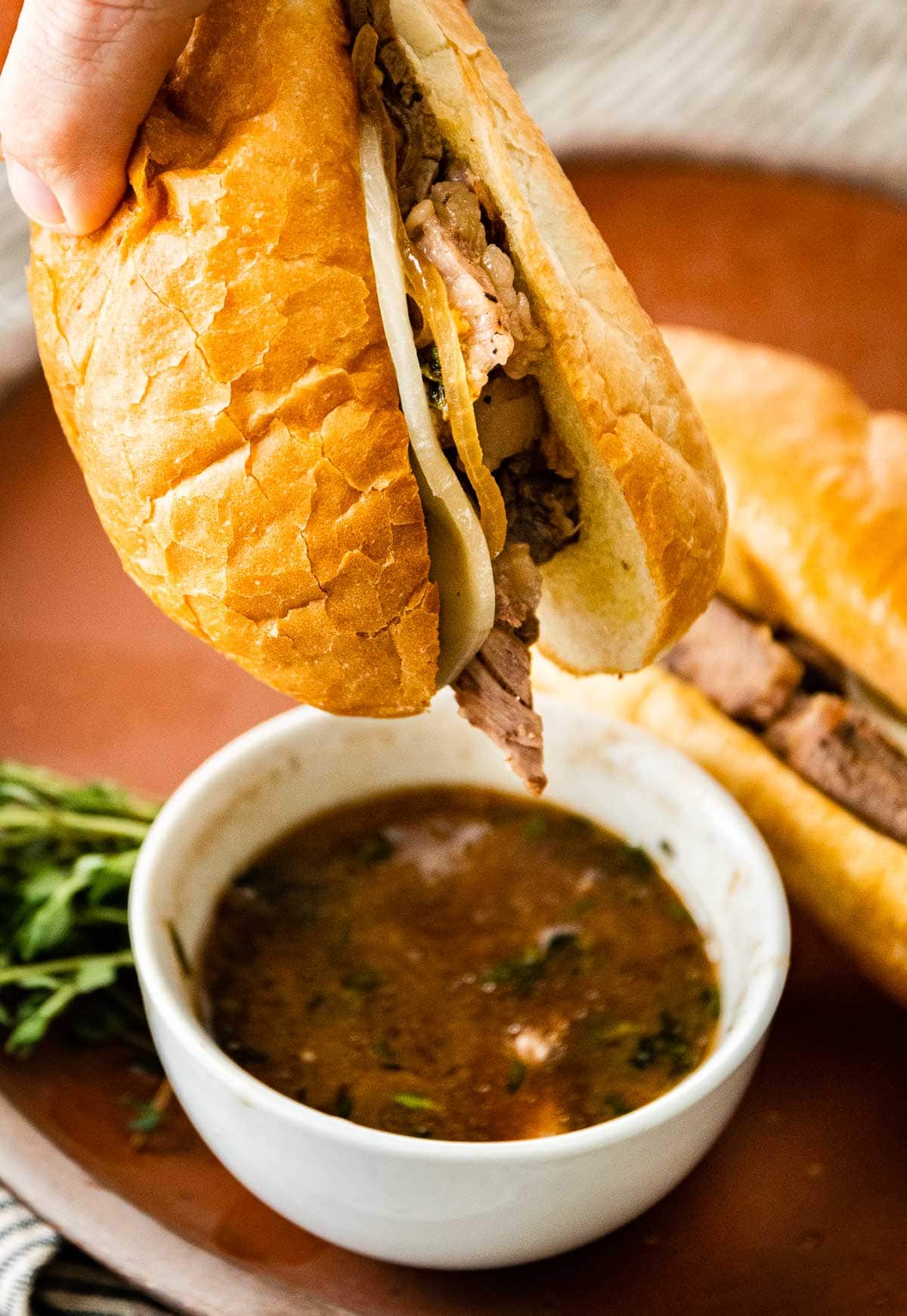 Variations
Meat: Instead of using ribeye steak, you can make the French Dip Sandwich recipe with chuck roast or rump roast.
Cheese: You can try all different kinds of cheese in your sandwich. Try out Swiss, American, cheddar, pepper jack, gouda, or Monterey Jack.
Seasonings: You can add a variety of different flavors to the dipping sauce with different seasonings. Try whisking in bay leaf, onion powder, peppercorns, oregano, thyme, rosemary, or chili powder with the beef broth.
Bread: You can use any crusty loaf of bread instead of hoagie rolls. Try using a French Baguette, sandwich rolls, slider buns, brioche, or sourdough bread.
Instant Pot French Dip Sandwiches
To make Instant Pot French Dip Sandwiches add the vegetable oil to the instant pot and turn it on to sauté mode.
Season the beef with salt and pepper, then sear it on all sides in the pressure cooker.
Remove the steak from the instant pot and set it to the side.
Add the onions and butter to the pressure cooker and continue sautéing until the onions are softened. Then add the garlic and thyme.
Mix in the Worcestershire sauce and beef broth.
Return the beef to the instant pot and cook it on high pressure for 10 minutes.
After the cooking time do a quick release.
Pour the remaining liquid into a dipping bowl and then assemble the sandwiches with the cooked meat, hoagie rolls, and cheese.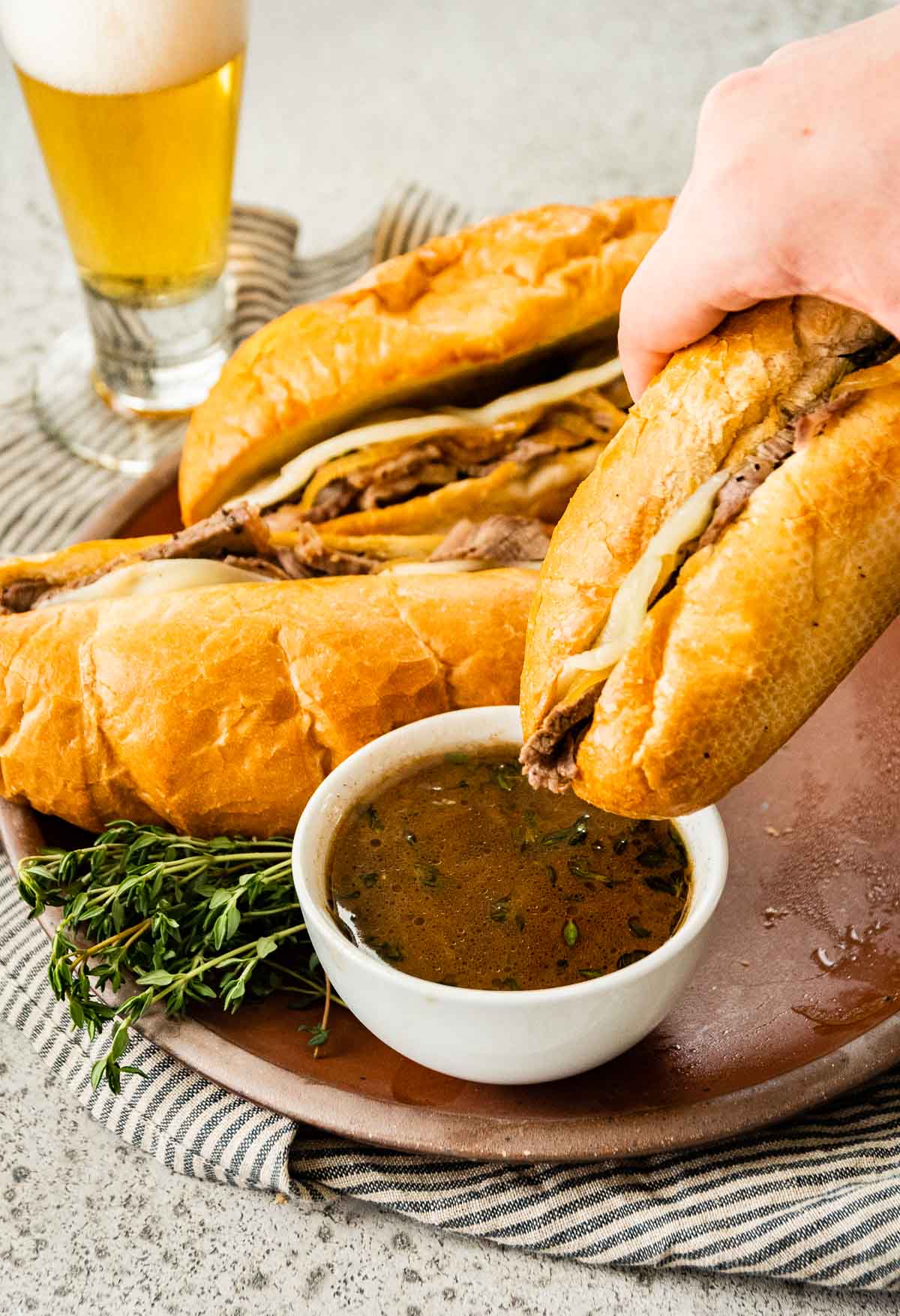 More Delicious Sandwich Recipes
How to Store
Store: If you have any leftovers, it's best to store the filling separately because the bread will become soggy from the natural liquid in the meat. Store the meat in the au jus in an airtight container for up to 3 days.
Reheat: You want to reheat the meat in the sauce slowly so it doesn't dry out. Bring the meat and sauce to a simmer and heat through before serving on freshly toasted bread.
Freeze: It's best if you just freeze the roast beef and Au Jus sauce, not the assembled sandwiches. Let the meat and sauce cool completely, then store together in a freezer-safe container for up to 3 months. Thaw overnight in the fridge before reheating slowly on the stove top then preparing the sammies as usual.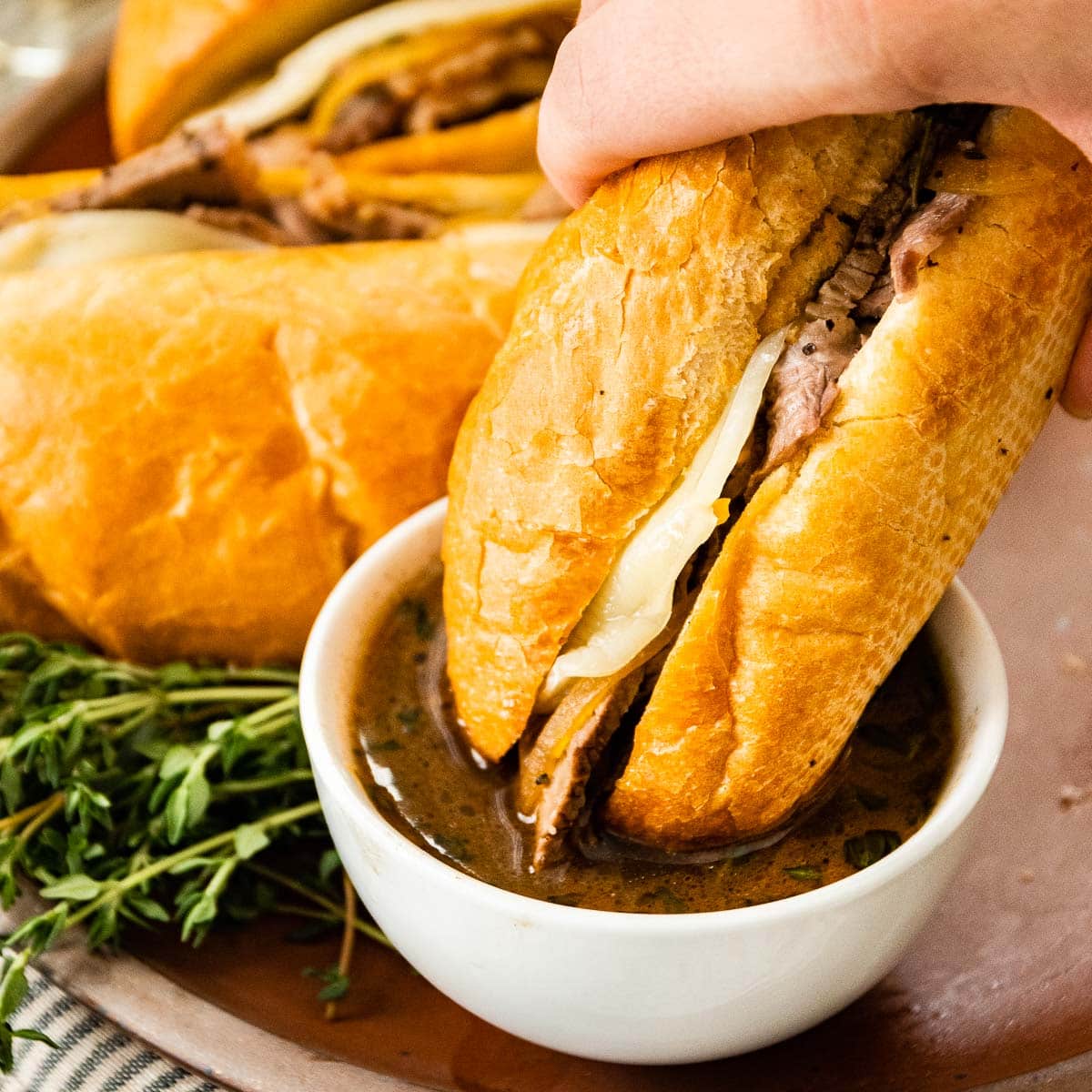 Ingredients
2

pounds

ribeye steak

1

tablespoon

vegetable oil

2

teaspoons

kosher salt

1

teaspoon

coarse ground black pepper

4

hoagie rolls

8

slices

provolone
Au Jus Recipe:
1

tablespoon

unsalted butter

1/2

yellow onion

, thinly sliced

2

cloves

garlic

, minced

1

tablespoon

fresh thyme

, removed from stem

2

cups

beef broth

2

teaspoon

Worcestershire sauce
Instructions
Preheat oven to 425 degrees.

Add cast iron skillet to the oven to heat for

10 minutes

.

Season steak with oil, salt, and pepper.

Place into the hot pan and back into the oven for

15 minutes

.

Let rest, tented with foil on a plate.

Move pan to stovetop and add in the butter and onions to the pan juice.

Cook on medium heat for

6-8 minutes

or until translucent.

Add in garlic and thyme and cook for

30 seconds

.

Add in beef broth and Worcestershire sauce and stir well.

Pour liquid into dipping bowls.

Brush hoagie rolls with melted butter and toast.

Slice steak thinly against the grain.

Top with provolone cheese, sliced steak, and onions from the pan.

Serve with au jus.
Nutrition
Calories:
855
kcal
|
Carbohydrates:
36
g
|
Protein:
63
g
|
Fat:
51
g
|
Saturated Fat:
23
g
|
Polyunsaturated Fat:
4
g
|
Monounsaturated Fat:
20
g
|
Trans Fat:
1
g
|
Cholesterol:
172
mg
|
Sodium:
2336
mg
|
Potassium:
794
mg
|
Fiber:
2
g
|
Sugar:
5
g
|
Vitamin A:
545
IU
|
Vitamin C:
5
mg
|
Calcium:
337
mg
|
Iron:
16
mg