Slow Cooker Pastrami Sandwiches are easy to make for a crowd or for your lunches and takes just a few ingredients. You'll never buy deli pastrami again!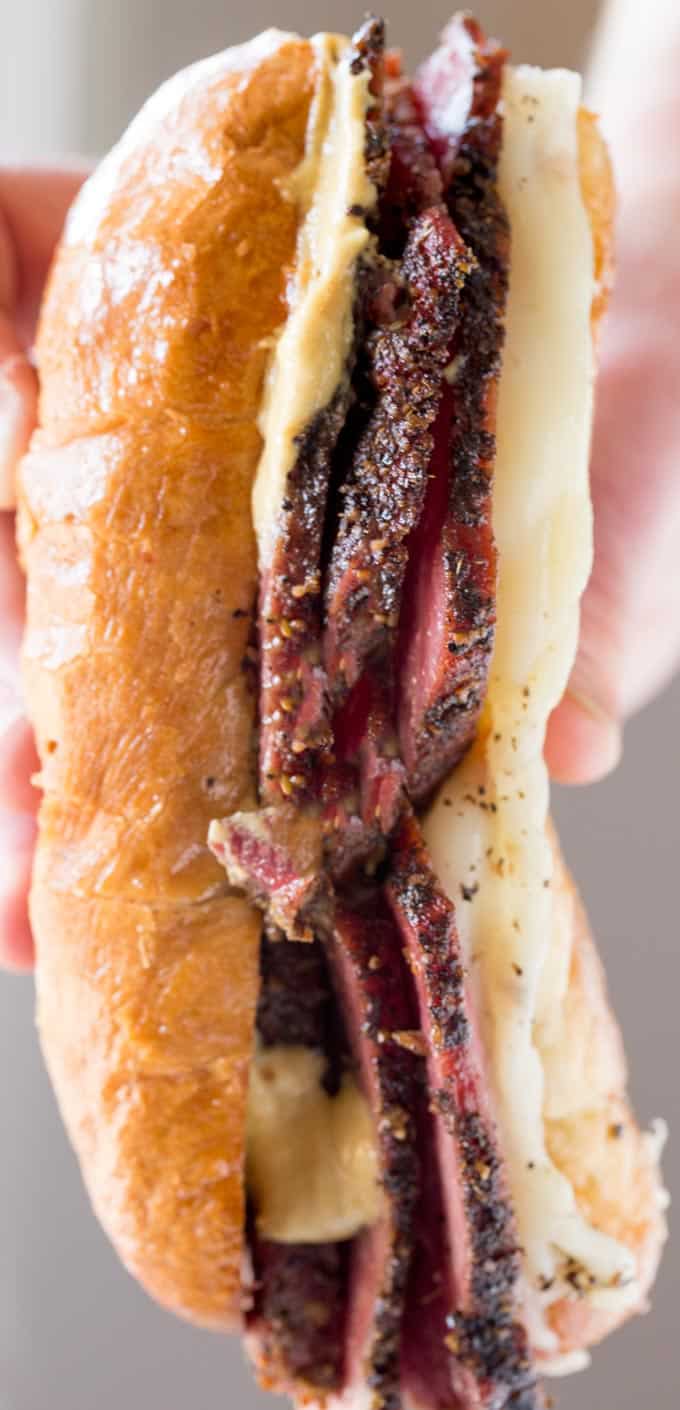 Slow Cooker Pastrami Sandwiches are the latest slow cooker sandwiches in my new series of recipes. With crazy busy lives we've been trying to come up with ways to make lunchtime an easier meal to prepare for. My husband works in a normal office setting so any style of lunch works for him, but I need something portable. When you're in a kitchen working you need to be able to eat quickly, so sandwiches have been my go-to meal for a while now.
Some of the skepticism I've seen about the slow cooker sandwiches is the fact that most people are used to slow cooker sandwiches being full of overcooked falling apart meat. This really doesn't have to be the case.
I cook the Slow Cooker Pastrami Sandwiches for 6 hours on low instead of 8 to preserve some of the "stays in one piece" quality of the meat. Because of that I can hold up slices of meat from this recipe like this: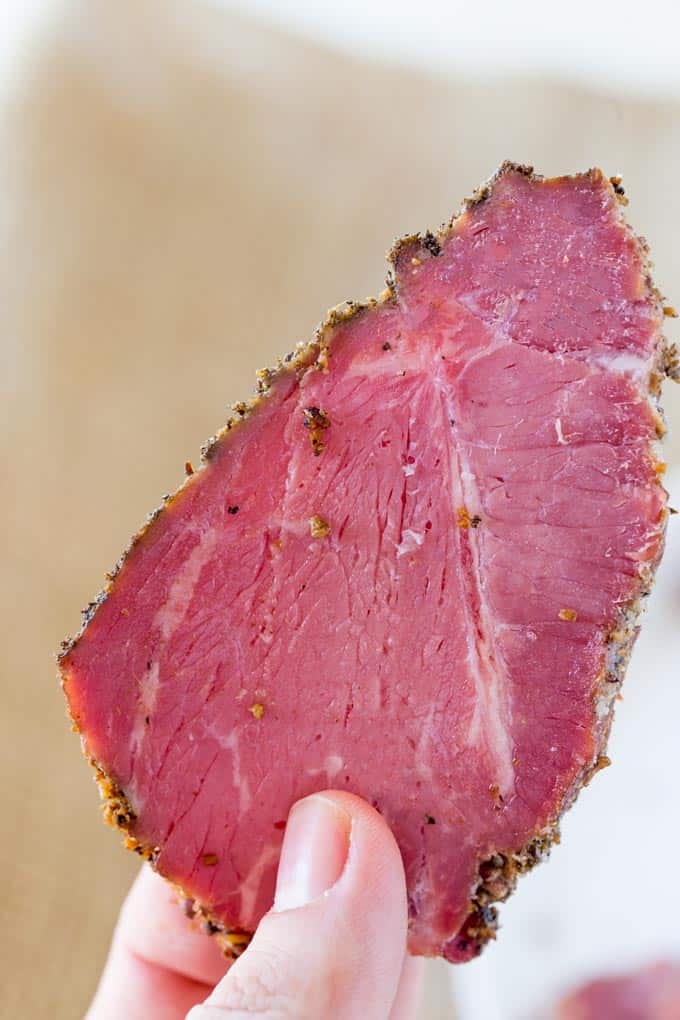 Most roasts/meats that are slow cooked would break in half if you tried to hold up a slice, but by cooking it shy of the standard 8 hours most people cook on low for you'll have slices of meat that are easy to cut and not as messy to eat.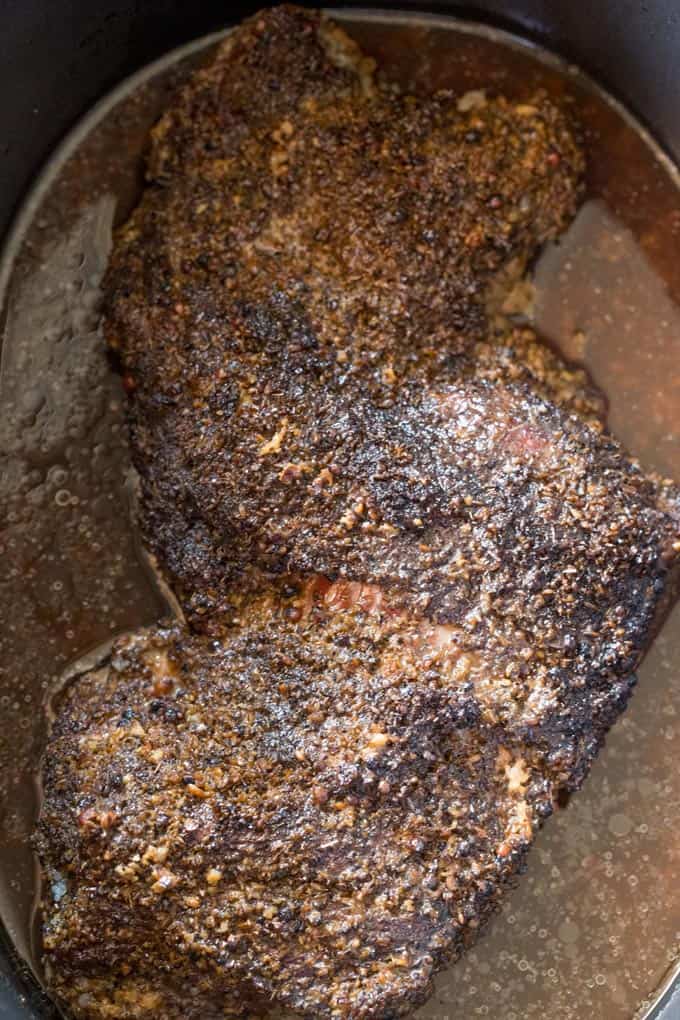 Your Slow Cooker Pastrami Sandwiches aren't going to win any sort of a beauty competition in the slow cooker, it won't even look like that gorgeous pink color exists in the slow cooker anymore because of all the black pepper coating the outside. Inside you'll still have plenty of moisture, but if you want to have that true steamed flavor to the pastrami I would suggest adding some slices to a plate, covering with a wet paper towel and microwaving for 30 second increments until you're satisfied.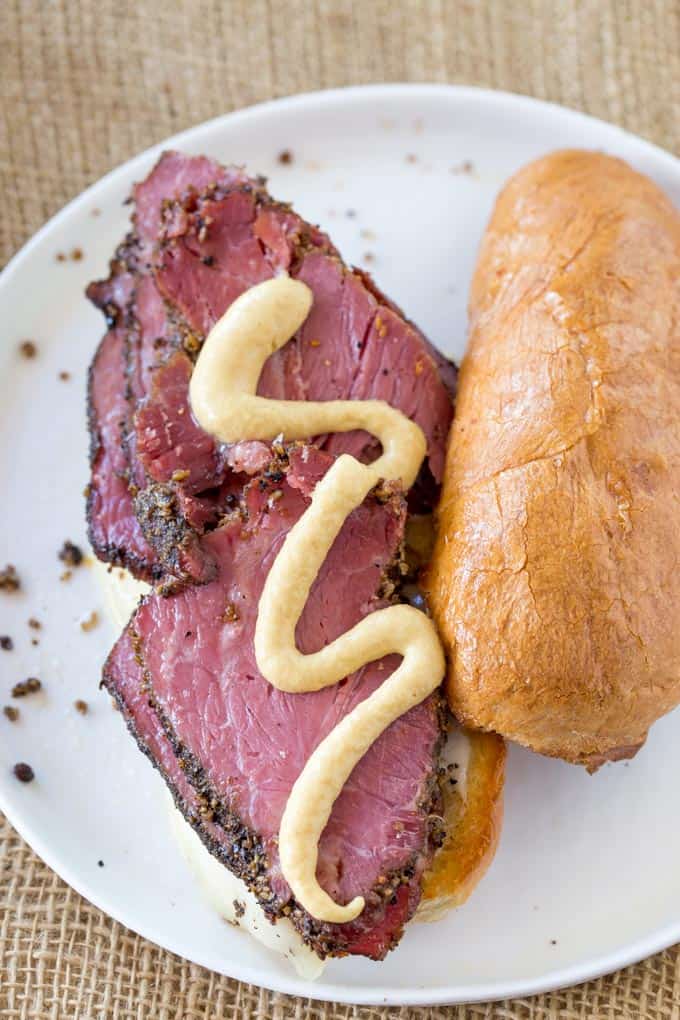 If you're keeping track here are the other slow cooker sandwiches we've got so far:
There's more on the way too, I've made and photographed another 10 slow cooker sandwiches, so if you're enjoying this series definitely stick around, more are coming!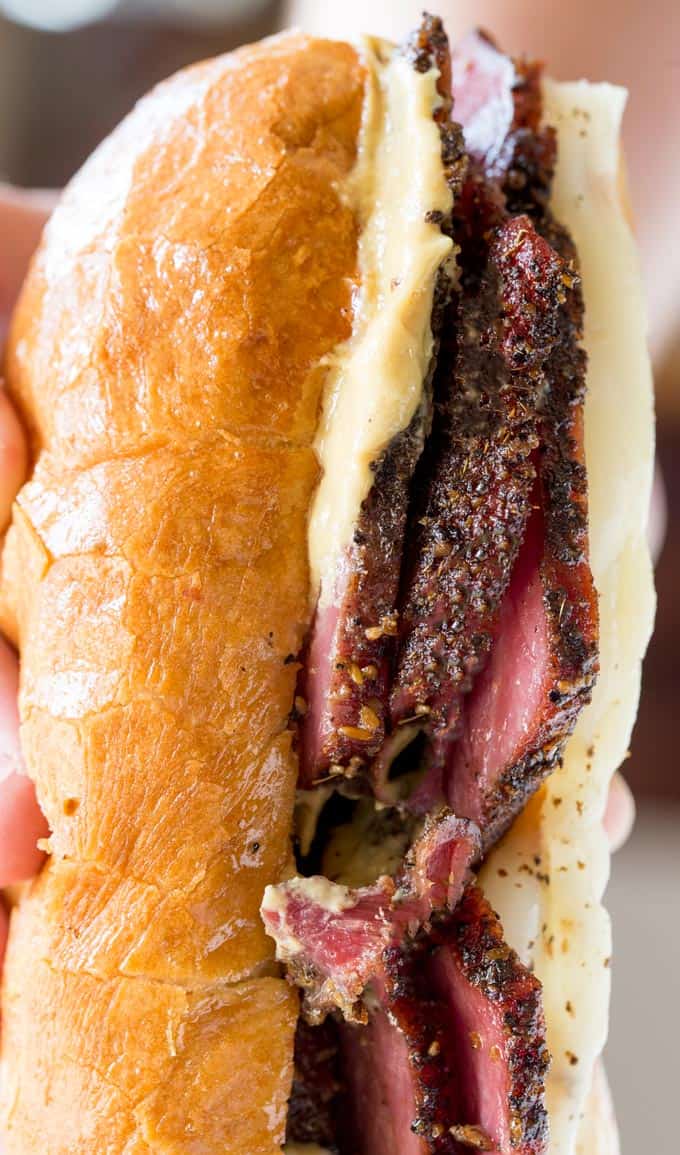 Some things to note with these Slow Cooker Pastrami Sandwiches:
Unlike most roast sized pieces of meat you are not supposed to brown this one.
If your spices aren't adhering well to the meat try rubbing some oil on it, I use canola.
Let the meat cool then gently wrap in foil and cool completely in the fridge, this well make for easier slicing.
We're using corned beef here to skip the curing process but corned beef is super salty, so we're soaking the meat. You can skip the soaking if you don't mind the extra salt flavor, but it won't taste quite as much like pastrami.
I grind my own black peppercorns for this recipe, if you use standard black pepper it will taste AWFUL. Let me say that again, please don't use normal black pepper, that has been grinded down much too finely for this recipe. It will be inedible. 
Tools used in the making of these Slow Cooker Pastrami Sandwiches:
Spice Grinder: Perfect for grinding spices, just don't switch back and forth between coffee and spices, your coffee will taste awful.
Brining Container: I used this to brine meats because the size prevents having to cram larger cuts into smaller spaces and deform them. Also, the lid snaps on very tightly, I've never had a leaking issue.
Spice Rack – I buy spices in bulk from local grocers and from Penzey's. It's less expensive and significantly higher quality than buying the jars individually but I ended up being left with tons of little bags of spices. Enter the spice rack.
Slow Cooker: Love this slow cooker and how programmable it is, it has been a workhorse for me… until…
My New Slow Cooker: This recipe was made in this slow cooker. For larger roasts I also brown the meat in the insert and not lose a bunch of the flavor by transferring the meat and leaving the browned bits behind. If you're thinking of a new slow cooker, consider it if your budget is open.


Ingredients
5

pounds

raw corned beef in a package in your meat department

1/2

cup

brown sugar

1/4

cup

black peppercorns

2

tablespoons

coriander seeds

1/2

cup

water

8

slices

Provolone Cheese

8

hoagie rolls

2

tablespoons

butter

4

tablespoons

spicy brown mustard
Instructions
Soak the corned beef in a bowl of water with it's spice packet and brown sugar for

24 hours

.

Using a coffee grinder, add the peppercorns and coriander and grind until coarsely chopped, like a very coarse pepper mill would create. You should see the pieces of black pepper individually.

Mix the pepper and coriander seeds on a large plate

Dry off the meat once soaked and roll it in the spice mixture.

Cook on low in your slow cooker for

6 hours

.

Wait for the meat to cool in the refrigerator, then slice thinly or use a deli slicer for even thinner cuts.

If desired you can steam before adding to your sandwich for the true deli experience.

Cut the hoagie rolls open and spread with butter before toasting.

Layer cheese, then pastrami and finally spicy brown mustard.
Nutrition
Calories:
918
kcal
|
Carbohydrates:
48
g
|
Protein:
54
g
|
Fat:
55
g
|
Saturated Fat:
20
g
|
Cholesterol:
179
mg
|
Sodium:
4103
mg
|
Potassium:
925
mg
|
Fiber:
1
g
|
Sugar:
17
g
|
Vitamin A:
335
IU
|
Vitamin C:
76.9
mg
|
Calcium:
263
mg
|
Iron:
16
mg