Slow Cooker Philly Cheese Steak Sandwiches that are so tender and flavorful you'll feel like you're in Philly. Perfect for a crowd!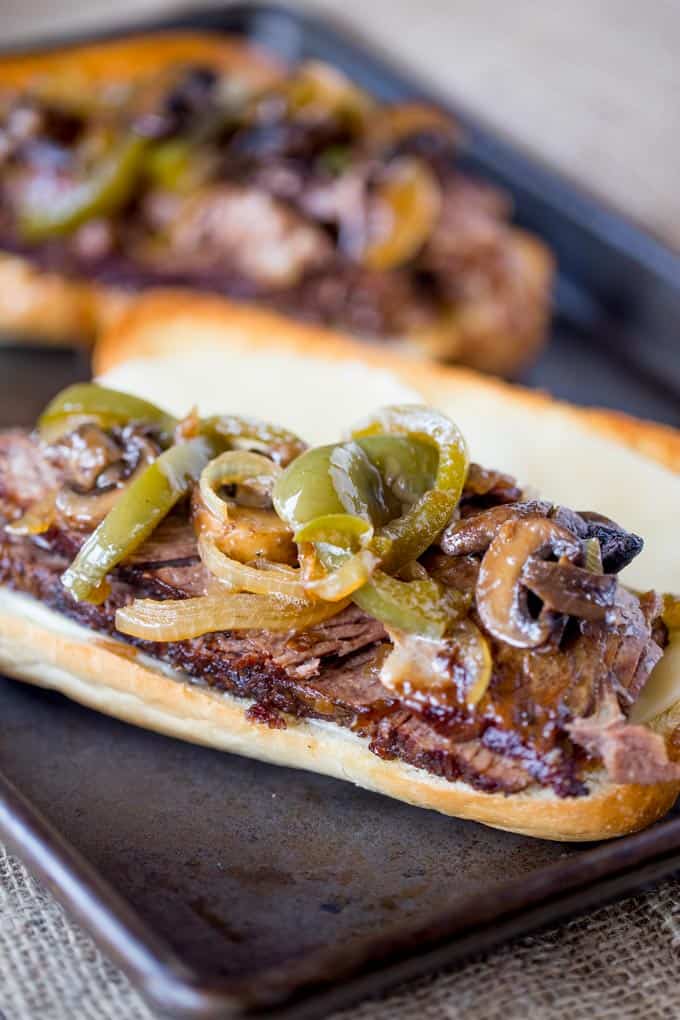 Slow Cooker Philly Cheese Steak Sandwiches are the answer to all your Philly Cheese Steak dreams. We've made this recipe three times in the last two weeks and I think I've enjoyed so many I've already matched my 2016 beef consumption in just that time.
The beef is super tender, the liquid left behind is magic (I actually froze what liquid I didn't add to a little bowl for dunking – I know like a cross between a french dip and a Philly cheesesteak but the liquid was SO good). The bell peppers, onions and mushrooms add a delicious flavor to the beef, the liquid and the sandwich.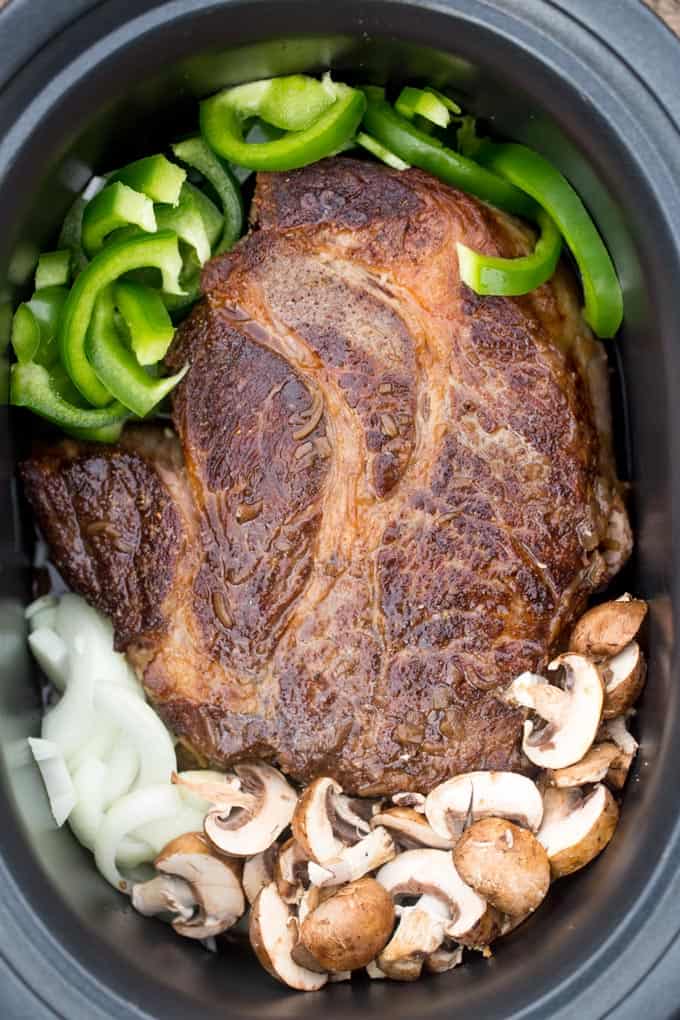 I'm by no means a purist when it comes to cheese steaks, I will take them any way I can get them I love them so much, so these Slow Cooker Philly Cheese Steak Sandwiches were right up my ally. We made them for the superbowl party we had and they were such a hit we just haven't stopped.
I will say the most authentic thing about these Slow Cooker Philly Cheese Steak Sandwiches that people from Philadelphia won't be upset with me for is the Cheez Whiz that I add to them. It melts and acts like a delicious sandwich glue that you're going to love.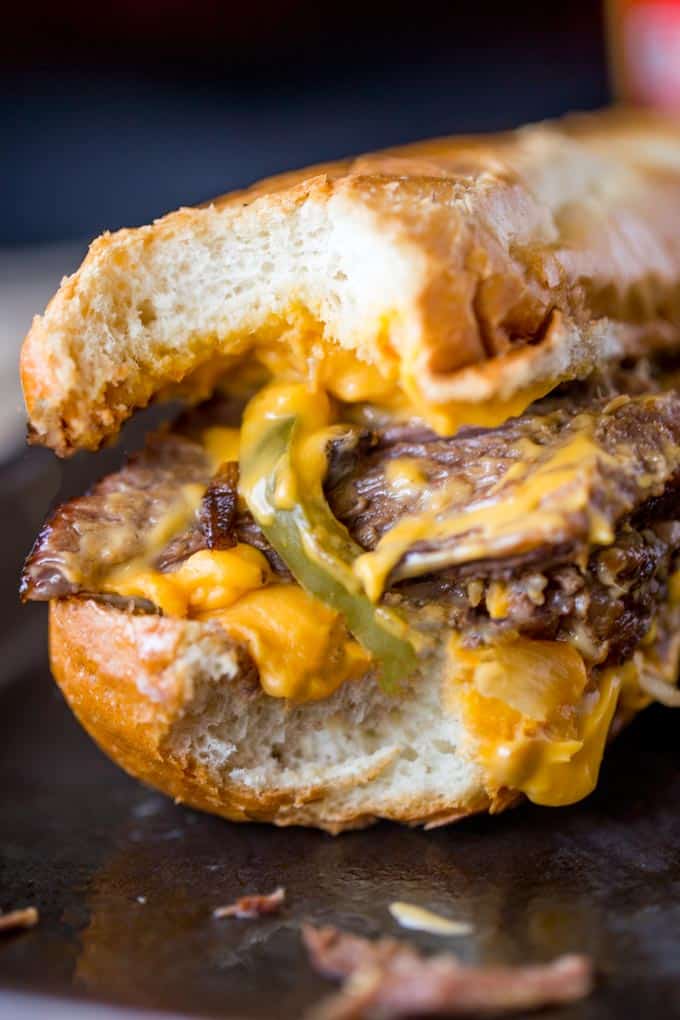 The blog has been slow cooker obsessed these last few weeks. I think it has to do with the terrible weather we've been having, but seeing a slow cooker slowly bubbling away on the counter just makes me so happy these days.
Looking for more Cheese Steak recipes? Look no further!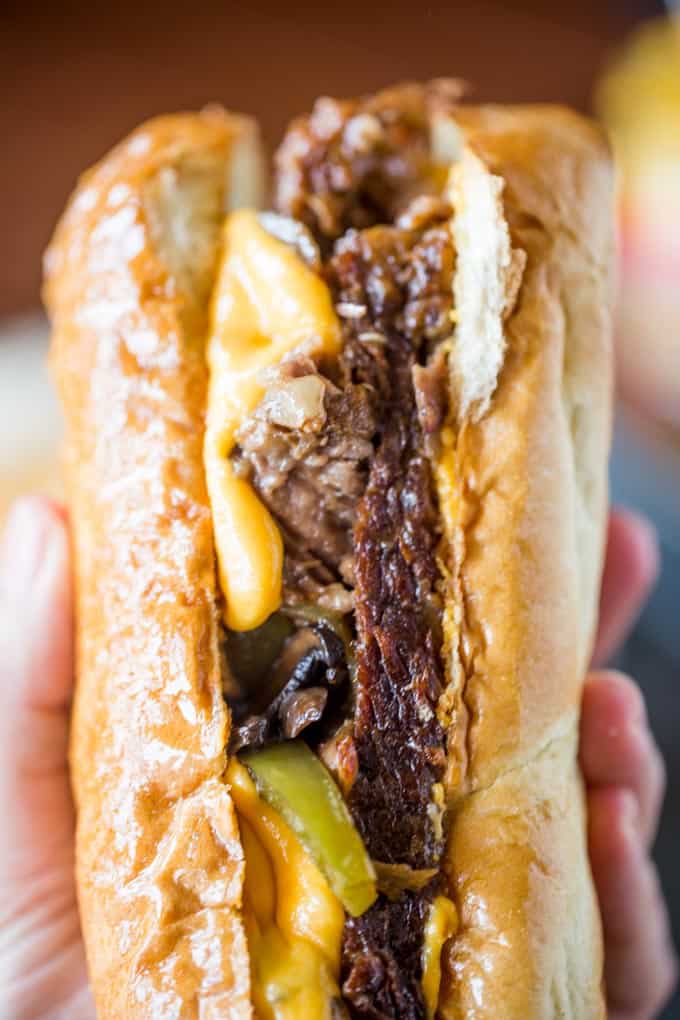 Some quick tips on these Slow Cooker Philly Cheese Steak Sandwiches:
I brown the beef for a good five minutes on each side before putting it in the slow cooker. I mean look at that crust in the sandwich photos!
I add the veggies in the last hour, if you add them into the pot in the beginning they'll melt into nothing. If you forget/arent home in time you can also sauté them quickly with canola oil, kosher salt and pepper on medium high heat, then just add them on top or even stir them into the slow cooker just before serving to get some of the cooking liquid on them.
This isn't a sandwich you have to dip to enjoy, and I would say about 50/50 were pro-dip vs no-dip, but the liquid left behind is amazing, don't toss it.
Consider Cheez Whiz, but if you're anti-processed cheese I highly suggest Provolone, thats what my husband puts on his and it is also awesome. To give his cheese a better melt I dunk the provolone slices in the liquid with some tongs for a few seconds before putting them onto his sandwich.
Consider buttering very lightly and then toasting your hoagie rolls. It takes the bread to another dimension.
Enjoy and please come back and tell me your thoughts!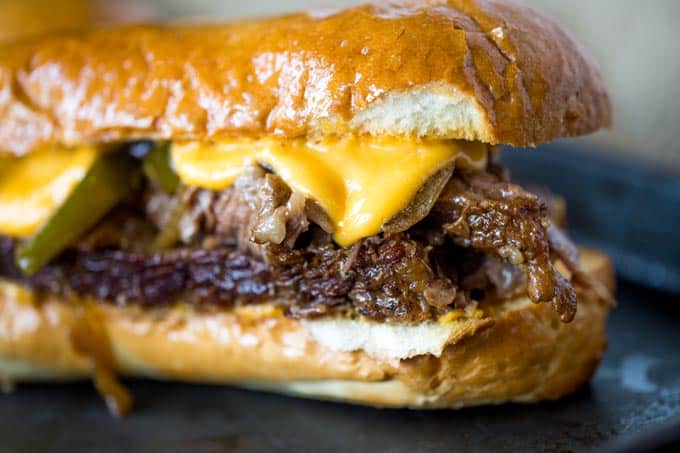 Tools Used in the making of these Slow Cooker Philly Cheese Steak Sandwiches:
Slow Cooker: Love this slow cooker and how programmable it is, it has been a workhorse for me… until…
My New Slow Cooker: This recipe was made in this slow cooker. For larger roasts I also brown the meat in the insert and not lose a bunch of the flavor by transferring the meat and leaving the browned bits behind. If you're thinking of a new slow cooker, consider it if your budget is open.
Worcestershire Sauce: I have been using this brand most of my life and when my husband came home with the store brand one day and I figured "eh no biggie" I could immediately taste the difference. Stick with the original.
Cheez Whiz: I know what you are thinking, Cheez Whiz? YES, but I really only use Cheez Whiz when it comes to cheese steaks. Sometimes you have to go with the authentic ingredient and push the thought of "processed cheese product" out of your mind. Alternately feel free to use provolone which is also delicious.
Strand Brewing Company Beer: Love their beer, if you are in California you can even buy it at Costco. No sponsorship here but just lots of delicious beer.


Ingredients
4-5

pounds

chuck roast

2

tablespoons

canola oil

1

teaspoon

Kosher salt

1

teaspoon

coarse ground black pepper

1

cup

beef broth

1

can (10.5 oz)

condensed French onion soup

1

tablespoon

Worcestershire sauce

1/2

cup

beer

we like Strand Brewing Company - any dark beer will work though

1

yellow onion sliced into 1/4" slices

8

ounces

crimini mushrooms sliced

1

green bell pepper sliced into 1/4" slices

10

hoagie rolls

4

tablespoons

butter

Cheez Whiz or Provolone Cheese
Instructions
Season the chuck roast with the Kosher salt and pepper (if you are sensitive to sodium, adjust to your taste or you can even leave the salt out altogether since you're adding broth and soup).

Heat your pan (or if you can brown in your slow cooker, do it in that insert) to medium high.

Add the canola oil and when it ripples and is hot add in the roast and brown, deeply, for

4-5 minutes

on each side.

In your slow cooker add the beef, the beef broth, the french onion soup, Worcestershire sauce, and the beer. Enjoy drinking the second half of that beer!

Add in the onion, mushrooms, and bell pepper in the last hour of cooking.

To serve, toast your hoagie rolls with a bit of butter spread onto the cut sides.

With a very sharp knife cut your beef against the grain.

Add you cheese of choice, some of the meat and top with the cooked veggies.

I like to have a bit of the liquid (with the fat skimmed off on the side,) but it is totally optional.
Nutrition
Calories:
400
kcal
|
Protein:
35
g
|
Fat:
28
g
|
Saturated Fat:
12
g
|
Cholesterol:
137
mg
|
Sodium:
526
mg
|
Potassium:
628
mg
|
Vitamin A:
165
IU
|
Vitamin C:
0.2
mg
|
Calcium:
35
mg
|
Iron:
3.9
mg