Chicken Madness Philly Sub Sandwiches is an amazing alternative to your classic Philly cheesesteak sandwich with peppers, onions, bacon, garlic and hot peppers.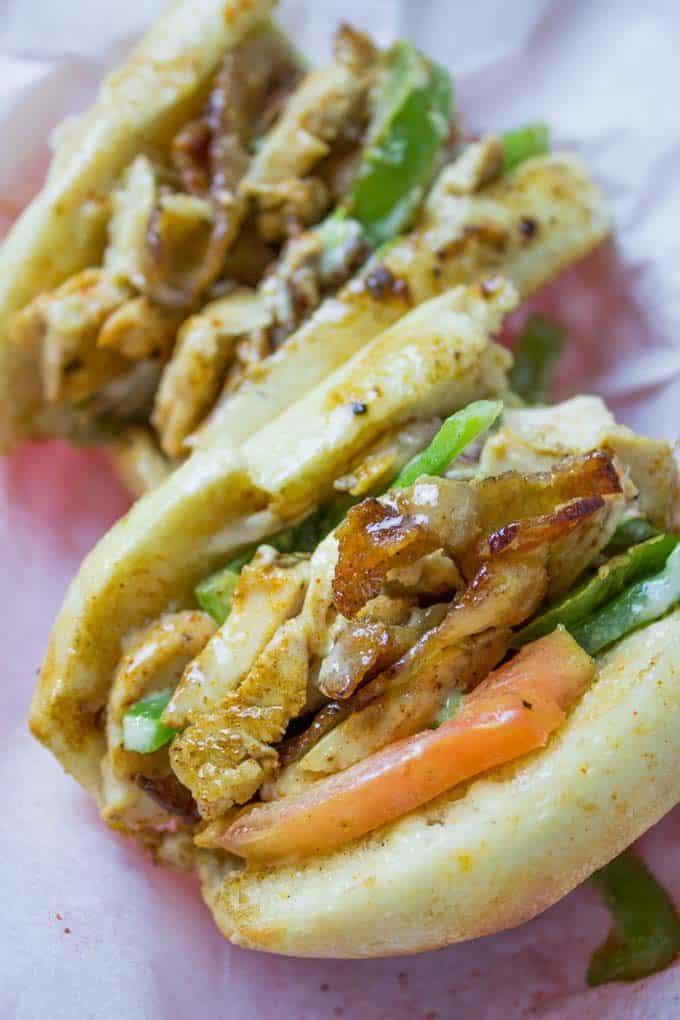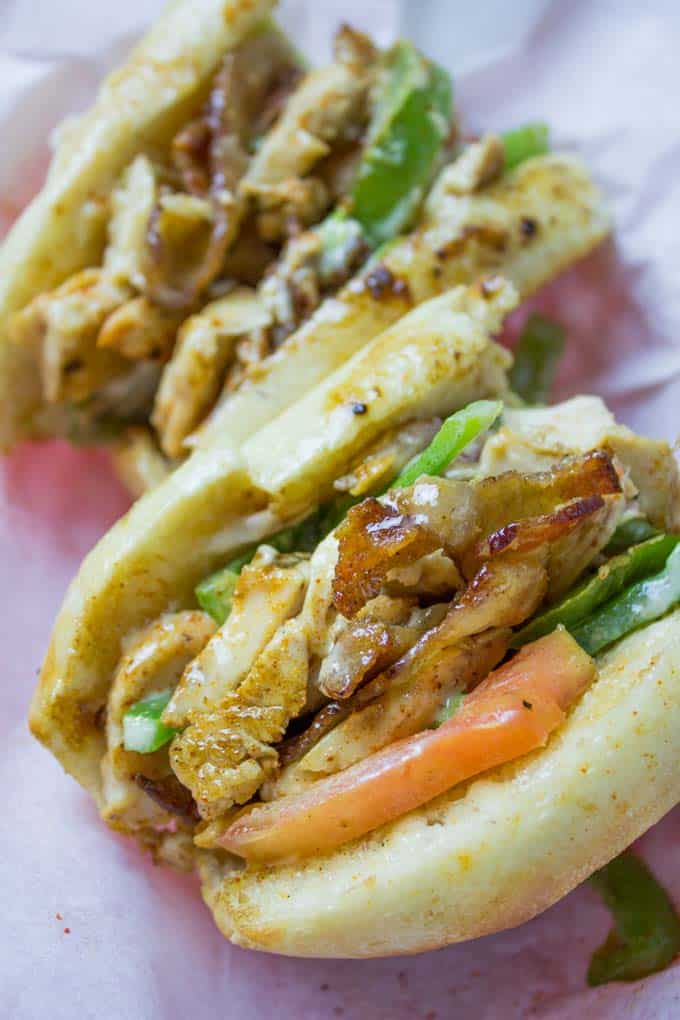 Chicken Madness Philly Sub Sandwiches are a unique take on the classic Philly sub sandwich (which is amazing in it's own right: Pat's Philly Cheesesteak Subs) made by a small deli just outside the gates of Georgetown University called Wisemiller's Deli.
The sandwich has a cult following with not just students but with the entire surrounding community. It has become such a phenomenon that the deli actually expanded to accomodate all the people ordering hot foods.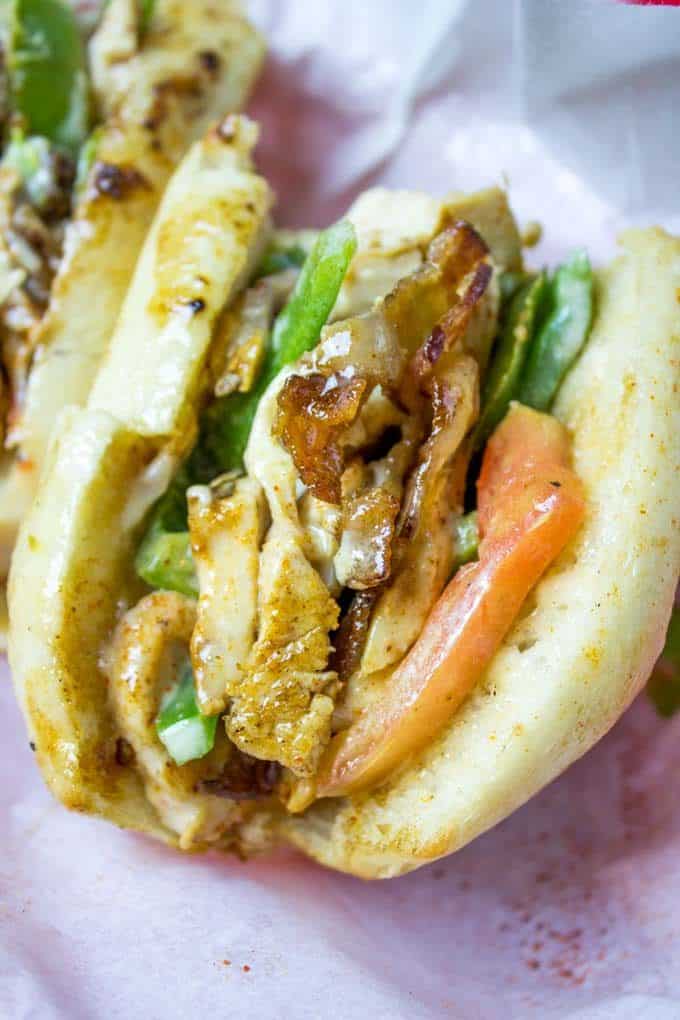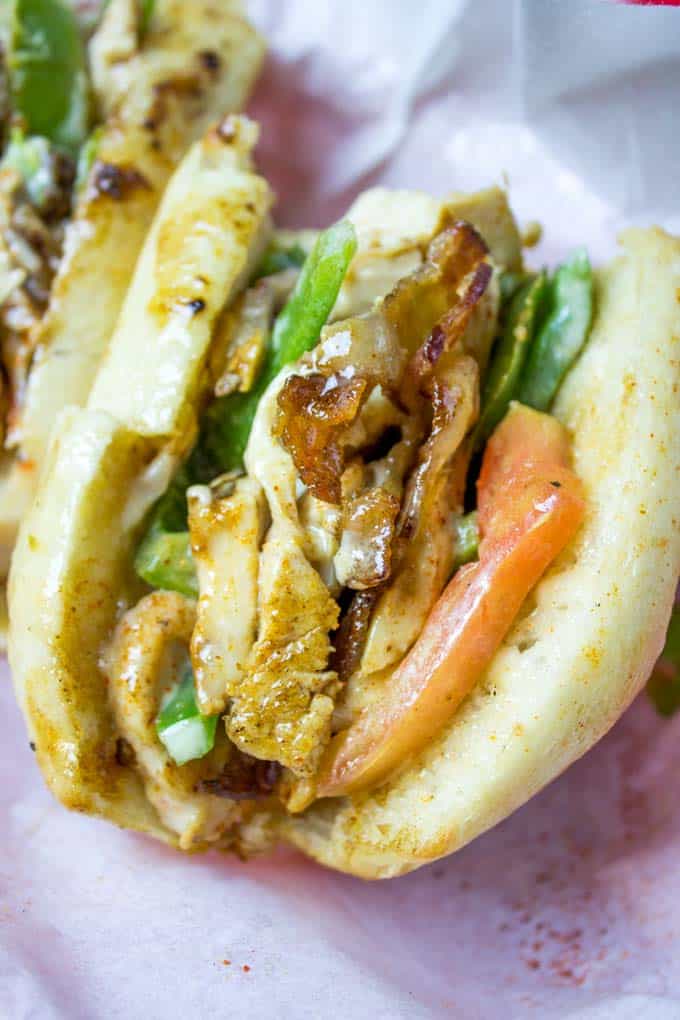 Paired with Wisey's (we all called it that) famous Oreo Chunk Cookies and you've got the best study/late night/hung over/hangry curing meal of your life.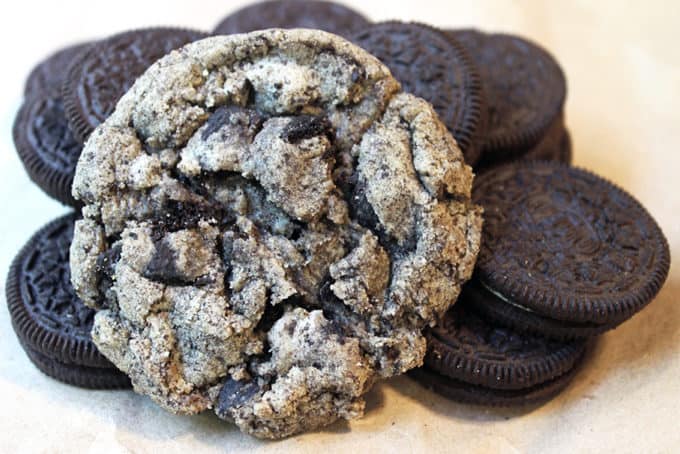 So let's discuss some of the delicious differences in these Chicken Madness Philly Sub Sandwiches. First, chicken, butterflied into a thinner filet and browned. Garlic is added to the onions and peppers and bacon is added to the mix.
The most flavorful difference comes in the cayenne pepper and the hot chopped peppers which are a regional favorite on sub sandwiches.
If you give these Chicken Madness Philly Sub Sandwiches a try you'll understand why we all used to wait packed into the smallest room ever in terrible weather walking to and from campus for these sandwiches. Trust me, it is totally worth it.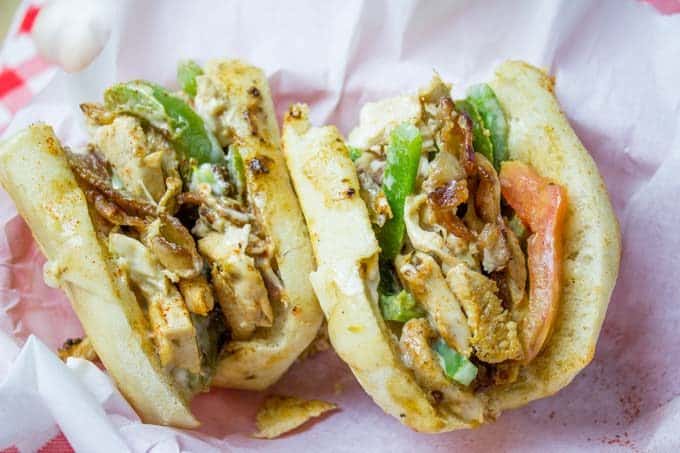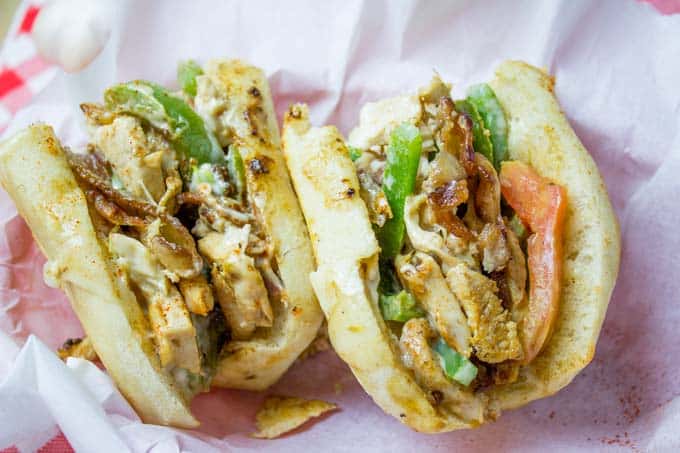 Tools used in the making of these Chicken Madness Philly Sub Sandwiches:
Cast Iron Skillet: You all know my love for my cast iron skillet. It lives on my stove top because I use it every single day, more than any other cooking vessel I own.
AllSpice Spice Rack: I notoriously don't like to buy jarred spices because they always cost 5-10x more than buying in bulk. The only drawback is you're left with spices in these little baggies that are a mess to store and not easy to look through. I use this spice rack and buy all my spices from Sprouts, Winco and Penzey's then fill up the bottles. The cayenne in this recipe could've cost 4-6$, but buying in bulk cost me less than fifty cents to fill up the bottle.
Cayenne Chopped Hot Peppers: These are a regional favorite, check your market because finding them online is tough, but I wanted to give you guys an idea of the kind of peppers that are on the sandwich.


Ingredients
1/4

cup

canola oil

Kosher salt and freshly ground black pepper

2

boneless

, skinless chicken breasts butterflied

1

large yellow onion

, sliced

1

green bell pepper

, sliced

2

cloves

garlic

, minced

8

slices

bacon

, cooked crisp

1/4

teaspoon

cayenne powder

8

slices

provolone

mayonnaise

4

hoagie rolls

, sliced almost all the way through and lightly toasted

Hot Chopped Peppers

Lettuce

Tomato
Instructions
Add the canola oil to a heavy bottomed skillet (I use my trusty cast iron skillet) and heat on high.

Season your chicken with Kosher salt and pepper to taste.

Add the chicken to your skillet and cook until browned on both sides.

Since it is butterflied and thinner it will be done in the middle by the time the sides are browned.

Remove the chicken from the pan and add the onions and bell peppers.

Sauté for

3-5 minutes

or until slightly browned and softened.

Add in the garlic and cayenne pepper and cook for an additional 30 seconds while stirring.

Turn off the heat under the pan and chop the chicken into thin ½ inch strips.

Add the chicken and bacon into the pan and stir to combine all the ingredients.

Onto each roll spread mayonnaise, hot peppers, lettuce and tomato to taste.

Add the provolone slice to cover both sides (to create a pocket for the chicken to sit in) and put ¼ of the filling inside each roll.
Nutrition
Calories:
825
kcal
|
Carbohydrates:
39
g
|
Protein:
50
g
|
Fat:
52
g
|
Saturated Fat:
17
g
|
Cholesterol:
140
mg
|
Sodium:
1208
mg
|
Potassium:
675
mg
|
Fiber:
2
g
|
Sugar:
7
g
|
Vitamin A:
655
IU
|
Vitamin C:
27.8
mg
|
Calcium:
447
mg
|
Iron:
11.7
mg