The undisputed king of cheese steak subs, the magic is in the technique of Pat's Philly Cheese Steak. 
The thing about a Pat's Philly Cheese Steak is that they are the most magical sandwich you'll ever eat but to enjoy them you have to go to Philadelphia, park in the most ridiculous environment ever where the only parking is the sidewalks around the restaurant, get in a long line that basically goes across the street and then order quick AND correctly so you don't become everyone's least favorite person.
My version of Pat's Philly Cheese Steak is as close as you can get to the real thing while staying home.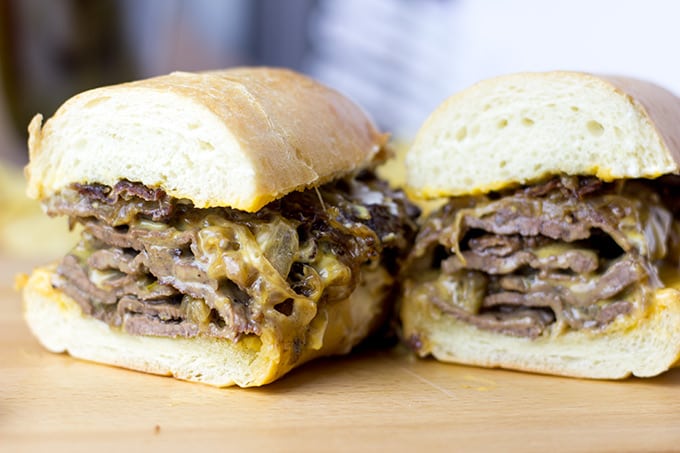 I am going to just say this and you guys can take it or leave it. Take it: Buy Cheez Whiz (Do it, DO IT!) or you can use Provolone Cheese. You guys know me, I tend to stick with things that are as close to nature as possible unless I have a REALLY good reason. THIS is a really good reason! The flavor is amazing, the drippy quality of the cheese is awesome and makes the sandwich even better. Plus the authentic Pat's Philly Cheese Steak is made with it, when you order you say "with wiz" so if you change the cheese, just be aware it won't taste quite as authentically Pat's.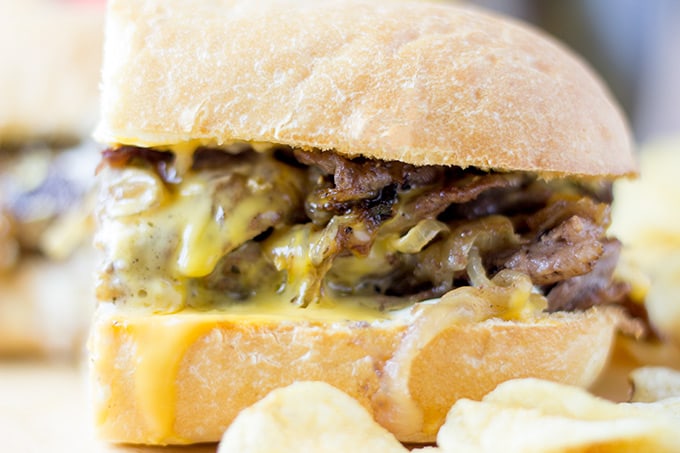 And I mean look at that drippy melty cheese? A note if you are admiring the photos and notice the beef is slightly thicker. I used a sharp chefs knife and sliced as thinly as I could for my sandwich and left my husband's a little thicker. Then I photograpphed HIS. Totally want to scream even typing that. The only difference was the beef was slightly thinner to begin with.
Want to know how to slice meat/chicken thinly? Half freeze it! I put the beef in the freezer for a couple of hours and the slicing was significantly easier!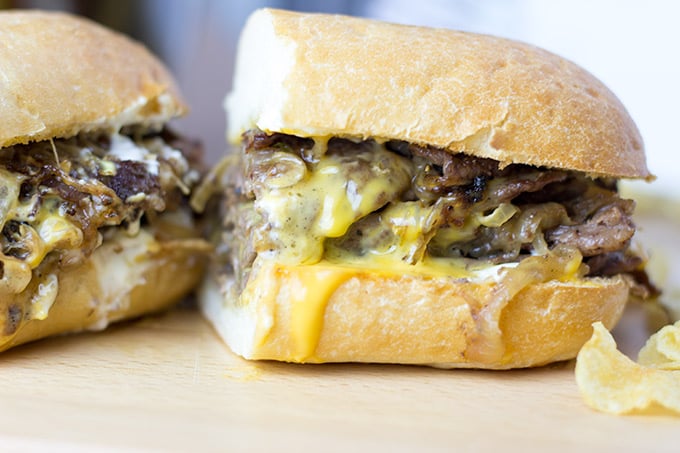 Remember everyone… one more post for tomorrow and then no more posts until 1/25/2016. I will be in San Francisco next week for the Fancy Food Show.
Recipe
Save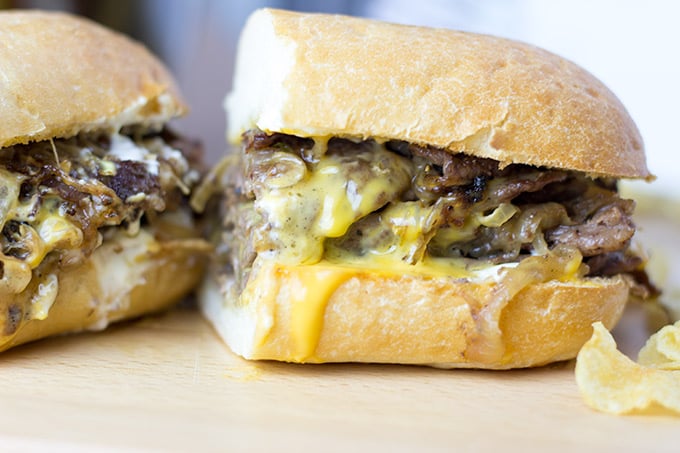 Pat's Philly Cheese Steak (Copycat)
Yield:

4

Prep Time:

3

hours

Cook Time:

20

minutes

Total Time:

3

hours

20

minutes

Course: Sandwich
Cuisine: American
Author: Sabrina Snyder
The undisputed king of cheese steak subs, the magic is in the technique of Pat's famous Cheese Steaks.
Ingredients
4

tablespoons

canola oil

, divided

2

large onion

, sliced thinly

24

ounces

rib eye

, sliced as think as you can*

6

ounces

Cheez Whiz

4

crusty Sub Rolls

, toasted (Amoroso is best)

kosher salt and fresh cracked pepper

Mayonnaise to taste on bottom of bun
Instructions
Note: click on times in the instructions to start a kitchen timer while cooking.
To thinly slice the beef, put it in the freezer for 2-3 hours. This will allow you to slice it easily as thinly as you'd like.

In a cast iron skillet add three tablespoons of canola oil and add the onions.

Cook until they wilt and begin to yellow (we are not looking for them to brown).

Add salt and pepper to taste.

Remove from pan.

Add in the last tablespoon of oil and get the pan HOT.

Season the beef with salt and pepper to taste.

Sear on both sides quickly, browned but don't let it dry out.

Add the onions back in and mix together.

In a microwave safe bowl heat the Cheez Whiz up.

Add the onions and beef to the rolls and top with Cheez Whiz.

Enjoy immediately.
Recipe Notes
Adapted from Pat's.
Nutrition Information
Yield: 4 , Amount per serving: 477 calories, Calories: 477g, Protein: 34g, Fat: 38g, Saturated Fat: 11g, Cholesterol: 103mg, Sodium: 88mg, Potassium: 455mg, Vitamin A: 25g, Calcium: 12g, Iron: 2.9g
All images and text © for Dinner, then Dessert.
Keyword:
Pat's Philly Cheese Steak (Copycat)
Save