Philly Cheese Steak Burgers are the perfect summer burger that will stand out from the crowd. An easy cheese steak topping you can make on the grill or on your stove top.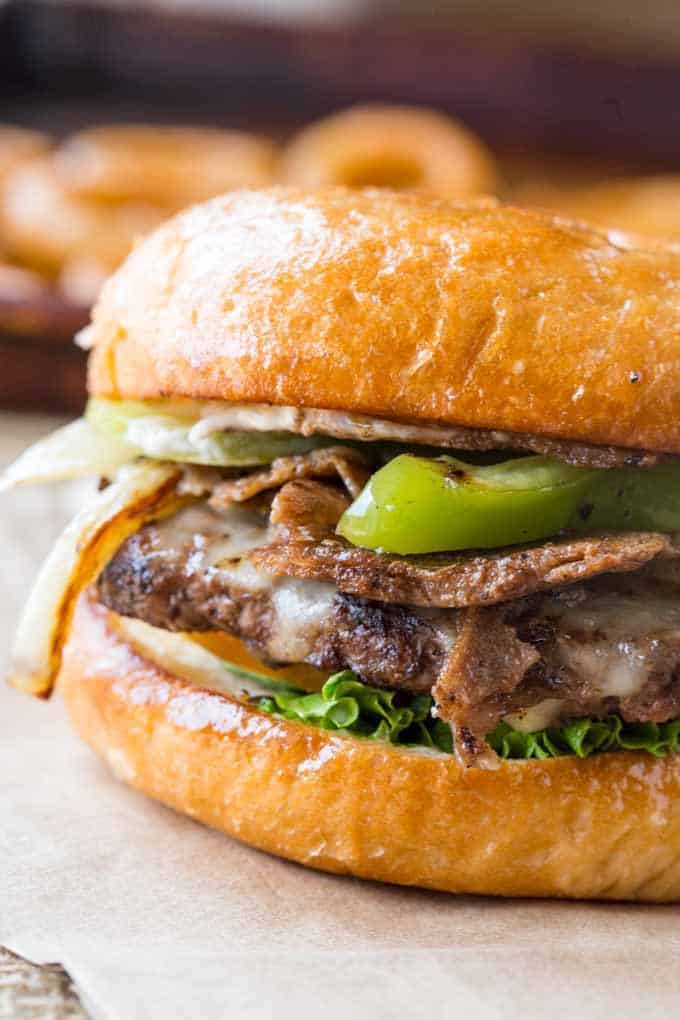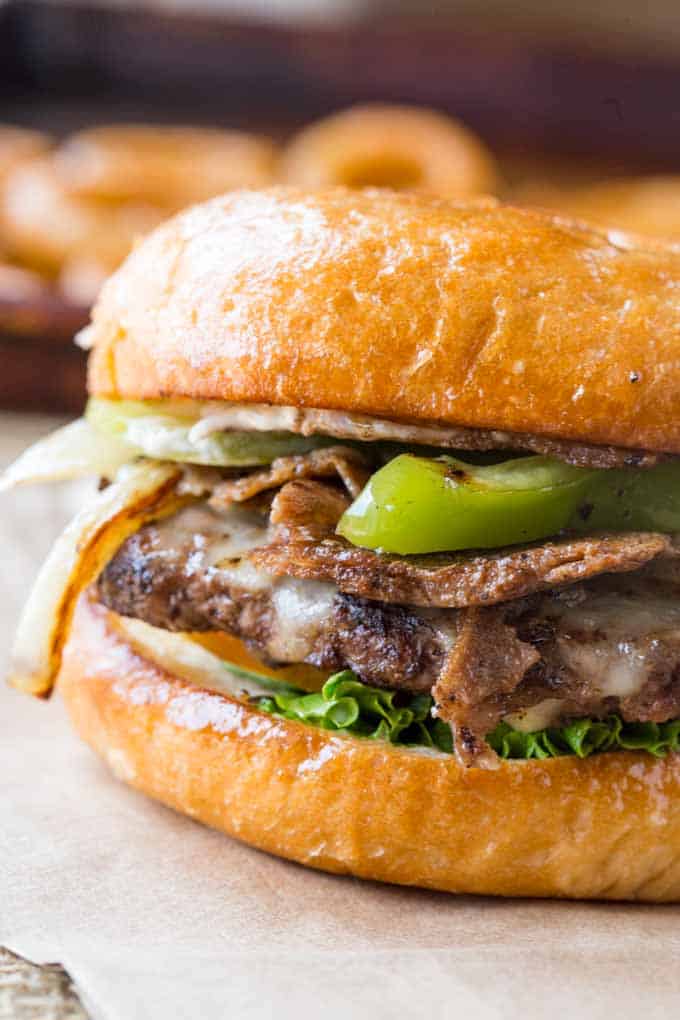 Philly Cheese Steak Burgers are one of just a few burgers we make around here. You'd think being in California will all the sunny weather we'd be outside grilling all the time (and we are!) but when it comes to burgers we have just a few favorites.
One of my husband's favorite things is when we grill up some burgers because he grew up eating meatloaf burgers with cut up vegetables inside them so getting great homemade burgers are still a treat to him.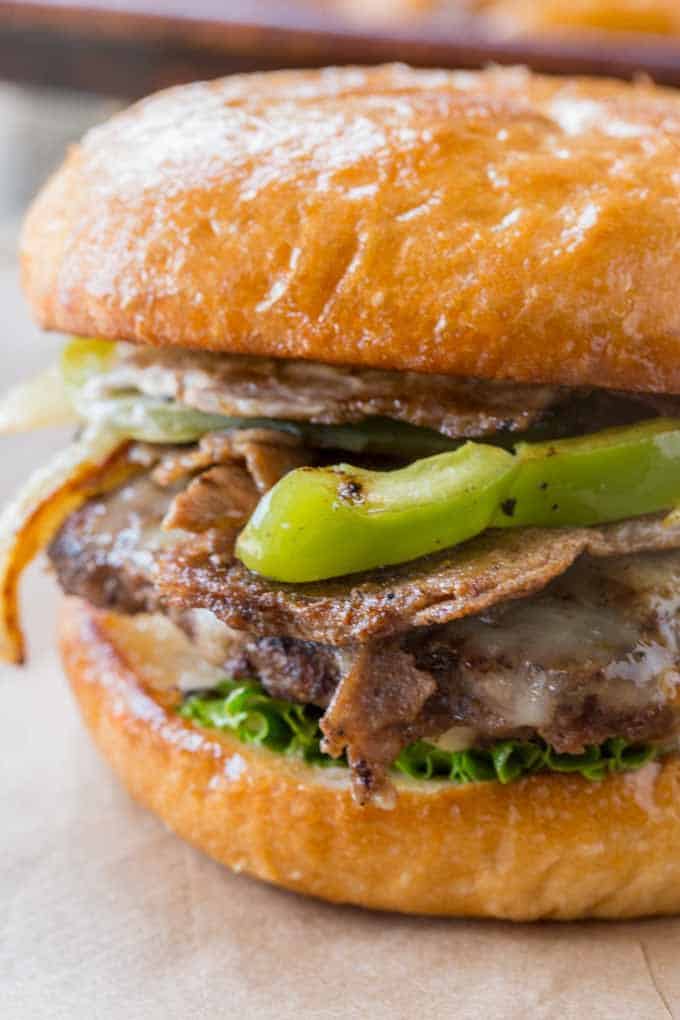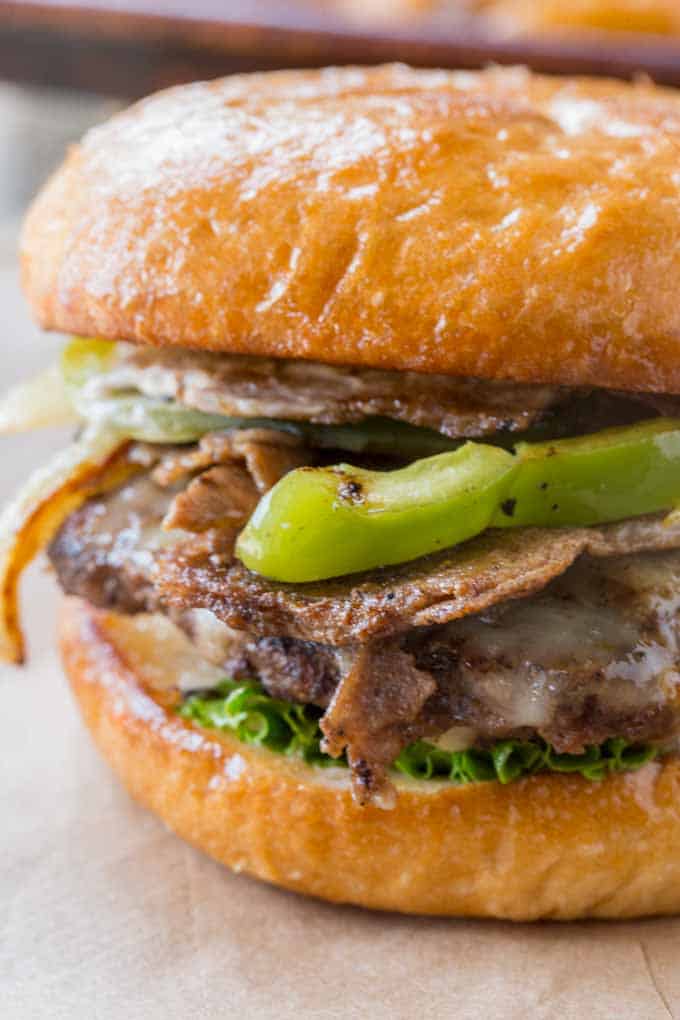 Some tips for making the perfect burger patty:
Handle the meat as little as possible
Keep the meat as cold as possible, the more the fat stays solid and doesn't melt in your handling the better for the cooking process (think of this the same way you think of butter in biscuits, you want to keep it as cold as possible to give the butter the little pockets to steam and create a more tender texture.)
When you form the patty make a dent in the middle of the patty with your thumb. This prevents your patty from getting a hump in the middle.
Don't move the patty around once you put it on the grill or in your grill pan. Place it, let it cook until the meat releases naturally from the pan then flip. Once it gets a crust on the second side you're done.
Don't use a cold pan or grill to cook the patties. Make sure you've heated them to the right temperature or the meat will stick to the pan/grill.
Get creative with your toppings, a normal burger is fine, but a burger with fun toppings will instantly make your get together a hit. We love coming up with fun toppings for party foods.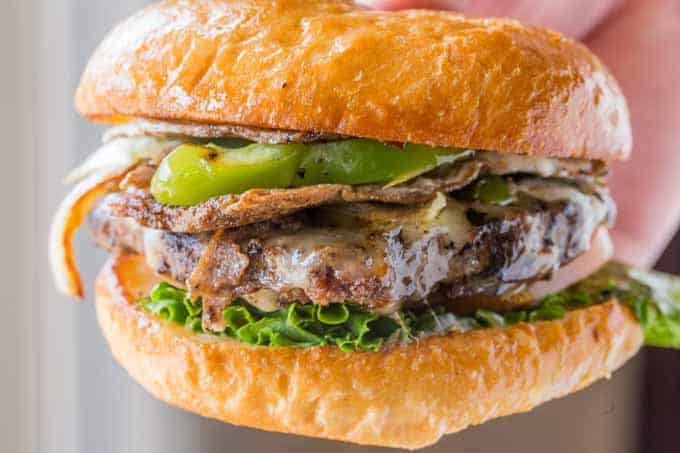 Looking for more burgers?
Looking for more Cheese Steak recipes? Look no further!
Normally I would say since you are making a Philly Cheese Steak you would want to use Cheez Whiz. I actually did for one of them in testing, but found that since it melts so easily it actually made the burger a bit of a mess. So, for this recipe, we stuck with Provolone cheese.
If you're grilling outside and still want to use Cheez Whiz I would recommend skipping the mayo and putting the Cheez Whiz directly on the bun halves to try to keep it from getting all over your hands. Either way, still completely delicious!
Tools Used in the making of these Philly Cheese Steak Burgers:
Grill Pan: I love using this grill pan when making just a couple of burgers or grilling inside when the weather isn't the best. When I need to cook in higher quantities I use a larger grill/griddle pan.
Grill/Griddle Pan: This has a much larger surface area so you can cook up 6 patties at once. You would just lay the pan over two burners at once.
Brioche Buns: I love serving burgers on buttery brioche buns. Mine are locally sourced from Whole Foods but if you wanted to order them to your home I have used this brand previously too. They just add a really delicious and rich flavor to the burgers.
Worcestershire Sauce: I have been using this brand most of my life and when my husband came home with the store brand one day and I figured "eh no biggie" I could immediately taste the difference. Stick with the original.
Cheez Whiz: I know what you are thinking, Cheez Whiz? YES, but I really only use Cheez Whiz when it comes to cheese steaks. Sometimes you have to go with the authentic ingredient and push the thought of "processed cheese product" out of your mind. Alternately feel free to use provolone which is also delicious.


Ingredients
2

tablespoons

canola oil

1

green bell pepper

, sliced thinly

1/2

yellow onion

, sliced thinly

1

pound

ribeye steak

, sliced as thinly as possible

1

tablespoon

Worcestershire Sauce

Kosher salt and fresh cracked black pepper

, to taste

1

pound

ground beef

(I used 85/15, 80/20 works too)

4

brioche hamburger buns

4

slices

Provolone Cheese

1/2

cup

mayonnaise

lettuce

, optional

tomato slices

, optional
Instructions
In a bowl, toss the green bell pepper and onions with the canola oil.

In a large cast iron grill or griddle pan cook the vegetables on high heat until they're slightly crispy but also browned.

Remove the vegetables and add the thinly sliced ribeye meat, until just seared on both sides.

Form the ground beef into four patties, press your thumb into the center of the patty to make an indent (this prevents the patty from becoming misshapen).

Season patties with kosher salt and pepper, to taste.

On high heat cook the beef patties for

3 minutes

on each side.

When you flip the burger patty add the Provolone Cheese on top of the patties and cook for the remaining

3 minutes

.

Remove the patties and turn the heat to low.

Press the buns into the pan lightly and let brown and toast for a

few minutes

.

To assemble add mayonnaise to the bun halves, lettuce, the beef patty (cheese side up), some of the ribeye and the vegetables.
Nutrition
Calories:
920
kcal
|
Carbohydrates:
26
g
|
Protein:
58
g
|
Fat:
64
g
|
Saturated Fat:
21
g
|
Cholesterol:
174
mg
|
Sodium:
815
mg
|
Potassium:
867
mg
|
Fiber:
2
g
|
Sugar:
5
g
|
Vitamin A:
390
IU
|
Vitamin C:
26.1
mg
|
Calcium:
318
mg
|
Iron:
6.5
mg