Easy Philly Cheese Steak Burgers are amazing homemade gourmet burgers topped with steak, provolone, peppers and onions like the sandwich!
Philly Cheesesteak fans and Cheeseburger lovers will unite over this amazing, juicy, beefy cheesy Burger Recipe! It's truly the best of two worlds in one delicious All-American Dinner!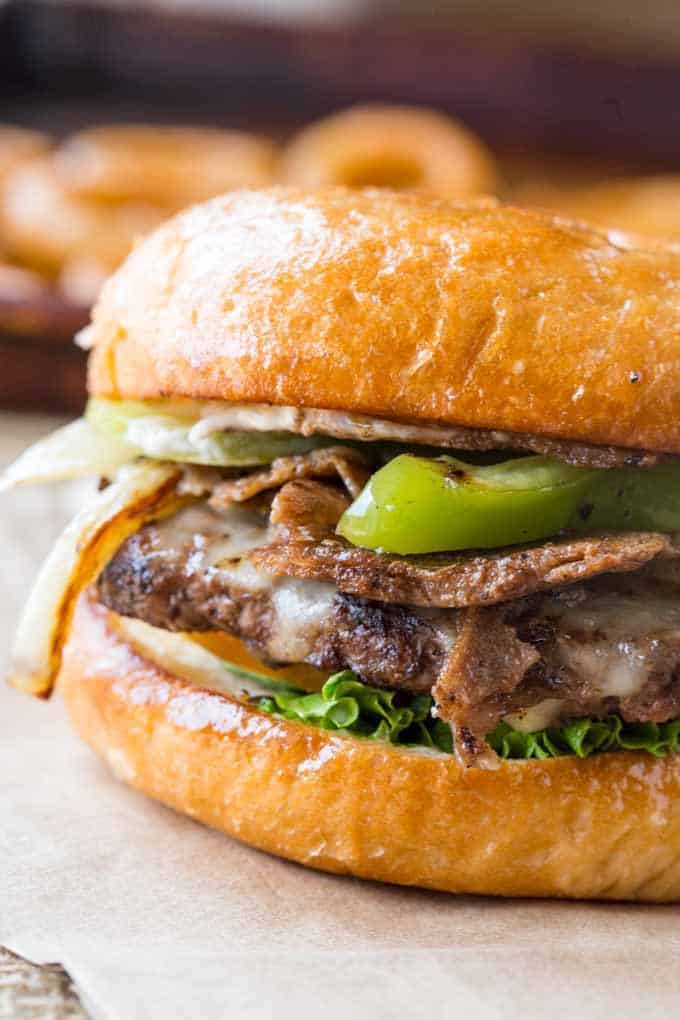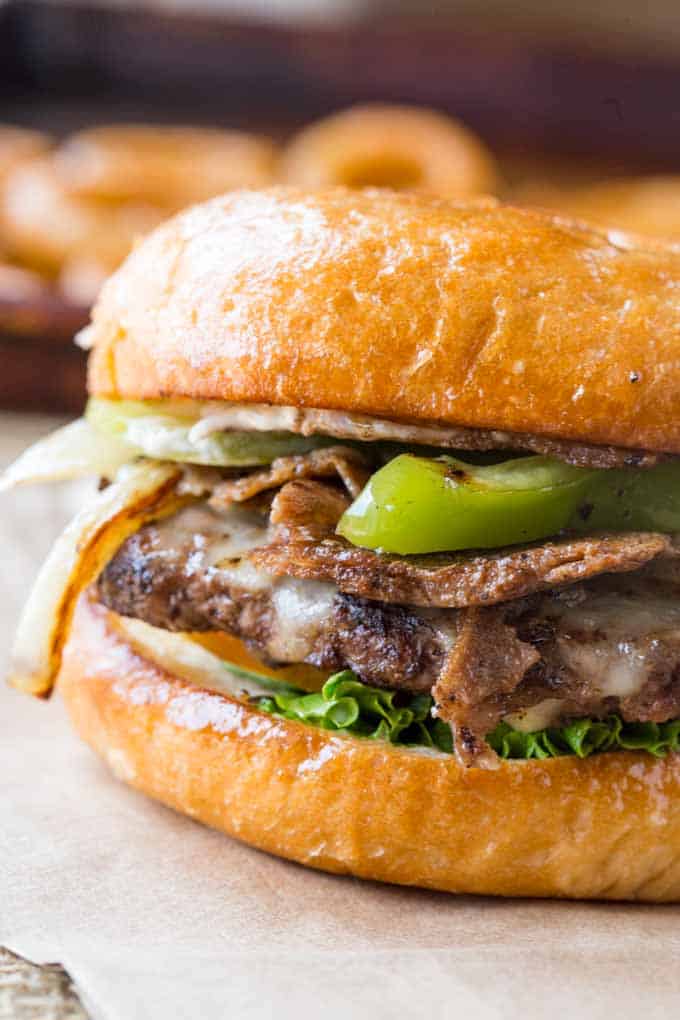 When it comes to what's better, shaved beef smothered in grill-top veggies or a charred ground beef patty with endless toppings, there are always gonna be lots of strong opinions. This amazing, mouthwatering truckstop-meets-gourmet burger might not solve world peace, but it will definitely bridge the gap between the great Cheesesteak vs Cheeseburger divide. It's beefy, it's cheesy, and it's got everything you love from two iconic (sometimes divisive) All-American favorites.
You'll start by preparing a classic cheesesteak filling of green bell peppers, onions, and shaved steak seared on a grill top until just seared and veggies are still crisp tender. Don't worry, the cheese is coming at the end, but first you need to make savory burger patties using a simple seasoning blend of salt, pepper, and Worcestershire sauce. The burgers are grilled and then comes the melty provolone cheese. It's all packed into a tender, buttery brioche bun with a little mayo and some toppings like lettuce and tomato, but only if you feel like it.
That's the thing people love, and love to debate, about Philly Cheesesteaks – the ability to choose what toppings makes them best, whether that's Cheez-Wiz, mushrooms, blue cheese, veggies, hot peppers, or any number of possibilities. Just like the OG sammie, these burgers are full of possibilities and you can load them up or just make them "wit or wit-out" onions – it's up to you!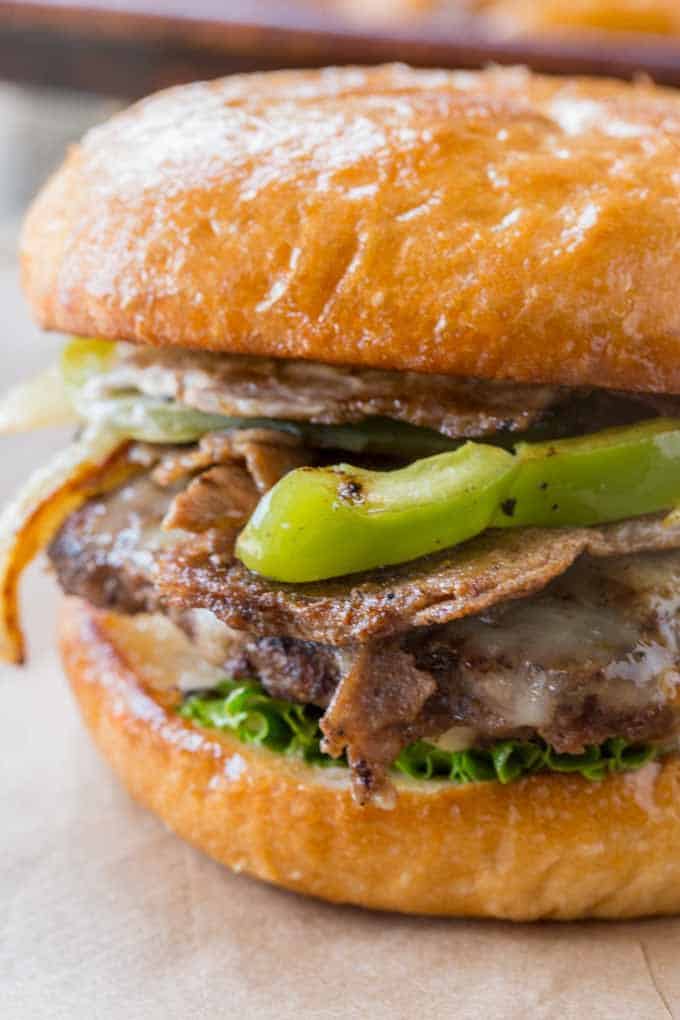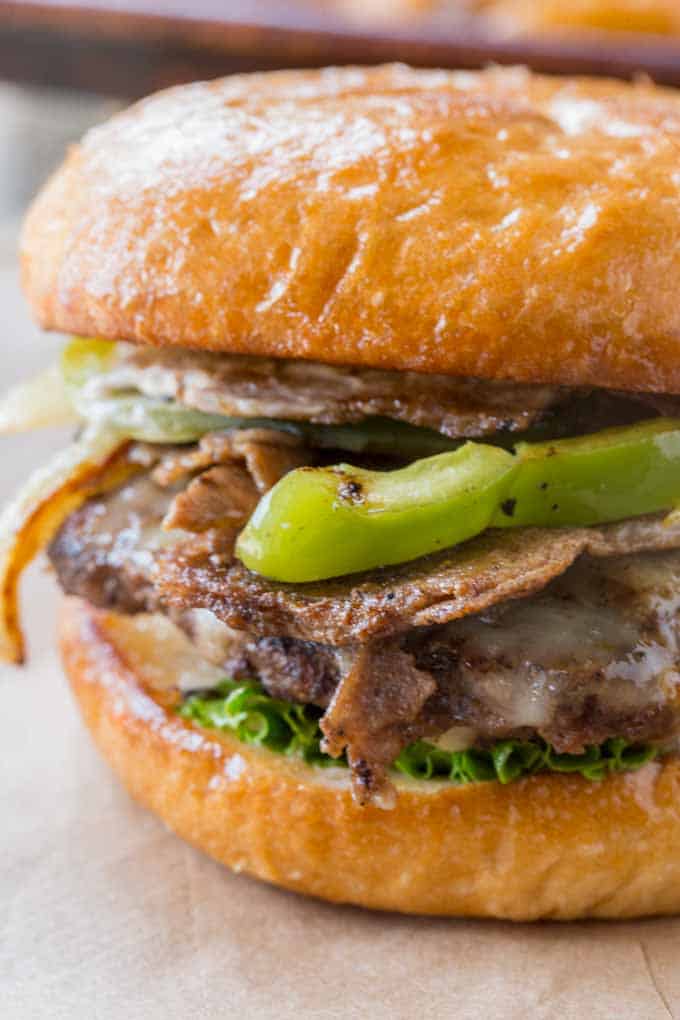 This recipe is an amazing twist on a classic and so easy to make all year long! It's made on a stove-top grill pan but you can also throw it on your BBQ grill. Just cook the cheesesteak topping separately or use half your grill to heat a cast-iron pan. Serve these tasty burgers with classic barbecue sides like Potato Salad at backyard parties or make diner-style French Fries and Fried Pickles when you're cooking inside.
How to Make Philly Cheesesteak Burgers
Cheesesteak: Coat the onions and peppers in oil, then cook them on high heat until they are browned and crisp tender. Transfer to a plate then sear the ribeye on the same hot grill pan. Set aside.
Burgers: Combine the beef with Worcestershire sauce and then form into patties, careful not to handle too much. Make an indent in the center of each beef patty. Season both sides with salt and pepper.
Grill: Heat your grill pan over high heat. Cook the patties for 3 minutes, flip and top each patty with a slice of cheese. Cook for another few minutes. Set cooked patties aside. Toast buns on the hot griddle.
Assemble: Spread mayonnaise on the inside of the buns. Layer starting with lettuce and tomato slices, then add burger patty, ¼ of the cheesesteak topping and the top bun. Use a toothpick to secure if needed and serve hot.
Our Most Popular Philly Cheesesteak Recipes!
FAQs for Philly Cheesesteak Burgers
What type of cheese is used in Philly Cheese Steak Burgers?
Provolone cheese is commonly used in Philly Cheese Steak Burgers. Its mild, creamy flavor and excellent melting properties complement the other ingredients, adding a gooey and cheesy element to the burger.
Can it really be a Philly Cheesesteak Burger without Cheez-Whiz on top?
It might seem a little controversial to make Philly Cheesesteak Burgers without Cheez-Whiz, but here's the deal… it's super messy on a burger because it melts so easily. If you simply can't imagine Cheeseteak-anything without the iconic canned cheese sauce, use it to replace the mayo and load up on napkins.
What is the key to how to make perfect burgers? 
The biggest thing when making perfect burger patties that are juicy, tender and don't fall apart, is to make sure your meat is cold but not frozen. It is similar to baking biscuits with butter, you want the fat to be cold and melt while the meat is cooking.
Can you freeze Philly Cheese Steak Burgers?
Yes, you can freeze Philly Cheese Steak Burgers. It's best to freeze the uncooked patties on a baking sheet lined with parchment paper until firm, then transfer them to an airtight container or freezer-safe bag. They can be stored in the freezer for up to 3 months.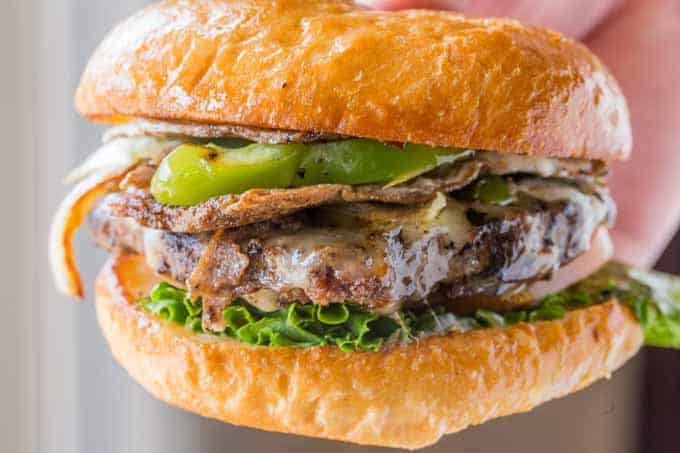 Create a free account to

Save Recipes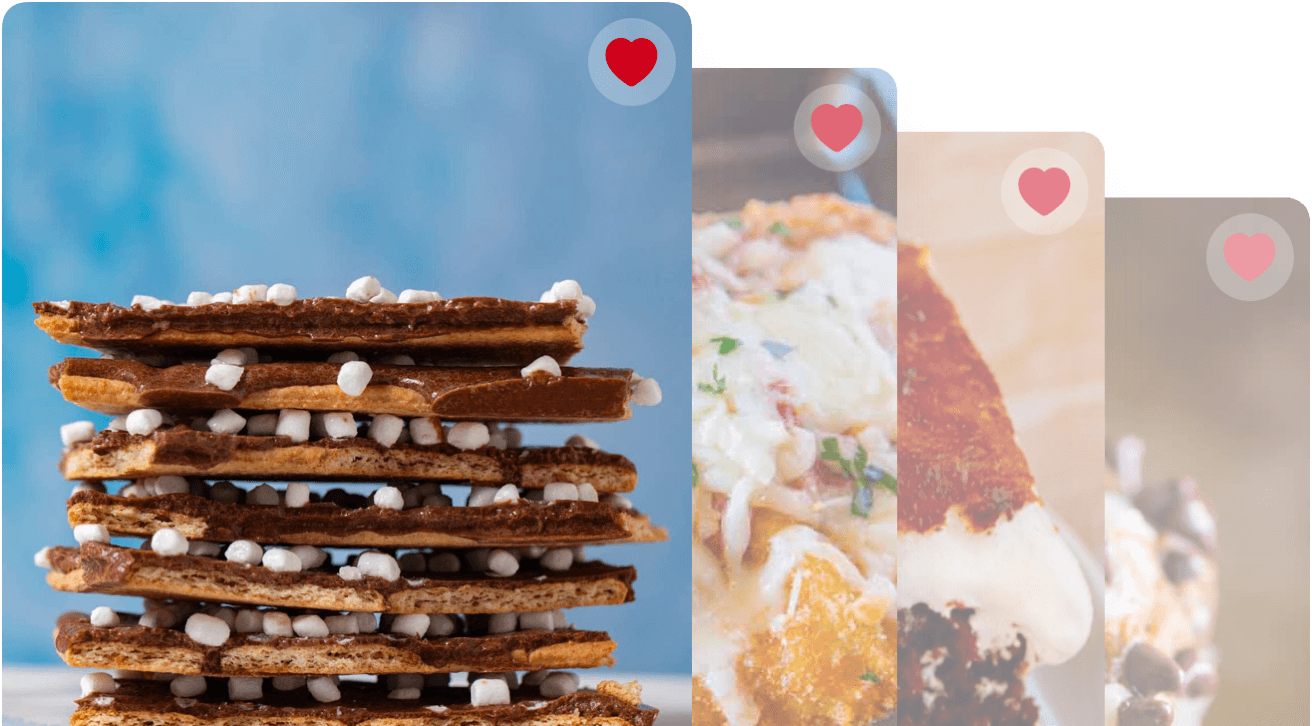 Key Ingredients
Ribeye Steak: Thinly sliced ribeye is the foundation to any true cheesesteak recipe because it cooks quickly but stays juicy and flavorful. To get your meat as thin as possible, shave or slice it thinly while it's still frozen – SO much easier!
Onions and Peppers: Unless you are a meat and cheese purist, most of the cheesesteaks you've had are smothered in sauteed onions and bell peppers. You cook them until they get a little char and are crisp tender.
Burgers: The ground beef is lightly seasoned with salt, pepper, and Worcestershire. The savory flavor of Worcestershire brings all the beefy flavors together and is the secret ingredient all your burgers need.
Buns: Brioche buns have a soft, buttery texture and slightly sweet taste. Toasting keeps them sturdy enough to hold all the toppings.
Provolone Cheese: Provolone melts beautifully over the beef patties, and it's probably the most common cheese you'll find on a Philly Cheesesteak, and it's much less messy than cheese sauce.
Can you make Philly Cheesesteak Burgers ahead of time?
Yes, you can prepare certain parts of the Philly Cheesesteak Burgers ahead of time. Here's what you can do:
Slicing and Marinating: You can slice the ribeye steak thinly and marinate it with Worcestershire sauce up to a day in advance. Keep it refrigerated in an airtight container.
Shaping the Patties: Form the ground beef into patties and season them with salt and pepper. Store the patties layered between parchment paper in an airtight container in the refrigerator, ready for cooking. You can also freeze the uncooked patties for up to 3 months.
Preparing the Vegetables: You can slice the bell pepper and onion ahead of time and store them in a sealed container in the fridge.
Variations
Tips for How to Make Perfect Burgers
Handle the meat as little as possible so the fat doesn't melt in your warm hands. You want it to melt as it cooks so it creates steam pockets for the juiciest burgers.
When you form the patty, make a dent in the middle of the patty with your thumb. This prevents your patty from getting a hump in the middle.
Don't move the patty around once you put it on the grill or in your grill pan. Place it, let it cook until the meat releases naturally from the pan then flip. Once it gets a crust on the second side you're done.
Don't use a cold pan or grill to cook the patties. Make sure you've heated them to the right temperature or the meat will stick to the pan or grill.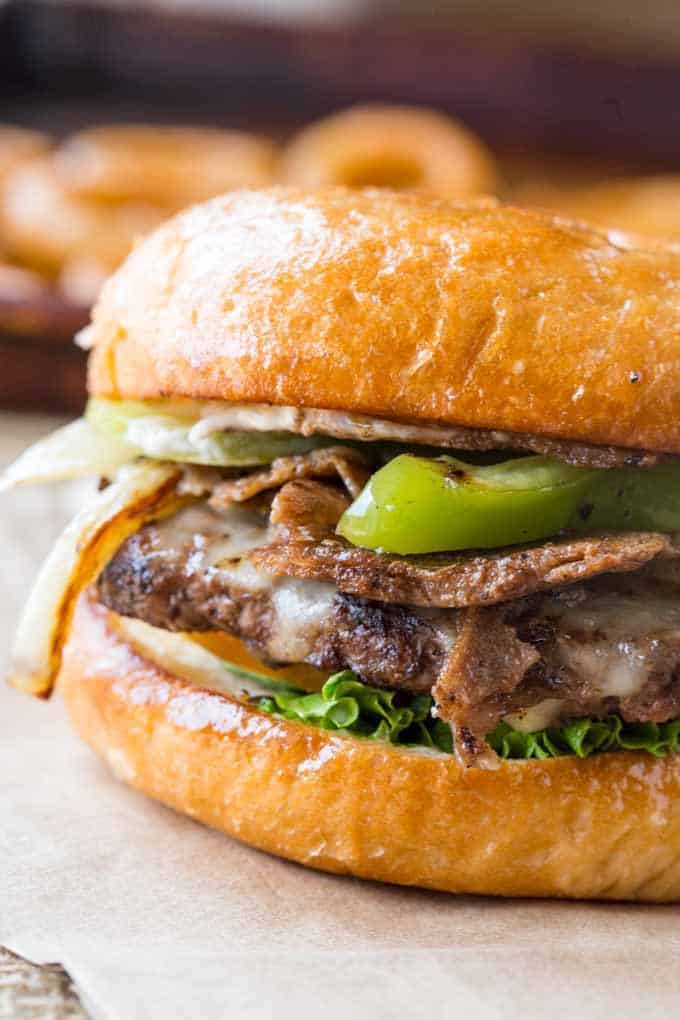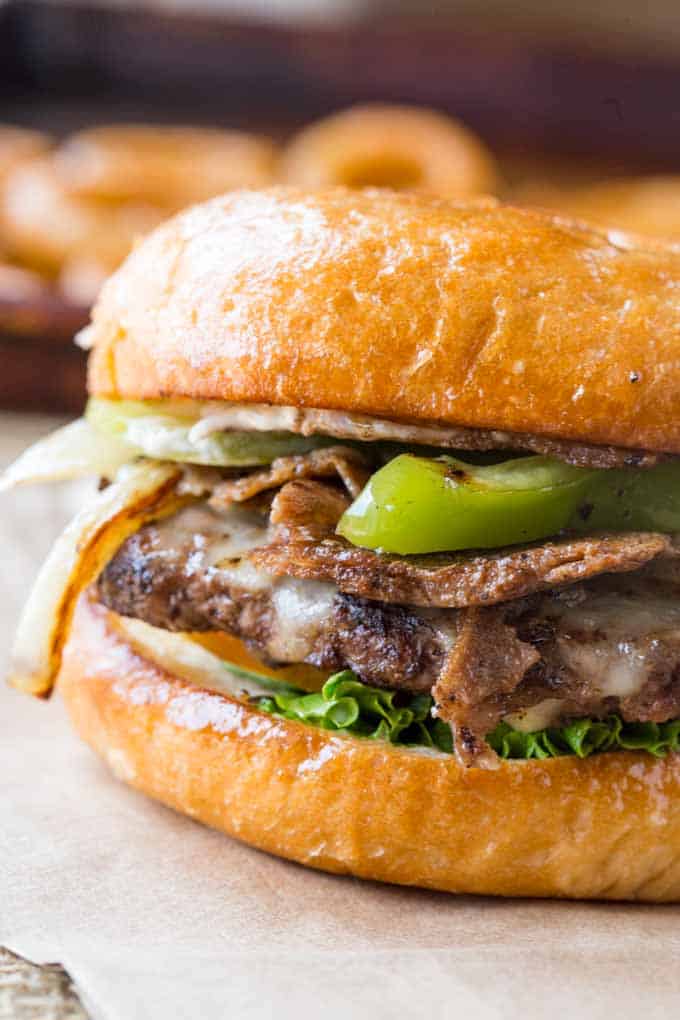 More Tasty Homemade Burger Recipes!
How to Store
Store: If you have leftover cooked burgers, let them cool then store them in an airtight container in the refrigerator for up to 3-4 days.
Reheat: To reheat the patties on the stove top, warm them in a covered skillet for a few minutes on each side. In the oven, wrap the burgers in foil and bake at 350 degrees for about 10 minutes.
Freeze: Wrap the patties in plastic wrap or foil then put in a freezer bag or container. Store cheesesteak topping in a freezer bag with the air removed. Freeze separately for up to 3 months. Thaw overnight in the fridge before reheating separately in the oven or on the stove then assemble and serve.


Ingredients
2

tablespoons

canola oil

1

green bell pepper

, sliced thinly

1/2

yellow onion

, sliced thinly

1

pound

ribeye steak

, sliced as thinly as possible

1

tablespoon

Worcestershire Sauce

Kosher salt and fresh cracked black pepper

, to taste

1

pound

ground beef

, 85/15

4

brioche hamburger buns

4

slices

Provolone Cheese

1/2

cup

mayonnaise

lettuce

, optional

tomato slices

, optional
Instructions
In a bowl, toss the green bell pepper and onions with the canola oil.

In a large cast iron grill or griddle pan cook the vegetables on high heat until they're slightly crispy but also browned.

Remove the vegetables and add the thinly sliced ribeye meat, until just seared on both sides.

Mix the Worcestershire sauce into the ground beef, careful not to handle too much.

Form the ground beef into four patties, press your thumb into the center of the patty to make an indent (this prevents the patty from becoming misshapen).

Season patties with kosher salt and pepper, to taste.

On high heat cook the beef patties for

3 minutes

on each side.

When you flip the burger patty add the Provolone Cheese on top of the patties and cook for the remaining

3 minutes

.

Remove the patties and turn the heat to low.

Press the buns into the pan lightly and let brown and toast for a

few minutes

.

To assemble add mayonnaise to the bun halves, lettuce, the beef patty (cheese side up), some of the ribeye and the vegetables.
Nutrition
Calories:
810
kcal
|
Carbohydrates:
28
g
|
Protein:
53
g
|
Fat:
53
g
|
Saturated Fat:
19
g
|
Polyunsaturated Fat:
8
g
|
Monounsaturated Fat:
23
g
|
Trans Fat:
1
g
|
Cholesterol:
164
mg
|
Sodium:
773
mg
|
Potassium:
832
mg
|
Fiber:
2
g
|
Sugar:
6
g
|
Vitamin A:
318
IU
|
Vitamin C:
26
mg
|
Calcium:
243
mg
|
Iron:
6
mg