Korean Beef Bulgogi Burgers have juicy beef patties made with Korean BBQ sauce with gochujang, ginger and sesame seeds. Topped with kimchi!
This delicious Burger recipe has the same authentic flavor you'd find at Korean barbecue restaurants. For more Korean flavors made at home try Sweet and Spicy Korean Ground Beef and Sheet Pan Korean Chicken and Vegetables.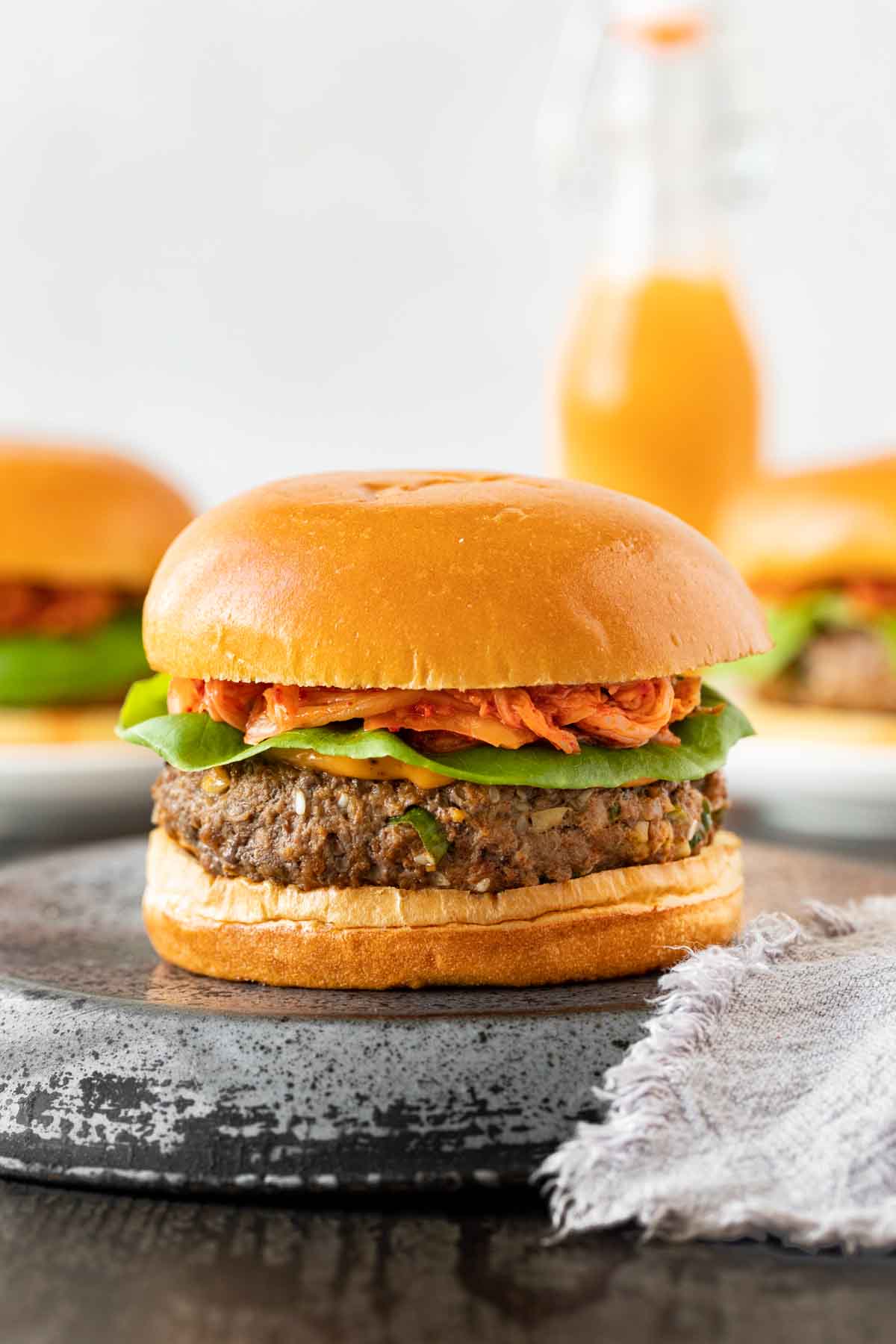 Beef Bulgogi is a traditional Korean barbecue recipe and the inspiration for these delicious, juicy burgers. Typically, bulgogi is made by marinating thin slices of meat in a flavorful sauce made with Korean seasonings like ginger and gochujang. This burger recipe takes those same seasonings and infuses them into the patties. The burgers get even more traditional flavor added with toppings like kimchi and Spicy Mayo.
Korean Beef Bulgogi Burgers are a great way to take one of everybody's favorite American comfort foods and add a new flavor twist to it. Unlike many burger recipes, the meat patties get Korean BBQ sauce and fresh garlic and ginger mixed directly into them. This makes these delicious Asian burgers unbelievably flavorful and juicy!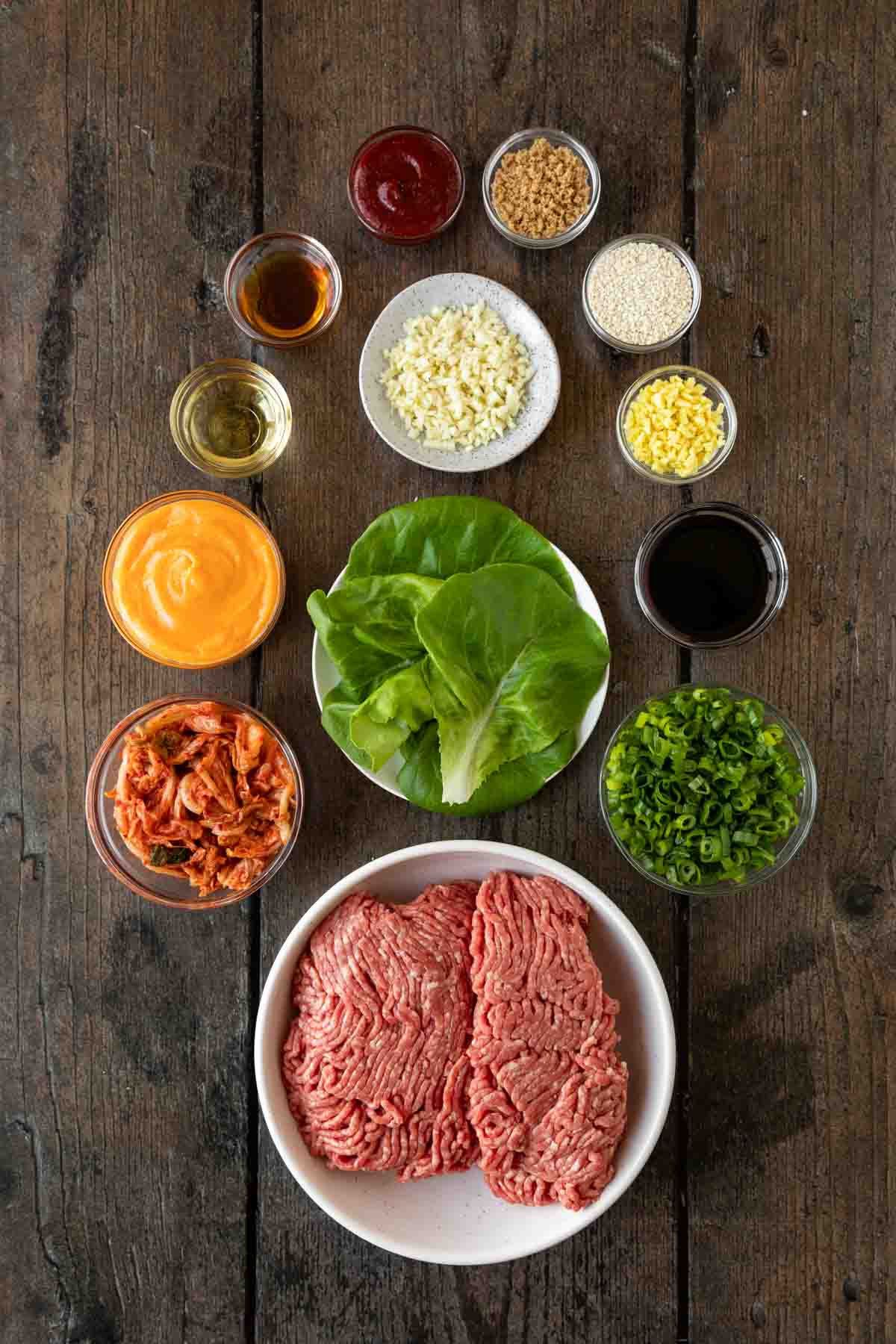 The flavors of Korean Beef Bulgogi Burgers aren't just bold, they are fiery too! The creamy mayo spread and the cool crunchy kimchi are both refreshing and spicy. The butter lettuce and buttery buns balance a little bit of that heat but these burgers are definitely for folks that love hot and spicy food. You can always tone down the heat a bit by getting a mild Kimchi or swapping the spicy mayo with Fry Sauce or a sweet chili sauce.
Another way to balance out all the heat in these bold Bulgogi Burgers is to serve them with cool and creamy sides. They go great with some Coleslaw, the tangy flavors will match the kimchi and have just enough sweetness to tame the fiery chili sauces. If it's summertime, why not throw some of these burgers on the grill with your Classic Burgers for some variety, and serve them with other BBQ sides like Mac Salad and Grilled Corn.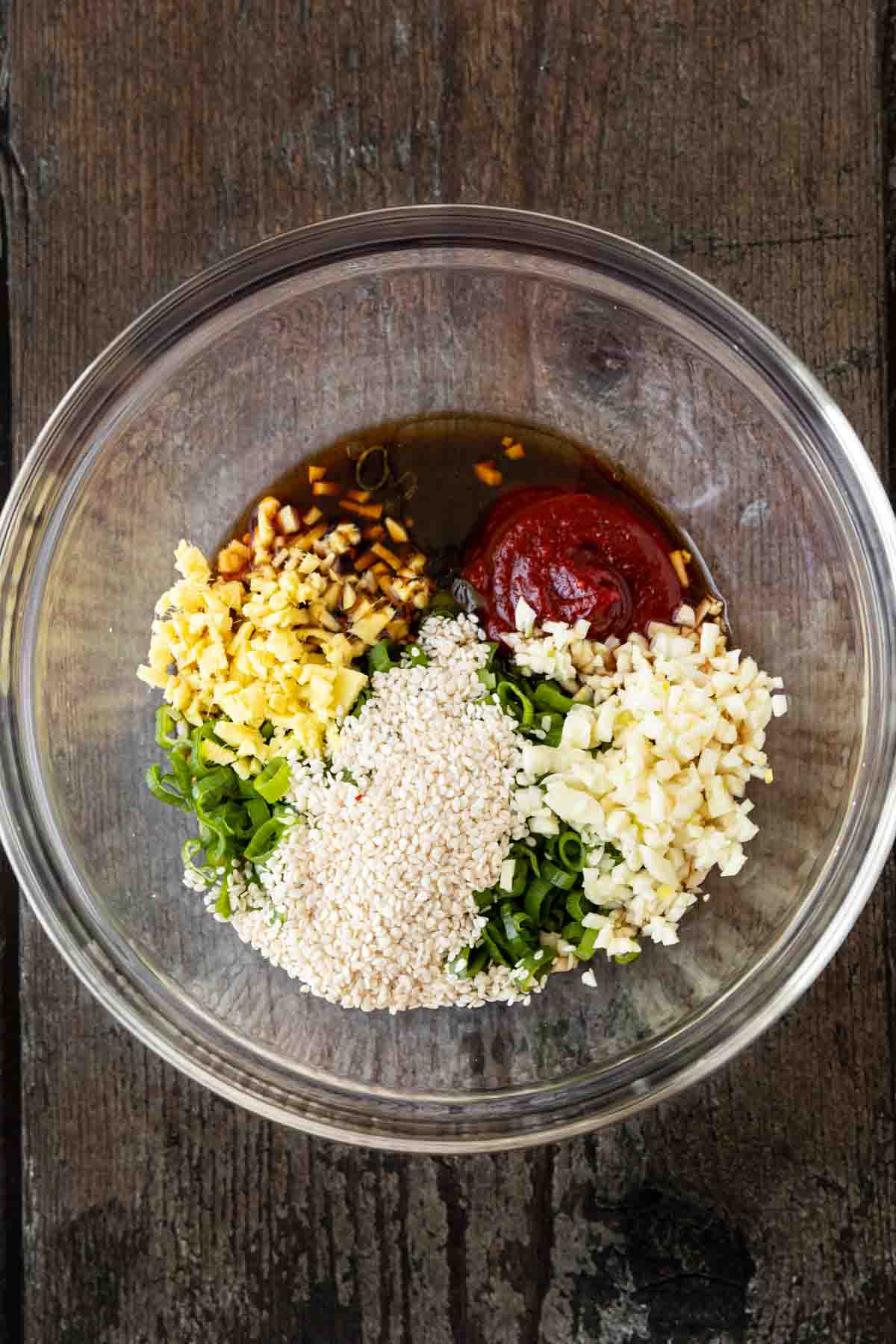 What is Korean Beef Bulgogi?
"Bulgogi" is a classic Korean dish made from beef marinated in a sweet and savory sauce. The dish often features thinly sliced, high-grade beef such as ribeye or sirloin that is is prepared by marinating it in a combination of soy sauce, sugar, sesame oil, garlic, and other Korean seasonings. It's usually grilled and is a popular choice for Korean style BBQ because it cooks quickly and is full of bold, intense flavor.
How to Make Korean Beef Bulgogi Burger
Sauce: Add the soy sauce, gochujang, rice wine vinegar, oil, sugar, onions, garlic, ginger, and sesame seeds to a large bowl. Mix until the bulgogi sauce is well combined.
Burger: Add the ground beef to the sauce. Mix again, just until the ingredients are blended. If you mix too much the meat will become too tough. Form the meat into 4 evenly sized patties.
Cook: Add the patties to a large skillet or griddle at medium-high. Cook the meat for 5-6 minutes on each side until nicely browned. You may have to do this in a few batches depending on the size of your cooking surface.
Assemble: While the patties are cooking you can toast the brioche hamburger buns. Serve the patties in buns with lettuce, kimchi, and spicy mayo.
More Tasty Korean Beef Recipes
FAQs for Korean Beef Bulgogi Burgers
What is Kimchi?
Kimchi is a traditional Korean dish made from fermented vegetables, most commonly cabbage, with a spicy and tangy flavor. It is a staple in Korean cuisine and is known for its rich probiotic content and bold taste. It's eaten as both a condiment and as a salad, and the spiciness depends on the recipe.
What if I can't find gochujang for the sauce?
If you can't find gochujang, you can mix together equal parts of red pepper flakes or hot sauce, soy sauce, sugar or honey, and a bit of vinegar to create a makeshift substitute. However, keep in mind that the taste may not be exactly the same as gochujang, but it will still add some spicy and savory notes to your sauce.
Where can I buy kimchi?
You can typically find many varieties of kimchi in Asian markets, but also most mainstream supermarkets carry at least one option nowadays. It needs to be kept chilled, so you'll usually find it near the refrigerated section where they keep sauerkraut.
What does bulgogi taste like?
Bulgogi has a distinct savory, sweet, and slightly smoky flavor. The sauce adds a rich umami and slightly spicy taste to the beef, resulting in a delicious and well-balanced combination of flavors.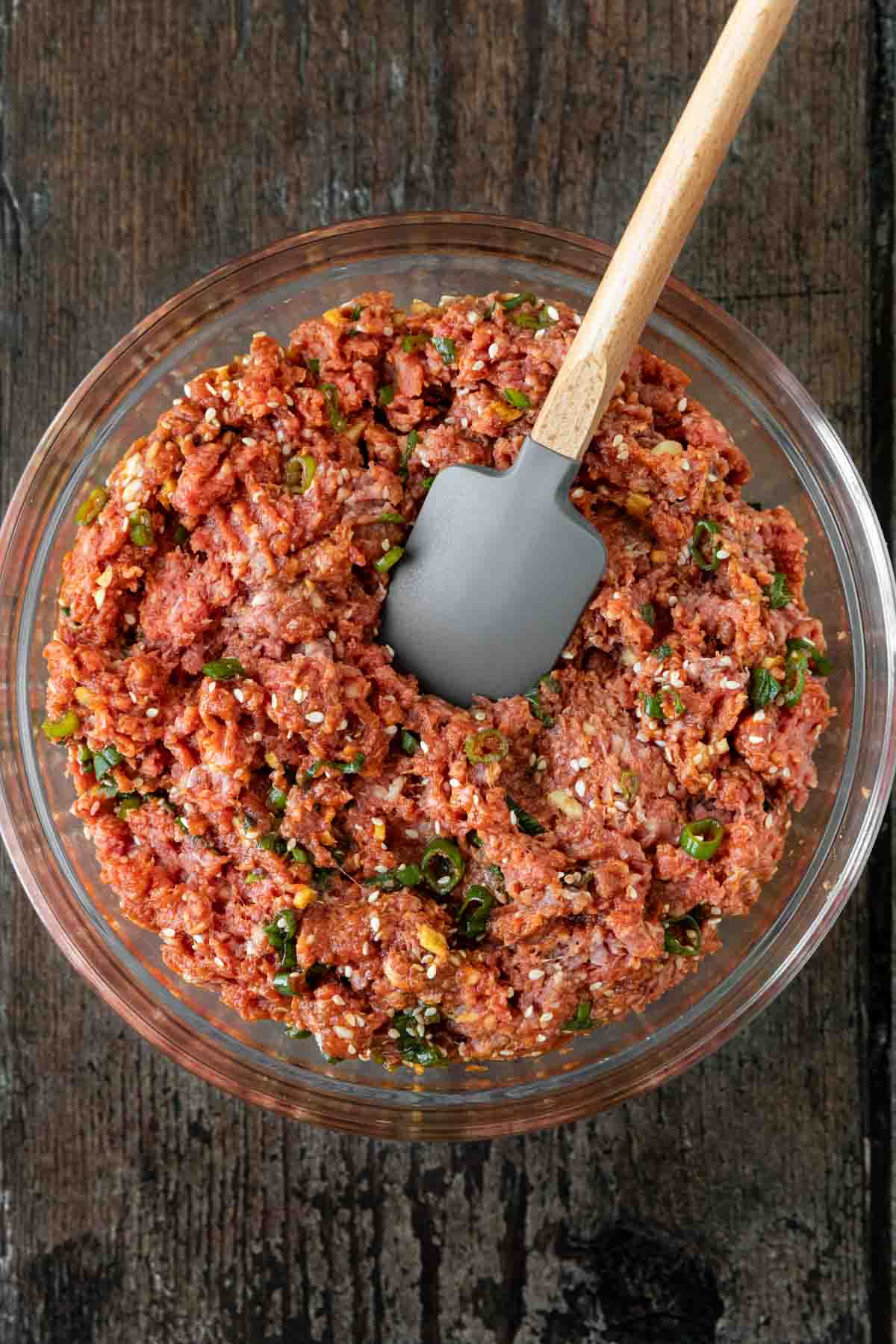 Create a free account to

Save Recipes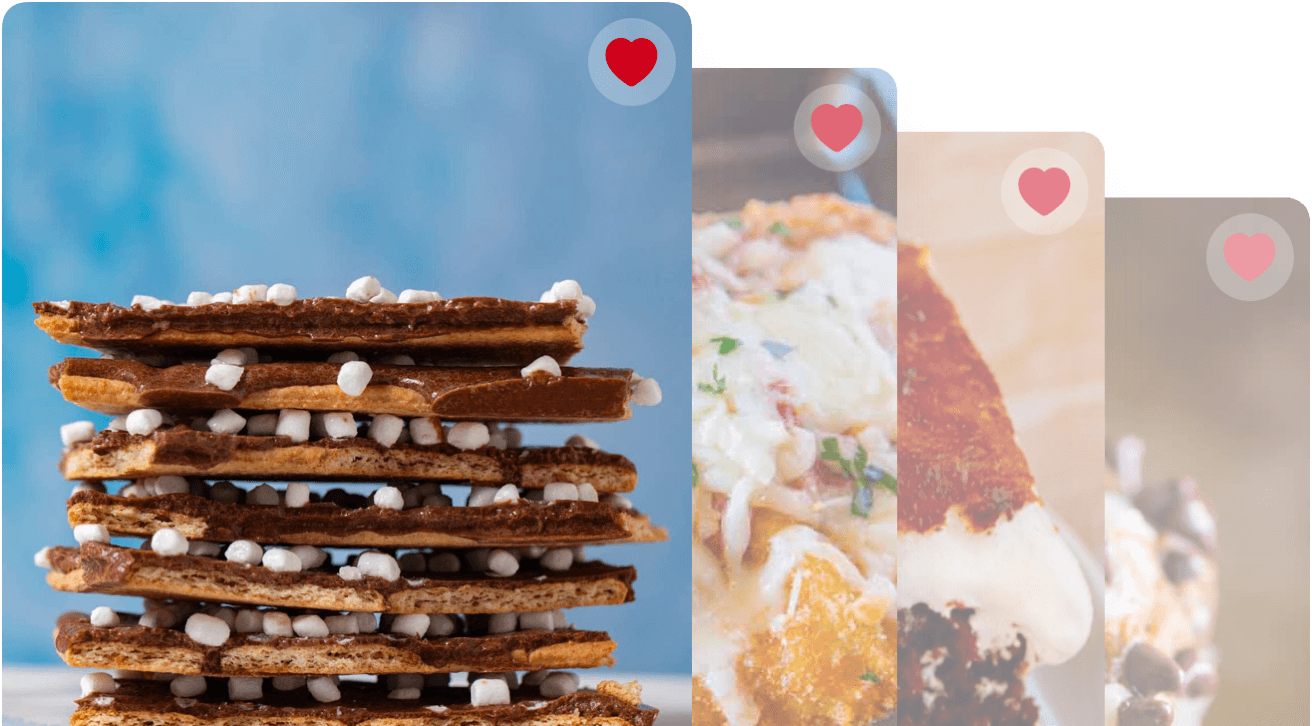 Key Ingredients
Ground beef: While beef bulgogi is traditionally made with thinly sliced steak, this recipe uses ground beef for traditional burger meat.
Gochujang: The gochujang is an Asian chili sauce common in Korean recipe ingredients. It adds a savory, sweet, and slightly spicy flavor to the recipe. This chili sauce is one of the few items on the cooking ingredients list that you might have to buy specifically for this recipe, but once you taste how amazing it is you're sure to start using it in many other Asian dishes.
Sauce ingredients: Apart from the chili sauce, you'll need soy sauce, rice wine vinegar, and sesame oil to make the tangy meat sauce with rich Asian flavors. Then green onions, fresh ginger, and garlic for an even bolder taste.
Brown sugar: The brown sugar sweetens the recipe and balances out the more spicy flavors in the Korean Bulgogi Burger.
Buns: Brioche burger buns are great for these juicy, bold burgers. They are soft but still sturdy enough to hold together with the saucy kimchi. Toasting the buns helps keep them from getting soggy.
Kimchi: Kimchi is a popular condiment in Korean Cuisine because it is crunchy, refreshing, and super tangy. It is typically made with fermented cabbage, however it can have other veggies pickled with it as well. The heat level varies depending on the brand and variety, so make sure you check because it can be really mild or really, really spicy.
Topping: The burger has simple toppings of Spicy Mayo spread for some extra heat and light, cool crispy butter lettuce besides the kimchi. Keeping the toppings simple lets all the other bold Korean flavors shine through.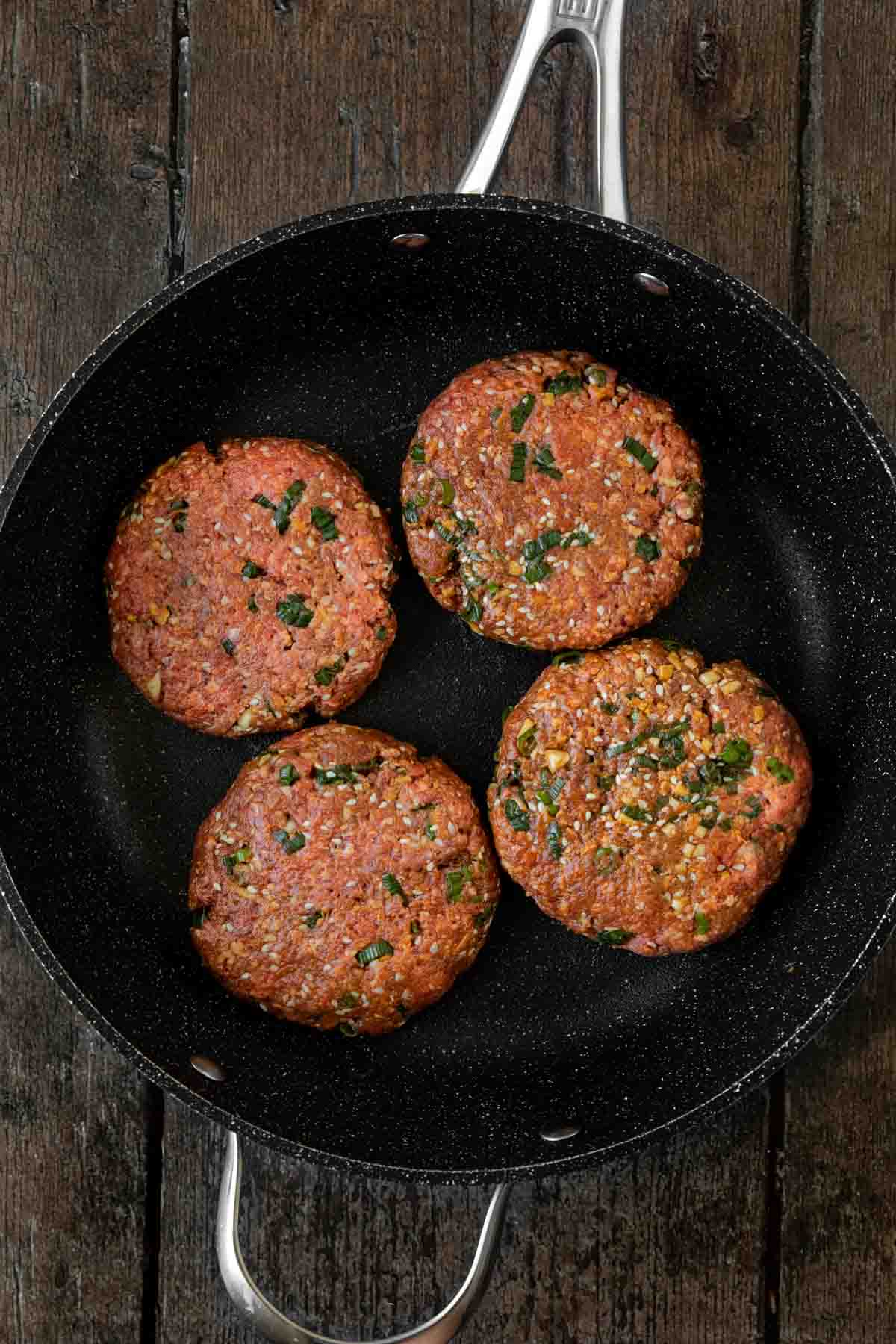 Can Korean Beef Bulgogi Burgers be made ahead of time?
Yes, you can prepare Korean Bulgogi Burgers ahead of time. You can form the patties and refrigerate them for up to 24 hours. However the sauce ingredients will break down the meat after 24 hours and could alter the texture. You can also freeze the raw patties. Freeze them in a single layer then place parchment sheets between the patties before storing them in a freezer bag for up to 3 months.
Variations
Vegetables: Along with the kimchi, and lettuce, you can add other veggies to your burger sandwich. Caramelized onions, Pickled Cucumber, tomato slices, mushrooms, spinach, or peppers would all taste amazing.
Cheese: Feel free to add some cheese during the last minute of cooking. Provolone cheese, cheddar cheese, Pepper Jack, or gouda would do a great job melting over the meat.
Meat: Instead of beef, you can make these burgers with other ground meat like turkey and chicken. You'll want to get the ground meat with a higher fat content, so not just breast meat, so that the burgers don't dry out.
Air Fryer Korean Beef Bulgogi Burgers
Prepare the beef patties as usual.
Preheat the air fryer to 375 degrees.
Spray the basket lightly with oil.
Place 1-2 patties at a time in the basket. Don't overcrowd the basket.
Cook for 9-11 minutes, flipping halfway through, until browned and cooked through.
Assemble the burgers and serve with your favorite burger sides.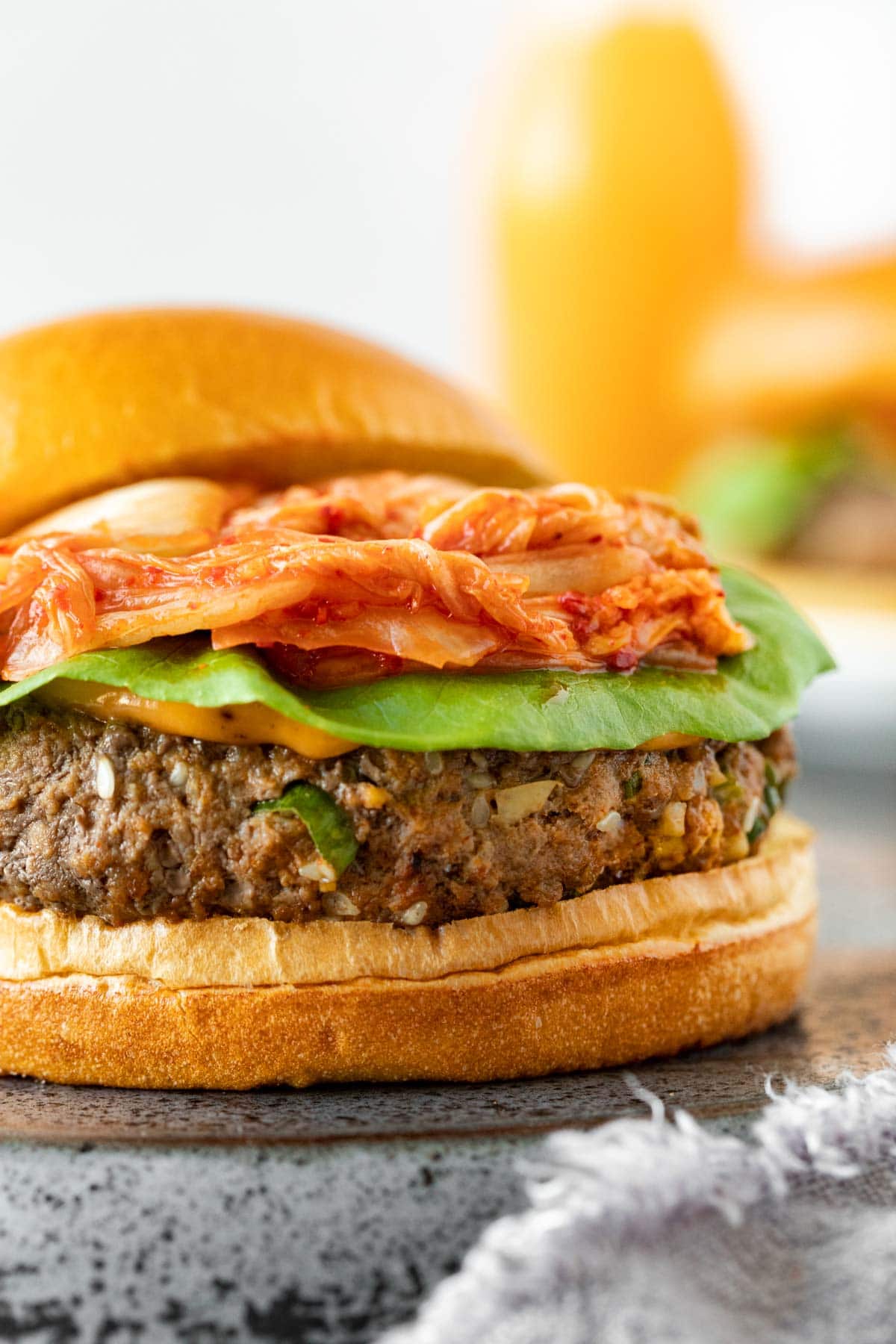 More Delicious Burger Recipes
How to Store
Serve: These burgers can be at room temperature for up to 2 hours but then they should be stored in the fridge. Cool them completely before storing.
Store: If you have leftovers, separate the patties from the rest of the sandwich and store them in an airtight container. They'll stay good in the fridge for 4 days, and you can serve them in a freshly toasted bun.
Freeze: For more long-term storage, put the patties in a freezer bag with each of them separated by parchment paper. Frozen Beef Bulgogi Burger Patties will keep well frozen for 3 months.


Ingredients
3

tablespoons

low sodium soy sauce

2

tablespoons

gochujang

2

tablespoons

rice wine vinegar

2

tablespoons

sesame oil

1

tablespoon

brown sugar

, packed

1

cup

green onions

, thinly sliced

5

cloves

garlic

, minced

2

tablespoons

ginger

, minced or paste

2

tablespoons

white sesame seeds

1 1/2

pounds

ground beef

, (85/15)

4

brioche burger buns

4

leaves

butter lettuce

1/2

cup

kimchi

1/2

cup

Spicy Mayo
Instructions
In a large bowl add the soy sauce, gochujang, rice wine vinegar, sesame oil, brown sugar, green onions, garlic, ginger, and sesame seeds, mixing well.

Add beef to the sauce mixture and mix just enough to blend spices with meat, but not too much (this makes hamburgers tougher the more you mix them).

Form four hamburger patties, then add to a large heavy skillet.

Cook burgers on medium-high heat for

5-6 minutes

per side.

Serve on buns with butter lettuce, kimchi and spicy mayo.
Nutrition
Calories:
641
kcal
|
Carbohydrates:
37
g
|
Protein:
39
g
|
Fat:
37
g
|
Saturated Fat:
12
g
|
Polyunsaturated Fat:
5
g
|
Monounsaturated Fat:
16
g
|
Trans Fat:
2
g
|
Cholesterol:
118
mg
|
Sodium:
993
mg
|
Potassium:
797
mg
|
Fiber:
3
g
|
Sugar:
11
g
|
Vitamin A:
763
IU
|
Vitamin C:
8
mg
|
Calcium:
167
mg
|
Iron:
7
mg