Air Fryer Cheeseburgers are easy and delicious patties cooked without a grill in just 8 minutes. Serve with toasted buns, cheese, and your favorite toppings.
This air fryer recipe is a fantastic way to make the perfect juicy burgers for Dinner. For more favorite burger recipes, be sure to try our Stovetop Method and our Turkey Burgers.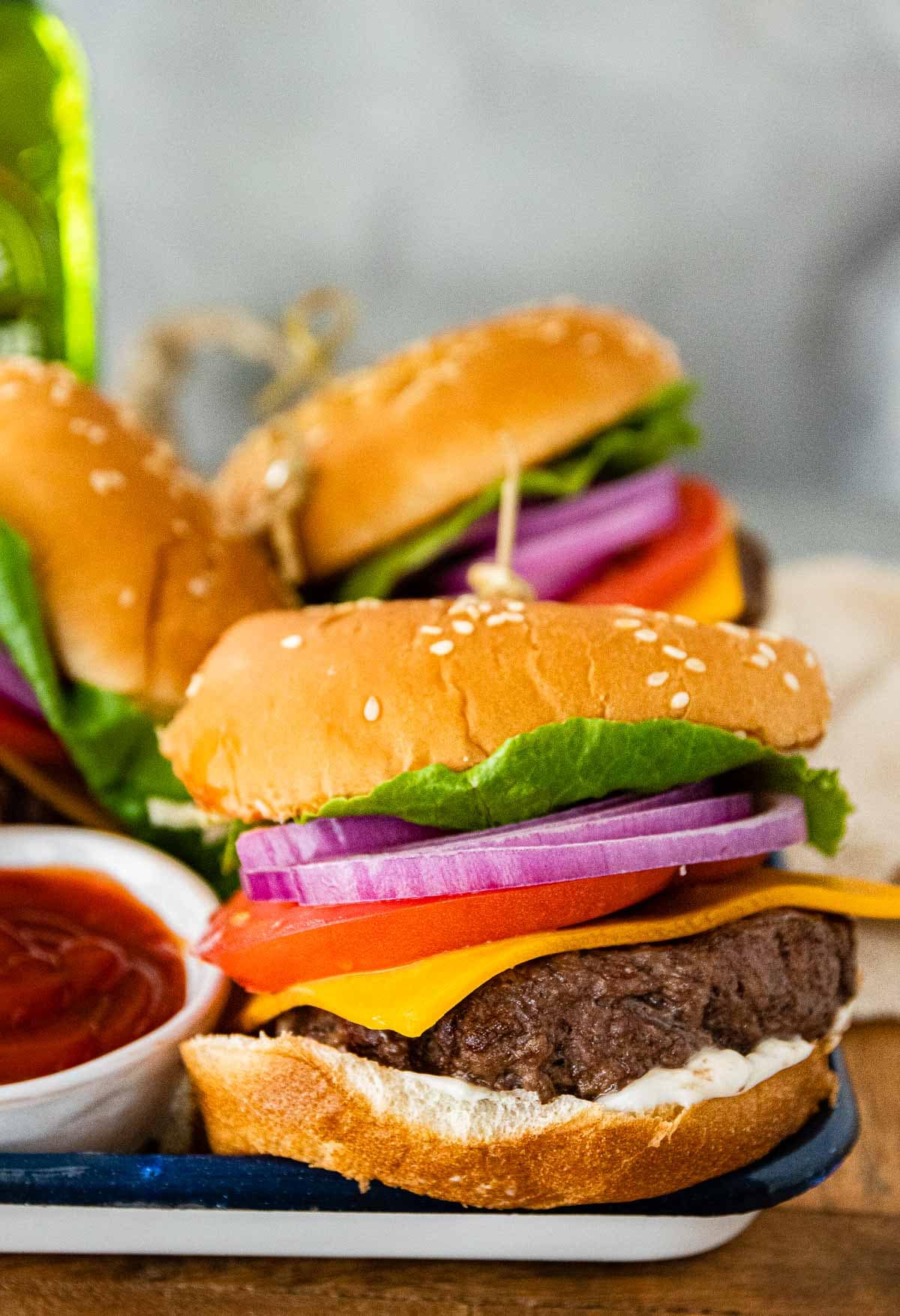 This cooking method makes it easy to enjoy a delicious cheeseburger recipe all year round. There's no need to use the outdoor grill or get takeout food. Just prepare air fryer burger patties, and you'll have the perfect, delicious, smoky cheeseburger in just a few minutes!
Air fryers are such a popular new appliance for cooking because you can make almost anything in them! When you air fry burger patties, they come out nice and charred on the outside and juicy and tender on the inside. Plus, the fat from the ground beef drains off of the meat. This makes air fried burgers more closely resemble the flavor and texture of grilled burgers, rather than cooking them in a skillet. You still get the ease and comfort of making dinner inside the house without braving the elements.
Once you've made Air Fryer Cheeseburgers, there are so many ways you can personalize each sandwich, depending on what toppings you add. I love fresh veggies like tomato slices, red onion, and lettuce leaf, but you could also use flavorful Caramelized Onions. Plus, you can add sauces like Honey Mustard, Fry Sauce, BBQ Sauce, or McDonald's Big Mac Sauce for the fast-food experience.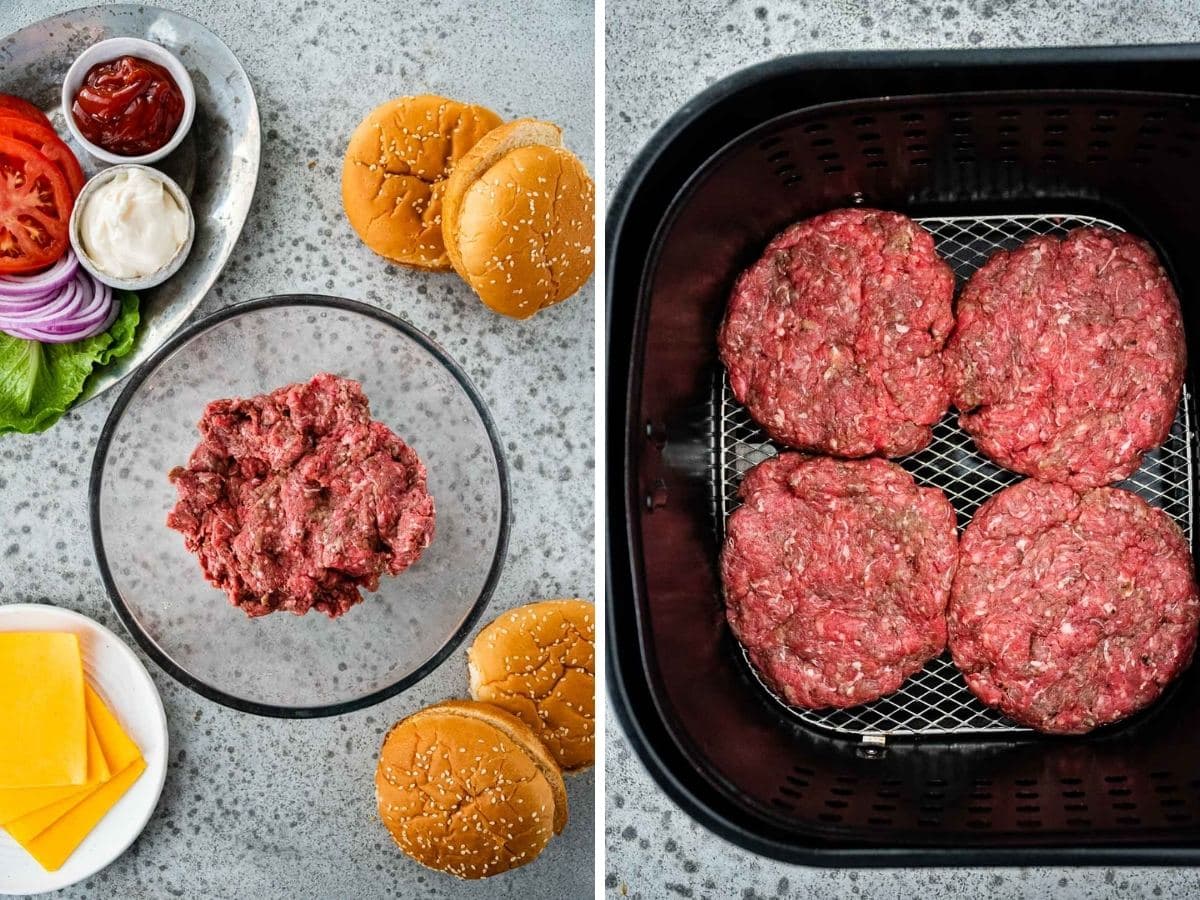 Also, be sure to make some of your favorite Cheeseburger sides. Onion Rings, French Fries, and Coleslaw are all American food classics perfect to go with burgers! You can also bring out your favorite cookout sides like Potato Salad, Pasta Salad, or Boiled Corn.
How to Make Air Fryer Cheeseburgers
Season the beef with salt, pepper and Worcestershire sauce.
Shape into 4 patties.
Heat air fryer to 375 degrees.
Add patties to the basket in a single layer.
Cook for 4 minutes.
Flip and cook an additional 4 minutes.
While burgers are resting, cook the buns for 3 minutes.
Top with cheese and desired additional toppings.
Frequently Asked Questions
Can the air fryer cook patties to different doneness levels?
Yes, you can easily adjust the doneness of the beef according to your preference. The cooking time we have in the recipe should make the meat about medium. But, if you prefer medium well done or well done, you can add an additional minute or two to the cooking time for each side. 
You can also use a meat thermometer to double-check how done your burgers are. Between 120 and 130 degrees, the burger is rare. 140-150 is medium, and 160 and above is well done. 
Can you make veggie burgers in the air fryer?
Absolutely, the air fryer is also great for making vegetarian or vegan burgers. You can buy veggie burgers at the store for this. Then set your air fryer to 375 degrees—cook the veggie patties for 8 minutes on one side. Then flip and cook for 5-8 more minutes until done. 
Do I need to add oil to the Air Fryer?
No, you do not need to add oil to make burgers in the air fryer. There is enough fat in the ground beef to keep the burgers from sticking to the basket. If you are cooking things like vegetables in the air fryer, you'll want to spray your basket and lightly coat the veggies with oil spray or a few drops of olive oil to keep it from sticking and drying out.
Side Dishes To Serve with Air Fryer Cheeseburgers
Key Ingredients in Air Fryer Cheeseburgers
Ground beef: While you can buy prepared frozen patties at the store, I much prefer the fresh flavor of homemade burger patties. Especially since they aren't at all hard to prep. The most essential ingredient is ground beef. We used 85/15 meat, which means it's 85% lean ground beef. You could also get 90/10 for leaner meat.
Seasoning: To flavor the beef patties, all you need is kosher salt, ground black pepper, and Worcestershire sauce. The combination gives them a nice smokey flavor without cooking them on the grill.
Cheese: The cheddar cheese slices are what makes this a Cheeseburger recipe. The delicious piece of cheese melts right over the Air Fryer Cheeseburgers.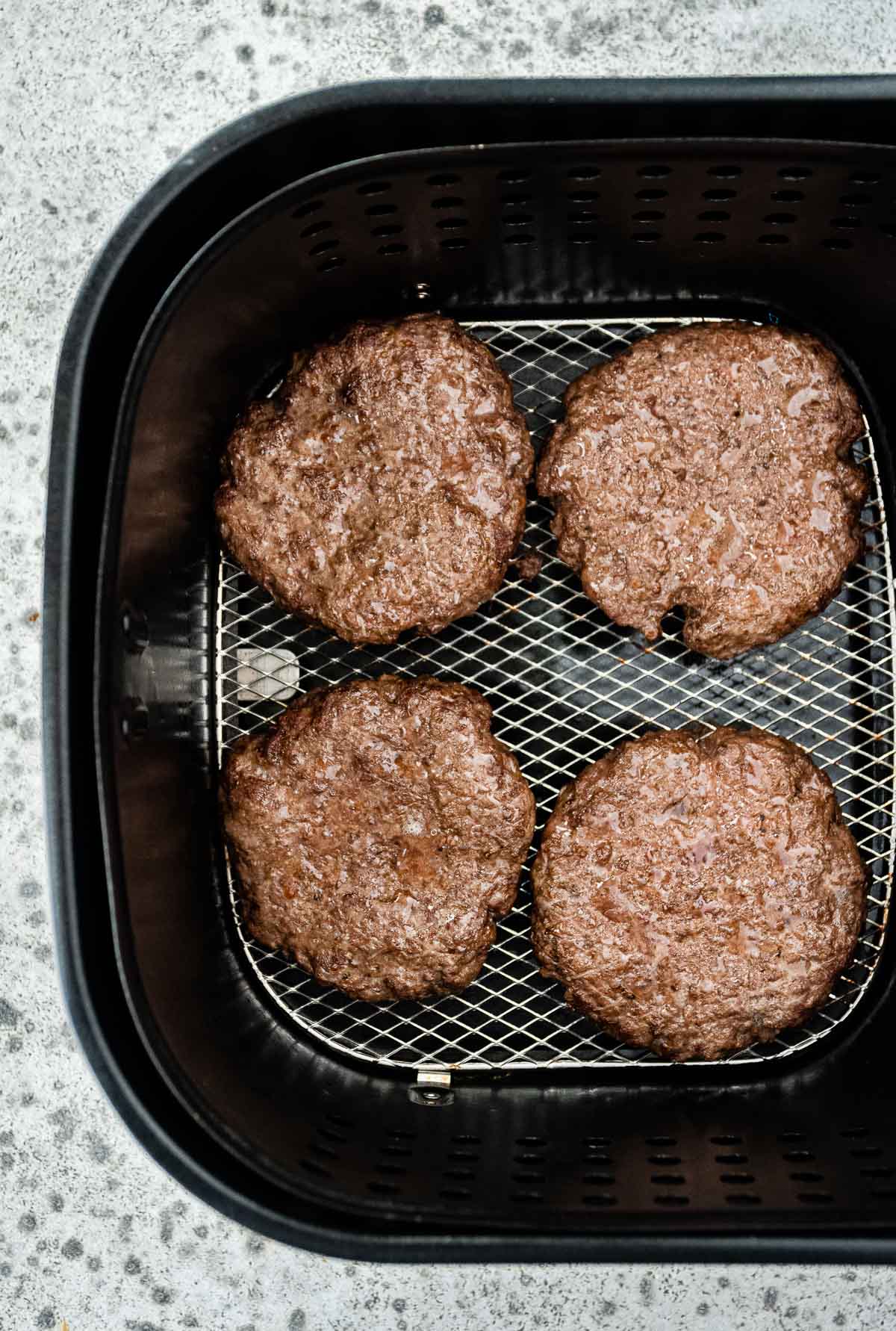 Cooking Tips for Air Fryer Cheeseburgers
Hamburger patties: Season defrosted ground beef with salt, pepper, and Worcestershire sauce. Once evenly flavored, you can shape the meat into 4 equally sized burger patties.
Cooking time: Preheat air fryer to 375 degrees. Then lay the burger patties in a single layer in the air fryer basket. To make sure they don't stick, you can prep the basket with non-stick cooking spray. Close the air fryer and cook for 4 minutes. Then flip the patties and cook for another 4 minutes.
Finish: Remove patties, and let the cooked ground beef rest while you toast the buns. Cook burger buns for 3 minutes so that they're golden brown and crispy. Add a slice of cheese to each patty, place them in the prepared buns. Then add fresh tomato, lettuce, mayo, ketchup, or any other burger toppings that you like to your Air Fryer Cheeseburgers.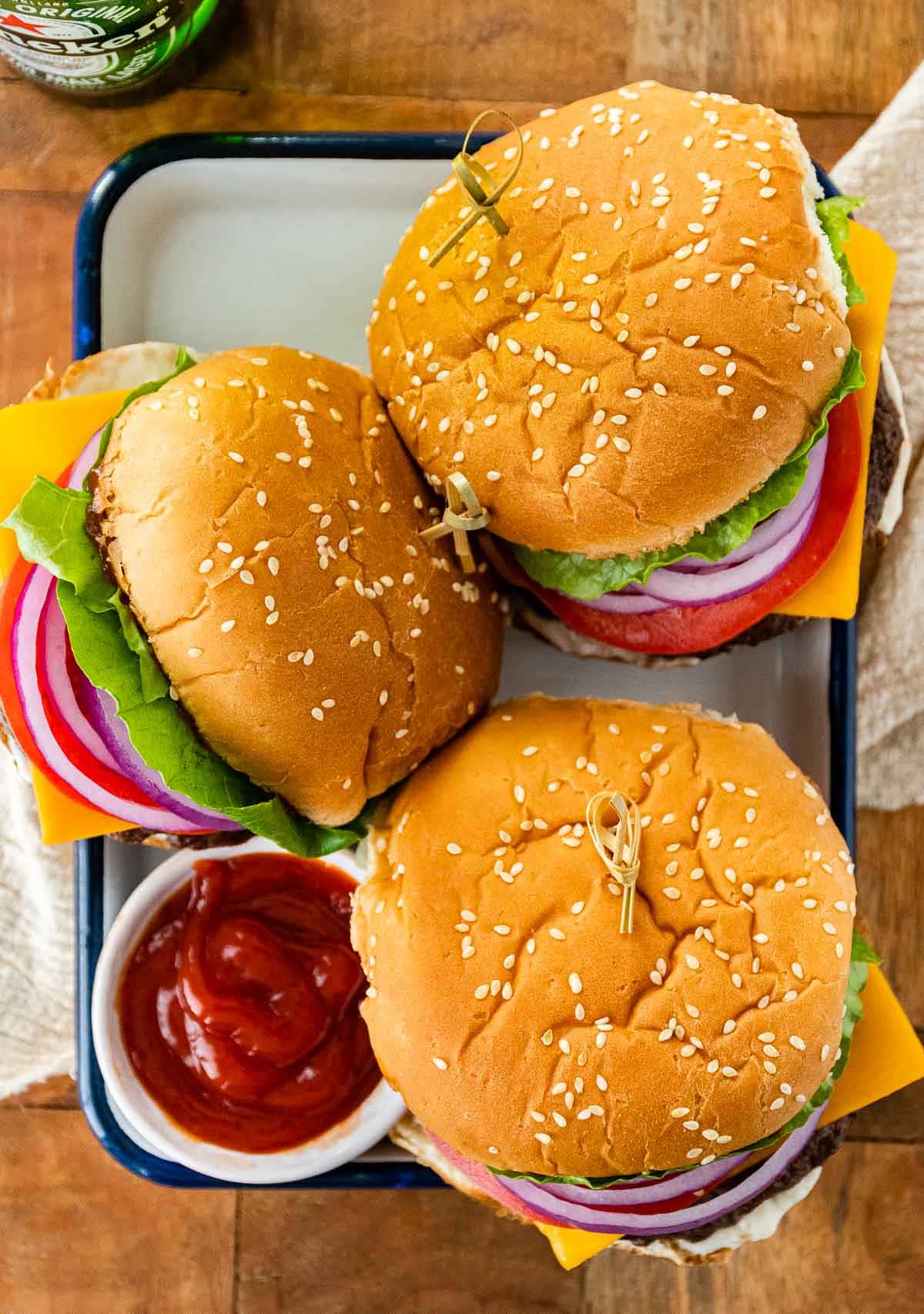 Create a free account to

Save Recipes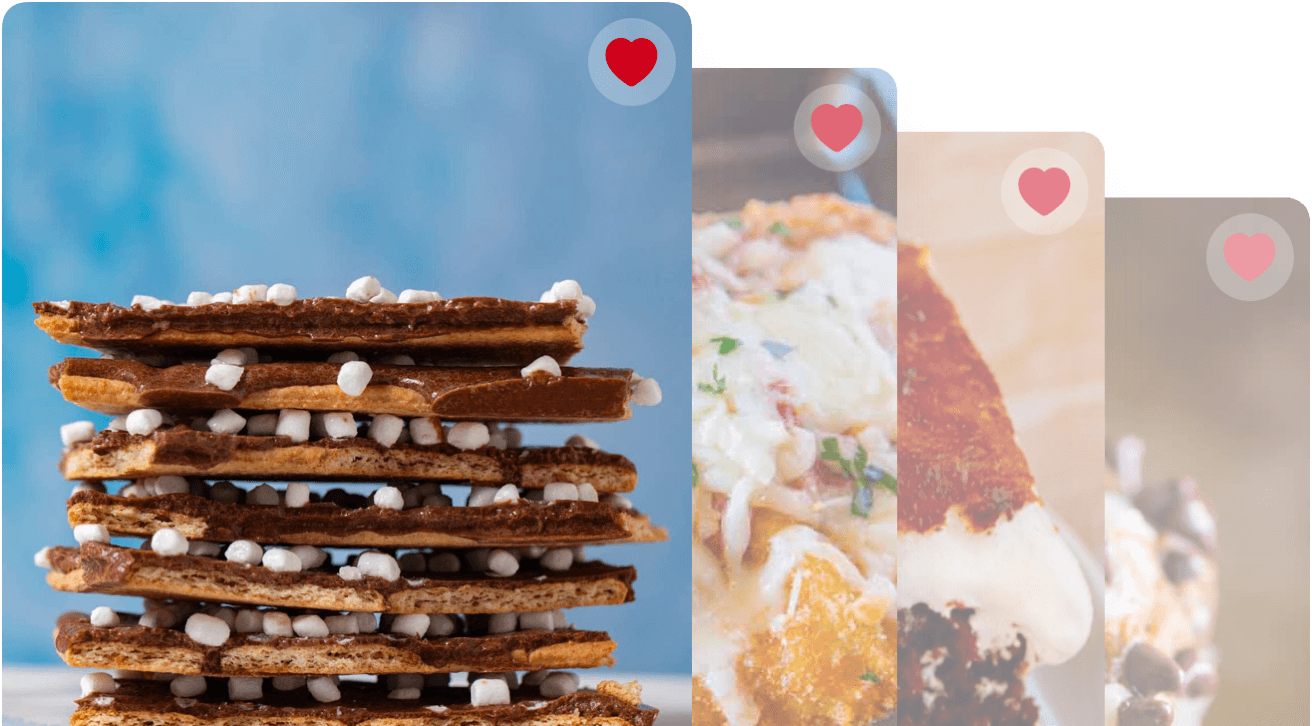 Variations on Air Fryer Cheeseburgers
Cheese: You can replace the classic cheddar that we used in this recipe with any other kind of cheese. Try Pepper Jack, gouda, Swiss, Monterey Jack, or American Cheese slices on your Air Fryer Cheeseburgers.
Air Fryer Bacon Cheeseburgers: The only thing that can make a cheeseburger even better is adding delicious crispy bacon. You can cook the bacon on the stovetop while you're air frying the burger meat, or you can follow our recipe for Air Fryer Bacon.
Air Fryer Turkey Burger: You can also use your fryer to make turkey burgers. Prep the patties with ground turkey meat. Then set the air fryer to 360 degrees. Cook the Turkey Air Fryer Burgers for 7 minutes on each side, and use a meat thermometer to make sure that they're at least 165 degrees.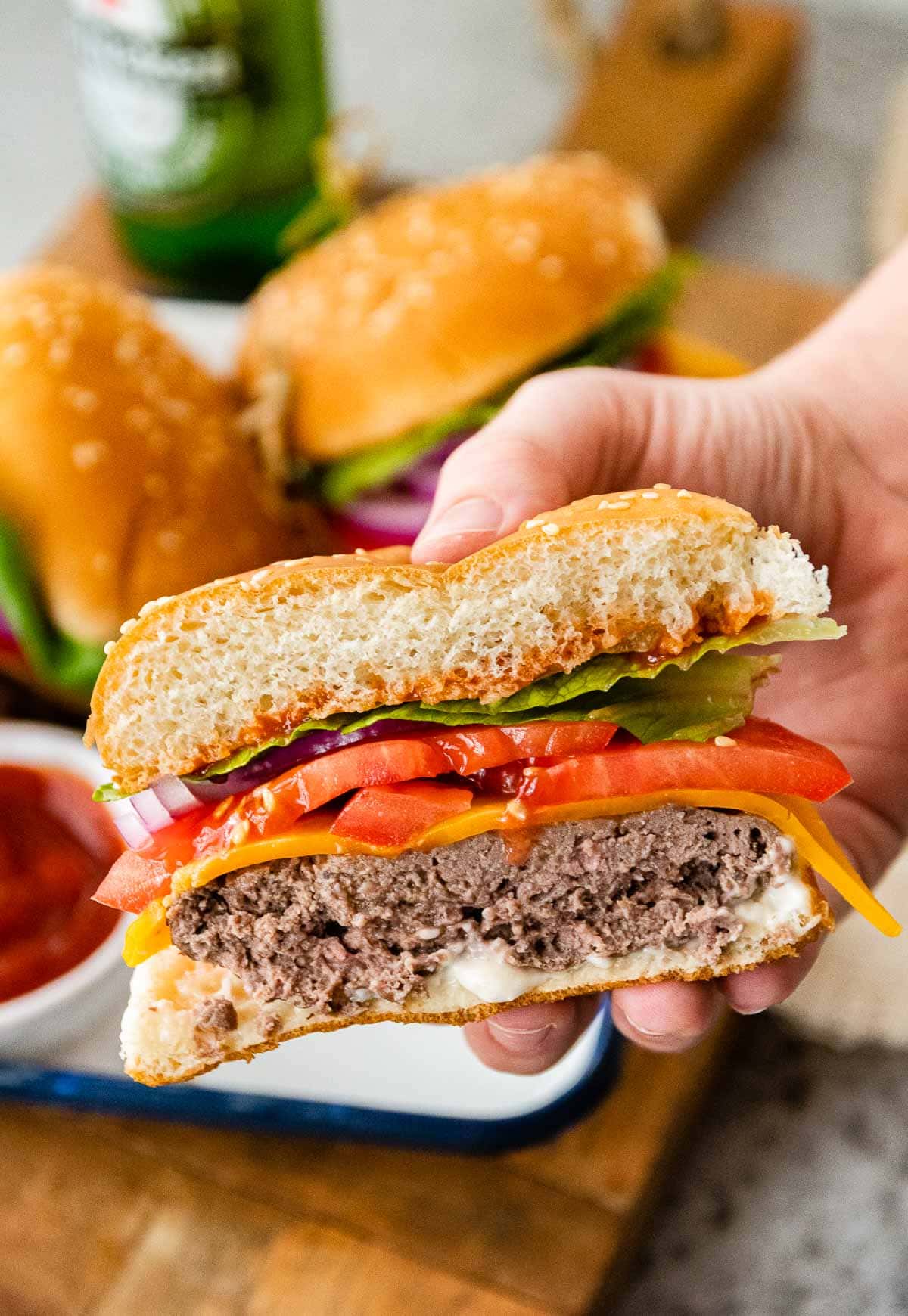 More Sandwich Recipes
How to Store
Serve: Let the cooked burger patties rest for a few minutes before you add them to the toasted bun, and serve them up with all the fixings.
Store: If you have any leftovers, you can carefully wrap and store an Air Fryer Cheeseburgers in the fridge overnight. However, to keep the recipe for 3-4 days, you can store the cooked patties separately from the other ingredients. Then serve them with fresh buns and toppings.
Freeze: You could also keep frozen burger patties for up to 3 months. To reheat the patties, let them thaw in the fridge, then place them on a baking sheet in a 350-degree oven until warmed through.


Ingredients
1

pound

ground beef

, 85/15

1/2

teaspoon

kosher salt

1/4

teaspoon

coarse ground black pepper

1

teaspoon

Worcestershire sauce

4

slices

cheddar cheese

4

hamburger buns

Toppings

, lettuce, tomato, onion, mayonnaise and ketchup
Instructions
Season the beef with salt, pepper and Worcestershire sauce.

Shape into 4 patties.

Heat air fryer to 375 degrees.

Add patties to the basket in a single layer.

Flip and cook an additional

4 minutes

.

While burgers are resting, cook the buns for

3 minutes

.

Top with cheese and desired additional toppings.
Nutrition
Calories:
433
kcal
|
Carbohydrates:
22
g
|
Protein:
30
g
|
Fat:
24
g
|
Saturated Fat:
11
g
|
Polyunsaturated Fat:
1
g
|
Monounsaturated Fat:
9
g
|
Trans Fat:
1
g
|
Cholesterol:
95
mg
|
Sodium:
701
mg
|
Potassium:
420
mg
|
Fiber:
1
g
|
Sugar:
3
g
|
Vitamin A:
173
IU
|
Vitamin C:
1
mg
|
Calcium:
216
mg
|
Iron:
4
mg