Easy Pasta Salad made with mozzarella, black olives, cherry tomatoes, and bell peppers in a creamy Italian dressing is the PERFECT side dish to bring to a potluck or picnic!
If you're working on perfecting your favorite Side Dish recipes, be sure to check out these three easy side dishes that everyone loves: Crab Salad, Best EVER Baked Beans and Cole Slaw.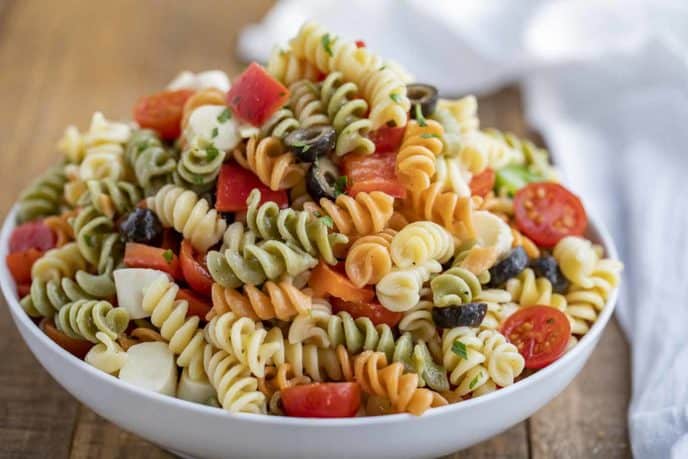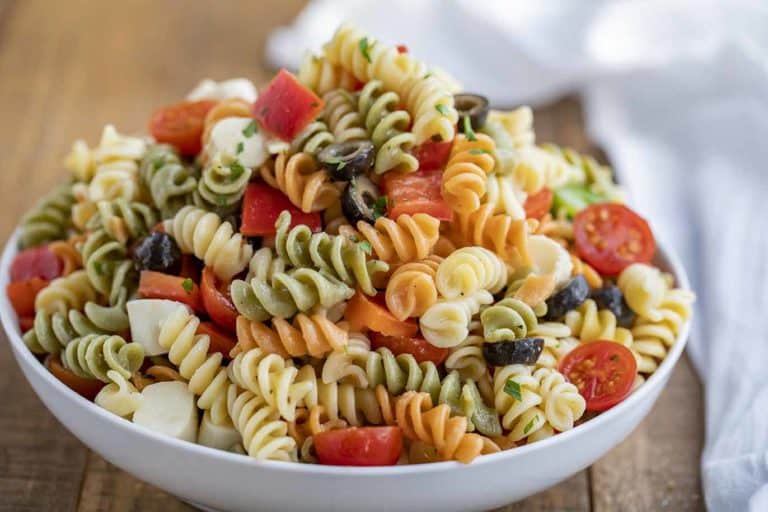 Easy Pasta Salad is a simple side dish made with mozzarella cheese, olives, pasta, and vegetables in a homemade dressing. It is a meatless version of our Italian Antipasto Pasta Salad, but just as creamy and filling. If you want to add meat to this classic Italian pasta salad, try salami, prosciutto, or pepperoni.
This recipe takes a total time of 10 minutes to throw together, but you should refrigerate for at least an hour before serving. The refrigeration time gives the flavors a chance to come together, plus this dish is best served cold.
This is a perfect pasta salad recipe for potlucks, and beats store-bought every time! If you buy a pre-made dressing it is almost as easy too! It will be ready in just 10 minutes.
How to Make Easy Pasta Salad
Making this Pasta Salad is incredibly easy! It's just a matter of mixing all the ingredients together and letting them cool in the fridge for a couple of hours until ready to serve. Check it out!
Step One: Boil water with the pasta until the pasta cooks all the way through, then drain the pasta if you don't have the precooked kind. When pre-cooking your own pasta, make sure you only cook it in a large pot to al dente, so you don't end up with mushy pasta. Rinse the pasta with cold water to keep it from cooking further.
Step Two: Portion out and mix in all the ingredients together in a medium bowl. Chop your veggies to be about the same size, which will make the pasta salad look more uniform and each part will be bite-sized.
Step Three: Cover the pasta and leave it in the fridge until the Pasta Salad chills completely. Top with fresh parsley before serving for presentation.
Frequently Asked Questions
Can you make Pasta Salad ahead of time? 
This Italian pasta salad recipe is perfect to make-ahead because it tastes best after it's been refrigerated. Make this cold pasta salad the day before or in the morning when you're serving this at night.

Reserve some extra dressing just in case the salad dries out, but it should be fine if it's sealed tightly. We recommend not making this more than 24 hours ahead, to make sure it's the best quality possible when you serve it.
 
What other vegetables can I add to my Pasta Salad? 
This dish can be bulked up with a large variety of vegetables that add healthy nutrients and yummy flavor. Go ahead and experiment and make it your own! The following are great additions to any Pasta Salad: Zucchini, White beans, Pepperoncinis, Banana peppers, Red onion, English cucumber

Create a free account to

Save Recipes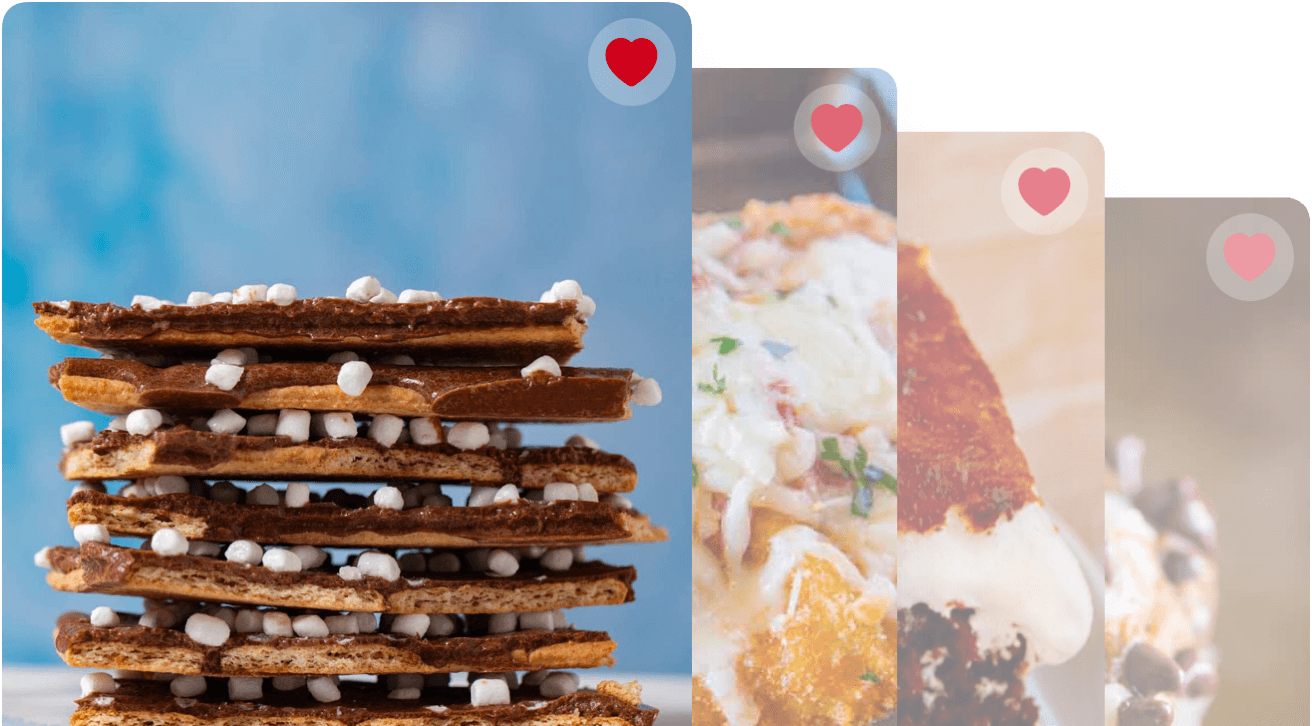 Key Ingredients for Easy Pasta Salad
The Pasta Salad ingredients in this dish cover a wide variety of flavors that blend together so nicely. You can easily find all the ingredients at your closest grocery store.
Pasta: We're using the tricolored kind because it adds so many colorful hues to the dish. You can use regular colored pasta just fine too.
Cheese: Mozzarella is an amazing cheese that is yummy and mild in taste. Buy the freshest you can for best taste! If you can find the mini mozzarella balls, those are easy to work with and ready to go.
Olives: Black olives that are pitted are an essential ingredient in this recipe.
Tomatoes: Cherry tomatoes are easy to cut in half and add to your pasta dish.
Dressing: Always make your own, if you can. The flavor and freshness of homemade Italian dressing is unsurpassed. But, you can use the prebottled kind in a pinch.
Bell Peppers: We're using red and green pepper (aka capsicum) in this dish to bring a variety of color.
How to Make Creamy Italian Dressing
This healthy dressing contains no artificial preservatives and is super duper easy to put together. Just mix all the ingredients together and refrigerate. Pro tip: You can reuse an empty glass dressing jar that's been cleaned out for this dish. It's the best way to recycle!
Ingredients
½ cup extra virgin olive oil
¼ cup white wine vinegar
¼ cup mayonnaise
1 tablespoon lemon juice
¾ cup shredded parmesan cheese
¼ teaspoon garlic salt
¼ teaspoon dried basil
¼ teaspoon dried oregano
¼ teaspoon marjoram
Instructions: Mix the olive oil, white wine vinegar, mayonnaise, lemon juice, Parmesan cheese, garlic salt, dried basil, dried oregano and dried marjoram in a small bowl and whisk until well combined. This dressing will last in an airtight container in the fridge for up to 7 days.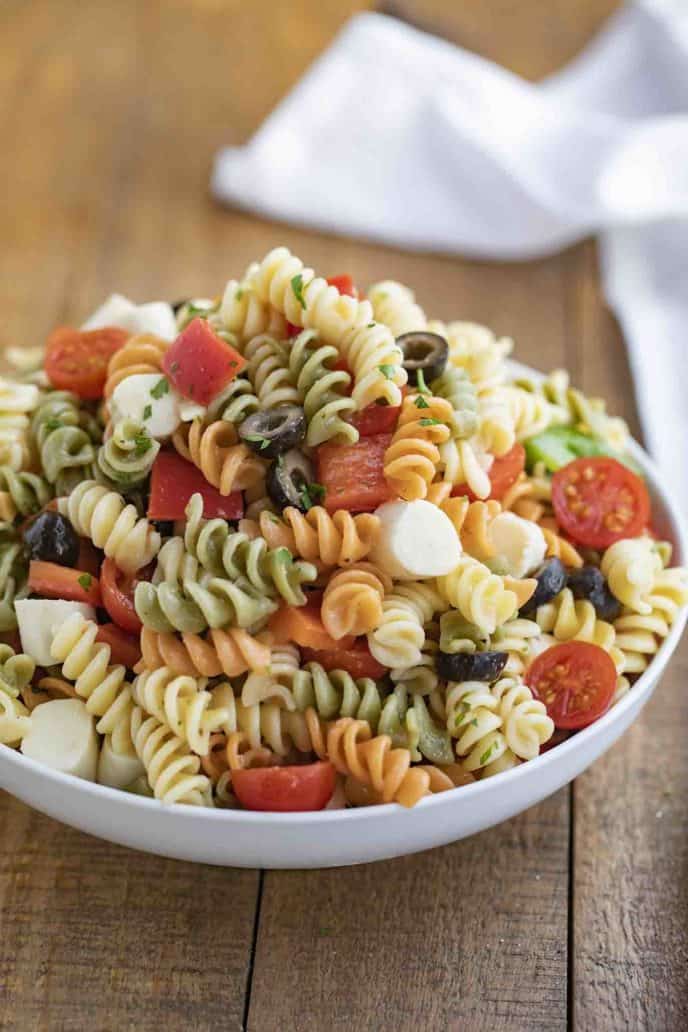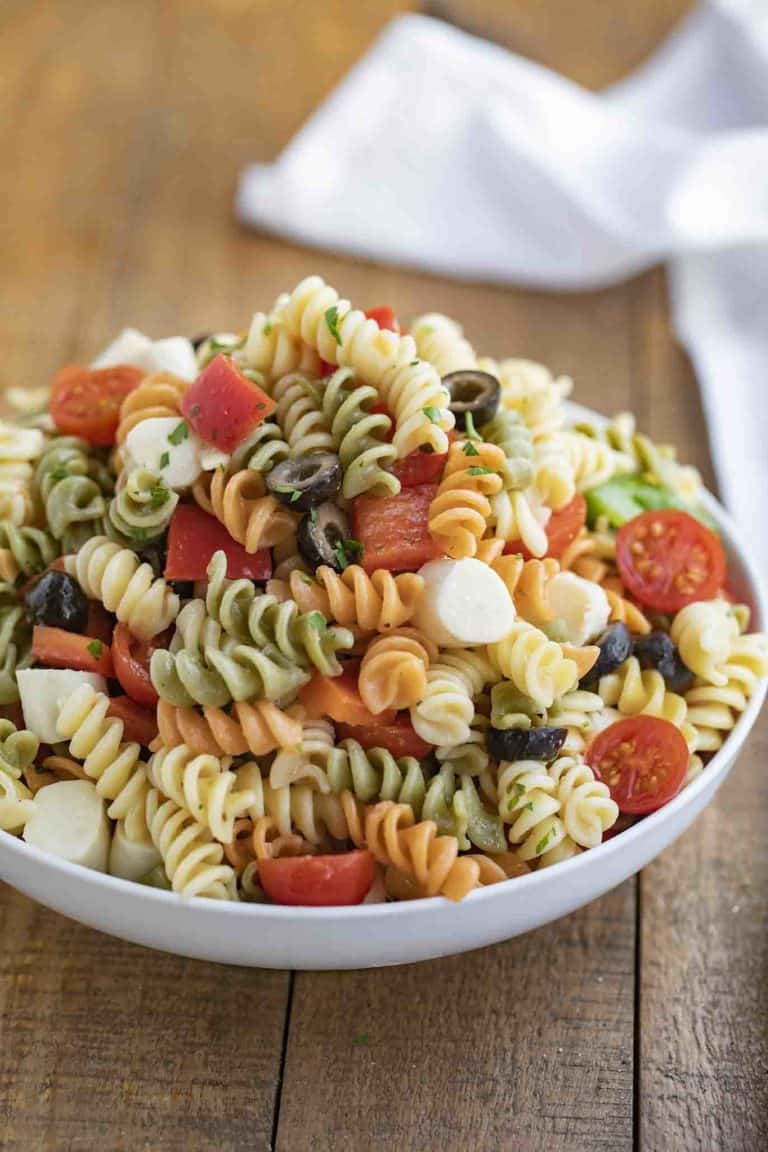 Variations for Easy Pasta Salad
There's a ton of variety in this recipe! Additions and subtractions, styles and spices – the list is (almost) endless. Check it out!
Pasta: You can also make this recipe with penne pasta, or whatever type of pasta you have in your pantry. The tri-color pasta in this recipe adds a nice color to the presentation of the dish.
Vinegar: Add a dash of balsamic vinegar or red wine vinegar for some flavor variation. You can also use apple cider vinegar in the dressing.
Spicy: : Make this Easy Pasta Salad spicy with some red pepper flakes, diced red onions, or spicy peppers.
Dressing: You can use store-bought Italian dressing, but the homemade dressing above will have a lot more flavor.
Additions: Add more antipasto ingredients to this pasta salad recipe like sun dried tomatoes, artichokes, cucumber, Roma tomatoes, or aged provolone. Add some grated parmesan to the top, or serve extra on the side.
Flavor Booster: The Italian dressing has enough seasoning, but you can add some fresh flavor to this Italian pasta salad with herbs like basil, dill, coarse ground black pepper, or minced chives.
Greek Style: Add feta cheese to make this a Greek Pasta Salad. Bonus points if your olives are Kalamata olives from Greece!
How to Store Easy Pasta Salad
Serve: Pasta Salad should be chilled in the refrigerator for about an hour before serving. Do not leave at room temperature for longer than two hours.
Store: After serving, store Pasta Salad in an airtight container for up to 4 days and stir well before serving.
Store: Oil-based dressings don't freeze well so, don't bother freezing this recipe, just toss it and make a fresh batch.


Ingredients
1

pound

tricolor rotini pasta

, precooked

8

ounces

mozzarella cheese

, diced

2

cups

cherry tomatoes

, halved

8

ounces

medium pitted black olives

1

green bell pepper

, chopped

1

red bell pepper

, chopped

2

cups

Italian Dressing

(see recipe above or use bottled)
Instructions
In a large bowl add the pasta, mozzarella cheese, tomatoes, black olives, green bell pepper and dressing and toss gently.

Refrigerate at least

an hour

before serving.
Notes
Note: click on times in the instructions to start a kitchen timer while cooking.
Nutrition
Calories:
328
kcal
|
Carbohydrates:
36
g
|
Protein:
10
g
|
Fat:
16
g
|
Saturated Fat:
4
g
|
Cholesterol:
15
mg
|
Sodium:
807
mg
|
Potassium:
232
mg
|
Fiber:
2
g
|
Sugar:
7
g
|
Vitamin A:
685
IU
|
Vitamin C:
26
mg
|
Calcium:
122
mg
|
Iron:
1
mg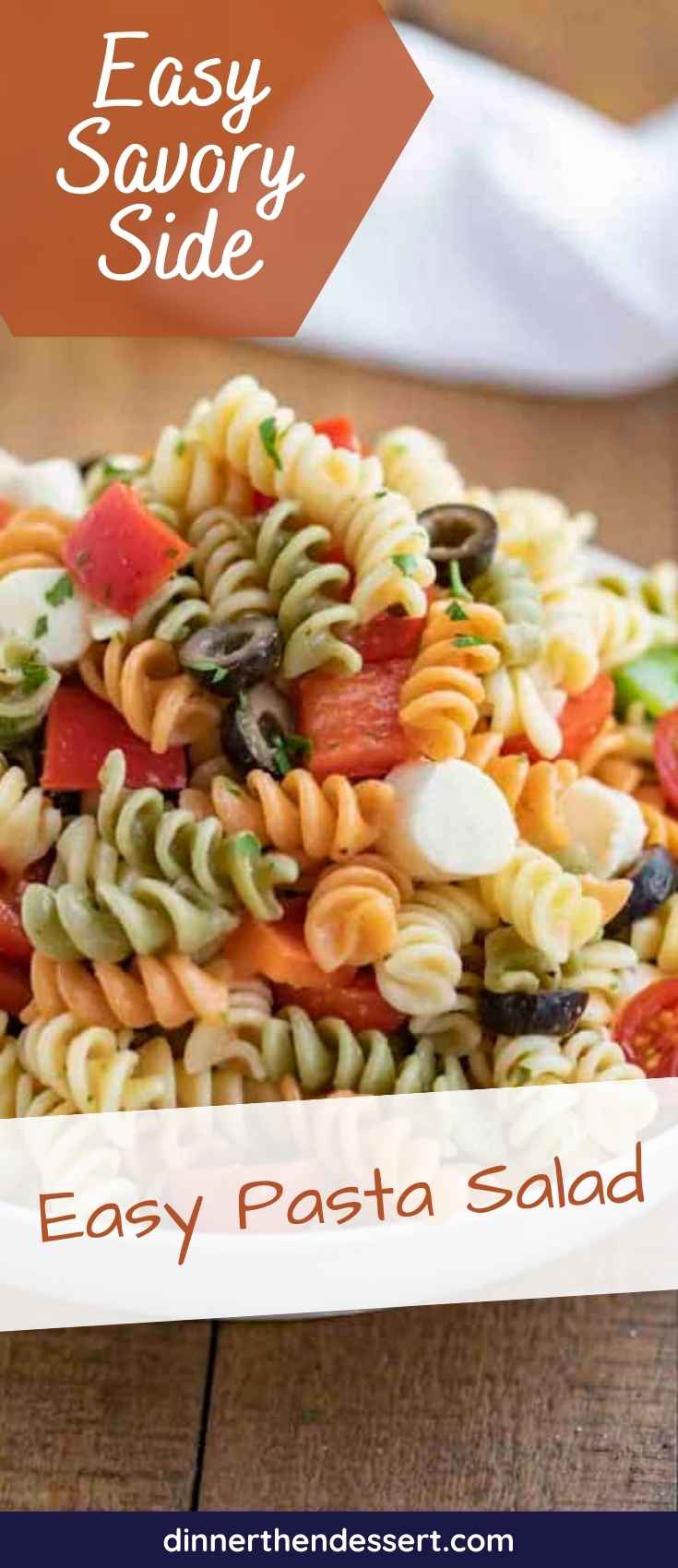 Photos used in a previous version of this post: