Crab Salad with celery and mayonnaise is a delicious and inexpensive way to enjoy the classic Seafood Salad we all grew up with.
This Salad Recipe is a classic deli favorite just like Classic Egg Salad, Classic Tuna Salad, or Classic Chicken Salad, but using delicious, tender seafood!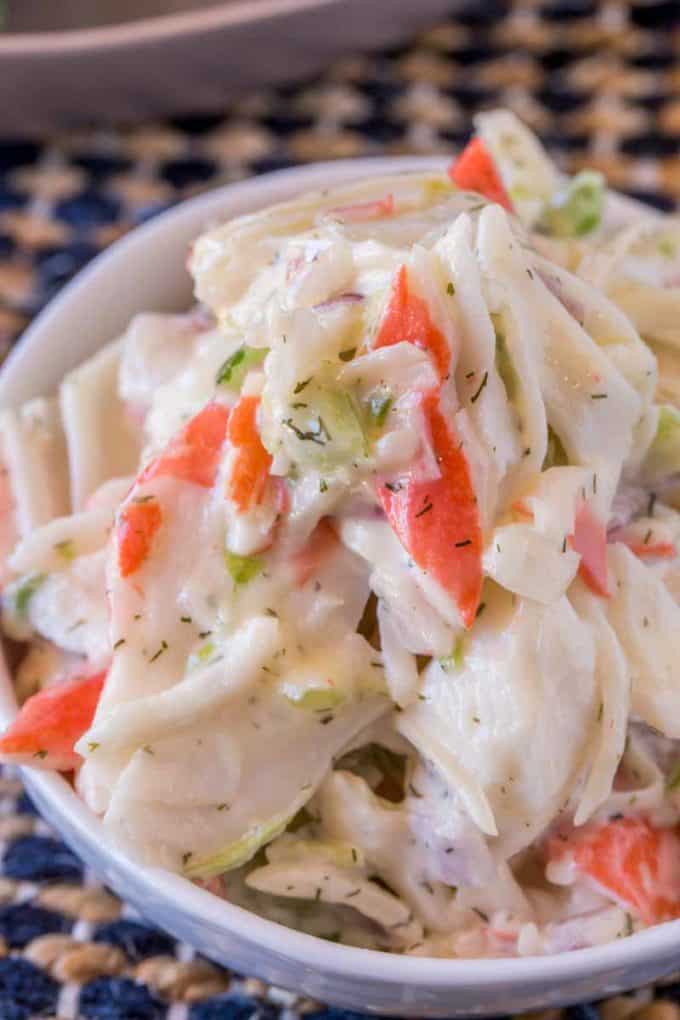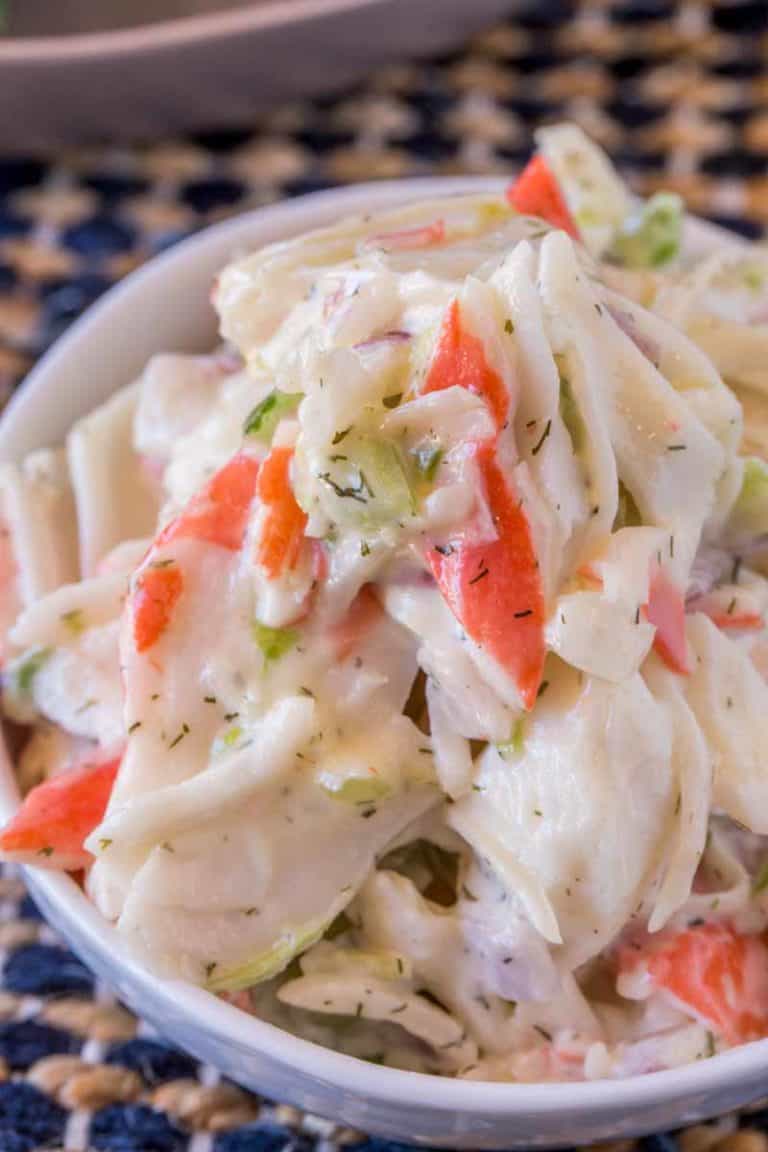 The flavor and childhood memories you have from being a kid are always so wonderful, and a Crab Salad Sandwich is a nostalgic favorite for many. This recipe combines imitation crab meat with a mixture of celery, mayonnaise, paprika, and dill to give you all those classic flavors you love from the sandwich shop, made fresh at home.
Sometimes it's worth the extra effort to make nostalgic favorites, such as Pioneer Take-Out Fried Chicken, especially if you've moved away from your favorite places. Food is the ultimate in stirring up childhood memories.
It may sound a bit odd to mix seafood and mayonnaise, but it is a classic preparation you find in tuna salad, on lobster rolls and even chicken salad. Protein and mayonnaise are fast friends in these salads.
You'll enjoy making this recipe to use in a crab salad sandwich! It is delicious on top of a bed of lettuce with added cherry tomatoes. However you find yourself enjoying the recipe, if you had it as a kid this will take you back to those memories. Serve this alongside an Easy Fruit Salad or Corn on the Cob for an excellent summer meal.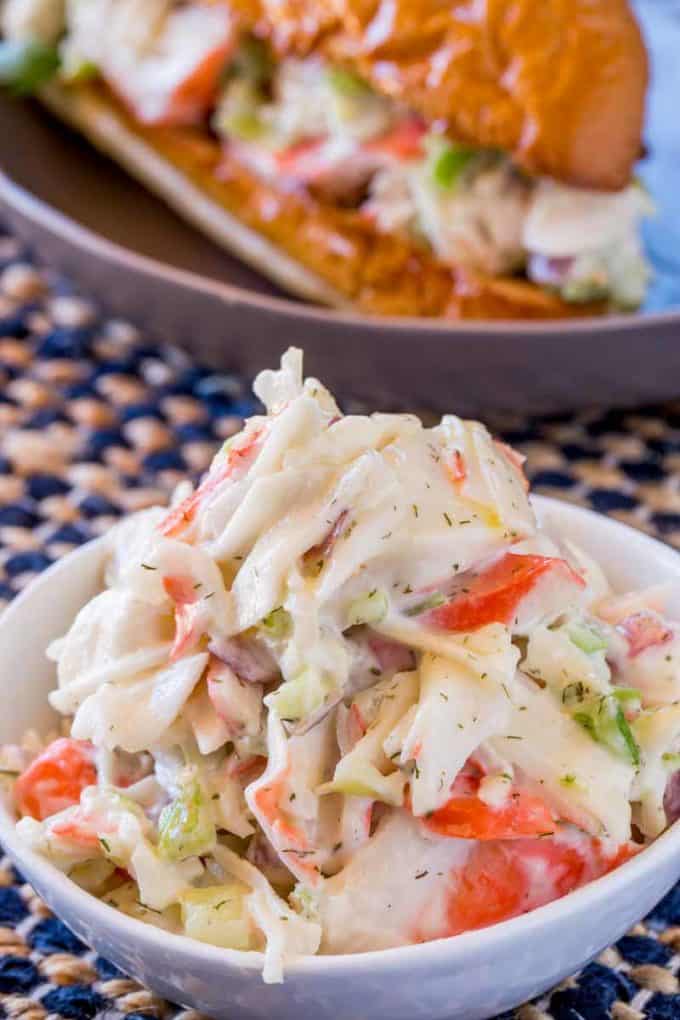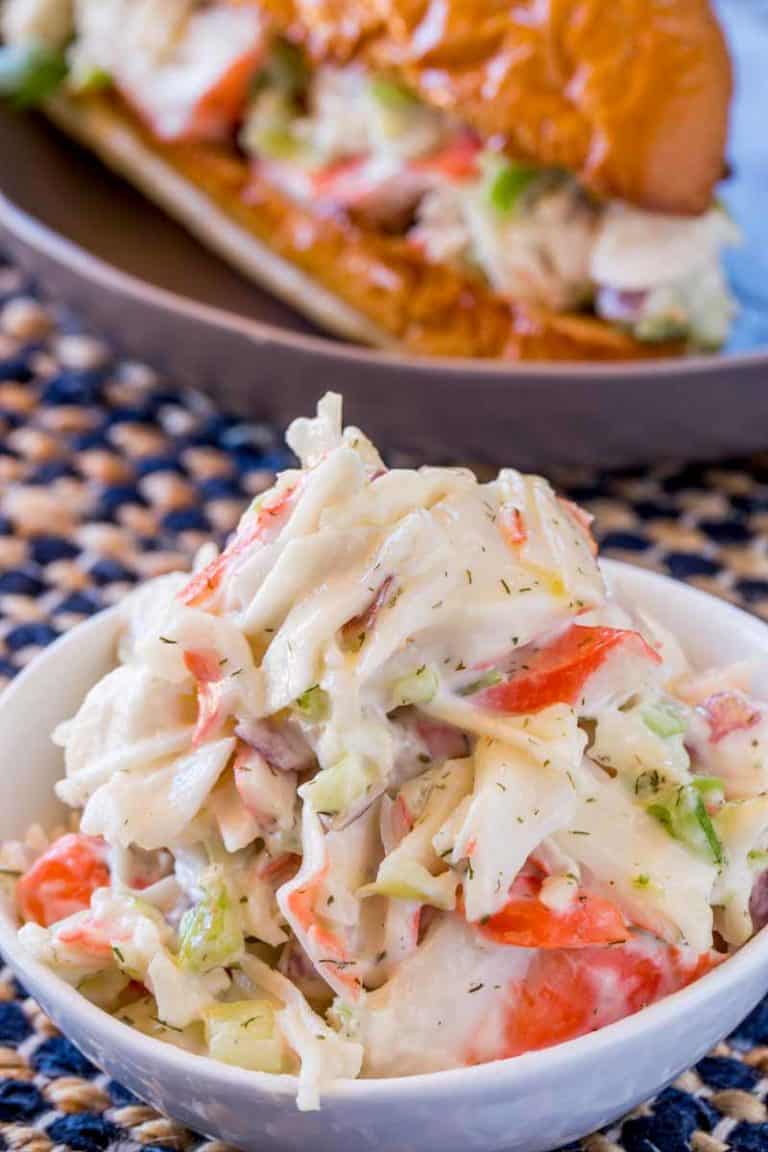 Create a free account to

Save Recipes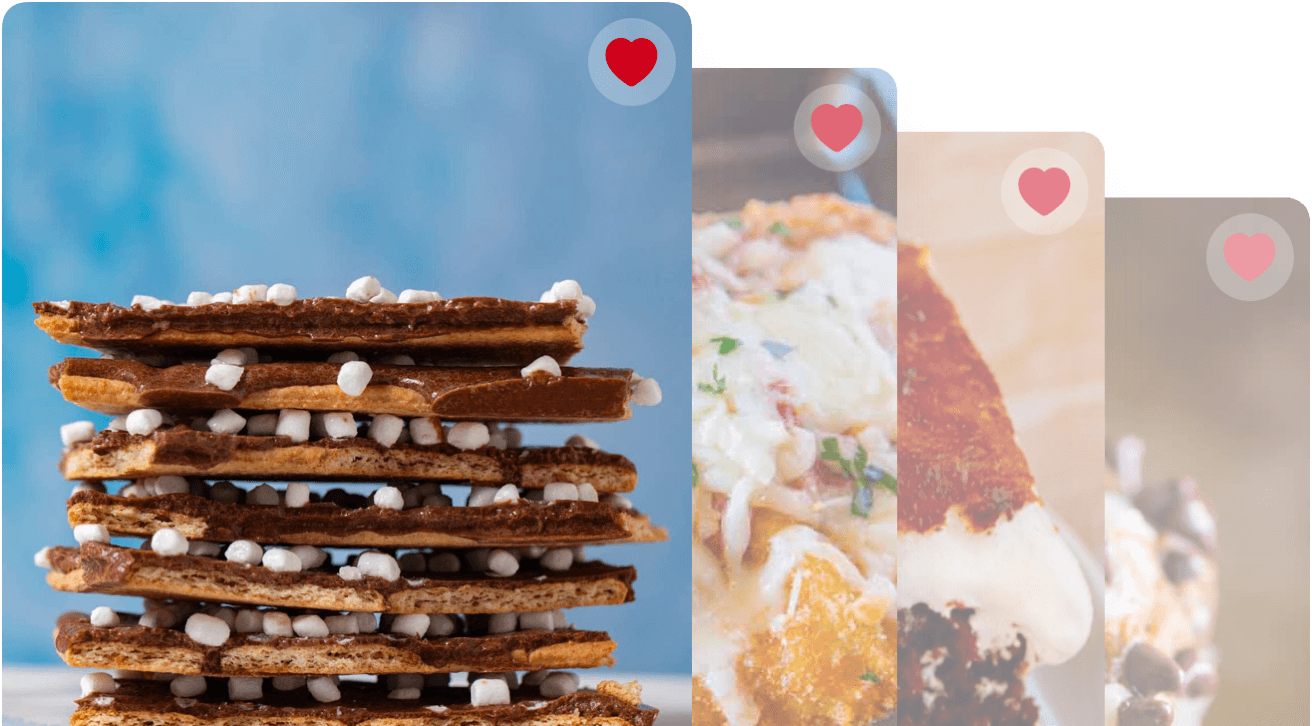 Frequently Asked Questions
What kind of crab should I use to make Crab Salad (Seafood Salad)?
This recipe uses imitation crab meat, sometimes referred to as krab or krab meat. Don't think that even though it isn't actual crab meat that this isn't still actual seafood. This is actually why many people refer to the salad as Seafood Salad.
What is Imitation Crab made of?
Imitation Crab Salad (krab) is actually made with Surimi, a whitefish that is ground then binded with a starch to resemble a crab leg. Huffington Post wrote a great post about what exactly imitation crab (krab) is. It's true that, nutritionally, you're better served purchasing actual crab meat, but for the purposes of this classic seafood salad, this is the ingredients you will find when you go to your grocer's seafood counter.
How should I serve Crab Salad?
Make an amazing sandwich by adding it to a toasted hoagie roll with lettuce. Or add Crab Salad to 1 pound of cooled shaped pasta for a Seafood Pasta Salad, just double the ingredients outside of the crab meat to flavor the pasta as well, too. For a low carb presentation, add Crab Salad to a cored out vine ripe tomato.
More Easy Summer Salad Recipes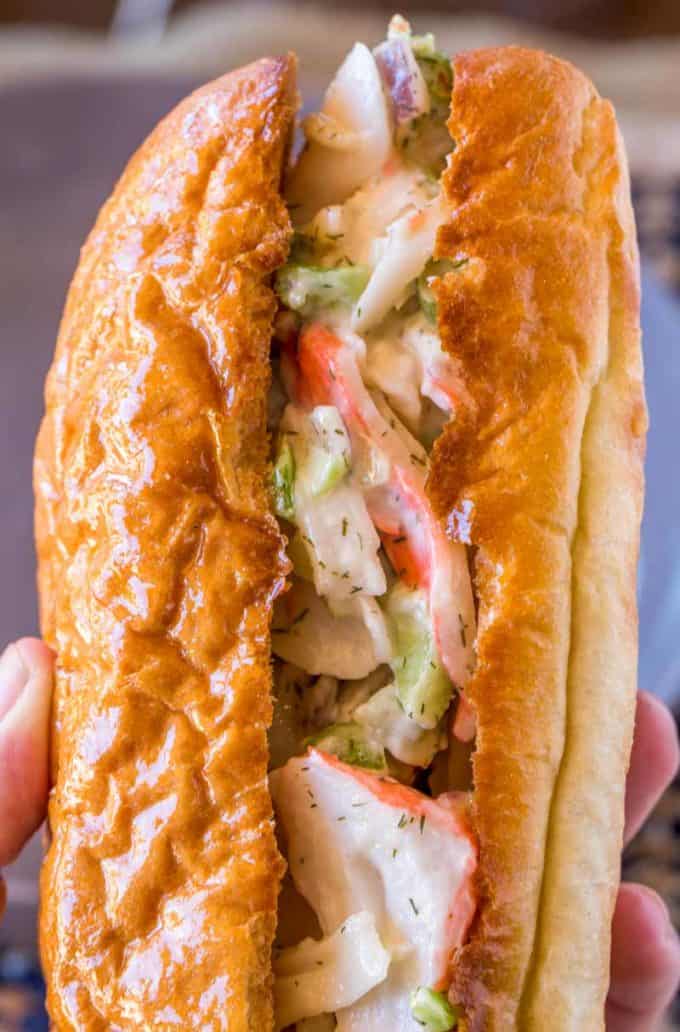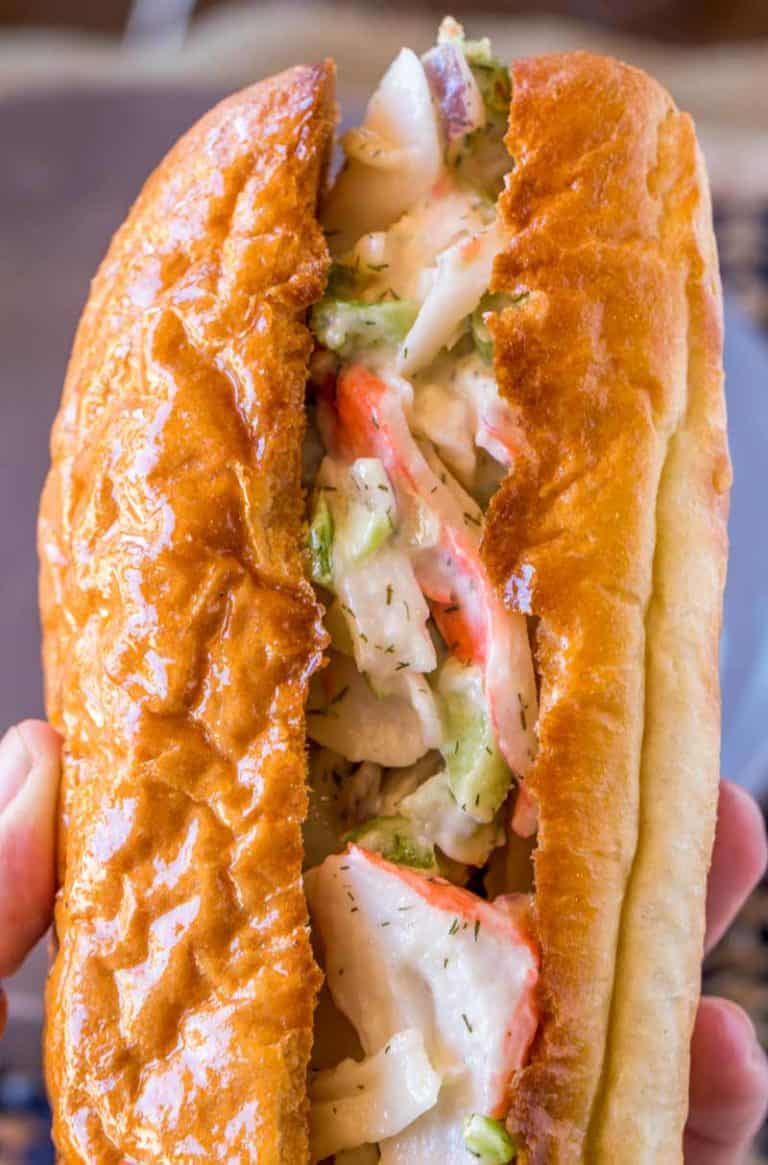 Tools used in the Making of This Crab Salad (Seafood Salad)
Mayonnaise: There are number of different brands, but this one is the most spot on flavor.
Spice Rack: You can use this spice rack to fill up the bottles with freshly purchased spices. It's basically one of the most beautiful things in the kitchen and when you're working with a large quantity of spices, not having to hunt and peck through your cupboards makes everything go at warp speed.
How to Store Crab Salad (Seafood Salad)
Serve: It is best to keep this recipe cold in the refrigerator until serving, but at most do not leave at room temperature longer than 2 hours due to the mayonnaise.
Store: Sealed in an airtight container, Crab Salad (Seafood Salad) will be good in the refrigerator for up to 3 days.
Freeze: Do not freeze recipes containing mayonnaise, as the texture will not be good once thawed. It is best to make a fresh batch of Seafood Salad before serving.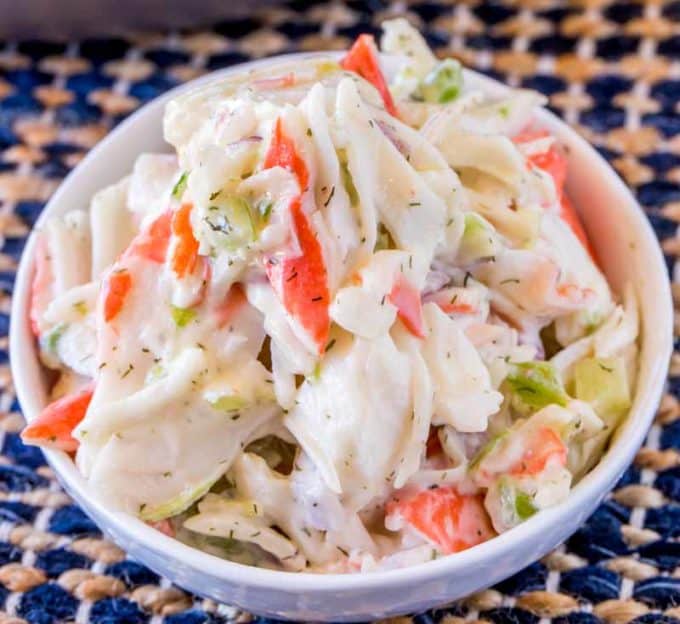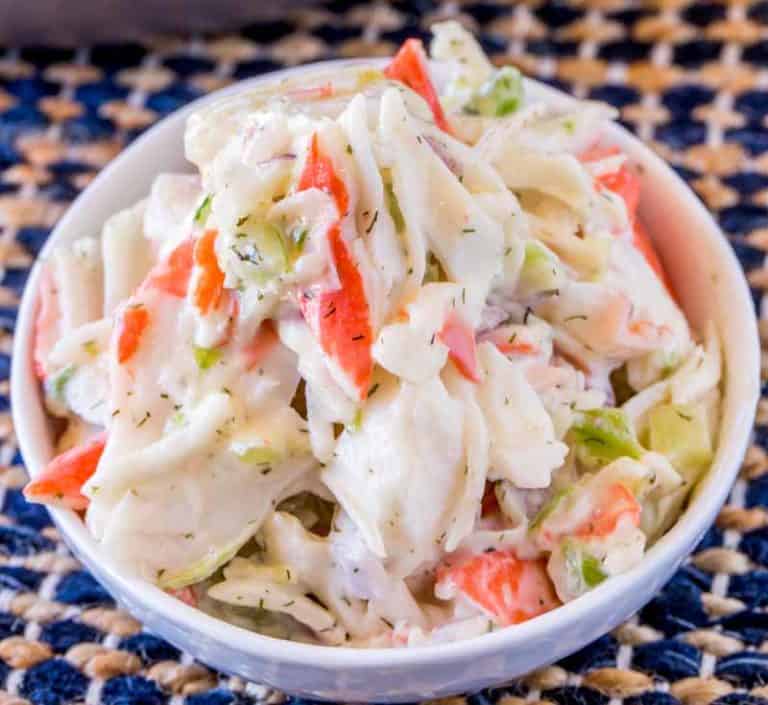 Ingredients
1

pound

imitation crab

, krab meat

1

shallot

, minced (you can use red onion if you need)

1/2

cup

mayonnaise

1/2

cup

celery

, minced

1/2

teaspoon

paprika

1/2

teaspoon

dill

1/4

teaspoon

Kosher salt

1/4

teaspoon

coarse ground black pepper
Instructions
In a large bowl add all the ingredients together gently, stirring until well coated.

Refrigerate for an hour before serving.
Nutrition
Calories:
310
kcal
|
Carbohydrates:
21
g
|
Protein:
6
g
|
Fat:
21
g
|
Saturated Fat:
3
g
|
Cholesterol:
24
mg
|
Sodium:
971
mg
|
Potassium:
53
mg
|
Fiber:
1
g
|
Sugar:
5
g
|
Vitamin A:
200
IU
|
Vitamin C:
0.9
mg
|
Calcium:
5
mg
|
Iron:
0.2
mg