Crab Salad is a classic Seafood Salad recipe with imitation crab, shallot and celery in a creamy dressing with a blend of herbs and spices.
While real crab meat is best for more elevated Seafood dishes like Crab Artichoke Dip, Crab Cake Sandwich, and Crab Cakes, imitation crab is perfect for creamy Salads for the Summer.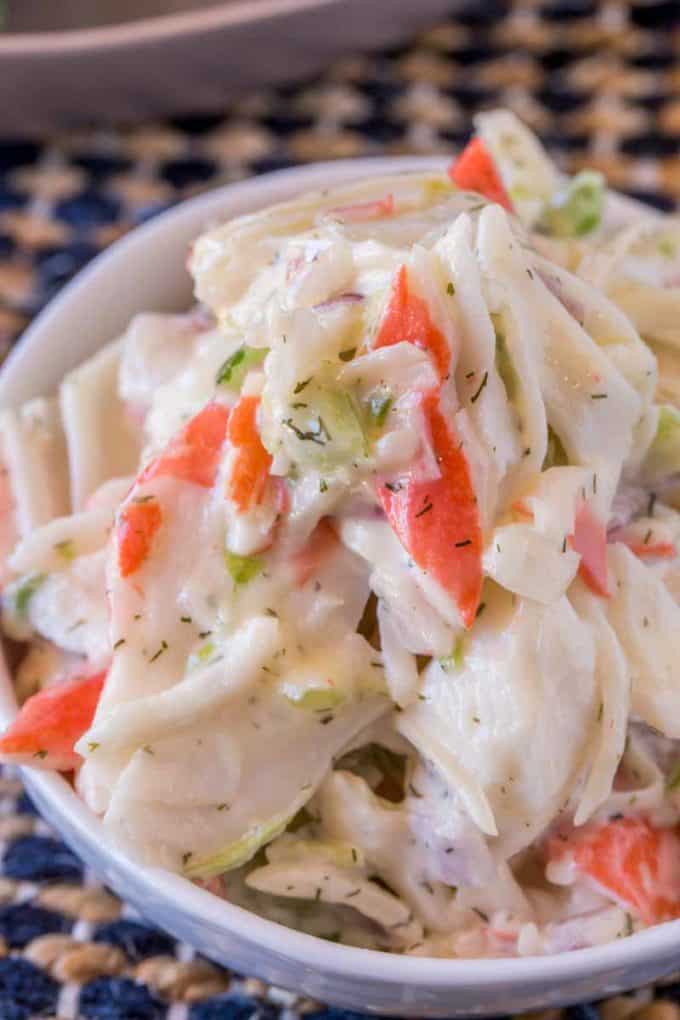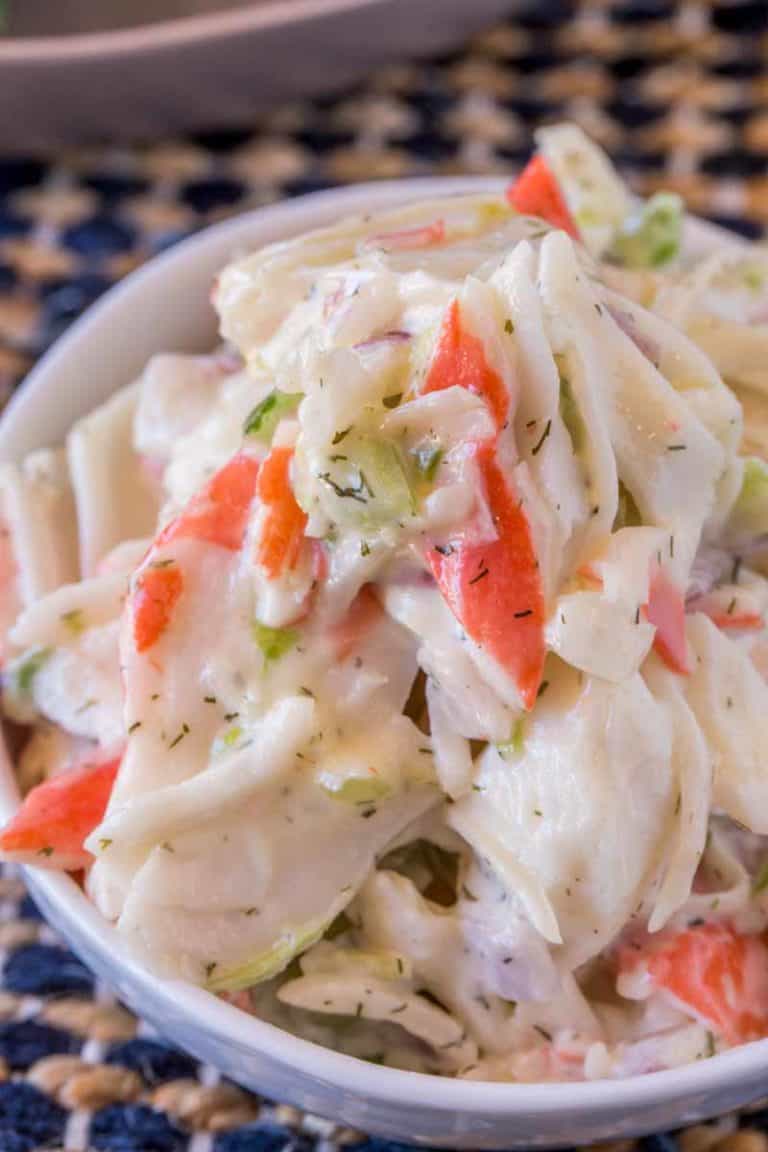 Crab Salad, also known as Seafood Salad, is a beloved nostalgic dish that you can find just as easily at a seaside cafe as you can the grocery store deli. Whether it's made with real crab, loaded with veggies, or spread on a hoagie as a sandwich, there are many favorite ways to make this classic seafood dish. This recipe features imitation crab, shallots, and celery, all enveloped in a creamy dressing infused with a blend of paprika, dill, plus a little salt and pepper.
If you're wondering what to make with imitation crab, it doesn't get much better than this Easy Crab Salad recipe. There are just a handful of ingredients, you don't have to do any cooking and there's hardly any prep work. The imitation crab meat is super inexpensive and easy to find at most grocery stores for a fraction of the price of the real stuff! You can use whole "leg" meat, or you can get the flaked-style crab to save you a step of chopping it up. Either way, it will make a tasty salad with some mayo, spices and fresh, crunchy veggies.
At first, it may sound a bit odd to mix seafood and mayonnaise, but if you've every had Tuna Salad or lobster rolls, you know that a creamy dressing is exactly what makes cold Crab Salad recipes so amazing! The cool, creamy mayo with the smoky paprika and tangy dill is perfect with the delicate seafood flavor of imitation crab and real crab alike. 
This tasty homemade Crab Salad can be enjoyed as a light and refreshing appetizer, a satisfying lunch option, or even as a classic sandwich. You can serve it with crispy crackers and veggies like bell peppers and cucumber slices for dipping at parties. Throw it on a bed of lettuce or a thick tomato slice for a low-carb, light lunch. Spread it on a hoagie roll for any easy, inexpensive twist on lobster rolls. Serve your Crab Salad Sandwiches with some Fruit Salad for a classic deli meal that is nostalgic, filling, and delicious.
What is the difference between Crab Salad and Surimi Salad?
Crab Salad and Surimi Salad are often used interchangeably, but they do have a subtle difference. While both salads use imitation crab as the main ingredient, Surimi Salad typically refers to a dish that incorporates more Asian-inspired flavors, such as soy sauce, sesame oil, or ginger. On the other hand, Crab Salad often features a mayo-based dressing with herbs and spices, like a more traditional creamy salad, similar to a tuna or egg salad.
How to Make Crab Salad
If your imitation krab meat isn't already flaked, you will want to roughly chop it into small pieces.
Combine the mayo with the spices until it's will blended.
Add the krab, shallots, and celery to the dressing and stir until everything is well coated.
Cover the bowl and chill in the fridge for at least an hour before serving.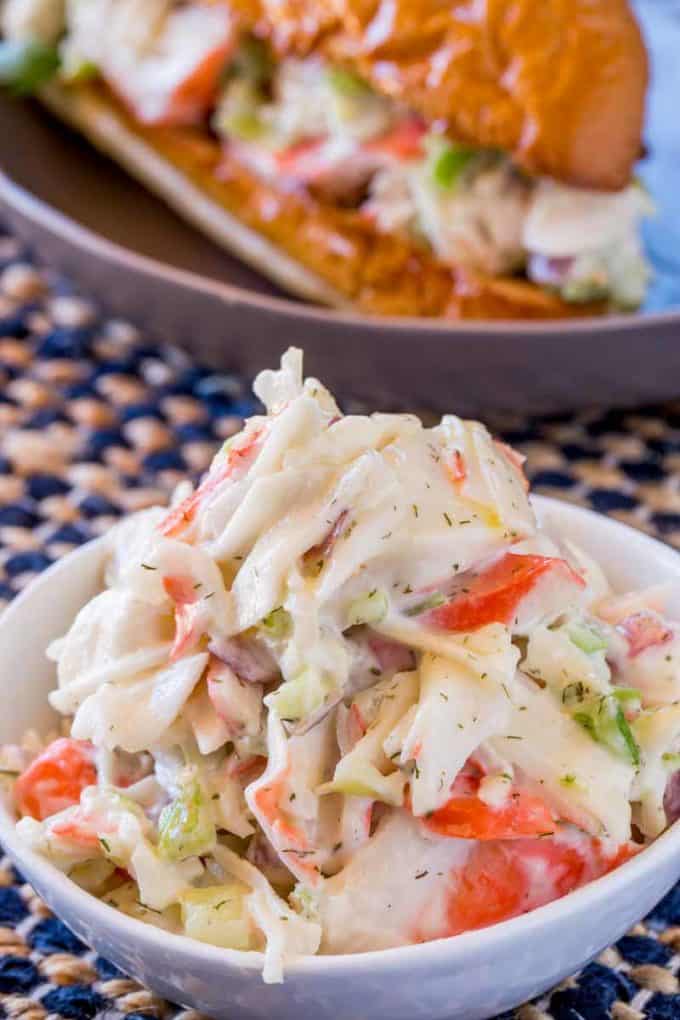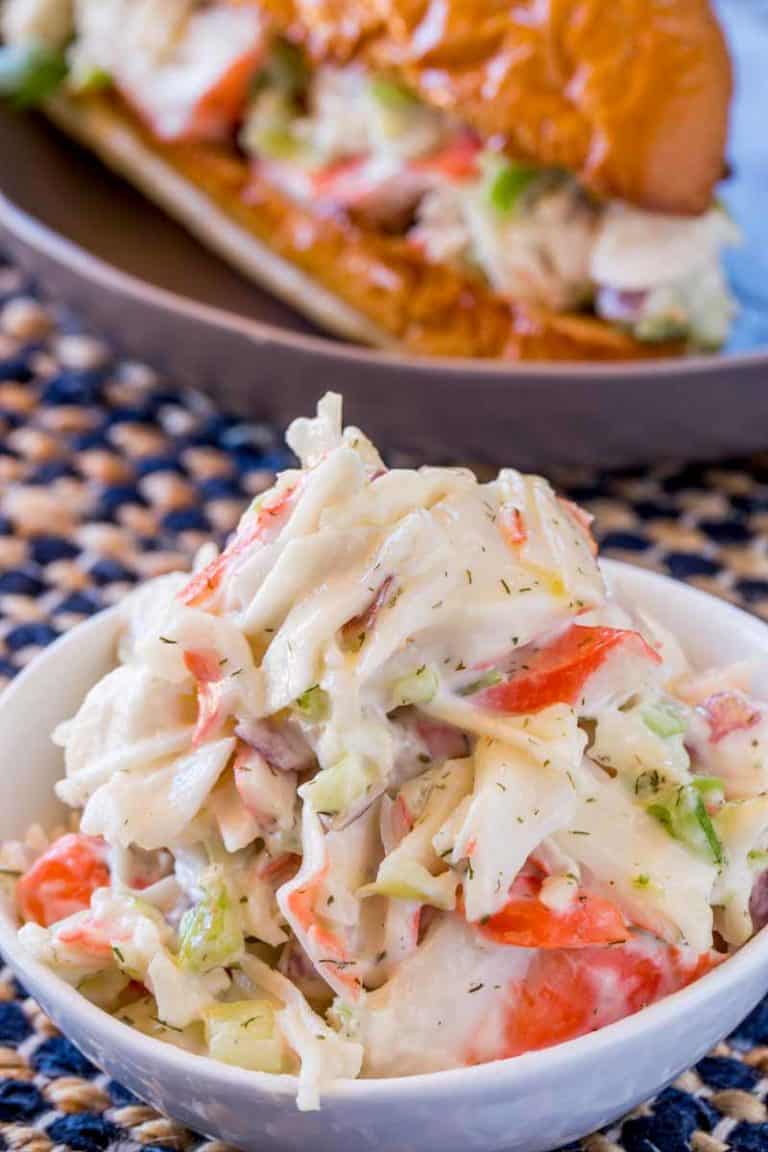 More Delicious Crab Recipes
FAQs for Crab Salad
What kind of crab should I use to make Crab Salad?
This recipe uses imitation crab meat, sometimes referred to as krab or krab meat. However, just because it's not actually made of crab, it is made with fish. This is actually why many people refer to Crab Salad as Seafood Salad.
What is Imitation Crab?
Imitation Crab Salad (krab) is actually made with Surimi, a whitefish that is ground then bound with a starch and other additives to resemble crab meat. It is crafted to resemble the texture and taste of real crab meat. Imitation crab is widely available in most grocery stores and provides an affordable alternative to real crab meat for those on a budget or looking for a different flavor profile.
Is the Neptune Salad the same as a Crab Salad?
Neptune Salad is not the same as a Crab Salad, but it's more like a seafood salad with the works. It often has baby shrimp as well as crab plus ingredients like eggs, corn, carrots, peas, etc.

Create a free account to Save Recipes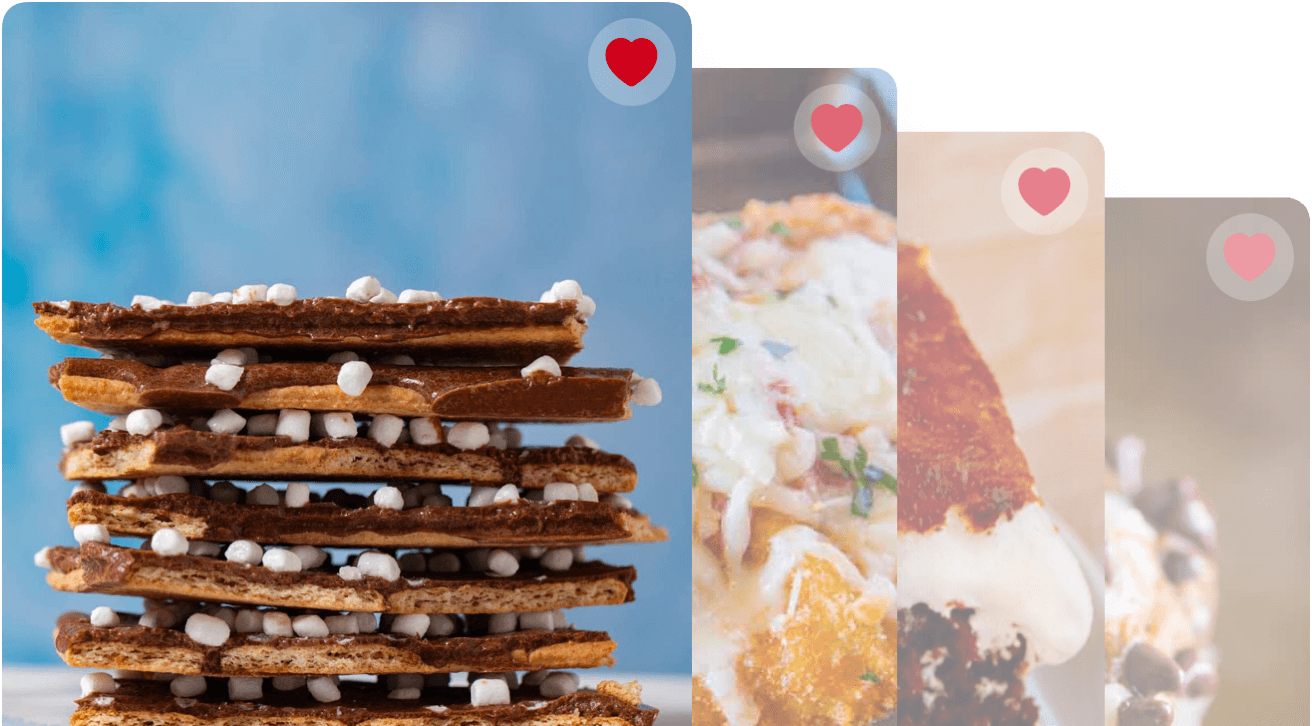 Key Ingredients
Imitation Crab: Imitation crab, also known as krab meat, is made from a blend of fish, typically Alaskan pollock, and other additives. It has a delicate texture and mild flavor that perfectly mimics the taste of crab, but is much more cost effective than real crab meat.
Shallots: Shallots add a subtle onion-like flavor to the seafood salad, enhancing its savory profile without overpowering the sweet, mild taste of the crab meat. You could also use red onions but dice them very small so they don't take over the flavors.
Celery: Minced celery provides a refreshing crunch and adds a hint of herbal notes, contributing to the overall texture and balance of the salad.
Mayonnaise: Mayonnaise serves as the creamy base for the dressing, providing richness and a luscious texture to the Crab Salad. The smooth, subtly tangy flavor is perfect with the sweet, mild crab meat and is a classic way to make seafood salad dressing.
Spices: This delicious Crab Salad only needs a few spices to add a bit of flavor without overpowering the delicate imitation crab. Paprika adds a warm, smoky flavor while dill brings a burst of freshness. They provide a pleasant contrast to the richness of the dressing and the sweetness of the crab meat.
Can you make Crab Salad ahead of time?
Yes, Crab Salad can be prepared ahead of time to save you time and it gives all the flavors time to develop. You want to refrigerate the salad for at least an hour before serving, and it's best in the first day or two. Remember to give it a gentle stir before serving to ensure the dressing coats the ingredients evenly.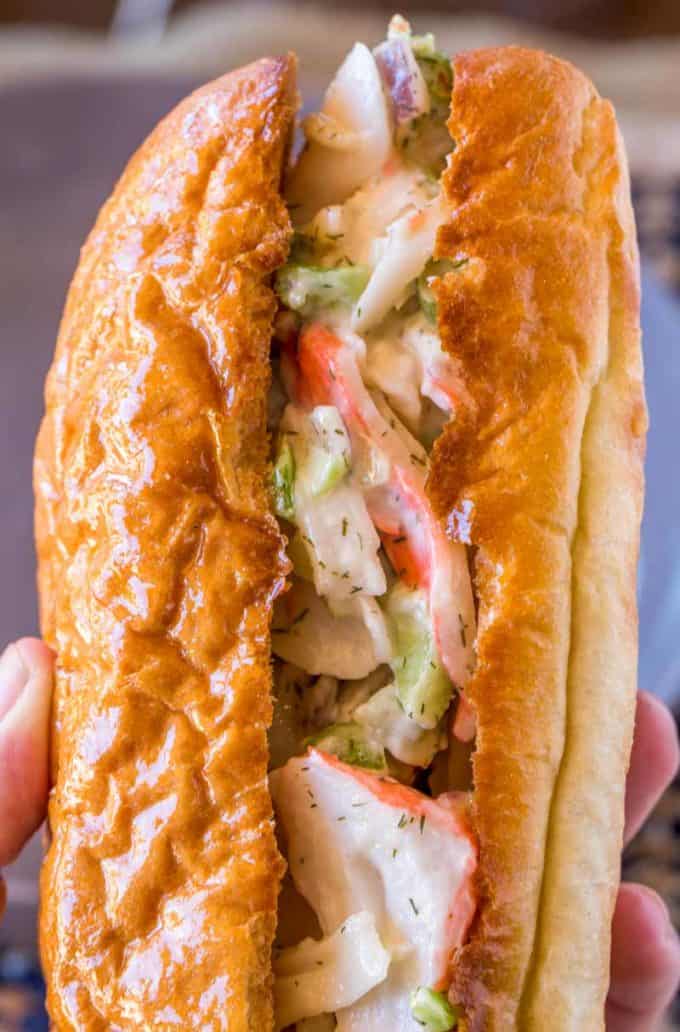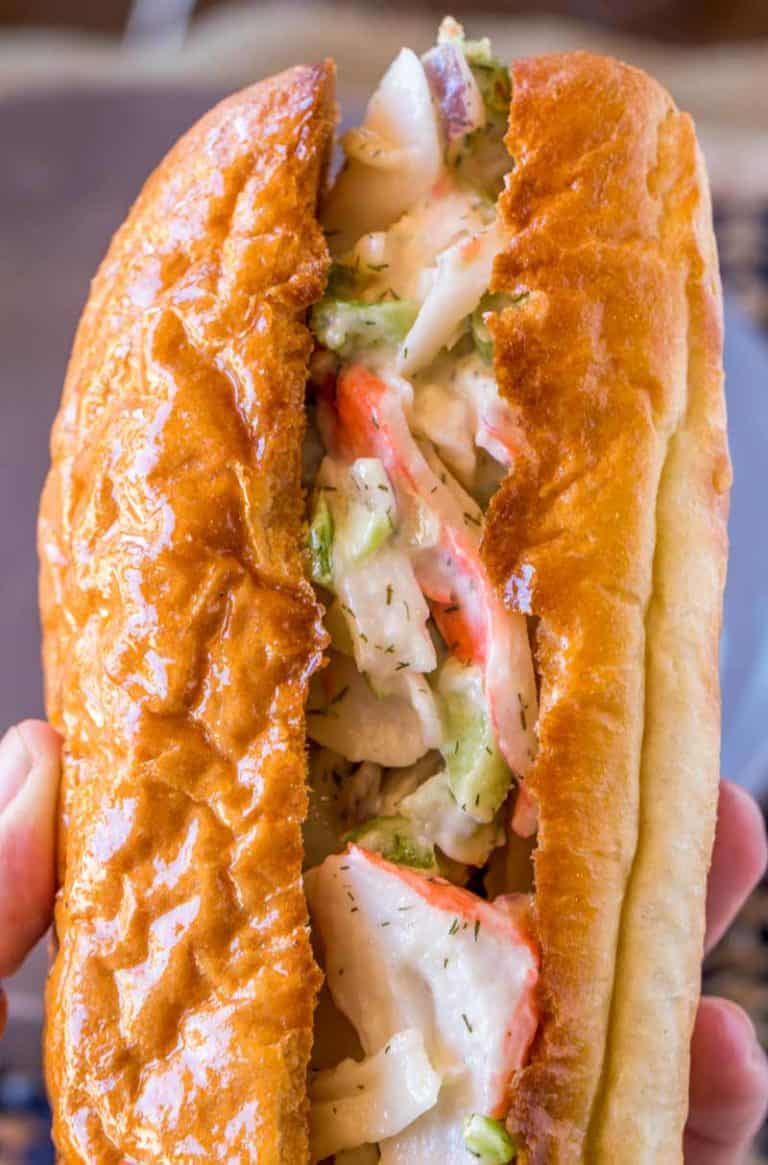 Variations
Veggies: Add some more fresh, crunchy veggies to your seafood salad like green onions, red onions, black olives, or bell peppers.
Cheese: If you love all things indulgent, add some shredded sharp cheddar cheese or chopped up slices of American cheese to your cold Crab Salad.
Dressing: Instead of mayo, you can use Greek yogurt, mashed avocado or sour cream in the dressing to lighten up the salad. It's best to do half mayo and half the substitute so it's still got that deliciously smooth texture.
Seafood: You can add other seafood to the salad like baby shrimp, cooked mild flavored fish like cod or tilapia, or cooked scallops. If you want to splurge, you can use real crab or even make this salad with steamed lobster!
Seasonings: Some other popular flavorings for Crab Salad are Old Bay seasoning, celery seed, and even some cayenne pepper for a little kick. A squeeze of lemon or lime are a great way to add some zesty freshness.
How to Serve Crab Salad
For an easy, amazing sandwich serve the salad on a toasted hoagie roll with lettuce and sliced onions.
Make a Seafood Pasta Salad doubling the dressing and mixing the Crab Salad with cooked pasta.
You can serve this as a dip with crackers or go low-carb with veggies like cucumber and bell peppers.
Another low-carb, classic way to serve cold creamy salads is to spread them on top of thick cut tomato slices or make lettuce wraps.
Easy Classic Creamy Deli Salads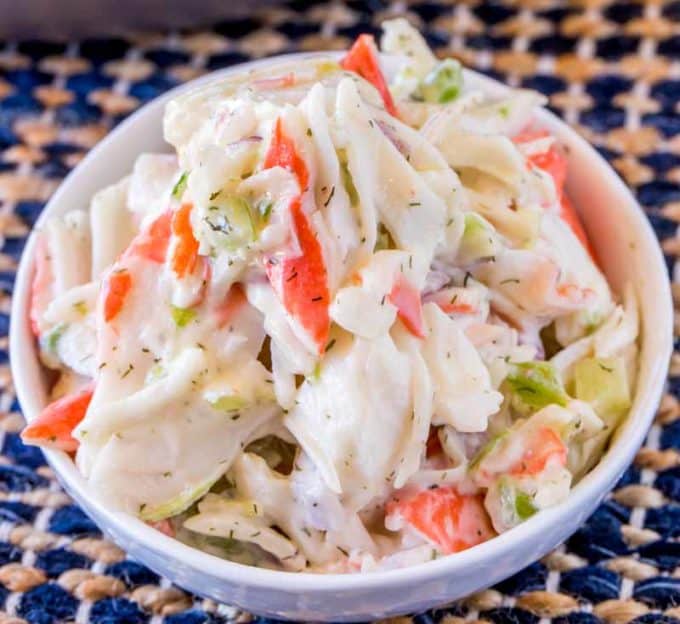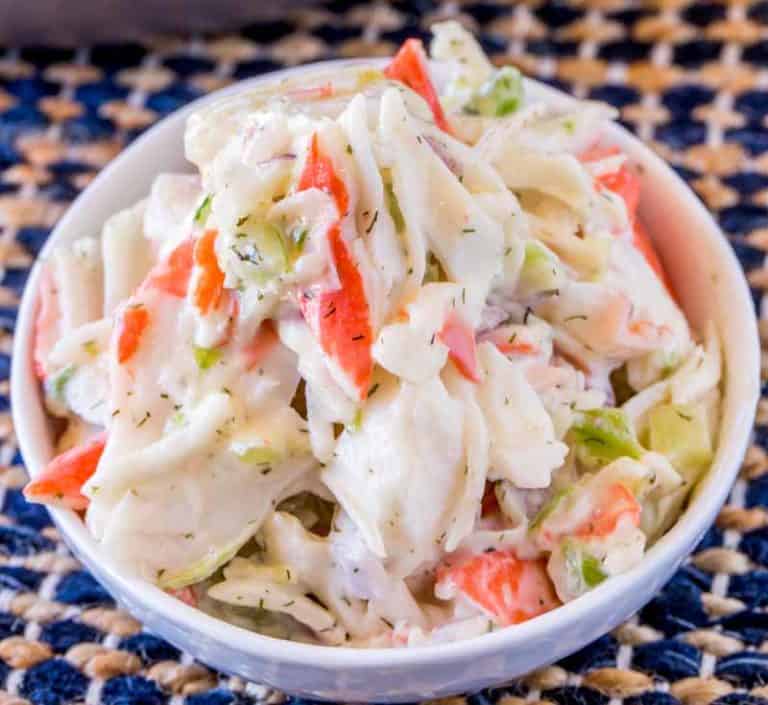 How to Store
Serve: It is best to keep this recipe cold in the refrigerator until serving, but at most do not leave at room temperature longer than 2 hours.
Store: Sealed in an airtight container, Crab Salad will be good in the refrigerator for up to 3 days. Give it a good stir before serving.
Freeze: It's best not to freeze mayonnaise based salads, as the dressing will separate and not come back together after it thaws.


Ingredients
1

pound

imitation crab

, krab meat

1

shallot

, minced

1/2

cup

mayonnaise

1/2

cup

celery

, minced

1/2

teaspoon

paprika

1/2

teaspoon

dill

1/4

teaspoon

Kosher salt

1/4

teaspoon

coarse ground black pepper
Instructions
In a large bowl add all the ingredients together gently, stirring until well coated.

Refrigerate for an

hour

before serving.
Nutrition
Calories:
310
kcal
|
Carbohydrates:
21
g
|
Protein:
6
g
|
Fat:
21
g
|
Saturated Fat:
3
g
|
Cholesterol:
24
mg
|
Sodium:
971
mg
|
Potassium:
53
mg
|
Fiber:
1
g
|
Sugar:
5
g
|
Vitamin A:
200
IU
|
Vitamin C:
0.9
mg
|
Calcium:
5
mg
|
Iron:
0.2
mg