A Crab Cake Sandwich takes Maryland-style crab cakes, a delicious brioche bun and a lot of fun topping ideas to make the ultimate seafood summer sandwich!
We love fun sandwiches on the blog including my all-time fan favorite Philly Cheese Steak Sloppy Joes. This sandwich is more of a classic, so you can enjoy your Crab Cakes in a more handheld way!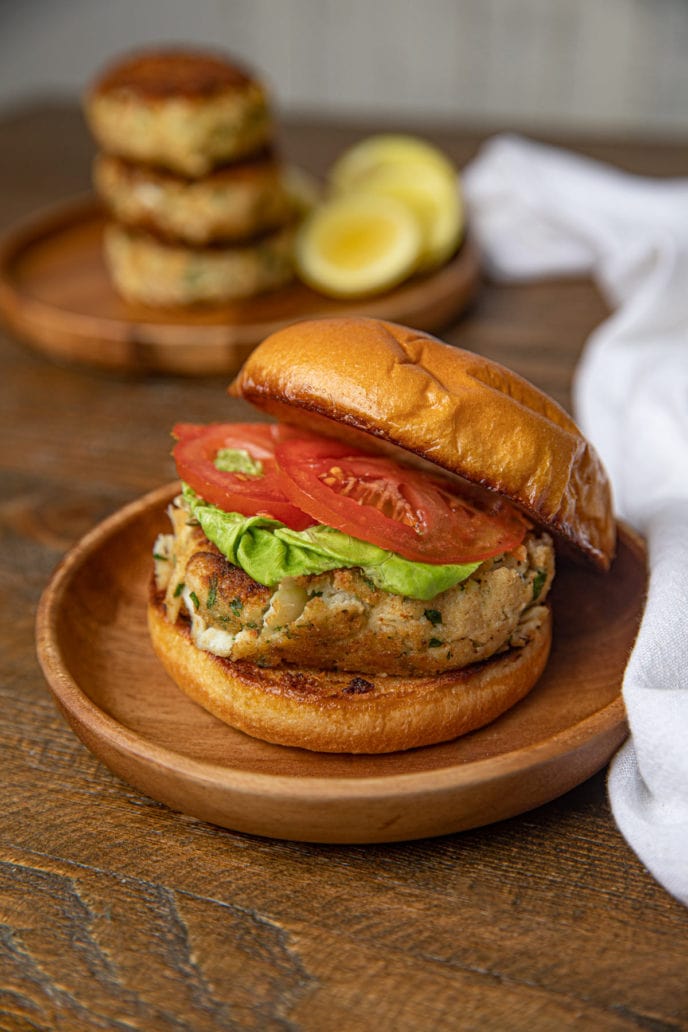 CRAB CAKE SANDWICH
If you have left over crab cakes from yesterday's dinner or if you are tired of having boring sandwiches you need to try this recipe.
The first thing you do is make some delicious cakes using your favorite brand of jumbo lump crab meat. Then you toast two pieces of bread in butter and slather some homemade Tartar Sauce onto each side. All that's left to do after that is to add in some your favorite toppings, like pickles and onions, and set the crab cake on top. You'll want to eat it pretty fast before the bread starts to melt, but you'll love the crunchy, savory blend of delicious crab.
HOW TO MAKE CRAB CAKES
Preheat the broiler and grease a baking sheet with olive oil or cooking spray.
Mix the jumbo lump crabmeat, bread crumbs, salt, pepper and parsley together in a large bowl.
In a different large bowl, mix the egg, hot sauce, mayo and mustard together.
Add crab to the mixture gently.
With greased, clean hands, shape the crab mixture into burger sized patties and set them in a single layer on the baking sheet.
Bake the crab cakes until they are completely cooked through and are golden brown on top.
Butter and toast your brioche bun, add sauce, lettuce and tomato and crab cake before serving.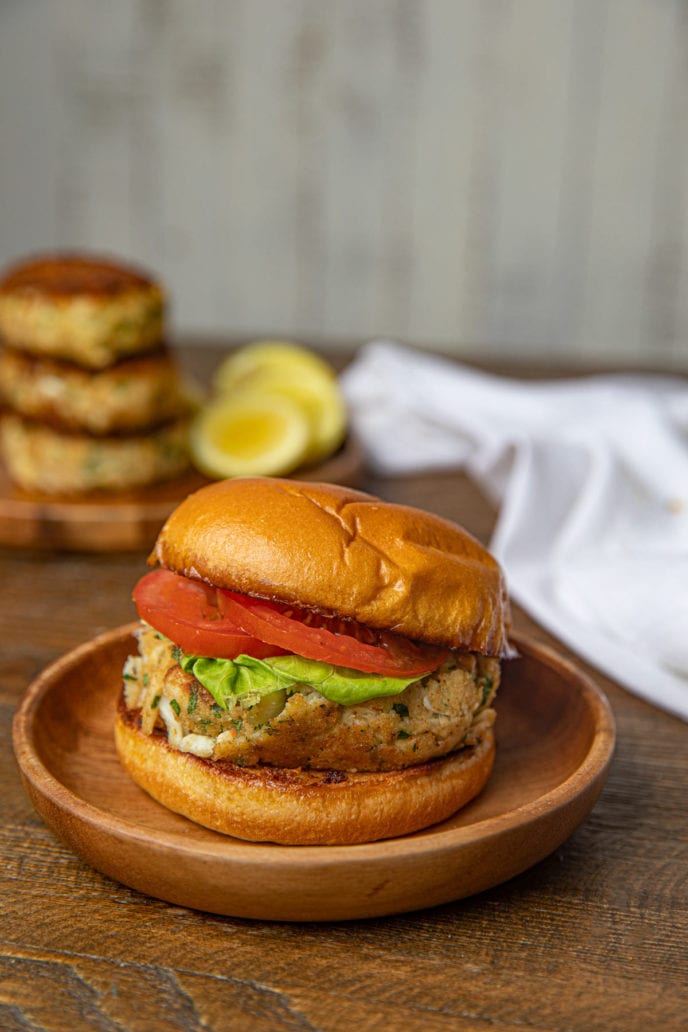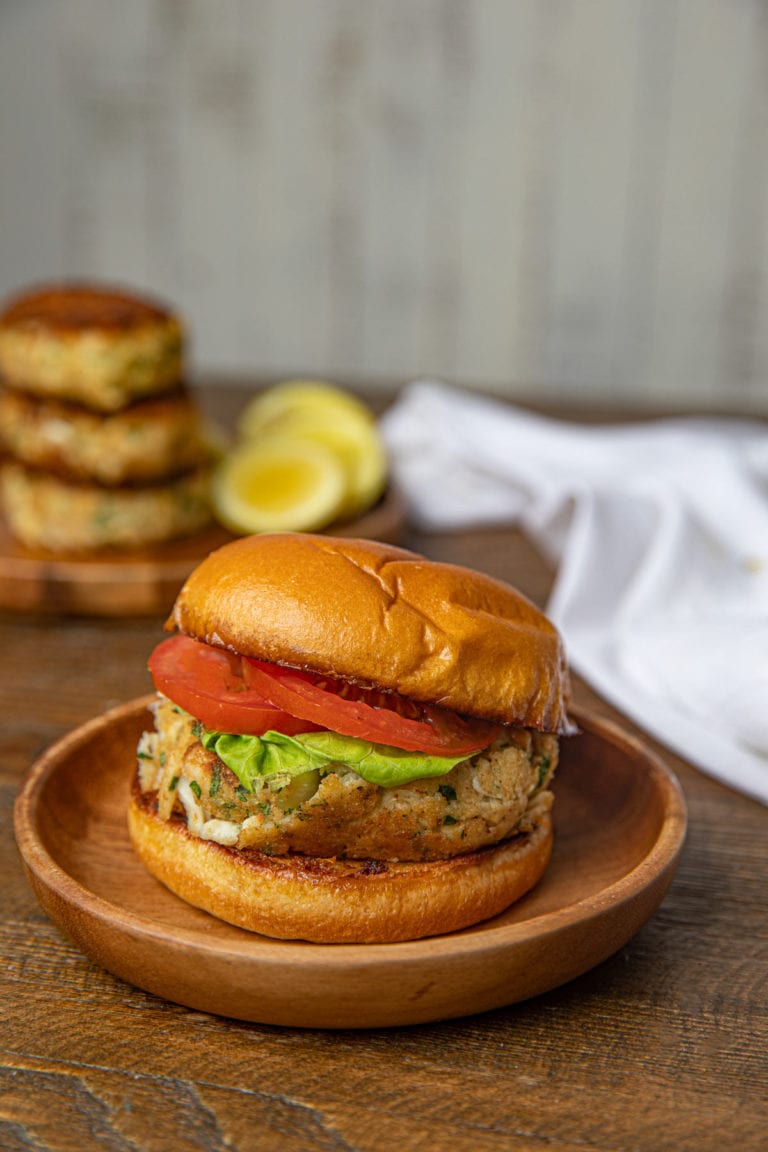 Create a free account to Save Recipes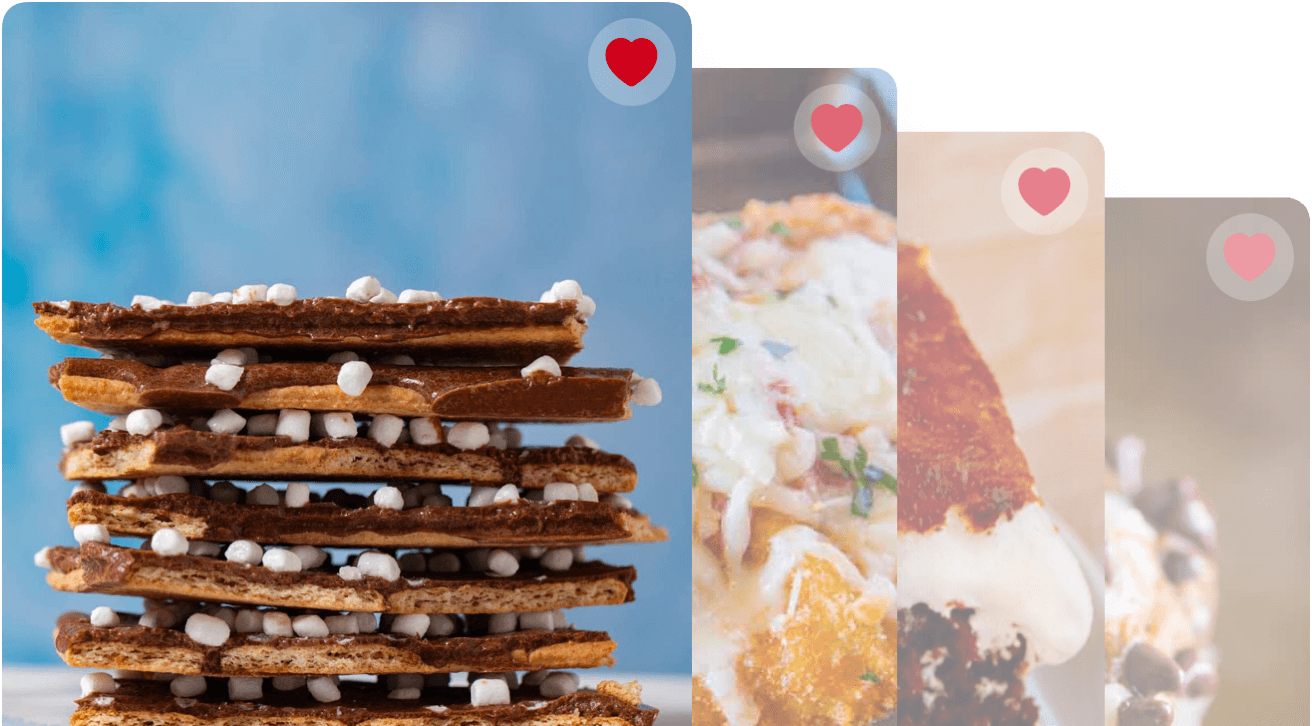 VARIATIONS
Sandwich toppings: Try some pickles, shallots, garlic aioli, capers and melted cheese to bring your crab cake sandwich to the next level.
Spice blends: Old Bay seasoning is the perfect way to give your crab cake sandwich an authentic Maryland flavor, or you can use Italian seasoning to mix it up.
Lemon juice: Sprinkle a little fresh lemon juice onto your cakes for a delicious tang that pairs perfectly with a garlic aioli.
Worcestershire sauce: Add a few drops of Worcestershire sauce into the crab mixture if you want a dash of a very powerful flavor to cut the fishy taste. Stir well before you bake it.
Dijon mustard: The flavor of French or dijon mustard is pretty similar to ground mustard, but the texture is very different. If you prefer a moist crab cake this is the way to go.
Red pepper: Do you laugh in the face of hot sauce? Stir some pepper into the crab mixture or add a dash of red pepper flakes for a crunchy, spicy variation.
Crackers: Instead of bread crumbs, pulverize some crackers in a food processor. Once they are fine crumbs you can use them for a buttery, rich alternative to bread crumbs. My favorites are ritz or saltine crackers.
Green onions: For a tasty, flavorful garnish you can chop up some green onions and add them to the top raw or cook them with some butter and stir them into the crab mixture.
More easy summer side dishes:
HOW LONG IS IT GOOD
Serve: Don't leave seafood out for more than 2 hours at room temperature. Trust me, you'll regret it.
Store: Leftover crab cakes are good in the fridge for about 3 days, but you should store them without the bread and assemble them later.
Freeze: Homemade crab cakes are good frozen for about 2 months. After that it's time to make new ones.
WHEN ARE CRAB CAKES SAFE TO EAT?
According to the USDA's official website, seafood is cooked through and safe to eat when the internal temperature reaches 145 degrees F (62.7 degrees C.)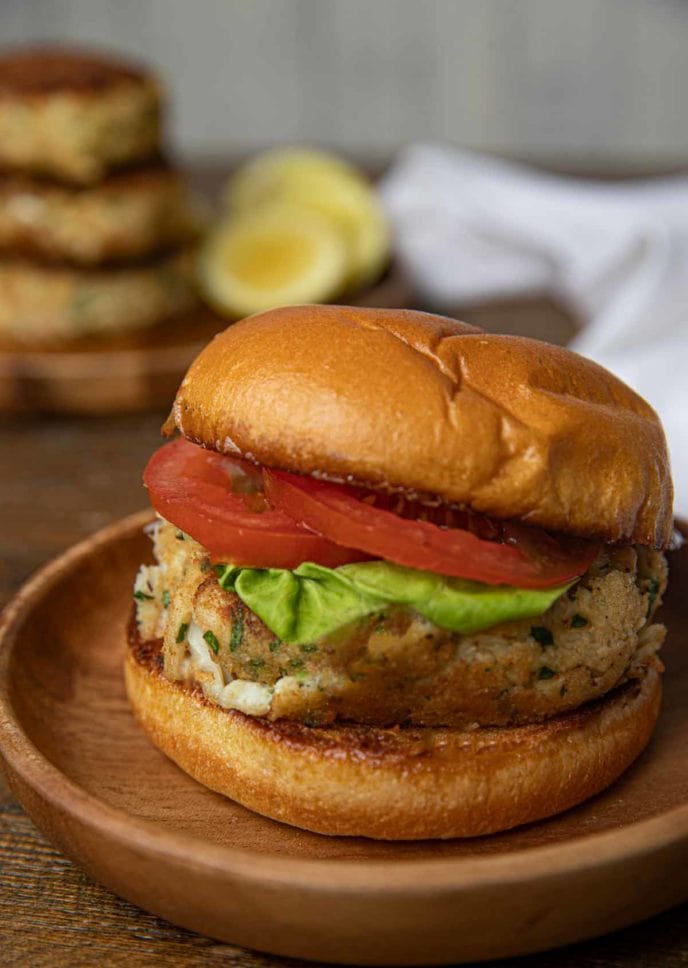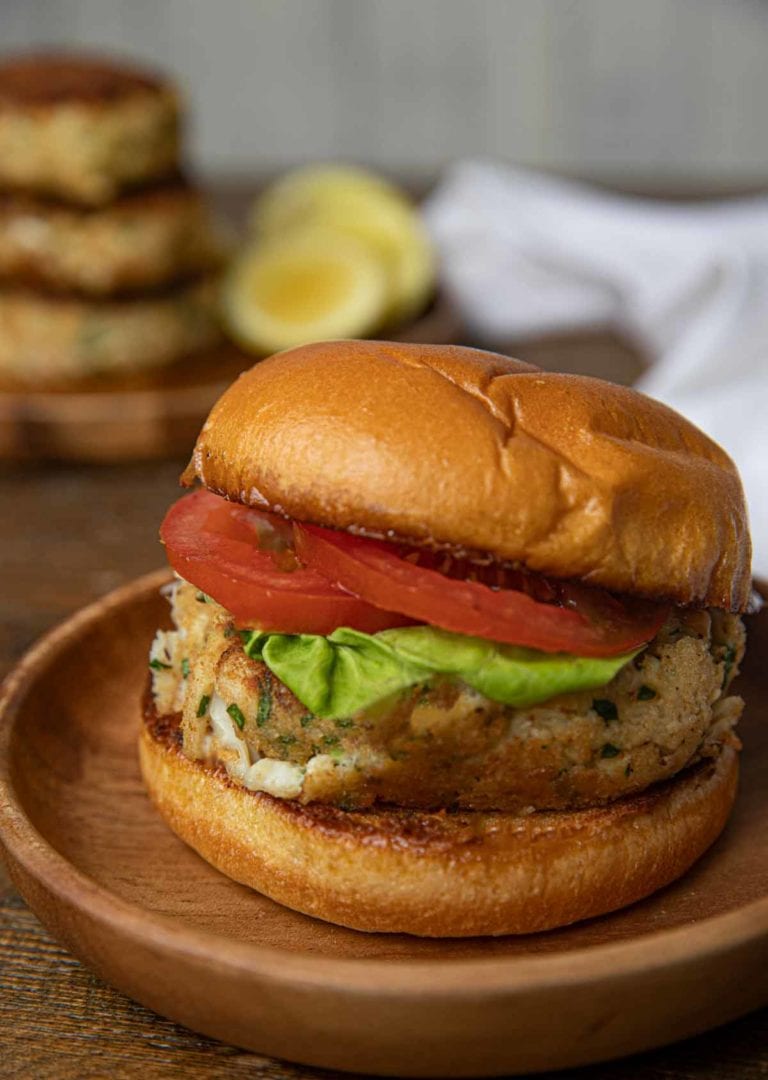 Ingredients
8

ounces

lump crabmeat

6

ounces

crabmeat

, canned (drained well)

1

tablespoon

dry bread crumbs

2

teaspoons

chopped fresh parsley

1/2

teaspoon

kosher salt

1/4

teaspoon

coarse ground black pepper

1

large

egg

7

tablespoons

mayonnaise

, divided

1/2

teaspoon

ground dry mustard

2

tablespoons

unsalted butter

4

brioche buns

1

medium

tomato

, sliced

4

leaves

butter lettuce
Instructions
Preheat oven broiler.

Mix together crabmeat, bread crumbs, parsley, salt and pepper.

Beat together egg, 3 tablespoons mayonnaise, hot sauce and mustard. Combine with other ingredients and mix well. Form into patties and place on a lightly greased broiler pan or baking sheet.

Broil for

10 to 15 minutes

, until lightly brown.

Add ½ tablespoon of butter to each brioche bun and toast, then top with 1 tablespoon of mayonnaise, crabcake, lettuce and tomato before serving.
Nutrition
Calories:
376
kcal
|
Carbohydrates:
22
g
|
Protein:
25
g
|
Fat:
21
g
|
Saturated Fat:
4
g
|
Cholesterol:
103
mg
|
Sodium:
1498
mg
|
Potassium:
294
mg
|
Fiber:
2
g
|
Sugar:
3
g
|
Vitamin A:
104
IU
|
Vitamin C:
7
mg
|
Calcium:
101
mg
|
Iron:
3
mg