Easy Fruit Salad recipe for a refreshing dish with assorted ripe fruits, fresh berries, and simple dressing made of citrus juice and honey.
When it comes to Fruit Desserts, it doesn't get easier and fresher than a fresh fruit salad recipe. If you love this easy Fruit Salad, make sure to check out Winter Fruit Salad and Honey Lime Berry Fruit Salad too!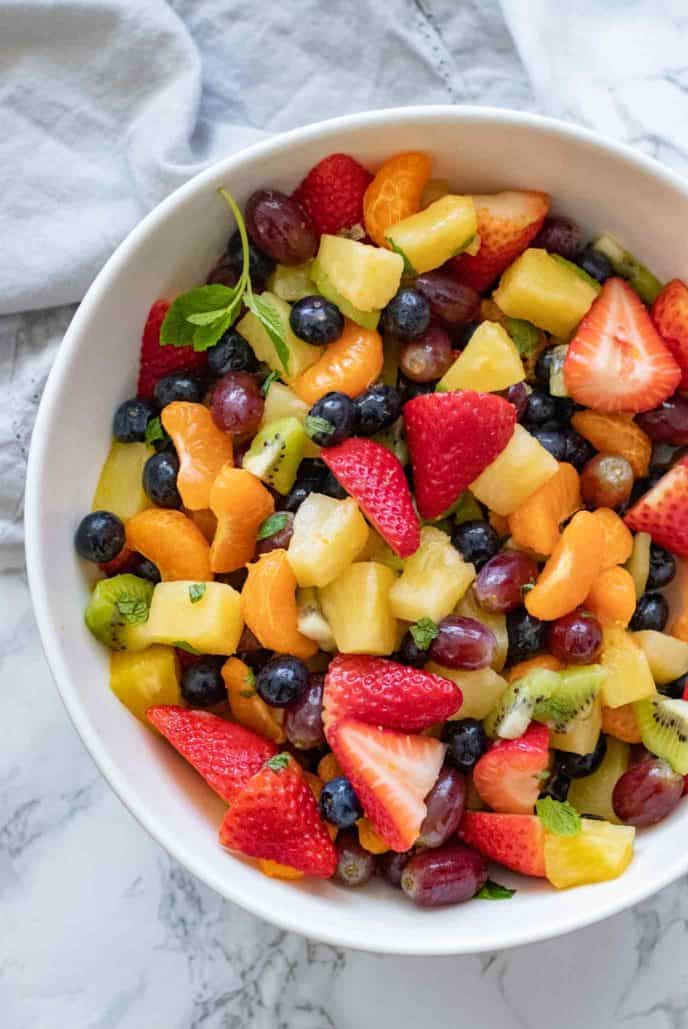 Easy Fruit Salad is the perfect summer side dish, party appetizer or dessert salad. It's got lots of delicious fruit plus fresh strawberries, blueberries, and grapes. The fresh fruit cocktail is tossed in a simple dressing made from fresh lemon juice, orange juice, and honey. It's finished with some mint for a refreshing dish your family and friends will be asking for all summer long.
Learning how to make a homemade Fruit Salad recipe means you have a quick and easy fresh fruit dessert you can serve all year long. This Fruit Salad recipe has a blend of tropical fruits like fresh pineapple and kiwi fruit with fresh berries, tangerines, and grapes, but really you can use any combination of fruit. Fruit Salad takes a total of 10 minutes to throw together, but you'll want to refrigerate it for at least two hours to let the flavors come together and so it's refreshingly cold.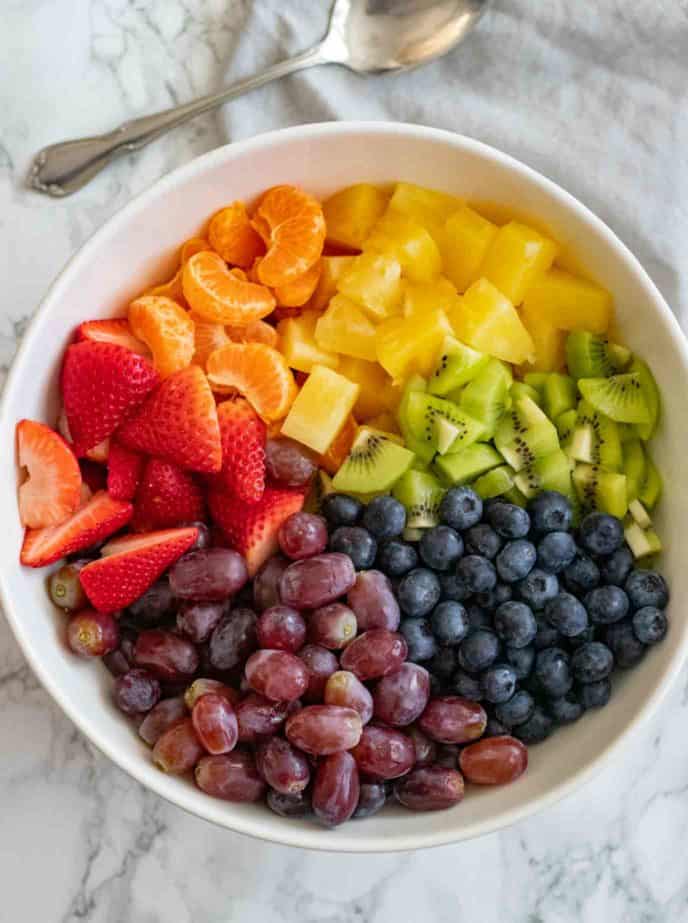 For an easy breakfast idea, you can use the fruit salad instead of berries in a Yogurt Parfait. It's delicious as it is but if you want to make it more sweet for a special occasion like Easter, serve it with a dollop of Whipped Cream. This recipe is super kid-friendly already but some mini marshmallows would make it a hit at any kid party!
What is Fruit Salad?
Easy Fruit Salad is a vibrant and colorful dish made by combining a variety of ripe fruits and tossing them with a citrus dressing. A fruit salad can be a refreshing and healthy dessert idea, a delicious light side dish at lunch, a crowd pleasing dish for parties, and special enough to serve during the holidays like Easter. This fruit salad recipe includes pineapple and kiwi, but one of the best things is that it can have any combination of fruits and berries.
How to Make Fruit Salad
Prep: Chop the pineapple and kiwi to roughly the same size, which makes the salad visually look better.
Dressing: In a medium saucepan, add the juices, orange and lemon zest, and honey. Stir and bring to a boil over medium heat. Whisk for a few minutes, then remove from the heat and stir in the vanilla. Do not cook the dressing too long or it will it thicken into a syrup.
Combine: Once the dressing has cooled completely, add the fruit and dressing to a large bowl. Toss until the fruit is covered then cover and refrigerate. Let chill for a couple hours then garnish with mint and serve.
More Fresh Fruit Salad Recipes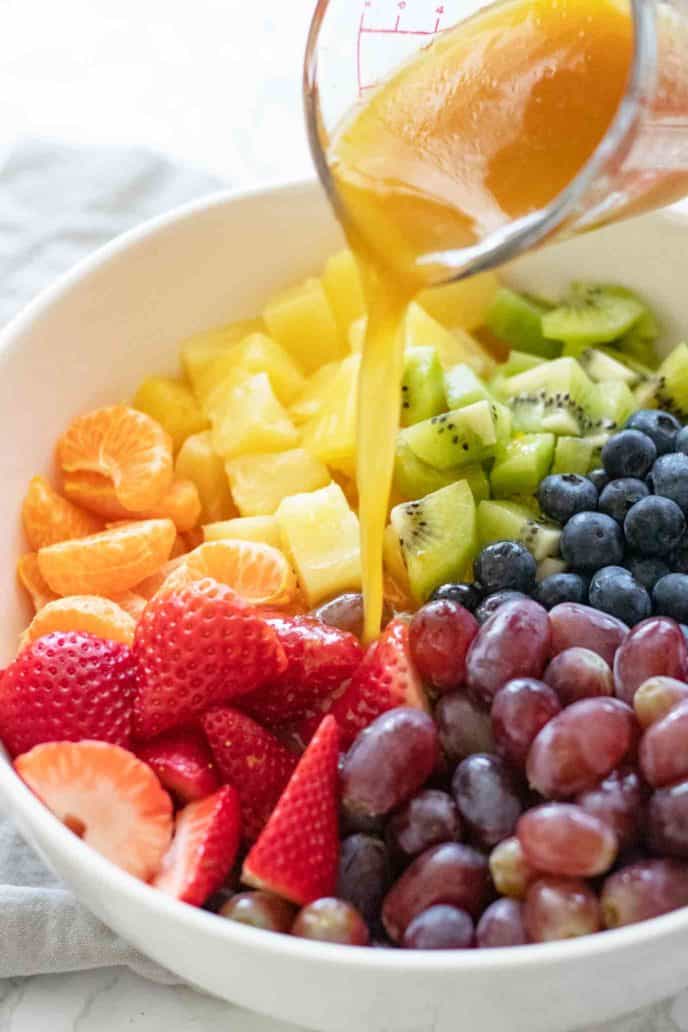 FAQs for Fruit Salad
What's in a Fruit Salad?
A fruit salad typically consists of a variety of fresh fruits that are cut into small pieces and combined together. The selection of fruits can vary depending on personal preference and seasonal availability but commonly includes fruits like berries, melons, citrus fruits, grapes, and tropical fruits. Sometimes, a sweet dressing or syrup is added to enhance the flavor and juiciness of the fruits.
What kind of dressing is best for Fruit Salad?
You want a dressing that is light and sweet, but doesn't overpower the salad itself. If you are serving fruit salad for dessert or as a side dish for brunch, a dressing like the sweet citrus-honey sauce on this recipe is perfect. 
How do you keep fruit from turning brown in Fruit Salad?
This fruit salad recipe will stay fresh when covered and kept refrigerated, and typically won't turn brown or oxidize. However if you add other fruit like bananas or apples to the salad, they may oxidize and turn brown once they're cut up. To prevent browning on those fruit types, toss them with extra lemon juice before adding them to the salad.
How long will Fruit Salad keep in the refrigerator?
Fruit salad will typically keep well in the refrigerator for up to 3 days when stored in an airtight container or covered tightly with plastic wrap.
What kind of fruit should I use in Fruit Salad?
Part of fruit salad is the flavor, and the other part is the presentation. Try to choose fruits that have contrasting colors, so the fruit in your dish doesn't look too similar. Plan your fruit according to the season, so you can get the freshest, juiciest fruit possible for this salad. If you want to add banana to this fruit salad recipe, add it just before serving so it doesn't have a chance to get mushy.

Create a free account to

Save Recipes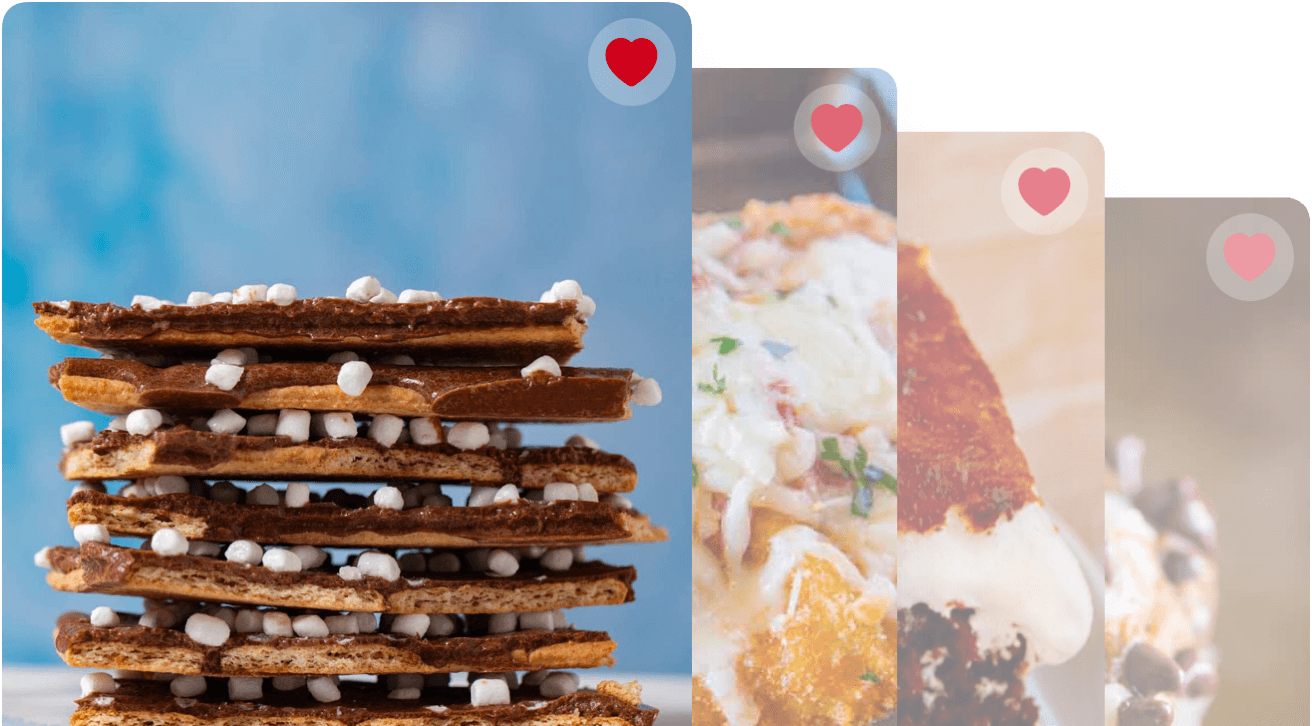 Key Ingredients
Citrus: There is lots of citrus in the dressing with the orange juice and zest plus lemon juice and zest. This not only adds a bright, fresh flavor but the citric acid helps keep the fruit from turning brown.
Honey: Honey acts as a natural sweetener in the citrus dressing, balancing the tartness of the citrus juices. It enhances the overall flavor and adds a touch of sweetness without overpowering the natural fruit flavors.
Vanilla: The addition of vanilla extract brings a warm and aromatic note to the fruit salad. It brings out the warmth in the honey and balances all the sweet fruity flavors.
Tangerine: Tangerines are great because they are similar to oranges but they are smaller and a bit more tart to balance all the other sweeter fruits. You can also use mandarin oranges or clementines.
Pineapple: You want to use fresh pineapple if possible because not only is it more flavorful but it is more firm. Slice it into bite sized chunks that are uniform so they get incorporated well.
Kiwi: One thing that makes this fresh Fruit Salad recipe stand out is the deliciously tart kiwi. They add a different flavor that stands out plus the bright green adds a nice color contrast.
Berries: Plenty of fresh strawberries and fresh blueberries make this rainbow salad look stunning plus who doesn't love fresh berries?!
Grapes: Red grapes to add some color contrast but you could use whatever grapes you like better. They add a crisp, juicy and sweet burst of fruity goodness in this salad.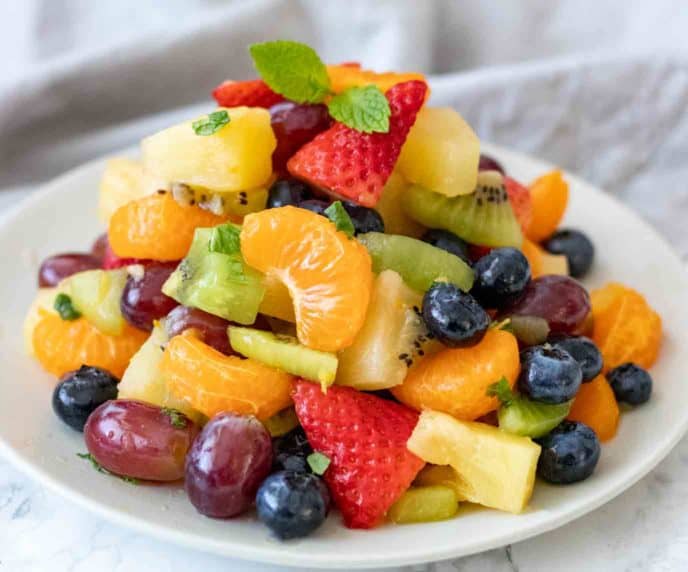 Can you make Fruit Salad ahead of time?
Yes, Easy Fruit Salad can be made ahead of time. It is best to prepare the fruit salad a few hours before serving to allow the flavors to meld together. Refrigerate the salad for at least two hours to achieve optimal taste. If desired, you can toss each fruit individually and line them up in rainbow order for an appealing presentation, garnishing with mint just before serving.
Variations
Creamy Dressing: Try mixing yogurt or sour cream with citrus juice and honey mixture for a creamy dressing. Add it after the mixture has completely cooled so the dairy blends smoothly and doesn't curdle.
Flavor: Try fresh herbs like basil, lemongrass, or lavender to add more interesting flavors to your fruit salad. You could also add some cinnamon or nutmeg for warmth. Instead of orange or lemon, add in some lime.
Sweetener: This fruit salad dressing calls for honey, but you can also try maple syrup, brown sugar, regular sugar, or stevia.
Tropical Delight: Substitute some of the fruits in the recipe with tropical options like mango, papaya, and coconut flakes. This variation adds a taste of the tropics perfect for summer gatherings.
Berry Blast: Add more fresh berries in addition to the strawberries, blueberries like raspberries, cherries or blackberries.
Easter Salad: For a spring Fruit Salad perfect for Easter, add pastel-colored fruits like diced melon, green grapes, and pomegranate seeds.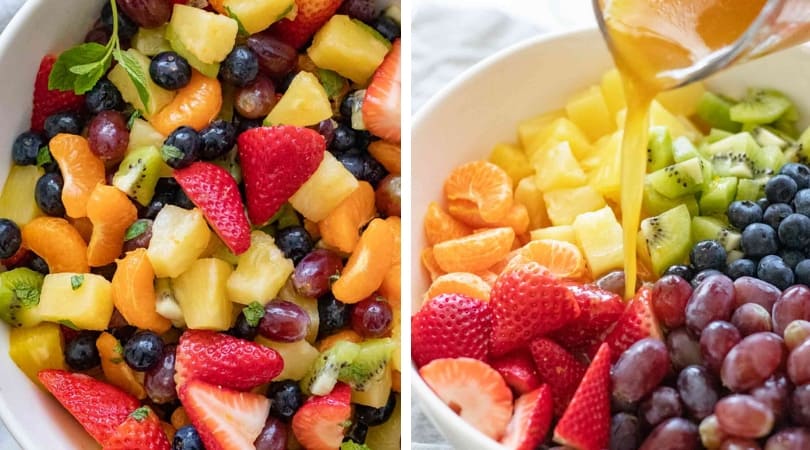 More Fresh Fruit Recipes for Summer
How to Store
Serve: You want to chill the Fruit Salad with citrus dressing for at least 2 hours before serving so the flavors all come together and the fruit is cold and refreshing!
Store: This Fruit salad recipe will last in the refrigerator for 3-4 days, when sealed tightly with plastic wrap. When you aren't serving it, keep it chilled so it lasts longer.
Freeze: It's not recommended to freeze fruit salad because the fruit will be soft when defrosted and the salad won't seem as fresh. If you have leftover fruit salad and want to freeze it, you can store it in plastic bags and use it for other recipes like smoothies or fruit syrups later.


Ingredients
1/2

cup

orange juice

1

teaspoon

grated orange zest

1/4

cup

lemon juice

1

teaspoon

grated lemon zest

1/4

cup

honey

1

teaspoon

vanilla extract

3

cups

strawberries

, cut in halves

4

tangerines

, separated into sections

3

cups

pineapple chunks

3

kiwi

, peeled and sliced

2

cups

blueberries

2

cups

red grapes

mint

, optional
Instructions
Add the orange juice, orange zest, lemon juice, lemon zest, and honey to a saucepan and bring to a boil on medium heat, whisking for

3-4 minutes

then turn off, add in the vanilla and let cool completely.

Add the fruit to a large bowl and toss carefully with the sauce and refrigerate for at least

two hours

(you can also toss each fruit individually and line up the fruits in rainbow order then garnish the fruit salad with mint).
Notes
Note: click on times in the instructions to start a kitchen timer while cooking.
Nutrition
Calories:
123
kcal
|
Carbohydrates:
31
g
|
Protein:
1
g
|
Sodium:
2
mg
|
Potassium:
297
mg
|
Fiber:
3
g
|
Sugar:
26
g
|
Vitamin A:
230
IU
|
Vitamin C:
49.4
mg
|
Calcium:
35
mg
|
Iron:
0.6
mg