American Flag Cake made with a homemade vanilla cake recipe, cool whip and fresh berries is the perfect patriotic dessert for your summer cookout.
We love easy Cake Recipes and this recipe is a quick and easy cake recipe you will absolutely LOVE!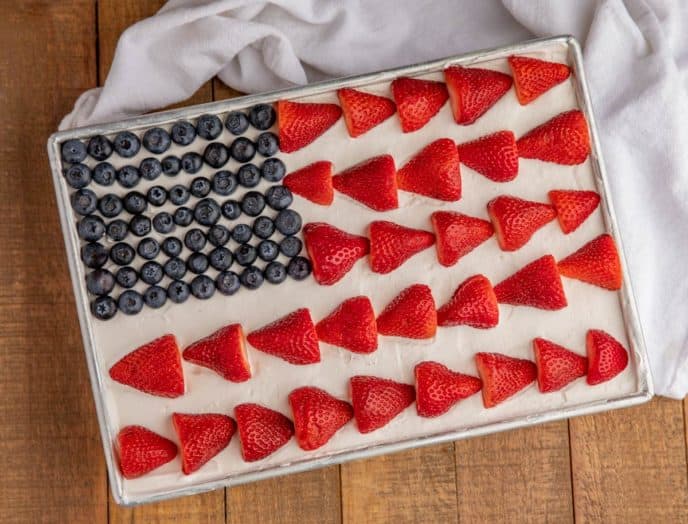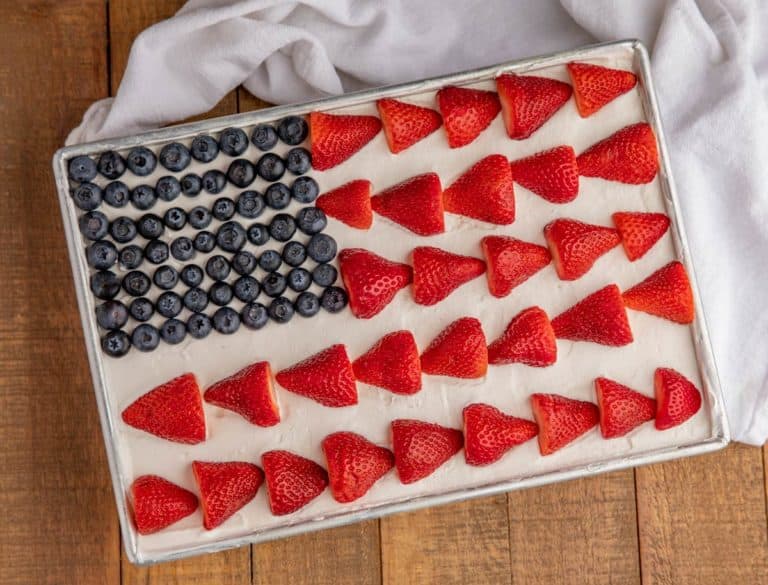 AMERICAN FLAG CAKE
Summer desserts are quick and easy and fun by nature and this American Flag Cake  sheet cake recipe fits the bill perfectly for your 4th of July celebrations! We start with my Easy Vanilla Cake Recipe that I adjust just a bit for batter color and I top it with some Homemade Cool Whip (you can of course use store bought) and fresh berries. 
Red, White and Blue
We choose strawberries and blueberries in this sheet cake recipe to mimic the American Flag colors because this patriotic recipe is the perfect dessert for Memorial Day, Fourth of July or any other day you want to celebrate the red, white and blue American Flag.
Blueberries: The blueberries in this recipe represent the stars. They represent them not in the actual blueberries themselves but in the white spaces between the blueberries.
Strawberries: The strawberries do double duty creating the red stripes and the white stripes on the cake. You can either make the stripes by cutting your strawberries simply in half or you can thinly slice them and lay them on their side. 
We keep the strawberries simply sliced in half because they release less liquid this way which will keep the top of the cake looking beautiful longer. If you slice the strawberries thinly, be sure to dry the slices very, very well with a paper towel and serve the cake immediately after decorating.
The best part of this recipe is it takes no artistic efforts at all (you can count on that, as I have zero artistic abilities). This is why if you look at our pages of cakes, like our Easy Chocolate Cake or Classic Yellow Cake you will see I frost things very simply.
If you have any leftover frosting when you are decorating your cake you can use a star tip to create a border for the cake. This is only if you are using whipped cream or a frosting made with powdered sugar that has more structure than Cool Whip.
How to Make Flag Cake:
Make a Classic Vanilla Cake batter in a 9×13 pan.

Let cake cool completely.

Frost the cake with Cool Whip, Whipped Cream or Buttercream Frosting.

Use Blueberries to make the stars.

Use Strawberries to make the stripes. 
If you'd prefer to use a cake mix you can use a White Cake boxed cake mix and top with either cool whip or canned cream cheese frosting or vanilla frosting before adding on the fresh fruit.
American Flag Layer Cake
You can also make this cake a layer cake if you would like. To do this line your baking pan with parchment paper to easily remove the cake from the pan and carefully remove the completely cooled cake from the baking pan.  
Slice horizontally through the middle of the cake and add the bottom layer back into the pan.
Fill with buttercream frosting (adding fresh berries to the middle here would be delicious too) and top with the top layer of the cake before frosting and decorating as directed in the recipe card.
Be sure not to add too thick of a layer of frosting in the middle as you won't have space in the baking pan for the rest of the decorations.
Box Mix American Flag Cake:
1 box White Cake Mix

16 ounces Cool Whip

1 pint blueberries

2 pounds strawberries
Bake the white cake mix according to the box directions in a 9×13 baking pan then cool on a wire rack.

Frost with a tub of cool whip then place back into the freezer for at least one hour.

Decorate with blueberries and strawberries as shown in the photograph, with the blueberries making the stars and the strawberries making the stripes.


Create a free account to

Save Recipes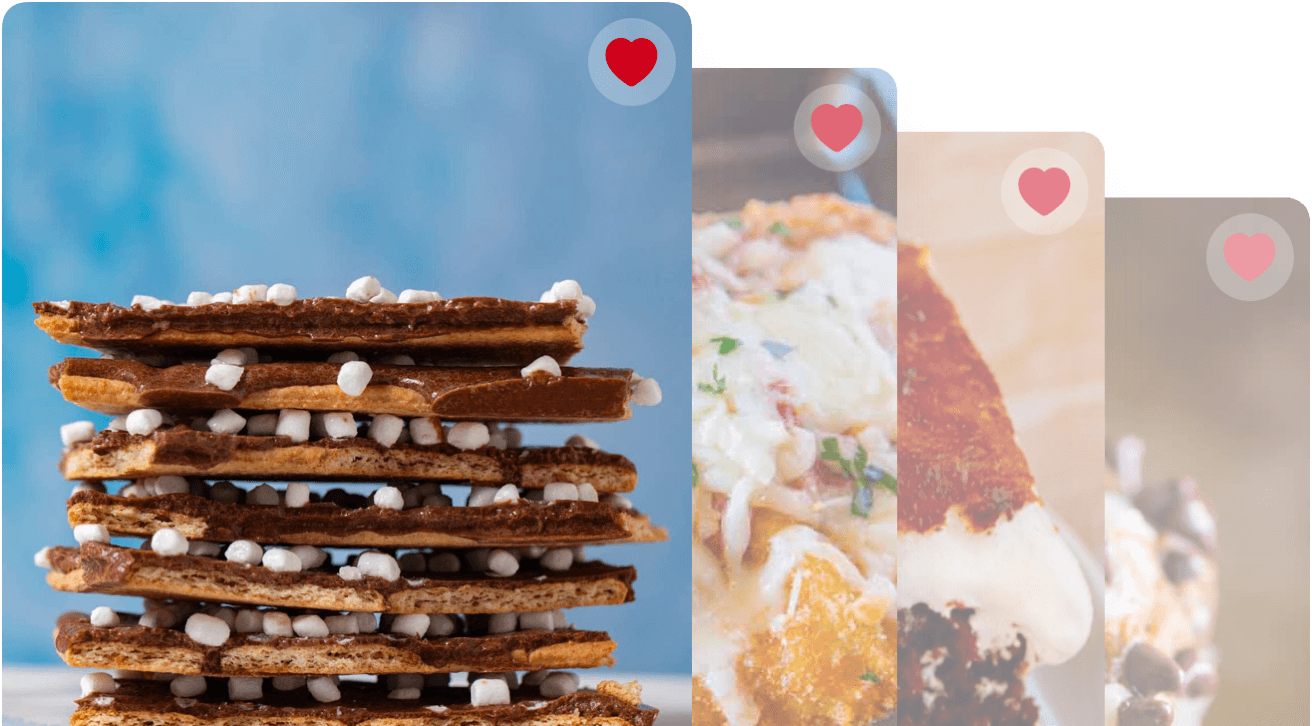 Topping/Frosting Options:
Cool Whip: Homemade Cool whip is what we use in the recipe, but store bought is fine too, just be sure to spread it evenly and once spread put your cake into the freezer for an hour before garnishing.
Whipped Cream: In place of Cool Whip you can use Easy Whipped Cream but be aware that whipped cream that is not stabilized will not hold up after 30 minutes. I recommend using whipped cream only if the American Flag Cake will be served immediately.
Buttercream Frosting: Using Classic Buttercream Frosting is the easiest, room temperature friendly option but it is also a heavier option. 
Troubleshooting
If your cake is falling apart it is most likely too dry. There are a few reasons this might happen.
Make sure your oven temperature is correct. An oven thermometer is an inexpensive but very important tool to keep in your kitchen to be sure you aren't accidentally over or under-baking your food. You can use it in any closed cooking environment.

Measure your flour correctly. This is the easiest place to have a baking recipe fail. To measure your flour correctly be sure you don't use your measuring cup to scoop your flour. Use a spoon to spoon flour into your measuring cup, then level it off with a knife.

If you're replacing the eggs or butter in this recipe, make sure you're not removing all of the fat because it helps keep the texture of the cake soft. I also recommend not using any butter substitutes, like margarine.

Be sure to only add in your flour mixture in your electric mixer until just combined. Overmixing the dry ingredients can cause your cake to be dry.

If the cake falls upon coming out of the oven it can be because too much baking powder was used in the recipe. Be sure to level off how much baking powder was used in the recipe.
If you'd like to make your cake more moist you can use these easy tips:
Don't substitute the butter, milk, or eggs for lower fat ingredients. The fat in this vanilla cake recipe helps keep everything moist and light.

Try using buttermilk instead of milk, because the acid and fat in the buttermilk will work with the gluten to help give your cake a softer fluffy texture.

Substitute part of the butter with vegetable oil.

Using brown sugar in place of white sugar will add more moisture but it will darken the color of the cake.
Food Safety Recommendations:
Refrigeration: This cake can be refrigerated for up to 48 hours if decorated with cool whip or buttercream. If decorated with homemade whipped cream the whipped cream will deflate within 2-3 hours.
Freezer: This flag cake can be frozen for up to 3 months. Decorate with fruit upon defrosting.
Room Temperature: This recipe can be served at room temperature for up to 2 hours. It should not be consumed after being left out for more than 2 hours because food bacteria can grow at temperatures between 40°F and 140°F (this is why a 37°F helps to preserve food longer).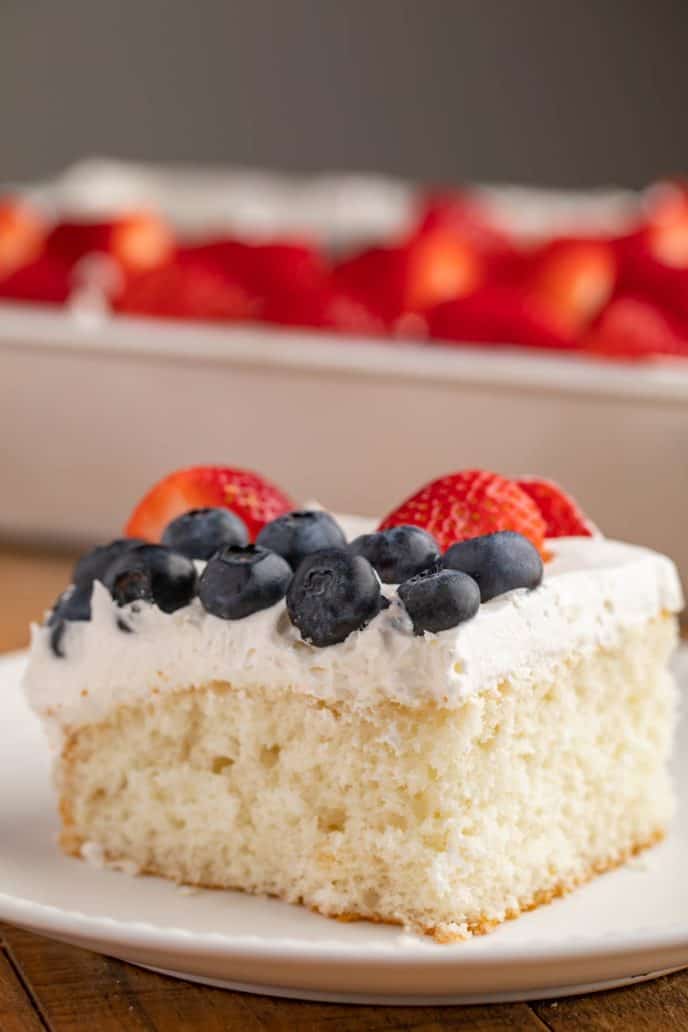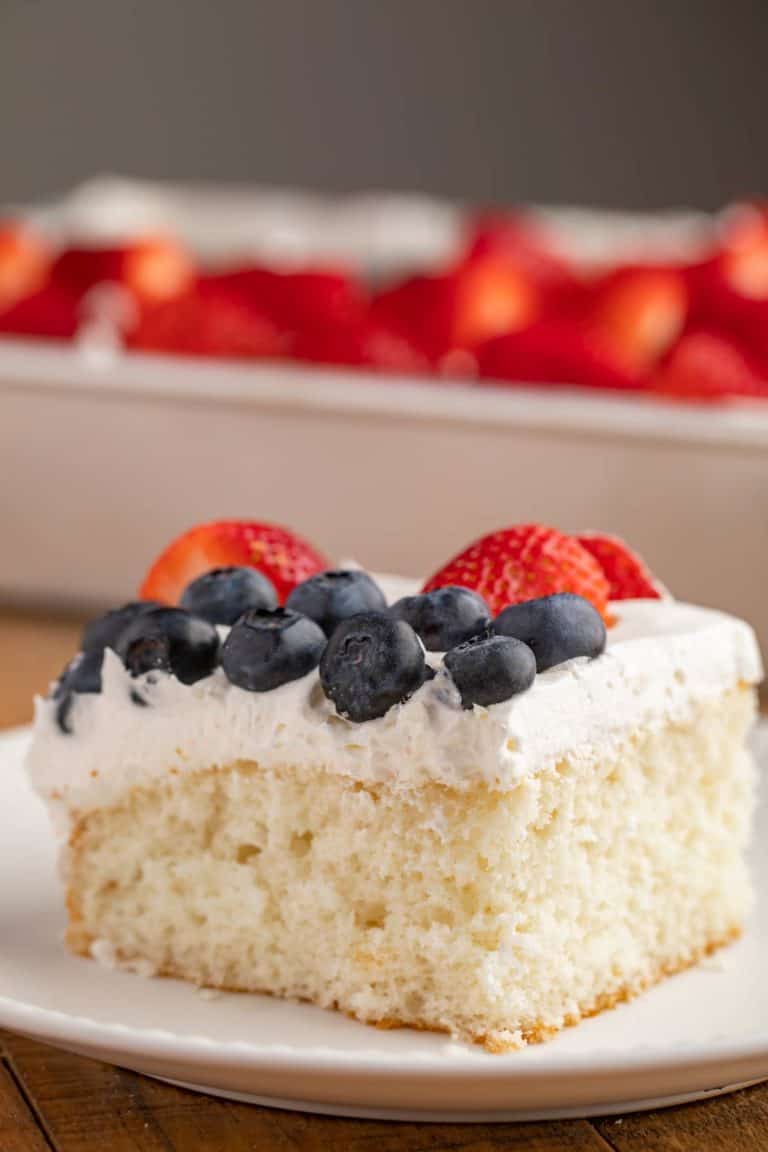 Ingredients
3/4

cup

unsalted butter

1 1/3

cups

sugar

4

large egg whites

2

teaspoons

vanilla extract

1

cup

whole milk

2 1/4

cups

flour

2 1/4

teaspoons

baking powder

1/2

teaspoon

salt

16

ounces

Cool Whip

(Homemade Version)

1

pint

blueberries

2

pounds

strawberries

, halved
Instructions
Preheat the oven to 350 degrees and butter and flour a 9x13 rectangular pan.

To your stand mixer add the butter and sugar and beat them together until light and fluffy on medium speed,

2-3 minutes

, then add in the eggs one at a time 15 seconds apart along with the vanilla then lower the speed to low and add the milk until smooth.

Sift together the flour, baking powder and salt then add to the stand mixer on low speed until just combined.

Pour into the rectangular pan and bake, shake gently back and forth to make sure the batter is evenly distributed and cook for

30-35 minutes

until a toothpick comes out clean.

Once cooled, spread cool whip over the top.

Dry your fruit very well with a paper towel, place blueberries in top left corner, and arrange strawberries in stripes.
Nutrition
Calories:
297
kcal
|
Carbohydrates:
47
g
|
Protein:
5
g
|
Fat:
11
g
|
Saturated Fat:
7
g
|
Cholesterol:
29
mg
|
Sodium:
115
mg
|
Potassium:
251
mg
|
Fiber:
2
g
|
Sugar:
28
g
|
Vitamin A:
365
IU
|
Vitamin C:
36.2
mg
|
Calcium:
88
mg
|
Iron:
1.2
mg