Winter Fruit Salad is a vibrant winter dessert! It's the perfect side for any festive party. You'll love the honey poppy seed dressing!
Of all the Dessert Recipes you'll find on this site for the holidays, Winter Fruit Salad is among the healthiest, and very similar to Easy Fruit Salad! And it doesn't just have to be for the cold winter months. This delicious dessert could just as easily be an Autumn Fruit Salad, a Christmas Fruit Salad, Spring Fruit Salad, or Rainbow Fruit Salad, depending on the occasion.
The holidays are quickly approaching, and if you need something sweet and creative to serve up after Christmas dinner or to bring to your friend's New Year's Eve potluck, try out this delicious Winter Fruit Salad.
One of the best things about this Winter Fruit Salad recipe is that you can find all of the ingredients for it at your local grocery store. While there are a lot of ingredients, you can find each individual item for fairly inexpensive, which is awesome if you need something to serve at a holiday party but your budget is already completely tapped.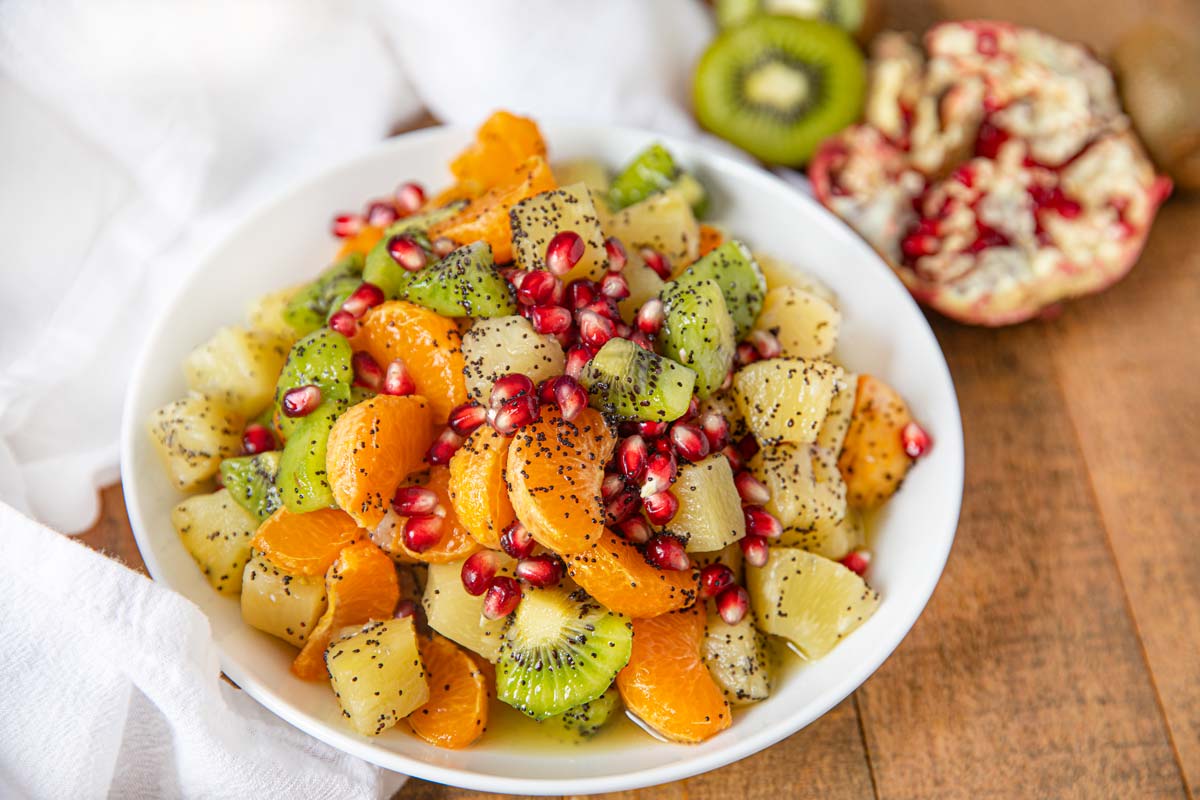 About Our Winter Fruit Salad Recipe
The fresh fruit mixed with the delicious, homemade poppy seed dressing makes a perfectly balanced treat that tastes good when served at room temperature or even chilled in the fridge for a few hours. It's basically like a fruit smoothie in solid form.
You can serve Winter Fruit Salad for brunch, dessert, or even as a tasty side dish, it's extremely versatile. You also don't have to worry if this is your first time cooking this is the perfect dish to bring to your family holiday get-together you are nervous to cook for. It is an extremely easy Winter Fruit Salad, which also makes it a perfect treat for you and the little chef in your family to make together.
Can Winter Fruit Salad Be Made Ahead of Time?
Winter Fruit Salad can be conveniently prepared ahead of time. To maintain freshness, you can pre-cut the fruits and store them in an airtight container in the fridge a day ahead. Keep the lemon-honey-poppy seed dressing separate to prevent the fruits from becoming soggy, and only mix them 1-2 hours before serving. If garnishing with mint leaves, add them right before serving to ensure they remain vibrant. This approach ensures a fresh and delightful salad, perfect for any occasion.
Ingredients for Winter Fruit Salad
Pineapple (3 cups, cubed): Provides a sweet and tangy base, adding a tropical touch to the salad. If fresh pineapple isn't available, you can use canned pineapple chunks, but ensure they are drained well.
Kiwis (1 cup, peeled and sliced): Introduces a vibrant green color and a unique tartness. In case kiwis are out of reach, green grapes can be a good substitute, giving a different texture but still maintaining the color contrast.
Mandarin Oranges (2 cups): These small citrus fruits are juicy and bring a burst of citrusy sweetness. If mandarins are not at hand, you can use canned mandarin segments or substitute with small sections of a regular orange.
Pomegranate Arils (½ cup): Offer a crunchy texture and a mix of sweet-tart flavor, as well as a beautiful ruby red color to the salad. If you can't find pomegranates, red grapes or dried cranberries can be a flavorful alternative.
Lemon Juice (¼ cup): Acts as a natural preservative to keep the fruits from browning and adds a zesty flavor to the dressing. If you're out of lemon, lime juice can provide a similar tangy kick.
Honey (¼ cup): Natural sweetener that balances the citrus notes in the salad. For a vegan alternative, agave nectar or maple syrup can be used.
Poppy Seeds (1 tablespoon): Add a slight crunch and an interesting speckled appearance to the dressing. If you'd like a change or don't have poppy seeds, chia seeds can be an interesting twist, although the taste profile will differ slightly.
Fresh Mint Leaves (for garnish): Lends a refreshing note to the salad.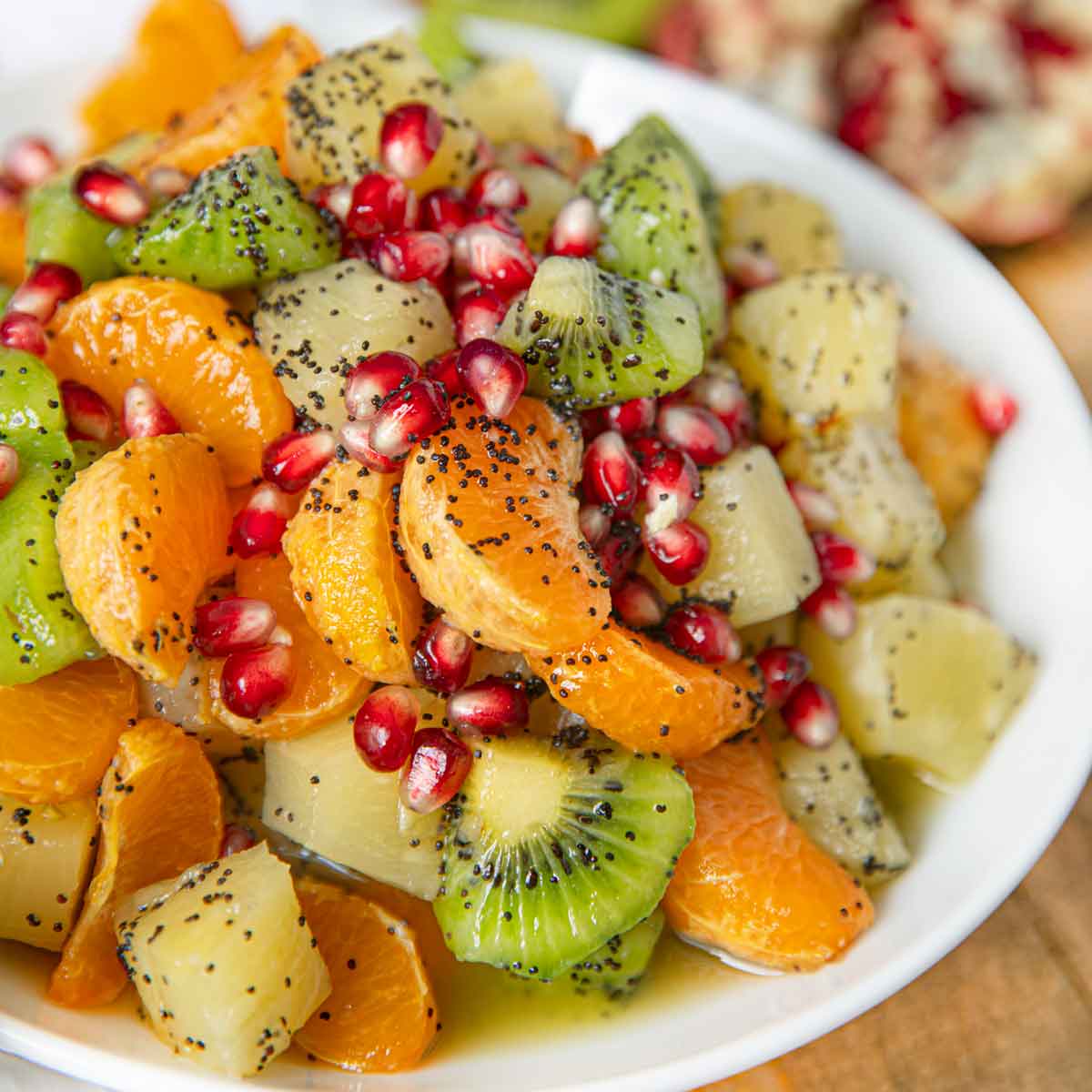 How to Make Winter Fruit Salad
Time needed: 10 minutes.
Dive into a refreshing bowl of Winter Fruit Salad, a delightful mix of seasonal fruits enhanced with a honey-lemon-poppyseed dressing. Taking only a mere 10 minutes to prepare, this recipe serves 6 and is the perfect addition to any brunch, potluck, or as a light dessert.
Prep Your Fruits

Start by readying your main ingredients. Cube your pineapple into bite-sized pieces, peel and slice the kiwis, and ensure your mandarin oranges are segmented.

Extract Pomegranate Arils (Seeds)

Carefully remove the arils from a pomegranate half until you have about half a cup. If you're new to this, remember that doing it in a bowl of water can help reduce the mess and make it easier to separate the seeds from the white pith.

Combine Fruits

In a large mixing bowl, combine the pineapple, kiwi slices, mandarin oranges, and the pomegranate arils. Gently toss them to ensure an even mix.

Whisk the Dressing

In a separate, smaller bowl, blend together the fresh lemon juice, honey, and poppy seeds. Whisk until you achieve a smooth consistency.

Dress the Salad

Drizzle your freshly made poppy seed dressing over the fruit mix. Use salad servers or a large spoon to toss the fruits gently, ensuring they're all coated with the dressing.

Garnish & Serve!

Finish off by sprinkling some fresh mint leaves over the salad. This not only adds a pop of color but also infuses a refreshing aroma and flavor to the dish. Serve immediately and enjoy the burst of winter flavors in every bite!
Nutritional Facts
Nutrition Facts
Winter Fruit Salad
Amount Per Serving
Calories 150
Calories from Fat 18
% Daily Value*
Fat 2g3%
Sodium 5mg0%
Potassium 371mg11%
Carbohydrates 36g12%
Protein 2g4%
Vitamin A 516IU10%
Vitamin C 89mg108%
Calcium 83mg8%
Iron 1mg6%
* Percent Daily Values are based on a 2000 calorie diet.
Tips & Tricks
Start by cutting all the fruit at once. This makes the assembly of the salad way easier, and it makes clean-up a breeze.
Once the fruit is cut don't let them sit out for too long or they can start to oxidize and turn brown.
How to Store Winter Fruit Salad
Storing Leftover Winter Fruit Salad
Winter Fruit Salad is fine at room temperature for up to 2 hours. Keep leftover Winter Fruit Salad in an airtight container in the fridge for freshness. Consume within 1-2 days for the best flavor.
Preserving Winter Fruit Salad After Storage
Freezing isn't ideal for fruit salads. However, if needed, freeze individual fruits on a baking sheet, then store in airtight containers. Thaw in the fridge and add fresh dressing before serving.
Ideas to Serve Winter Fruit Salad
Winter Fruit Salad is a refreshing and vibrant dish that tantalizes the taste buds with its burst of natural sweetness and zesty dressing. With the right presentation styles and garnishes, you can elevate this salad, making it the centerpiece of any meal or event.
Best Ways to Serve Winter Fruit Salad: A chic glass bowl can highlight the vibrant colors of the fruits. When serving individually, consider transparent dessert cups, allowing each layer of fruit to be seen. It's also a fantastic idea to use wine or martini glasses for an upscale touch, especially during festive occasions.
Creative Serving Ideas for Winter Fruit Salad: Layering the fruits can create an impressive visual. Start with pineapple at the bottom, followed by kiwi, mandarin oranges, and topped with pomegranate arils. The contrasting colors will create a beautiful gradient effect.
Winter Fruit Salad Presentation Tips: Garnishes play a crucial role in enhancing the appeal. While fresh mint leaves offer a pop of green, consider adding edible flowers or a sprinkle of shredded coconut. If serving at a party, place a few ice packs below the serving dish to keep it chilled without refrigeration.
Share your presentation ideas or any innovative twists you've tried in the comments!
Frequently Asked Questions
Can I use other fruits in the Winter Fruit Salad?
Absolutely! While the recipe calls for specific fruits, you can experiment with fruits like apples, grapes, or persimmons. Adjust based on seasonal availability and your taste preference.
Is there an alternative to honey in the dressing?
Yes, you can substitute honey with maple syrup or agave nectar. Both will give a slightly different taste but will still provide the desired sweetness.
My salad turned out too watery. What went wrong?
Certain fruits release more juice than others. Next time, consider draining the fruits in a colander after cutting and before mixing with the dressing. This will help maintain a fresher texture.
How long does the salad last in the refrigerator?
Winter Fruit Salad is best consumed fresh but can be refrigerated for up to 2 days. Remember to keep it in an airtight container to maintain its freshness.
I'm not a fan of poppy seeds. Can I omit them?
Yes! Some people enjoy adding a dollop of whipped cream or a spoonful of Greek yogurt for a creamy contrast.
Feel free to ask more questions or share your version of the Winter Fruit Salad in the comments!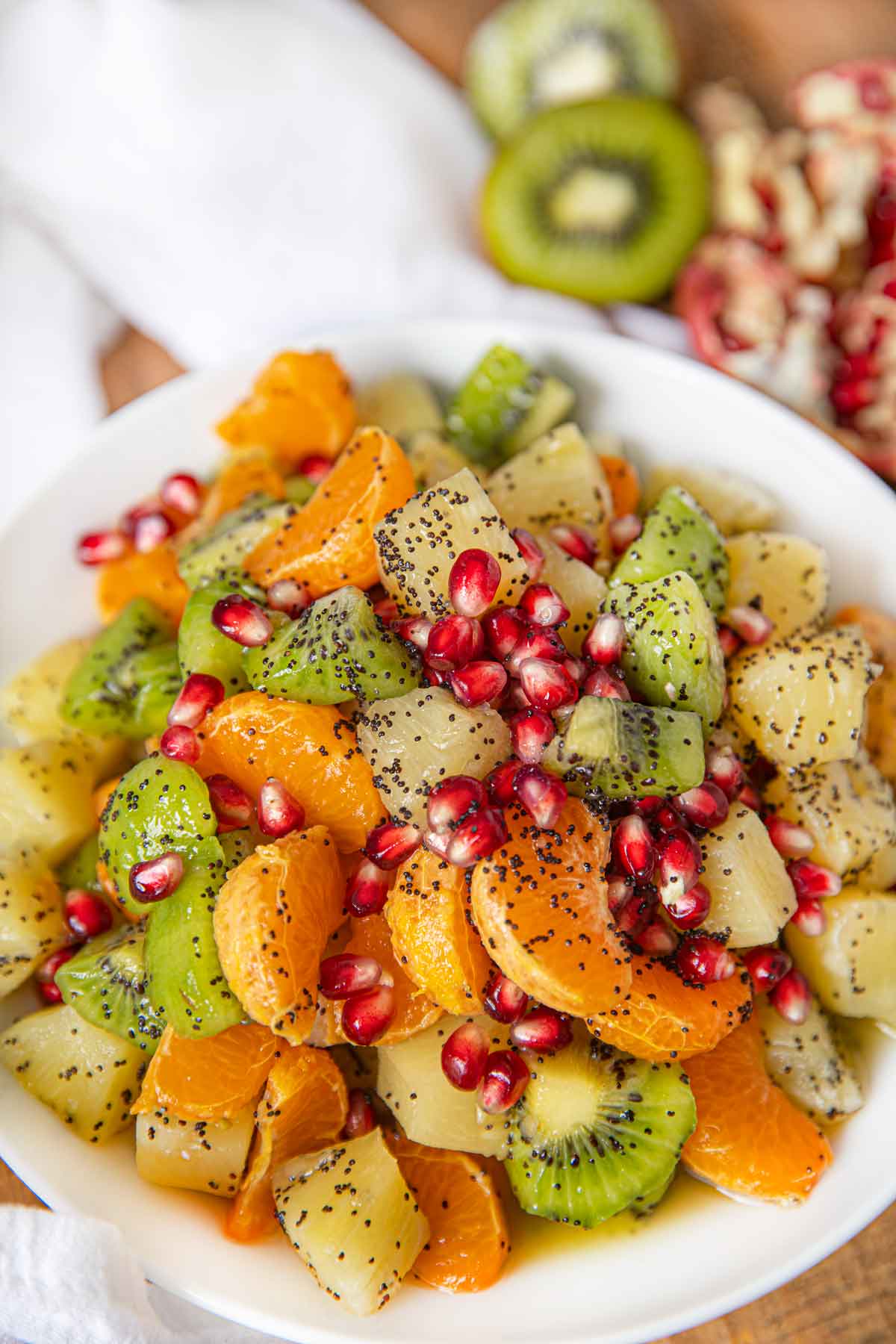 Ingredients
3

cups

pineapple

, cubed

1

cup

kiwis

, peeled and sliced

2

cups

mandarin orange

1/2

cup

pomegranate arils

1/4

cup

lemon juice

1/4

cup

honey

1 

tablespoon 

poppy seeds
Garnish:
fresh mint leaves

, optional
Instructions
Place the pineapple, kiwi, mandarin oranges and pomegranate arils in a large bowl.

In a small bowl whisk together the lemon juice, honey and poppy seeds.

Pour the poppy seed dressing over the fruit and toss gently to coat.

Garnish with mint leaves if desired.
Nutrition
Calories:
150
kcal
|
Carbohydrates:
36
g
|
Protein:
2
g
|
Fat:
2
g
|
Saturated Fat:
1
g
|
Sodium:
5
mg
|
Potassium:
371
mg
|
Fiber:
5
g
|
Sugar:
27
g
|
Vitamin A:
516
IU
|
Vitamin C:
89
mg
|
Calcium:
83
mg
|
Iron:
1
mg
Variations on Winter Fruit Salad
Nuts: You can easily customize your salad to fit your personal taste. I recommend trying chopped nuts like pecans, walnuts, or cashews.
Coconut: Shredded coconut, toasted or un-toasted would add a fun flavor to the recipe.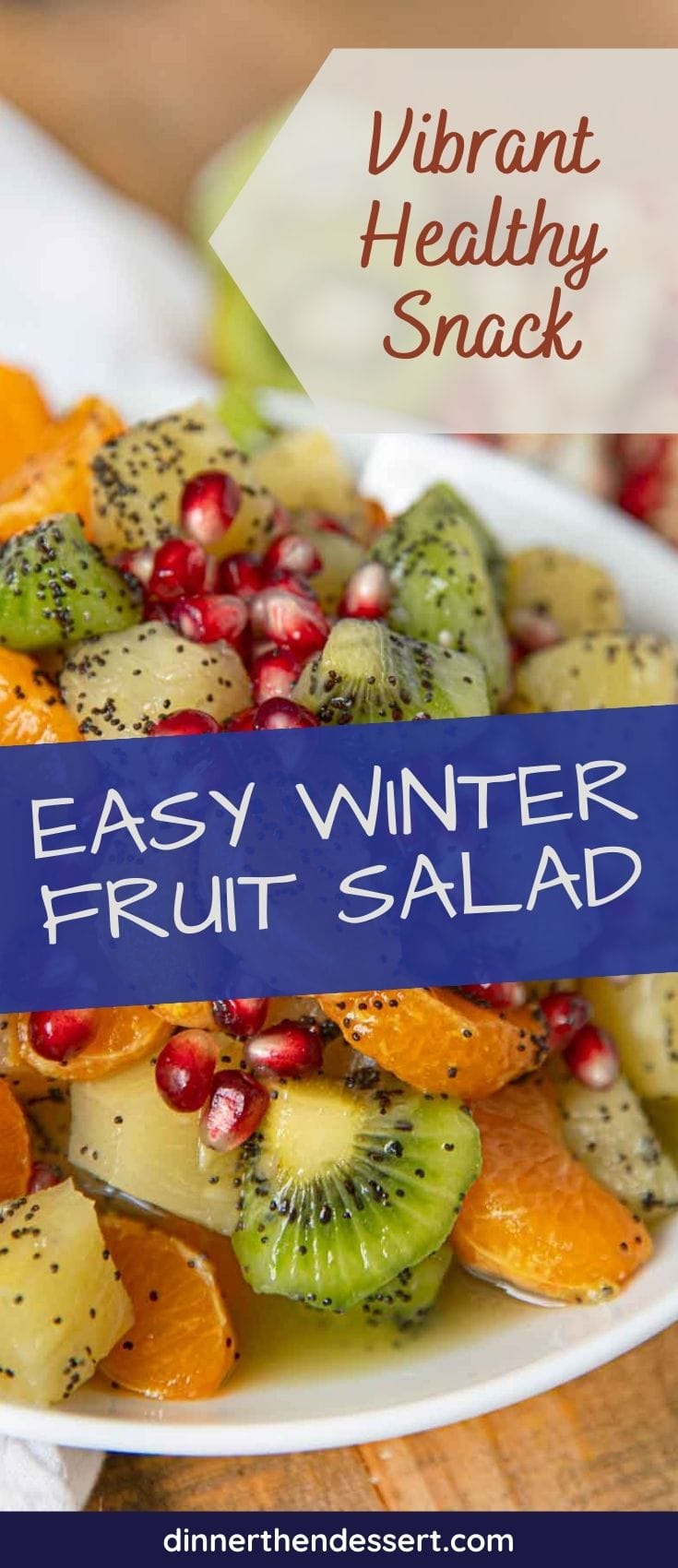 Photos used in previous versions of this post.