Fruit pizza is a giant sugar cookie topped with different kinds of fresh fruit that makes a perfect summer dessert.
Try this awesome dessert at your next BBQ, 4th of July party, summer picnic, or whenever you just get a craving for a dessert that's sweet, delicious, and a little out of the ordinary.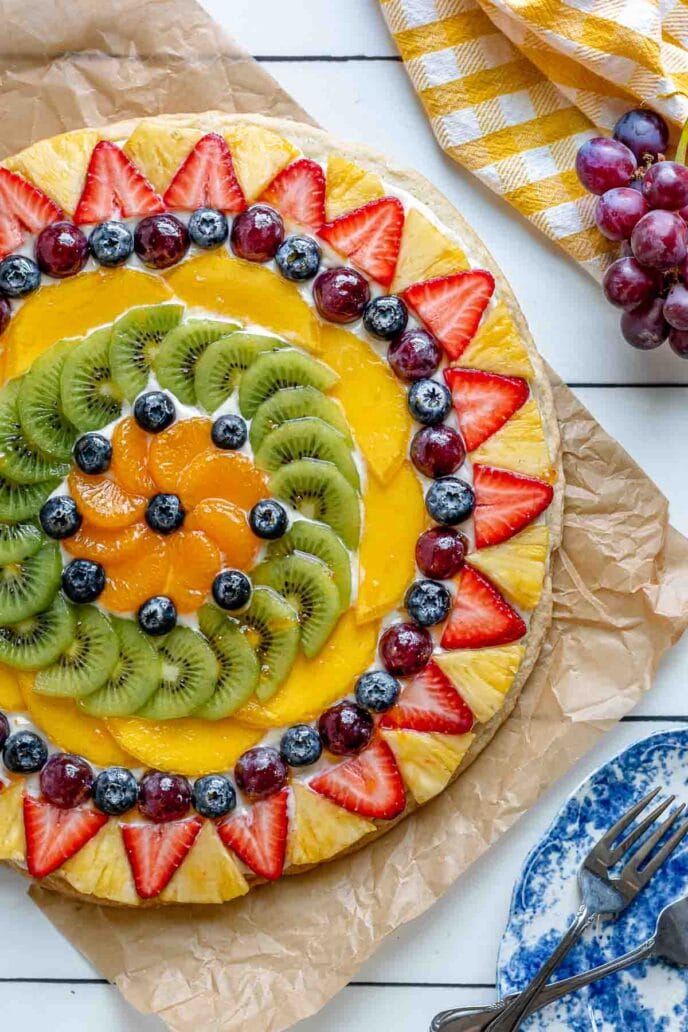 Dessert pizzas are a fun way to take a beloved Italian American dish and add a fun twist to it. The best dessert pizza for a hot summer day is an easy fruit pizza. It's delicious, light and refreshing and is a great way to finish up a BBQ.
This fruit pizza recipe is so good for hot days because of how the chilled fruit helps cool you down, and the sugar cookie crust isn't heavy enough to weigh down your stomach. Enjoy while watching the 4th of July fireworks or in your own kitchen.
If you like the idea of a dessert pizza but aren't a fan of fresh fruit desserts, try the Chocolate Chip Pizookie (cookie pizza), Cookie Dough Ice Cream Sandwich, or Banana Split Popsicles.
More Fruit Desserts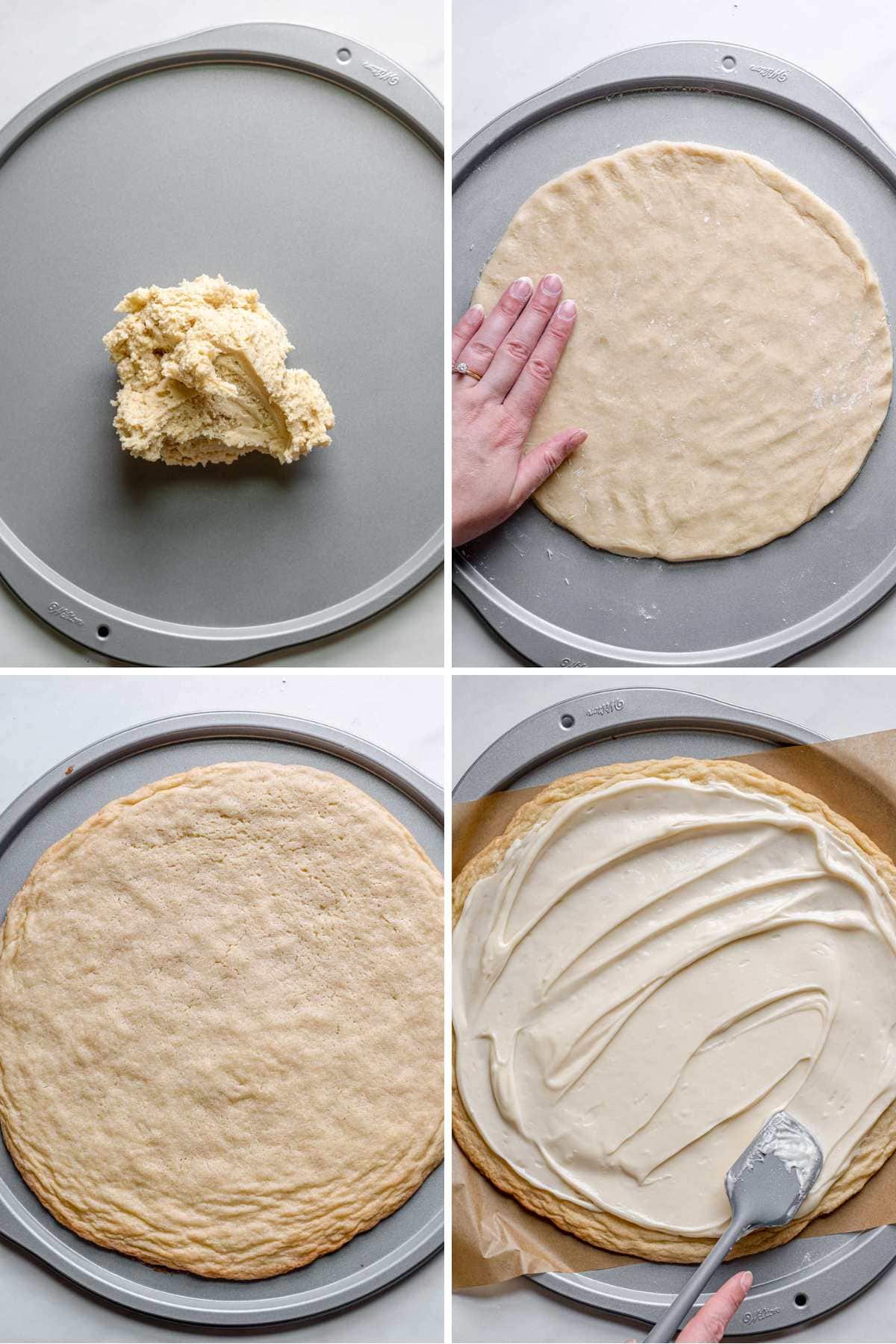 How to Make Fruit Pizza
Dough: You start off by making the crust. This crust is very simple, and is essentially a giant sugar cookie, although it is slightly different from your average sugar cookie recipe. Combine butter and sugar in a stand mixer and, after it gets lighter in color, mix in the egg, all purpose flour, cream of tartar, baking soda, and salt.
Shape: That's all there is to the dough, so now the only thing you have to do is shape it into a circle. If you press it down on a 12-inch pizza pan, you'll make things easier for yourself by getting the exact size and shape without having to do extra steps. Put it in the oven and bake until its golden brown, then let it cool completely before adding your sauce and toppings.
Sauce: To make the sauce, clean out your stand mixer and combine the cream cheese, powdered sugar, and vanilla. Mix together until creamy and then spread onto the fully cooled giant cookie crust. Use a silicone or rubber spatula to help smooth down the sauce if you want it perfectly flat, otherwise a wooden spoon will do the job.
Fruit: Then all that's left to do is to cut the fruit and arrange it on top of the crust and sauce, be as creative as you like with the designs. You can experiment with your fruit toppings, and try other berries, like blackberries and raspberries to mix up the flavor. Pop the whole thing in the fridge and serve it once it's chilled.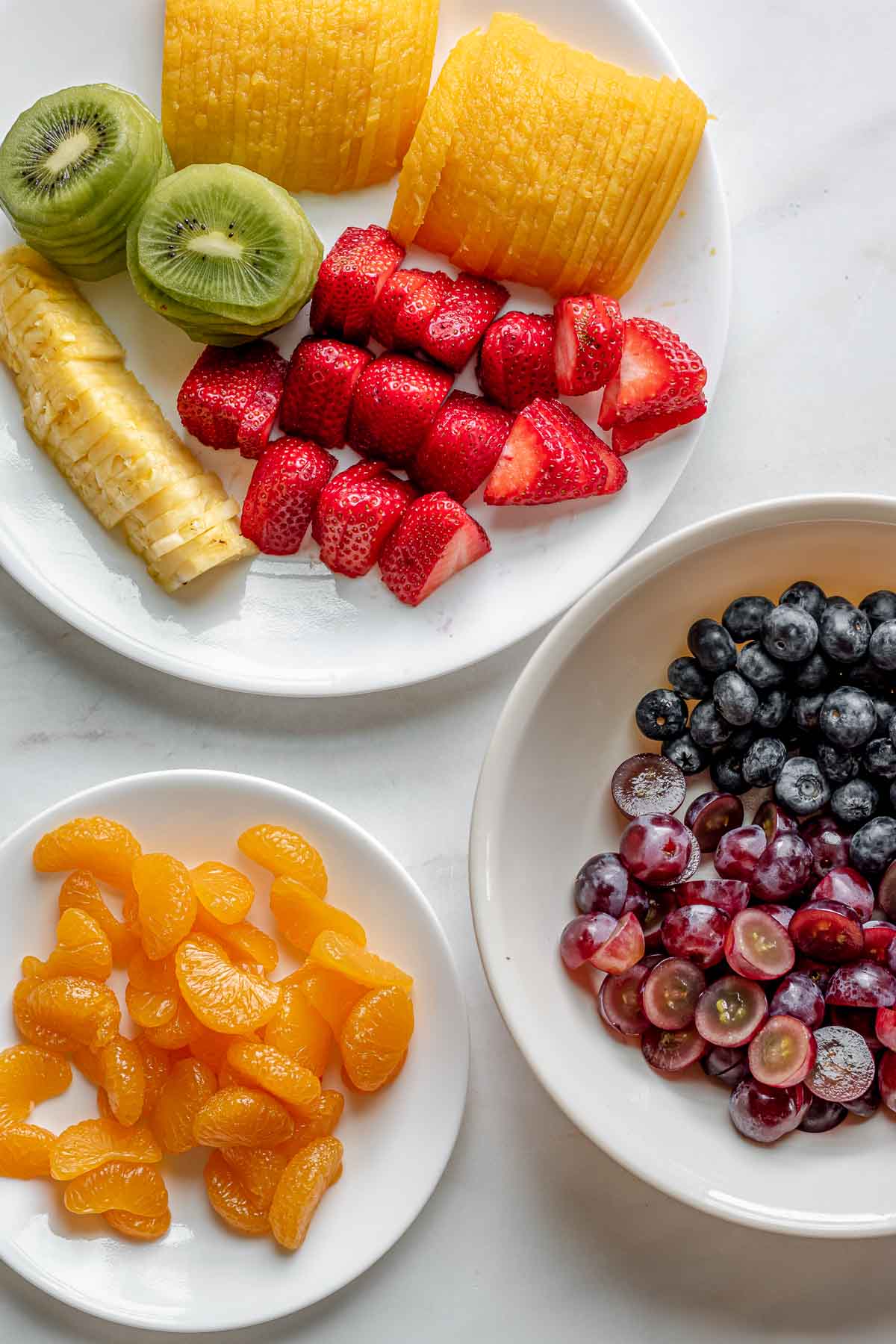 Create a free account to Save Recipes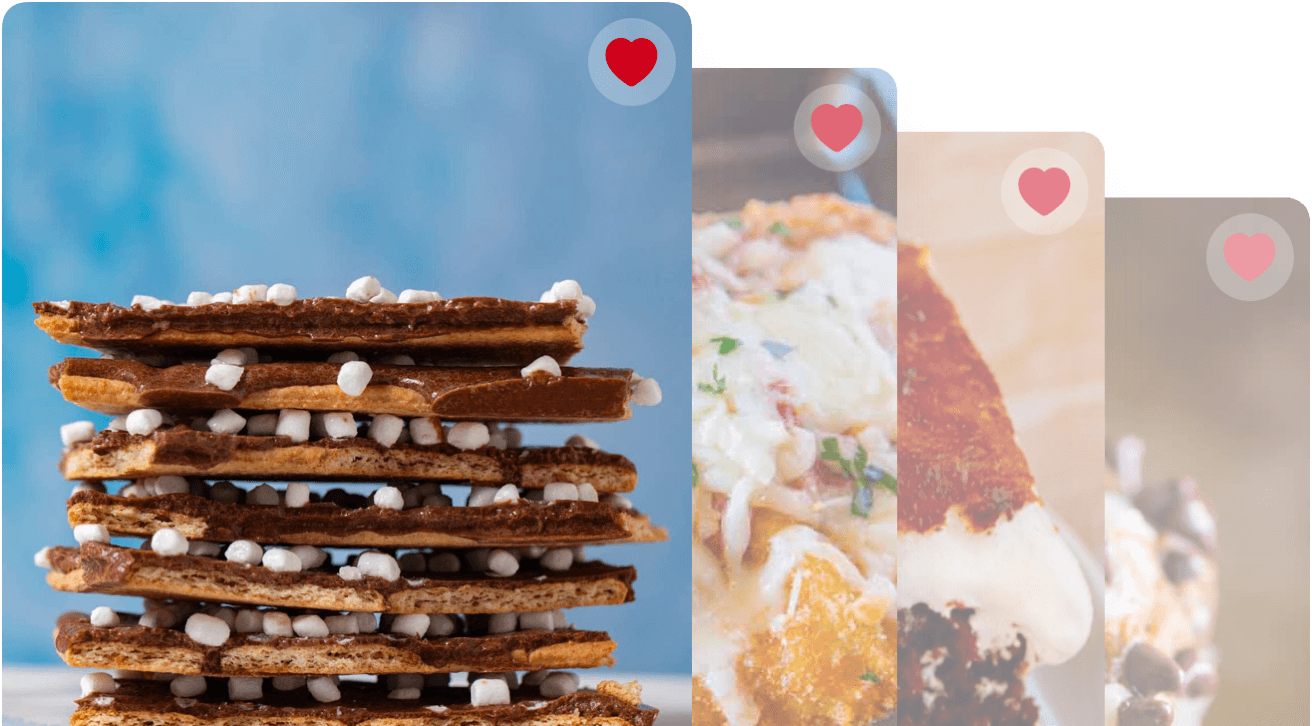 Frequently Asked Questions About Fruit Pizza
What fruits should I choose for Fruit Pizza?
If you don't like some of the fruits used in this recipe, you can easily replace with other fruits you do like. If you don't like kiwi, but would still like some green color just replace the with honeydew slices or green grapes. Replace the pineapple with mango. Omit the blueberries and only use red or black grapes. Try any fruits you like. The best advice to follow is to use a variety of colors for visual appeal.
Should the cookie crust be crunchy or soft?
Ideally your cookie crust will be a bit crunchy on the edges and softer toward the middle. The sweet cream cheese topping will help soften up any parts of the cookie that are more crunchy, but you don't want to overcook it because it will be difficult to slice.
How Far Ahead Can You Make Fruit Pizza?
If you want to make a fruit pizza the day before you serve it, you absolutely can. All you have to do is wrap the pizza in plastic wrap or aluminum foil and put it in the fridge. Keep in mind that if you don't want the juice from the fruit to dye the sauce you can always hold off on cutting and arranging the fruit on top until the day you want to eat it. Don't serve it after keeping it in the fridge for more than a day because it won't be very fresh.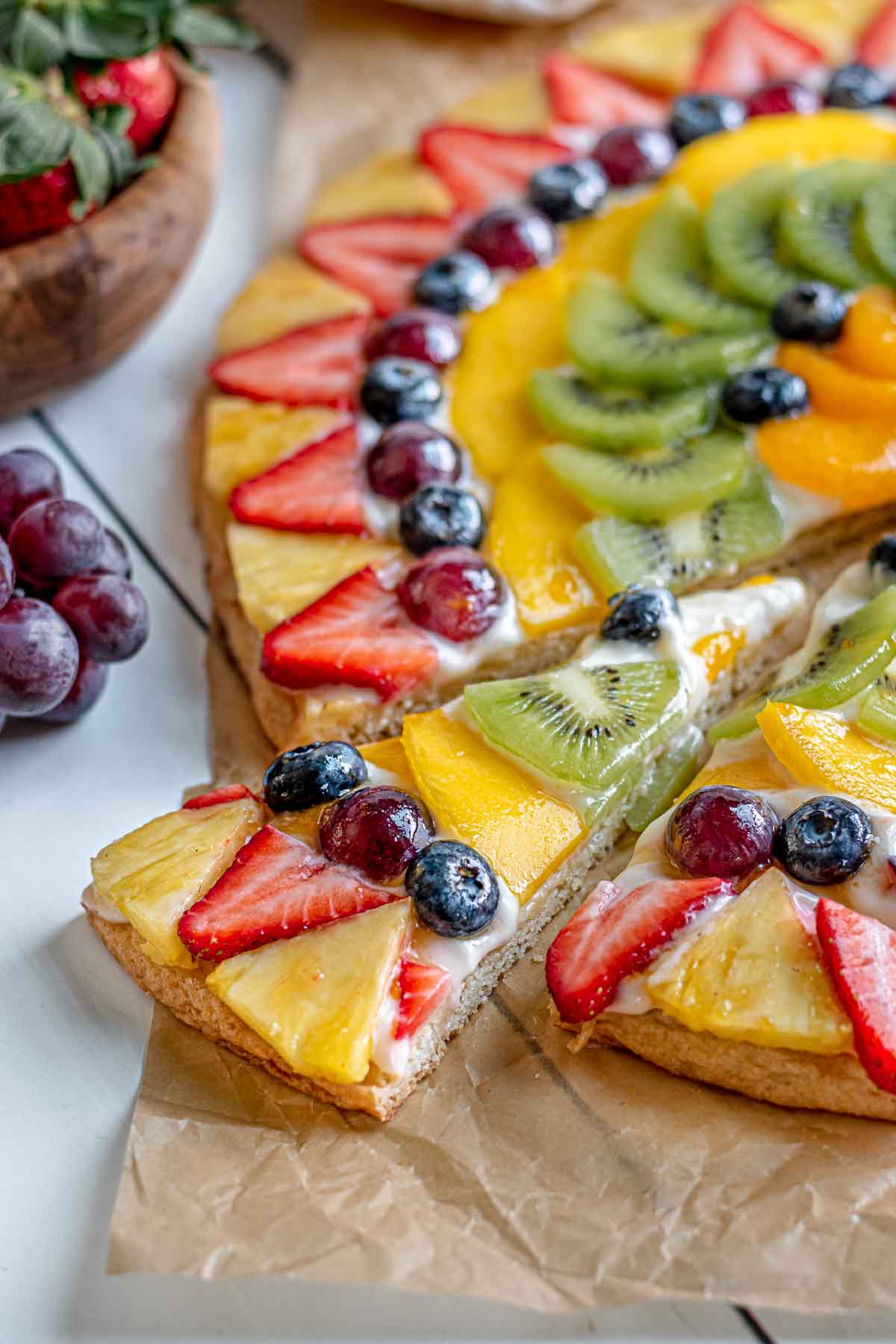 What to Pair With Fruit Pizza
Now you have a great dessert, but what are you going to make for dinner? Here are some meals for you to try with your fruit pizza for your summer get-together, or even just a fun night in.
More Fruit Recipes for Summer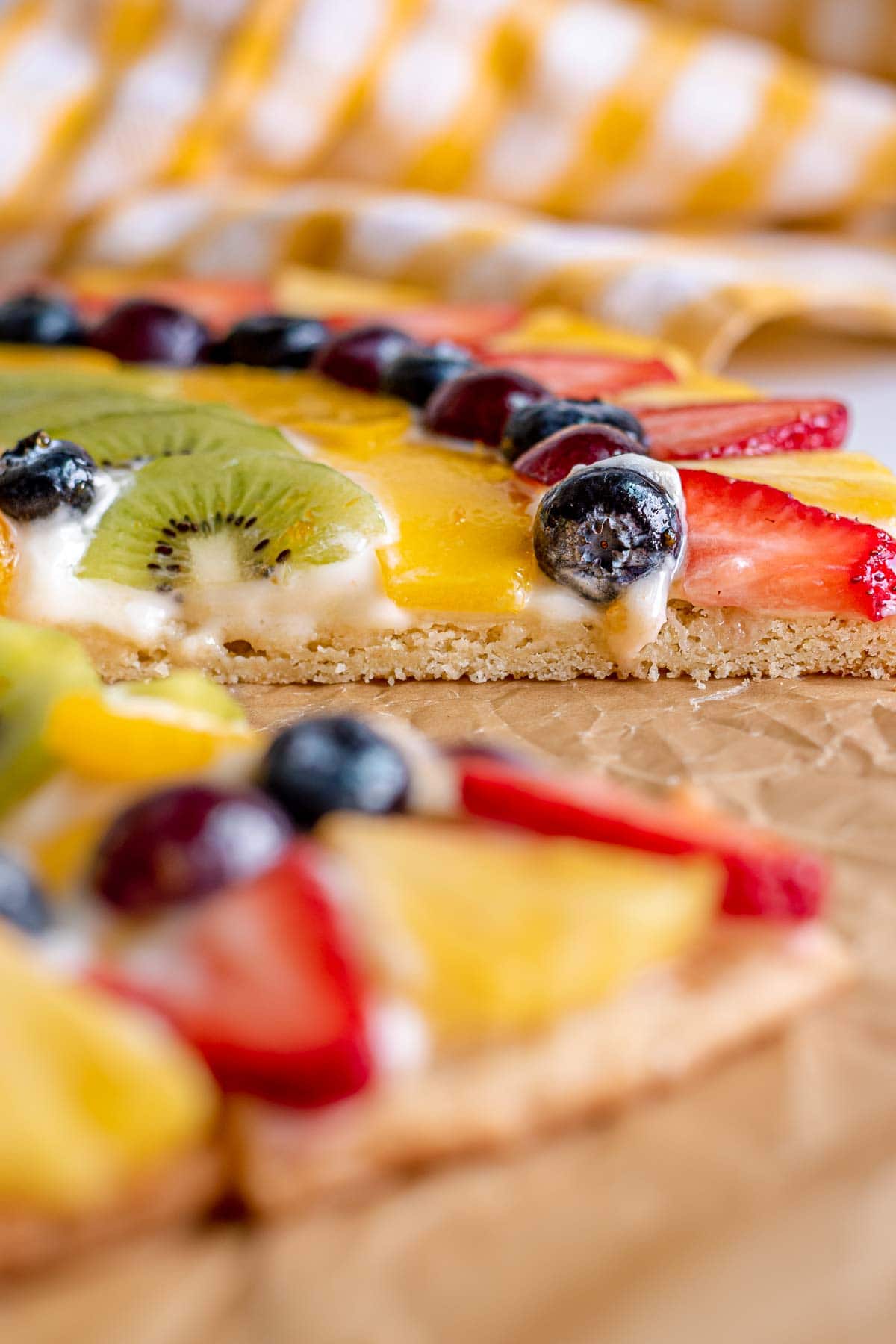 Storing Extra Fruit
If you don't end up using all of the fruit you bought, here are some tips to keep them fresh for next time.
Strawberries, Kiwis, and Oranges: Dry thoroughly and put into a plastic bag. They do the best in the crisper drawer, or in any part of your fridge that is consistently under 40 degrees F. They should be good for up to 3 days.
Blueberries: Blueberries are a bit more picky, but if your fridge doesn't have a lot of humidity, they will stay good in an airtight container for up to 2 weeks, give or take.
Pineapple: Put cut pineapple in an airtight container with some of its juice to keep it fresh for up to a week.
How to Store Fruit Pizza
Serve: Due to the cream cheese mixture, don't leave the fruit pizza at room temperature for longer than 2 hours before refrigerating, according to the USDA's website.
Store: You can store any of your leftovers for up to three days in the fridge, but after that it gets gross fast.
Freeze: It is not recommended to freeze Fruit Pizza, because when you defrost it the fruit will not be firm and fresh, and the juices will run. You could freeze the crust and the topping, then defrost to assemble with fresh fruit later on. The crust will stay good in the freezer for up to 6 months, and the topping will stay good for up to 3 months in the freezer.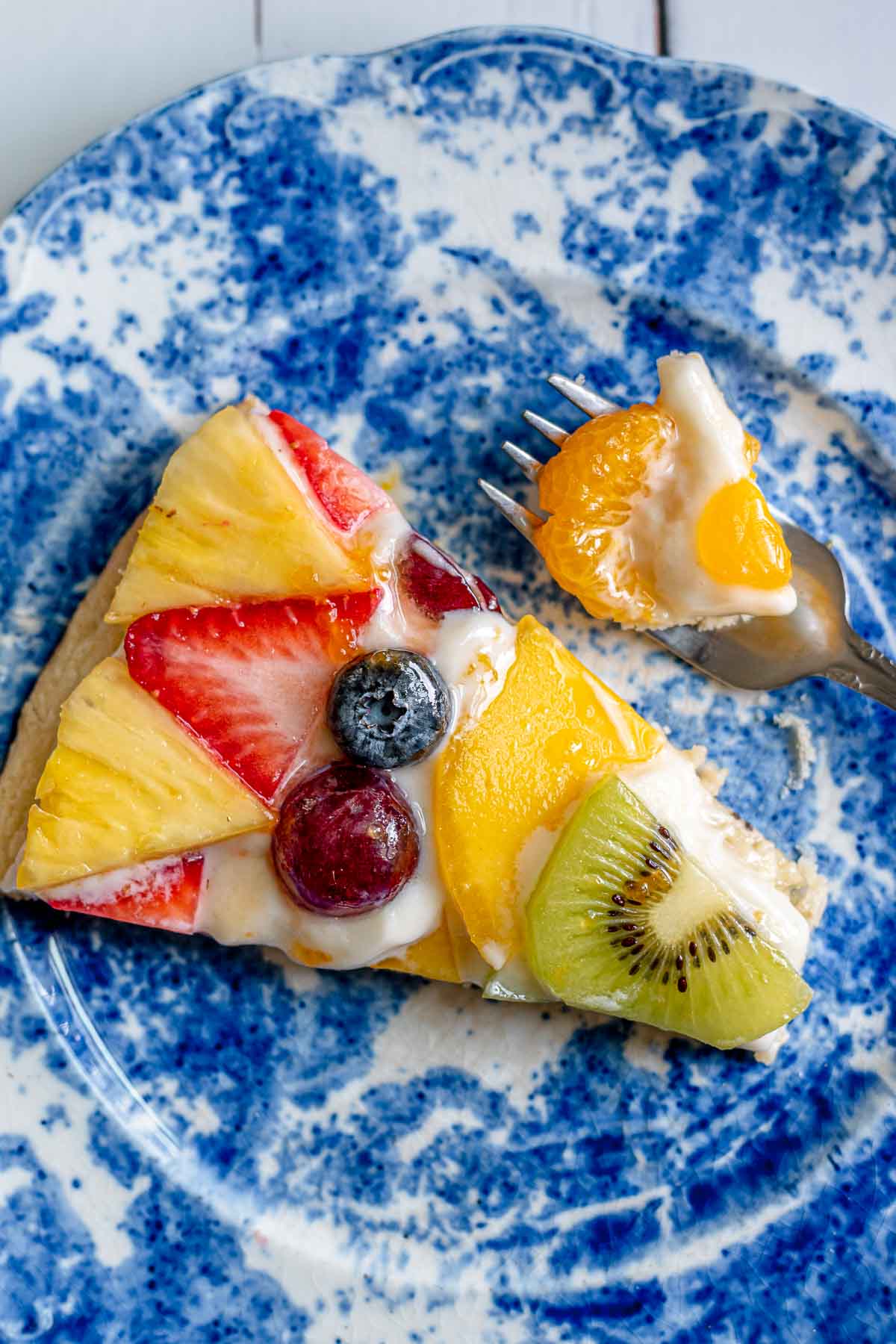 Ingredients
Fruit Pizza Base:
1/2

cup

unsalted butter

, softened

3/4

cup 

sugar

1

large

egg

1 1/4

cups

flour

1

teaspoon

cream of tartar

1/2

teaspoon

baking soda

1/4

teaspoon

salt
Fruit Pizza Topping:
8

ounces

cream cheese

, softened

1 1/2

cups

powdered sugar

2

teaspoons

vanilla extract

1

cup

strawberries

, hulled and sliced

1/2

cup

blueberries

1

kiwi

, peeled and sliced

1/2

cup

pineapple

, sliced

1/4

cup

mandarin oranges

, segmented and peeled

1

mango

, peeled, pitted and cut into 1" thin pieces

1

cup

red grapes

, halved

1/2

cup

marmalade

3

tablespoons

water
Instructions
Preheat oven to 350 degrees.

In a stand mixer, cream together the butter and sugar until lightened in color.

Add in the egg until well combined then add in the flour, cream of tartar, baking soda and salt until just mixed in.

Press into a circle shape on the pizza pan and bake for

9-11 minutes

then let cool completely.

In your stand mixer add the cream cheese, powdered sugar, and vanilla until creamy and spread it on the cooled cookie crust.

Arrange fruit in your favorite fun pattern on top of cream cheese mixture.

In a small bowl mix the marmalade and water and do your best to brush on the glaze without a lot of orange zest in it. If you prefer you can also use pineapple or apricot preserves to avoid zest.
Nutrition
Calories:
353
kcal
|
Carbohydrates:
60
g
|
Protein:
4
g
|
Fat:
11
g
|
Saturated Fat:
7
g
|
Polyunsaturated Fat:
1
g
|
Monounsaturated Fat:
3
g
|
Trans Fat:
0.3
g
|
Cholesterol:
46
mg
|
Sodium:
176
mg
|
Potassium:
228
mg
|
Fiber:
2
g
|
Sugar:
45
g
|
Vitamin A:
601
IU
|
Vitamin C:
26
mg
|
Calcium:
48
mg
|
Iron:
1
mg