Grilled Pork Tenderloin is tender, juicy and delicious with a garlic lemon dijon marinade, with just 4 easy steps from marinade to the plate.
If you're loving the grill, next time you may want to try our Super Easy Grilled Chicken, or Brown Sugar Grilled Pineapple with some Easy Fruit Salad for the perfect summer side.
Or, if you're looking for a classic, check out our Brown Sugar Garlic Oven Baked Pork Chops which are fan favorites!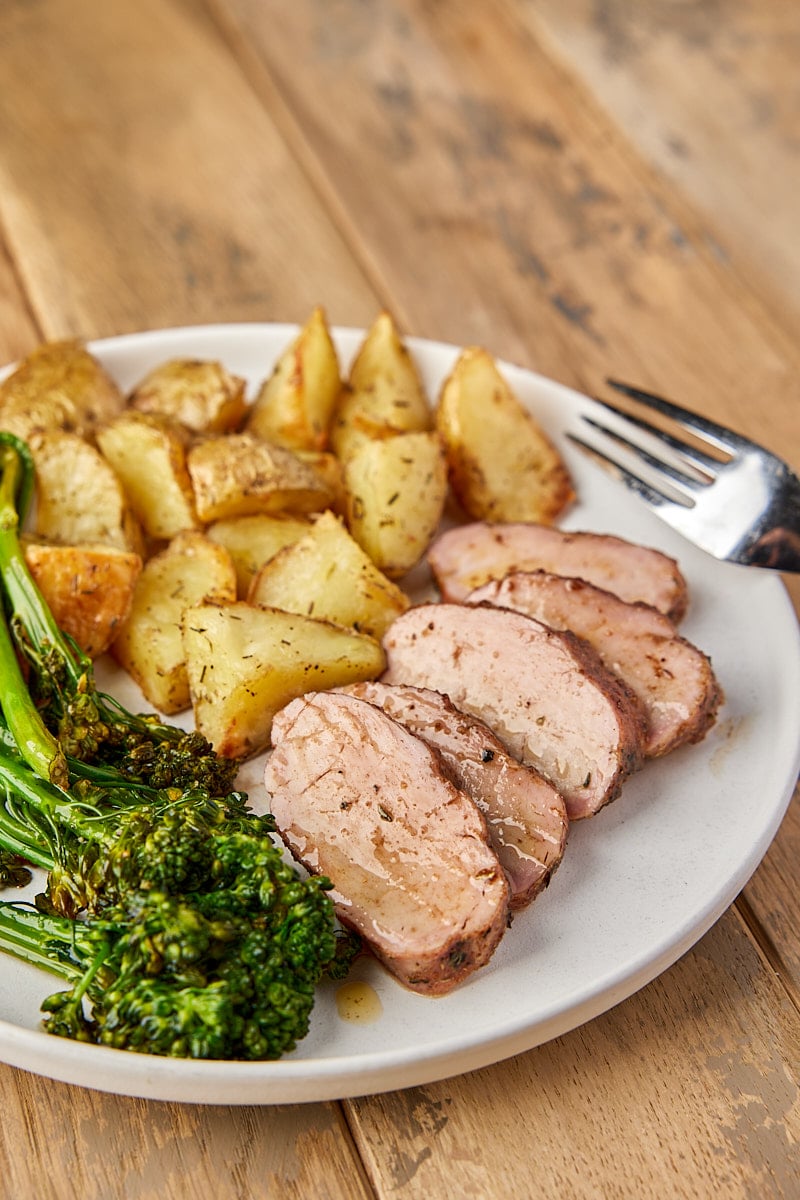 Grilling pork tenderloin is easy and delicious, and probably a lot easier than you would imagine. Tenderloin is a great main course for feeding a hungry family and, once you've prepped the meat for grilling, it is a quick weeknight dinner. Even if this is your first time trying out pork recipes, you'll be amazed at how simple it is to grill pork tenderloin.
Like most marinades, this one requires some time. Mix together kosher salt, vegetable oil, honey, mustard, minced garlic and black pepper and set them into a plastic bag with the pork, and then kick up your feet and ignore the tenderloin for at least four hours.
Once it has sat for a while, take the tenderloin and grill it up. The cook time will change depending on how thick the cut of meat is, so keep checking the temperature of the tenderloin to make sure it cooks through.
Grilled Pork Tenderloin is a great summer grilling recipe, best served up with Southern Baked Beans, Easy Cole Slaw, Baked Mac and Cheese and even better topped with Southern Fried Apples.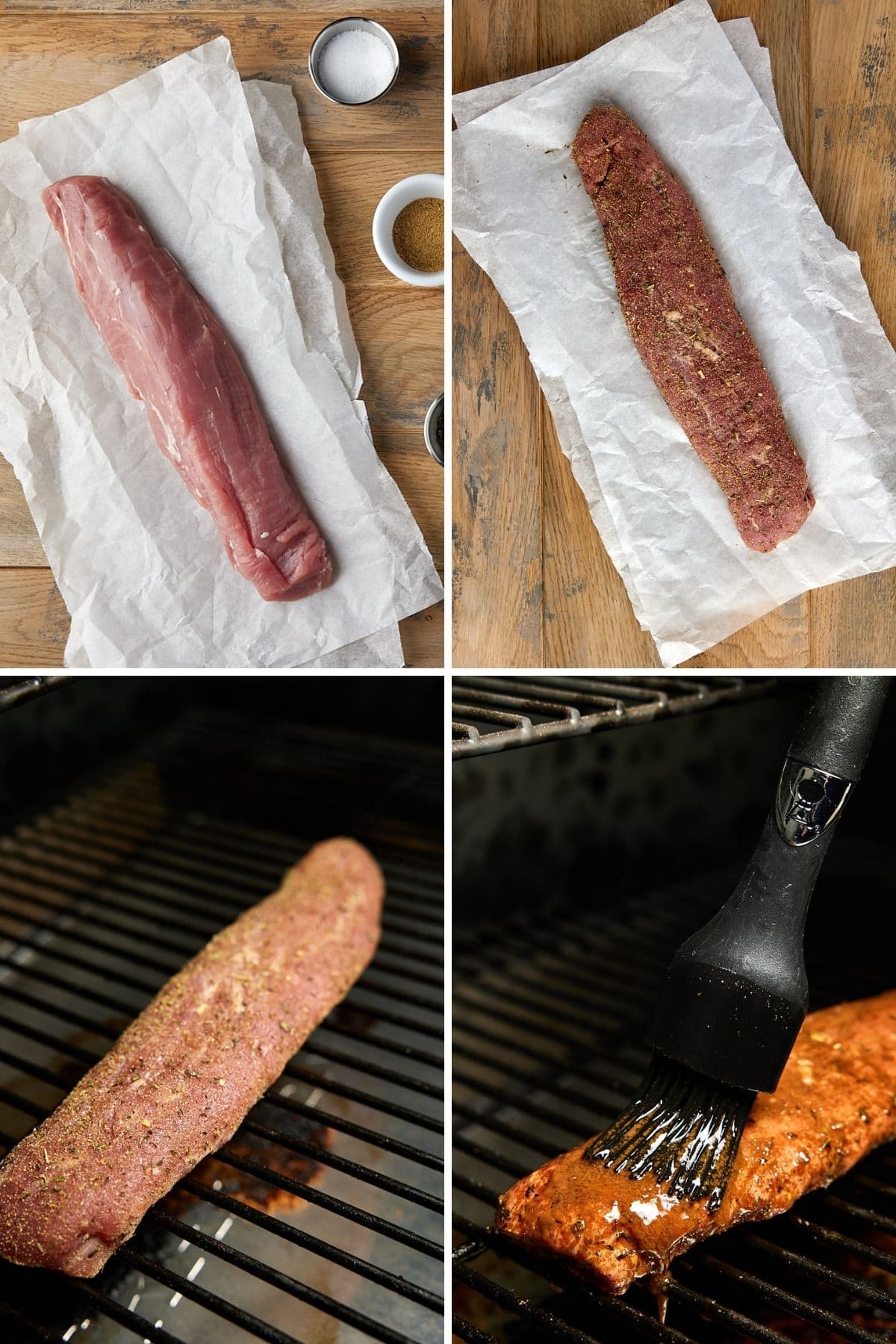 Create a free account to Save Recipes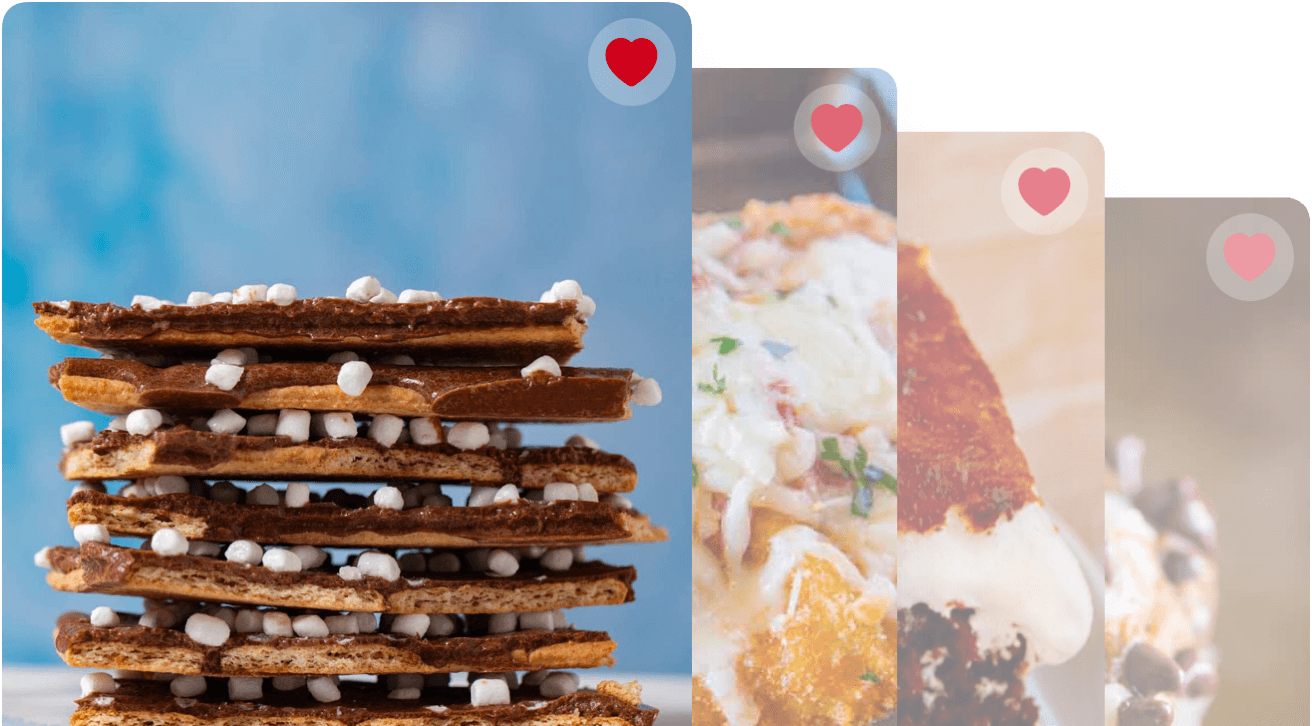 Frequently Asked Questions
What's the difference between a pork loin and a pork tenderloin?
A lot, actually. Loin and tenderloin come from different sections of the pork, and while tenderloin is long and thin, loin is wide enough to be cut down into smaller pieces.

Loin and tenderloin cook at different temperatures, have different cook times and are better suited to different recipes. A good example of a pork loin recipe is our Ultimate Garlic Pork Loin Roast or our Lemon Salt Roasted Pork Loin.

Pork tenderloin is surprisingly versatile, and can be made into everything from sandwiches to Bacon Wrapped Pork Medallions.
What is a safe temperature for Pork Tenderloin?
The safe internal temperature of pork tenderloin should be between 145 degrees F (63 degrees C) and 160 degrees F (71 degrees C) (according to pork.org).
It is important to use a meat thermometer inserted into the thickest part of the tenderloin to be sure that the meat is safe before serving it.
Is pink Pork Tenderloin safe?
A little pink in the very center is okay (pork differs from chicken this way, pink does not necessarily mean pork is undercooked but it always means chicken is), but always make sure that the pork is up to the correct temperature.

If you are worried about the inside of the tenderloin cooking evenly, you can always tent it in aluminum foil for a little while. This will help make sure that the internal temperature catches up to the outside temperature.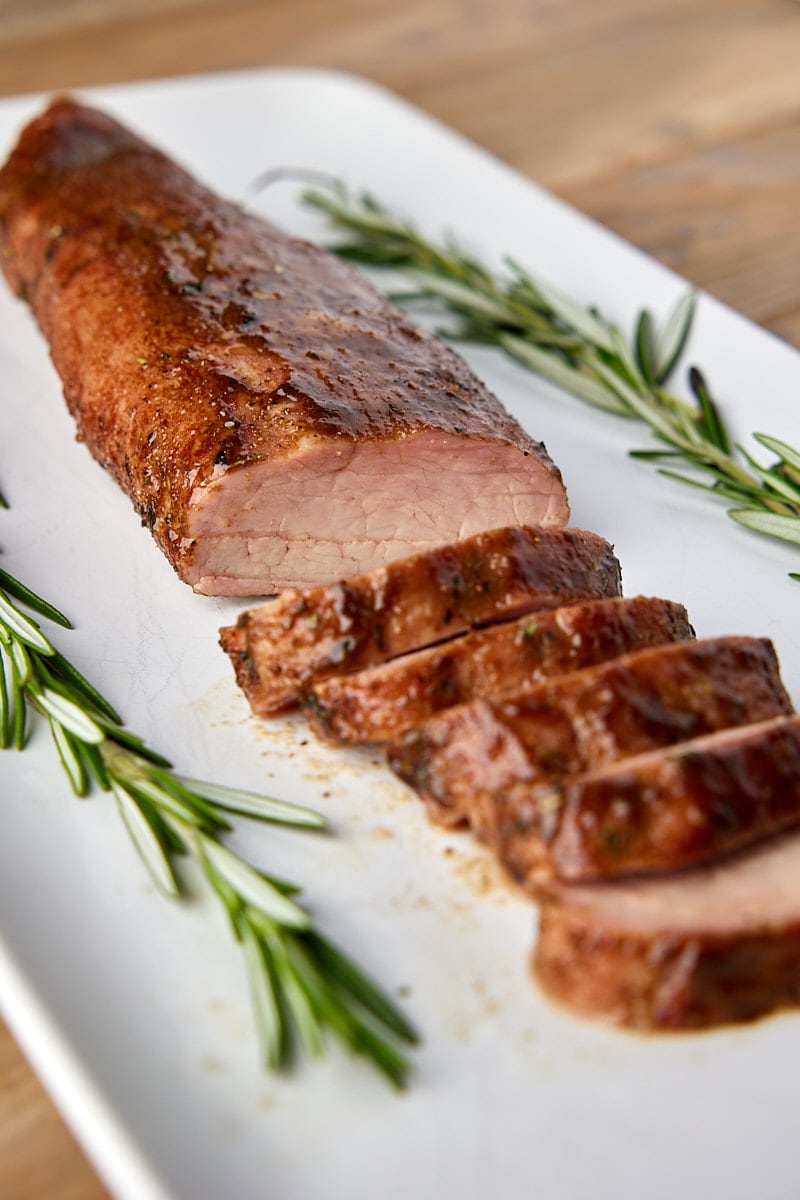 How to Store Grilled Pork Tenderloin
Serve: Do not leave Pork Tenderloin at room temperature longer than 2 hours.
Store: Grilled pork tenderloin will keep in the refrigerator up to 3 days.
Freeze: Wrapped in plastic, Grilled Pork Tenderloin will freeze for up to 3 months. Defrost in the refrigerator before reheating.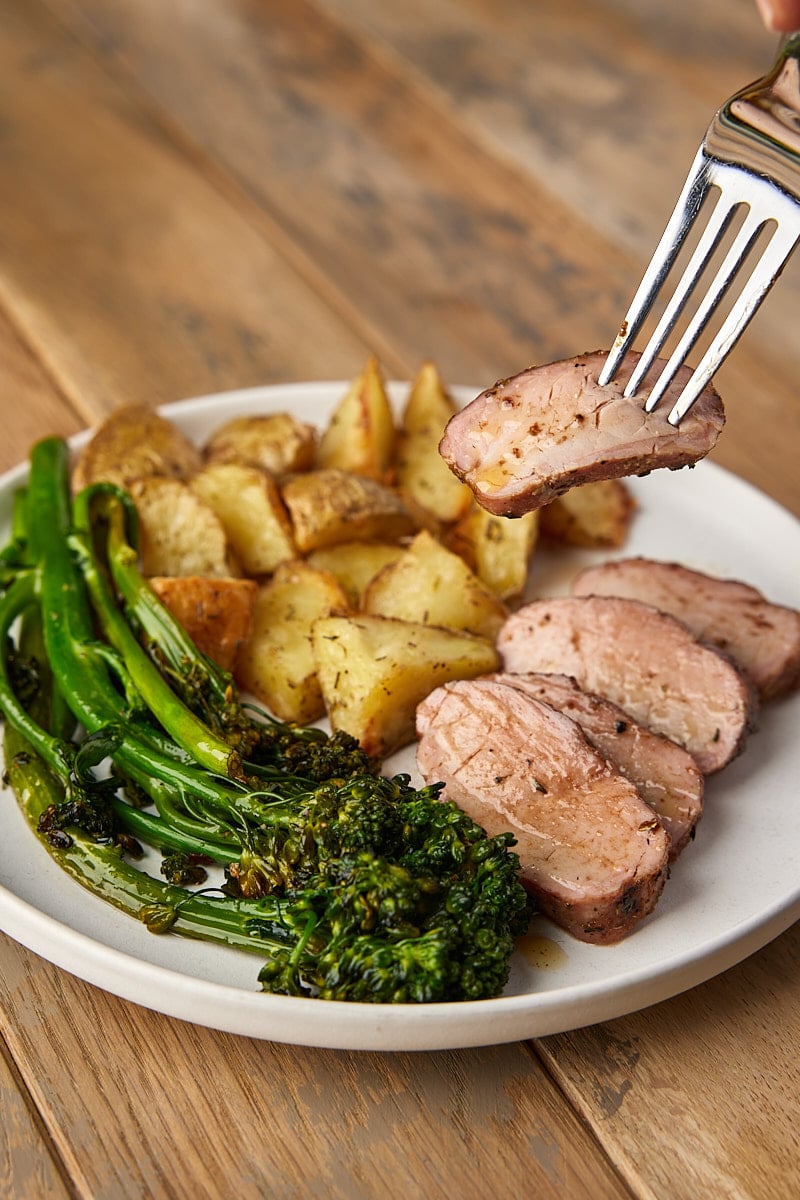 Ingredients
1

whole pork tenderloin

, (2-3 pounds)

3

cloves

garlic

, minced

2

tablespoons

extra virgin olive oil

1/3

cup

low sodium soy sauce

1/4

cup

Dijon mustard

1

teaspoon

kosher salt

1/2

teaspoon

coarse ground black pepper

1

lemon

, juiced

2

tablespoons

honey
Instructions
Place the pork along with the rest of the ingredients into a large ziplock bag together and marinade for at least

4 hours

.

Prepare the grill for indirect heat and remove the pork from the ziplock and place onto an oiled grill.

Grill for

20 to 25 minutes

until the middle of the tenderloin is at 145 degrees (using a thermometer)

Add the marinade to a small saucepan, bring to a boil and use as sauce when pork is done cooking.
Nutrition
Calories:
204
kcal
|
Carbohydrates:
18
g
|
Protein:
18
g
|
Fat:
7
g
|
Saturated Fat:
4
g
|
Cholesterol:
55
mg
|
Sodium:
551
mg
|
Potassium:
390
mg
|
Fiber:
1
g
|
Sugar:
16
g
|
Vitamin C:
10.1
mg
|
Calcium:
18
mg
|
Iron:
1.2
mg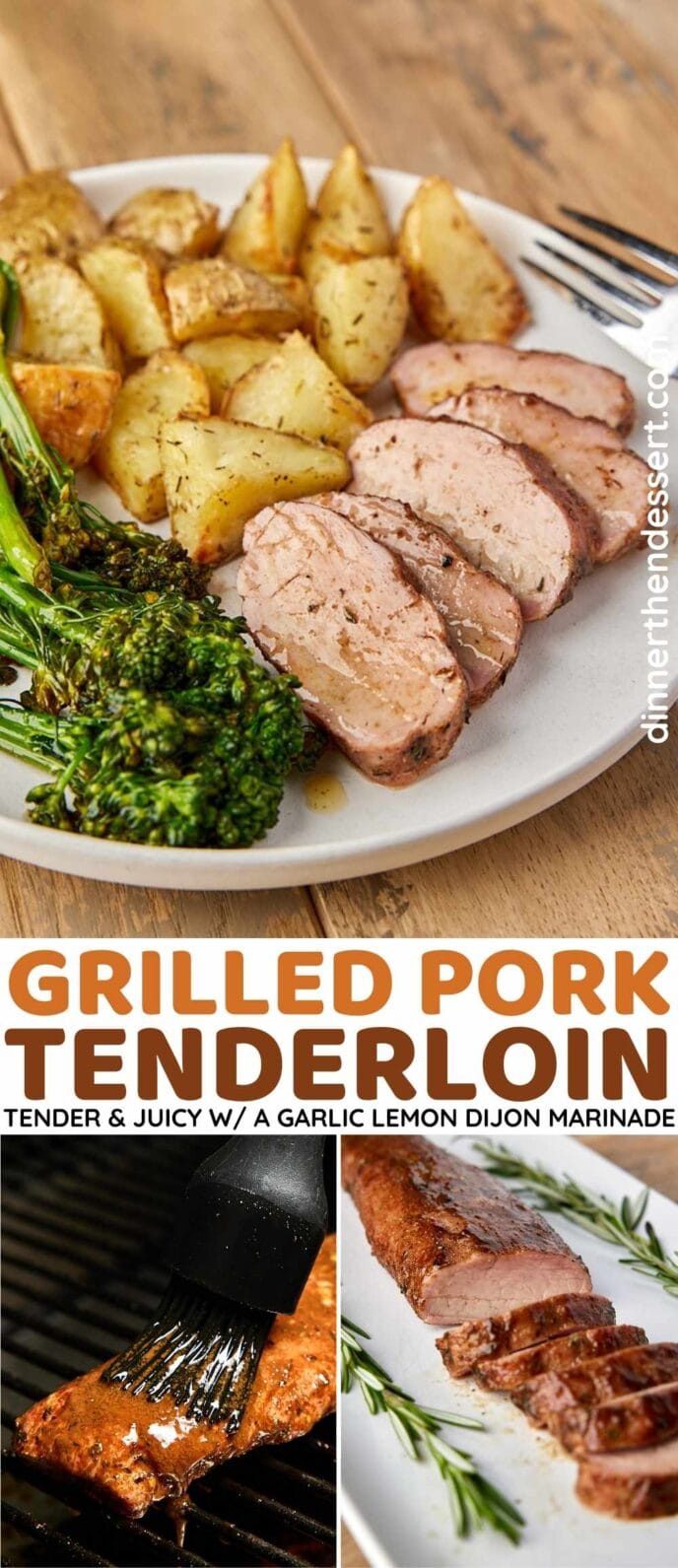 Photos used in a previous version of this post.