Apple Cinnamon Pork Loin is a savory, sweet, and tender roast made in a slow cooker with apples, pork loin, honey, and cinnamon. Cozy and easy weeknight dinner!
It's no wonder that Brown Sugar Garlic Pork is one of the most popular Dinner Recipes on this site. Slow-cooked savory pork in a sweet marinade comes out tender and delicious every time.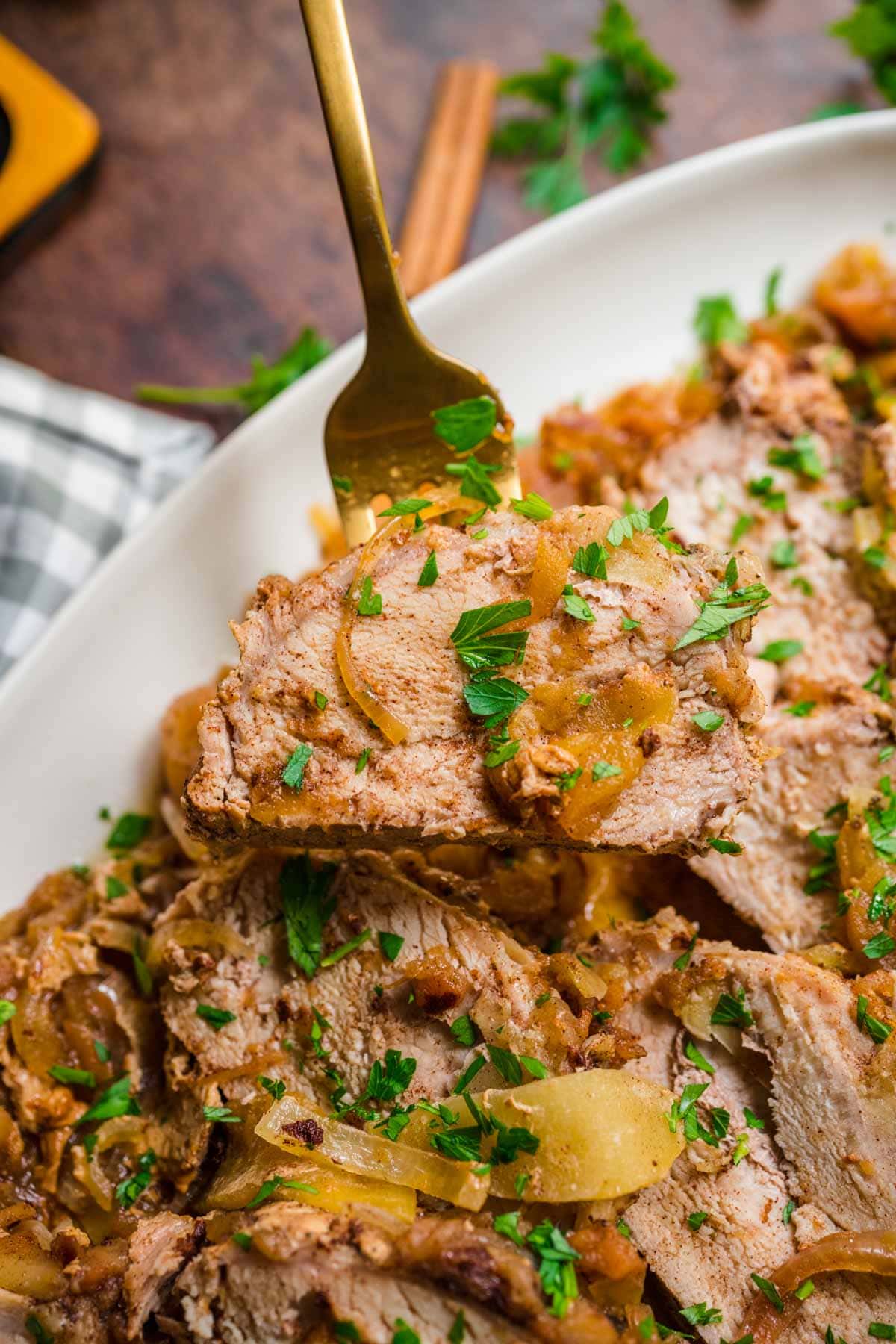 We've said it before, but nothing compares to a juicy roast that you didn't have to toil over and tend to all day. Coming home to the rich aromas of pork, apple, and honey will have your mouth watering as soon as you open the door.
Apple Cinnamon Pork Loin comes out amazingly tender and full of flavor with simple ingredients and just a little prep work. In less than 20 minutes you can have your pork roast in the crock pot, and within a few hours you will have a juicy main dish ready to eat.
When it comes to serving your pork loin, it goes best with side dishes featuring sweet or regular potatoes. These mild starches won't overpower the pork and apple honey flavor.
Applesauce has long been the sauce most associated with pork chops and roasts. For this recipe, we made an Apple Cider Gravy with the slow cooker juices instead of the traditional turkey drippings.
This gravy has all the sweetness of applesauce but is also rich with butter and savory flavor. It's a great addition, especially if you serve your Apple Cinnamon Pork Loin with Mashed Potatoes and Roasted Veggies. For more easy weeknight dinner recipes, check out our catalog of Slow Cooker Recipes.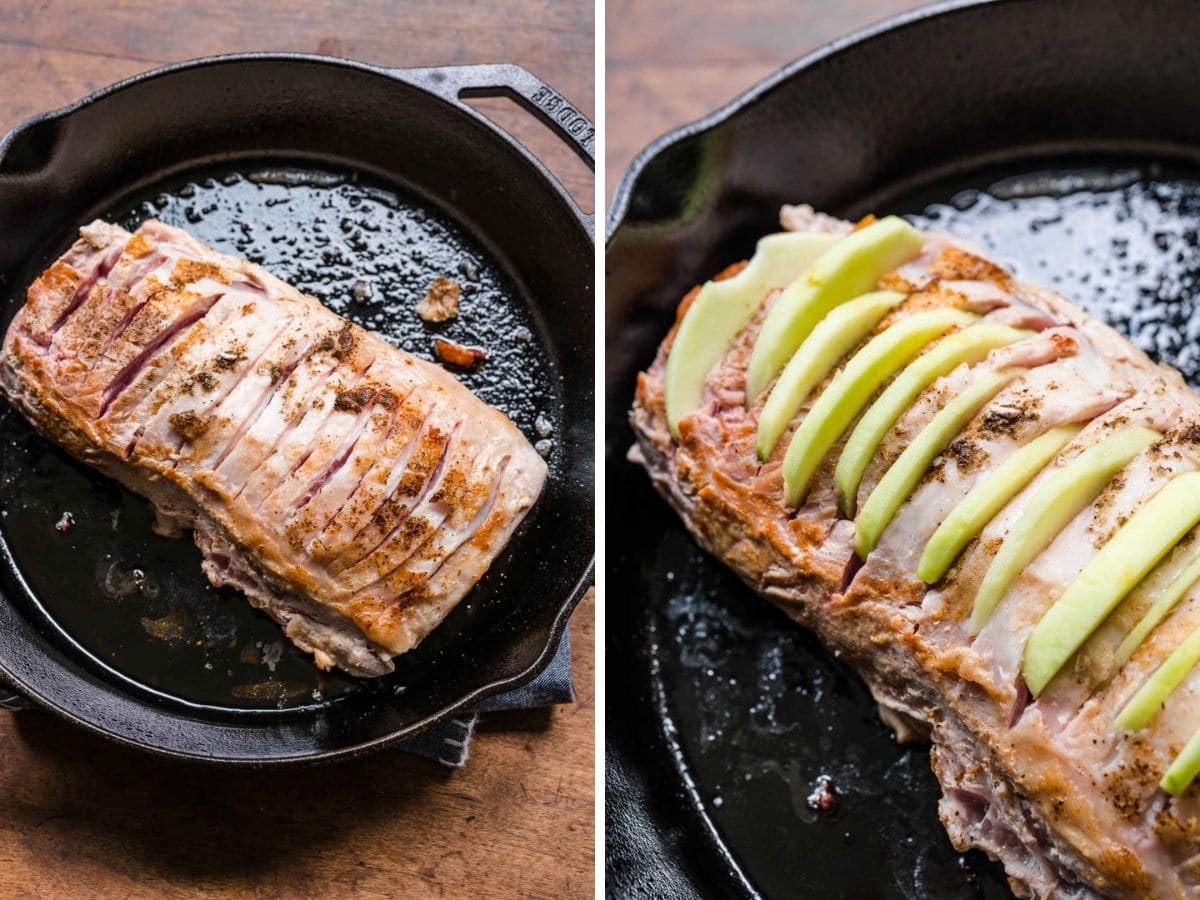 What is the difference between a Pork Loin and Pork Tenderloin?
Make sure you are buying a pork loin for this recipe, as it will be a wider and flatter cut than the tenderloin. Pork loin comes from the back area of the pig, between the shoulder and rump, and it is a terrific cut for larger roasts and low and slow cooking methods like this Apple Cinnamon Pork Loin recipe. Pork tenderloin is a leaner, narrower cut that is closer to the spine of the pig, and it would be much smaller and end up dried out if used for this recipe.
How to Make Apple Cinnamon Pork Loin
Season roast and brown on all sides in a large skillet
Cut about sixteen 3 inch deep slits in top of roast and insert one apple slice into each slit.
Place half of the remaining apples in a 4 qt. slow cooker, then place roast on top.
Drizzle with honey; top with onion and remaining apples, then sprinkle with cinnamon.
Cover and cook on low for 6-8 hours or until meat is tender.
Remove pork and apple mixture; keep warm.
Optional: Reserve cooking juices to make Apple Cider Gravy.
How to Make Apple Cider Gravy
¼ cup butter
¼ cup flour
1 ½ cup crockpot juices (use chicken stock to reach 1 ½ cup if don't have enough)
½ cup apple cider
salt and pepper to taste
In a saucepan, over medium heat, melt butter and whisk in flour until thickened. Slowly add juices and cider, whisking well to combine. Salt and pepper to taste. Bring to a low boil and whisk until thickened to your desired consistency.
More Tasty Pork Recipes
Frequently Asked Questions
Is pork loin healthy?
Pork loin is low in fat and high in protein, which makes it a wonderful alternative to other lean meats such as chicken if you are looking for a heathy meal. It also provides essential nutrients such as iron, potassium, vitamin D, vitamin B6, and magnesium.
Why are apples served with pork?
People have been serving pork with apples for centuries, according to food historians. It likely has to do with the autumn harvest being abundant with apples, during the same season in which pigs would be slaughtered to make preserved meats for the winter. The fresher parts of the pig were enjoyed for a harvest feast, and apples were used as a natural sweetener to complement the savory meal. Pork with apples became a natural pairing that is still enjoyed to this day.
How do I know when pork loin is done?
Pork should be cooked to an internal temperature of 145 degrees. The best way to know if your pork is cooked through is using a meat thermometer. It's ok if the temperature rises above 145 for this slow cooker pork roast recipe, as the meat will continue to tenderize as it slowly cooks.
Do I have to make Apple Cinnamon Pork Loin in a slow cooker?
While this recipe is for the slow cooker, we did include a guide to make your Apple Cinnamon Pork Loin in the oven. Easily turn this into a one pan meal by adding some carrots and potatoes to roast right alongside your pork.
There are also Instant Pot instructions in case you are pressed for time, aka you forgot to put everything in the crockpot before running errands. Who hasn't been there more than once? This method will save dinner in the event you forgot!
What can I do with leftover pork roast?
If you have leftover honey apple pork, shred it and stir the pork in barbecue sauce to serve on sweet Hawiian rolls with coleslaw for a delicious leftover pork sandwich. You can also dice leftover pork and toss with fresh apple slices and use it to top a delicious winter salad with spinach, walnuts and feta. Or cut a slice of rustic bread and toast it, spread it with any soft cheese like cream cheese, brie or goat cheese, then warm up the leftover pork and apples and spread on top to make a delicious open faced tartine for breakfast.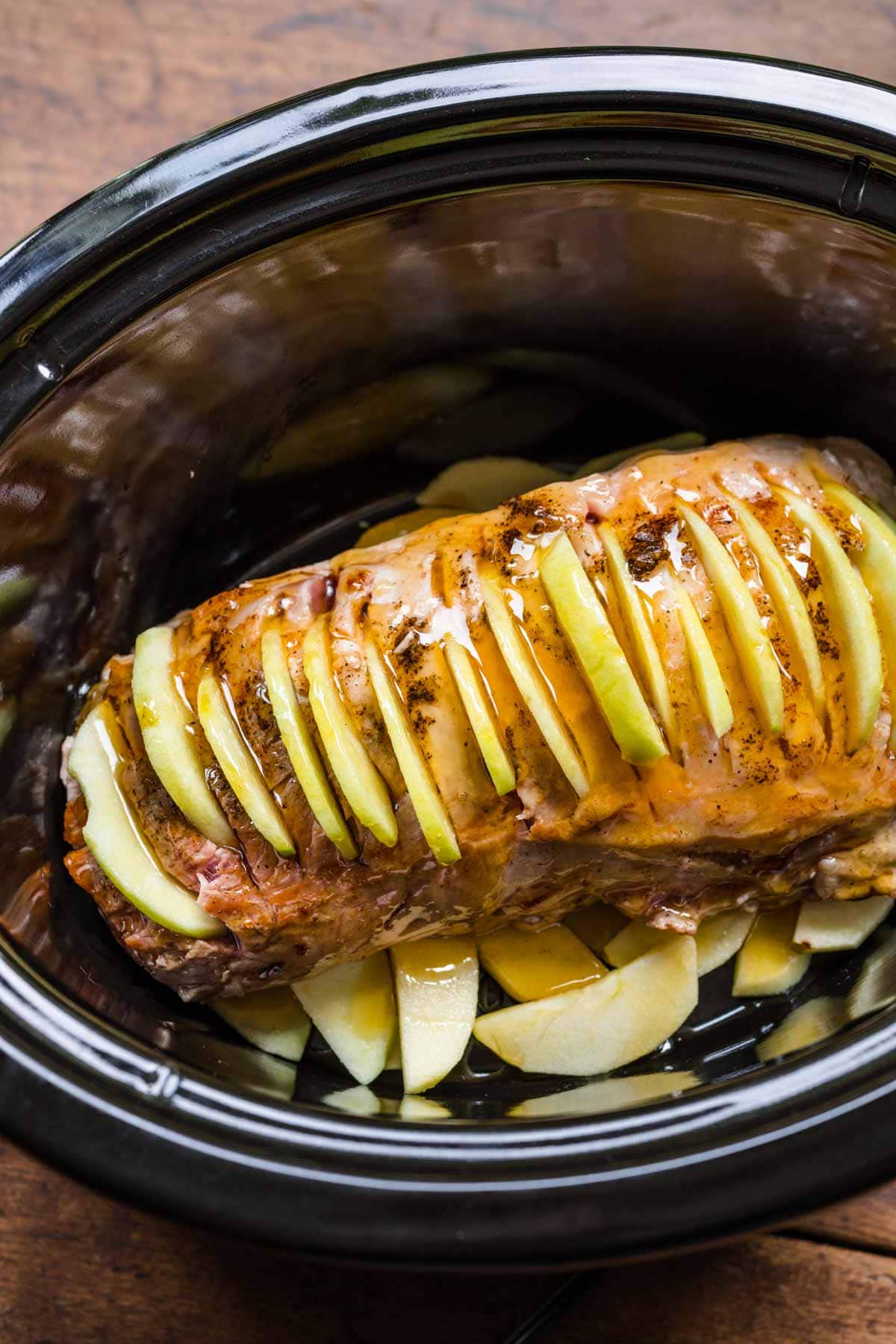 Key Ingredients in Apple Cinnamon Pork Loin
Pork: Look for a good sized boneless pork loin, about 2-3 pounds, that is dark pink in color. It should have about a half inch fat cap on top that is creamy white in appearance.
Apples: Since you'll be adding plenty of sweetness from the honey, choose a tart, crispy type of apple such as Granny Smith or Honeycrisp.
Honey: Traditional clover honey works great for this recipe. Don't worry if you use honey that has crystallized. You can smooth it out again by placing the container in a bowl of hot water, or simply scoop it out with a spoon to spread dollops onto the roast before slow cooking.
Onion: Red onion provides an aromatic flavor to the dish that works well with both the savory and sweetness, and helps tie it all together.
Cinnamon: Cinnamon adds a warm spiciness that blends together with the honey and sweet apples to give the pork a complex flavor profile.
Oven Roasted Apple Cinnamon Pork Loin
Preheat oven to 375 degrees.
Prepare pork loin by browning and stuffing with apples.
Add pork loin to baking pan with onions and remaining apples.
Drizzle honey over the top of the roast and sprinkle with cinnamon.
Bake for 60-70 minutes, or until roast reaches 150-160 degrees internally.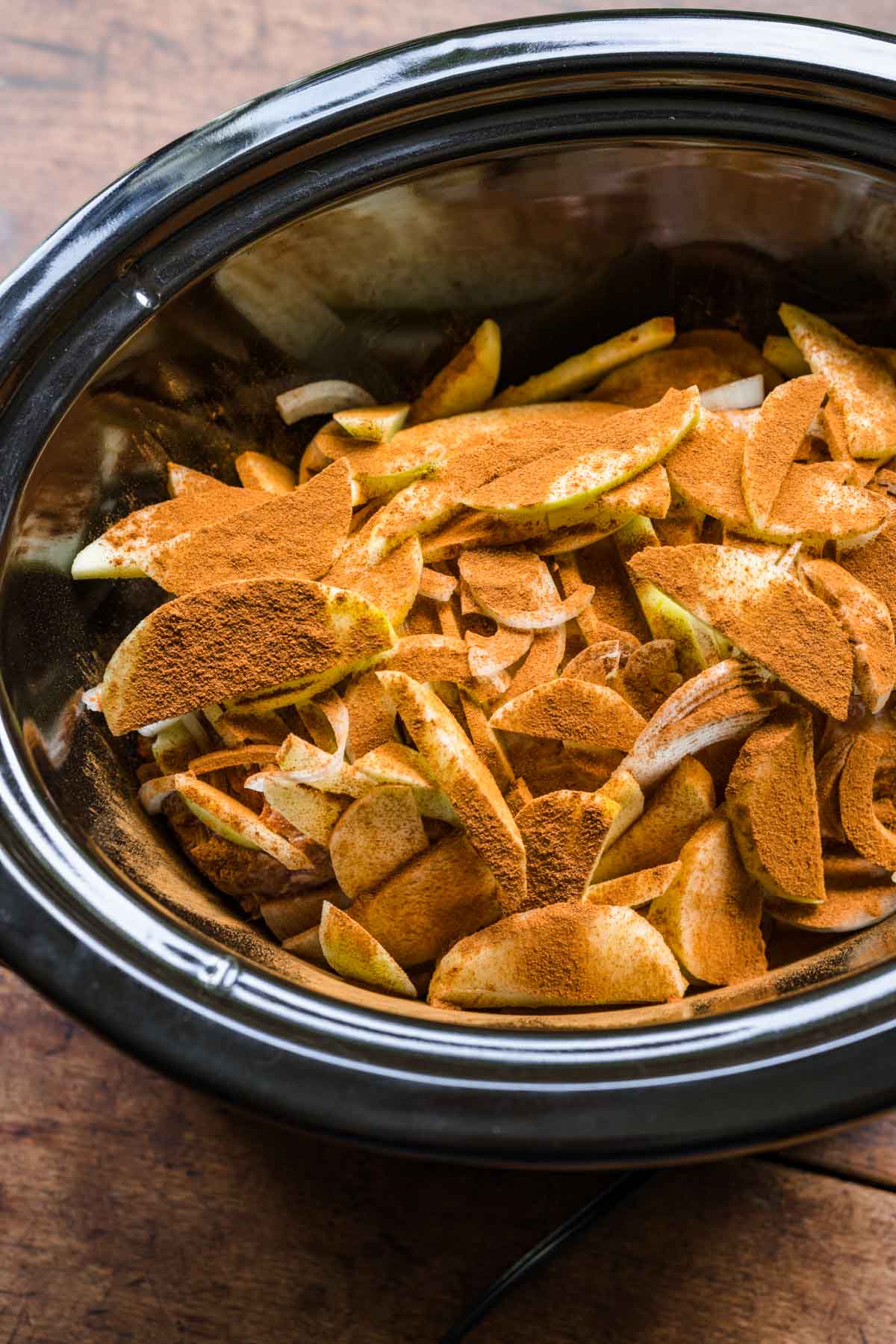 Instant Pot Apple Cinnamon Pork Loin
Brown pork loin in skillet and stuff with apples.
Add 1 cup water, onions, and half of the remaining apples to your Instant Pot.
Place stuffed pork loin into the pot and drizzle with honey.
Top roast with remaining apples and cinnamon.
Lock lid into place and seal steam nozzle.
Cook on high pressure for 35 minutes.
Let pressure release naturally for 15-20 minutes.
Remove and allow to rest for 5 minutes.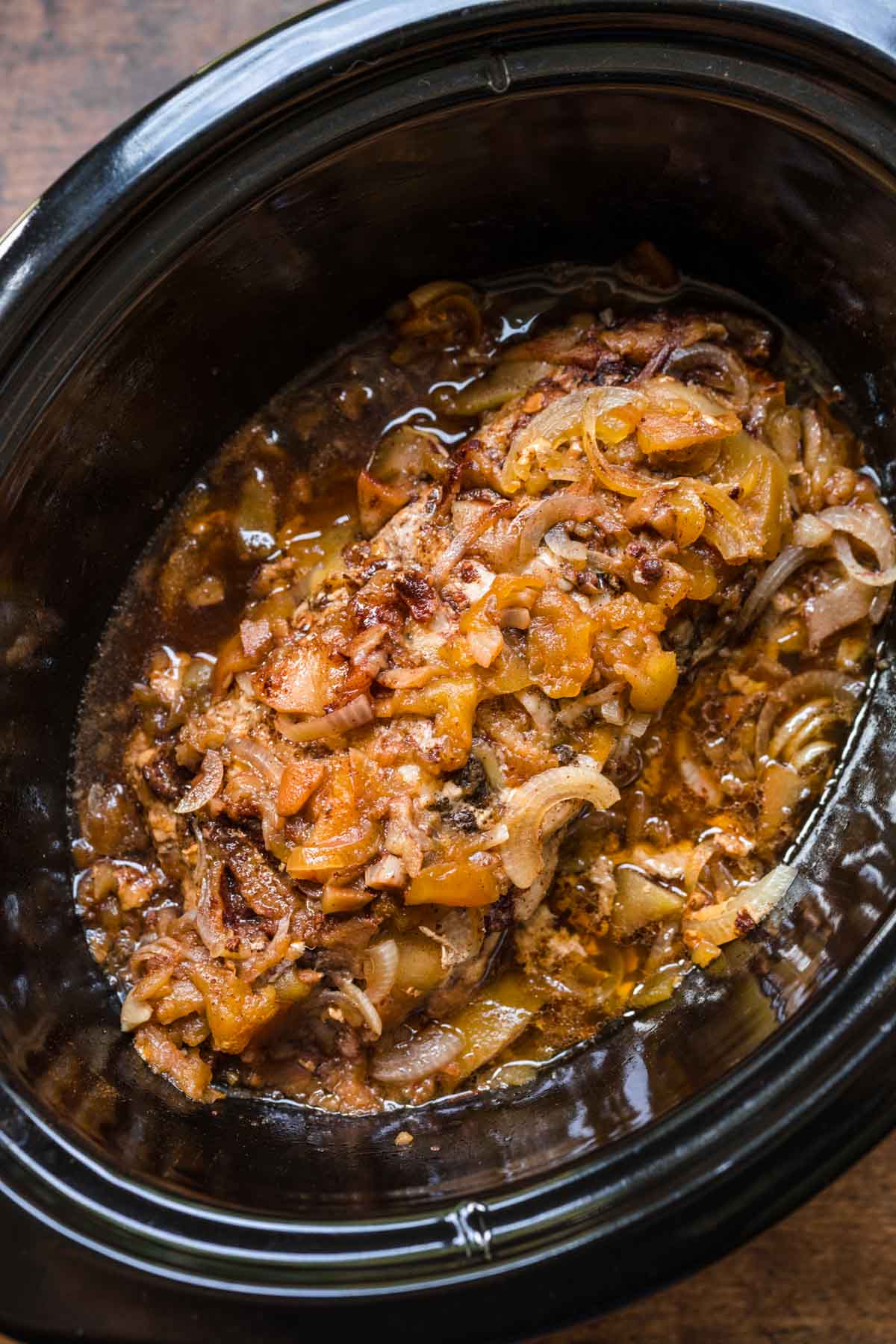 Create a free account to Save Recipes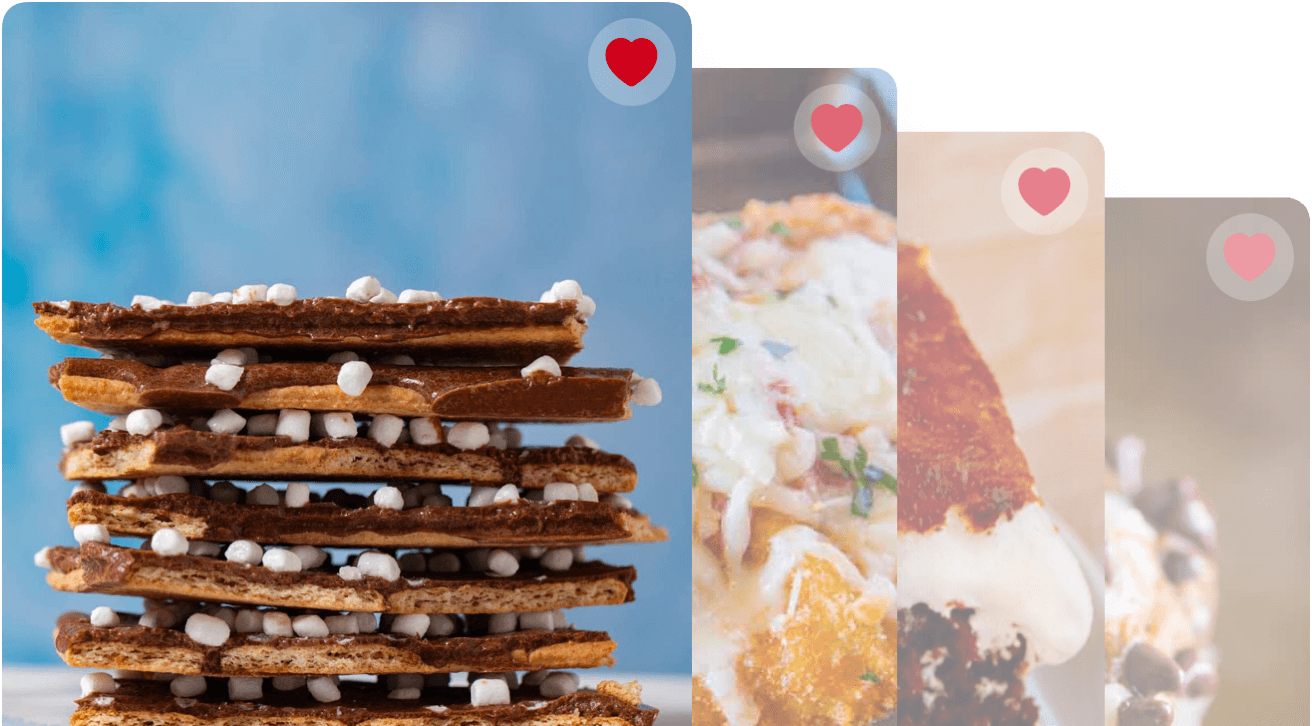 Variations on Apple Cinnamon Pork Loin
Spices and Seasonings: Instead of ground cinnamon, try a stronger spice like ground cloves or nutmeg. You can also add seasonings like garlic, thyme, or rosemary to bring out the savoriness of the dish.
BBQ Sauce: A cup of your favorite BBQ Sauce would balance out the sweetness of the honey and apples and give the Apple Cinnamon Pork Loin a smoky, tangy flavor.
Cranberry Apple Stuffed Pork Loin: What is more holiday season than cranberries? Add some frozen or fresh cranberries to the pork along with the apple slices.
Brown Sugar: One thing we know, anytime you put brown sugar on pork it's going to be delicious. Replace half of the honey with brown sugar and rub it into the cut pork before drizzling honey.
Easy Side Dish Recipes to Serve with Apple Cinnamon Pork Loin
How to Store Apple Cinnamon Pork Loin
Serve: Serve your Apple Cinnamon Pork Loin immediately, and do not leave uncovered at room temperature for longer than 2 hours.
Store: Cooked pork loin can be kept for up to 4 days in a sealed container in the fridge.
Freeze: Store your Apple Cinnamon Pork Loin for up to 3 months in the freezer in an airtight container.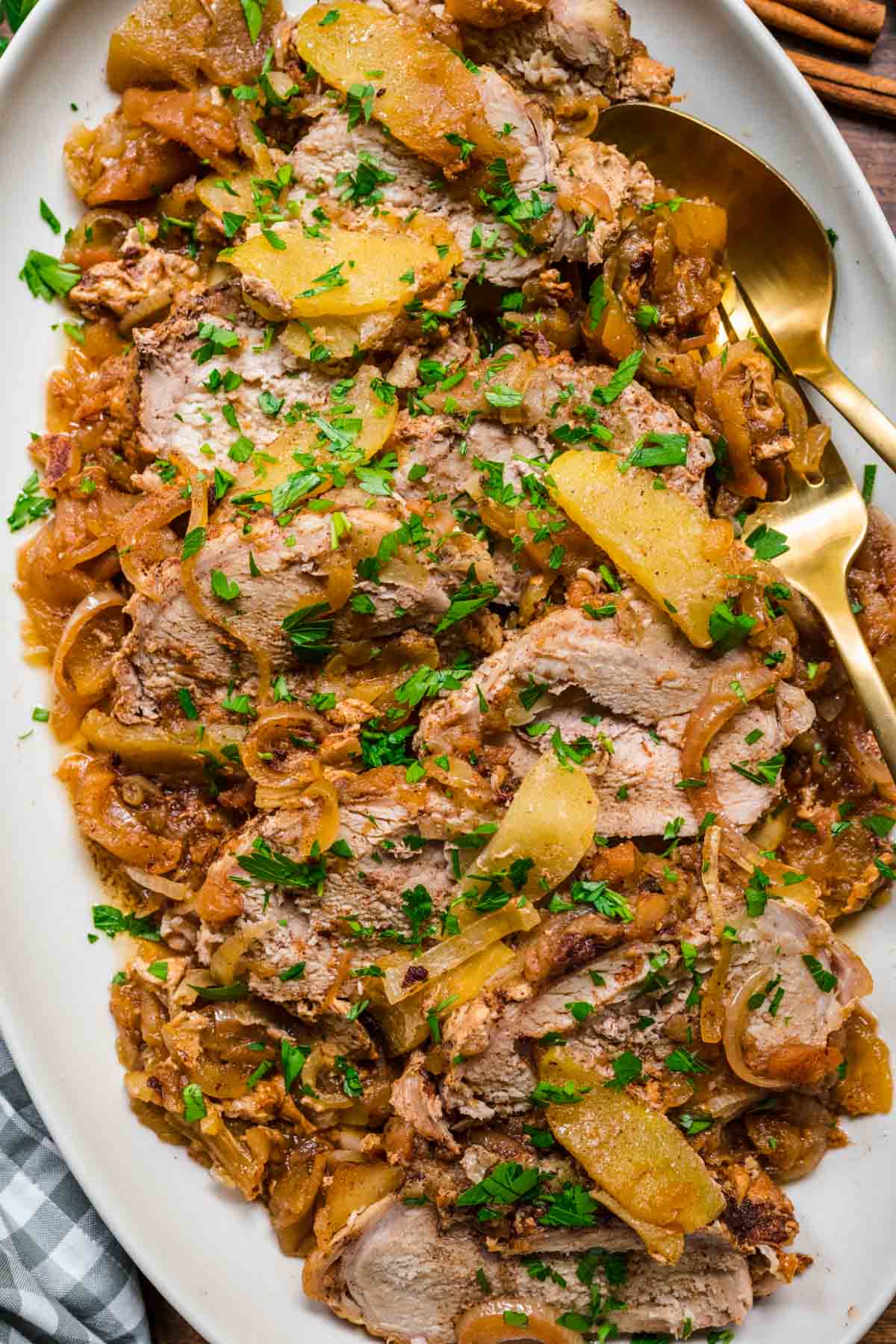 Ingredients
1

boneless pork loin roast

, 2 to 3 pounds

1/2

teaspoon

Kosher salt

1/4

teaspoon

coarse ground black pepper

1

tablespoon

canola oil

3

medium

apples

, peeled and sliced, divided

1/4

cup

honey

1

small

red onion

, halved and sliced

1

tablespoon

ground cinnamon
Instructions
Sprinkle roast with salt and pepper.

In a large skillet, brown roast in oil on all sides; cool slightly.

With a paring knife, cut about sixteen 3 inch deep slits in top of roast.

Insert one apple slice into each slit.

Place half of the remaining apples in a 4 qt. slow cooker.

Place roast over apples.

Drizzle with honey; top with onion and remaining apples.

Sprinkle with cinnamon.

Cover and cook on low for

6-8 hours

or until meat is tender.

Remove pork and apple mixture; keep warm.

Optional: Reserve cooking juices to make Apple Cider Gravy.
Nutrition
Calories:
453
kcal
|
Carbohydrates:
20
g
|
Protein:
62
g
|
Fat:
13
g
|
Saturated Fat:
4
g
|
Polyunsaturated Fat:
2
g
|
Monounsaturated Fat:
5
g
|
Trans Fat:
1
g
|
Cholesterol:
173
mg
|
Sodium:
282
mg
|
Potassium:
1130
mg
|
Fiber:
2
g
|
Sugar:
16
g
|
Vitamin A:
40
IU
|
Vitamin C:
4
mg
|
Calcium:
32
mg
|
Iron:
2
mg